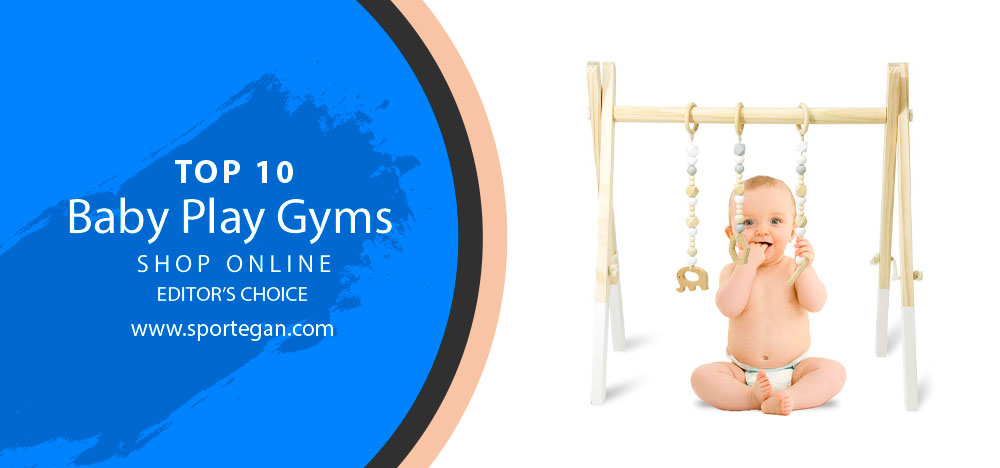 How to Pick Best Activity Gym for Your Baby
Babies begin to learn the world from the first minutes of life. And it is very important that parents help them do this with the help of various devices and things. The baby gym is constructed with toys that help the infant to develop both mentally and physically.

They not only help the child to develop but also entertain him or her. This review has specifically been written to tell you about the benefits of the infants play gyms and help you choose the one for your baby.

TOP 10 Baby Gyms For Development And Fun
Here is a list of the best 10 baby play gyms. I suggest you consider the pros and cons!
1# FUNNY SUPPLY Wooden Baby Gym – Amazon's Choice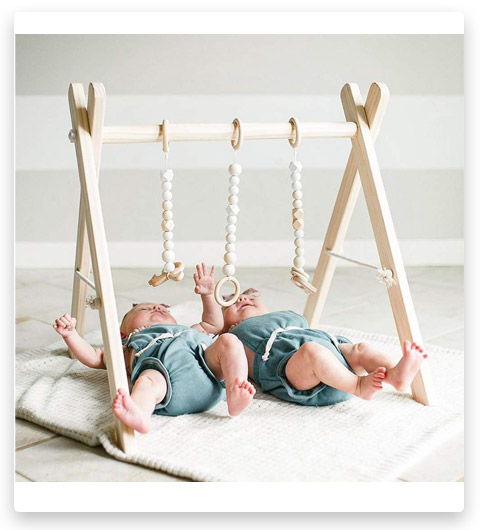 A baby gym that is designed for your baby. You can use it with any cradle, basket, game rug, and so on. Just put the child in the cradle and he or she will have fun with toys. The child will try to reach them and this will contribute to his development. The design is made of wood and stands stably on 4 legs.
The wood is safe for children and has a beneficial effect on them. This material is smooth, so don't worry about the child getting hurt. You don't need to spend a lot of time assembling a gym. This is done without tools. The gym comes with 3 toys that hang over your child and he can watch and play with them. You can change the length at which they hang thanks to the silk ribbon.
They can be removed and put into the hands of the child. Don't be afraid of the child takes these toys in his mouth. They are safe and can be used as a teether. You can also hang other toys. The child can both lie and sit under the structure, depending on his age and desire. The design has a neutral color, so it is perfect for both a boy and a girl. And the wood always fits perfectly into any room interior.
2# PgUp Wooden Baby Play Gym
Your kid will not be capricious because he will be occupied with looking at toys and playing with the gym. The structure is made of wood, namely pine, beech, and lotus. This is a safe material for children so you can not worry about their health. The wood smells good. Included are 3 toys.
They resemble cartoon characters, so children will be even more interested. The gym can be folded. Your space will be freed when you aren't using the gym. Your child will be safe thanks to 4 steady legs. A rope also connects each side to make the structure even more stable. Delicate tones are perfect for any interior and can be presented to both girls and boys.
3# FUNNY SUPPLY Wood Baby Gym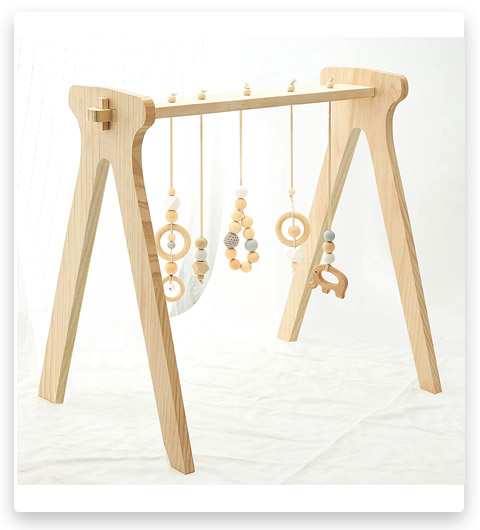 Your child will be passionate about playing with this gym. It is stable while playing with toys. Therefore, this design is responsible for its safety and reliability. The gym is made of wood. The material doesn't contain chemicals and the wood is well polished. The child will play with 5 toys that hang over him. They can hang at different heights. This thing contributes to the development of your child!
4# LaviElle Wooden Baby Gym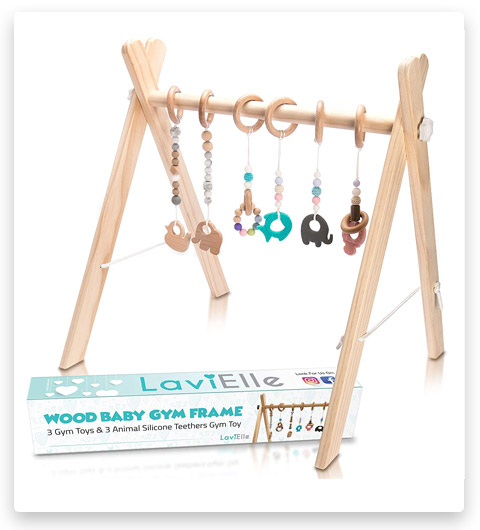 You as a parent will love this gym for your child! You can use it from the very birth of your baby. This is an ideal design for the development of a child up to 1.5 years. It is an environmentally friendly design that is made of wood. The gym has a simple construction but at the same time is safe and stable.
It includes 6 wooden toys. They help the child develop various skills, such as visual and auditory. Toys can be removed and the child will be able to play with them. So he or she will be able to develop fine motor skills. This is an affordable option for the development of your baby!
5# Avrsol Wooden Baby Play Gym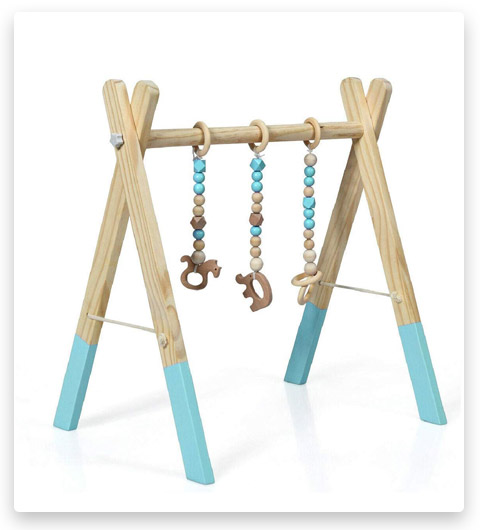 You will fall in love with the design of this gym. Firstly, it is made of wood. Such material always looks stylish and is usually suitable for any room interior. Secondly, the manufacturer complemented the design with bright birch elements on the legs of the structure. You will get 3 toys that vary slightly in design. They are also painted in birch. This will attract the baby and develop his visual skills. This is a multi-functional gym that promotes the mental and physical development of the child.
6# Homegician Baby Wood Gym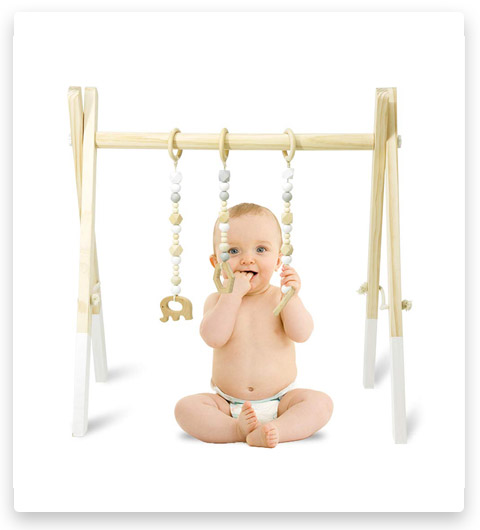 Compact with a cute design baby gym for your child. Natural wood is completely safe and looks great in the interior of a children's room. The legs are painted white which attracts the child. The kid will be played with three toys that hang over him. Games can take place sitting or lying down. You can take off toys as well as hang others. They are also made of wood and children can take them in their mouths. They are excellent teethers. You can save space by folding the baby gym when not using it.
7# HAN-MM Wooden Baby Gym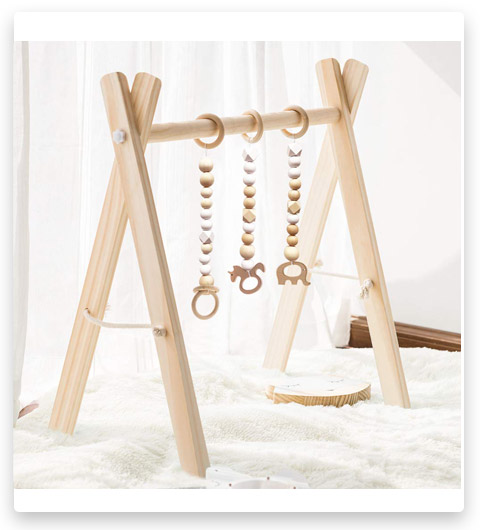 Get this gym, put it together without any problems and your child will enjoy playing with hanging toys. Wood is a durable material that is practical for children to use. The kid will be able to play with 3 toys, as well as with teethers. Never leave your baby alone while playing with the gym.
8# HABA Color Fun Play Gym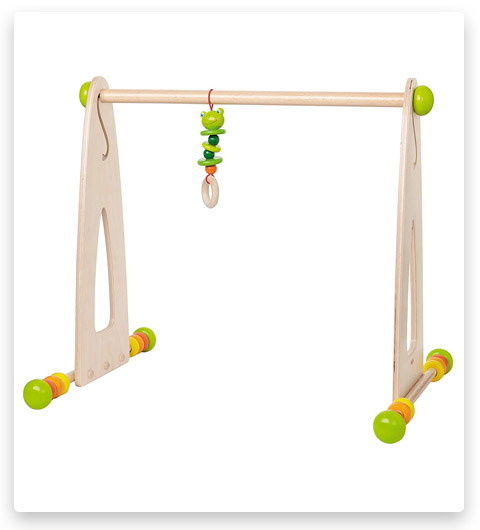 This is a universal baby gym that is suitable for children at all stages of their development. You can adjust the height of the bar. You can install it below and then the child will be able to touch the toy. If you set it higher, then kids will try to reach for the toy and thus develop their muscles. The bright design allows your children to develop eyes. Kids will be happy to see bright colors. You can add various barbell toys. Babies can play with balls and move them from side to side. If they do everything right, kids will hear a sound.
9# Mali Wear Wooden Play Gym for Baby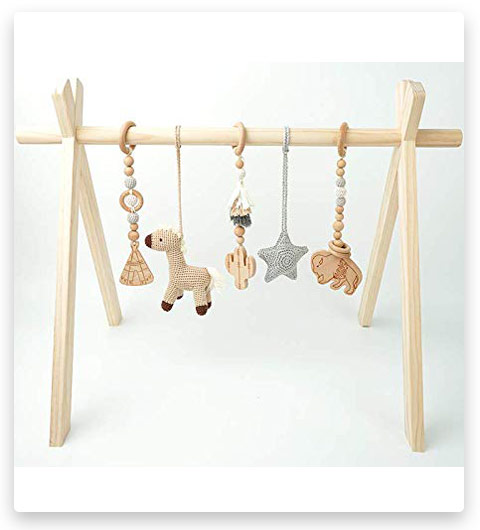 This infant gym is distinguished by its unusual toys. The kid will be able to play with 5 different toys that hang on the gym bar. The child will play with toys in the form of animals, stars, and so on. They are made of wood and are also soft. You can hang toys at different heights. The kid will try to reach them with arms and legs. The construction itself is made of wood and it stands firmly on the floor or carpet. The frame folds up for easy storage.
10# Ewer Baby Wood Gym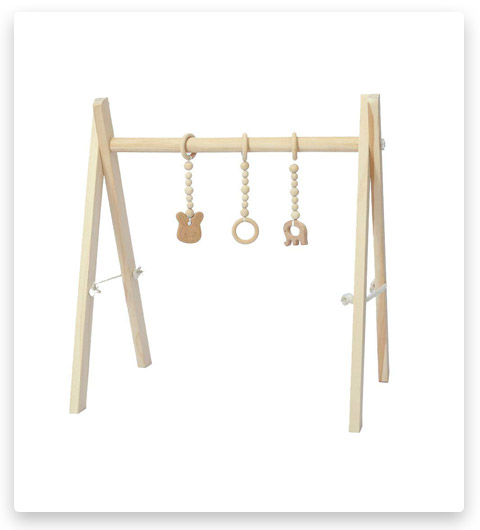 Pine has a beneficial effect on the child and is safe for him. The wood is smooth so the baby will not get any injuries. It includes 3 toys that are also made of wood. You can take them off and let the child play. Thus, he or she will be able to develop his tactile sensations. If you want to replace toys or hang others, then this can easily be done because they are removable. This is a great gift for kids and their parents!
What Is the Best Baby Play Gym?
Baby play gym is a design that stands on 4 legs. They are usually made of wood. Toys hang on such constructions. They encourage your child to reach them which contributes to their physical development. But these are not all the functions of the gym. This design can be used by children from birth. But the ideal age is considered to be from 4 to 9 months. When the child begins to learn to walk, this gym will be an excellent support for him or her. Read on to find out more about the benefits of this item.
Benefits of Baby Gym

The benefits of the baby gym are huge for children. Thanks to hanging toys and rattles, the child will develop various skills. They contribute to the comprehensive development of children and help the child to get all kinds of skills, to learn about the world around him, and adapt to it. Through tactile and auditory sensations, the baby begins to recognize the environment and people. The child will try to reach them with arms and legs and thus develop physically.
This will stimulate him or her to sit up and stand up according to age. This develops its coordination, as well as the eyes. They are developing as the child's eyes follow objects moving slowly. The design and toys also allow the child to develop auditory skills. This is due to the fact that the child listens to the sounds made from toys when they rattle and sound. Also, toys can be musical. Hanging toys will help teach the baby to concentrate, differentiate objects, pictures, control their movements, and develop a quick reaction.
The kid develops fine motor skills due to the fact that he or she touches the toys with his hands. Grabbing toys improve and train the speech-motor departments of the cerebral cortex. The toys are made in such a way that they massage the baby's arms. At 4 months, a child can accurately hit a toy suspended directly in front of him. By the age of 5 months, such an arbitrary reaction appears as visually directed retrieval of objects close to the child. All this can also be trained using the baby gym. As you can see, the benefits of such a design are colossal for a child!
Advantages of Wooden Toys

The best material for a baby gym is wood. Let's see why this material is worth choosing. Toys and wooden structures have many positive qualities, unlike plastic. Natural material has natural energy, heat, and special texture on the surface of the product. Having such a gift from the first days, the baby, through touch and smell, learns to find out the world, comprehending a complete and correct idea of ​​the environment. In addition, the advantages of choosing wooden toys are as follows:
Environmental friendliness. Such a product is completely safe for the child, even if he or she tastes the product. Unlike plastic, which can provoke toxic poisoning and allergies in the baby.
Durability. Wood is hard to smash. Toys are stored for many years, without requiring special storage conditions.
Easy to care for. To clean the product, just wipe it with soapy water or a normal damp cloth.
Naturalness. Wood allows the baby to feel the heat, texture, structure of the material. It has a pleasant smell.
Reality. The child learns the world around him for smell, taste, and sensations. The advantages of wooden toys are that they help to feel the real weight of the product, its density.
Wooden toys, rattles teach a child to recognize a new world through sound and visual perception.
Conclusion
Baby gyms are constructions that are made of safe and ecological materials. They contribute to the full development of your children. In my article, I presented the best models that are suitable for children from 0 to 1.5 years old! Choose and make your children happy.
Tags: #best baby play gyms / #best baby activity mat / #best play gyms for baby / #best deals on baby play gyms / #best baby activity gyms infantino take and play