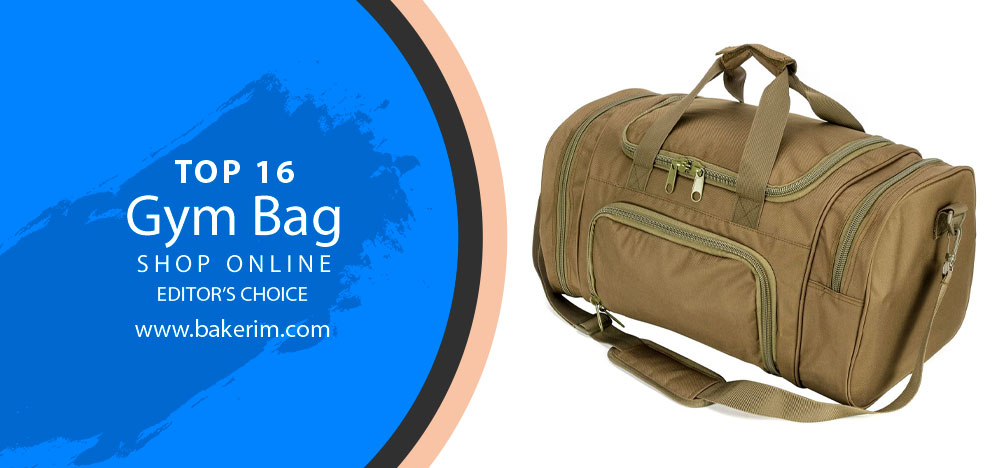 Whatever sport you do, when going to work out, take a gym bag with you. It is roomy, comfortable, and is a must-have for an athlete. When buying it, remember that not every sports bag for training will meet your needs in terms of quality and appearance. In order for the accessory to serve as long as possible, to be practical, reliable, and stylish, you need to pay attention to some nuances when choosing.
Here Our Top List 16 Best Gym Bags for Every Kind of Exerciser – Editor's Choice
Agree that everyone needs a sports bag. Even if you are far from sports and prefer a cozy sofa to a fitness room, there are still many events in life for its use. It is convenient to carry a lot of things in it, transport bulky inventory, or go on a trip. Let's take a look at the best ones.
1# Under Armour Gym Bag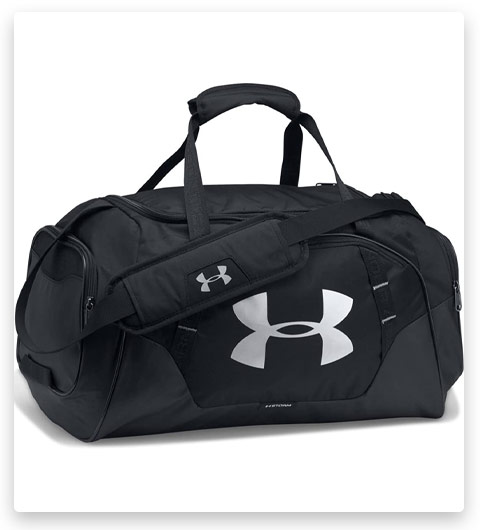 The bag is crafted from durable textiles. UA STORM1 technology repels rain, snow, creating comfortable conditions for training in all weather conditions. The material is treated with a durable water-resistant coating that repels moisture and offers breathability at the same time. The accessory has a two-way zipper, inside a zip pocket, an external zip pocket, side zip pockets with mesh inserts, a removable shoulder strap with a silicone lock.
2# Adidas Bag Defender III Medium Duffel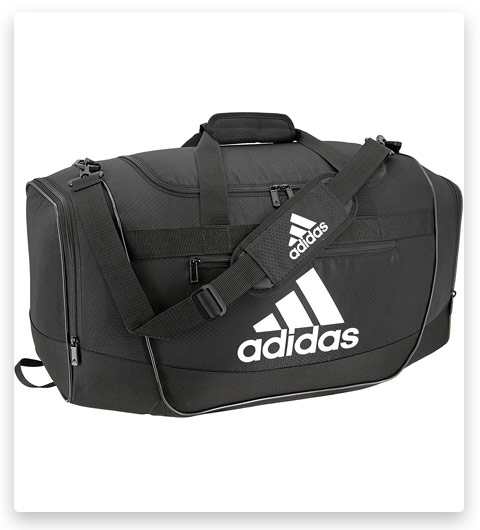 The sports bag is specially designed for football equipment. Can be used for both going to the gym or taking a quick trip. Also suitable for casual shoes. Inside you will find 1 large zippered compartment and 2 compartments on the sides, one of which is ventilated with FreshPAK mesh. Made of durable waterproof materials, so it can be used for a long time.
3# Canway Sports Gym Bag – Amazon's Choice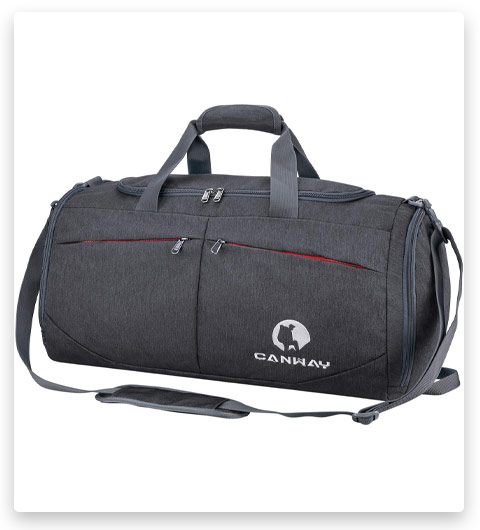 This is a roomy accessory that is convenient to take with you to the gym. This holds 45 liters. In addition to the large main pocket, this product contains 8 smaller pockets. This bag is made of durable materials that will withstand any conditions. It is made from 600D polyester that resists getting wet.
4# PUMA Women's Duffel EverCat Dispatch – Amazon's Choice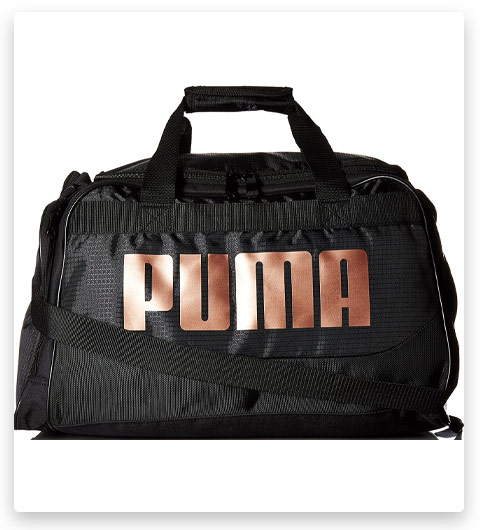 The bag is made of durable polyester. Two-way zip opens a large main compartment. You will also find a side zippered pocket for storing small items. The product is equipped with an adjustable shoulder strap and double carrying handles with Velcro closure. The bag has a stylish design with the PUMA logo on the front.
5# Sportsnew Gym Bag with Wet Pocket & Shoes Compartment – Amazon's Choice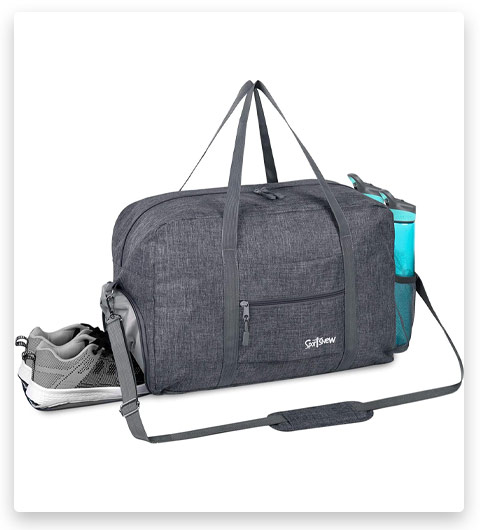 This is one of the most popular models among athletes. This bag is unique in its design. It has compartments for both wet and dry clothes. In addition, a compartment for your sports shoes is available to you. You will also find pockets for water bottles. It is very light so it does not put stress on your hands. It only weighs 1 pound.
6# DALIX Blank Duffle Bag – Amazon's Choice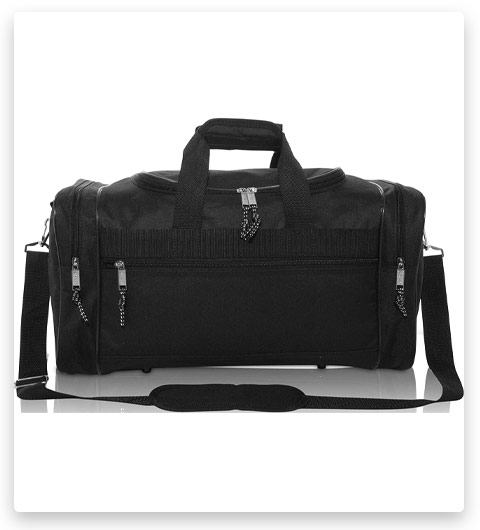 This accessory is notable for its large storage capacity. It has a main compartment, two side pockets, and front and back pockets. You can carry the bag with its two handles or on the shoulder with the adjustable shoulder strap. This product is made of durable tear-resistant polyester.
7# Boost Sports Gym Bag for Women & Men – Amazon's Choice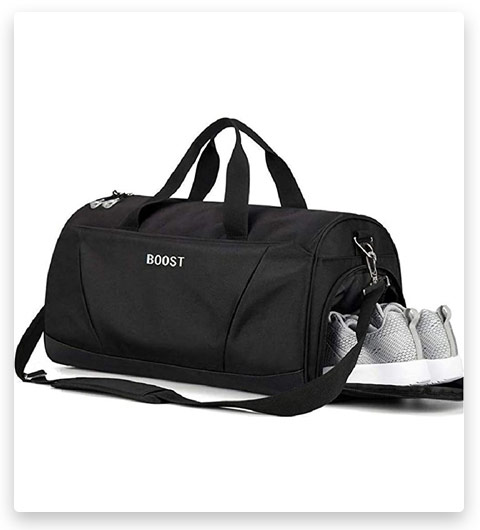 This bag will fit everything an athlete needs and more. In addition to the largest main compartment, there is one insulated side pocket and a pull-out shoe compartment. The accessory can be worn on a shoulder strap. The soft material will keep you comfortable.
8# FocusGear Ultimate Gym Bag – Amazon's Choice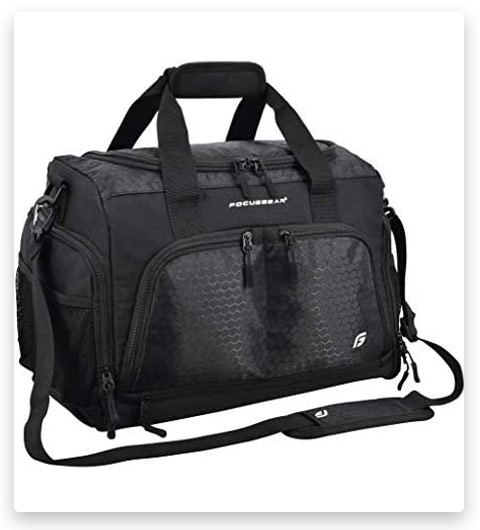 This sports accessory is equipped with 10 different pockets for all your belongings. This bag is convenient in that it has a special compartment for your shoes, and also allows you to store wet and dry things separately. The product is equipped with a water-resistant bottom panel.
9# WolfWarriorX Gym Bag for Men – Amazon's Choice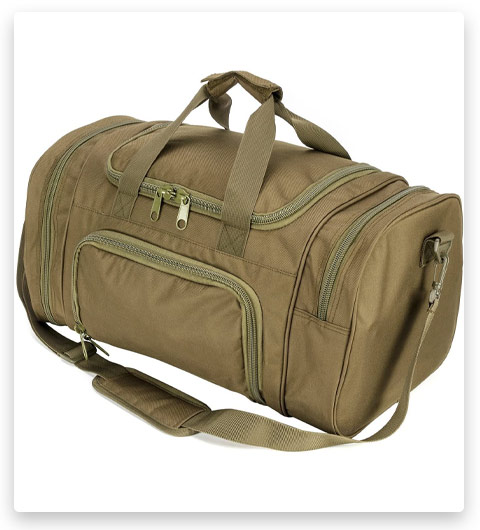 This gym bag has 4 main storage compartments as well as an additional slide-out side shoe compartment. You can use it when playing sports, as well as when traveling, fishing, or hunting. Thanks to the durable water-resistant material, you don't have to worry about the safety of your belongings in bad weather. This product is available in 16 different colors, so you can easily find one for yourself.
10# K-Cliffs gym bag – Amazon's Choice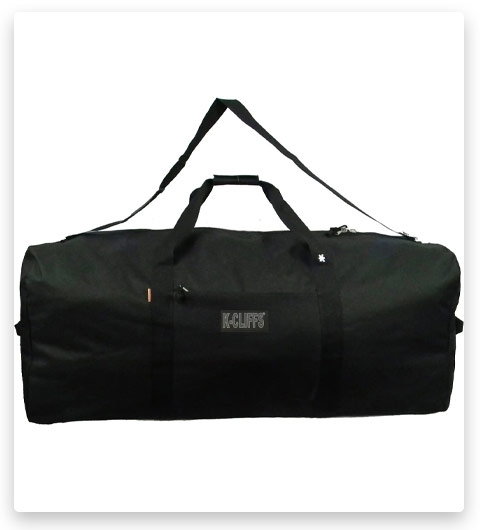 This large duffel bag can be used for football, ice hockey equipment. It is made of durable water-resistant material. This product is equipped with durable wide handles for easy carrying and side handles for two people to grip.
11# DALIX Sports Duffle Bag – Amazon's Choice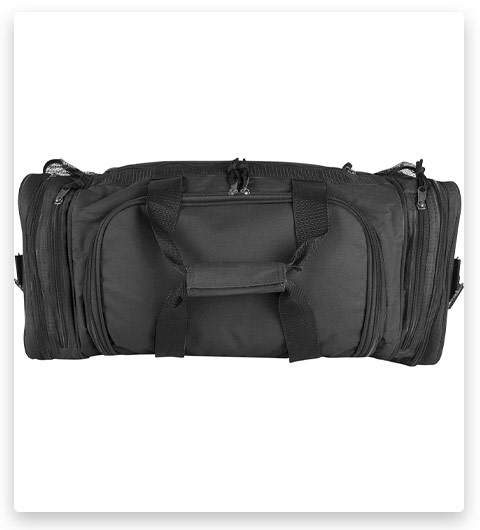 This large bag with many pockets and compartments is perfect for travel, workout, or work. You can put whatever you want in it. Two side pockets on each side of the bag save you the trouble of finding small items in the common compartment. The strap length is adjustable from 29 to 50 inches.
12# DALIX Small Duffle Bag – Amazon's Choice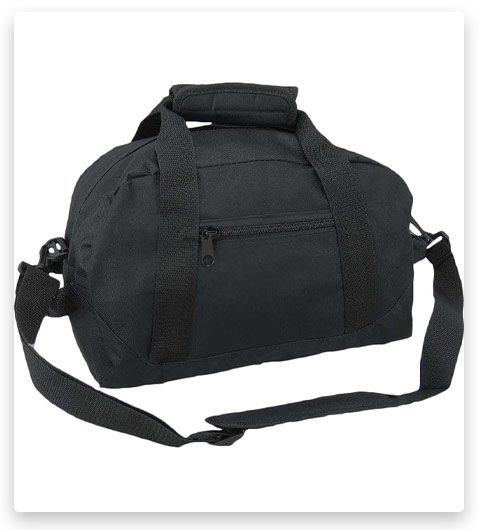 If you are looking for a compact and convenient gym bag then this is the perfect one for you. It has two side handles with soft velcro closure for easy carry and a removable padded shoulder strap. This product is available in 13 colors, so you will definitely find the best option for yourself.
13# HOLYLUCK Backpack Sport Gym – Amazon's Choice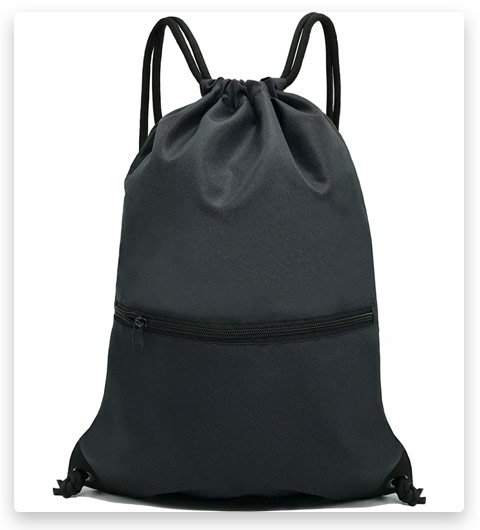 This Drawstring Backpack is perfect for the gym, travel, and hiking. Made from polyester, it is easy to clean and will last for years. With a large zippered outer pocket, you can conveniently store your phone, watch, wallet, or other valuable items.
14# BeeGreen Sports Gym Bag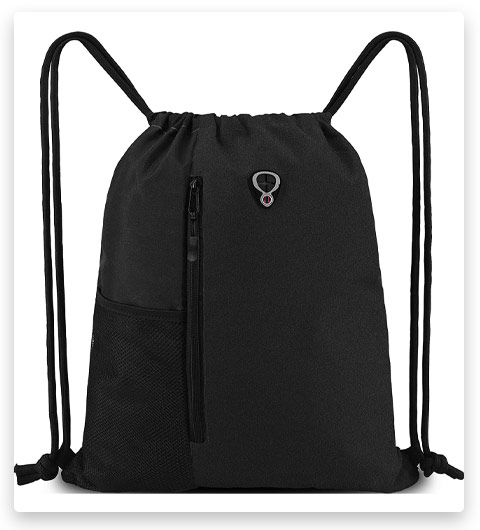 This backpack is crafted with technologically advanced fabrics to be lightweight and durable. It closes easily with a cord that does not cause discomfort during use. Outside there is a zippered pocket for storing valuables and an additional mesh compartment for a bottle.
15# Adidas Diablo Small Duffel – Amazon's Choice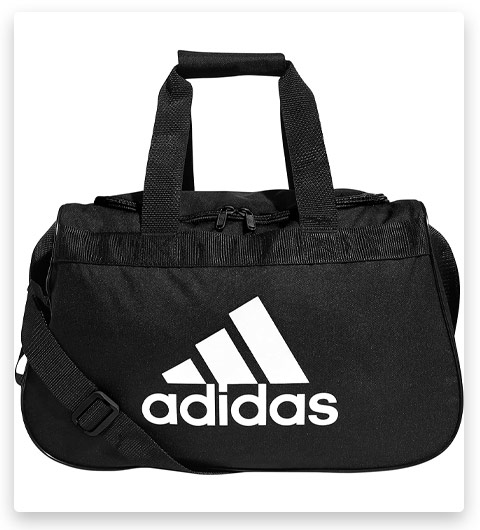 This gym bag is designed to carry your training gear. It can be used both for going to the gym or for a quick trip. Despite its compact size, this accessory will easily fit everything you need in the gym or on a short trip. Made of durable materials, so it can be used for a long time.
16# Under Armour Undeniable Sackpack – Amazon's Choice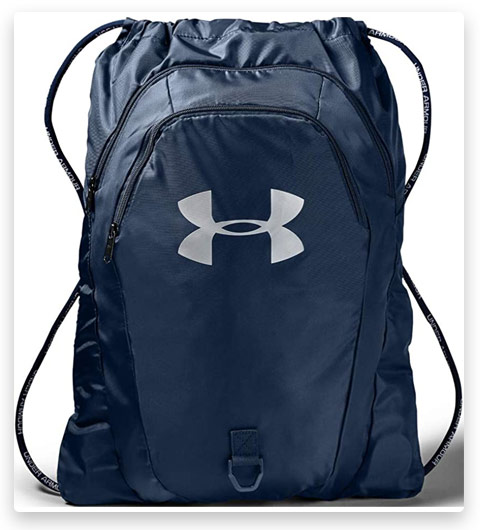 This backpack is made of durable textiles. Features a moisture-resistant front pocket to keep your belongings secure in any weather. Extra spacious, large compartment with easy access from the top and easily adjustable closure. It also has a D-ring, which serves as an additional mount.
Varieties of Best Gym Bags
For training and fitness. Gym bags for training and fitness are becoming more and more like a stylish accessory. A bold addition to a stylish bag look, this is the perfect outfit for your workout outfit. The most popular with women are casual workout bags. Textile bags fit perfectly with urban style and have many pockets and compartments needed for sportswear and equipment. Leather fitness bags are also in trend now, which are not only a stylish and functional part of the image but also an accessory for creating a respectable image.
Drawstring Backpack. The model is a sports bag, which is pulled together in a sack using a dense drawstring or straps. The straps can be adjusted to be carried over the shoulder or as a backpack. The design of such a thing is very convenient for quickly collecting sportswear and transporting it to the gym. They are made from soft and light, fast-cleaning fabrics and materials.
Sports backpack. They are popular with active women and men involved in sports and tourism. Backpacks differ in configuration, dimensions, and materials from which they are made. Each sport has its own special design. For example, for playing tennis there is a compartment for rackets, for swimming – a compartment for wet clothes. Many sports brands produce versatile sports backpacks that are durable, lightweight, practical material color, and great capacity.
Sizes of The Very Best Gym Bags For Men And Women
Large. Large bags can hold almost anything you need for your workout. The designers of the presented brands have tried to make large bags stylish and easy to use. Large models have increased strength of materials and reliability of handles, which are able to withstand increased loads during transportation of things.
Small. Small models share some common features that attract women and men who prefer a sporty style of clothing. They have a soft streamlined shape, laconic design, they practically do not have any decorative elements. Most small sports bags are made from textile materials in a variety of colors. Particularly popular are the shoulder straps with compartments for small items such as keys, mobile phones, and wallets.
Is the Shape of Your Fitness Bag Important?
The product should hold as many items as possible, but look as compact as possible. The main factor influencing the capacity of a product is the shape. The most inconvenient shape is round. Do not buy a round bag without thick walls, as when carrying heavy things, it will deform and lose its attractive appearance. It is better to give preference to bags with oblong or semi-oval shapes in the form of a cylinder or rectangle. Their deformation is almost invisible, so feel free to take even your own dumbbells to the gym.
Material Selection
Sports bags are made from natural and synthetic materials, as well as decorative fittings. To prevent rapid the wear of the product, it is sewn from the strongest and most durable fabrics: polyester, genuine leather, membrane, denim, and nylon. The material is preferable to choose waterproof. It is more persistent and meets the active lifestyle of an athlete. The most stable and durable is polyester, thanks to which the accessory:
Withstands heavyweight.
Does not break.
Does not lose shape.
Looks good.
Genuine Leather. The leather accessory will last a long time and will not lose its original appearance. The skin is quickly cleansed of any impurities, does not require additional care. The fabric does not stretch or deform, even if you carry heavy dumbbells in it.
Membrane Fabric. Due to the special impregnation, the membrane does not get wet even during heavy rainfall. The main thing is not to forget to close the bag with a zipper. The membrane fabric has a porous structure that does not allow moisture and wind from the outside but removes water vapor from the inside. The membrane should not be washed with ordinary detergents, as they clog the pores of the fabric, from which it loses its moisture-repellent properties. When purchasing a membrane product, do not forget to buy a specialized fabric cleaner.
Denim. Denim material is always popular since denim is not inferior in strength to the above fabrics. However, jeans get dirty quickly and are difficult to clean. If even a small stain appears, you will have to wash the entire bag.
Nylon. Outwardly, this fabric resembles silk, but nylon is much stronger and more durable. Nylon has a low coefficient of friction, so it won't wear out or thin out. Nylon products do not need any special care. The fabric is not afraid of natural and chemical solvents, so you can clean stains with any stain remover or soap. The price of nylon bags is lower than leather or membrane products since the production of this material does not require large costs.
Basic Requirements for Sports Bags
Roominess is the main requirement for a bag, which should be voluminous, but not too large.
It should fit everything you need:
Hygiene items.
Bottle of water.
The minimum volume of an accessory is 30 to 40 liters. For travel, choose the most spacious model with pockets. Men's sports bags are usually larger than women's ones.
What to Wear With a Gym Bag?
They fit perfectly with all types of sportswear. Pants, T-shirts, and blazers are designed to complement sporty bags in a variety of sizes, colors, and shades. All casual clothes go well with sports-style bags. Not only trousers in this style, but also skirts and dresses will perfectly create a harmonious ensemble with such a thing for walking and traveling. Glamorous sports models are perfectly combined with clothes and shoes made of natural and artificial leather. These kits can be used for travel, meeting friends, shopping trips.
Which Model is the Best?
The most popular model is with a shoulder strap. It can have any design, volume, and color. The strap length is adjustable. The presence of pockets in the bag is a big plus, since you can put a lot of small items in them, and they will not get lost among things. It is safer to put money and documents in an inner rather than an outer pocket.
The strap must be chosen wide so that it does not press, rub the shoulder or slide off it. Pay attention to the quality of the fittings: locks and fasteners should be easy to close and also easy to open. Don't skimp on your purchase. A quality bag made from durable and reliable materials cannot be cheap. A solid model will withstand loads, will not break, and will serve for a long time.
Conclusion
If you work out in the gym, you need a sports bag. It is quite difficult to choose such an accessory as there is a wide choice available to you. All the models presented in this article are of high quality and attractive design. My favorite is the Canway Sports Gym Bag.