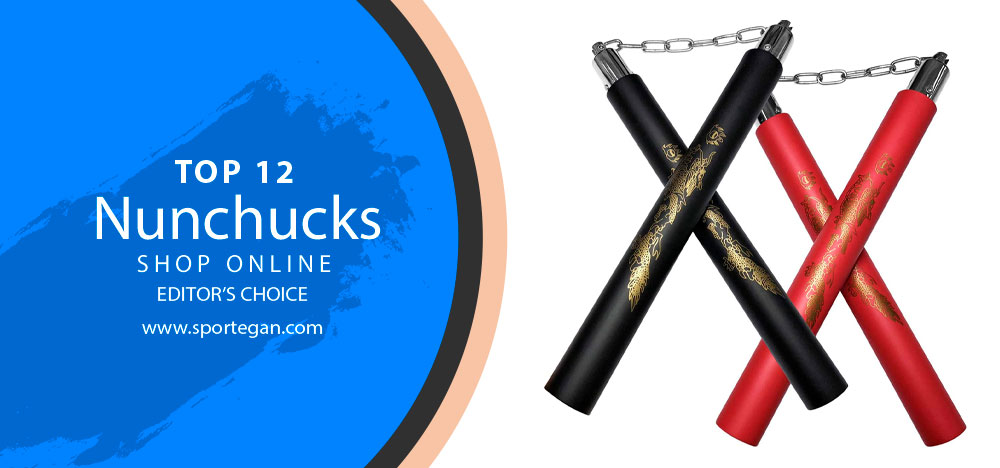 Nunchucks are an accessory used in some martial arts styles developed in China and widespread in Japan and China. In America, nunchucks became famous mainly through the films of Bruce Lee. These are two rods of the same length, connected to each other with a rope or chain, which allow you to perform a variety of movements and blows. I wrote this article so that as many people as possible learn about training nunchucks and can use them in their workouts.
Our Top List 12 Best Training Nunchucks – Editor's Choice
Here are the 12 best nunchucks available on the market today. This review will help you choose the best model to get you started with nunchucks.
1# MENOLY Nunchucks Safe Foam Sponge Training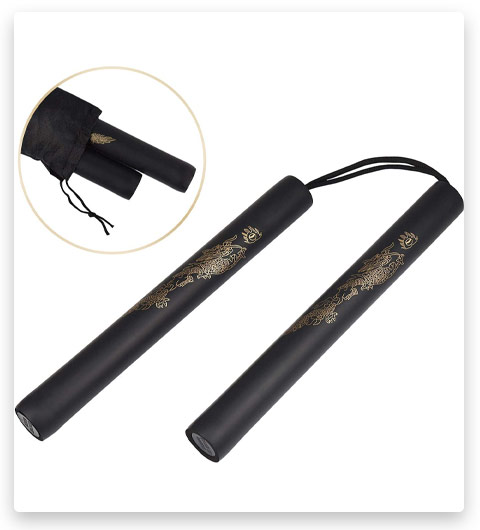 These are safe nunchucks to use thanks to the safe materials. If you are just starting to use this tool or want to purchase for your children, then, first of all, you should think about safety. These nunchucks are made from sponge core sticks with soft padded foam. Thanks to their material, nunchucks won't cause you serious injury or bruising, so you won't get hurt if you make mistakes. Each stick is 28 cm long and the rope is 13 cm. This is the ideal size for such an implement to achieve athletic performance.
2# MARCOLO Training Equipment Safety Foam Martial Art Sticks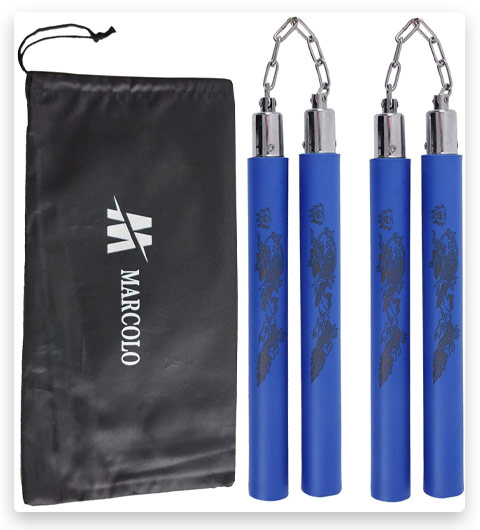 Develop your agility, strength, and flexibility with this nunchuck model. You will receive two, so you can train with the whole family. It is also suitable for children as the material ensures safety during use. It is made from high-quality durable foam. This material provides protection against injury.
3# SHIIDA Nunchucks – Safe Foam Rubber Training Nunchucks/Nunchakus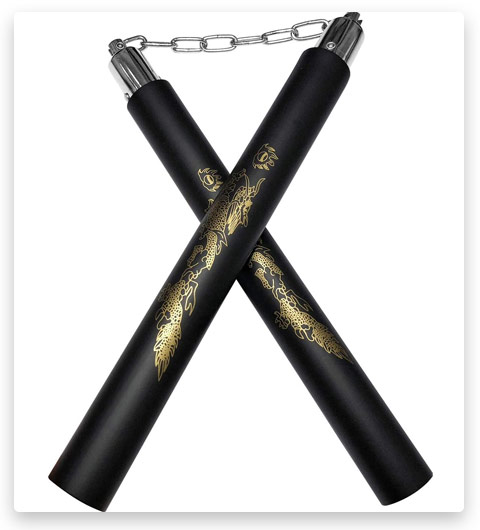 Each stick is made of durable materials and surrounded by foam to prevent injury during training. They are connected by a strong stainless steel chain. The standard size of the nunchuck will allow you to fully master this weapon. The nunchucks are equipped with a detachable stick tail. This allows you to change the weight of the sticks and thus learn new techniques.
4# Jandays Nunchucks Nunchakus-Foam Safe Rubber Nunchakus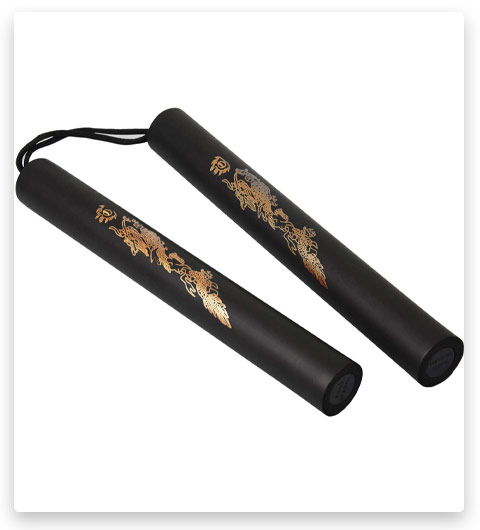 These nunchucks are suitable for both adults and children. Thanks to the soft foam padding, you won't be able to hurt yourself. It is ideal for both beginners and professionals. Each stick is 27 cm long and the rope is 11.5 cm.
5# REALHUNLEE Nunchuck Safe Foam Rubber Training Nunchucks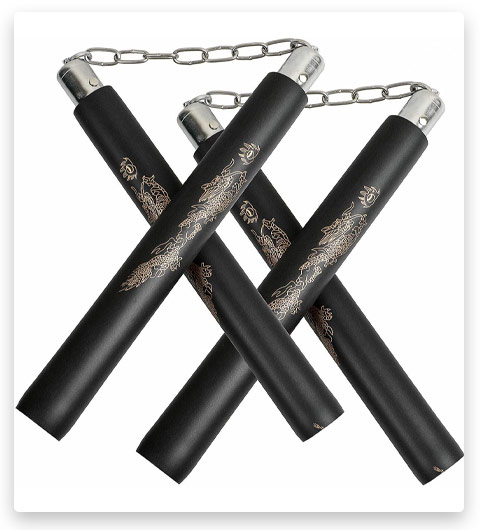 You will be able to easily control these nunchucks and master all the techniques. Feel free to be wrong with great materials. There is only minimal risk of injury due to the fact that the sticks are surrounded by a good layer of foam. This is the perfect item for your workouts!
6# MSGumiho Safe Foam Rubber Training Nunchucks Nunchakus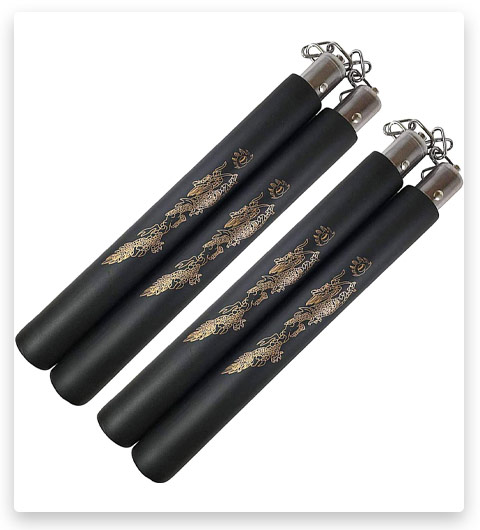 These are lightweight nunchucks that weigh less than a pound. You can be sure that you will not get hurt during your workout thanks to the excellent foam layer. The size of the nunchucks ensures reliable use. Each stick is 12.2 inches long and 7 inches apart.
7# Beyck Nunchucks Safe Foam Rubber Training Nunchucks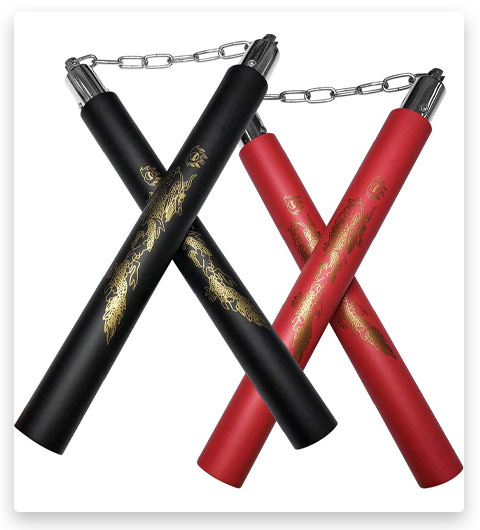 This model has a simple and laconic design. Designed for martial arts training. Nunchucks are safe to use due to quality materials. Can be used for children too. It develops coordination and dexterity. Strengthens the muscles, hands, and shoulder joints.
8# MSGumiho Safe Foam Rubber Training Nunchucks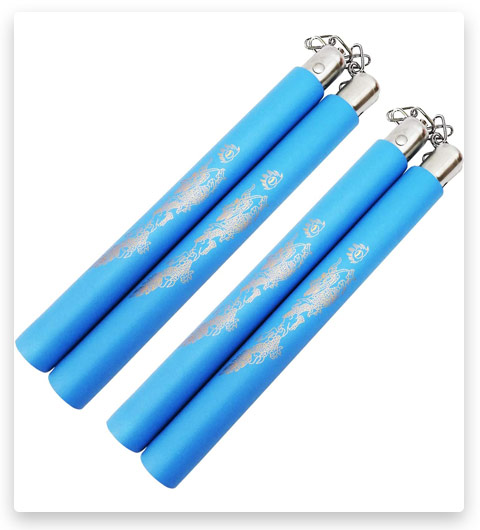 Nunchaku is made of high-quality thermoplastic surrounded by a layer of foam. The material is durable, resistant to impact, and mechanical damage. The nunchaku is connected by a metal chain. Training nunchaku is designed to develop a reaction, focus, strengthen the hands, and shoulder joints. The punches can be practiced both alone and with a partner. It is used in wushu, aikido, Kobudo, karate, and other types of martial arts.
9# e-jades Safe Foam Rubber Training Nunchucks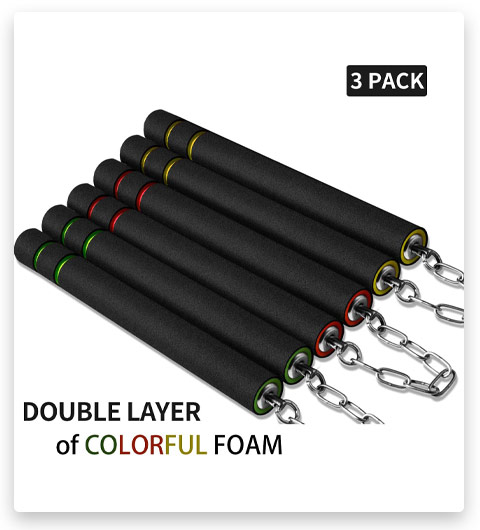 The chain nunchaku is a training model with sticks made of soft, non-slip, double-layer foam. The sticks are reinforced with internal rigid bushings connected by a chain with metal fasteners. They are used in various martial arts.
10# DAILYLIFE Foam Nunchakus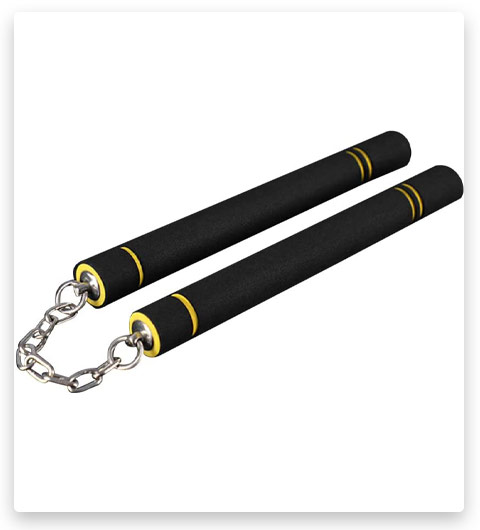 In the classic version, this equipment is intended for martial arts training. It consists of two sticks connected by a chain. They are covered with soft foam and therefore will not hurt you. These nunchucks are very effective for training to develop coordination, concentration, and muscle strengthening.
11# MSGumiho Nunchucks Cord Nunchakus Safe Foam Rubber Training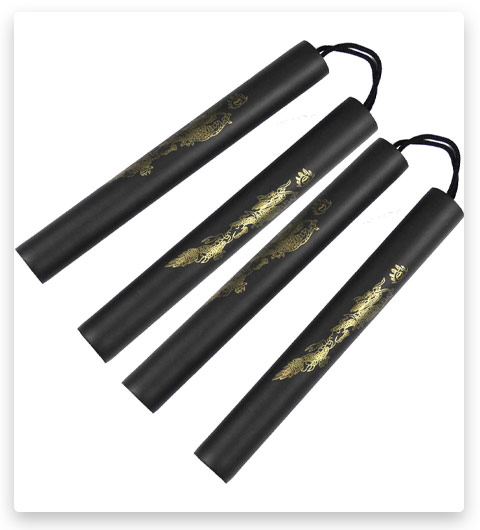 These are flexible sticks surrounded by soft foam. The sticks depict a Chinese dragon – a traditional decoration. Nunchucks are suitable for both adults and children. If you've never used nunchucks before, then this is a perfect variant.
12# Aship Martial Art Sticks Foam Training Sticks Bruce Lee Practice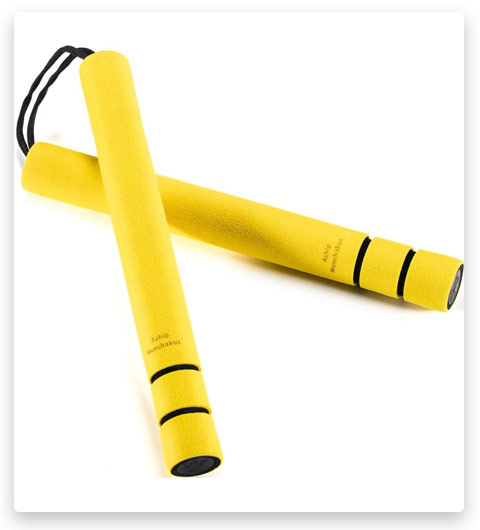 You will be protected from knocks thanks to the thick foam. You can train with your children without fear of injury. The bright yellow design draws in and inspires your workout. Nunchucks are lightweight so they are great for beginners.
What are Nunchucks?
Nunchucks supposedly originated from Japan, or rather from the island of Okinawa. Often used in oriental martial arts such as karate. The rods were originally made from wood, but nowadays you can find models in metal, fiberglass, or plastic.
The original nunchucks are made of solid wood and are an offensive weapon that can also hurt you. It is for this reason that there are padded nunchucks on the market, usually made of foam, that allow you to train without risk of injury. It is the latter that mainly intended for children, who can thus be trained to use with minimal danger of any injury.
There are also different types of nun-chucks depending on the shape of the two rods (perfectly cylindrical, more tapered, hexagonal, with clamps or stripes, etc.).
What are Nunchucks Made of?
They are consist of two rods and a cord or chain that connects them together.
There are certain norms under which all nunchucks are made:
The length of the rods is 25-35 cm
The diameter of the rods is 3.5 cm
The length of the cord or chain is 10-12 cm
These dimensions allow you to work comfortably with the weapon by choosing the desired option.
Types of Nunchucks
There is a claim that you can create some types of nunchaku yourself.
It is important to note that, depending on the species characteristics and classification of weapons, they differ in the training method:
Light options are used during skill development and in the initial stages of training, since light types practically do not harm the user's health.
Combat nunchucks are used after practicing basic movements and differ in a more complex configuration.
Heavy nunchucks are aimed at increasing the force of the blow and its sharpness, suitable for use only by experienced users.
In the course of practicing individual techniques, it is recommended to use combat nun-chucks, but only if techniques have been previously developed using light weapons.
How to Learn to Use Nunchucks?
To master this weapon, you need to regularly train and improve your skills for 2-3 years. In addition, you need to develop:
Agility
Intuition to predict enemy movements
Coordination
Reaction rate
Safety Engineering
To learn how to use nunchucks, it is necessary to master the basic technique under the strict supervision of a competent master in the gym. If you plan to train without the supervision of a trainer, you must follow safety precautions. Using a weapon without the proper skills can lead to injury.
Safe things. You can find a variant of weapons made from soft materials (for example, from foam). During training, the implement will often hit sensitive areas of the body, and hard rods can bruise or cause serious bruising. Wooden weapons can be used only after mastering basic techniques and bringing them to automatism.
Choose comfortable clothes. It should be free and in no case should hinder movement. Leotards without a T-shirt are considered the best solution.
Prepare your place. It is necessary to free space from furniture, taking into account the length of the weapon. The experts recommend starting training outdoors, rather than indoors, so that you have more room to maneuver.
Warm-up before exercising. Be sure to stretch your torso and arm muscles before starting the exercise.
Classes in a specialized hall together with the master allows not only to preserve health but also things, furniture, and other valuables in complete safety since during the training there is a possibility of damage to such objects.
Step by Step Learning Plan
The main secret of using nunchucks is mastering the basic movements and their repeated repetition, which allows you to bring each action to automatism when the movement is "put on a reflex".
This can be achieved by following the following scheme:
Do the exercise at a low speed, just enough to maintain tension on the cord.
Study the trajectory of the movement of the sticks to understand how far they go, at what point they return, etc.
Gradually increase your execution speed. Improve the precision and clarity of your movements.
Perform several techniques with a gradual increase in speed and power of impact.
Do not hurry! Apply this pattern to each exercise to get a feel for the movements and eventually learn how to do them without thinking.
Exercises for Beginners
Initially, professionals recommend learning how to properly hold the nunchucks using the following techniques:
Capture in the middle
Reverse capture
Gripping at the bottom end
Gripping at the top end, etc.
The basic techniques will help you master the basic movements of the weapon over time and feel that it acts as an extension of the hands.
Learn to do the most famous nunchuck technique (figure eight):
Place the nunchaku over your shoulder
Make a diagonal swing inward and down to the left hip
Then swing the free stick up to the left and swing it diagonally to the right and down
At the right thigh, expand the handle up and to the right
Perform a diagonal swing left and down
Having studied the basic basics, you can start learning related to block strikes.
Competent professionals distinguish three main types of blocks:
Then you can start learning related to the basic, that is, basic movements and swinging strokes of the nunchaku. Basically, swinging and basic movements are carried out along a straight and reverse path.
During initial training involving swinging strokes and basic movements, it is necessary to use a short rope, but in no case, not a projectile, since significant injuries can be caused by improper movements. When all actions are brought to automatism, you can resort to using the tool itself, which will hone your own skills.
Conclusion
Today, nunchucks are one of the most popular types of edged weapons in karate, kobudo, wushu and other martial arts. This type of weapon allows a warrior or athlete to confront an opponent armed with a sword, spear, knife, stick, pipe, or other weapon. I showed you the 12 best nunchucks to help you master the technique.
But if you still find it difficult to make a choice, then choose MENOLY Nunchucks and you definitely can't go wrong! They are the perfect size so they are easy to use and you can learn a variety of techniques. In addition, the sticks are surrounded by soft foam and are therefore safe to use. You will not harm yourself or get hurt.