Sportegan's Editors independently research, test, and rate the best products. We may earn a commission through products purchased using links on this page.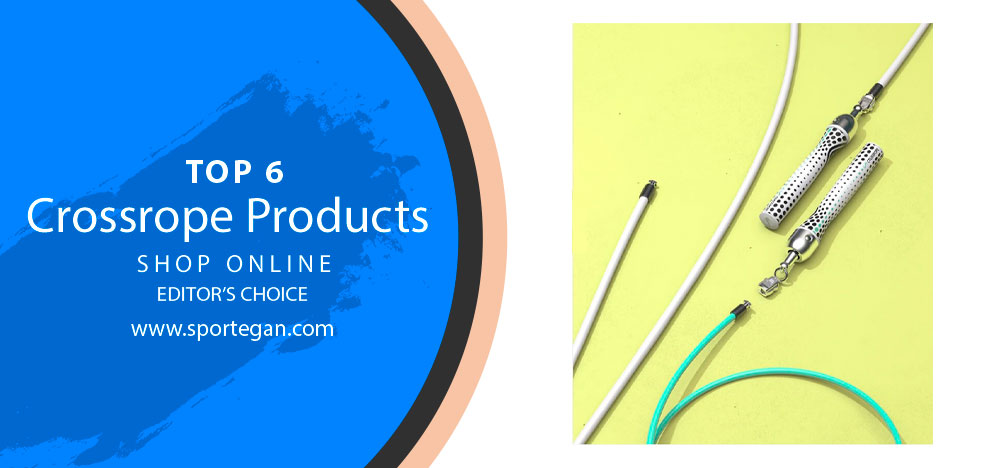 Most people left the jump rope in school days, believing that this is just fun for children and nothing more. But not everyone realizes that the rope is one of the most versatile and effective workout tools that are now available almost everywhere.
Crossrope Review – Best Jump Ropes Review
You can use the rope for training just about anywhere, and jumping rope can help you improve your cardio performance, footwork, and overall health. A jump rope is a great part of the equipment that doesn't take up much space and that everyone should have on hand. Whether you're a professional athlete or just training to keep fit, the rope is one of the best tools for a successful workout.
Crossrope Gear
But many treat the choice of a rope too condescendingly, believing that the quality of the rope isn't important and the main thing is that you can jump, even if it's a piece of wire. But in fact, the quality and configuration of the rope determines which muscles will get the load and how much, and most importantly, how comfortable you'll be.
That's why we present to you Crossrope, the brand that makes the best jump ropes in the USA. Depending on your goals (whether you want to lose weight, get strong, or keep fit), Crossrope provides different sets of jumping ropes that will allow you to achieve this as quickly as possible. It's one of the best sports equipment companies on the market. This is expressed not only in customer reviews but also in a wide range of products and a long warranty.
Why Should I Buy Crossrope Gear?
There are many reasons why Crossrope stands out from its competitors. We've listed the most basic ones.
Weighted Ropes
Crossrope produces not only standard ropes, but also weighted ropes, which put much more load on your arms and shoulders. This allows you to achieve the result in a shorter workout time.
Durability
In production, Crossrope uses heavy-duty steel braided structures. This not only makes the ropes one of the most durable but also prevents them from getting tangled when stored or transferred from one place to another.
Interchangeable
Crossrope ropes are universal. They allow you to change your rope from standard to weighted and back at any time. Thus, you can customize the type of training yourself as you like. Besides, in the future, if you want to purchase a standard or weighted rope, you don't have to buy the whole jump rope with handles, it'll be enough to purchase only a cord.
High-Quality Handles
The handle bodies contain professional-grade bearings, which allows the rope to spin as smoothly as possible. This way, you don't overload your wrists and hands, as is the case with cheap rope.
Tracking App
Crossrope has its own Android and iOS app that allows you to track your activity, calories, cardio, and other metrics right on your phone. Therefore, it becomes much more convenient to train with CrossRope.
Easy To Use
When you buy, you can use CrossRope jump ropes right out of the box. They don't contain complex handles or knots like their cheap counterparts. You just go and start jumping as soon as you get the rope.
High Value
Yes, Crossrope ropes are more expensive than most similar products on the market, but we can say that you can be sure of their quality. CrossRopes use only the finest materials to make their products that will last you for years.
Our Selection 6 Best Crossrope Products – Editor's Choice
Now that you understand why Crossrope products are so good, let's take a look at the best models we've prepared for you!
1# Crossrope Get Lean Weighted Jump Rope Kit – Best Pick For Weight Loss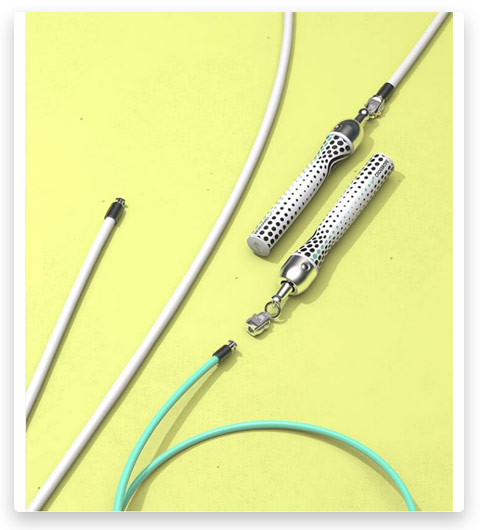 Most often, a rope is bought to lose weight. Indeed, compared to running, swimming, or any other training, the jump rope burns calories the best. This set consists of two quality wires of light and heavy type. Thanks to flexible and smooth handles, you can switch between light and heavy rope during your workout. This way you can make your workout as balanced as possible. Even if you're a beginner, you can easily handle this rope because the construction of the wires prevents tangling and twisting. Another plus is that the handles don't slip even if your hands are sweaty and the handles are wet. The rope will never slip out of your palms, even during the most grueling workout.
2# Crossrope Get Strong Jump Rope Set – Best Professional Pick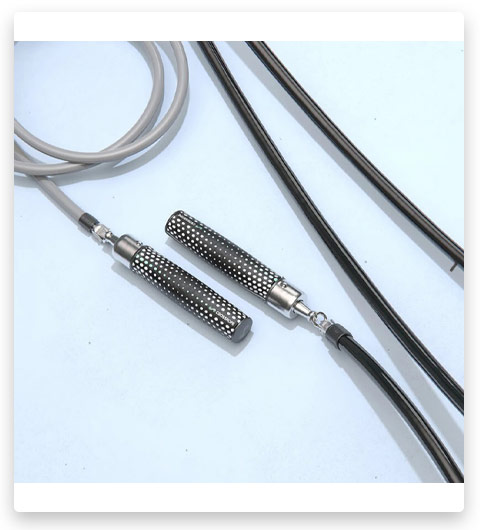 This set of jump ropes will maximize your strength, endurance, and cardio. The wires and handles here are selected in such a way that your muscles are loaded strongly, but evenly. With this kit, you'll target almost every muscle group. The set consists of two wires: light and extra heavy. They're made of durable steel that prevents them from twisting and getting tangled. Even if you're a beginner, you can easily use this rope. The handles are as elegant as the black weighted wire. This gives it very strong protection against dirt, unlike the white in the previous model. Changing wires is done in a matter of seconds, you don't have to untangle the handle for several minutes, you just change it with a convenient clip.
3# Crossrope Get Fit Jump Rope Set – Best Deep Workout Pick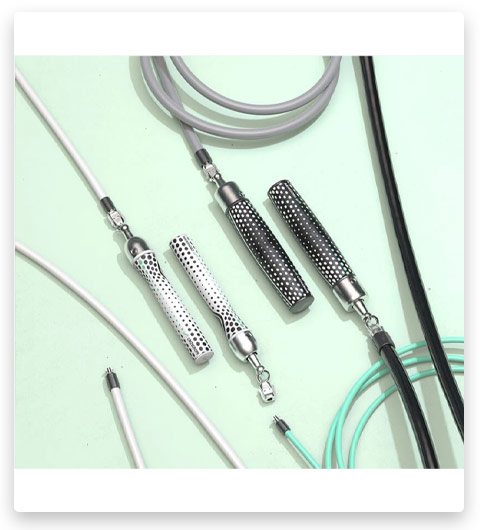 A great set for those who like to combine cardio and endurance workouts with a full-body workout. The set consists of two ropes, each with two replaceable ropes of different weights. This set will allow you to train in a very balanced way, as each rope has its weight and is aimed at a different task. For example, 1/4 LB and 1/2 LB ropes are more suitable for cardio, while 1 and 2 LB ropes are more for strength training. Like both of the previous options, they're very easy to use and won't cause problems even for beginners. The only drawback of this set is its high price. But if you're ready to spend money on your health, this model won't disappoint you.
4# Crossrope LE Jump Rope Mat – Best Mat For Home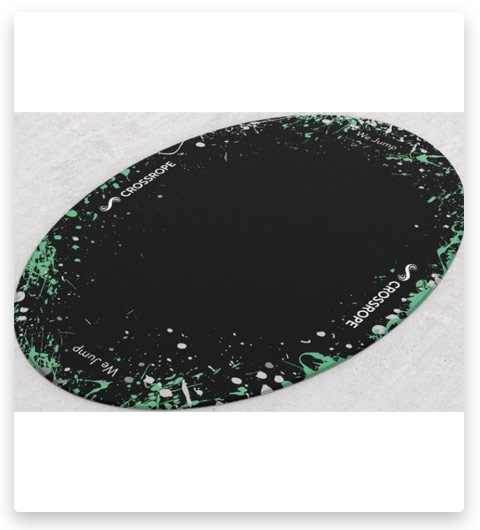 If you practice on the street with a rope, then very often it quickly wears out and becomes covered with scratches or even tears. If you're practicing at home, a rug or something soft may not be the best surface for your rope. Therefore, Crossrope specially made a mat for your convenience and comfortable jumps. The LE rug has a unique oval design and a stylish black color. The material from which the mat is made prevents your feet from slipping and keeps you firmly in place after each jump. For its price, this is an excellent attribute to the rope.
5# Crossrope Jump Rope Mat Black Wide – Best Universal Mat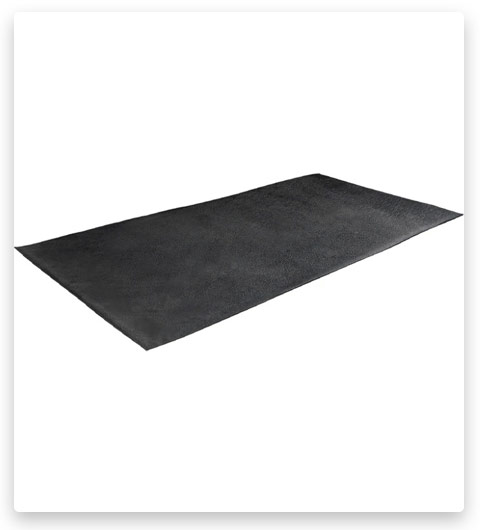 This mat isn't suitable only for jumping rope. You can also do push-ups, squats, or yoga on it. This is one of the most versatile and largest models from Crossrope. The mat is made of high-quality non-slip rubber. If you need to carry it somewhere, then you can simply roll it up and take it with you.
6# Crossrope Jump Rope Workout Bag – Best Sports Bag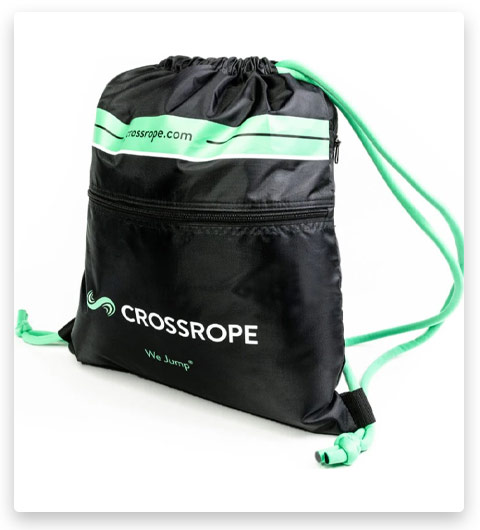 And of course, if you want to take the rope with you to the gym or somewhere else, then you'll need a bag in which you can carry all your equipment. Crossrope brings you a great sports bag at a low price. This isn't just a bag with drawstrings. The bag is equipped with two compartments with zippers, in which you can fold whatever you need. For example, additional rope or accessories. If accidentally one of the ropes on the bag breaks, you can always reattach it thanks to the convenient attachment at the bottom of the bag. The bag itself is made of very high-quality materials and will serve you for a very long time. Its only problem is that after a few washes, the stickers on the bag will crack.
How to Choose the Length of the Jump Rope?
Choosing the right rope size is the next most important point after buying the rope itself. There's a standard method, which is that you stand in the middle of the rope, and the handles should reach your armpits. If the handles aren't reached your armpits, the rope is too short; if the handles are reached but not tight enough, the rope is too long.
If the handles reach exactly to your armpits and the wire is taut, then you'll be comfortable when jumping. But this method only works in general. For unique styles and each person separately, this method doesn't work. Especially for people who want to improve their jumping rope skills. Crossrope has a sizing chart that allows you to choose the correct rope length for your height. In most cases, this chart is very helpful in helping users to find the size. But we also put together a detailed guide for you, depending on your style and goals.
Beginners
For beginner jumpers, speed isn't so important. Therefore, a longer rope is perfect for children and beginners. In this case, we recommend using the armpit method described above.
Double Under & Fitness
When I need to train a double under with my students, I adjust the rope for them so that it'll fly about 6-12 inches overhead. For fitness, ropes of this size are also great. Larger sizes are usually not suitable for fitness or double under because they don't allow you to develop enough speed and the rope slows down too much on the floor. In general, the idea is to rotate the rope over your head for as short a distance as possible. But so that it was convenient for you to jump, but at the same time the rope almost did not slow down on the floor. It is important to find the "golden mean" here.
Speed Jumping & Boxing
Professional boxers and speed jumpers usually choose jump ropes that fly 2-6 inches over their heads (sometimes even up to 1 inch). It's all about how you control the rope. Doing 5-6 jumps per second on the rope requires a lot of concentration and control over the rope and your arms and legs. Some speed jumpers even duck their heads so the rope can fly over.
What to Look For in a Good Jump Rope
When we compiled our list of the best ropes, we selected them based on four criteria: ease of use, versatility, durability, and value. We recommend you also pay attention to these parameters when choosing a rope. This way you can be sure of the quality of your rope.
Ease of Use
The rope should be easy to use once you get it out of the box. In the process of writing this tutorial, we realized that a few ropes don't require complex assembly that takes a long time. This starts from untangling the rope itself and ending with how the handles fit comfortably in your hand. Crossrope ropes are made of durable steel, so they stay flexible without ever getting tangled. And we've already said several times about how high-quality they make the handles.
Versatility
It's very convenient when your rope is suitable for several styles and workouts at the same time. Whether we were doing a double under, crossing a rope, or any other technique, Crossrope ropes were great at every challenge. This is mainly because the ropes have two wires in the set: a light one and a weighted one, which gives such flexibility when training.
Durability
We did outdoor testing specifically to see how the ropes would handle the cement that scratches and wears on the rope. Each of the models we tested was almost undamaged. Of course, the look has deteriorated a bit, but overall they remain the same as when we took them out of the box.
Value
Ropes shouldn't be too expensive, but you shouldn't buy the cheapest model on the market. It's important to correctly assess the cost of the rope and understand whether it is worth the money. All of our CrossFit jump ropes seem to be quite expensive, but considering all the details it comes with and that it has received the highest marks in terms of ease of use, comfort, and durability, they are worth every cent.
Conclusion
The jump rope is one of the most important and necessary elements for an effective workout. Crossropes make some of the best skipping ropes on the market today. We decided to choose several winners from the entire list.
Here they are:
We hope our article and guide on choosing a rope will help you make the right choice and improve your training!
Editor-in-Chief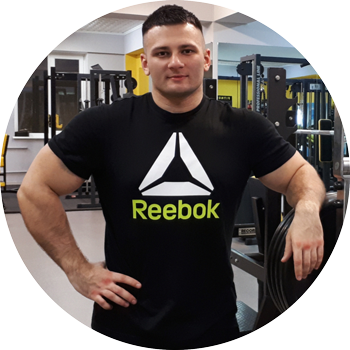 Nikolai Sergeyev
Expert in athletics, boxing, powerlifting
Nikolai Sergeyev is a weightlifter, powerlifter. Master of Sports International Class, world champion and record holder in powerlifting among juniors and youth in the weight category of up to 90 kg and up to 100 kg.
European and world record holder in different versions: UPO (EPA, IPA), WPC, GPF, UDFPF (WDFPF), WPA and others.
World and European Powerlifting and Bench Press Absolute Champion
More than 50 world records
Master of Sports of International Class
Affiliate Disclosure: Sportegan.com sometimes gets paid for listings, through sponsors or affiliate programs like Amazon, Ebay, Everlast, Cleto Reyes, RingSide, Winning, Title, Twins Special, Hayabusa, Fairtex, Top King, Venum, RevGear, RDX, Century, Tapout, Crossrope, and others. Clicking a link helps keep Sportegan.com free, at no extra cost to you!
About the author: Each article on our website is checked and edited by a professional and expert in the field of sports (boxing, athletics and weightlifting). Nikolai Sergeev is a multiple world champion and record holder: during his sports career Nikolai set more than 50 world records among youth, juniors, adults, in different weight categories and in different versions (NPA, IPA, WPC, GPF, WUAP, WPA, IPO, RPS, etc.). The author has more than 30 victories and more than 30 gold medals received at competitions of the international level, the European and World championships. Read more at «About» page. Official website / Wikipedia.
Note: The views and opinions expressed in this article are those of the authors and do not necessarily reflect the official policy or position of any agency.