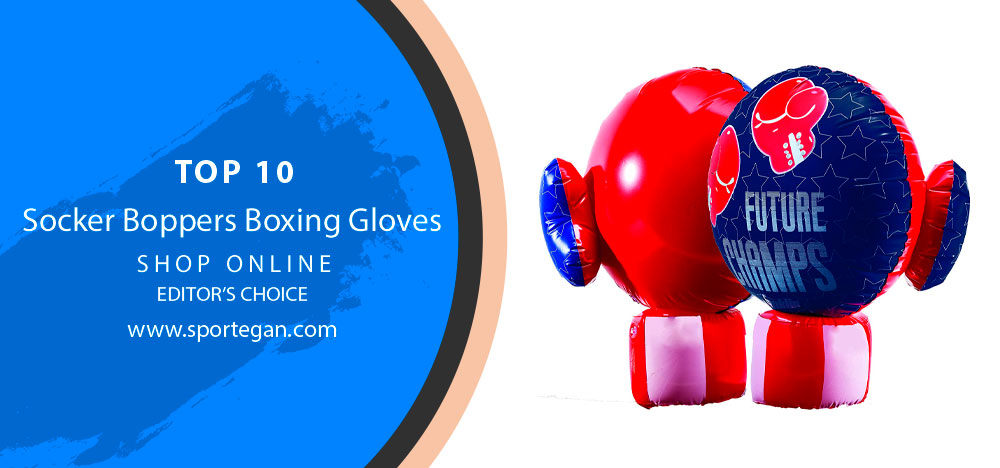 When you have young kids, there comes the point where you need to come up with a gift for them. This dilemma is widespread. You have to figure out what to buy more often than you'd think. There is time for presents on birthdays, Thanksgiving days, holidays, Christmas, and the list goes on. And don't forget about the kids of your friends and relatives!
There is so much to choose from. However, by now, you know how important it is to support the physical condition and health of young children. I have been telling about the positive effects of exercises for growing kids for a while now. You should use every opportunity to divert the attention of your kid from the glowing blue screens. I have been talking about boxing in particular.
Bag punching is a great way to train your power, stamina, and endurance, as well as reaction speed and hand-to-eye coordination. But it is a complicated process to buy all the necessary equipment for in-home boxing sessions. You must get a heavy boxing heavy bag or a boxing stand.
Then you'll need to mount it either to a ceiling or to a special heavy bag stand (if you didn't get the freestanding bag). Then come the punch-gloves, the helmet, and many other types of equipment. And what if you just want to get a simple, yet fun present for your kid without the hassle and extensive costs?
I may have the thing just for you. It's called a Socker Boopers, also known as inflatable boxing gloves.
Top 10 Socker Boppers Inflatable Boxing Pillows

What are the Socker Boopers?
It is a part punching glove part inflatable toy that became popular in the late 1990s. It goes back to the 1970s, but it truly started to get traction in the nineties. SB are basically oversized punch-gloves that look like two gigantic pillows on your hands. They have the charm of the 90s nostalgia, and recently they had a surge in popularity.
How do I use them?
Pump them with air and put them on just like regular gloves. Your kids can use them to punch each other without the risk of getting bruised or breaking their noses. They are much safer than regular boxing gloves, and it is nearly impossible to hurt anyone with them.
Why should I get them?
They are cheap, affordable, and fun to play with. It's not just children who'll like it. Many adults who crave the 90s-styled products would love to get ahold of these. Socker Boopers fit almost any hand due to their gigantic size and ability to adjust the said size with air pumping. They are also incredibly easy to use – just put them on, and you are ready to strike your friends as much as you'd like. You don't need any additional equipment. They also encourage minimal physical activity. Maybe they can become a gate for your kids to get into combat sports!
You said adults could use them?
Why not? They are so gigantic almost any fist can fit in there. And there's nothing quite as funny as punching your friends to oblivion without damaging their vital organs.
How durable are they?
As I said before, these gloves are very affordable. The reason for the low price is run-of-the-mill materials. Remember, that Socker Boopers are used primarily for punching each other. Because these products go through brute physical interactions they quickly wear out. And cheap materials don't make them any more long-lasting. However, there are some gloves that go with a patch kit for quick repair. Don't forget about the drawback of all inflatable products – they lose air. Some keep the air inside better than others, though.
How kind of price range are we talking about?
Inflatable boxing gloves slash pillows are super low-priced even in an unused state! You'll find out that most of them don't sell for more than $15.
Where can I get Socker Boopers?
They are sold in many toy stores in the USA, Australia, New Zealand, Mexico, and other countries. Recently they launched even in the UK. You can also get them on a variety of internet stores, like Amazon. Now, if you want to make a unique, surprising, and fun gift, you should consider trying one of these products, which is why I have compiled a list of the Top 10 Inflatable Socker Boopers. Let's look and find out which ones are the best!
1# Socker Boppers Inflatable Boxing Pillows – One Pair Boppers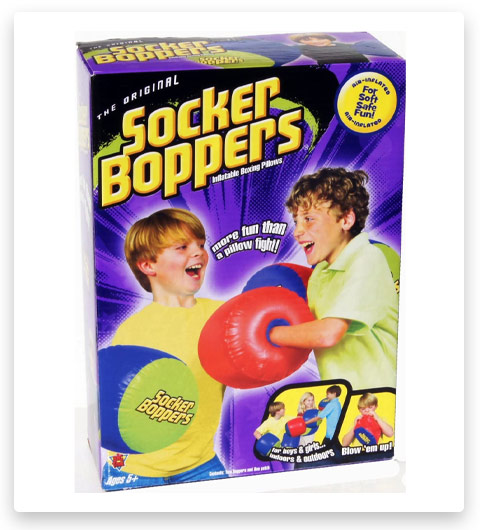 Do you want your kids to have a fun time fighting each other without such consequences as bruises or busted lips? That and many other inconveniences are beaten with the inflatable boxing gloves by Big Time Toys. Socker Booper's punch-pillows lets kids participate in friendly fights in a safe environment.
They are durable due to heavy gauge vinyl. They can be used both indoors and outdoors. Their manufacturer also provides a list of games that can be played using this product, such as "tightrope" and bopping your opponent from the circle on the ground.
Although these gloves were made with kids in mind, they easily fit adult's hands. Unfortunately, the air leaks from them too rapidly. Your kids can play with them for an hour, and then you'll need to reinflate them. If the thought about constant air pumping doesn't drive you mad this product can be great fun.
Highlighted features:
Suited for kids from ages five and up. Fits adults.
For indoor and outdoor use.
Inflatable.
2# B&A Inflatable Boxing Pillows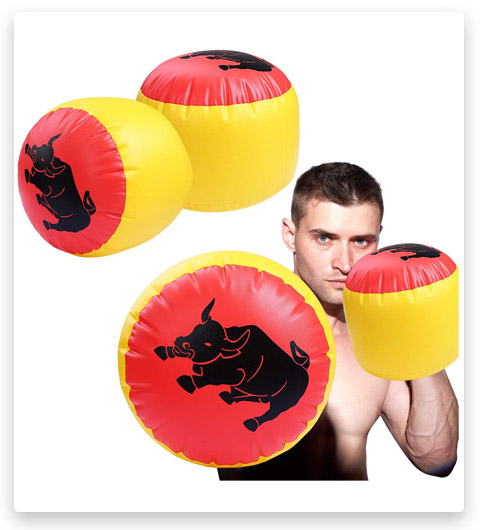 Quick to put on and fast to deflate! Well, this one's not so different from the previous one. They both have the same design and packing. However, they are not identical. Not entirely. These have a little different design and look. They feel the same, fit almost the same, and share the same downfall of all inflatable products.
Yes, they are very quick to lose air. Socker Boppers Inflatable Boxing Pillows provide safe fun for children. The real difference between this product and the previous one is the high price tag on this one.
Highlighted features:
Suited for kids from ages 5 and up.
For indoor and outdoor use.
Inflatable.
3# Socker Boppers WKSB Inflatable Boxing Pillows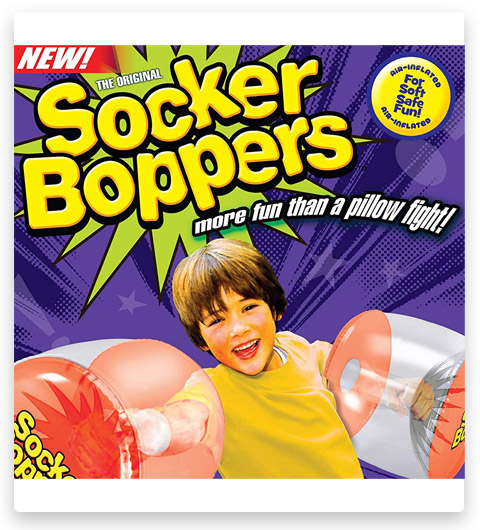 Another product in a series of Socker Boppers for kids older than four years. It can provide a safe way to punch each other, as well as play a variety of games. They easily fit any hand. The product is also safe to use. You know the drill by now. However, is this product any good? Not very much.
The gloves are OK for toddlers and kids who are under eight years. Older kids and teenagers will demolish them in a few weeks (or even days). They are definitely not made out of quality materials. Socker boppers also deflate rather quickly.
Due to the low quality of the product, the gloves rip very easily, further intensifying the problem with the air leakage. Sadly, after a while, this product becomes nothing more than a broken piece of 90s nostalgia.
Highlighted features:
For kids older than four.
For indoor/outdoor activity.
Inflatable.
4# Franklin Sports Inflatable Boxing Gloves Jumbo Inflated Size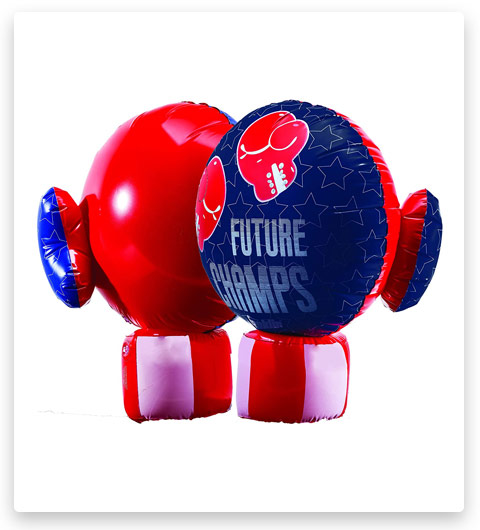 The inflatable boxing gloves by Franklin Sports make it possible for kids to land risk-free and painless punches on each other. The more you pump air in the gloves the bigger they become, getting about 20 inches at maximum.
They will look like two big oversized pillows on kids who are around six years. Just believe me, kids can box with them all they want without harming each other. Each glove has two parts you can pump air into the glove and the wrist. It makes it even more comfortable to use. The process of inflating takes a lot of time.
Also, they are not very sturdy, and vinyl feels cheap. However, they can be a lot of fun for some time.
Highlighted features:
Inflated.
For indoor/outdoor use.
For kids from age 6 and up.
Size: 20 x 13.5 inches.
5# Big Time Toys Socker Boppers Bop Buddy Standing Inflatable Talking Punching Bag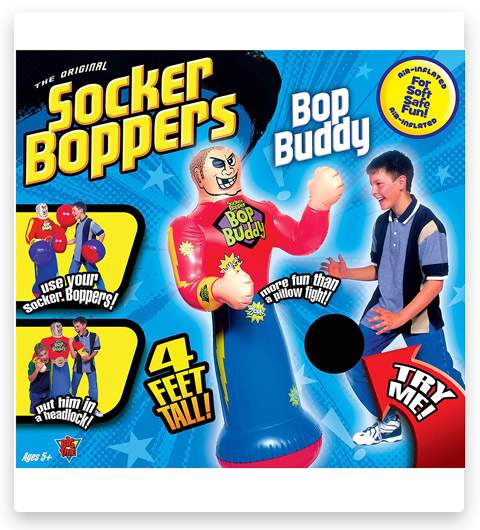 You are not mistaken – these are the same Socker Boppers boxing pillows that we have looked at at the start of this top. But there's a "but." It is a renewed version.
Renewed products by Amazon feature the same quality as the untouched originals. They look and work like they are new. Staff at Amazon tests and reviews each product and even gives you a 90-day guarantee, so you can refund these gloves if they don't satisfy you.
If you were eyeing Socker Boopers before, this version should pique your interest. It is much cheaper, just as good, and comes with what is basically an additional warranty.
Highlighted features:
Renewed product.
Inflatable.
Suited for kids from ages five and up. Fits adults.
For indoor and outdoor use.
6# Kids Party Blow Up Boxing Pillow Gloves Boxing Mitts Inflatable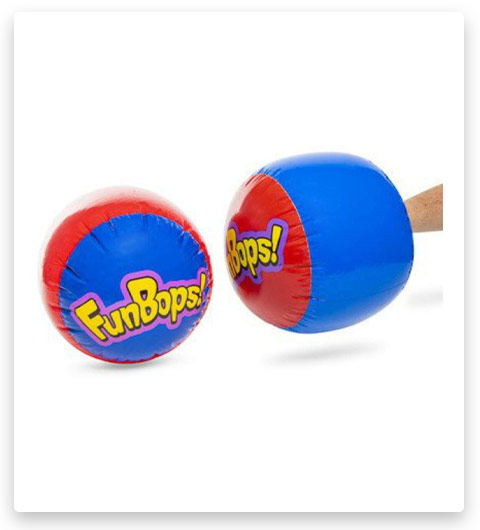 This product packs not only boxing pillows but also boxing mitts. Socker Boopers by Kids Party provide pleasant pummeling between kinds. The hands and wrists of the bearer are protected by air chamber cushions. They are also oversized, inflated, and made from vinyl.
However, these gloves are also quick to deflate. Not only that, but they are also not sturdy or long-lasting enough. They can pop after a few weeks or even days of extensive use. The amount of time it takes for them to deflate takes from 10 to 15 minutes. Before buying them, just imagine yourself pumping these gloves with air every half an hour.
Highlighted features:
For kids from age five and up.
Inflatable.
Indoor/outdoor.
7# Windy City Novelties Red Blow Up Boxing Gloves Party Toys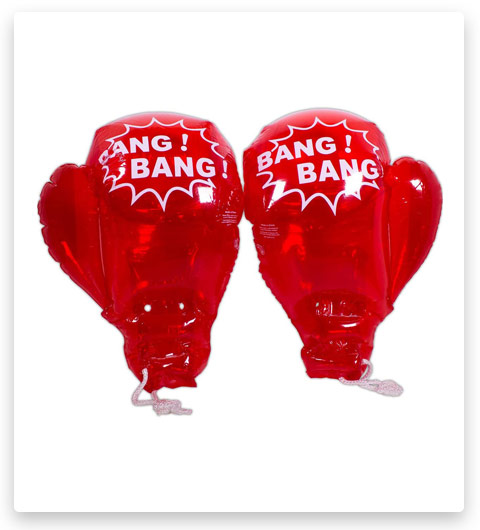 Another oversized inflatable boxing glove. They are so big (18 inches in length) when you pump it full of air that kids physically can't hurt each other with them. They look a lot like punching gloves. These gloves are an enjoyable and fun alternative to standard boxing or mixed martial arts sparring.
The look of these red punch-gloves is very colorful and immediately catches everyone's attention. The manufacturer also suggests that you can use them as a decoration, not just as a toy for outdoor and indoor games. And for the price, Amazon offers – why not?
The construction leaves a lot to be desired. The product has all the downsides of traditional inflatable Socker Bloopers. These gloves lose air rapidly, and they can pop in a few weeks of extensive use.
Highlighted features:
Inflatable.
For outdoor and indoor use.
The size is 18 inches.
8# Franklin Sports Stinger Bee Jumbo Boxing Gloves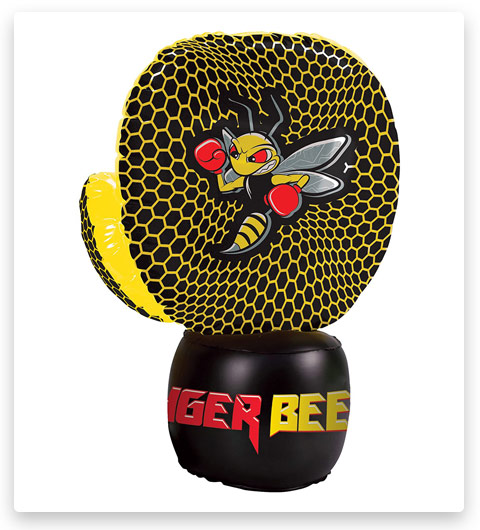 These Socker Blooper gloves have a stylish design. Don't worry; they don't sting like bees even if they look like it. Due to its gigantic size (23.6 x 16 inches), they look oversized on both kids and adults. Those gloves are the second biggest we will look through in this list.
Due to the size, it's nearly impossible to harm anyone with them. The more you pump it with air the bigger they become. If you purchase this product, you'll get two gloves and a patch kit. Yes, the manufacturer acknowledges that they can rip. It's cheap and made from inexpensive materials.
Don't worry, though, if your gloves rip you can quickly path them with one of the vinyl squares. This product provides a fun way to spar between kids of all ages.
Highlighted features:
Inflatable gloves.
Suited for indoor/outdoor use.
The size is 23.6 x 16 inches.
9# Hedstrom Spider-Man Bop Bag Inflatable Punching Bag and Gloves Set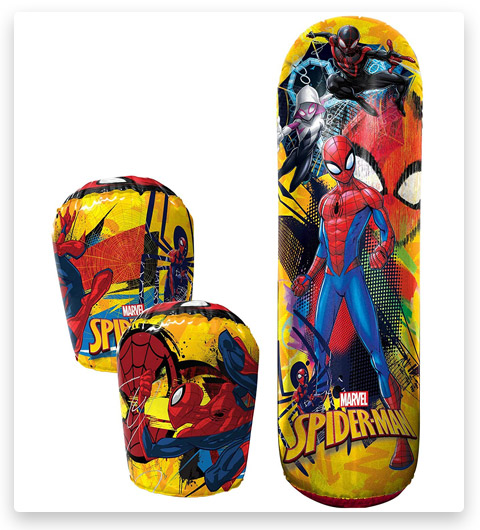 These soft vinyl gloves have a graphic from Spider-Man as their theme. They are also inflatable. Even though they struggle to keep air, they are very easy and quick to inflate.
You can thank the small size for the brisk air pumping process. When fully pumped each glove stands about 11 inches tall and 10 inches in diameter.
They don't look oversized on kids; however, they still provide harmless ways to punch your friends to oblivion. They are also very cheap. Combined with decent durability and compatibility due to fast inflating, they make for a nice toy.
Highlighted features:
For indoor & outdoor use.
Inflatable.
The parameters: 11 inches in height, 10 inches in diameter.
10# Skylety 2 Pairs Inflatable Boxing Pillows Inflatable Boxing Gloves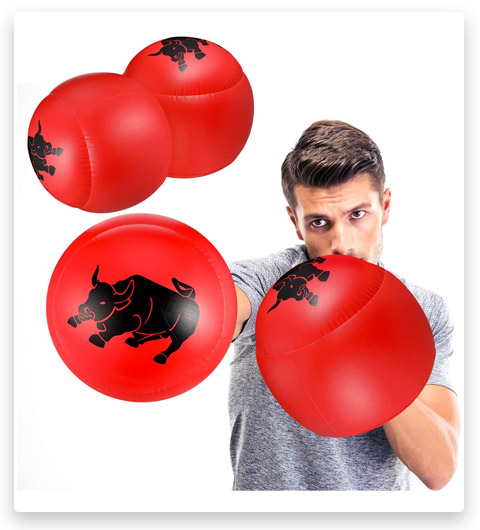 As the name suggests, Westminster gloves are big. Really big, like standing 18 inches tall (about 46 cm) when they inflated to the max. Maybe not the most gigantic punch gloves the world has ever known, but definitely the biggest ones on my list.
These oversized pillowlike gloves can capture your kid's attention for many weeks. It's safe, harmless fun that has above-average durability. If your kids won't go nuts these boxing pillows can have a very long life. Some of the usual downsides are that they need constant air pumping. However, it is quick and effortless to pump it back to shape.
Due to the gigantic size, these gloves easily fit my fists. From my point of view, this product can be great for adults who want to have some harmless fun with their friends.
Highlighted features:
Inflatable boxing gloves.
Suited for kids over 8 years and adults.
For indoor and outdoor use.
The parameters: 23.6 inches x 22.5 inches.
Conclusion
My pick as the most durable, affordable, and enjoyable inflatable boxing pillows are Socker Boppers Inflatable Boxing Pillows. These gloves are as study as two air-pumped boxing gloves can get. You'll get the most fun out of them!
The best pick out of the cheapest products of this category is Big Time Toys Socker Boppers Bop Buddy. Not only do they come as good as new, but they also have the lowest price tag. The 90-day refund guaranteed by Amazon is just icing on the cake.
Stinger Bee Jumbo Boxing Gloves by Franklin Sports is the most stylish one in the bunch. In addition to the "stingy" design, you get a patch kit for quick repairs. These may be the most durable ones on the list due to that. Here we go! I hope my article widened your horizons and perhaps even persuaded you to try them out! Well, at least now you know about the most 1990s boxing gloves ever made.