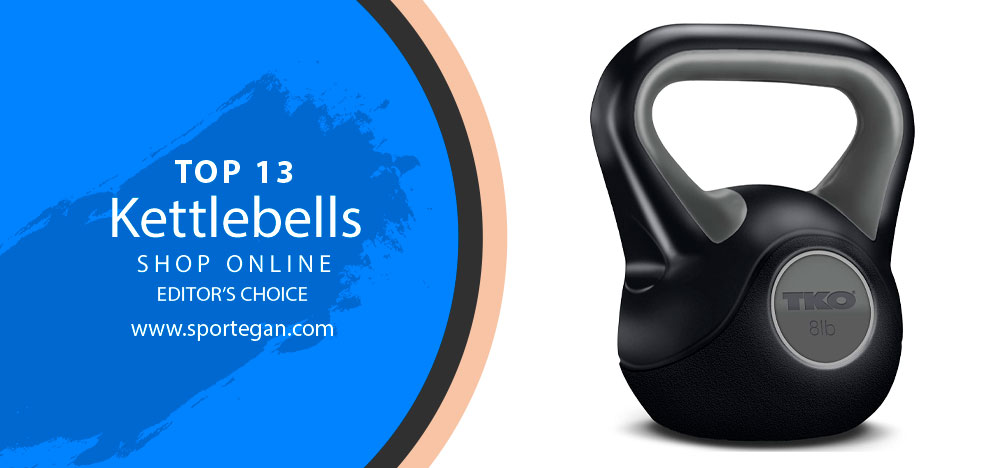 Thinking about maintaining health and improving physical fitness, a person asks questions: How to train functionally: pump the whole body and develop endurance, coordination, etc? How can you not spend too much time on training and do with a minimum of equipment?
Pay attention to the kettlebells. It's an inexpensive and compact projectile that can both point-load muscles and the whole body in a complex, quickly form a beautiful figure, and improve health. The unique combination of strength and cardio training with kettlebells provides a confident path to lean muscle mass, which is very valuable today for exercise enthusiasts.
Here Our Top List 13 Best Kettlebell for Home Fitness – Editor's Choice
If you are interested in purchasing home workout weights to improve your body and health, here are the 13 Best Kettlebells for Home Fitness.
1# AmazonBasics Cast Iron Kettlebell Weight – #1 Best Seller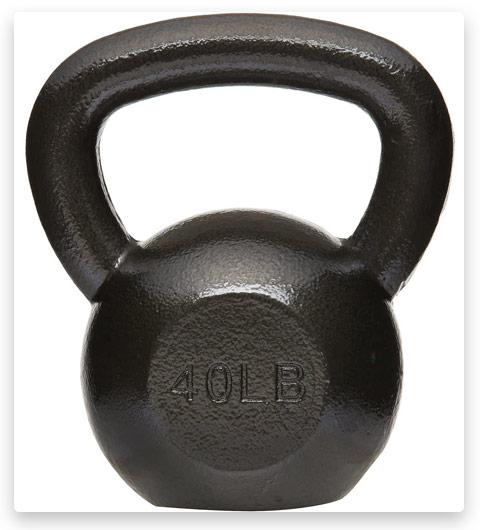 This high quality and durable cast iron weight have a wide handle for a comfortable two-handed grip. This expands the training possibilities. You can use the kettlebell for both lower and upper body workouts, burn calories, and increase your fitness level. The surface is painted for corrosion protection and extra durability.
2# Day 1 Fitness Kettlebell Weights Vinyl Coated Iron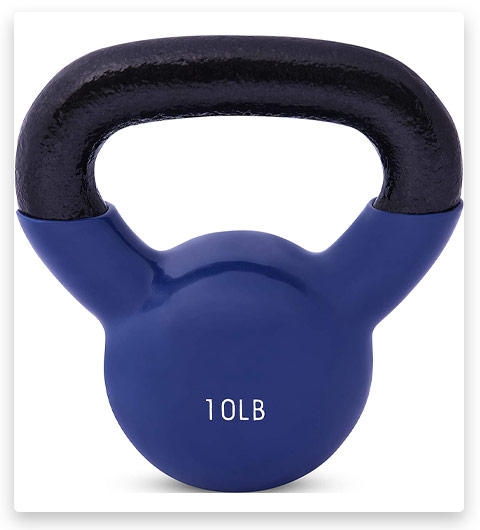 These unique weights are available in 10 sizes and in red, yellow, black, blue, orange. They are vinyl-covered to reduce noise when thrown onto the floor and provide added safety. The smooth, comfortable handle saves you from rubbing and chafing. These kettlebells are ideal for home workouts.
3# YOGU Kettlebell Weights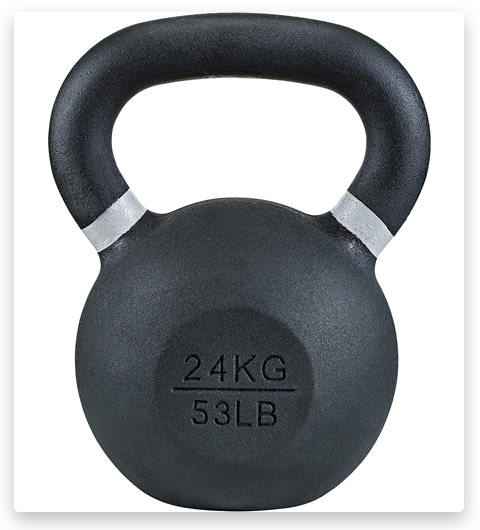 If you are looking for a kettlebell for heavy and intense workouts, then this is a great option for you. It is made of high-quality durable iron and has a wide, slightly roughened handle for a comfortable and secure grip, even during the longest workouts. The kettlebell has a flat bottom and stands firmly on the surface. Use it for squats, deadlifts, and various presses and jerks.
4# Kettle Gryp Kettlebell Adjustable Portable Weight Grip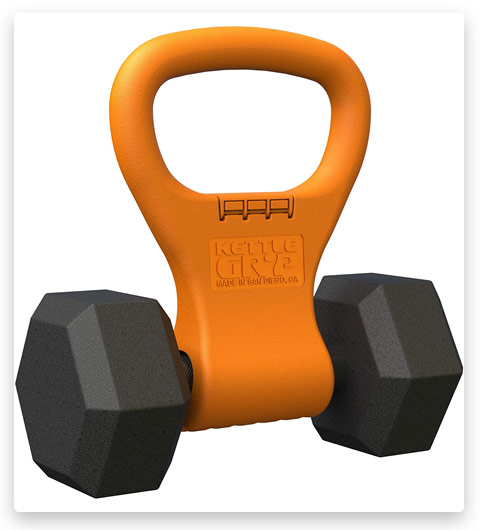 If you travel a lot, do sports always in different places where there may be no kettlebells, then the Kettle Gryp is an irreplaceable thing for you. Weighing less than 1 pound, it can handle dumbbells up to 55 pounds and converts them into weights. Kettle Grip takes up little space in your bag, is suitable for both men and women, and will help you achieve the desired results in sports.
5# Bionic Body Soft Kettlebell with Handle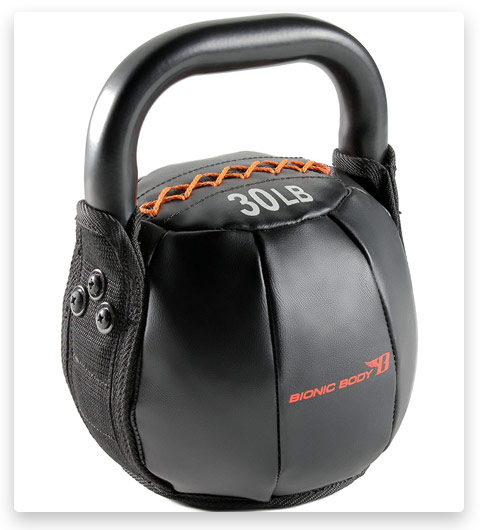 This kettlebell is ideal for training at home. It is made of soft materials to prevent damage and injury from accidental falls. Thanks to its compact structure, you will save space in your home gym and can comfortably perform a variety of exercises such as squats, swings, deadlifts.
6# Yes4All Adjustable Dumbbells with Connector Options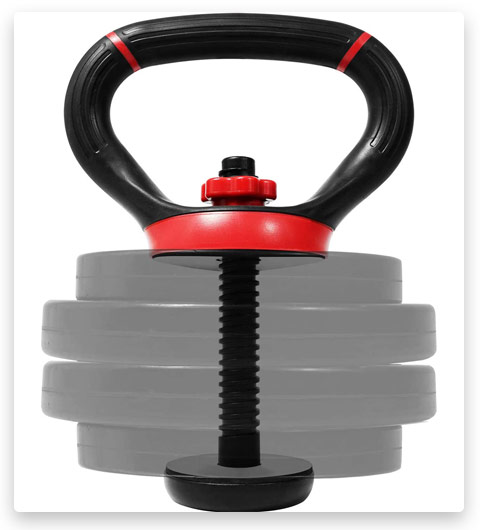 This lightweight yet durable adjustable kettlebell handle can handle up to 100 pounds. If you have adjustable dumbbells, then you do not need to buy different kettlebells, you can use the weight plate from them. The wide rubber-coated, comfortable handle provides a secure grip with both one and two hands and prevents slipping during workouts.
7# Bowflex SelectTech Adjustable Weights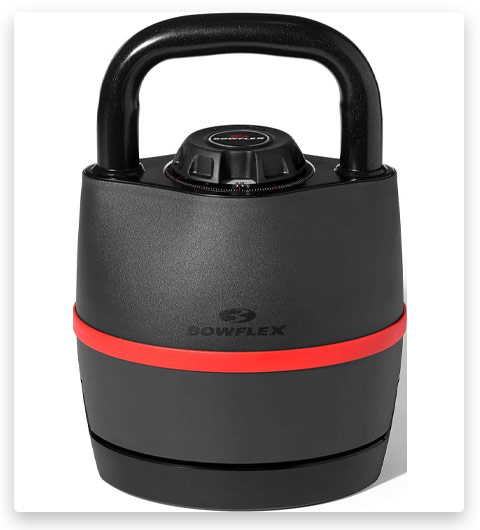 A variety of exercises for the muscles of the whole body can be performed with this adjustable kettlebell. Just turn the dial to choose from six weights from 8 to 40 pounds. With these weights, you will save time and space by simply choosing the right weight for your workouts. You can combine strength and cardio in one effective kettlebell workout.
8# Yes4All Powder Coated Kettlebells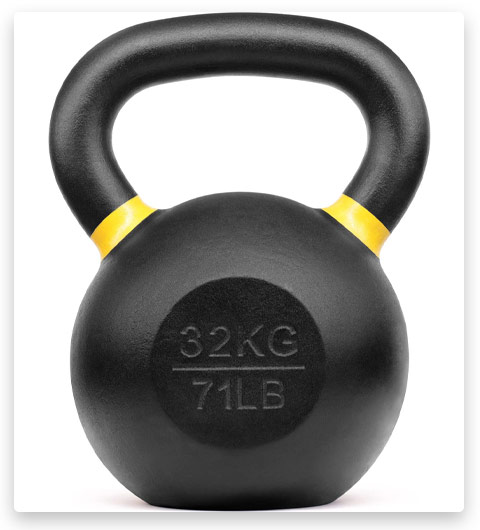 This sturdy solid cast iron weight is powder-coated to prevent corrosion and improve grip. The weight of the kettlebell is written on the side in kilograms and pounds. Colored rings help you easily distinguish between the weights. The roughened handle provides a secure grip for high repetitions.
9# TKO Kettlebell Dumbbell Weight, Plastic Shell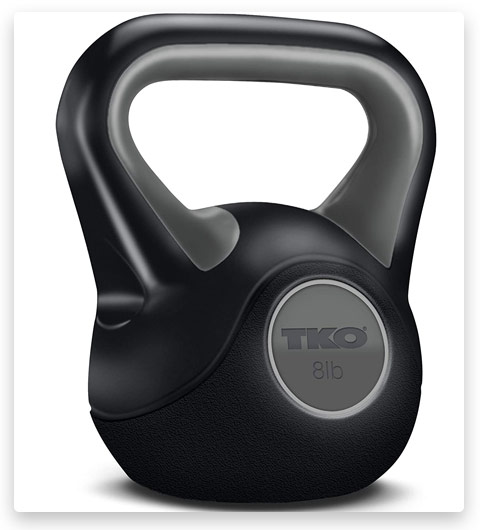 This kettlebell is perfect for full-body workouts at home. The durable, scratch-resistant plastic cover will keep your floor safe from drops. This kettlebell is characterized by a particularly comfortable grip with one or two hands.
10# Cap Barbell Enamel Coated Cast Iron Kettlebell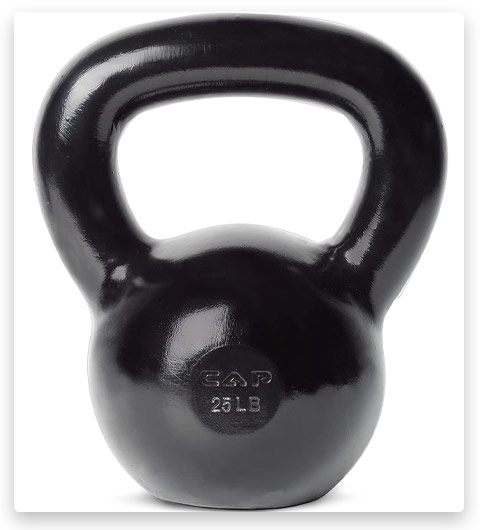 A great addition to your home gym is this sturdy kettlebell with a wide, non-slip handle. Available in a wide variety of weights from 5 to 80 pounds, it is perfect for beginners and experienced athletes alike. Thanks to the flat bottom, you can do handstands, deadlifts, and kettlebell pistols.
11# ZIVA Virgin Rubber Solid Cast Steel Kettlebell Weight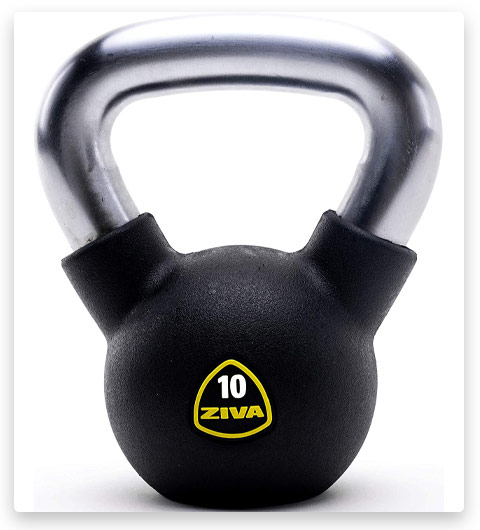 This weight has a urethane coating that makes it durable and protects from scratches and chips. It is made of solid steel and nickel-plated handle. The kettlebell is available in sizes from 5 to 90 pounds.
12# Apex Adjustable Heavy-Duty Exercise Kettlebell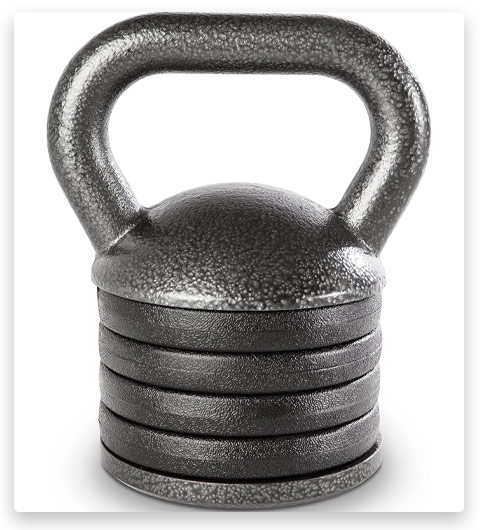 This versatile weight consists of a 15 lb handle, 4 removable discs, and a 5 lb bottom plate. Made of durable, powder-coated cast iron, it is resistant to wear and corrosion and will last you for years. You can adjust the weight to suit you from 20 to 50 pounds. The comfortable shape of the handle will allow you to perform a wider range of exercises to pump your body.
13# Bintiva Kettlebells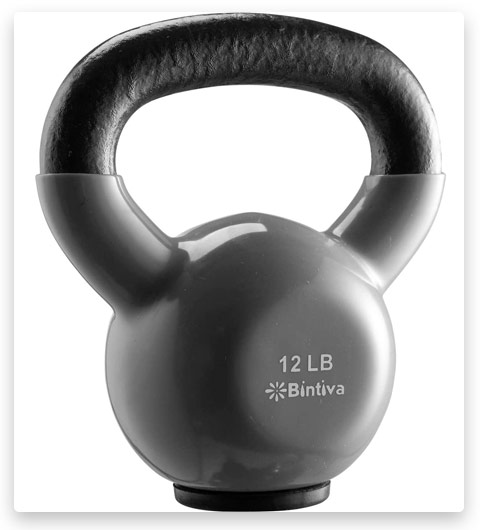 This kettlebell has a stylish design and will fit perfectly into your home gym. It is made of professional cast iron and has a protective vinyl covering to prevent unnecessary injury and damage to the floor. On the bottom of the kettlebell, there is a disc for the weight stability on the floor Each kettlebell weight has a different color for convenience when training with different weights.
Kettlebell History
The history of kettlebells originates from Ancient Greece. In those days, Roman athletes used their similarity in their training. In the days of cannons, soldiers began training with cannonballs and welded on the handle for convenience. They noted that the gunners who used the cannonballs in training began to throw shells into the cannon faster, and their general level of physical fitness increased. Then "kernels with a handle" began to be actively used in military training.
Among ordinary people, kettlebells gained popularity in the circus. The strongmen surprised the people by juggling with heavy balls. Gradually, kettlebells left the circus for widespread use: weightlifting federations appeared, the projectile began to be used in educational institutions.
Pavel Tsatsulin discovered kettlebells for the west in 1998. His articles inspired American athletes. Fitness instructors quickly figured out the benefits of Russian equipment in training and kettlebells became a trend in the USA. He met the CrossFit physical training program, founded by Greg Glassman and Lauren Jenay in 2000, and kettlebells came to functional training.
What Makes Kettlebell Training so Effective?
The projectile has a displaced center of gravity, therefore, when working with it, you use not only large muscle groups but also small "stabilizing" muscles. Thus, the whole body is pumped, coordination of movements is improved.
High-intensity kettlebell training includes the process of active fat burning. On average, in 30 minutes of training with a kettlebell, you can burn up to 400 kcal. That's the equivalent of an hour of intense exercise on a stationary bike! A great opportunity to make your workouts shorter without losing their effectiveness.
Exercises with kettlebells, such as swings, snatches, and jerks, train the muscles in your body to work together as a whole. The acquired skills during training will also be useful in everyday life, for example, lifting a child in our arms, we use several muscle groups at once.
There is a myth that a kettlebell can develop the body asymmetrically. In theory, this is possible if you do kettlebell with only one hand and do not touch other muscles at all. Have you met such people? Me not.
By the way, a CrossFit kettlebell will provide a guarantee of balanced development of body musculature. Its feature is a wide handle for a two-handed grip. The two-handed grip completely eliminates the possibility of uneven muscle development, as is the case with the "classic" kettlebell.
You can start your acquaintance with kettlebells with the smallest weights of 4-8 kg. This is no more than a bag of groceries that you wear regularly. You don't need a lot of space to train with kettlebells, so you can train in a fitness club, at home, or on the street, just throw the kettlebell in the trunk of your car when you go to the country or to nature.
During training, correctly selected exercises with a kettlebell and the technique of their implementation are of great importance.
How to Choose Kettlebell for Home Fitness?
The bottom of the kettlebell must be wide and stable. In some exercises, a kettlebell is used as a support
The surface of the projectile is smooth to protect you from scratches and damage to your clothes
The handle should not be too smooth for a comfortable grip without the risk of ripping off calluses
How to do Kettlebell Exercises Correctly?
Kettlebells allow you to perform many strength exercises of the most diverse nature, which explains their popularity.
From the first workouts, you need to decide on the weight that you will use for certain exercises. The principle is quite simple: the larger the muscle group involved in the exercise, the heavier the kettlebell should be. For various exercises, depending on the strength of the practitioner, weights of different weights are used, from 16 to 32 kg (16, 20, 25, 32 kg).
Begin training with a warm-up. Kettlebell training is much harder and more intense than exercises with a barbell and dumbbells, so you need to carefully warm up the muscles, ligaments, and tendons. You can stretch, run, swing your legs, bench press. Each new exercise should first be performed with a lightweight and only then move on to a heavier one. Kettlebells, like shells, allow you to perform many exercises, here are the most common:
Overhead Squeezing. Take a standing position with feet shoulder-width apart or slightly wider. Kettlebell on the floor at your feet. Bend over, take the weight by the handle with one hand. While straightening, force the kettlebell out onto the shoulder (the weight on the outside of the wrist). From this position, squeeze (or push) the weight onto a straightened arm above your head. Fix the position for 1 second. Return the shell to your shoulder, then lower it to the floor. Repeat the exercise without pause.
Alternating overhead squeezing. Take a standing position with weights on your shoulders. When one hand raises the kettlebell, the other drops it. The principles are the same. Keep the body straight.
Deep squats. Take a standing position on a bench, kettlebells in lowered hands. Drop into a deep squat with a slight forward bend of the torso, rise without pause. This exercise, due to the specific position of the weight, allows you to use the muscles of the glutes and hamstrings significantly more than any other type of squat.
Lunges / Walking Lunges. Take a standing position with two kettlebells lying on your shoulders. In both types of exercise, the buttocks are included in the work. When walking, the total load is distributed closer to the front of the thigh, and with normal lunges, closer to the back.
Benefits of kettlebell training:
Training with kettlebells is both cardio and strength training, which means that such training is highly effective. These exercises are great for fighting body fat and developing explosive strength
With the help of a kettlebell, you can work out absolutely all muscle groups
Training with kettlebells is excellent for training the heart and also increases endurance
This sports instrument is very difficult to damage or break, so it will last you a long time
When working with kettlebells, many different muscle groups are involved at the same time, so they are great for general physical fitness
Training with kettlebells strengthens the muscle corset that stabilizes the spine
With the help of kettlebells, you can develop agility, speed, and coordination
Kettlebell exercises strengthen the tendons and ligaments, make our joints stronger, and reduce their trauma.
Disadvantages of Kettlebells for Your At-Home Gym
Weights also have significant drawbacks. One of the main ones is the inability to regulate the load level. Unlike dumbbells and barbells, which can be used to lift pancakes of different weights, kettlebell owners are deprived of this privilege. To increase the intensity of their workout, they will have to buy heavier equipment every time.
In addition, kettlebell training can be quite traumatic, especially among inexperienced athletes.
Another possible disadvantage is the bulkiness. This can provoke several troubles at once: from damaged flooring, ending with a crash when trying to put products on the floor.
Conclusion
Kettlebells are indispensable equipment in every gym. Kettlebell exercises develop strength and endurance. You can pump your entire body with only a set of weights. All 13 kettlebells for home Fitness presented are the best on the market. But if you still haven't made your choice, if I were you, I would prefer AmazonBasics Cast Iron Kettlebell Weight.