Sportegan's Editors independently research, test, and rate the best products. We may earn a commission through products purchased using links on this page.
Sports can be very different. Chess, poker, curling are also Olympic sports, but we are supporters of active action. What could be better than a good martial arts training?! In 1-2 hours you manage to deliver several hundred punches, get feedback in sparing and pleasant fatigue after training.
We have collected 35 cool products that are necessary for everyone who is involved in percussion sports (boxing, MMA, Muay Thai, and others). Here you will find stylish boxing gloves and punching bags for a wide variety of workouts, protective armor, and much more. It will be interesting! We begin.
#1 Boxing Gloves – Training Gloves / Training Boxing Gloves
Everlast Pro Style Training Gloves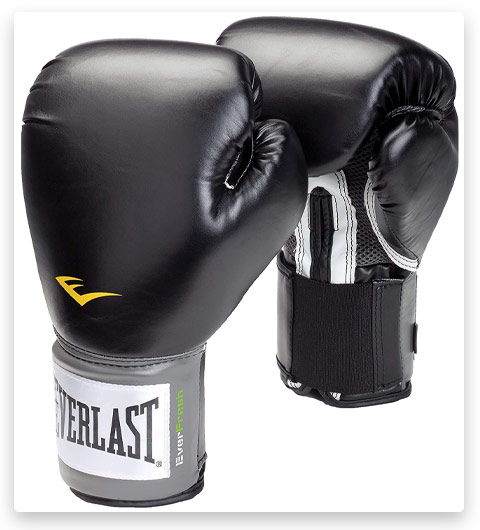 The success of your workouts and the durability of your joints depend on the right choice of boxing gloves. Choosing the right one – you enjoy the lessons and painless practice of the hardest blows on the bag or in sparing.
When choosing gloves for performance, training, or sparing, you must rely on your senses of comfort. Everlast gloves are something you will definitely return to, simply because they are the best!
Everlast Pro Style features an extra foam layer for optimal cushioning and Everhide materials for greater durability. To be as comfortable as possible, gloves are sewn according to the position of the joints and bones while clenching the hand into a fist. Special attention is paid to the thumb and its position. The wrists are full on both sides to keep your hands in the correct position when stamping. The Thumb-lock feature provides added support and works great in partnership with a wide Velcro strap.
These gloves are easy to adjust and wear, they are durable and have a discreet design. If you are looking for gloves for training and sparing, at an affordable price – this is perhaps the best option.
#2 Sparring Gloves / Sparring Boxing Gloves
Ringside Apex Flash Sparring Gloves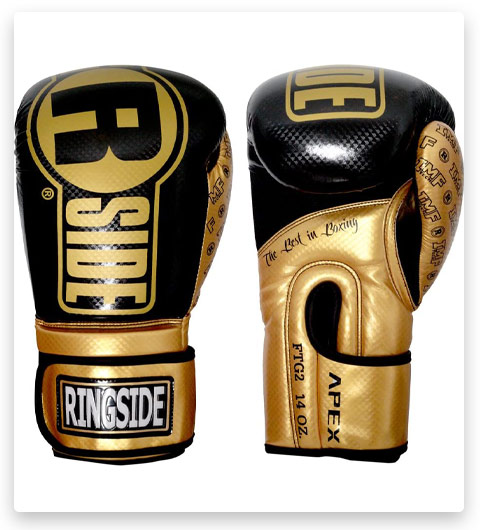 These combat gloves are suitable for light sparring or boxing training, MMA, Muay Thai. For eastern martial arts, sometimes you need more freedom to carry out captures, but you will not have problems with this. These gloves maintain a balance of softness and rigidity.
These gloves are made of synthetic leather and are therefore very strong and durable. The foam pad on the fist is more than enough to absorb a significant blow without unpleasant sensations. This fully conveys the feeling of bumps and jerks, but the firm support for the wrist makes your work with a heavy bag as safe as possible and burning many calories. It turns on and off very simply, unlike all X-circuits and patch belts, for which you need to get an engineering degree. (a joke, but it really just closes). The mesh palm and antimicrobial inner lining will keep you cool during your workouts and will prevent fouling and bad smell.
To make the right choice, you need to know the size of your hand. If you are not tall (about 5 feet) and well-proportioned arms, gloves of 14 – 16 ounces will work for you. They are equally made and have the same thickness, all the difference in print size. It will be easier to cover your head with a large glove during sparring, but it will not be so convenient to beat. Ringside Apex Flash Sparring Gloves are 8 colors and always high quality. Look for your balance and achieve your goals.
#3 Professional Gloves / Pro Gloves / Professional Boxing Gloves
Venum Elite Boxing Gloves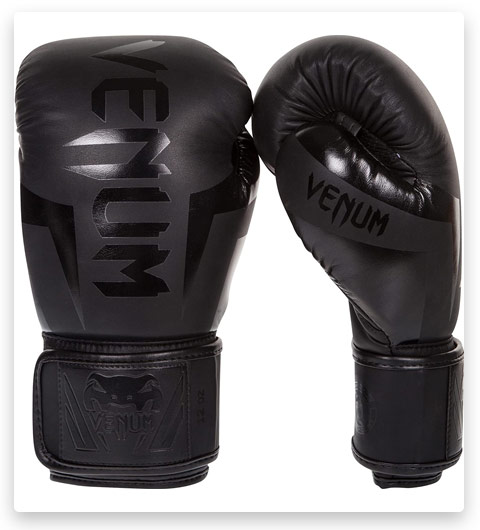 Venum Elite is something that is guaranteed to bring strength and comfort to your hands while you exercise with a bag or fitness boxing. With these boxing gloves, your workouts will be truly vibrant and enjoyable.
Buying "Elite" you pay for manual work. Each pair of gloves is made in Thailand, handmade from 100% high-quality Skintex faux leather. Is this good stuff? Of course, it is strong and flexible enough to withstand your strongest blows for several years.
Venum Elite gloves have reinforced palms and long cuffs. If you are just starting to engage in boxing or improving your physical fitness (without the hope of becoming a champion) – these gloves will give you a pleasant experience and allow you to fully feel your strength. Triple density foam evenly distributes the impact load. This provides unrivaled absorption and increases training time.
Another important feature you should be aware of is that most Elite models do not have a ventilated mesh panel. To get the best from the best, choose Black / Red / Gray, Neo Orange or yellow and White / Black / Red – these models have good ventilation. This means that your hands will sweat less and stay energetic longer.
#4 Boxing Gloves For Women
Everlast Women's Pro Style Training Gloves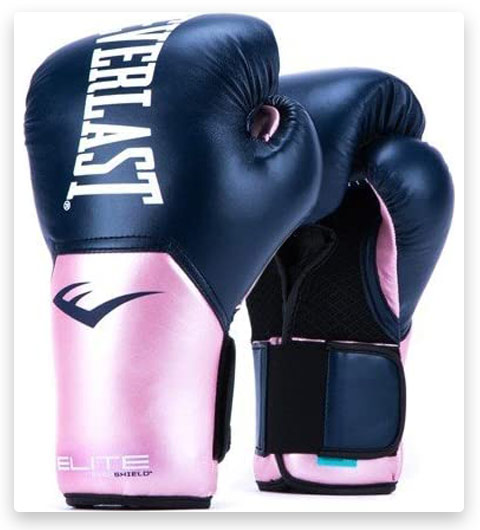 Boxing is a contact sport, martial arts in which athletes strike each other with fists in special gloves. Boxing is not only a male sport but also a female one. This is an exciting sight! If you want to win, you need to train a lot and protect your hands reliably! And this is where Everlast women's Pro Style training gloves help you.
These gloves are designed specifically for women. They have three sizes and their favorite pink color. Made from premium synthetic leather, have a thick, two-layer foam pad and a patented Thumb-Lok handle for protecting your hands and thumb. The mesh on the palm provides breathability and comfort, while the Velcro on the wrist provides a secure fit. The gloves are very light and comfortable. They will become your second skin on your hands and you will flutter like a butterfly in the ring. Ideal for training, sparring and will be a great gift for wives, daughters, nieces. With Everlast Pro Style gloves you are always the winner!
#5 Heavy Bag Gloves
Sanabul Essential Gel Boxing Kickboxing Punching Bag Gloves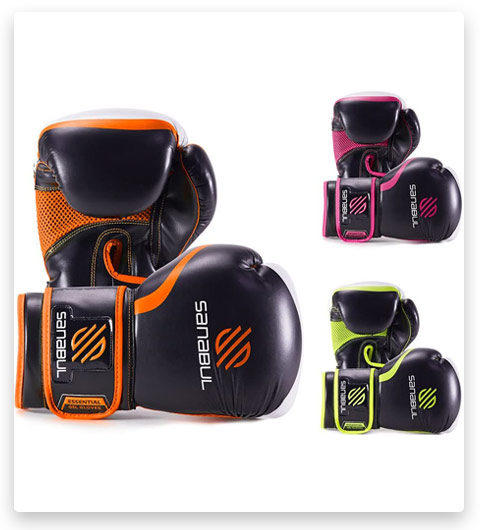 Boxing, like any other sport, requires a lot of effort and time. To engage in your favorite sport without harm to your health, do not forget about protection. The right gloves will protect your hands from unwanted injuries and give you a lot of positive emotions during training. Boxing gloves for the punching bag Sanabul Essential Gel is your cool assistant in the ring.
The seller has 5 sizes (from 8 to 16) and 8 color options, each will find what he is looking for. Gloves are designed for both men and women or adolescents. Tested by thousands of users, including professional UFC fighters.
Made of artificial leather and filled with gel to withstand the most crushing blows. They have a perfect fit, and the mesh inserts in the palm of your hand help you breathe and prevent the gloves from being over-saturated with sweat. Velcro fasteners are strong and hold well, so your hands are well protected.
These gloves will be an excellent assistant for both beginner boxers and masters in this matter. They will become an indispensable assistant for exercises and skills training (boxing, Muay Thai, general combat movement, kickboxing, sparring). Great quality gloves at a ridiculous price.
#6 Amateur Competition Gloves
Pro Impact Boxing Gloves – Durable Knuckle Protection w/Wrist Support for Boxing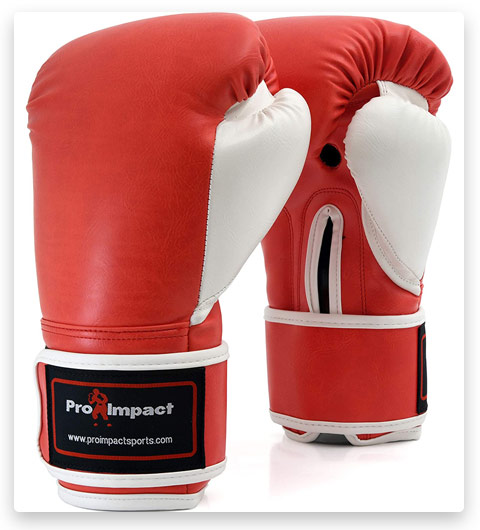 These Pro Impact Pro-Style boxing gloves are designed for training over the years. If you do not want to spend a lot but look for a decent product – pay attention to these gloves.
To maximize durability, Pro Impact uses high-quality polyurethane. This material has a good balance of durability and softness. If you consider that 3 layers of a foamed core are hidden inside, the impact energy will be evenly dissipated at the point of contact and will keep your joints safe.
Boxing gloves are not only punches but also protective locks. In addition to good internal padding, these gloves have elongated cuffs for extra wrist protection. Tighter wrist support will help prevent hyperextension (even if you've never heard of it). You can destroy a punching bag or conquer the ring with these gloves: incredible power is in your hands – use it and you will succeed!
#7 Mexican Style Boxing Gloves
Fairtex Muay Thai Boxing Gloves BGV9 – Heavy Hitter Mexican Style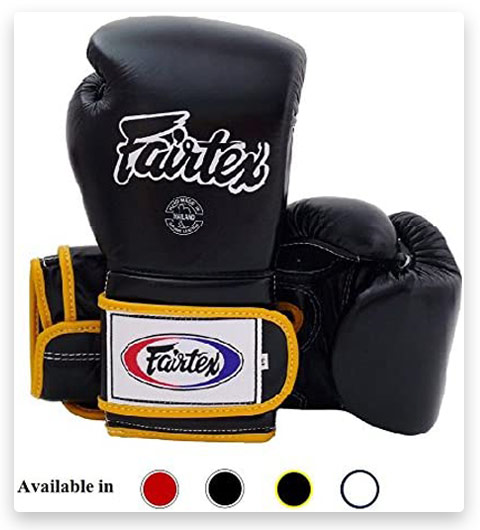 Boxing gloves BGV9 from Fairtex – the world leader in the quality of sports equipment. In the market of sports equipment and equipment for martial sports, Fairtex confidently takes top positions. For more than 50 years, Fairtex has been paying maximum attention to improving the quality and safety of both training and martial arts competitions. You can be sure of these gloves because they are for real champions!
Gloves are available in three sizes (12, 14, 16 ounces) and 12 color options. In such a variety, there is definitely what you are looking for. Each pair of gloves is handmade in Thailand. Boxing gloves are made of high-quality leather with the Fairtex signature three-layer foam system and equipped with velcro straps. Upholstered padding and comfortable arm compartment for better comfort and greater safety. The area around the fist where the blow comes from a two-layer impact-resistant latex core. Thanks to this design, the weight is evenly distributed from the wrist to the head of the gloves. The gloves are equipped with an elongated cuff with a triple rim, which even more reliably supports the wrist.
Gloves provide excellent protection for your hands and joints from severe shock. These gloves will make your opponent tremble with fear because they are invincible on your hands!
#8 Muay Thai Gloves / Muay Thai Boxing Gloves
Fairtex Muay Thai Style Training Sparring Gloves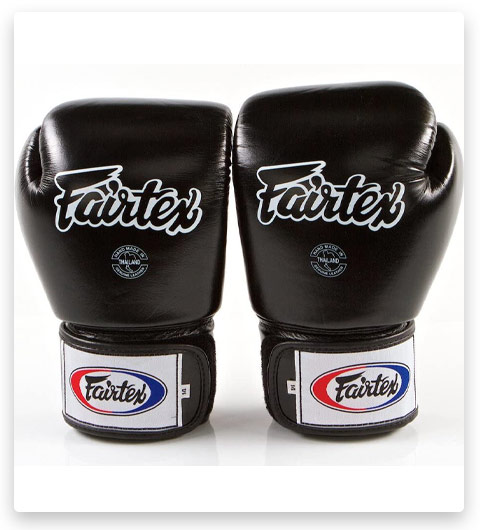 To achieve incredible results, you need motivation and good equipment. If you want to conquer opponents in the arena – Fairtex has prepared gloves for you that are worth paying attention to.
If someone understands Muay Thai, these are certainly Thais. Fairtex BGV1 gloves are 100% high-grade genuine leather hand-crafted and branded 3-layer shock-absorbing foam filler. The uniqueness of these gloves in a universal contour filler that fits snugly on the hands. This provides complete control with a firm and tight fit.
A wide range of 25 designs and a wide range of sizes from 8 to 16 ounces allows you to choose the most suitable for you. The gloves of this model (BGV1) have a slightly reduced arm compartment, so be careful when choosing a size. If you use gloves (for example) 16 ounces – this model will sit very tightly on your hand.
#9 MMA Gloves
Brace Master MMA Gloves UFC Gloves Boxing Gloves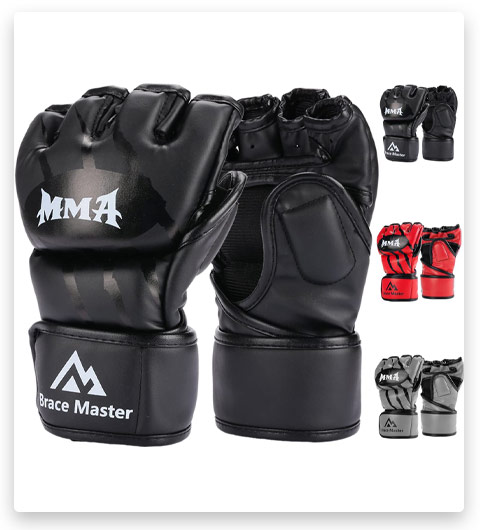 Sport in the modern world is an integral part of almost every person. After all, sports activities add health, strength, and instill discipline. Gloves from Brace Master MMA are perfect for Muaythai, kickboxing, sparring, and punching bags. After all, it would be possible to do without such seemingly simple things, but your hands won't thank you for that.
Gloves are available in three sizes, S/M/L (7″ – 10″ / 18 cm – 24 cm) and 4 color options. Ideal for most men and women, because they have adjustable straps. Made of high-quality faux leather. They have a fairly thick layer on the back of the hand, so when you hit you will feel comfort, not pain. Breathable palm design reduces perspiration and keeps your hands comfortable during workouts. The wrist strap is long enough to go around a couple of times for good support to the wrist. This gives excellent protection to your joints and wrists. If you plan to use or add extra protection for the joints, it will be quite difficult, because any thicker pad on your joints makes it difficult to put on gloves. These are sturdy gloves at the good price you pay for.
#10 Semi Contact Gloves / Semi Contact Boxing Gloves
Mytra Fusion Semi Contact Boxing Gloves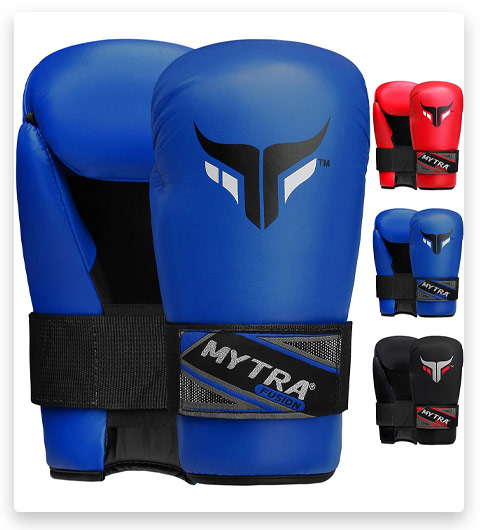 Mytra Fusion semi-contact boxing gloves for extra protection in martial arts and sparring. Very comfortable feel and are considered ideal for professional boxing and sparring training. You will be able to show your talents in the ring in full force with these gloves.
The seller has three colors and 6 sizes (from S to XL), with a table according to which you can easily find the size you need. Gloves are made of synthetic leather Core with double layer EVA cushioning. This design and combination allow you to diffuse the impact of even the most powerful hit. The gloves are also reinforced with FT-CORE multi-layer padding around the joints, which provides excellent shock absorption. Includes extra thumb foam and extra knuckle pads. With these gloves, you will feel all the strength and power, and not the pain. These gloves are stitched with double CRX reinforced stitching, making them virtually invulnerable to the toughest impacts. The palm is open and creates an airflow that keeps the inner fabric dry and absorbs sweat. The gloves have a wide Swift-Z Velcro closure for a snug fit. With such gloves, any fight is just a holiday! And the ridiculous price will not leave you indifferent.
#11 Fitness Gloves / Fitness Boxing Gloves
MRX BOXING & FITNESS Weight Lifting/Exercise Grip Gloves for Women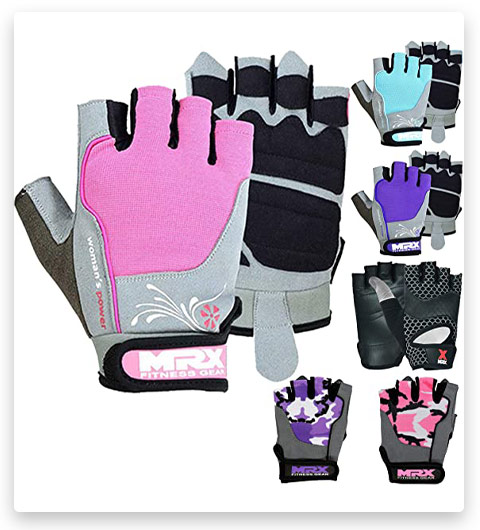 Women's MRX BOXING & FITNESS gloves for weight lifting, training, strength training, fitness, and other sports. Women's hands are very gentle, so they need great protection. These gloves will help you maintain the beauty and health of your hands while playing your favorite sport.
Gloves are made of 100% genuine Amara leather. Features improved palm padding and soft finger guards to protect hands from calluses and provide a firm grip during sports. And the stretchy material keeps your hands cool and dry when you sweat. This flexible and dexterous material allows your hands and fingers to bend naturally and not impede movement. Reinforced and improved wrist strap provides additional protection against injury and sprains. The open fingerless tips (only 3/4 of your fingers are covered) offer a host of benefits over other gloves. After all, you can easily use your phone, easily open and close zippers or doors, and you do not need to take off your gloves.
The gloves are available in 6 sizes and 6 colors and come in a beautiful gift box. A great gift for your significant other, because in these gloves she will be the queen.
#12 Fighting Gloves
FitsT4 Half Mitts UFC MMA Training Boxing Punch Bag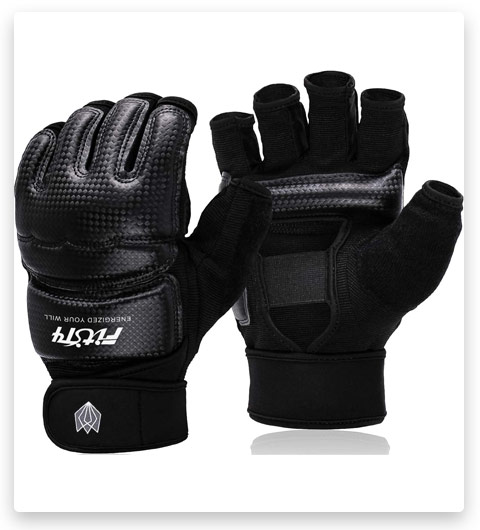 If you're just starting out looking for your favorite martial arts style, these gloves are for you. They are suitable for taekwondo, kickboxing, wrestling, boxing, speedrunning, martial arts, sparring, Muay Thai, UFC training, or any other light daily workout.
These gloves are made of PU leather with a durable coating. The EVA pads for the joints provide good protection, and the open palm with breathable terry cloth effectively removes heat even on the hottest summer days. The hollow palm design is a unique feature of these gloves. The cylindrical bar improves traction and increases cushioning during exercise.
These gloves take care of your comfort and make your life easier in many ways. An adjustable hook and loop strap for a comfortable fit make dressing quick and easy. The responsive support team will answer all your questions within 24 hours and help you find the perfect size. And most importantly, a 100% satisfaction guarantee.
If 2 designs are enough for you (only white and black are available), choose from 6 sizes, and show your strength! It is pleasant and safe with these gloves.
#13 Boxing Bag – Free Standing Punching Bags / Freestanding Heavy Bag / Free Standing Punching Bags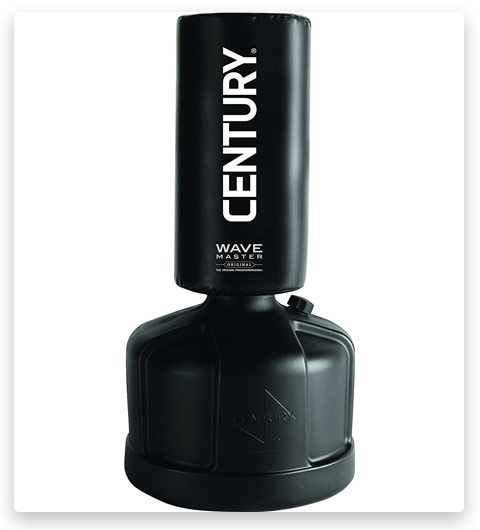 A heavy punching bag requires additional conditions. If it is hanging, you must have strong (long) chains and a hook that can withstand the weight and vibration. If it is installed on the floor, it may be necessary to damage the floor covering to secure the pear. Century Original Wavemaster has created a fully autonomous heavyweight punching bag that will withstand the toughest punishments.
The peculiarity of this heavy pear is in its concept. The large round base for "Easy Roll Away" is a hollow container that you can fill with water or sand. For maximum stability, fill the pad with sand and add water. This will turn the base into a fixed 300 kg foundation.
The second step is to adjust the height. There are 8 positions available in 3″ increments. The minimum adjustable height is 47″ from floor to top, and the maximum is 68″.
The top bag has a sturdy 13″ vinyl case and comes in three colors (black, blue, and red). High-density foam inserts withstand the most severe punishment from hands and feet. Be careful when handling this punch without gloves. It can be very hard.
#14 Hanging Heavy Bags / Standard Heavy Bag / Heavy Bags / Heavy Duty Or Jumbo
Everlast 80LB Heavy Bag Heavy Punching Bags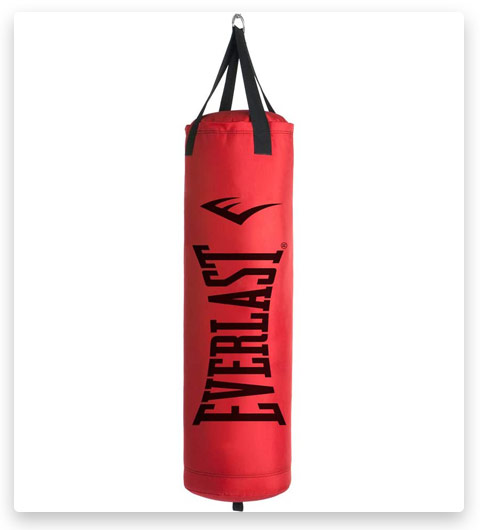 This is a 60″ high heavy punching bag from Everlast. This is listed as 80 pounds, which is fully sufficient for most boxers but can be expanded to 100 pounds.
This punch bag is made from premium synthetic leather and looks new (out of the box) even after months of daily bruising. The punching bag is filled with a blend of disinfected synthetic and natural fibers to obtain optimal firmness. After a while, you will notice differences in the density of the bottom and top, but this can be smoothed out by adding extra padding from old T-shirts or other fabric stripes.
The heavy-duty nylon straps range in length from 8-10 inches and do the job well. Also, a small chain for hanging is included, but there is no attachment. You will need to take care of the hanging bracket yourself.
#15 Angled Heavy Bag
Ringside Angle 65 lb Boxing Bag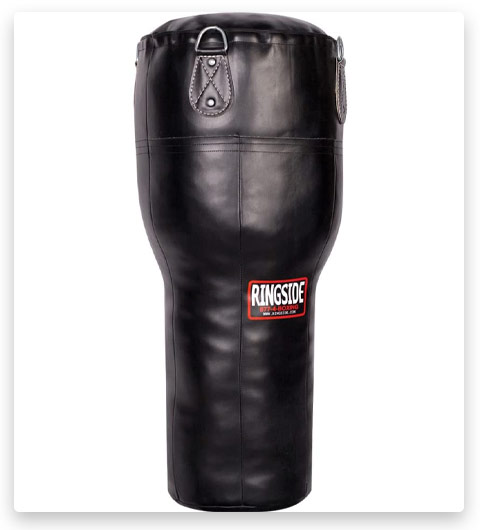 Weighing only 60-65 pounds, this Ringside punching bag is a nice addition to your home gym. It will help you practice straight punches, hooks, uppercuts, and body shots. It is a small corner bag with a wide range of possibilities.
The elastic vinyl shell has a slight bend in the center and divides the punching bag into 3 sections. The upper wider section provides maximum stability and will help you work out strong straight shots. The bending area has an angle of about 30 degrees. This is quite enough for your uppercuts to convey the power of the blow and the heavy punching bag to flinch. The surface of this pear is more like a canvas and can leave nasty scars if you wish to practice knee and elbow strikes.
This is a fairly solid bag. If you are having trouble swinging, it could indicate your inexperience. The bag is designed to keep you from being punched or moving. Control the bag, don't let the bag control you! If you succeed, you can become a more dangerous opponent.
#16 Speed Bags & Ball / Speed Bags for Boxing
HUNTER Speed Ball Boxing Cow Hide Leather MMA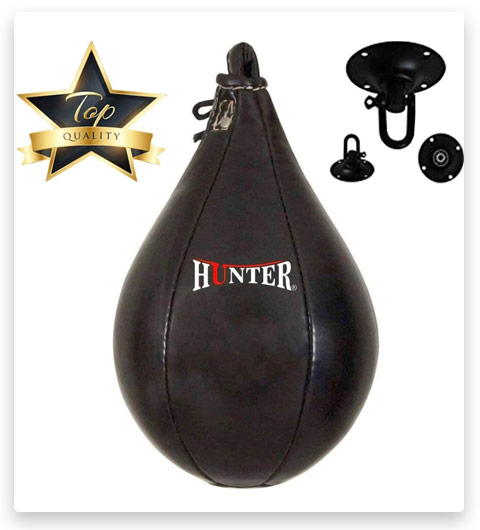 The HUNTER Speed ​​Ball is a classic teardrop punching bag that measures 10″ high and 7″ in diameter. This is filled with air so it has a very fast rebound for effective punching training. The set includes branded suspension joints, which makes the exercises really rhythmic and effective.
The outer layer of the Speedbag is made of thick natural cowhide. This gives the bag extra strength and resilience during long and intense workouts. The inner layer is made of rubber, similar to a basketball. Use your hand pump or car air compressor with a fine needle nozzle and inflate the bulb to a springy state.
You can suspend this punching bag with our signature HUNTER swivel for the fast and perfect bounce. Each Speedball is individually shaped and balanced for precise rebound and overall rigidity. You can also use the 3 " double strength top loop to slide the bag on to the crossbar.
The seller asks to write directly if you have questions or problems with the product. This will greatly speed up the resolution of the dispute and will only give you good shopping experience.
#17 Kickboxing Punching Bag
Century Wavemaster XXL Training Bag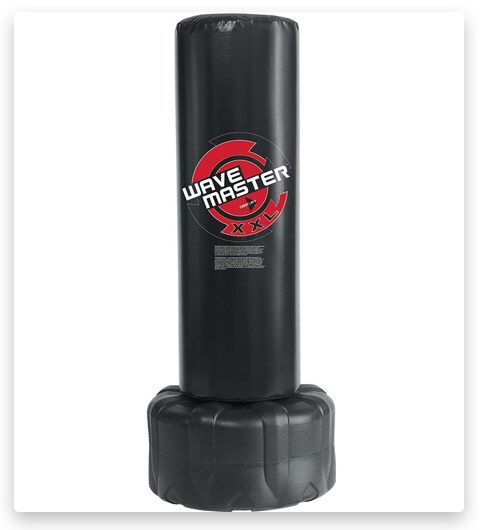 This is Century's heavyweight Wavemaster XXL punching bag with an incredibly large playing area. At 69 inches tall and 18 inches in diameter, you get a real pounding pole. By filling the weight pad with water or sand (270 lbs.), You will be able to fully work out all of your strongest punches, elbows, knees, and legs.
This heavyweight punching bag has a durable vinyl cover and foam padding. The high packing density ensures uniform packing throughout the entire height and will not stray to the bottom. This is definitely important if your training will last more than 1 month. Sand or cloth would be much cheaper, but over time would have hardened to stone, which is not very good news for your hands.
The weight stand can have different fillers. If your training area may change at any time, fill the base with water. Its excess will be easier to remove for transporting the simulator to a new location. If you do not have problems with free space and this boxing equipment will remain in place for many years to come, use sand. If you have enormous height and strength like the Hulk, add water to the bases after filling with sand. This will transform the foundation into the absolute rock that will not allow the machine to move even if you have cannon shots.
#18 Banana Heavy Bag
Ring to Cage Muay Thai Banana Heavy Bag Blue – Filled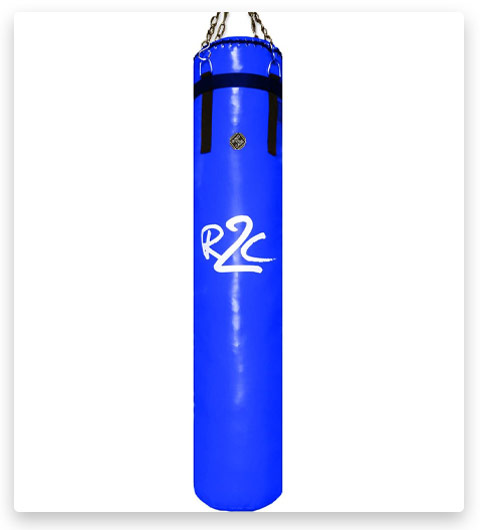 Heavy punching bag from the American company Ring to Cage for Muay Thai, MMA, kickboxing, boxing. This pear will become your best friend, whom you can beat with impunity for many years (just kidding). If you are a beginner or a professional boxer, this offer will be interesting to you.
The pear is made of durable polyester-coated vinyl material, which is more durable than real leather. Triple seam stitched with reinforced 6-ply twisted polyester thread. D-rings in high quality welded steel, heavy chain, and pivots included. The pear is already full and ready for training. At the very top, there is a zipper and lacing, so you can easily change the filler. You can fill it from 100 to 125 pounds with whatever filler you want. For tougher work, there may be sand or rubber chips, for gentle and soft – sawdust or rags. This pear is perfect for both the gym and hanging in your garage or home. If you plan to use this factory-filled pear, then you need to use gloves. With this punching bag, you can practice the most daring techniques using your arms and legs.
#19 Pole Bag / Boxing Pole Bag
Fairtex HB7 7FT Pole Bag Muay Thai Gear UnFilled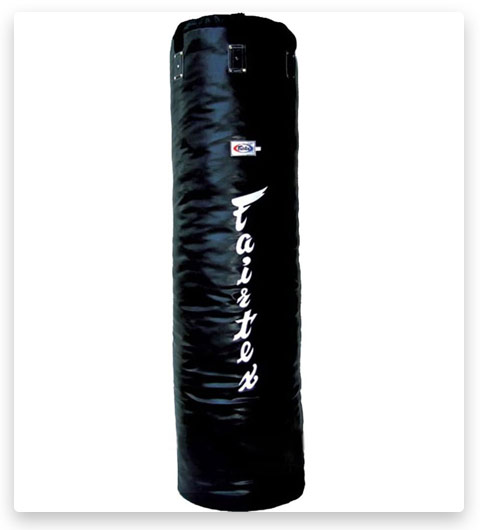 This 7-foot bag is built to withstand your toughest blows from any direction. If besides punching, you are practicing knee, elbow, low kick, or high-kick kicks and want to hit the head of a 7-foot thug, this bag is for you.
When you buy this Heavy Bag (Fairtex HB7) you are buying an empty bag. This is not bad at all, because you can make the perfect filling and adjust the hardness as you like. The bag is capable of supporting up to 140 kg! This is a huge window of opportunity (sand/sawdust/rags/other).
This black heavy bag is crafted from waterproof Fairtex Syntek synthetic leather (laminated non-woven nylon fabric) and stitched with durable nylon straps. This allows the bag to be mounted on a pole, or suspended by hooks. Each installation method has its advantages, but the main thing is that 210 x 59 cm will be able to withstand your most severe punishments.
This heavy bag can be used by everyone, beginners, and even seasoned heavyweights. If you want to take your workout to the next level, order this bag and get a versatile trainer for a wide variety of styles and a wide range of kicks.
#20 Teardrop Heavy Bag / Teardrop Punching Bag / Teardrop Heavy Bag Boxing
Contender Fight Sports Teardrop Bag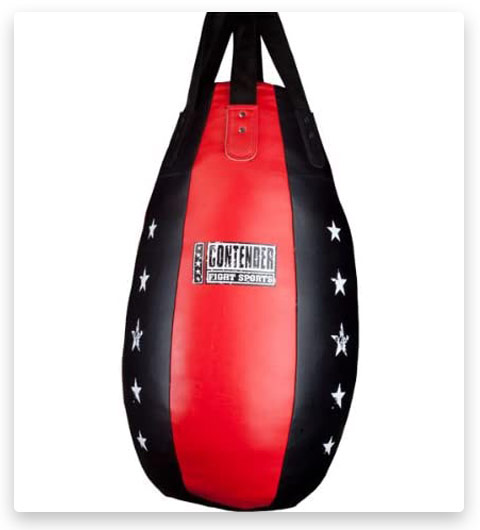 This is a teardrop punching bag from Contender Fight Sports. It weighs 60 pounds and is designed for training knee kicks, uppercuts, and clinching. This bag features a low center of gravity, which contributes to additional stability during punching.
This punching bag has a durable synthetic leather shell. The shape of the bag resembles a slightly elongated blob 35 inches high and 14 inches in diameter. It does not take up much space and can even be installed in an apartment. But be careful 60 pounds is a good weight and setting the bag yourself can be difficult. Ask your friend for help to make the installation process as simple and fast as possible.
The only remark that can be attributed to disadvantages is the transfer of red paint to gloves and other light surfaces. If you are willing to forgive this shortcoming, this offer fully compensates for the inconvenience at a fair price.
#21 Wrecking Ball Heavy Bag / Wrecking Ball Heavy Bag Boxing
Ring to Cage Wrecking Ball Heavy Punching Bag – Filled for Boxing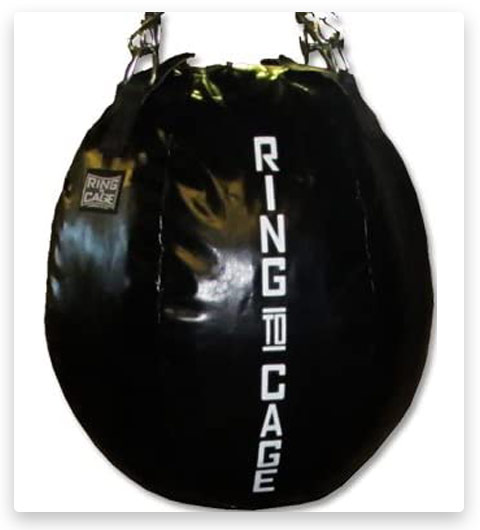 The legendary manufacturer of boxing equipment "Ring in the Cage" presents a versatile heavy bag for training in boxing, MMA, Muay Thai, hooks, uppercuts, and other punches and kicks.
This punching bag is wrapped in high-quality durable vinyl with reinforced liner and comes pre-filled. The total weight is 70-80 pounds, which is enough to absorb your bumps and not wobble too much
A small but important addition is the supply of fastening parts. You get a heavy chain and signature pivots for easy setup and stable rebound with this bag.
If you want to harmoniously develop the power of all types of punches and kicks (perhaps except for low kicks) – this bag will suit you. It is simple and pleasant to train with her, and the ring in a cage guarantees the quality of each piece of equipment.
#22 Bowling Pin Heavy Bag
Ring to Cage Bowling Pin Heavy Bag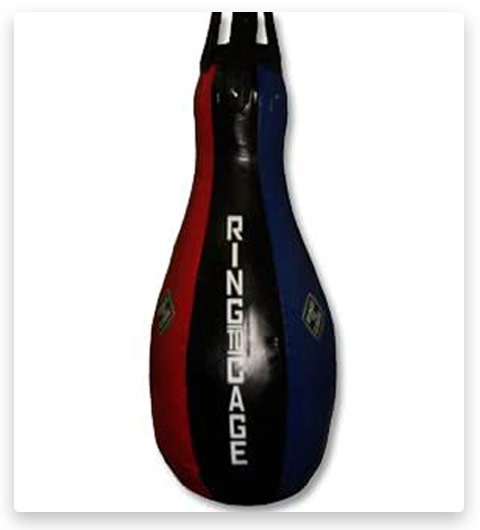 This is a heavy Ring to Cage bowling bag – filled with crushed foam and cloth, but can be shipped without filling (depends on the customer's wishes). It will help you practice Muay Thai strikes using grips for maximum elbow and knee power.
This bag is crafted with durable synthetic leather and reinforced lining. It can be filled with any type of filler up to 80 lbs. The uniqueness of this bag lies in its design. Due to the pear-shaped shape (16″ x 48″) – the bag has a low center of gravity, which makes it massive and stably withstand strong impacts without swinging. Slim top for a comfortable grip. Imagine it as the neck or head of the opponent and use your knees and elbows to train your crushing combinations.
With built-in durable nylon straps, this heavy bag can be suspended without the need for additional chains. It is a little heavier than it looks. Expect your strongest hits to go unnoticed with this bag. If you want to test yourself – this opponent can take all your strength.
#23 Wall Bag / Wall Bag Boxing
Windy Wall Mount Boxing MMA Training Uppercut Punching Bag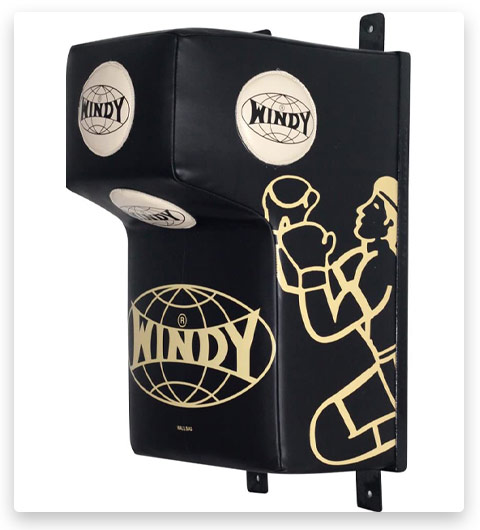 Boxing wall mount, MMA, uppercut training, punching bag from Windy brand. Boxing wall cushions are suitable for improving boxing skills, elbow punches, uppercuts, sidekicks, and straight kicks. They are ideal for both outdoor and indoor use. Learning with this setup can be compared to sparring.
Made by hand from 100% genuine leather. The size of this pillow is 32″ high, 16″ wide and 18″ thick. The filling inside the pillow consists of dense innovative foam that has closed pores, unlike conventional foam. This packing will never sag, will increase the service life, and reduce the risk of penetration even from the most severe blows. The Windy wall cushion has white circles on the wall so that the athlete can hit right on target. The cushion frame is made of plywood and fixed in a steel frame, which is attached to the wall with 4 fixing loops. It is advised that you install the pillow with a thin piece of wood behind it to protect your wall. The pillow is well made, the right size, the padding is the right degree of hardness. A great addition to any gym.
#24 Double End Bag / Double End Bag Boxing
Pro Impact Genuine Leather Double End Boxing Punching Bag – Speed Striking & Dodge Training Ball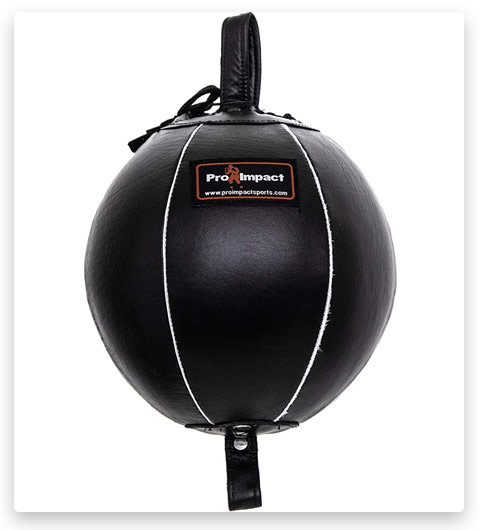 Pro Impact Genuine Leather Double Punching Bag – Speed ​​Striking & Dodge Training Ball. This type of punching bag is the most popular sports equipment for practicing punches. You can hang it anywhere – not only in the gym, but also in the garage, on the playground, and even in the apartment.
The pear is crafted from the highest quality 100% genuine leather for incredible durability. Each pair is hand-sewn to the highest standards. The Pro Impact pear has a heavy-duty rubber bladder and reinforced hinges and seams to increase its integrity and prevent air loss even after repeated use. While on the move, the bag allows you to practice precision and distance while improving hand-eye coordination. The elastic cable on which they are attached allows the bag to rebound dynamically after impacts. The bag comes with a pair of elastic cords and S-hooks. This will allow the pear to be easily suspended from both ends to the ceiling and floor. The punching bag is available in two sizes 9″ and 7″ and other colors. Each size has its value, 9″ for beginners, 7″ for more experienced users. This punching bag will allow you to hone your techniques, speed up your movements, develop coordination and endurance.
#25 Aqua Bag / Aqua Bag Boxing
Aqua Training Bag Head Hunter 12 Inch, 35 Pound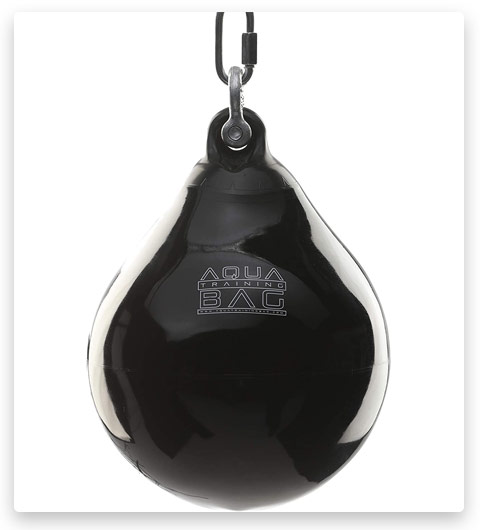 This is a water-filled hybrid punching bag for training punching on the move. Hang this bag from the ceiling with a strong chain and get a stubborn opponent who will move like a pendulum and absorb the force of your every blow.
This bag is designed to be filled with water, up to 35 lbs. But be careful. When filled this way, the bag becomes incredibly hard and can be dangerous to your hands. Fill up to 30-31 pounds with water and you have the perfect balance of energy absorption and sustainability.
This bag is not a classic heavy bag and takes some getting used to. If you alternate pushing and destructive strikes, you will get an imitation of the enemy's movement and can get used to the firmness of the opponent's body or blocks. This is also an important part of the practice that you can only get in real combat. But this time – without fear of getting hit back.
This is a very sturdy water bag, but be careful, filling it up can turn into a small flood. This is a fairly hard bag and requires the use of gloves. Best of all, you get a 2-year limited warranty.
#26 Body Opponent Bag
Century B.O.B. Body Opponent Bag Freestanding Training Dummy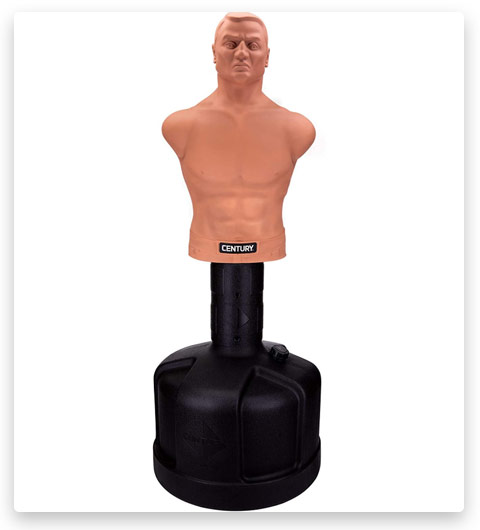 To take your training to the next level, you need to move from striking an abstract target to a more specific and visually recognizable opponent. This is what you need a BOB (Body Opponent Bag) for. With this punching bag, you can sharpen all your punches for an unforgettable hands-on experience.
You don't need to have the incredible strength of a professional athlete or Bruce Lee's reaction to effectively defend yourself. It is enough to know a few pain points and skillfully hit them when necessary. BOB will help you make your workouts really effective and your kicks will be really stunning.
The main difference of this trainer is the adjustable Wavemaster base. This allows you to adjust the height of the machine from 60″ to 78″ (in 3″ increments). The top layer of the mannequin is a high-strength plastisol. This coating is soft and flexible enough to carry out workouts both with gloves and with bare fists. To obtain a realistic hardness as close as possible to the real density of the human body, high-density polyurethane foam is used as padding.
The heavy, hollow stand acts as a support and stabilizer. Filling it to the top will give you a weight of about 270 pounds. This is enough to withstand the strongest blow and not move.
It is also important to mention that this product and all its components are manufactured in the USA. This allows you to control the quality and provide a 1-year warranty.
#27 Uppercut Bags / Uppercut Bag Boxing / Punching Bag Uppercut Ring
Punching Bag Uppercut Ring/Donut – Filled for Heavy Punching Bags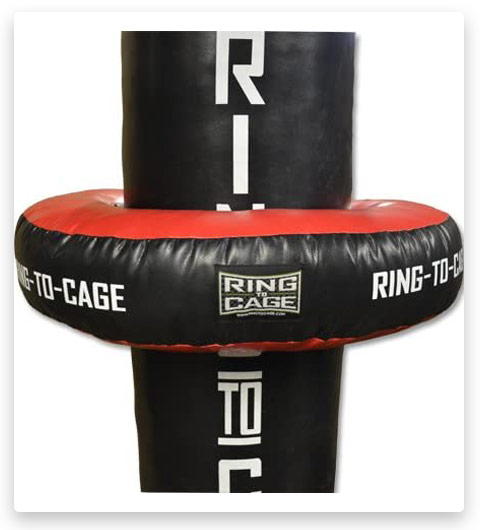 This is an auxiliary punching bag for training uppercuts. Can be installed on any standard heavy bag over 13" in diameter. Depending on the position on the main bag, this ring can change the center of gravity. This will help diversify your workouts and make practicing combinations brighter and more enjoyable.
Uppercut Ring / Donut Punching Bag – made from high-quality polyester vinyl material (22 oz). The resilient padding weighs 14 pounds and allows this rim to fit at any height of the main heavy bag.
During hard hits, the bag may slide over the main bag. This is possible due to the imperfect attachment system – use a ratchet nylon strap to eliminate this. This will securely fix the "supplement" and not degrade the appearance too much.
If you are ready to put in the effort to get a crushing uppercut – this punching bag donut will help you.
#28 Mexican Double End Bag / Mexican Double End Bag Boxing
Ring to Cage Double-End Heavy Punching Bag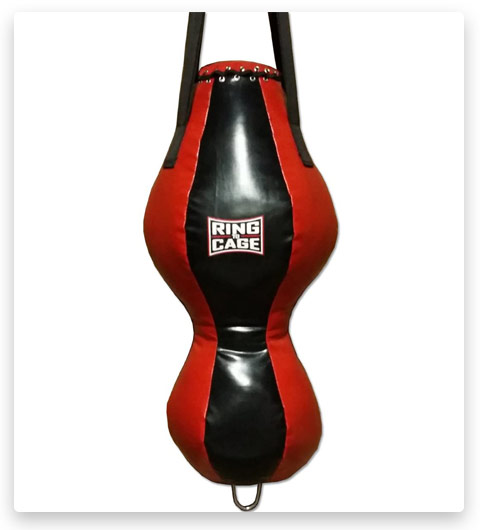 The checkered ring is a 42-45 lb. 8-shape heavy punching bag with double bindings. The top of the pear has hooks for hanging and a bottom D-ring for fixing to the floor. The dual bracing system allows for quicker rebounds and provides versatile training for the boxer.
The lining of the pear (34″ high, 12″ diameter, 9″ diameter) is made of durable genuine leather. The double form makes it possible to practice many types of punches – jabs, hooks, uppercuts, and combined punches. Separated red and black zones will help you increase the accuracy of your crushing blows to the head and body.
If you want to get the most out of your workout, place the double bag over the elastic ropes. Intense vibrations will develop coordination and response.
#29 Large Maize Bag & Ball / Large Maize Bags for Boxing / Maize Punch Bag Boxing
RDX MMA Maize Punch Bag Boxing Heavy Kickboxing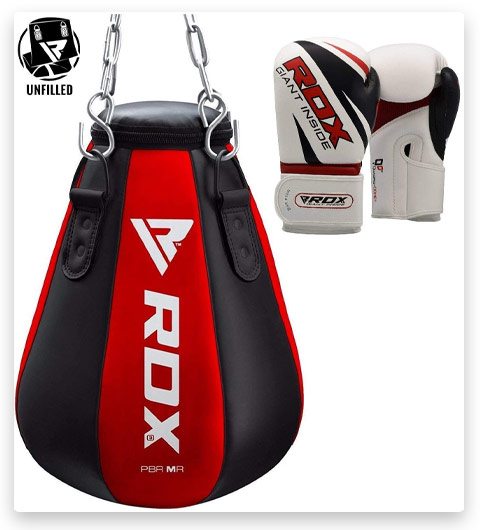 Boxing pear drop RDX Red New for boxing, kickboxing, Muay Thai, Sparring, and other sports. With this punching bag, you can practice all kinds of punches, including the uppercut. And a nice bonus to this pear is Maya Hide Leather Boxing leather gloves for free!
The punching bag is handcrafted in the UK from high-quality Maya leather. The dimensions of this pear are: length – 52 cm, diameter – 38 cm, weight 18-22 kg. This pear is unfilled, so you can fill it to your liking. For a tougher filling – sand is suitable, for soft filling – the shredded textile filling is ideal. It will be very easy to do this, as there is a cover with a zipper at the top. The bag is waterproof and can be used outdoors without any problems. Has a dense 2″ cushion of polyethylene foam that sits inside the shell. Four welded steel D-rings that are double stitched for extra strength. This product is supplied with a set of 4 rotating chains and leather gloves (2 sizes to choose from). This pear combines the best, quality seams and materials for greater durability. The pear is perfect for training both in the gym and at home.
#30 Boxing Boots / Boxing Shoes
Ringside Diablo Wrestling Boxing Shoes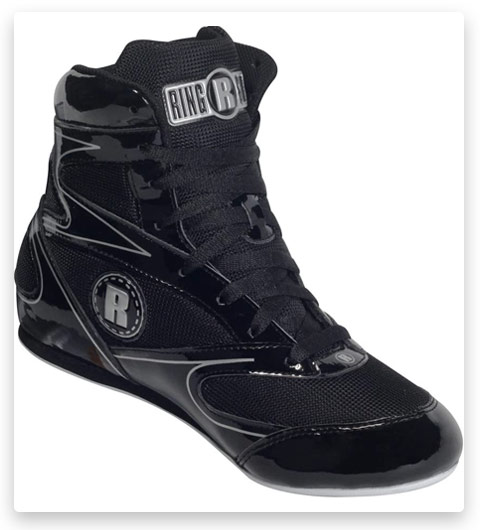 Ringside's Diablo shoes are the undisputed champion and have been in the market for over thirty years. If you are into combat sports then you need the best boxing gear and training equipment, from gloves and shoes to punching bags. Ringside is your source for the world's finest boxing equipment. The company has earned a reputation as one of the world's largest and most trusted suppliers of boxing equipment for participants of all levels.
The shoes are available in 12 sizes and 5 colors (pink for women). Size chart with measurements in feet, please be careful when choosing your size. With this choice, everyone will choose the right size and color for themselves. The shoe is made of breathable nylon mesh and non-slip rubber outsole for greater comfort and agility during combat. Vinyl-finished patent leather outer edges, low top for ease of movement, and ankle support. The shoes are very light, so they won't restrict your movements and you will flutter like a butterfly. With such a pair of shoes, you will definitely be able to implement all your skills and receive a lot of compliments.
#31 Boxing Wraps / Boxing Hand Wraps
Sanabul Elastic Professional 180 inch Handwraps for Boxing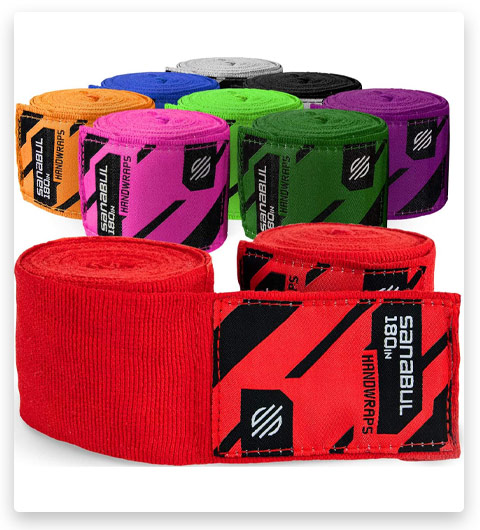 Sanabul Elastic Professional 180 Inch Armbands for Boxing, Kickboxing, Muay Thai, MMA. For people engaged in martial arts, hands are the main working tool and your "lifeline". Protecting them is important to your training. Professional strikers from any discipline carry bandages under their gloves and you should do that too. These bandages provide reliable protection and support for your joints and wrists under any stress. And the 180-inch length is perfect for professional or amateur boxing, kickboxing, Muay Thai, or mixed martial arts.
The seller has 8 colorful and juicy colors, each will pick up his favorite. Made of polyester material (breathable), which keeps your hands cool and dries faster than cotton. This material allows sweat to go away faster and respond better to drying. Everyone knows that moisture very much spoils and deforms dressings – but not this product. The thumb loop and Velcro straps securely fit into your arm, so after a long workout, these bands will stay tight and won't stretch. The bandages squeeze the arms, support the bones, and distribute the force of the blow throughout the arm. They will also prevent your wrist from folding when hitting hard. Sanabul Elastic Professional Hand Wraps stabilize the wrist to further reduce training injuries. Proper care and cleaning of these dressings will prolong their long-term use without any noticeable wear and tear.
#32 Boxing Helmet / Boxing Protector Head / Headguard for Boxing
RDX Headguard for Boxing, MMA Training – Head Guard with Removable Face Grill, Cheeks, Ear, Mouth Protection-Headgear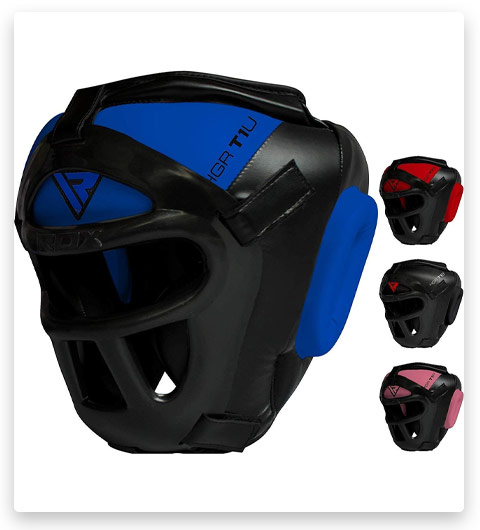 Helmet for boxing, MMA, Muay Thai, Grappling, Sparring, Kickboxing, Karate, Taekwondo from the English RDX brand. This company has been producing all kinds of sports equipment since 1999. And thanks to the use of the latest technologies, the brand rightfully occupies a leading position among competitors. With this helmet, you are guaranteed superior protection for your head.
The seller has 4 sizes from S to XL and 4 color options. Suitable for men and women, as well as for teenagers. The helmet is covered in high-quality Maya Hide leather and features a triple Tri-Slab padded with Shell Shock gel for maximum shock absorption. Also packed with Supremo Shock Foam for high shock absorption. Thanks to the Quick-EZ Velcro fastener, the helmet fits snugly to the head, does not move or slip. The removable visor is made of high-quality lightweight polymer to provide complete protection for your entire face. You can practice with or without a safety net, it's up to you. The absorbent fabric lining keeps you dry and comfortable throughout your workouts. This helmet is suitable for both professionals and beginners. It will be an excellent choice for teenagers and women because protection is 100% guaranteed.
#33 Boxing Mitts and Pads  / Boxing Pads / Boxing Mitts
Everlast 4318 Punch Mitts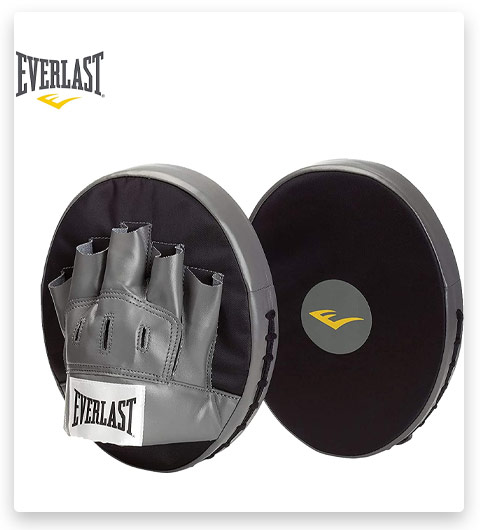 Gloves Everlast 4318 Perforator from the American company EVERLAST – one of the largest in the world, and the oldest manufacturer of boxing equipment and boxing gloves. Indeed, on the corporate logo EVERLAST indicates the year of its foundation – 1910. Imagine – more than 100 years dedicated to the production of sports goods in the field of martial arts.
EVERLAST 4318 PUNCH MITTS Feet (Straight Round) are made of the durable high-quality synthetic poly canopy and can withstand the toughest workouts. These boxing training gloves are anti-microbial. This helps to resist the growth of bacteria and unpleasant odors that can build up during exercise. This product is great for beginners and advanced boxers. They not only protect your hands but also help improve your punching technique. These boxing gloves are designed to fit snugly around your hand so you can focus on your training and perform at your best. These gloves are only one size and will fit most adults, for smaller hands you will need to choose other gloves. A good and quality product that will serve you for a long time.
#34 Female Chest Protector / Female Chest Protector Boxing
FARABI Ladies Chest Guard Chest Protector Breast Protection Boxing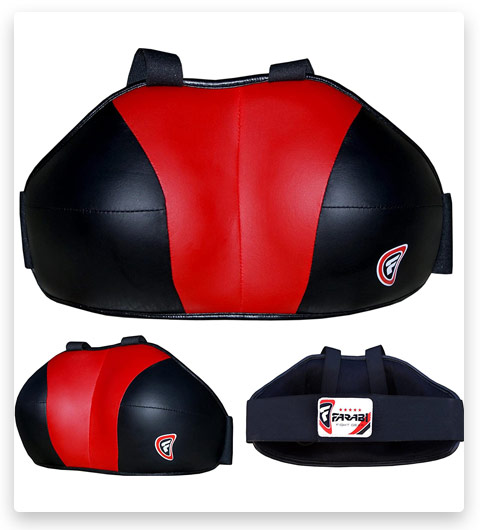 FARABI Ladies boxing and martial arts chest protector for women. Many women are involved in combat sports, so the protection of the whole body is very important. This bib will protect your chest from injury and pain and keep it looking beautiful. Because even small damage to the breast can cause very serious complications. Now you don't have to deny yourself your favorite sport for fear of harming yourself.
The seller has 2 sizes S-M and L-XL and 2 color options. The bib is made of high-quality PU synthetic leather. Thanks to its Z-Smart construction, this bib absorbs the toughest impacts. Shock-resistant TQR technology, multi-layer expanded CGR pad and 3-layer Pad-X material dissipate impact force to the chest. A quality JX fiber cushion wicks excess moisture and heat away from your body for increased comfort during training or combat. The attachment is based on elastic straps, so the bib will stay firmly in place and not move to the side. You will feel secure, free from fear, and act as decisively as possible with this breastplate.
#35 Boxing Body Protector
Combat Sports Dome Air Tech MMA Belly Pad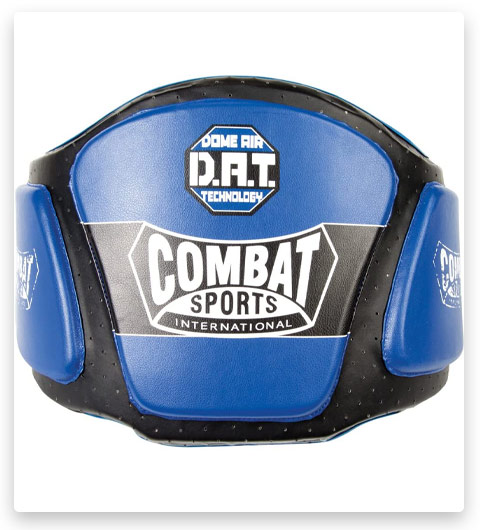 Training pillow Combat Sports Belly. Protect your body even from the toughest hits. With this sports training cushion, you will forget about pain and discomfort and achieve 100% training efficiency.
The pillow has improved protection to absorb and disperse impacts from feet, hands, and knees. Designed to withstand the toughest martial and MMA workouts. Made from synthetic leather, with Air Dome technology to disperse shocks. The Air Tech Belly Pad reduces shock and withstands blows from men of all ages and weights. The anatomical design of this cushion makes it easy to carry and provides complete protection. The inner side of the pillow is made of high-quality material. During your workouts, you will feel comfortable and dry and the pillow will not slip off. Fastens with durable Velcro, which is easy to adjust to your waist. Suitable for both men and women. One size fits all. Not suitable for too thin and small people, as well as if you have a big belly. Great for people more 130 pounds. This item is pretty good for the price. Provides good protection for bottom impacts on the body, reverse impacts, and front impacts.
Editor-in-Chief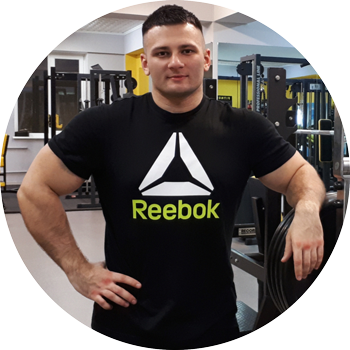 Nikolai Sergeyev
Expert in athletics, boxing, powerlifting
Nikolai Sergeyev is a weightlifter, powerlifter. Master of Sports International Class, world champion and record holder in powerlifting among juniors and youth in the weight category of up to 90 kg and up to 100 kg.
European and world record holder in different versions: UPO (EPA, IPA), WPC, GPF, UDFPF (WDFPF), WPA and others.
World and European Powerlifting and Bench Press Absolute Champion
More than 50 world records
Master of Sports of International Class
Affiliate Disclosure: Sportegan.com sometimes gets paid for listings, through sponsors or affiliate programs like Amazon, Ebay, Everlast, Cleto Reyes, RingSide, Winning, Title, Twins Special, Hayabusa, Fairtex, Top King, Venum, RevGear, RDX, Century, Tapout, Crossrope, and others. Clicking a link helps keep Sportegan.com free, at no extra cost to you!
About the author: Each article on our website is checked and edited by a professional and expert in the field of sports (boxing, athletics and weightlifting). Nikolai Sergeev is a multiple world champion and record holder: during his sports career Nikolai set more than 50 world records among youth, juniors, adults, in different weight categories and in different versions (NPA, IPA, WPC, GPF, WUAP, WPA, IPO, RPS, etc.). The author has more than 30 victories and more than 30 gold medals received at competitions of the international level, the European and World championships. Read more at «About» page. Official website / Wikipedia.
Note: The views and opinions expressed in this article are those of the authors and do not necessarily reflect the official policy or position of any agency.