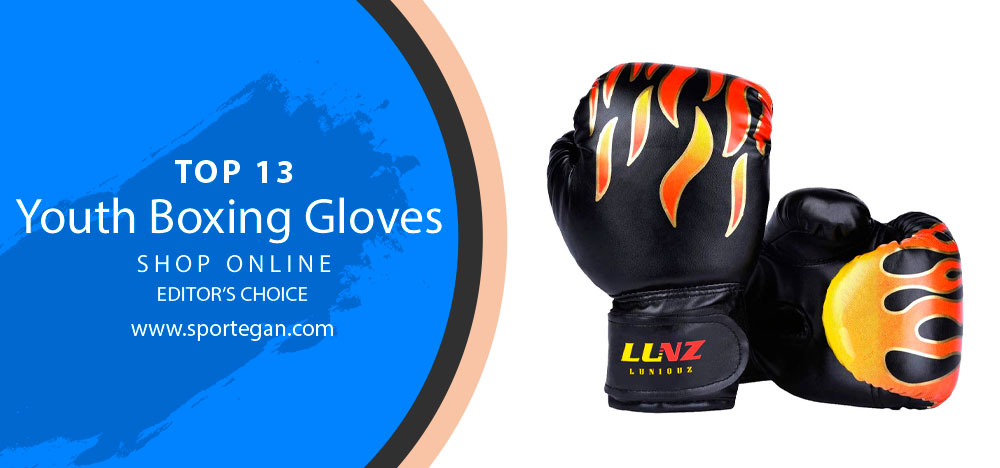 How to Buy Your Kids Perfect Boxing Gloves
Playing sports is one of the main factors in the development of children. It is very good when they spend their free time actively. Such qualities as endurance, desire for victory, perseverance in achieving the goal are developed. Boxing is especially good for health and for the development of the above qualities.
In order for the training to take place safely for health, special protection will be required. One of them is boxing gloves. This review details everything about boxing gloves for youth. I will help you make the right choice so that your child is satisfied and his or her training takes place without injuries.

How to Choose the Best Boxing Gloves for Beginners
I made a lot of effort to choose the 13 best youth boxing gloves. You only need to read my review and not waste your time searching for information and models of gloves. Here you can choose kids boxing gloves.
1# Venum Kids Elite Boxing Gloves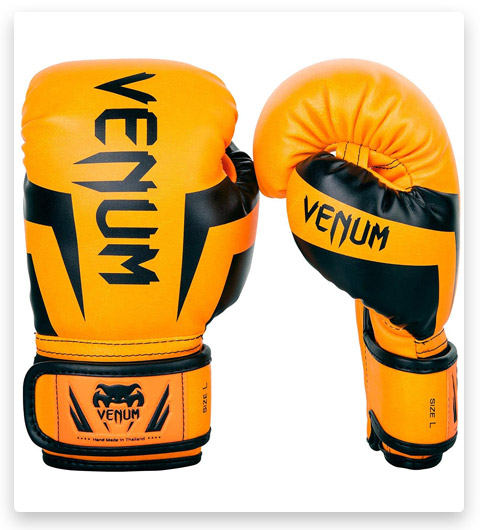 If you are lost in the choice, then take this model of boxing gloves and you will definitely be satisfied. First of all, you and your child will be attracted to a bright and interesting design. Bright colors give additional motivation for playing sports and achieving new sports goals.
Such gloves will serve the child for a long time thanks to its material. These boxing gloves are made of good material and protect the baby's hands during hard knocks. The gasket is high-density foam. These gloves are equipped with Velcro. This is the best option for children. It is convenient and reliable. The child's hands will not be pinched and will feel comfortable.
2# RDX Kids Boxing Gloves for Training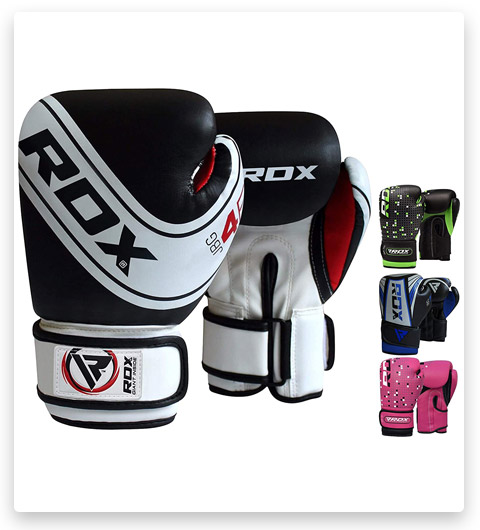 With these gloves, your kid will feel like an adult boxer. Their design is no different from adults. The only difference is size. These are made specifically for children's hands. Thanks to the latex gasket, blows are distributed throughout the glove. It is safe for children. This helps to avoid pain and injury. Gloves don't slip and perfectly fit on a hand. They are made of durable and elastic material that provides comfort during training. They are suitable for boxing and MMA.
3# Dtown Kids Boxing Gloves – Amazon's Choice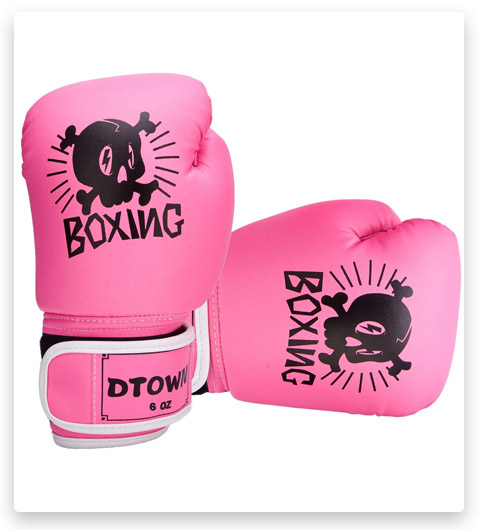 These gloves are designed for boxing and other martial arts. Their color palette makes it possible to choose colors for both boys and girls. The child's hands will no sweat thanks to the lining, which is breathable. So the child can be in gloves throughout the workout and not feel discomfort. They are made of artificial leather which is easy to care for. Boxing gloves are available in different sizes and are suitable for children from 3 to 7 years.
4# Cheerwing Kids Boxing Gloves – Amazon's Choice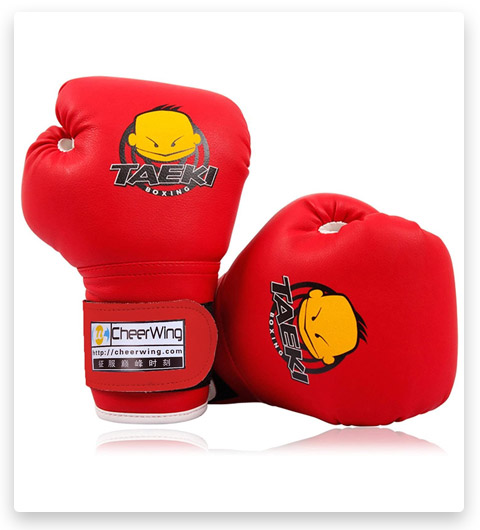 If you are looking for children's boxing gloves that can be used not only in training but also in competitions, then this is a great option. They are suitable for children aged 5 to 10 years. They are available in red, blue and pink, so you can purchase them for both boys and girls. They can be used continuously for many years due to their durable material. They are made of faux leather as well as EVA foam. Their design is made specifically for children's hands.
5# Title Boxing Youth Bag Gloves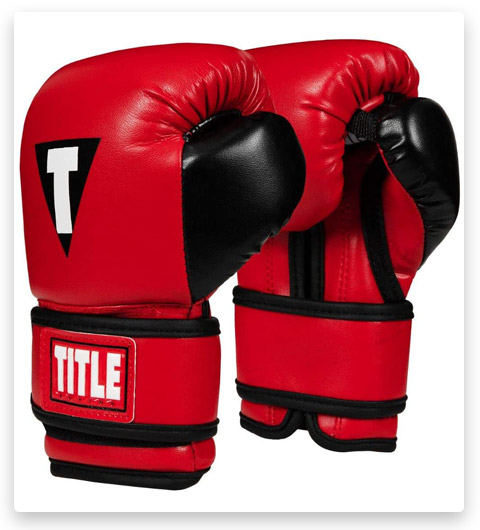 Bright boxing gloves for children aged 2 to 6 years. Their weight is only 4 ounces which is great for little boxers. They are quickly and easily put on and removed. However, they withstand heavy shock. The child's hands will be protected and not injured. Clasps are made in the form of Velcro. The child will not fasten them for a long time and, thanks to such fasteners, they will hold their hand securely during training.
6# Luniquz Kids Boxing Gloves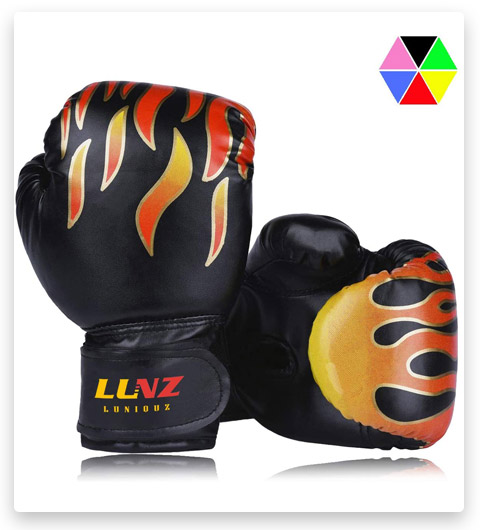 This is one of the favorite boxing gloves of many children. They like them so much because of their bright fiery design. Gloves can be purchased in different colors. The child's hands are fully protected while practicing blows on pears or in sparing with a partner. Therefore, you can be sure that your child will be safe and will not damage his fingers and wrists. They are fastened with Velcro which can be adjusted.
7# Ringside Youth Safety Sparring Gloves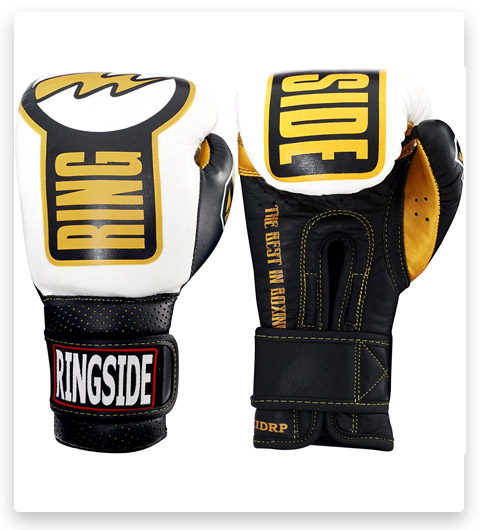 No less bright and attractive design of gloves that children like. They are happy to train in such an accessory. They are made of leather which perfectly protects against injuries during training. There are air vents that prevent hands from sweating.
8# FARABI Boxing Gloves Kids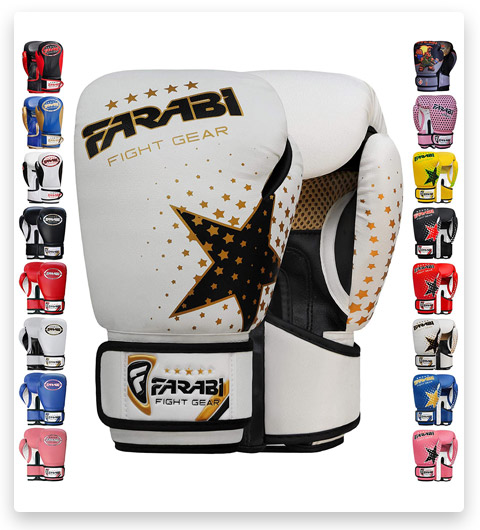 These are ideal gloves for small hands. You can choose them in any color you want. This is possible thanks to a wide color palette. The gloves are breathable and able to protect the child's wrists, fingers, and hands from injuries. Let your child exercise in comfort and safety!
9# KUYOU Kids Boxing Gloves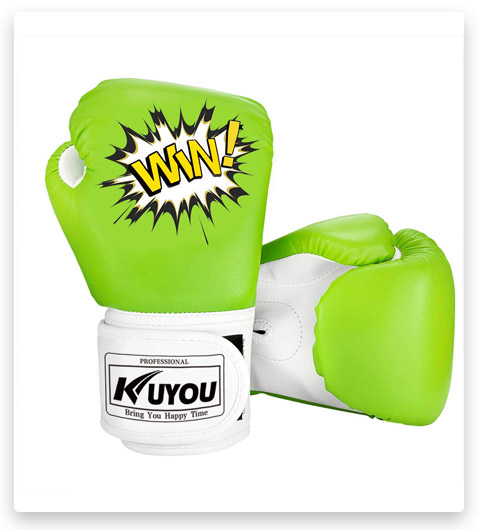 The design of the gloves motivates the child to win thanks to the inscription "win". At the same time, the bright colors will attract the attention of the child and he or she will want to train even more. There are colors for both girls and boys. Gloves hold well due to the presence of Velcro.
10# Sanabul Essential Gel Boxing Gloves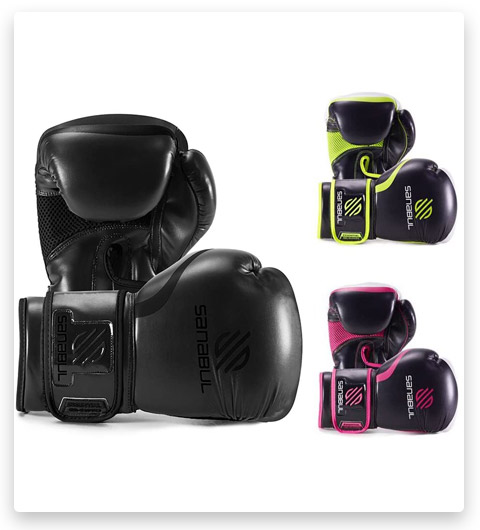 These boxing gloves work perfectly for their price. They are more suitable for older children and have the design of adult gloves. They are able to withstand various strokes and don't injure their hands. They are made of artificial leather that will last for many years.
11# Hayabusa S4 Boxing Gloves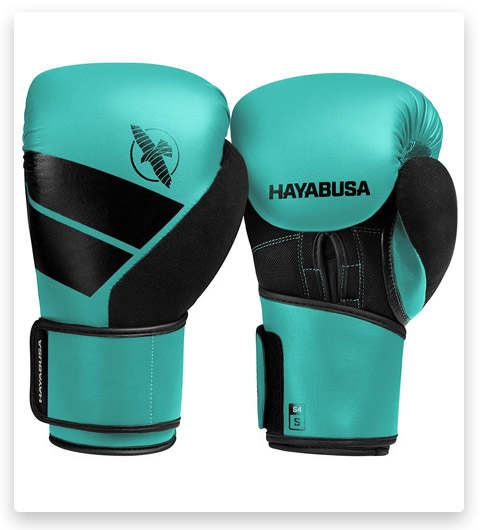 If you are looking for boxing gloves for a teenager, then this is one of the best options. Their design corresponds to the bend of the arm. This allows to take and strike without injuring your hands. They are made of polystyrene foam and sit well on your hands.
12# Everlast Laceless Gloves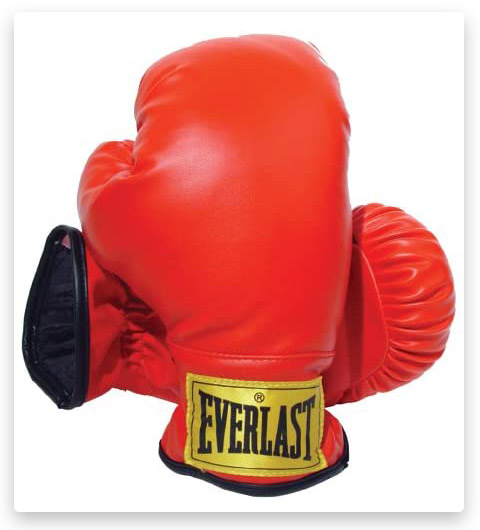 These are little red gloves for young boxers. You will find a size chart and you can choose the right one for your child. They come with a soft lining for comfort while practicing impacts. They don't slip off the hand and put on without difficulty.
13# Elite Sports Boxing Gloves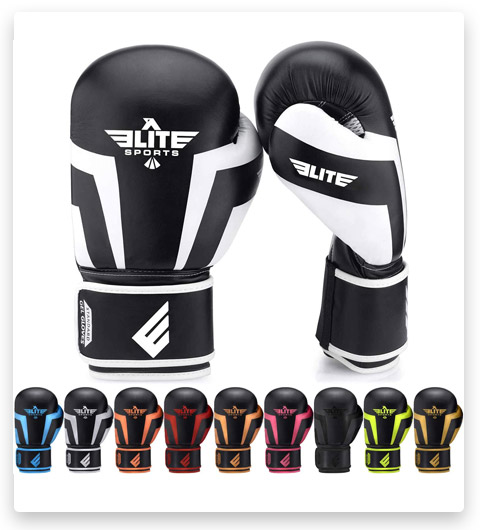 If your child wants to get gloves for adults, then this is what you need! They are fully made for adults but are smaller in size. The child will feel like an adult boxer! They are available in sizes of 4 to 16 ounces and therefore can be suitable not only for small children but also for adolescents and adults. You can also choose your child's favorite color due to their large availability.
Types of Youth Boxing Gloves

Boxing gloves are divided into all-purpose training, bag, and sparring. Before you purchase them, you need to understand at what level of difficulty training takes place. If the child only learns the basics of boxing, then you should stop on all-purpose training and bag. Training is used in everyday sparring, bag gloves are used for practicing and setting shots on punching bags.
They differ only in weight. But you need to have both types available. Each has its own purpose, training heavier, they are not designed to work out the blows and will become unusable due to deformation of the form. Bag ones, on the other hand, are lighter, perfectly allow you to put punches on boxing simulators, but it is forbidden to spar in them.
There is a high percentage that children can injure their hands. Sparring gloves are necessary for competitions and skilled fights. They are usually more massive and somewhat heavier than those used in training.
Do Children's Boxing Gloves Differ From Adults
Boxing gloves for both children and adults are designed to protect hands from injuries and soften the blow for the enemy. There is no significant difference between age groups. Some manufacturers produce a line of children's boxing gloves, which are smaller, made of environmentally friendly materials, but it should be recognized that this is nothing more than a marketing move. However, there are some criteria when choosing children's equipment for boxing.
How to Choose Kids Boxing Gloves
The main selection criteria:
The size. The norm of measuring the size of boxing gloves is an ounce. The scale is divided from four ounces to twenty-two. Where it is customary to consider the size from four to six ounces as children. It's for very young athletes. From 8 ounces to 12 for teens.
Material and filler. They are made of genuine leather or a substitute. Polymeric foam is used as a filler. It is advisable to buy gloves made of genuine leather for a child. It lets in air. The inner layer should be from a skin substitute. In this case, the training will be comfortable and longer. But the filler should be in several layers. Such gloves will be slightly more expensive, but the hand will not sweat and protection against injuries is much higher in such gloves.
Clasps. Gloves on the wrist are fixed either with lacing or with special self-adhesive clips (Velcro). Gloves shouldn't squeeze the wrist, but should also be firmly placed on the hand. Lacing is used, as a rule, by adult athletes. It is more convenient for children and adolescents to use Velcro. It allows you to put on the gloves yourself.
How to Determine the Size of Boxing Gloves
To do this, a sewing centimeter is applied to the center of the palm from the inside and the palm volume is measured with this tape.
If you get 21 cm, then the size of gloves S
22 – M
23 – L
24 – Xl
25 – XXL
Some manufacturers don't use letters but indicate the size in numbers. An important indicator in determining size is weight. The higher the bodyweight of the young athlete, the higher the size. With each subsequent size, the weight of the gloves increases. This rule is respected in order to minimize the risk of injuries.
The ratio of the weight and size of boxing gloves:
Children from seven to nine years old – size 6
From nine to thirteen years – 8
Adolescents – 10
The bodyweight of a teenager is from 50 to 60 kilograms – 12
Conclusion
Boxing is a power sport. Training and sportsmanship certainly reduce the risk of serious damage to a minimum, but correctly selected equipment plays a big role in this issue, the purpose of which is to soften blows and provide protection. It's especially necessary for kids and teenagers. Having an idea of the general criteria when choosing boxing gloves will not be difficult to get high-quality and comfortable boxing gloves. Choose gloves from my list and you and your kids will surely be satisfied with the purchase.
Tags: #best youth boxing gloves / #best boxing gloves for youth / #best boxing gloves for sparring youth / #best kids boxing gloves