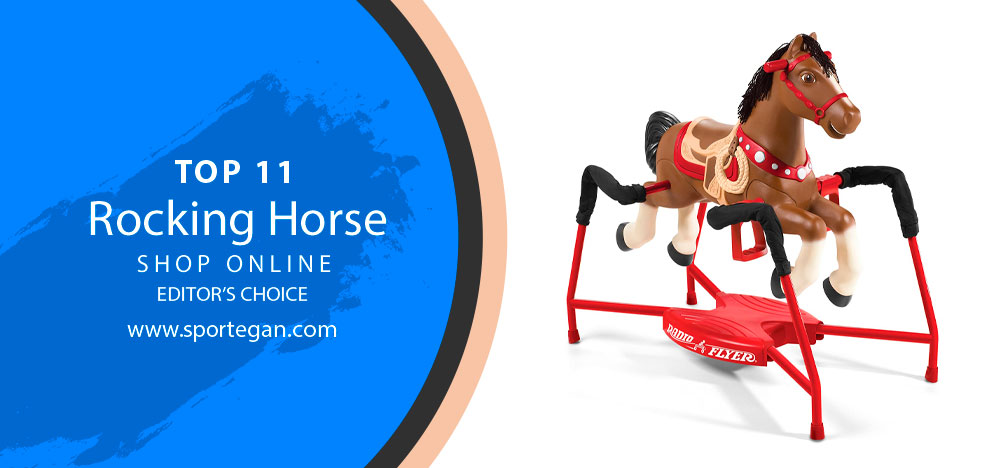 Top 11 Best Rocking Horses for Baby | Buyer's Guide & Review

Do you think bad things can be claimed for a century? We are pretty sure not, too. On rocking horses rocked not only us in our childhood but even before that our grandparents and our parents. This is the same toy that we associate with childhood.
And your children will also be delighted with this toy. The rocking horse is not only able to calm your children while rocking but also develops in children a variety of skills. For example, such as balance, coordination. Your children will have pushing skills.
When the children swing, they bring the torso forward, thus pushing it. At this point, all the muscles of the upper body work. It is important to understand that modern rocking horses do not look like in the days of our childhood. Now there are rocking horses for different ages, different sizes, made of different materials, and have a design for every taste.

When you start looking for options for rocking horses, you will run up your eyes. We have provided for this and therefore created this guide, where we collected 11 most interesting and practical models of rocking horses. Read our review and you will find the perfect rocking horse for your child!

What Age is a Rocking Horse For?
Different models are suitable for children of different ages. Basically, the minimum age is from one year, and the maximum is up to 5 years. Read carefully for what age is intended rocking horse so as not to make a mistake with the choice.
1# Little Tikes Rocking Horse Blue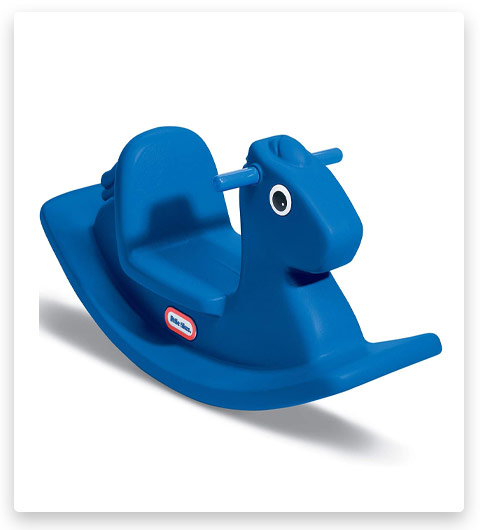 The first rocking horse model on our list doesn't look like a traditional rocking horse. It has a modern design. But the functions remained the same. Most likely the first question that interests you is the age of children who can swing on this toy. Children from one year can already play with this rocking horse and use it for the next 2-3 years. The maximum weight this model can hold is 50 pounds. This toy is good for small children because it is stable and low. Your children are completely safe and will not fall off the toy.
Also, additional safety is provided by the back and handles, for which children hold on while swinging. Traditional rocking horses are mostly made of wood, but this one is made of plastic. We really like the color of this toy. The bright blue color will attract the attention of your children. There are also advantages for parents in this model of a rocking horse. You will not need to spend time assembly it. It goes immediately assembled. As you can see this rocking horse is a great option for your children!
2# Animal Adventure Unicorn Perfect Children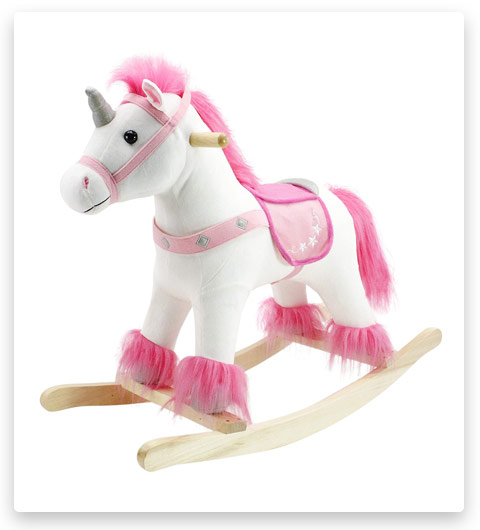 This rocking horse will be chosen by mothers for their little princesses. Your daughters will definitely imagine that they are in a fairy tale swinging on this toy. This toy is for girls from 3 years old. The base of this rocking horse is made of wood. Therefore, it is very durable and of high quality.
And the unicorn is plush so your kids will feel soft and comfortable. The unicorn itself is white with a pink mane. And it comes with beautiful accessories. Your children will definitely appreciate them. Safety first! It will provide two handles thanks to which your children will not fall.  With this toy, your kids will develop coordination by swinging back and forth. Fun game with benefits!

3# Radio Flyer Interactive Riding Horse Duke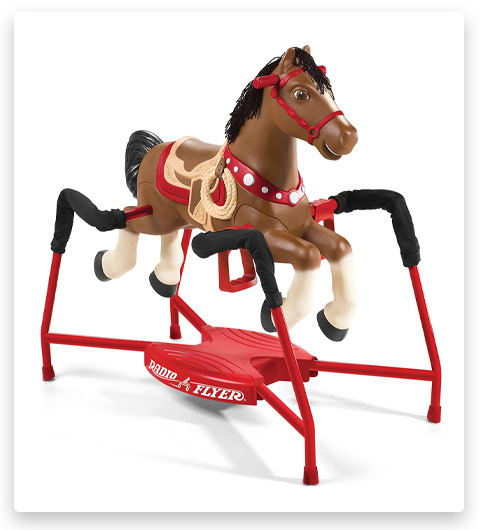 This model of the rocking horse is made by modern technologies. Your children will not only be able to just swing but also to practice different types of riding such as trot, gallop, and walking. The horse also makes sounds while riding on it and reacts to movement. Children will be able to feed the horse a carrot and brush her mane with a comb. Carrot and comb are included with the rocking horse.
Safety is ensured for your children while playing. They will hold on to the handles and fasten their belts. Also, they will easily climb and climb off the horse thanks to the x-shaped base. The toy has a stylish design. The combination of black and red looks cool. Designed for older children. This rocking horse is not like a traditional one, which makes it unique.
4# VTech Gallop and Rock Learning Pony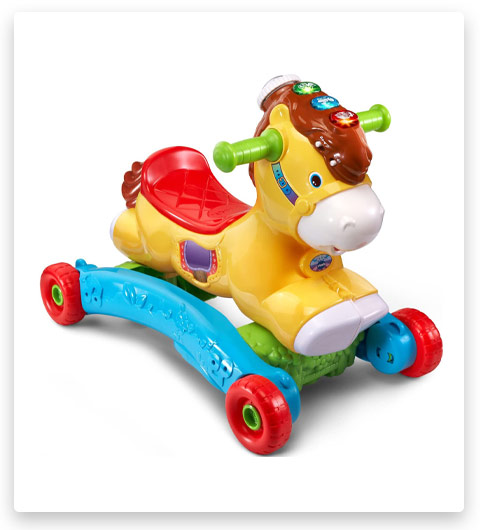 The perfect toy for your little riders! Children from 1 to 3 years old can enjoy riding with this rocking horse. The main advantage of this toy is that it contributes not only to the physical development of your children but also to mental. The toy has 3 buttons that are responsible for different actions. One button emits sounds and melodies (more than 60 melodies) the second teaches words to actions, and the third is responsible for colors. All this contributes to the development of your kids. The toy itself combines all the many colors. They will definitely interest your children!

5# Step2 Rocking Horse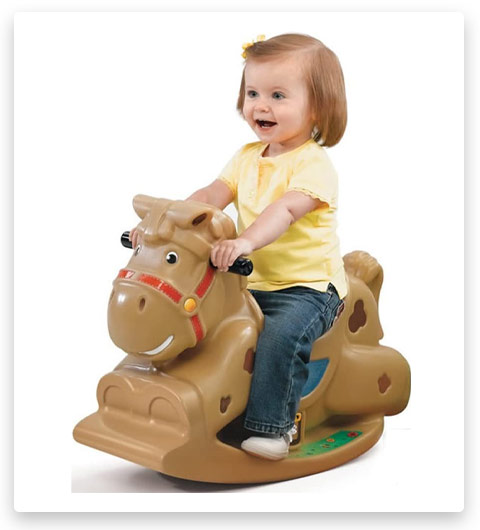 If your children are already 1-year-old, they will be able to ride this adorable rocking pony. It's made for the little ones!
Your children will be able to play and be safe. Holding the handles, they will not fall during the swing. The pony is stable thanks to its wide bottom. So even if your kids swing hard they won't get hurt. The toy is made of plastic. Very light so you can easily carry it from one place to another. Your children will be able to play with it both at home and on the street. This cute pony will not leave your children indifferent!
6# Rockin' Rider Lacey Talking Plush Spring Horse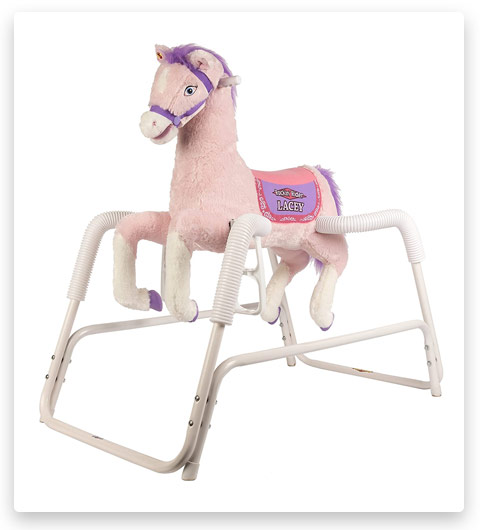 Your little beauties will love the ears of this rocking horse, which sings a sweet song about a little pony. They will press to their ears and rejoice. The horse also emits sound effects and 6 talking phrases. Your children will consider this horse their friend. the horse itself combines pink and purple colors. Those colors that all girls love. The sewn saddle fits perfectly into the design of the toy. The sturdy frame creates a height effect. Your children will not fall as they will hold on to the comfortable safe handles. This toy is so cute and interesting that even adults will want to rock!

7# Belleur Wooden Rocking Horse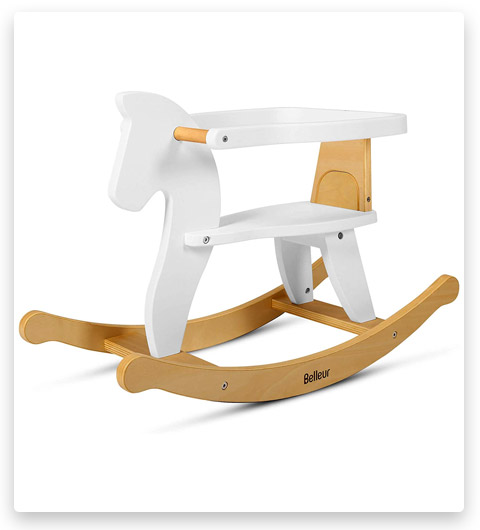 This rocking horse brings back memories of our childhood. And that's because of her design. The toy is made of rubber. And as we know, rocking horses were made of wood. Another detail that distinguishes this toy from others. The mane and tail look natural. Your children may at first think that this is a real horse in front of them. The brown color of this rocking horse adds a vintage charm to the toy. The toy is suitable for toddlers and small children. Your children will develop coordination as they swing back and forth. In order not to fall they will hold on to comfortable handles.
8# Happy Trails Rocking Haley Horse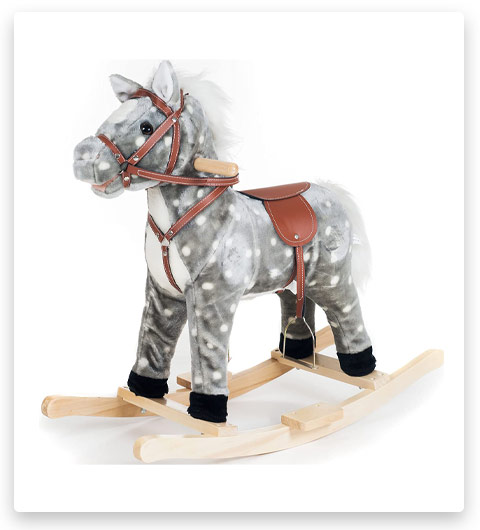 This horse is not like an ordinary rocking horse in its design. It's plush and gray with white polka dots. It looks very nice. When your children climb on a horse to saddle it, they will do so with a stirrup. They will have the feeling that they are climbing on a real horse! Thanks to the wooden base, the toy will never turn over, and the handles will not let your children fall. If your children are 2-3 years old, then this rocking horse is for them!

9# Radio Flyer Busy Buggy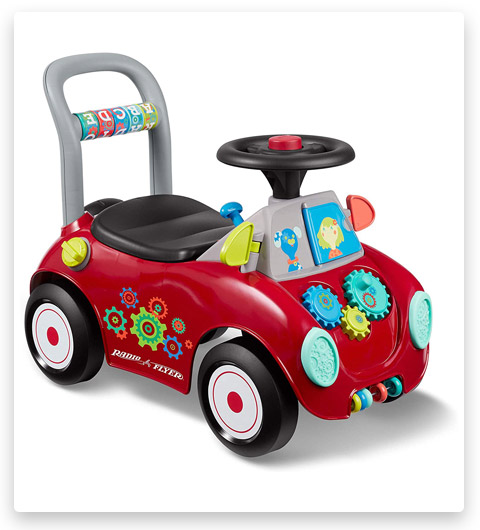 This rocking horse will become your children's favorite toy! She looks like a real circus horse! And your children will be able to not only swing back and forth with it but also to learn different types of riding a horse. They will practice walking, galloping, and trotting. This toy is a great option not only to have fun but also to understand your children whether they would like to engage in equestrian sports. The toy reacts to movement.
When your children will stroke it or come close, it will make different interesting sounds. Also, your children will be able to comb the horse's mane with a special comb and feed it with carrots. These items come with a rocking horse in the set. What about the safety of your children? Manufacturers have done everything here at the highest level. Safety your children will provide not only handles but also seat belts. Also thanks to the wide base, the toy is very durable. So do not worry about the fact that the toy can turn over.
10# Labebe Wooden Rocking Horse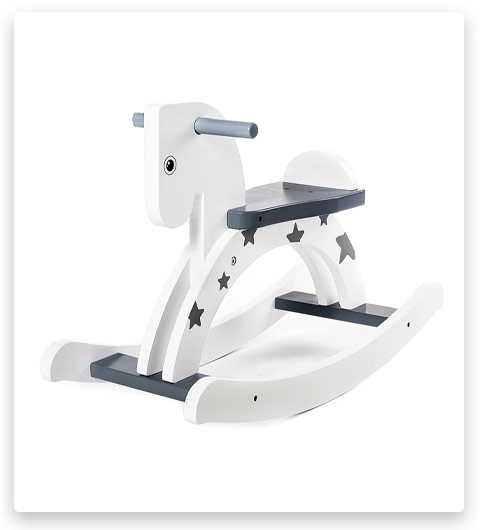 The calm design of this rocking horse will appeal to both children of 1 year and children of 3 years. The seat of this toy is so spacious that even children 5 years old can sit there comfortably. If you want your children to be even more comfortable sitting, then you can put on a small soft pillow. The excellent material for such toys is wood. And this rocking horse is just made of wood. What is good about this material?
The fact that it is very strong, but not heavy. Just what you need for small children. Your children will swing back and forth. This contributes to the development of balance and coordination. Swinging on this rocking horse your children will work all the muscles of the upper body. Thanks to the base the toy is stable. No matter how hard your child swings, the rocking horse will not turn over. To make your children feel confident and safe, they can hold hands. Your children will be happy to receive such a rocking horse as a gift for a birthday or other holiday.

11# Qaba Kids Plush Toy Rocking Horse Ride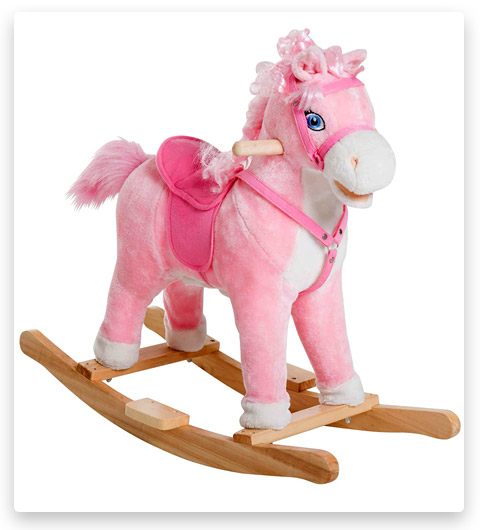 We finally got to the last rocking horse on our list. And it is no less interesting than the previous ones. Great toy for boys and girls from 2 years. Your children will love to swing on this horse. Since it is plush, your children will be comfortable and soft to sit. The toy is able to make sounds of galloping and neighing while your children will swing.
They will imagine that they are riding a real horse. The toy supports up to 80 pounds. Thanks to the metal frame rocking horse will delight your children for many years. Give your kids fun along with this rocking horse!
Conclusion
As you have already seen rocking horse is a great toy for our children, which is time-tested. It can both calm your children and cheer them up. At the same time, kids can develop skills such as coordination and balance, develop the upper muscles of the body. If earlier such toys were one kind, now we can find various rocking horses with different functions.
It makes the choice harder. That's why we created this guide, where we reviewed the 11 best rocking horses. If you still have not made your choice, go back again to the description of toys, read their pros and cons. And we are sure that after that you will choose the best rocking horse for your children.
Tags: #best rocking horse / #rocking horse ranch / #rocking horse / #rocking horse ranch resort / #wooden rocking horse / #best rocking horse for 1 year old / #little tikes rocking horse