Sportegan's Editors independently research, test, and rate the best products. We may earn a commission through products purchased using links on this page.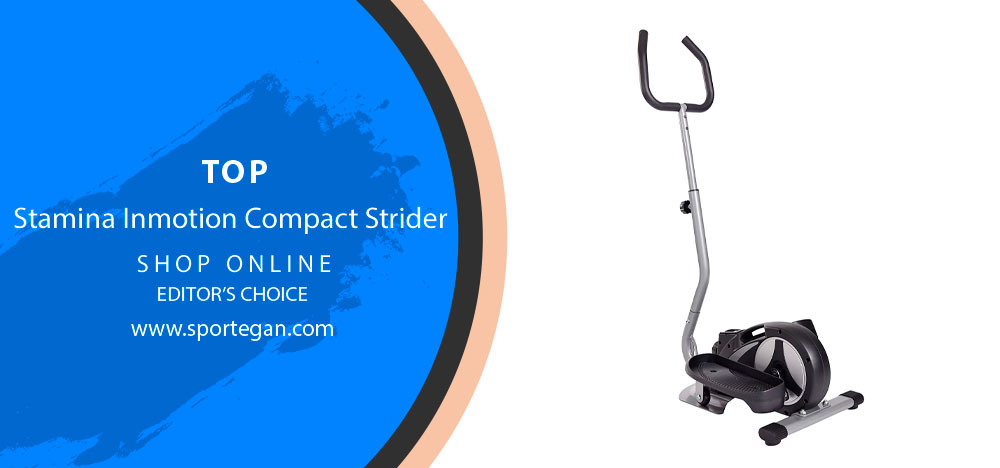 [/toc]
Stamina Inmotion Compact Strider – Top-5 Best Stamina Compact Striders
Almost all gyms are now equipped with high-quality cardio machines for strengthening legs and other muscles. But going to the gym is a thing that takes quite a lot of effort, money, and time. And the company Stamina exists especially to solve this problem.
Stamina delivers first-class training equipment to the market. Especially reliable and high-quality among them are striders. They are compact, efficient, inexpensive, and you don't need to spend money on a gym membership. You can plan and do your workouts right at home.
These cardio machines stimulate the work of your heart, improve cardio indicators, develop stamina and pump your leg muscles. At the same time, they occupy no more space than your vacuum cleaner!
If you haven't decided which compact strider you need, dive into our article – we'll tell you about it right now!

Reviews On Best Stamina Compact Striders
If you've already encountered compact striders from Stamina, then it may seem to you that they are all the same. But this is not so. Some are more versatile and user-adjustable. Some of them are more designed for comprehensive muscle training and some also train your hands. Below are all the differences between them and the best striders are selected.
| Image | Product | Brand | Link |
| --- | --- | --- | --- |
| | Stamina InMotion E1000 Compact Strider | Stamina | |
| | Stamina InMotion Compact Strider - Smart Workout App, No Subscription Required - Under Desk Seated Mini Elliptical | Stamina | |
| | Stamina Inmotion Elliptical | Stamina | |
| | Stamina InMotion Compact Strider with Cords - Smart Workout App, No Subscription Required - Adjustable Tension - Integrated Fitness Monitor | Stamina | |
| | Stamina Folding Exercise Bike - Smart Workout App, No Subscription Required - Stationary Bike w/ Comfortable Seat & Tablet Holder for Home Gym | Stamina | |
#1 Stamina InMotion E1000 Compact Strider – Best Overall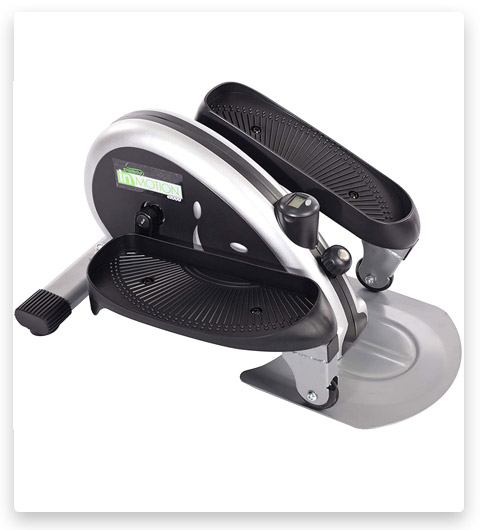 Very compact and lightweight strider. You can practice not only at home but also transport the device to an office or other place. For its size of 25 x 17 inches, it weighs only 24 pounds. The intensity of the workout is changed using a spinning tension knob located near the display. You can train in both easy and difficult modes.
The display is multifunctional and can show time, calories burned, number of strides per minute, or their total number. Besides, you can pedal both forward and backward, which gives the device even more versatility. With this device, you can train while you work, play video games, or read a book. Textured pedals prevent your feet from slipping. The maximum weight calculated for this strider is 250 pounds.
#2 Stamina InMotion Compact Sports Strider – Best Compact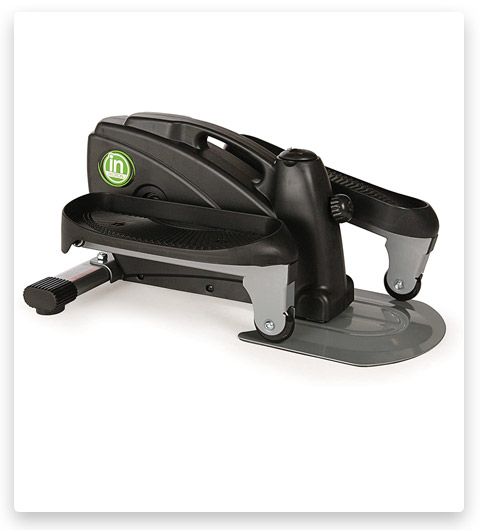 This device is devoid of the only drawback that the previous strider had. On top of it's a convenient compact handle for easy transportation. The strider is made in elegant black, has very small dimensions – 12 x 24 x 17 inches. It fits easily on a shelf or in the back seat of a car.
On the front partition, there's a control knob. It adjusts the resistance of the pedals depending on whether you want a hard and tight training or light session. A multi-functional monitor tracks your progress, time, calories, distance, and RPM.
And so that your legs are in a stable position, the pedals are equipped with a non-slip coating. The device is made of plastic and metal but doesn't weigh much – only 24 pounds. The weight limit of this compact strider is 250 pounds.
#3 Stamina InMotion Elliptical Orange Sports Strider – Best Effective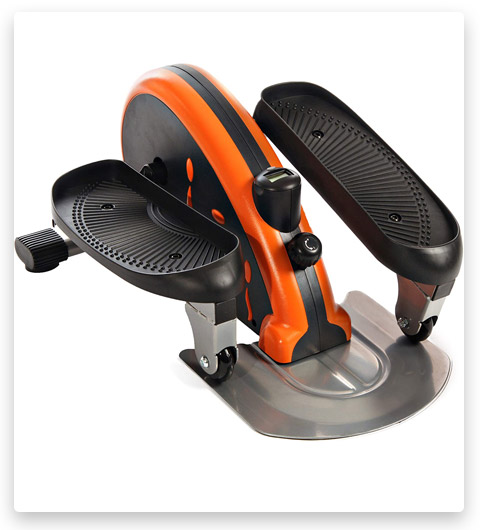 This model is made in bright orange color, with inserts of black and silver parts. Material – high-quality plastic and metal, which will last you several years. The pedals of this device are quite long and wide, with a non-slip coating. So, your footsteps will be very comfortable with this.
The front vertical partition has a tension knob and a multifunction display. The knob is responsible for adjusting the pedal's tension resistance and how hard it'll be for you to press on them. A versatile digital display shows time, calories burned, the total number of strides, and the number of strides per minute.
The product measures 25 x 17 x 12 inches and weighs 30 pounds. The maximum weight this strider can support is 250 pounds. The manufacturer also provides you with a one-year warranty.
#4 Stamina InMotion Compact Strider With Cords
If the standard concept of a compact strider doesn't suit you, then look at the strider with cords. They allow you to effectively train not only your legs but also your arms. The strider has a plastic-metal construction in green. Traditionally, wide and long pedals have a non-slip coating for greater comfort and stability.
The tension knob is located on a vertical partition, like a monitor that displays time, steps per minute, and in general, calories burned or all at once. Also, on top is a convenient carrying handle. Particular attention should be paid to cords that have medium resistance and adjustable handles.
With their help, you can effectively pump the muscles of your hands, increase endurance and burn calories many times faster. The unit weighs 24 pounds, measures 24 x 12 x 18 inches, and has a load limit of 250 pounds.
#5 Stamina Folding Exercise Bike With Handlebars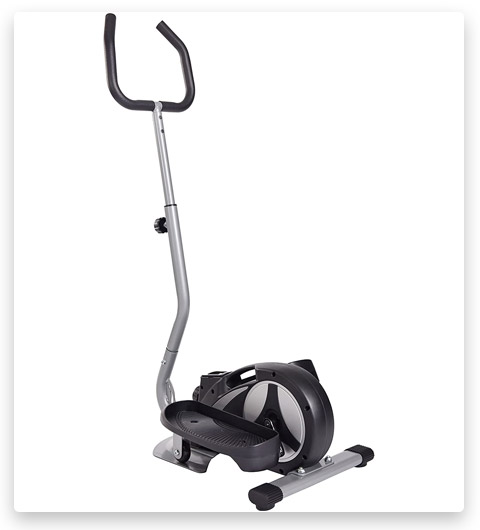 This model resembles stationary gym equipment, but nevertheless, it's still a good old Stamina compact strider. The model has handlebars, but they're very quick and easy to remove if you need them. They also have a soft rubber pad for a softer and more comfortable grip.
The strider itself is made of durable metal and plastic, in black and silver. The adjusting knob is located below and has 8 levels of resistance tension, which is very convenient. The pedals have a forward and reverse stroke. They're very wide, and also have a non-slip coating, so you will feel very stable on this strider.
The digital display is located right under your feet, it's very easy to read. It gives up all the necessary information: time, calories, steps per minute, the total number of strides. The weight of this device, along with the handles, is more than the rest of the striders – 31.1 pounds, it's also quite high. But if you remove the handles, it's a very compact and lightweight strider that fits anywhere.
What Cardio Machine Is Best For Training Different Muscle Groups? 
Many different cardio machines can strengthen and train different parts of the body and muscle groups. But how to understand why every single cardio machine is needed if there are so many of them?
We will help you to figure it out. We present you with a complete list of cardio machines from Stamina that is needed to train your body.
6# Hip Training – Stamina InStride Folding Cycle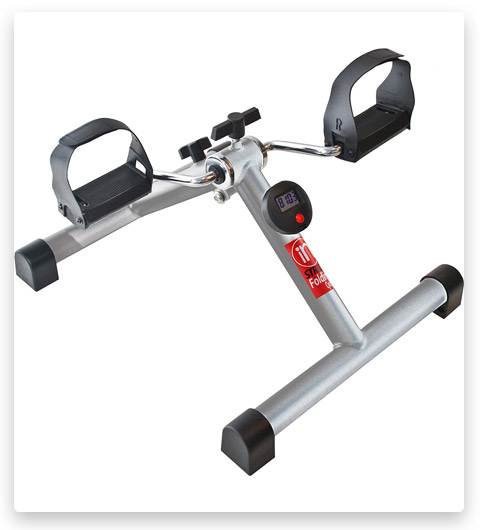 A portable folding bike that helps you pump up your hips and lower body. The exercise bike is very compact and can even fit in a sports bag. The case is made of durable steel, which will serve you for many years.
You don't need to connect the device to a power outlet – the electronic display is battery powered and discharges for quite some time. The bike is equipped with a knob that adjusts the resistance of the pedals. The pedals themselves have a wide non-slip surface.
7# Full Body Muscles Training – Stamina Body Glider Rowing Machine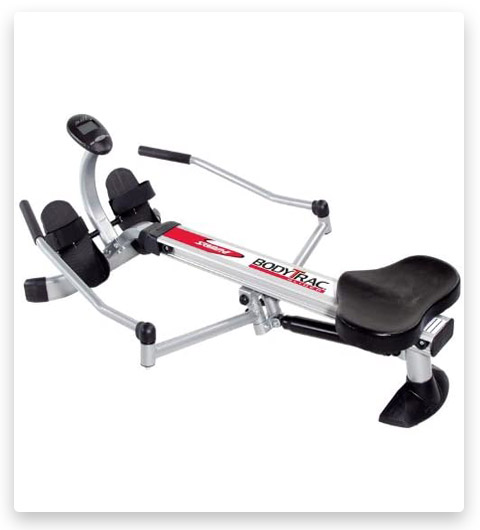 Rowing machines more effective than the rest of cardio machines allow you to train almost all muscle groups – during training on such simulators 85% of all muscles of the body are involved. The Stamina Rowing machine has a sturdy metal construction that folds easily for compact storage.
A comfortable molded seat with soft foam handles creates a comfortable feeling when working on this device. Besides, the device is equipped with a multifunction display that displays your readings and a knob that regulates the resistance.
8# Stamina 15-0125 InStride Folding Cycle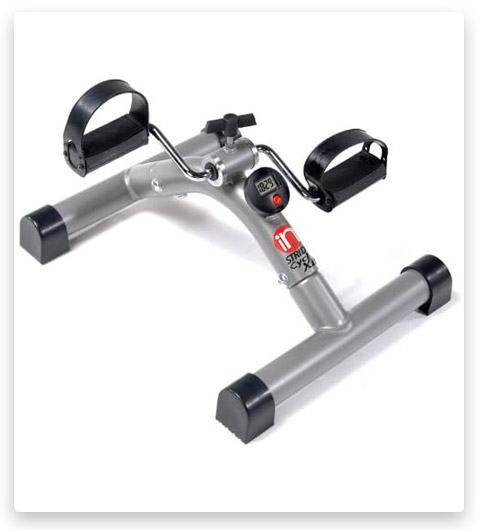 This exercise bike is similar to the previous one but features better rubber foot straps and a more accurate digital display. The bike also has a sturdy metal structure, a tension knob and a folding structure that can be carried with you. This cardio machine is great for training the hips, buttocks, calves, and the entire lower body.
9# Abdominal Training – Stamina InLine Back Stretch Bench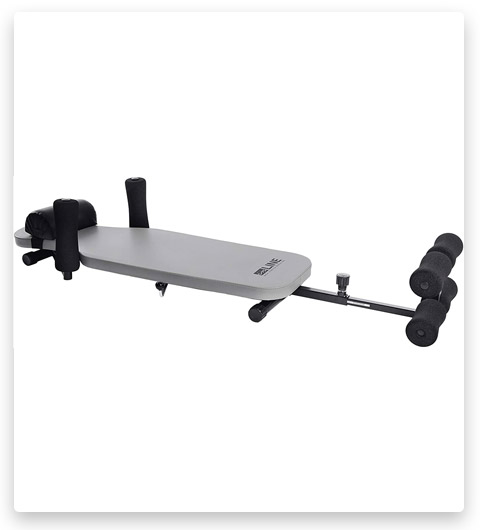 Pump up the muscles of your abs and back will help this bench. The main load-bearing structure is made of durable metal with an adjustable length so that you can customize the bench for yourself. The bench is equipped with 4 soft rubber rollers – 2 at the legs and 2 at the head for fixing the elbows and legs. The upper part has a soft foam pad for greater comfort and helps to avoid injury. The area near the body also has a small filler so that your body is not so hard to lie.
10# Arm Training – Stamina Rower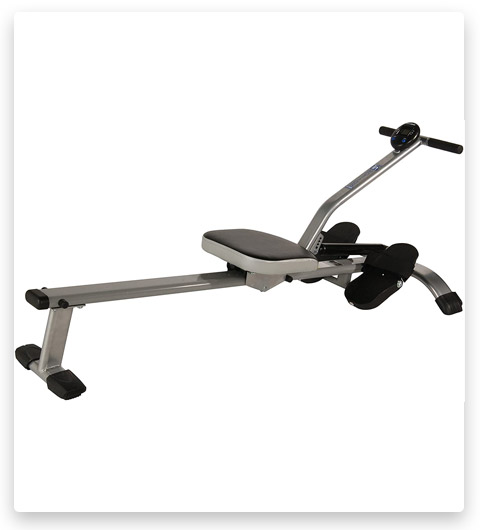 To train your forearm and biceps can help the rower with Stamina. It features a solid steel folding structure, a comfortable padded adjustable seat, tight footplates with adjustable closure, and an adjustable knob for adjusting resistance. A multi-functional monitor will help you keep track of your statistics and always stay motivated. 
11# Stamina Training – Stamina InMotion Manual Treadmill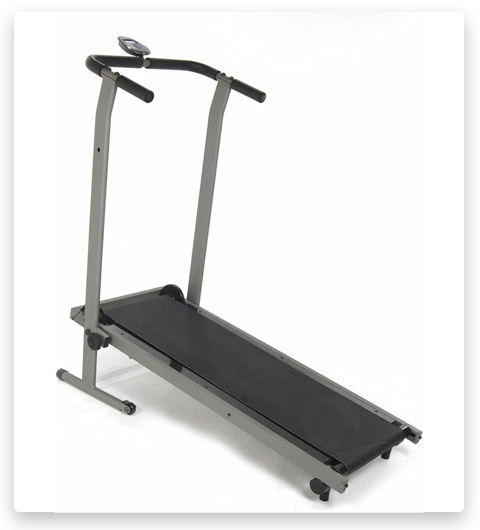 The treadmill has a slope of 8 or 10 degrees, which is needed for a stronger load on your legs. This device will help you to stabilize the cardiovascular system, increase stamina and lung capacity. An electronic monitor will help you keep track of your running speed, time, and calories burned. The track surface has a textured non-slip surface for a better grip, and the design of the treadmill can be easily folded and unfolded.
12# Calve Training – Stamina Strider Wirk Orbit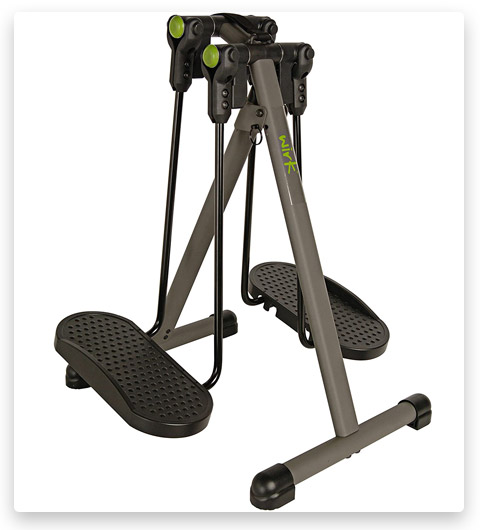 Another strider, but of a modified form and design. This model has nylon footplates that feel very nice on the feet. In general, almost the entire structure is made of nylon except for supports. This is a very small and light strider that fits comfortably in your gym bag or backpack. The device has a very smooth and flexible stroke thanks to the patented hinges on the top.
13# Combine Training – Stamina 38-inch Rebounder 
On this trampoline, you can do almost any type of training – push-ups, abs, lunges, jumps, etc. The model has a polypropylene surface with a diameter of 38 inches. It even has a built-in fitness monitor that tracks time, jumps, and calories!
The product is equipped with two cords for more comprehensive training and muscle development of your hands. A safe blue frame will ensure you have a safe time on the rebounder. You can use it at home or in the courtyard, the Rebounder can work anywhere. Also, this unit is made of natural rubber latex, which is an absolutely hypoallergenic material.
14# Equipment For Training – Stamina Folding Equipment Mat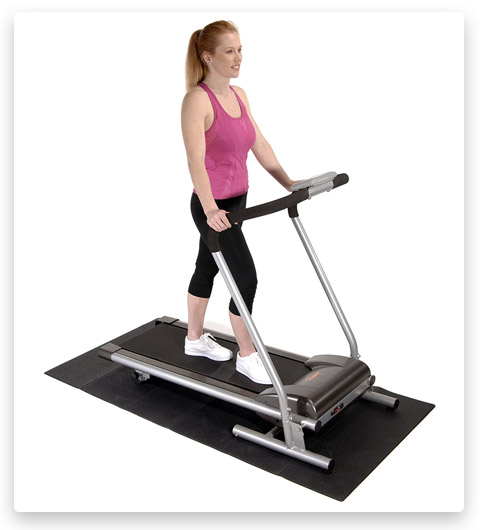 Obviously, you have to put your cardio machines somewhere. And an excellent stand would be a mat from Stamina. It is quite wide and long, measures 3 by 7 inches, and can be used with any striders, exercise bikes, treadmills, rowers, etc. The mat is black and made of high-quality textured soft pebbles. 
FAQ

In this section, we answered the most popular user questions about compact striders.
Summing Up
A compact strider is a device with which you can engage in fitness and training without leaving your home. Thanks to these cardio machines, your health will always be nice, and your lower body will be like that of an athlete.
Stamina Company is ready to provide you with excellent InMotion compact striders at an attractive price. Above, we've listed the best compact strider models that'll definitely help you with your choice. Go in for sports with pleasure!

Editor-in-Chief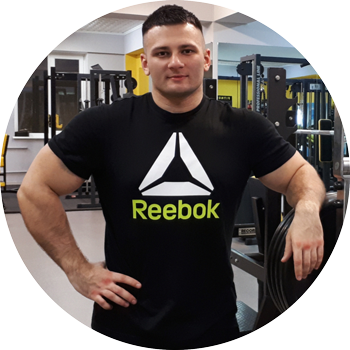 Nikolai Sergeyev
Expert in athletics, boxing, powerlifting
Nikolai Sergeyev is a weightlifter, powerlifter. Master of Sports International Class, world champion and record holder in powerlifting among juniors and youth in the weight category of up to 90 kg and up to 100 kg.
European and world record holder in different versions: UPO (EPA, IPA), WPC, GPF, UDFPF (WDFPF), WPA and others.
World and European Powerlifting and Bench Press Absolute Champion
More than 50 world records
Master of Sports of International Class
Affiliate Disclosure: Sportegan.com sometimes gets paid for listings, through sponsors or affiliate programs like Amazon, Ebay, Everlast, Cleto Reyes, RingSide, Winning, Title, Twins Special, Hayabusa, Fairtex, Top King, Venum, RevGear, RDX, Century, Tapout, Crossrope, and others. Clicking a link helps keep Sportegan.com free, at no extra cost to you!
About the author: Each article on our website is checked and edited by a professional and expert in the field of sports (boxing, athletics and weightlifting). Nikolai Sergeev is a multiple world champion and record holder: during his sports career Nikolai set more than 50 world records among youth, juniors, adults, in different weight categories and in different versions (NPA, IPA, WPC, GPF, WUAP, WPA, IPO, RPS, etc.). The author has more than 30 victories and more than 30 gold medals received at competitions of the international level, the European and World championships. Read more at «About» page. Official website / Wikipedia.
Note: The views and opinions expressed in this article are those of the authors and do not necessarily reflect the official policy or position of any agency.