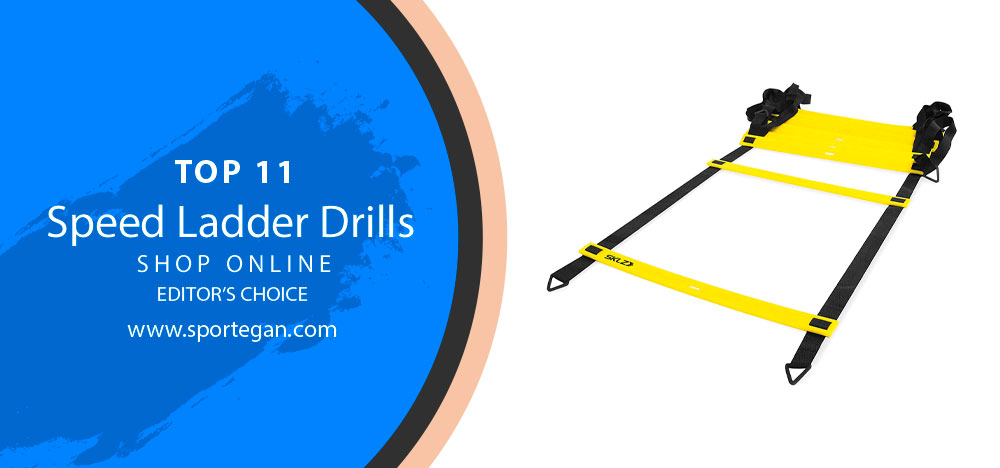 Top 11 Agility Ladders for Coordination and Speed Training
What I love the most in the fitness market today is the abundance of all sorts of accessories and equipment that can help you exercise without too much hassle. Online shops are flooded with tons of both expensive and inexpensive assets. They promise to help you burn your calories, grow muscles, and make you into an athlete in the comfort of your home or your yard.
However, that is also the thing I hate the most about the fitness market. There is a huge chance to buy useless, overmarketed junk that won't give you any positive results. Many products will flatten your wallet instead of your calories.
Today's topic is about a product that goes into the first category. Agility ladder drills are simple, affordable, yet very useful assets that help you stay fit, agile, versatile, and faster.
What is an agility ladder? It is an extremely straightforward tool for training your quickness, footwork, as well as improve your running speed. You can implement a variety of well-known exercises on the ladder, including those focusing on your strength, agility, or your quickness.
The workouts that you practice using this product are called "drills," and there are plenty of them out there. I won't tell you about them, because it is much easier to browse the web to find out about them. You can easily invent some of your own drills!
The agility ladders have no barrier to entry. They do not require the lengthy preparation process and mounting, like boxing equipment. These are, basically, ladder-like products that you place on the ground and immediately start working with. No, you can't climb on them.
Basically, it is not that hard to assemble one yourself, yet it can be time-consuming. However, agility ladders have become so cheap that there are no reasons not to buy one from the top-grade manufacturers.
I guess it won't surprise you that there is a market for these ladders. In a fitness world, there is a market for any type of product. And with a tool so simple, there's not much room for failure. So how do you pick the right one for your daily exercises?
In this article, I will explain some benefits of these products. Afterward, we will look at my list of Top 11 Agility Ladders that I have complied to help you decide which one is better suited for you!
Why would I need an agility ladder drill?
Because it can improve your footwork, speed, agility, and, most of all, your proprioception. You will train your coordination as well as burn calories.
What are the positive effects of the ladder drills?
The assets are prevalent among soccer, football, and tennis players. You will increase your body control, get fit, improve your speed, and agility if you train regularly.
What are the most common problems with these products?
Many of these ladders suffer from poorly adjusted rungs that slide on cords and from the wires getting tangled up. There's one asset on this list that has none of these problems. However, it has a stingy price tag.
How often should I train with this tool?
I advise spending at least an hour or half-an-hour a day if you are a professional athlete. If you are just a sports enthusiast or want to stay fit, I recommend practice on the speed ladder for an hour every few days.
Now, let's look at some of the best speed ladders that you can purchase right now.
1# Agility Ladder with Carry Bag Footwork Ladder – Multi Choices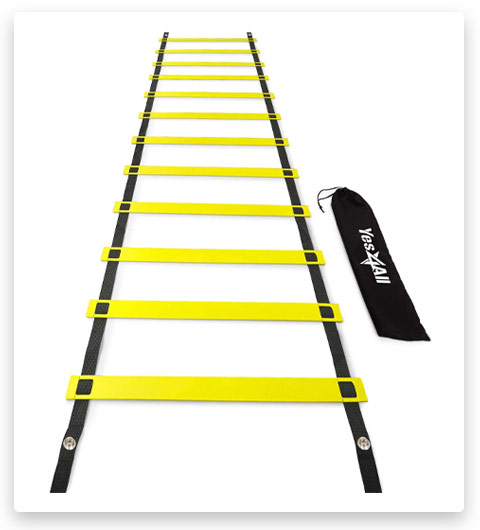 Yes4All's agility ladder is a great addition to your fitness routine. It is sturdy and has an adjustable size. You get a carrying bag to carry it around with you as an icing on the cake. It's very compact and weighs like a feather. It took me a few minutes to assemble it. You won't need to go through the tedious setting up process.
Believe me, this product is very well made, especially considering its price. On the downside, this ladder can twist and tangle up a little bit. Also, it can move a little due to the low weight. However, it moves only you touch it with your foot while training.
Highlighted features:
Constructed of 15 feet nylon with plastic rungs.
Better suited for indoor use.
Up to 15 feet long and 17 inches wide.
It comes in 2 colors (blue and yellow) and in 3 sizes (6, 8, and 12 rungs).
2# Agility Ladder w/Free User E-Book + Carry Bag – by REEHUT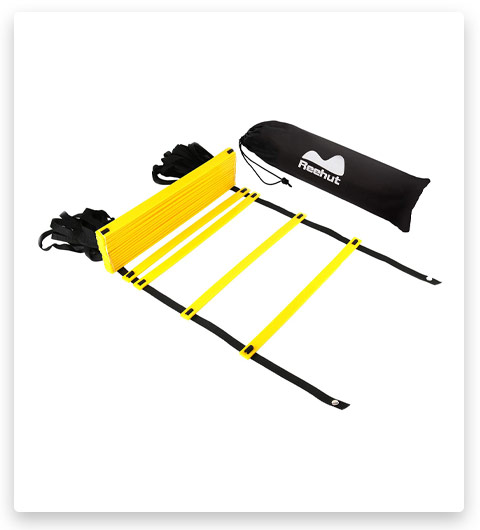 A run-of-the-mill budget ladder that has a very low price tag. The ladder is sturdy enough, though made out of plastic. Crossbars are pushed together so you can quickly assemble and disassemble the product. However, setting this thing out can be a nightmare, and you have to do it yourself.
The cords will get become tangled up from time to time if you don't assemble it right. However, there are no indicators on the cords where you should place the rungs. You'll have to spend some time trying out how to place them best yourself.
The product also comes with a few nice bonuses. You will get a carry bag and an electronic guide with instructions on how to set it up, as well as with the best exercises you can do with the ladder.
Highlighted features:
Made from sturdy PP material and heavy-duty plastic
About 17 inches wide and 15 feet long
Comes in 3 variations: with 8, 12, and 20 rungs
3# Nylon Agility Workout Training Ladder – by AmazonBasics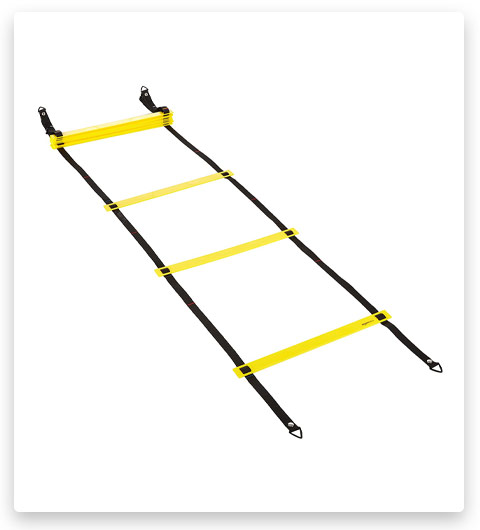 Nylon Agility Training Ladder is a middle-priced tool that helps you improve your foot speed, leg strength, and coordination. It is very compact and light. It easily fits into a carry bag that comes with it. The construction also has a metal hook that you can use to secure it firmly in the ground.
This ladder does not come preset, which means that you will have to adjust the rungs into cords yourself. However, some markers suggesting where exactly you need to put the rungs. Therefore, the installation isn't too tedious.
What I don't like about this product is how easy the cords tangle up. It's an OK product for this price. Still, I would suggest getting something preset and sturdier. I don't like it when you have to constantly readjust the device during training.
Highlighted features:
Made from durable nylon and plastic rungs.
About 15 feet long.
4# Speed and Agility Ladder – by SKLZ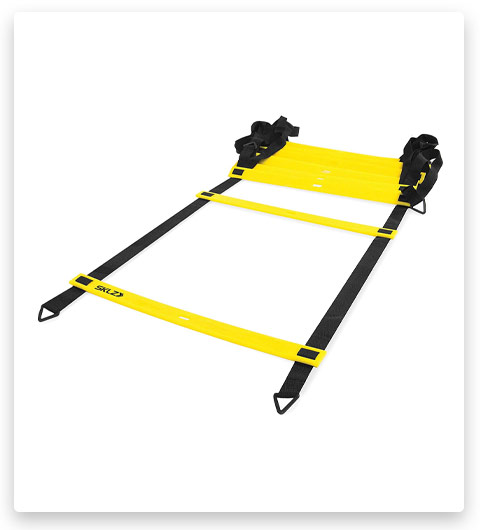 I think this product is great, which is represented by its above-average price tag. The ladder comes in three versions, and the most expensive one costs at around $60. You also get a carry bag that easily fits all three versions (one at a time, though). The set comes with instruction so you can set it up effortlessly and learn about some popular drills you can do with the ladder.
The asset comes preset, but you can still adjust the space between the rungs! It is a dream come true for many people who don't want to spend hours installing a ladder and untangling it each time the assembly goes wrong.
I love the design and durability of this product. It is durable and pretty sturdy, which makes it perfect for outdoor and indoor practice.
Highlighted features:
Made from have-duty plastic rungs (11 rungs in total)
17 inches wide and 15 feet long.
For outdoor and indoor use.
Comes in 3 variations: quick ladder, quick ladder pro, and elevation ladder
5# 20ft Agility Ladder & Speed Cones Training Set – by MANTRA SPORTS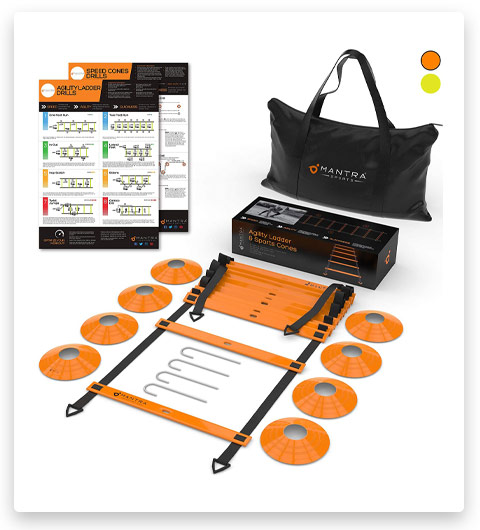 This may be my favorite agility ladder on this list. This asset is made from top-grade materials, which ensures that it lasts longer and won't break on you. The cords are also not prone to tangling.
The package comes with a detailed double-wall instruction showing various drills you can do with the ladder, with a neat bag, and a set of cones.
It's important to note that the ladder comes preset, so you won't have to waste time installing it. However, you can easily adjust the rungs yourself. This product is amazing and really worth the price!
Highlighted features:
Suited for indoor and outdoor training.
Nylon strap cords and high-quality plastic rungs.
About 19.6 feet long.
It comes with 12 rungs.
Available in orange and yellow colors.
6# Agility Ladder Bundle 6 Sports Cones Free Speed Chute – by Trained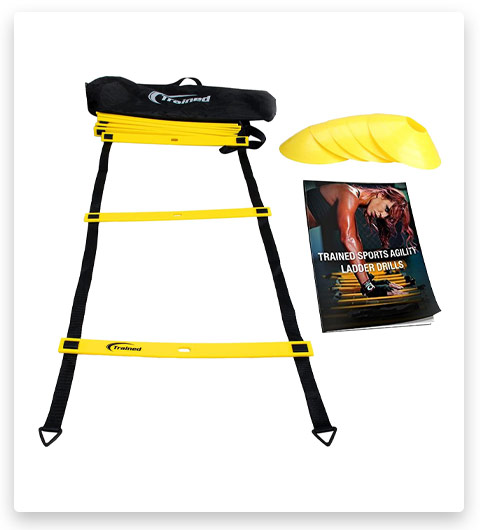 My second favorite ladder here. It is made from sturdy materials that ensure that it will serve for years to come. The value of the package is amazing. For a neat price, you get an agility ladder, sports cones, a carry case that fits all of this, an eBook, and even a parachute. Be advised, the seller will send you an electronic book by mail. If they don't, you should worry.
Just contact the seller, and the company will respond very quickly. Aside from the cones being a little flimsy, I can't stress enough how good of purchase this is! The ladder itself is compact and adjustable, wide enough, and pretty long for exercises.
Highlighted features:
Suited for indoor and outdoor training.
Straps are made from top-grade nylon. The rungs and cones are plastic.
About 17 inches wide and about 15 feet long.
Has 12 rungs and 6 cones in a set.
7# Pro Agility Ladder Agility Training Ladder Speed 12 Rung 20ft – by GHB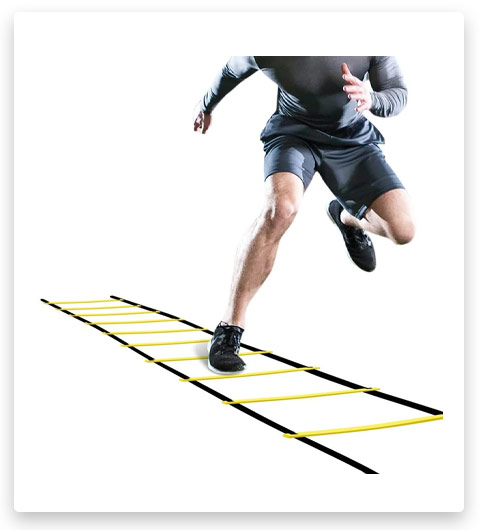 Ladders with rungs that come already preset are always a treat! However, if you want to adjust the placement of the rungs, it is also wouldn't be a problem because they are easily adjustable. This is a greatly built and compact agility ladder, and surprisingly long at that (almost 20 feet).
This asset has a low price, yet it comes with a carrying bag as a bonus. It is also lightweight, so it easily fits in a bag. As for the downsides, the cords can tangle up during constant assembling and reassembling of the ladder.
There's also reports that some ladders come with uneven space between the rugs. Still, since it is effortless to adjust them, that's just a minor inconvenience.
Highlighted features:
High-quality plastic and nylon straps.
About 17 inches wide and about 20 feet long.
It contains 12 plastic rungs.
Available in yellow and blue color.
8# Pro Agility Ladder and Cones – 15 ft Fixed-Rung Speed Ladder with 12 Disc Cones – by Profect Sports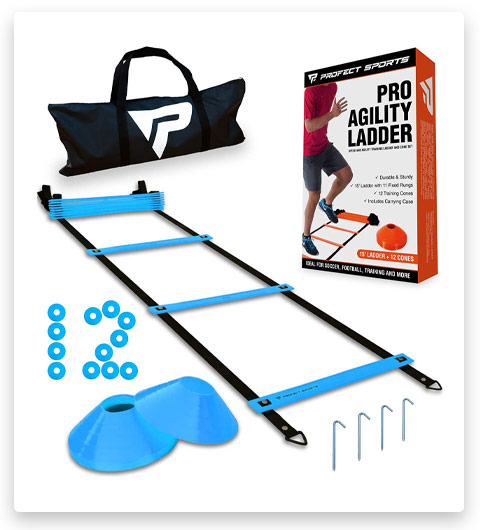 The value of this product is astonishing. If you are a soccer player, this may be the package just for you! The ladder is exceptionally well made and durable. It comes preset, but you can adjust the 12 rungs that go with it.
The rungs themselves are attached neatly to the cords, which prevent them from sliding during training. For soccer fans, you have 12 disc cones and 4 metal spikes. The eBook with twenty popular agility ladder drills is a great bonus. However, it's hard to get one because it comes via email, and the customer support is usually very slow to send it.
Highlighted features:
About 15 feet long.
Made from top-grade materials that increase its longevity.
Suited for indoor and outdoor training.
Comes 4 colors pallets: blue, orange, yellow, and pink.
It contains 12 rungs.
9# Agility Ladder Training Equipment Set – by Invincible Fitness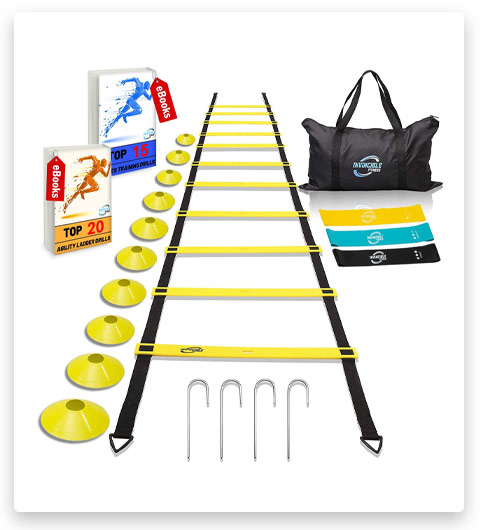 This is another package that has amazing value. For about $26, you get not only the agility ladder but a set of bonuses. The product goes with a carrying bag, ten cones, 4 hooks that you can use to improve the stability of the ladder's cords, 3 bands.
There are also two electronic books containing useful tips and a list of popular exercises. The eBook contains information only about the ladder, so you'll have to figure out how to use the cones yourself. The ladder itself is sturdy, stable, compact, and light. You can quickly assemble in the go and start your exercises wherever you want.
Highlighted features:
The ladder is approximately 15 feet long.
Made from top-grade nylon and plastic
For indoor and outdoor use.
11 rungs included.
10# Step Speed & Agility Training Set- No Tangle Ladder – by TKO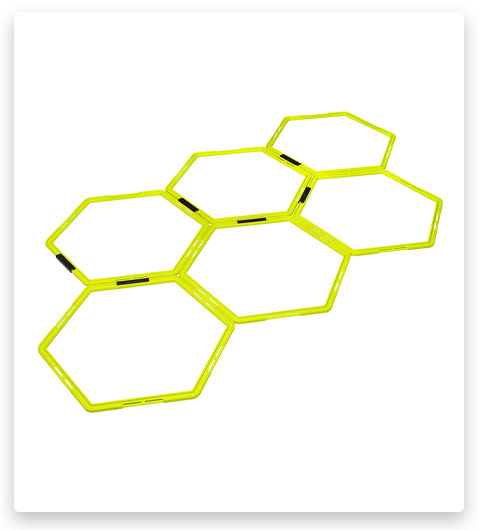 TKO's equipment is an outsider in this list. It has no cords and all, which means it can't tangle. This fact solves the main problem all other agility ladders have. The unique hexagonal design makes it different from all other ladders. You can chain these hexagons just the way you want it. It's not necessarily to make a straight line.
It is straightforward to set them up, so you can assemble them in a mere minute. The hexagons are also lightweight and very compact, meaning you can carry it wherever you want.
I recommend taking a look at TKO's no tangle ladder. However, I can only do so if your budget allows it. The package comes with only 6 hexagons, which are not enough for consistent exercise. It's only 6 steps in one direction. You'll have to buy at least two packages for effective training, and the price can really bite.
Highlighted features:
Suited for outdoor and indoor activities.
Each hexagon is 19 inches wide.
Has 6 hexagon rings.
11# Agility Ladder Speed Training Exercise Ladders – by Ohuhu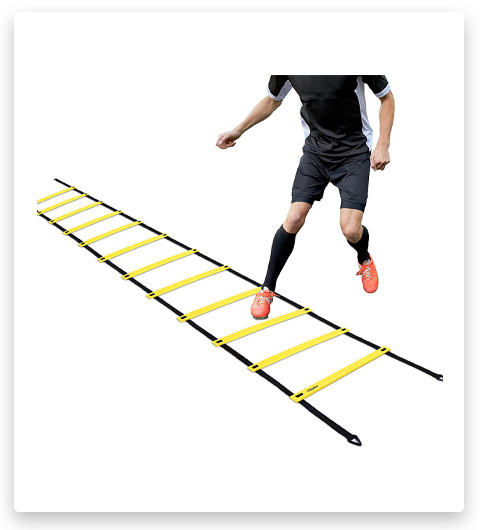 I'll finish the list with a convenient and affordable ladder. It's compact, and easy to carry around. You also get a carry bag as a bonus; however, you are probably not surprised by this now. The rungs can slide a little on the cords during training. Also, they can tangle after some serious workout or assembles/disassembles.
I can't say this agility ladder is very sturdy or durable. Still, it can serve you for long if you are careful enough. I wouldn't count on it to survive more than a few years, but for the price so low, it is a justified "risk."
Highlighted features:
Made from quality PP material.
The ladder is about 19 feet long and approximately 12 inches wide.
For indoor and outdoor activity.
It comes in yellow and blue colors.
It contains 12 rungs.
Conclusion
My favorite pick out of all these products is the Agility Ladder by MANTRA SPORTS. It combines the best qualities out of every other asset on the list for an affordable price. The package also contains training cones and a bag so you can carry all the equipment with you.
The second-best asset is an Agility Ladder Bundle by Trained, which gives you fantastic value for the low price. You get a sturdy and durable product, as well as sports cones, a carrying bag, an eBook with a set of great drills. For some reason, the seller also includes a parachute in a package. How could anyone resist so much value?
The hexagonal Step Speed & Agility Training Set by TKO is an exciting product that suffers from a big price tag. Otherwise, it is a unique and effective equipment for footwork and coordination training.