Sportegan's Editors independently research, test, and rate the best products. We may earn a commission through products purchased using links on this page.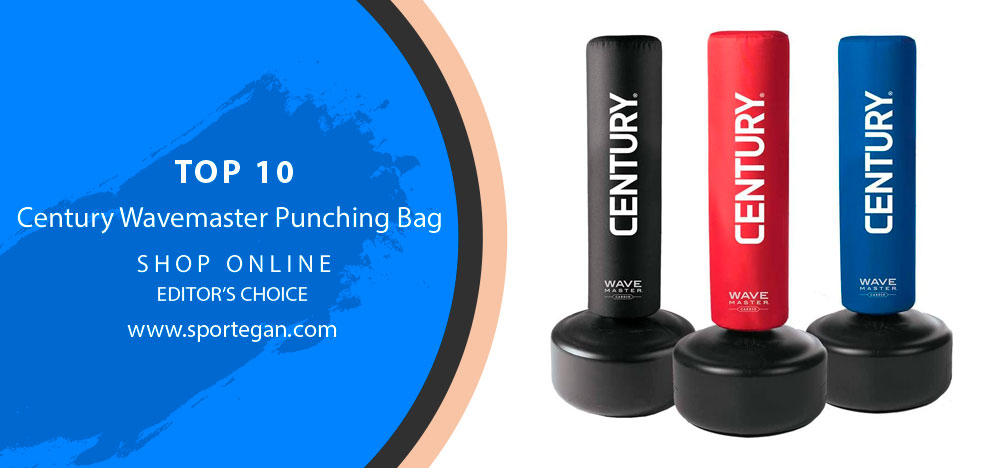 10 Best Century Wavemaster Punching Bag / Training Bag Review
This review will help you to make a decision about the Century Wavemaster punching bag. Century Wavemaster is the most popular at home and in gyms simulator for punching and kicking practice.
The Century was founded in 1982. Now the company occupies a leading position among manufacturers of martial arts equipment. But you can consider a punching bag not only for exercising but also for relieving stress after a hard day.
This punching bag is suitable for people of all ages. There are different models for children, teenagers, and adults. In this article, we have reviewed different punching bags for different people and reasons. Read the article carefully and choose your own punching bag!
#1 Century Original Wavemaster Freestanding Heavy Punching Bag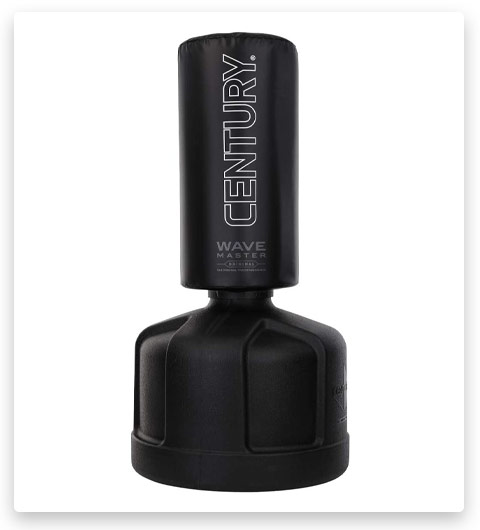 It is a very popular model of punching bags and it is not for nothing. This bag is equipped with high-density foam and a vinyl cover.
And it is can be filled with either water or sand. You will like this punching bag for its adjustable heights. You can change the height by seven positions. From 47 to 68. So, it means that this punching bag is suitable for people of all heights. This bag is easy to assembly. You need only to fill the base with water or sand and set the bag on base.
You can choose the color of the punching bag. It comes in three colors such as red, blue and black. This model of punching bag is intended for use indoor. You can leave it outdoor only under some sort of cover because rain and sun wear down the vinyl very quickly. It comes without boxing gloves but doesn't forget to protect your knuckles and wrists.
#2 Century Wavemaster XXL Training Bag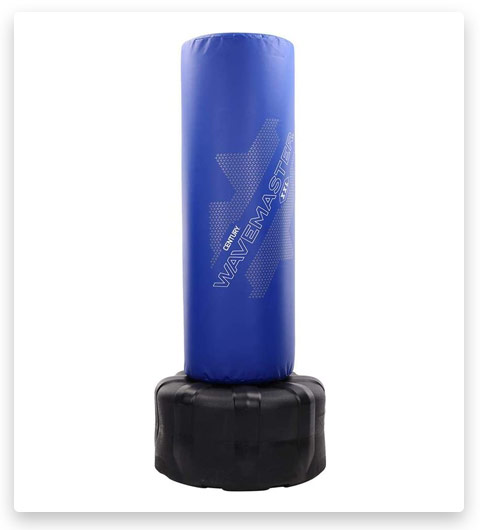 The advantages of an outdoor free-standing boxing bag in its mobility and functionality. The bag doesn't require a fixed attachment to the ceiling, you can move it from one place to another.
The base should be filled with sand or water. It is recommended to use sand for greater stability. The base is responsible for the stability of the bag and prevents it from falling on impact.
The feature of the floor bag is a larger surface area which allows you to practice kicks and punches at different heights and provides effective training for people with different levels of training. The height is 69 inches and the diameter is 18 inches.
The bag comes with a vinyl cover and high-density foam filler. And the vinyl cover is strong and durable. It means that the bag will be in good condition even after several years of use.
This punching bag is used not only for serious training but also for relaxation. The bag is available in three colors such as red, black, and blue. Don't use it outside. It will be damaged because of the rain, sun, and snow over a period of time. And don't forget to use gloves or wraps when you train hard. They protect your knuckles and wrists.
#3 Century BOB Body Opponent Freestanding Training Dummy Bag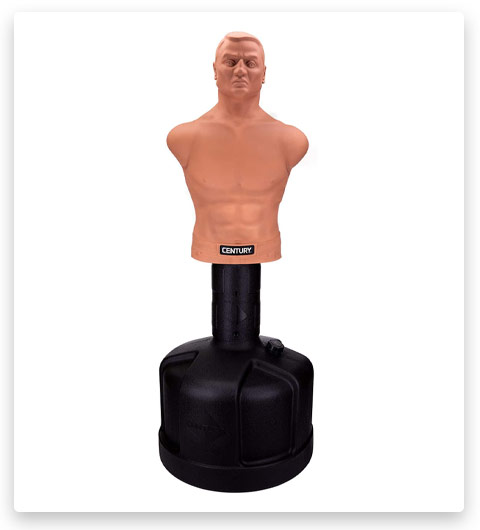 If you are looking for a training partner, Bob can be your good helper. It is a dummy which imitates the human torso and head.
It is the best punching bag for more realistic martial arts training or kickboxing. The height of the training bag is adjustable. You can set the bag to the same height as your opponent is. The height is from 60 to 78 inches. The base is filled with sand or water. The dummy is perfect for punches and kicks. You can use gloves or not. It depends on your training.
This punching bag is made of foam and plastisol. It can deform and tear up if you use it often and long.  The Bob has 6 screws and with them, it is attached to the base. But if you have intense training, most probably you will lose them. So, you have to keep the screwdriver nearby. This training bag can be used only indoor if you live in a cold-weather because it doesn't expose to freezing temperatures.
#4 Century 101721-600 Aerobic Wavemaster Blue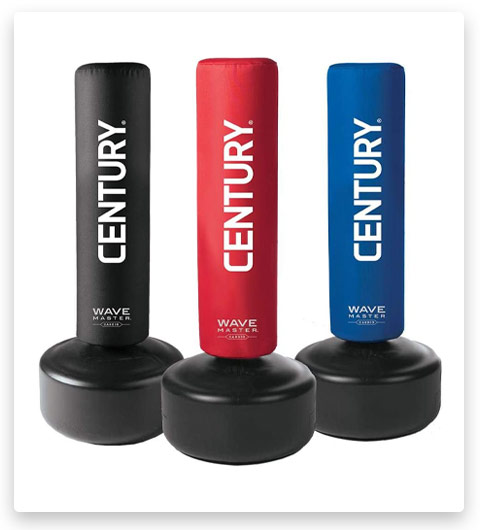 This bag is for cardio workouts and is more suitable for women. It is lightweight and it is not made to develop your punching or kicking power. The bag can be used by people of various heights. You can adjust it from 53 to 65 inches. The diameter is 10.5 and it is rather thin. You can focus on your accuracy and speed.
You will burn a lot of calories during your workout. And cardio training will improve your heart. The bag is made of high-density foam filler and a strong vinyl cover. The base is filled with water or sand. This bag has three colors: red, blue, and black.
#5 Century 101621 TKD Wavemaster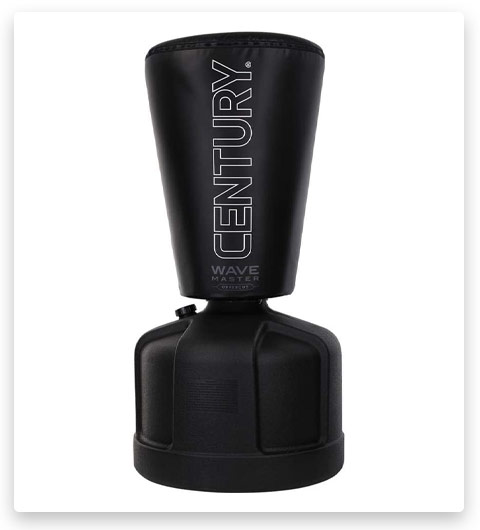 This punching bag can be used by kickboxers and people who want to focus on legs training. Nevertheless, you can practice strikes because the structure of this bag is strong and won't break easily. It is easy to use and suitable for both children and adults.
You can adjust the bag according to your height. You can choose 6-8 different heights. The base is filled with sand or water. But it is recommended to use sand if you want to build up muscles. There are two blue and red target zones, one on each side, they will help you work on accurate strikes.
#6 Century Lil' Dragon Wavemaster Training Bag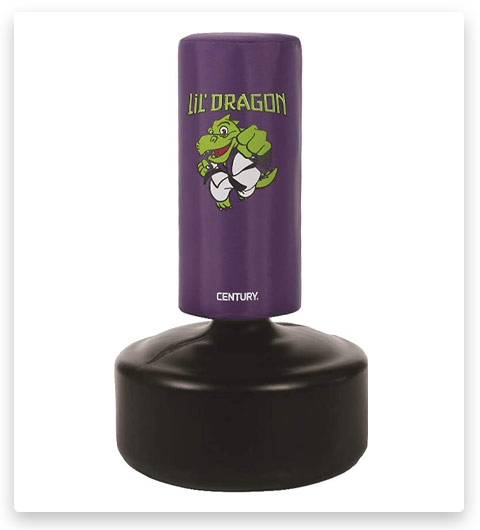 This training bag will be perfect for your children if they are interested in kickboxing. The bag is adjustable and it means that your kids will use it even when they grow up. It has four height adjustments.
The shell is made of nylon.  And nylon shell covers high-impact foam.  It is safe for your children because the high-impact foam absorbs strikes, protecting your children from cuts and other injuries. It can be filled with sand or water.
Children like this bag for its design. The Lil' Dragon Wavemaster logo is shown on one side and three colored numbers and shapes on the other side. They help children better understand the principles of kickboxing and boxing.
#7 Century Versys Fight Simulator 10184B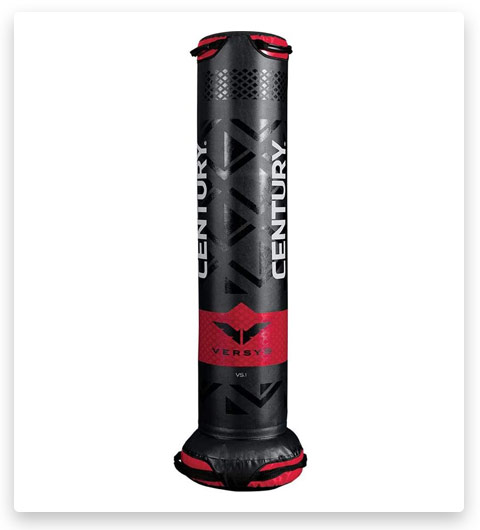 The punching bag is made for every type of athlete. You can practice strikes at a different height. With this bag, it is easy to throw both low and high kicks. You can train striking in the clinch position and practice throws and takedowns using handles that are located both the top and the bottom of the bag.
The bag is lightweight. It weighs only 110 Ibs that's why it is not suitable for powerful strikes. This bag is designed for working on technique and transitions to the ground. This free-standing bag has the base already filled.
The bag is suitable for people of all ages and suitable for MMA, martial arts, kickboxing, and just for general fitness.  It can be used without gloves. The bag is easy to move around and demands very little space.
#8 Century 100 Vinyl Heavy Bag Training Bag with Free Bag Gloves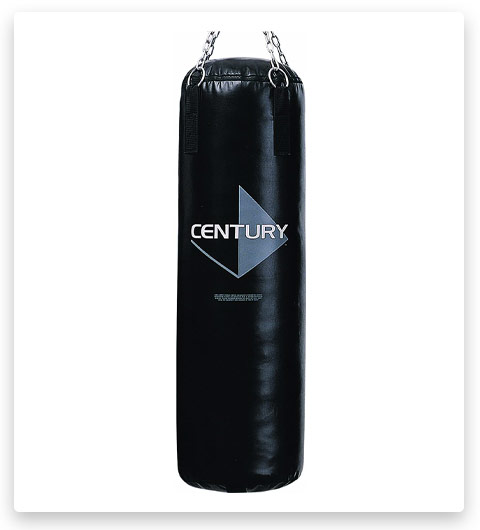 The bag is perfect for Muay Thai and MMA training. It consists of a durable vinyl shell with impact fiber filling. The bag weighs 100 Ibs. This training bag is ideal for more striking options such as high and low kicks because a 72-inch long bag has a 42.5-inch circumference.
The bag has heavy chains attached to web straps so that you can easily hang it. The bag has a classic design and comes in black color. This design is definitely for those who want to train hard so that it is better to use gloves that come with this training bag.
#9 Century Tidal Wave Hydra Heavy Core Heavy Bag 1016P-010215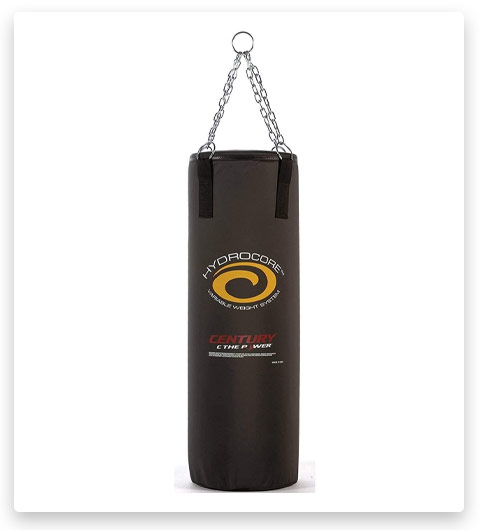 This bag doesn't really look like other bags. The bag has a durable vinyl cover shell combined with a water core. You will have a real feeling of impact from the opponent.
The bag does not have the exact weight because its ending weight will depend on how much water you fill the core with. The advantage of this bag is that you can control its weight by adding or subtracting water.
The bag can be hanged. It has a 2-inch ring and four web straps that support steel chains. The punching bag is available in black and yellow colors. You can train without gloves for a long period of time.
#10 Century Youth V-SPAR 2 Punching Bag Black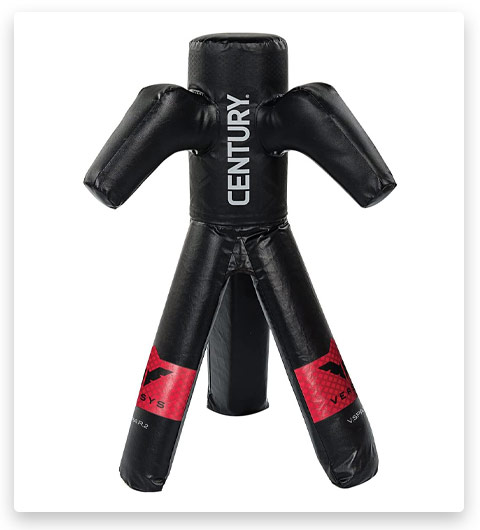 This freestanding bag is for energy kids. Young athletes can improve their ground techniques, throw, sweep, hold, lock and coordination.
So, this training tool is great for practicing martial arts. And it is also recommended for practicing BJJ, MMA, judo, wrestling, and grappling disciplines. The bag has 2 grappling arms and three-leg structure which are made of high-density polyurethane foam. It allows practice maximum impact during training.
The bag is safe for your kids. Arms and legs are soft and flexible. The weight is about 15 Ibs and the height is 46. You don't need to think about filling the bag. The punching bag prefilled and doesn't require additional sand or water.
FAQ
Conclusion
Century Wavemaster Punching Bag is perhaps the most popular of all punching bags to date. It has a sturdy construction that allows you to perform heavy punches. The company offers lifetime guarantees to its customers. This means that if something happens to the bags, they will replace them without any problems.
Century Bob is also a great punching bag. It completely imitates the body and head of a person. With this dummy, you can practice strikes and striking techniques. It has a durable plastic and rubber cover, and this material is designed for hard knocks. This is what you need to look for in a professional, solid boxing punching bag.
We have reviewed different 10 Century Wavemaster punching bags. Customers like this company for the high quality of its products and a variety of models. This company is a leader in the mixed martial arts training equipment industry.
If something happens to the bags, they will replace them without problems. They designed these punching bags for everyone who wants to get the best training experience in mixed martial art. In the article, we have reviewed different Century Wavemaster punching bags both for adults and children. Before making a choice, pay attention to a few points.
Tags: #century wavemaster / #century wavemaster xxl / #century original wavemaster / #century original wavemaster freestanding heavy punching bag / #century wavemaster punching bag / #century wavemaster xxl punching bag
Editor-in-Chief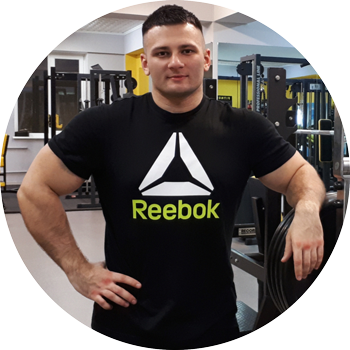 Nikolai Sergeyev
Expert in athletics, boxing, powerlifting
Nikolai Sergeyev is a weightlifter, powerlifter. Master of Sports International Class, world champion and record holder in powerlifting among juniors and youth in the weight category of up to 90 kg and up to 100 kg.
European and world record holder in different versions: UPO (EPA, IPA), WPC, GPF, UDFPF (WDFPF), WPA and others.
World and European Powerlifting and Bench Press Absolute Champion
More than 50 world records
Master of Sports of International Class
Affiliate Disclosure: Sportegan.com sometimes gets paid for listings, through sponsors or affiliate programs like Amazon, Ebay, Everlast, Cleto Reyes, RingSide, Winning, Title, Twins Special, Hayabusa, Fairtex, Top King, Venum, RevGear, RDX, Century, Tapout, Crossrope, and others. Clicking a link helps keep Sportegan.com free, at no extra cost to you!
About the author: Each article on our website is checked and edited by a professional and expert in the field of sports (boxing, athletics and weightlifting). Nikolai Sergeev is a multiple world champion and record holder: during his sports career Nikolai set more than 50 world records among youth, juniors, adults, in different weight categories and in different versions (NPA, IPA, WPC, GPF, WUAP, WPA, IPO, RPS, etc.). The author has more than 30 victories and more than 30 gold medals received at competitions of the international level, the European and World championships. Read more at «About» page. Official website / Wikipedia.
Note: The views and opinions expressed in this article are those of the authors and do not necessarily reflect the official policy or position of any agency.