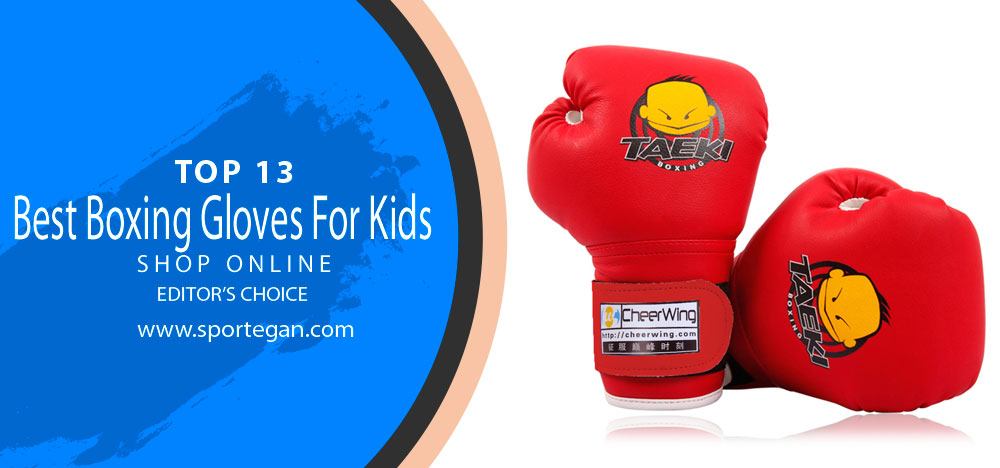 Top 13 Boxing Gloves for Kids
Exercise is necessary for young kids, especially in this day and age. Many parents are wondering how to distract their children from the digital screen, which has become quite complicated in our gadget-filled reality. You cannot predict what kind of sport your kid will enjoy. It means that you and your child should try as much activity as you can before your kid can understand what type of sport he likes more.
Nevertheless, there are timeless classics out there that can be both helpful and entertaining for younglings. One of them is boxing, which is a particularly great activity at a young age. It will help your kid build willpower, determination, and discipline. It must be noted that bag punching is not only an exercise but also a great stress relief for people of all ages.

If you were wondering what kind of gift to buy for your child, your niece, for a nephew, or your friend's children, we recommend boxing accessories. A set of boxing gloves can help a kid open a window into more serious sports when they grow older. Recently there was a surge of interest in close combat sports, such as boxing, karate, wrestling, and MMA. There are now dozens of styles and types of gloves to choose from, even if you want a "kid's version" of the gloves. It has become even harder to buy a quality product in the overcrowded market. But worry not this guide will tell you what to look out for in kid's gloves and help you find the best gloves.
What to Look Out For

You must consider the quality of the product, its protection, usability, and durability. If your kid is under the age of 7 and he is an amateur at sports, you don't need to think about picking professional gloves for specific purposes.
For the first few months, a young kid can enjoy any high-quality pair of gloves, if they are comfortable and durable. Do not be greedy, because the low-quality product will have a shorter life span. Gloves are supposed to be punched with, remember?
Besides the risk of becoming unusable after a few months, cheap gloves can be dangerous for the kid. Bad quality usually equals bad protection. You risk that your child could have an injury after a few unsuccessful punches if you cut corners. You should watch out for boxing gloves with gel padding. It's a top-grade protection part of the gloves, which has become a standard in quality boxing gloves.

They protect both arms and wrist of your child, as the health of his sparring partner. The product best suited for your kid can vary bases on the amount of training he will have. In this guide, we will assume that your child is an amateur fighter who is training about three times per week. Let's look at some of the kid's boxing gloves a little closer and see which ones are the best for you and your little one.
1# Sanabul Essential Gel Boxing Kickboxing Training Gloves – by Sanabul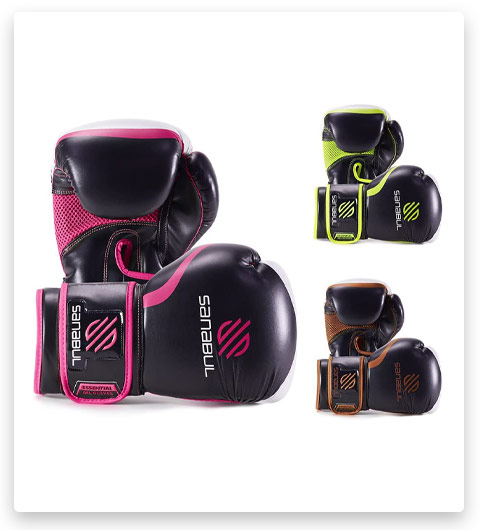 Sanabul is a brand known for one of the better types of boxing gloves available on the market. These gloves are premium quality, comfortable enough to fit most kids, as well as made out of durable materials. You can be sure that these gloves would not only be durable but will protect your kid's hands, wrist, and arms adequately.
Features:
The longitudinal arch design will make them feel comfortable on little kid's hands.
It is made of fine quality leather.
Available in a wide variety of bright colors (also in an all-black version).
You can get them in 5 different sizes: 8, 10, 12, 14, and 16 oz.
2# Everlast Prospect Youth Glove & Mitt Kit – by Everlast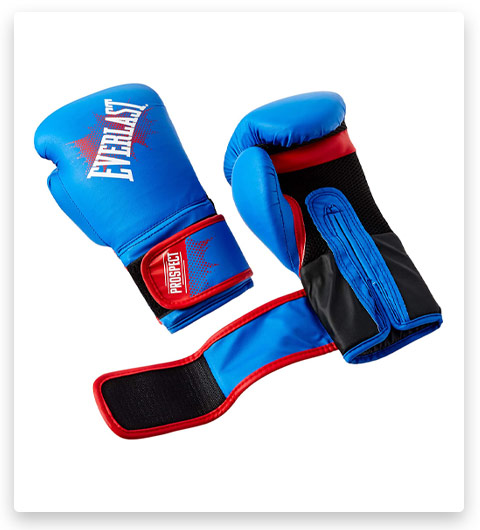 The Everlast brand is another premium brand in the sphere of boxing. This is a world-known company that issues every possible type of boxing accessory, like gloves, mitts, and punching bags. Everlast also sponsors a lot of events and fighters. Their products are a staple of quality, known for exceptional durability, protection, and comfortability.
Prospect Youth Glove comes in an eight oz size. It has enhanced wrist wrap support and padded knuckles that keep the hands safe. The ventilation in these gloves is also good. It all comes down to a fine set of long-lasting child gloves. This product comes with a good bonus of 2 training punch mitts with adjustable straps and integrated finger slots.
Features:
It can be used by kids under the age of 10.
It is made from synthetic material.
Great gloves for beginners.
It comes in red and blue in color.
Available in an 8 oz size.
3# Cheerwing Kids Boxing Gloves 4oz Training Gloves – by Cheerwing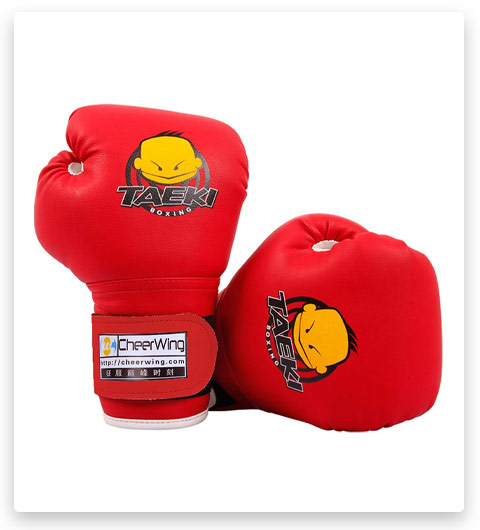 The Cheerwing Boxing Gloves are designed to be more appealing to kids due to bright, welcoming colors and their small size. It is a good choice for future boxing champs. The gloves are made from quality PU leather and EVA foaming, which provide great durability and comfort. The company presents these training gloves as a suitable choice for punching, grappling, and striking. They can be used in a variety of fighting disciplines.
Features:
It can be used by kids under the age of 10.
Cartoony-looking boxing gloves; available in red and blue color.
Suitable for training in grappling and striking.
Made out of PU leather and EVA foaming.
Available in a 4 oz size (9 x 6.3 inch).
4# SKL Kids Boxing Gloves 4oz Training Gloves for Children Cartoon Sparring Boxing Gloves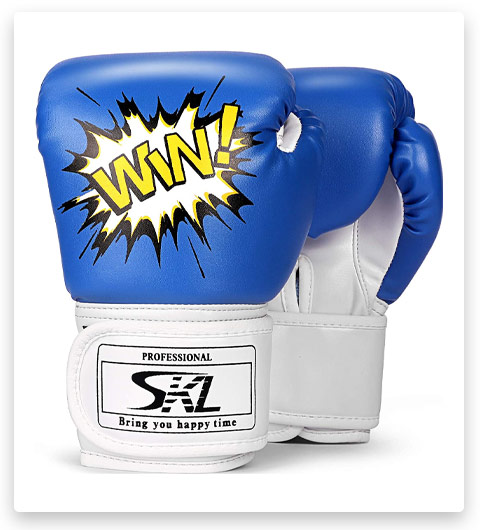 SKL Sports is known for the safety standards of its products. The company says that these gloves protect not only the hands of the young boxer but also the face of the training partner. The gloves are a good and affordable choice for indoor boxing, and they are also good for grappling training. Holes in the construction provide better ventilation.
Features:
It can be used by kids from 5 to 12 years old.
Cartoon pattern and a variety of colors to choose from.
Suitable for training in grappling and striking.
Made from PU leather.
Available in a 4 oz size.
5# Elite Sports Boxing Gloves, Kickboxing, Adult & Kids Muay Thai Gel Sparring Training Gloves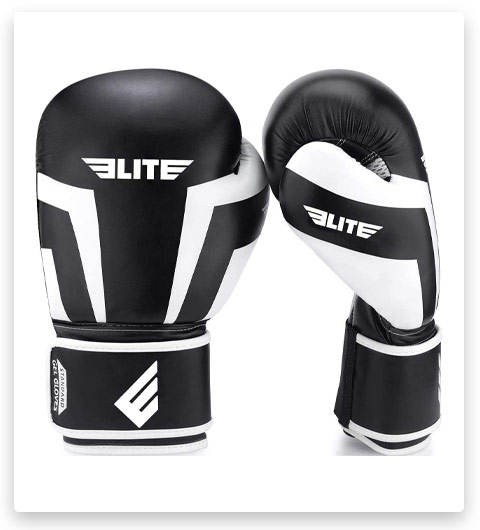 Elite Sports is another giant in the sphere of boxing accessories. These gloves are made from good materials, designed with proper technique in mind. The gloves have good ventilation due to the mesh material. It works as a cooling system that prevents the generation of moisture inside the gloves. Proper ventilation ensures better wrist support and guards the kid's hand. This product grants good protection. Even though these gloves are not expensive, they look and feel stylish.
Features:
Made from quality materials.
Great boxing gloves for beginners.
Suitable for both kids and adults!
Available in 7 sizes: 4, 6, 8, 10, 12, 14 and 16 oz.
6# Dtown Kids Boxing Gloves 4oz 6oz Training Gloves for Children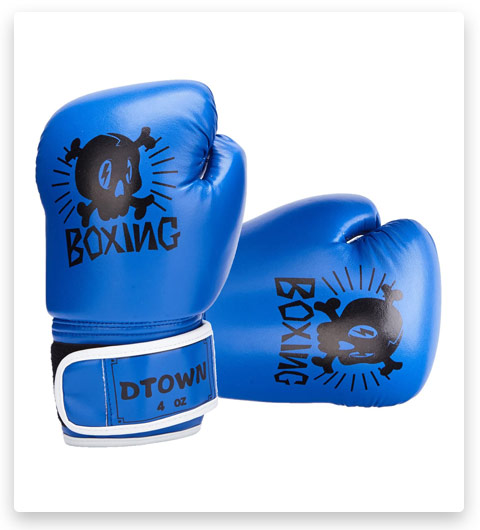 Dtown Boxing Gloves are also from high-grade materials. Your kid can practice punching and grappling with them, making it suitable for Muay Thai and MMA training. As with many boxing gloves, Dtown has designed this product with gel padding, that protects the hands and fingers of your kid. It also protects your kid's sparring opponent. Aside from great protection, these gloves have proper ventilation due to breathable lining. Air holes in the gloves make for dry hands during exercise. These gloves could be a great starter pack for your kid, especially if you consider their price.
Features:
Suites for kids from age 3 to 7 years for 4 oz sized gloves and for kids from age 7 to 12 years for 6 oz sized gloves.
Available in 4 colors: stylish black, or neon-like blue, red, and pink.
Made from high-quality synthetic PU leather.
Available in sizes of 4 oz and 6 oz.
7# Everlast Prospect Youth Training Gloves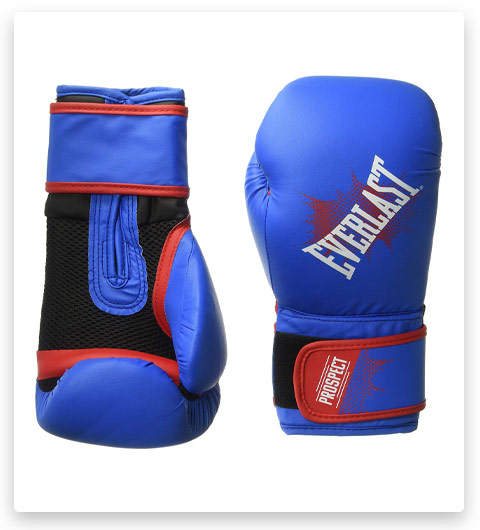 Prospect Youth Training Gloves is another top-grade product from the Everlast company. These gloves don't come with training mitts. They have pretty much everything you would expect from the world-known manufacturer. They have padded protection for your kid's hands, a comfortable design with wrist wrap closure, and long-lasting, but a little cheap synthetic material. Add good ventilation and a simple, but slick design, and you have another budget option for your kid's first punching gloves.
Features:
For children and teenagers from 5 years to 12 years.
Made from synthetic materials.
These gloves are available in 2 colors: blue and red.
Available in 8 oz size.
8# Ringside Apex Flash Sparring Gloves – by RINGSIDE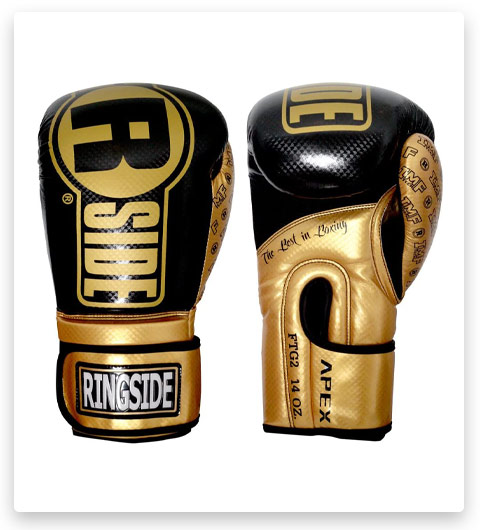 Ringside is a major player in the boxing world, alongside Everlast and Elite Sports. These gloves are not for young children. Apex Flash Sparring Gloves come in 14 oz and 16 oz sizes, which are more fitted for teenagers and professional boxes. Therefore, this product is definitely not for beginners, but for professionals and semi-professionals who already learned how to throw a punch.
These gloves are comfortable to wear, featuring a velcro strap for better support when punching. It has IMF padding technology for great protection. You can just look at these gloves to understand that they are top quality and it has reflected on its price. You can usually get them from 49$ to 75$, which is definitely not the low-budget territory.
Features:
Mesh palm and antibacterial inner liner.
For professional and semi-professional boxers.
Available in 8 color pallets.
For kids who are older than 12 years.
Available in 14 oz and 16 oz sizes.
9# Trideer Pro Grade Boxing Gloves, Kickboxing Bagwork Gel Sparring Training Gloves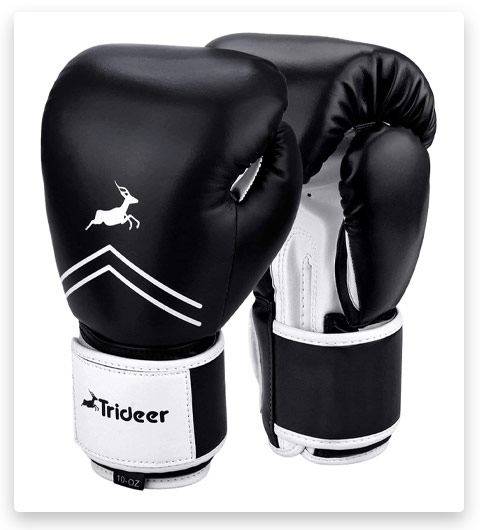 These are semi-professional boxing gloves that are available in 5 different sizes. They are made out of PU leather, which ensures resistance to tearing and corrosion and prolongs their lifespan. It has all the features you have come to expect for high-grade boxing equipment.
Trideer Pro Grade Boxing Gloves have provided protection for your kid and for his sparring partner, as well as more natural and easier training due to great design. These gloves are also extremely easy to clean and maintain. You just need to spray them with water, wipe the outer part, and then use a wet towel to wipe the liner. Considering all the qualities of this product, the price for these boxing gloves is definitely justified!
Features:
Semi-professional.
PU leather.
Resistant to moisture, chemical corrosion, and tearing.
Available in 8 color pallets.
It can be used for grappling, striking, kickboxing, Muay Thai, MMA, and Sparring.
Available in 5 sizes: 8, 10, 12, 14 and 16 oz.
10# Everlast Pro Style Training Gloves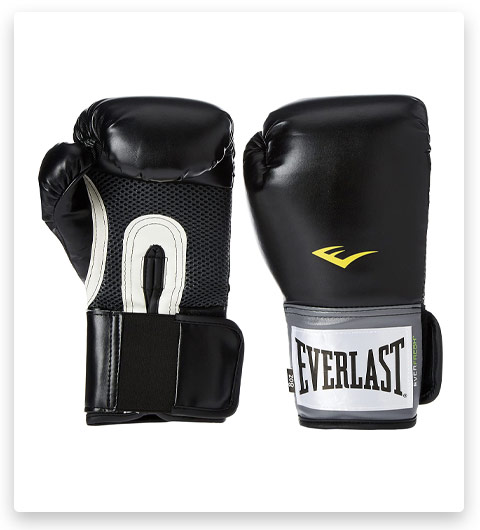 The last product from the Everlast company on our list. This product doesn't differentiate much from the other gloves from that company already on the list. These gloves use C4 foam technology for better grip and punching power. Wrist wrap closure provides comfort and support during training. The price of the product deserves mention because 15$ for a set of durable, semi-professional gloves is a must-buy!
Features:
Semi-professional boxing gloves for kids and adults.
Made from quality synthetic leather.
Available in 4 colors.
Gloves come in 4 sizes: 8, 10, 12 and 14 oz.
11# Venum Challenger 2.0 Boxing Gloves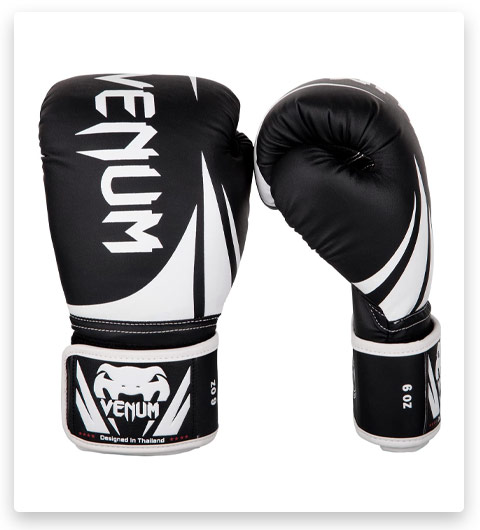 There is no denying that these gloves look cool. Apart from slick design, Venum Challenger 2.0 Boxing Gloves combine great wrist support, good construction, and a breathable interior. All these factors combined to provide better protection during intense training sessions. These gloves make it easy not only to strike but also to grapple with. They have proper ventilation and a long life span. Advanced triple density foam helps the shock absorption and guarantees safe training for your kid and his sparring partner. Due to a wide variety of sizes, these gloves can be used by kids over five years old and adults.
Features:
Made from premium PU synthetic leather.
Designed for adults and kids (from 5 years old and older).
Available in 16 different color patterns.
Gloves come in 5 different sizes: 8, 10, 12, 14, and 16 oz.
12# Elite Sports Boxing Gloves Kickboxing Kids Muay Thai Gel Sparring Training Gloves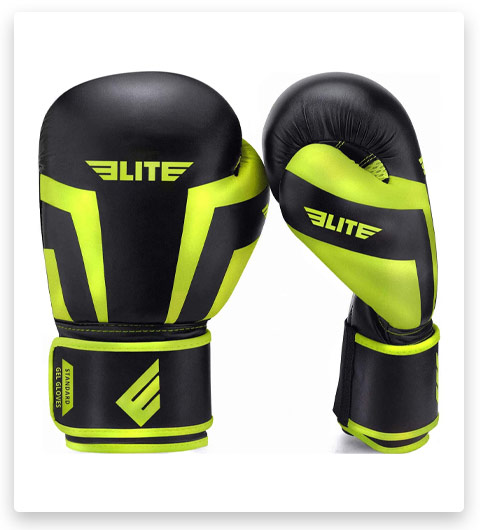 This product is very similar to other gloves from the Elite Sports company on this list. They come in many different sizes and can easily fit a three-year-old child and a grown adult. Made out of Maya hide leather, these gloves have good ventilation. They can be easily cleaned and maintained, which prolongs their usage. Secure wrist closure makes it easy to adjust on your kid's hands and guards him against potential injuries. Elite Sports Boxing Gloves also look cool and dandy due to stylish design and a variety of colors.
Considering the low price, this is a good budget pick for beginners.
Features:
Made from quality materials and Maya hide leather.
Ultra-lightweight category of gloves.
Suited by kids and adults, depending on the size.
Ten color patterns to choose from.
Available in a variety of sizes, from 8 oz to 16 oz.
13# Liberlupus Kids Training Boxing Gloves for Kids Protective Youth Boxing Gloves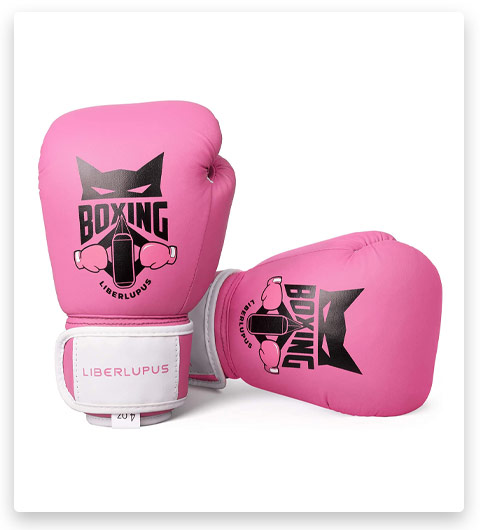 Liberlupus gloves are made for the youngest, preferably kids aged from 3 to 7. They have reasonable protection due to three-layer filler, thickened thumb, and plump fist. The ventilation is also acceptable. The design is good enough so your kid won't hurt himself or his sparring opponent while allowing him to train almost risk-free.
Features:
For kids aged from 3 to 7.
Oriented on amateur boxers and beginners.
Available in 4 colors.
They come in 4, 6, and 8 oz sizes.
Conclusion
Boxing, kickboxing and other combat sports are good alternatives for the younger generation. As mentioned above, a bag or a mitt punching is a good exercise and a change of scenery for kids these days. It also helps children to toughen up and build character, as well as to get rid of stress. Don't underestimate the importance of sports at a young age and don't cut corners when choosing sports accessories.
We hope that this guide helped you with finding a good pair of gloves for your kid. Remember, that no matter how good the product is, no gloves can be entirely risk-free. Don't forget to look after your kid while he's exercising, for example, while punching a bag. And we hope that you both are satisfied with his new gift!

Tags: #best boxing gloves for kids / #best kids boxing gloves / #best boxing gloves for kids wrist support / #best kids boxing gloves and punching bag / #boxing gloves for kids / #pink boxing gloves for kids / #kids boxing gloves