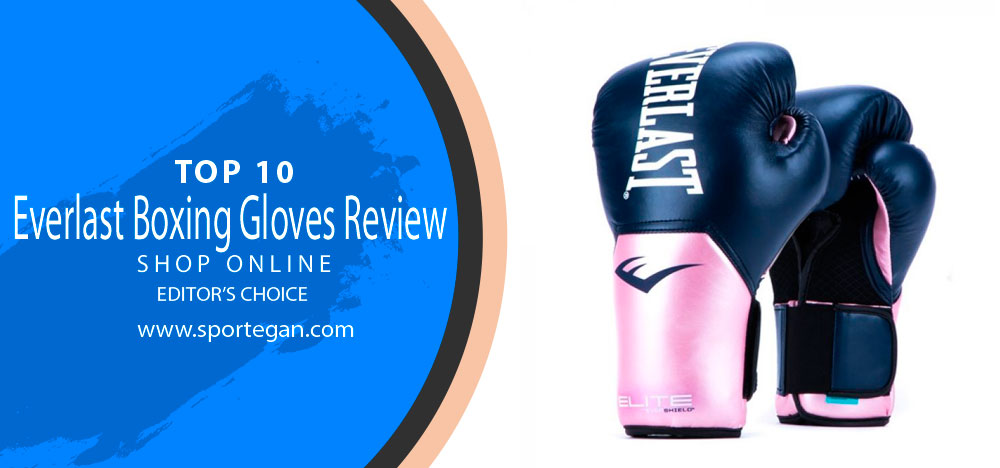 Buy Everlast Boxing Gloves For Sparring & Training | Reviewed and Rated
Which brand is primarily associated with boxing? The answer to this question is known to every martial arts lover – Everlast. Today we will talk about boxing gloves produced by this brand. Boxing gloves are produced by many companies. But, you need to choose from the best, based on ratings, appearance, prices, and many other important factors.
Everlast is responsible for quality, beautiful design, and provide excellent protection. Boxing gloves from the Everlast brand are perfect for sparring, work on punching bags and paws. Let's look at some of the best boxing gloves models of this brand and find out why sportsmen around the world love them so much.
Our Top 10 Picks Best Everlast Boxing Gloves – Editor's Choice

1# Everlast Pro Style Training Gloves – #1 Best Seller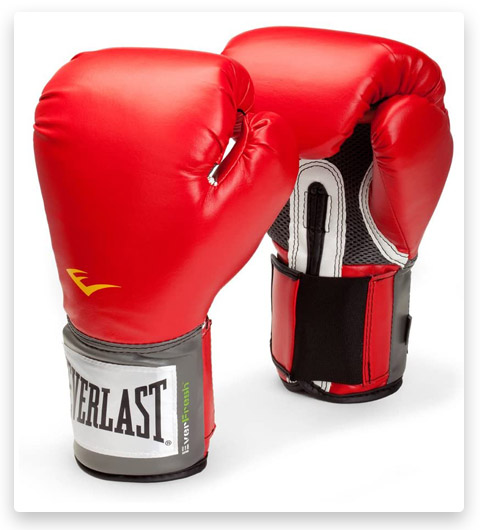 View on Everlast View on Amazon
These gloves are one of the most affordable and have excellent quality. They will help you achieve your goals and protect your hands. In my opinion, you will not find better gloves from a well-known brand at a comparable price. They are fully suitable for boxing training, meeting all accepted standards. Ever fresh technology and a durable Velcro on the wrist complete the pleasant impression.
If you are a beginner, then feel free to take these gloves to definitely be satisfied. They are made of synthetic leather which is designed to completely replace the natural one and withstands long and intensive use. Everlast Pro Style boxing gloves use several interesting Everlast technologies such as Thumb-lock and Ever-Fresh. The first helps to avoid thumb injuries, while Ever Fresh prevents the unpleasant smell from the gloves.
These boxing gloves use a molded foam gasket that takes the shape of a fist, and foam is also used in the wrist area to maintain its correct impact position. This pair of gloves are made in a typical Everlast design. On the wrist is the large Everlast logo. Gloves are available in black, red, and pink. On the palm of your hand, there is a net that is designed to ventilate your hands.
2# Everlast Elite Pro Style Training Gloves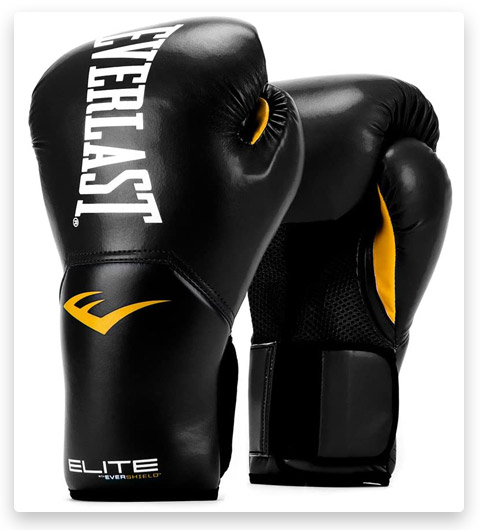 These boxing gloves are available in various sizes and colors. You can choose black, blue, red, white, red-blue colors. It doesn't matter whether you are a man or a woman, you can purchase such a model of gloves for yourself. It is a durable product that can withstand any shock. They take the shape of your wrist and therefore you will feel comfortable and safe during your workouts. They will help you increase your speed during training and competition.
3# Everlast Women's Pro Style Training Gloves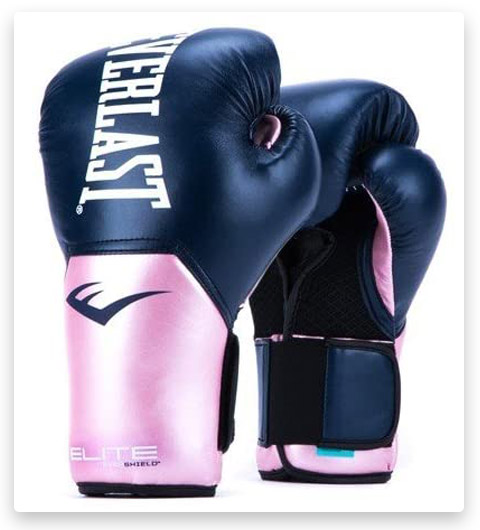 If you are a girl or a woman who is looking for stylish boxing gloves, then Everlast Women's Pro Style is what you need. They are available in two color combinations such as pink and white, and blue in combination with pink. They are not only beautiful and stylish but also high-quality and durable. Your hands will not sweat due to the presence of a mesh in the palm of your hand which allows air to pass through. They fit perfectly on the arm due to Velcro. It provides comfort.
4# Everlast Powerlock Training Gloves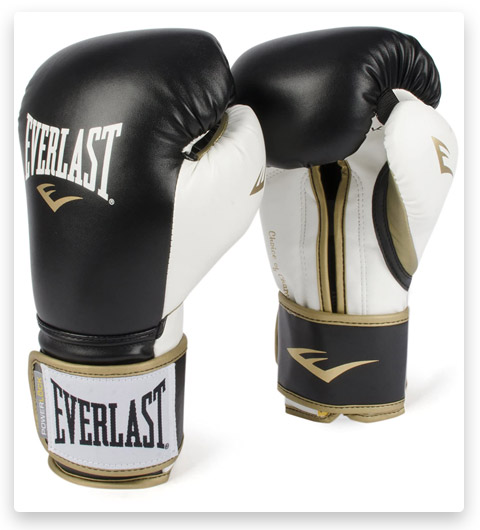 They are made from high-quality genuine leather. It has the best characteristics, retains its original appearance and protective properties for a long time. This model has the correct anatomical shape, so it is as comfortable and tight as possible on the arm, providing the athlete with not only comfort but also a high level of reliability.
The special Powerlock system provides an optimal balance between the force of the impact and the protection of the hand from injury. A convenient fixation system with wide Velcro cuffs gives additional comfort and reliable wrist protection.
5# Everlast Mixed Martial Arts Heavy Bag Gloves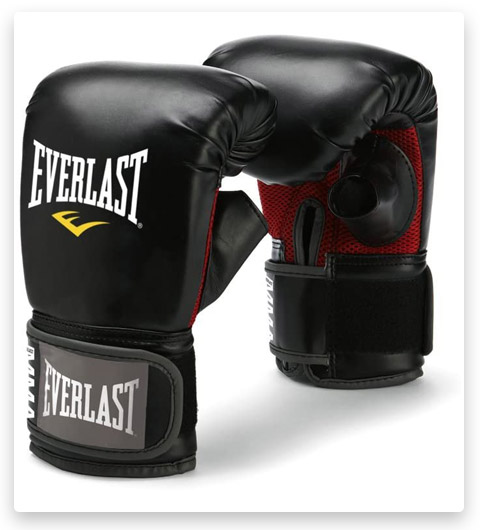 If you are looking for heavy-duty gloves for training on a punching bag, then you don't need to look further. They take the shape of your hand and prevent injury. The thumb is open. Velcro fasteners provide fit and comfort during impact testing. Classic black color looks advantageous and will suit everyone.
6# Everlast Prospect Youth Training Gloves – Amazon's Choice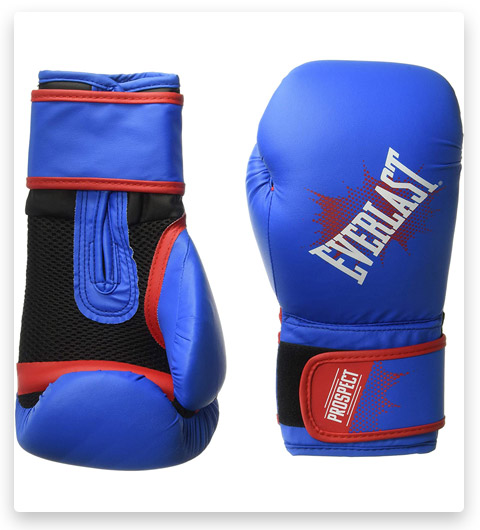 Everlast cares not only about adult boxers but also about youth. 8 oz gloves are great for kids. They provide soft protection when you clench your hand. They are made from a synthetic material that has been tested by youth around the world. According to the reviews, it can be judged that the gloves really withstand intense training and retain their look and shape even after a couple of years of use.
7# Everlast Laceless Gloves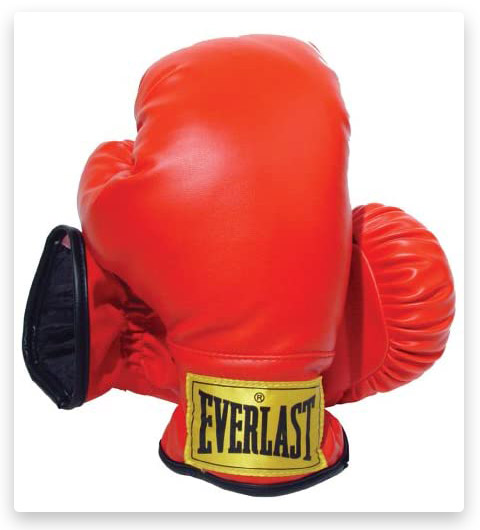 No less attractive model of youth gloves that are available in a small size. They have a bright red design that motivates the child to achieve their goals. They are intended for use both in training and in competitions. They are pleasant to the touch and soft. An elastic cuff makes it easy to put on and take off gloves.
8# Everlast Mx Pro Fight Gloves 10-oz Red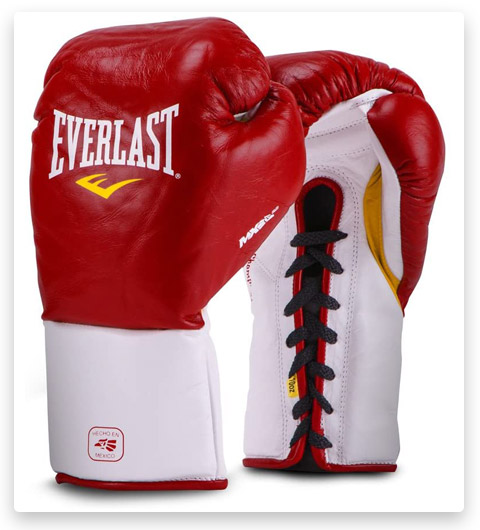 If your child thinks seriously about sport, then you can purchase these boxing gloves for training and competition. They have a price that matches the quality. They are made by hand from Mexican leather, which is strong and durable. They are fixed on the hand with lacing. Lacing gloves provide comfort, better fixation, and firmness of the fist position. They are made in a red-white color that looks advantageous in the ring.
9# Everlast Woman's Wrist Wrap Level 1 Boxing Gloves 12 OZ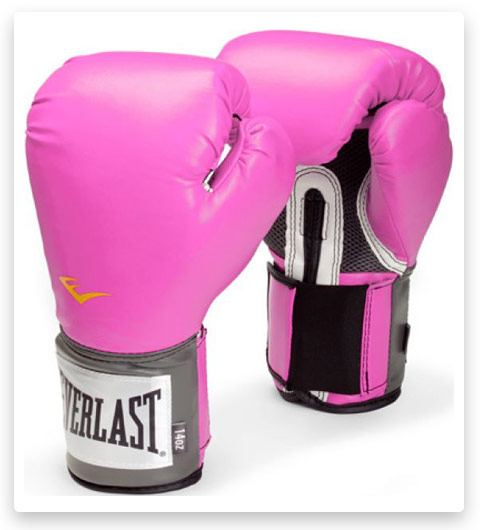 Even in the ring, the girls want to look stylish. These boxing gloves not only attract attention but also provide comfort. They are made in saturated pink and have a size of 12 ounces. They are fixed with Velcro. Velcro models are practical and guarantee the convenience and speed of putting on.
10# Everlast Leather Autograph Gloves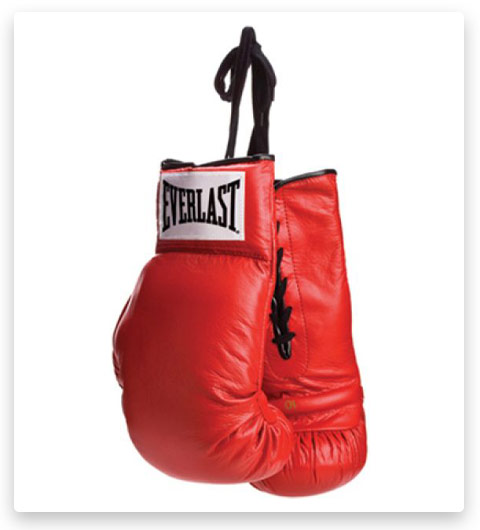 These Everlast Autograph boxing gloves are ideal for training, they are designed to protect and durability, while at the same time they look great. Everlast boxing gloves have a protective film sheath for protection, and wrist lacing provides an adjustable fit, complemented by Everlast branding on the cuffs. If you have long wanted to get an autograph from your favorite athlete, then you can use these gloves.
About Everlast Brand
The Everlast trademark was registered in 1910 by Jacob Golomb in the Bronx (New York). For over 100 years, the company has pleased its customers not only with high-quality boxing gloves but also with other sports equipment for comfortable and productive training. Despite the fact that they started with the production of bathing suits, they have established themselves as one of the best manufacturers of boxing products.

Today, Everlast is a trendsetter in the world of boxing, a leading manufacturer of the best equipment in the world. In Everlast boxing gloves, clothes the best boxers in the world perform and train. Everlast boxing gloves are the most modern technologies that guarantee comfort, convenience, and durability. This is primarily a multilayer foam filler with the C3 Foam and Protex systems. EverGel's innovative padding technology absorbs bumps and protects your finger joints during workouts. Now you can train with Everlast boxing gloves and achieve new results. As of 2007, the Everlast brand is now present in over 101 countries and has 88 licenses worldwide.
The superiority of Everlast Boxing Gloves
Everyone will be able to find suitable boxing gloves. They create models for men, women, and children. They are presented in different sizes from 8 to 16 ounces. Also, everyone will be able to get gloves according to their budget. But it is recommended not to buy boxing gloves at too low a price. There is a risk that they will not be comfortable for you and will quickly become worthless. Choose more expensive models and then you will be sure of quality and durability.

Boxing gloves come in a variety of colors and have a unique design. Therefore, you can choose your favorite color and have gloves that will not look like the gloves of other boxers. They have models for sparring, for practicing punches on a punching bag. Everlast boxing gloves provide strength and protection in every stroke. Closed-cell high-density foam provides greater shock absorption, support, and distribution of impact force.
You can choose gloves from faux or genuine leather. For beginners with a maximum of two workouts per week, a pair of faux leather Everlast boxing gloves will work. For experienced athletes who regularly train, genuine leather gloves are suitable. Athletes who are seriously engaged in boxing usually have two pairs of gloves: for sparring and for punching bags. Everlast boxing gloves are very durable, which withstand powerful, strong blows on bags and paws.
Conclusion
Everlast is a brand that has boxing gloves for all athletes and for different uses. Whether you are a woman, a man, or a child, you can find boxing gloves suitable for yourself. In my article, models are presented for both beginners and professionals. If you are a beginner and don't want to spend huge amounts on gloves, then Everlast is what you need. High quality and reasonable price are what they offer!
Tags: #everlast boxing gloves / #everlast womens boxing gloves / #everlast pink boxing gloves / #everlast gold boxing gloves / #everlast 14 oz boxing gloves / #how everlast boxing gloves are made / #how to wash everlast boxing gloves