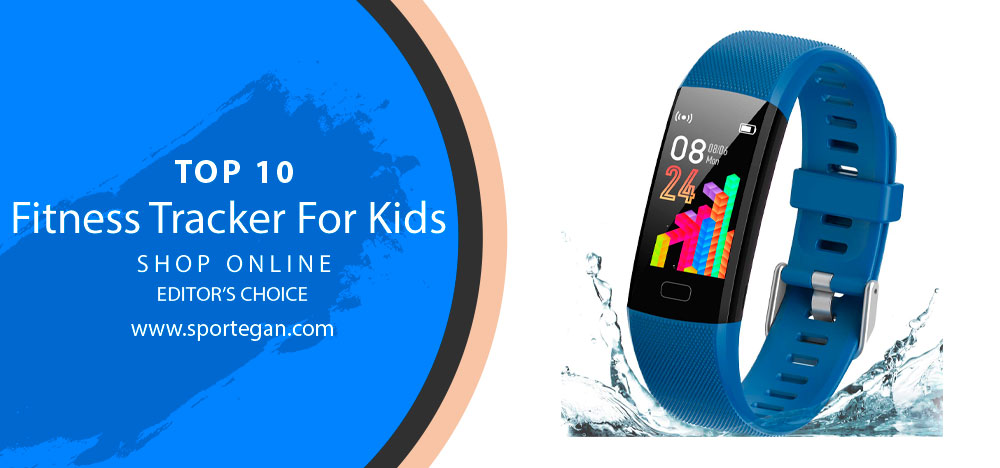 Best Fitness Activity Trackers For Children
To keep your child healthy and active, give him a fitness tracker. You and your child will be able to track the number of steps, overall activity, you will know what pulse your child has and other health-related data. Thanks to progress in terms of technology and innovation, there are many fitness tools available for children. But it isn't easy for an amateur to choose the best model from the wearable electronics on the market. After reading this article to the end, you can decide on the best activity tracker for your child.

Top 10 Best Fitness Tracker For Kids – Editor's Choice
Take a look at the best 10 fitness tracker models for kids. These devices are of high quality and are great for tracking activity in children!
1# Fitbit Ace 2 Activity Tracker For Kids – Amazon's Choice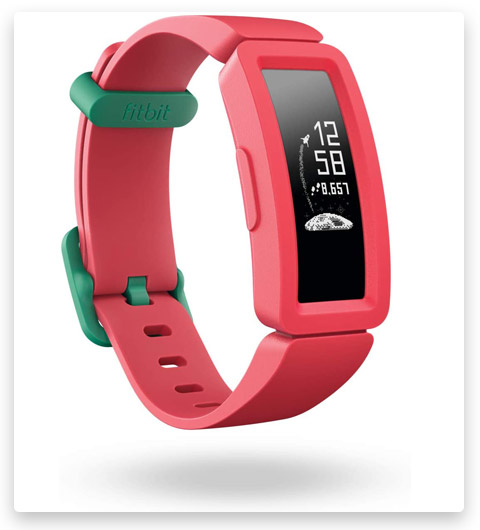 This is a great fitness tracker for kids with an attractive design. It is suitable for both toddlers and teenagers. Fitbit is suitable for children, as well as an excellent tracker for parents and adults who already have their own Fitbit Tracker. Parents can add their child's accounts to their own and track their level of activity and progress together as a family.
Made of stainless steel with a display that also tracks sleep, and children receive holiday messages and badges for achieving their goals. This motivates kids to spend time actively. No need to recharge often thanks to a good battery. It can be taken on a camping trip or on a picnic without thinking about charging. Children can track their activity while swimming due to their water resistance.
2# MorePro Heart Rate Monitor Blood Pressure Fitness Activity Tracker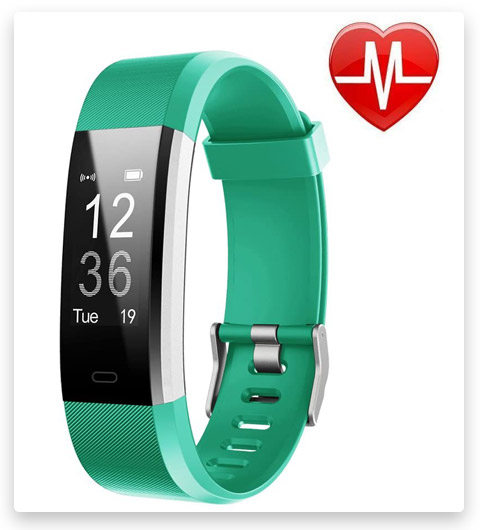 A highly functional device used to monitor steps, heart rate, sleep, sedentary lifestyle, and balance activity and calorie intake. Suitable for use and wear by children. Users can choose from 14 training modes. This makes it flexible in terms of tracking activity in accordance with the preferences of any person, while the GPS is connected to view statistics in real-time.
It can be connected to smartphones to receive messages and calls and notifications from social network accounts. You can track your child's sleep quality by automatically monitoring your sleep quality. The tracker charging lasts up to 7 days.
3# YoYoFit Slim Kids Fitness Tracker Heart Rate Monitor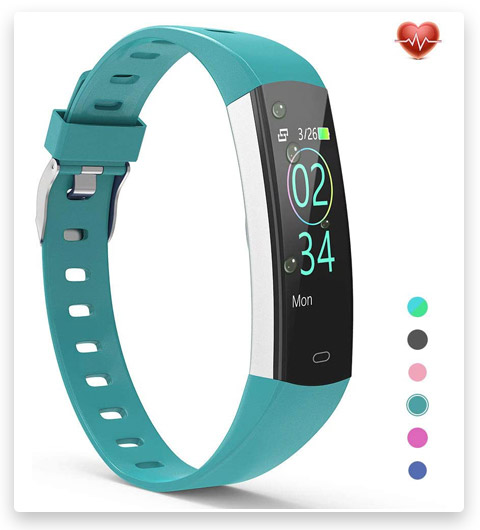 This best fitness tracker watch has such a design that the child will not even feel them in his hand. They are suitable for both boys and girls since you can choose the appropriate color for the device. Such a fitness bracelet will allow you to track steps that are taken, stacked calories. So your child will always be active and at the same time will not overload the body.
Such a device stimulates the child not to sit still and attracts him or her to sports. The tracker allows you to track the quality of sleep thanks to the built-in analysis. The tracker has 6 modes such as running, football, squats, and more. This mode selection option is especially captivating to teens. Also, the tracker works like an alarm clock that wakes up your child.
4# Garmin Vívofit Jr Kids Fitness Activity Tracker – Amazon's Choice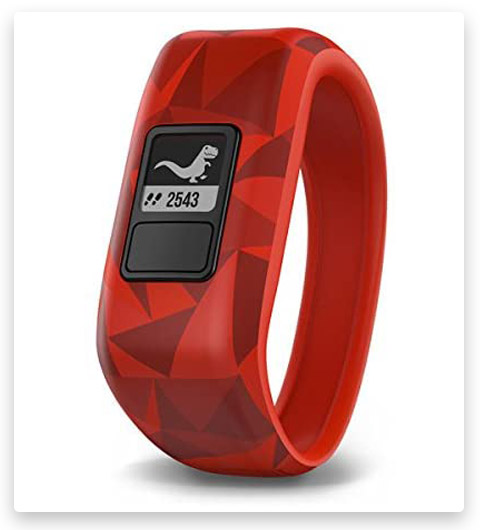 If you are looking for a simple but high-quality kid's fitness tracker, then this is what you need. This is a great option for children under 10 years old. The strap is made of silicone. This material doesn't irritate children's skin. The hand will not sweat under the bracelet and the child will almost not feel it on his hand.
You will be able to control the activity of your child using the joint mobile application. The device is compatible with both Android and iPhone. A child can swim with a bracelet due to its water resistance. It doesn't need to be charged. The tracker works for a year without autonomous charging.
5# Garmin Vívofit Jr 2 Kids Fitness Activity Tracker Disney Frozen 2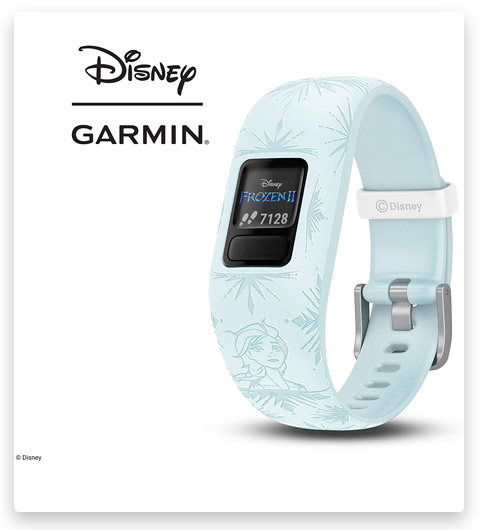 The fitness tracker is made based on the cartoon Disney Frozen 2. Children will be happy to wear such a watch, even if before that they were against it. The tracker doesn't require recharging for a year. Cartoon characters will motivate your child to achieve their goals and children will receive points. You can set the timer on the clock so that the child will clearly know when to do his homework, brush his teeth, and do other things. You can monitor your child's activity in the app.
6# BingoFit Kids Activity Tracker with Wearable Heart Rate Monitor Pedometer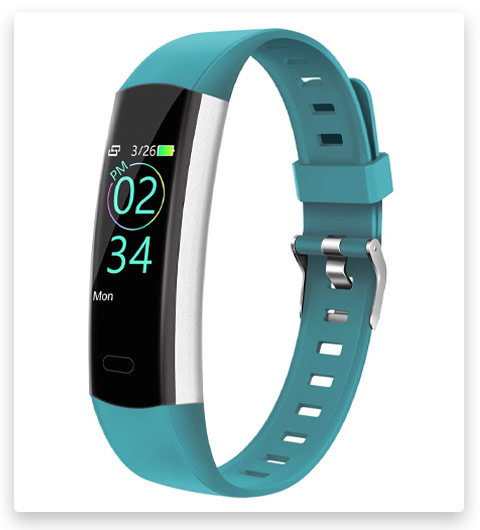 This tracker is what you need for a modern teenager. But you can also give it to children under 14 years old. It has lightweight so it is comfortable to carry on hand. Children will not feel discomfort. Now your children will know how many steps they go and spend calories, they will know their pulse and all activity for a day, week, month. It has a slim body and a bright screen. It looks fashionable and modern. You can choose a color for both the boy and the girl.
7# K-berho Kids Fitness Tracker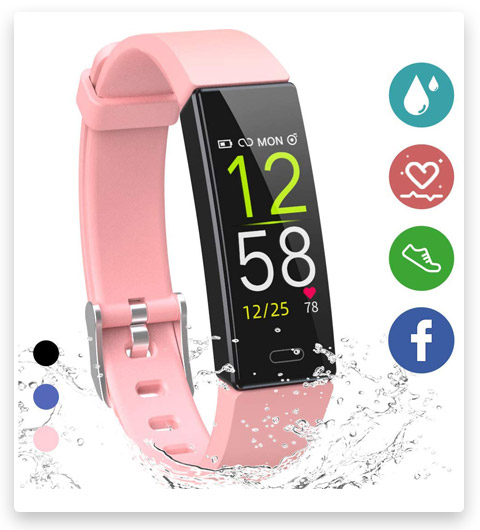 The fitness tracker charges in just 1 hour and can be used. Charging lasts up to 7 days. It is especially convenient for children. The manufacturer offers several colors to choose from, so such a tracker can be presented to both a boy and a girl.
8# LEKOO Fitness Tracker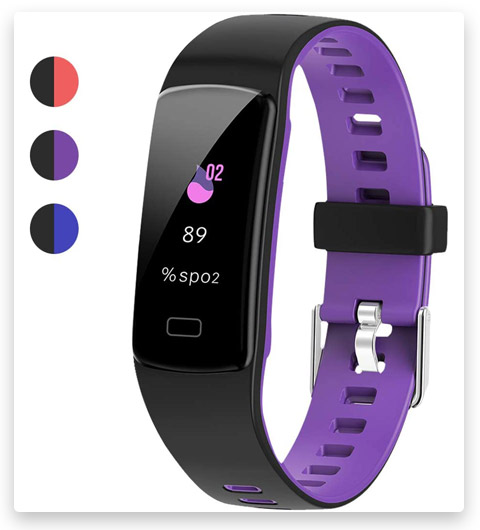 Lead an active family lifestyle with a tracker with your children. Children will love this bright and modern tracker! Suitable for kids from 9 years of age and older, this tracker is an excellent product to give an impetus to the beginning of maintaining a healthy and active lifestyle for your child. The affordable and elegant design of the device with the ability to synchronize data with the application for children and adults, so that you can monitor the progress.
9# Willful Fitness Tracker IP68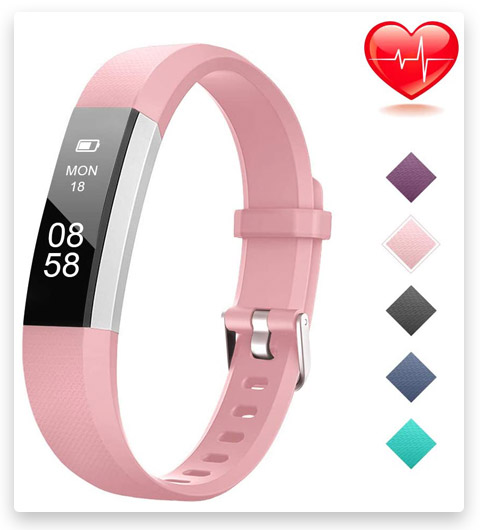 Affordable, which measures and controls heart rate, sleep quality, and the number of steps, the fitness tracker can be used by children who have just started their journey along the fitness road. Call alerts, alarms, and SMS, as well as the ability to recharge from USB – this is just one of the functions of this fitness tracker. For its price, this thing is a good option for children.
10# Inspiratek Kids Fitness Tracker – Amazon's Choice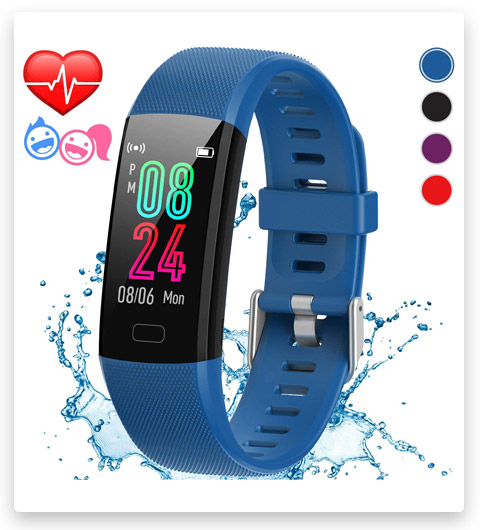 This device is suitable for children aged 5 to 16 years. It is available in 4 colors, so you can choose for boys and girls. The tracker is equipped with powerful tools that allow you to track your child's activity. With this wearable fitness tracker, kids can track their steps and know how many calories they burned. This device is available in 4 different colors at different price ranges.
What Is the Best Fitness Tracker for Kids?
A fitness bracelet is a gadget that, in most cases, is worn on the arm and has built-in sensors that track activity throughout the day, including the number of steps, pulse, sleep, calories burned, etc. This is a device that will help control the activity, calories of your children.
These devices are equipped with a heart rate sensor, a pedometer, a temperature sensor, an optical sensor, and many others. These wearable fitness trackers will record all actions with your child's body and report on a daily basis. You can access this fitness tracking information of your kids from the dedicated mobile app.
Step counter: Fitness tracking apps record each step and show how many calories a child has spent.
Heart rate. In addition to the number of calories burned, the device will also control the heart rate.
Demand for fitness trackers is growing rapidly, and at a fast pace. These children's fitness devices allow parents to monitor their child's health. As soon as they put such devices on the wrist, the tracker automatically starts working and captures all the actions of the child.

The applications on the device themselves are very useful when your children don't share with you the problems they have. You can track all the actions, while they are displayed graphically on your smartphone through a mobile application from the manufacturer of the fitness tracker.
This fitness tracker is also equipped with a GPS sensor for determining the location, which updates information for parents about the whereabouts of the child. They will be active and healthy. Your child will not be overweight or sedentary due to such a device. Especially such a device is popular among teenagers.
How to Choose a Fitness Tracker?

Important selection criteria:
Design
The choice depends on the age of your child. If your child is under 10 years old, then you can purchase trackers with a cartoon design. If you want to buy an activity tracker for a teenager, then here you should carefully approach this issue. Choose according to the gender and preferences of your children. Better to make a choice together.
Material
Most straps of fitness bracelets are made of lightweight but durable materials, such as plastic and silicone. They don't cause irritation on the skin, are not afraid of water or other liquids, and also don't burden the hand, which is important for sports. It is very rare when the manufacturer uses metal or leather for fitness trackers and straps. Before buying for a child, pay attention to the possibility of adjusting the strap. The presence of several options will allow you to comfortably use the device for many years. This is convenient as children are constantly growing.
Water-Resistant
In fact, this isn't the most important moment when choosing such a device. But I would still recommend choosing a watch with such a function. Especially if you choose children under 14 years old. All children are inquisitive and somewhat inattentive. Different situations may occur when the tracker may be wet. And if your child is fond of swimming, then you definitely need such a function in the tracker. You and your child will be able to control calories burned, pulse during swimming.
Conclusion
Finding the best fitness tracker for a child isn't an easy task. This review has been written to facilitate your selection. I have told you about the top 10 fitness trackers that are suitable for toddlers and teenagers. Choose and increase the activity of your child together!
Tags: #best fitness tracker for kids / #best fitness tracker watch for kids / #best fitness tracker for kids sleep and swim / #cheap fitness tracker for kids / #fitness tracker for kids