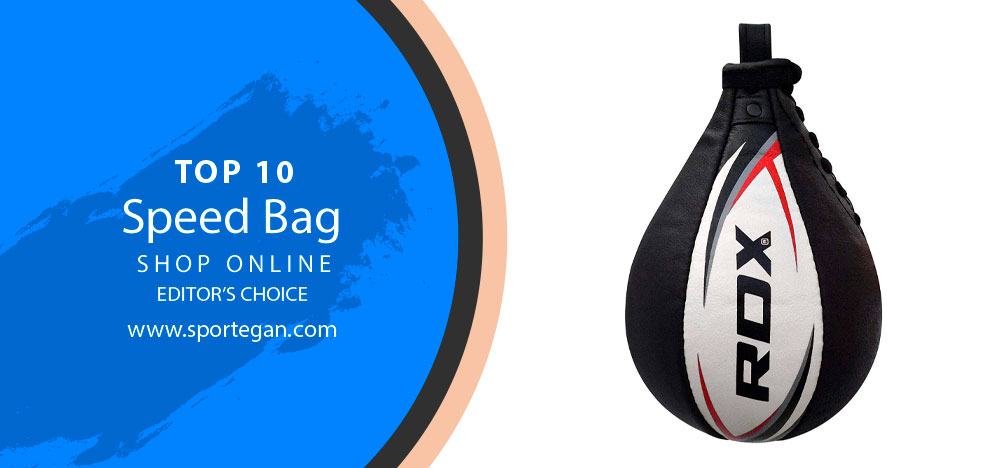 Top 10 Speed Bags to Get
Training your speed and accuracy is equally important as improving your power. Heavy bags and accessories for them are suited for strength training. You will need suitable protective gloves, a durable and reliable freestanding bag, or a heavy hanging bag to increase the power of your punches.
Speed bags, on the other hand, will help you improve your hand-eye coordination, reflexes, and to develop the rhythm of your strikes. Unlike other boxing bags, speed bags need smaller amounts of space and require less effort to install. You can easily place one in your home for regular training.

And to build up your stamina and get better, you must exercise on a day-to-day basis. The other reason why I would recommend having a speed bag at your home is that they are cheaper and require fewer resources to install. Having one in your house is a real treat for any aspiring or professional boxer.
Let's say I have convinced you to buy this type of equipment. However, as with all boxing accessories, the market is overpopulated with speed bags. How do you choose the right one?
First, it is necessary to choose the right size of your speed bag. Are you an amateur or a practicing boxer? It is better to start with a larger bag if you are new to this sport. We will discuss later why smaller bags are harder to train with. Secondly, you need to be sure that this bag will last long.

Maybe it is important for you not to inflate it every time you want to use it since air leaking is a major problem for this kind of accessory. It is also very annoying to pump it every time you want to train.
Let's look at some of the speed bags on the market from different manufacturers to find out the one that would suit you best! We will also look at a few of the replacement bladders that can come in handy in case you accidentally (or purposefully) demolish your product.
1# Everlast Speed Bag 9×6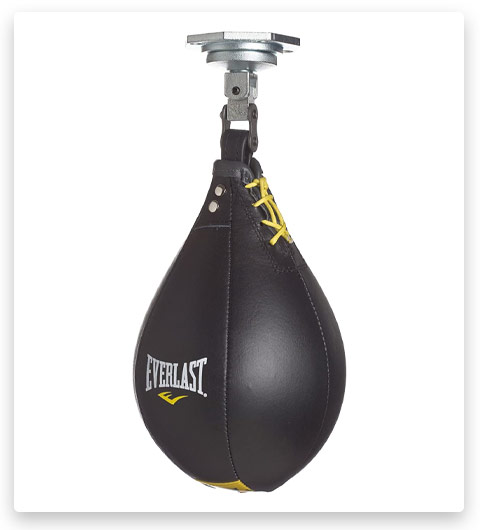 Can any boxing equipment list go without Everlast? Certainly not this one! This speed bag comes in a 9×6 inches. The "medium" size can be too small for adult boxers.
It can be fine for kids and beginners, though. It is made of quality synthetic leather. Don't be swayed by the pretty pictures – this product comes without any additional accessories on Amazon.
This is an inflatable type of bag, which comes with the usual downside all inflatable products have – they deflate. And this one is no exception – it deflates quite often! You will not need much time to get it back to normal condition, but it sure is annoying. Also, this product isn't very durable.
Not only does it lose air very fast and too often; the stitching on the bag and the bladder can open up after a few weeks of usage. The balance is also a bit off. I wouldn't recommend it to adults or even teenagers who are into boxing. It can be a good choice for beginners and kids, but I have warned you that it probably won't last too long.
Features:
Made from synthetic leather.
Inflatable.
Better suited for kids due.
Comes without additional accessories.
Available in a medium size.
2# TITLE Boxing Gyro Balanced Speed Bag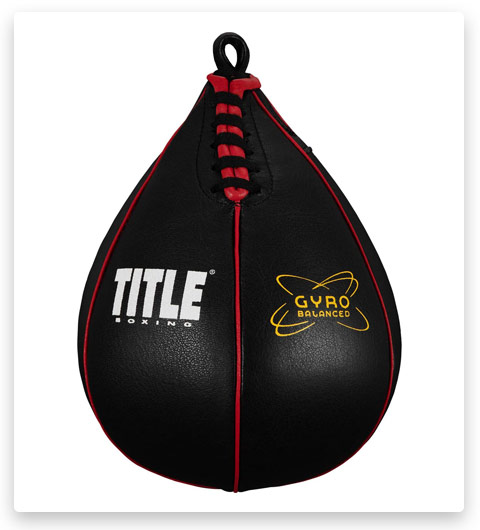 The "Title" (yeah, that's the name of the company) boasts about balanced construction and high-quality of this bag. It is an inflatable bag made from leather shell.
It comes unfilled when you buy it and without any additional accessories. You can use an electric or hand-held pump to fill it to your liking. After you pump it with air, you just have to set it up, and the bag will be ready for your training. This bag comes in 3 sizes: XXS, M and L.
The larger the size, the more difficult it is to train with. I would recommend bigger ones for beginners since they move slower than the smaller bags. "M" size would be perfect for boxing enthusiasts to train their hand-eye coordination, speed, and reflexes.
The quality of the bag is pretty high so that it will last through many months of constant punches. Be wary that this bag will lose air occasionally because of the unfortunate design of the inflation hole. You will have to inflate it once in a while, which can be annoying.
Features:
Made entirely from leather.
Comes in 3 sizes: XXS (4'' x 7''), M (6'' x 9'') and L (7'' x 10'').
3# Pro Impact Speedbag Black – Heavy Duty Leather Hanging Swivel Punch Ball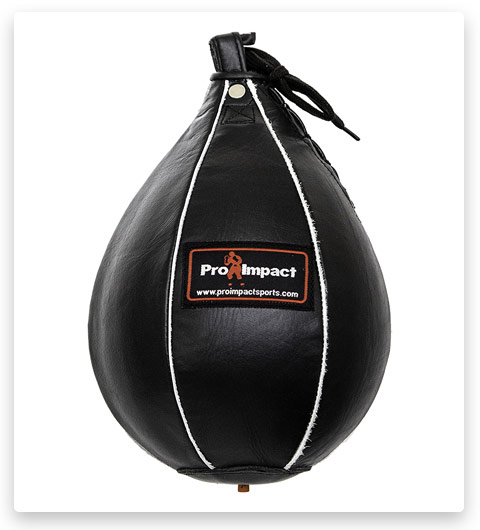 This and next products from "Pro Impact" are connected. You will soon know why. This speed bag is made from top-grade leather shell and heavy-duty latex bladder.
It has a nice pearl shape and provides easier targeting, more accurate punches, and fruitful exercises. The product doesn't come with any additional equipment for hanging or air pumping, so you'll have to buy them separately.
As with all speed bags, the smaller the size the more professional you have to be. This bag is good for beginners. The material and construction are good.
The price for the product of this quality is also fair. Since this product is inflatable, you can expect standard issues – deflation and leakages. It is not for commercial use; that's for sure.
It is very well suited to use at home. I also advise you to deflate this bag after exercise if you train outdoors. If you let it lay outside fully inflated, especially during a heat, the bladder can lose its retention.
Features:
PU leather shell and latex bladder.
Comes in 3 sizes: XS (5'' x 7''), Small (6'' x 9'') and M size (7'' x 10'').
4# Pro Impact Boxing Speedbag Replacement Bladders Regular Speedbags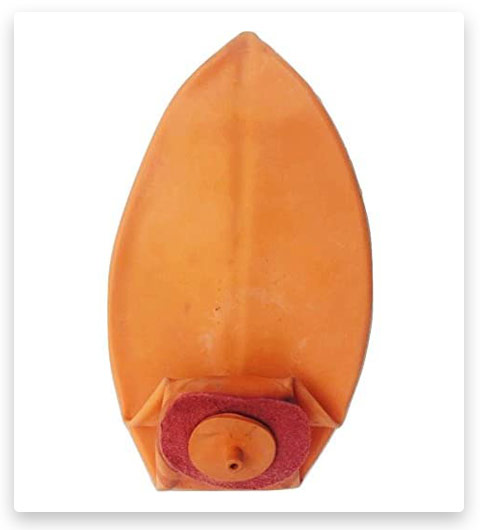 In case you are being too hard with your strikes or don't skip a single training session, any bag you own can break. Don't worry if you accidentally demolish your accessories; after all, it can be a sign of an increasing skill!
If you have a "Pro Impact" speed bag – then it is no problem; With this product, you can replace the bladder for your double end or regular speed bag in a matter of minutes!
This replacement bladder is made from heavy-duty latex. It takes the shape of your bag once inflated, which makes it a perfect and easy replacement. The product comes in a variety of sizes to fit nearly all possible speed bags.
Though, it will constantly lose some air, so be ready to inflate it from time to time. Also, if you don't own a "Pro Impact" bag, this bladder might not fit your speed bag perfectly.
Features:
Heavy-duty latex bladder.
Made to replace your ruptured speed bag.
It comes in a variety of sizes for a double-end (7" and 9") and regular (5×7, 6×9, 7×10) bags.
5# Double End Striking Bag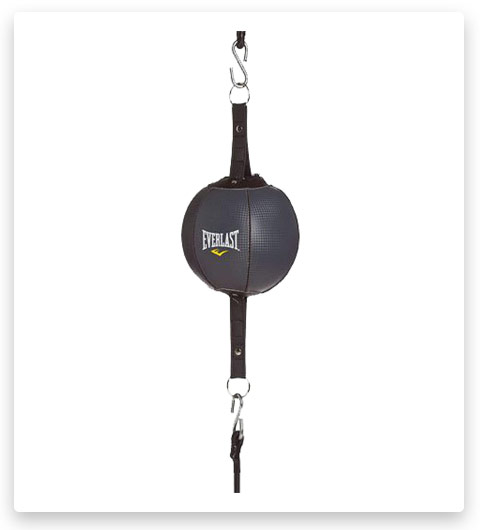 This is the first double-ended bag on this list. Unlike standard hanging or speed bags, this one must be mounted from two sides. You have to mount it to both ceiling and floor.
In theory, it allows for better stability and more bounce of the bag, thus helping you to increase your rhythm, accuracy, and timing even better. This may be true with a good bag! However, this Everlast product leaves a lot to be desired.
The product comes with two bungees; each is about 40 cm (15 inches) long. Sadly, they are not adjustable and don't rebound well. Many customers report that their bungees tore almost immediately. The bag is inflated, so you'll have to buy a pump additionally in order to pump some air in it. The construction also feels and looks cheap. Affordability remains one true plus of this product. The bag itself tends to break and tear very easily.
Features:
Mounts to both ceiling and the floor.
The straps (bungees) are about 15 inches long each.
6# RDX Speed Ball Boxing Genuine Leather MMA Muay Thai Training Punching Dodge Striking Bag Kit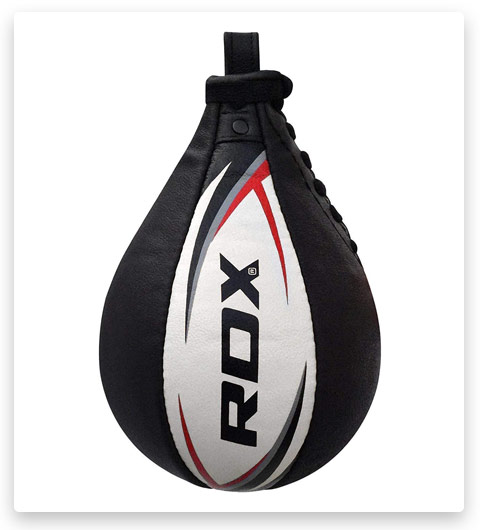 RDX's speed bag has a perfectly balanced shape for better rebound accuracy. The construction is top-notch: the bag itself is made out of cowhide leather.
It is lined with poly cotton material for better durability. It also comes with a stainless steel swivel to help you mount it to the ceiling. The bag is tough and durable. The bladder doesn't leak as much air as we've used to in other inflated bags. I don't say that you will not pump air in it occasionally, I only say that you'll be doing it less often.
The rebound of the bag is great. The only downsides I can think of are the knot at the top of the product – it can come undone, which is a problem. The swivel that comes with the RDX speedball is also low-quality. I recommend you buying any other swivel and attaching the bag to it instead.
Features:
Made from cowhide leather. Lined with four layers of cotton material.
It comes with a steel swivel.
It comes in 2 colors.
7# Ringside Boxing Speed Bag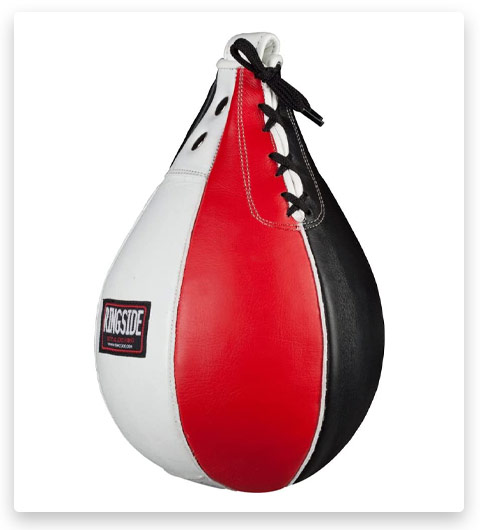 Ringside's bag looks and feels expensive. It is made from durable leather and reinforced with triple-stitched seams. The bag comes in 4 sizes and you already know the drill: the smaller the bag, the harder it is to train with it.
The manufacturer boasts about the bladder in this thing. It is made from latex rubber. Even Ringside itself says that the air will leak out of this speed bag after each training session.
Yet, they insist that later bladder is a way to go since it provides the quickest rebound. In practice, this bag will leak all the time. I can assure you that it is annoying beyond belief to pump the bag constantly after every session.
It is also a little slow on the rebound, so you'll have to hit it a little harder for it to gain traction. The product doesn't come with additional accessories that you'll need to mount it to the ceiling.
The price is also not very low, so you can't call this a low-budget bag. Overall, I think the problem with air leaking is the deciding factor. Do you need a bag that will deflate every day? Personally, I recommend looking at the other options.
Features:
Made from leather, with stitched seams.
The bladder is from latex rubber.
It comes in 4 sizes: X-Small (5'' x 8''), Small (6'' x 9''), Medium (7'' x 10''), and Large (7'' x 11'').
8# Cleto Reyes Speed Bag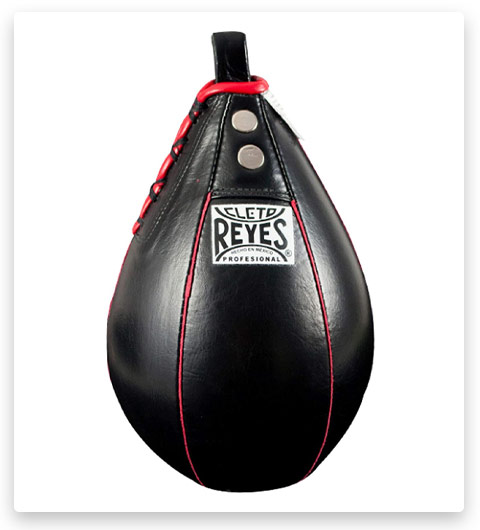 I can say right from the beginning that the high price tag of this speed bag is justified. This bag is made from nylon lining and head leather.
The good shape of the bag makes training a joy for any boxer. It has a very good rebound and a nice bounce. The product comes in 3 sizes, yet I recommend buying the Medium size.
It is an overall better-balanced experience. It doesn't feel too light like other speed bags tend to. Because of the high-quality materials used in its construction, it will be durable and long-lasting.
The bladder will leak some air, though. I think this is a norm these days, and though it is frustrating to pump your bag every once in a while, this one seems to hold air just alright, so you don't have to inflate it after every training session.
This product doesn't come with a pump or any other accessories to install it, though, so you will have to buy them separately. Yet, this bag comes with an additional bladder in case your first one breaks.
Features:
Made from high-quality leather.
Tough nylon lining.
It comes in 3 colors.
Available in 3 sizes: X-Small, Small and Medium.
9# MaxxMMA Speed Bag Type II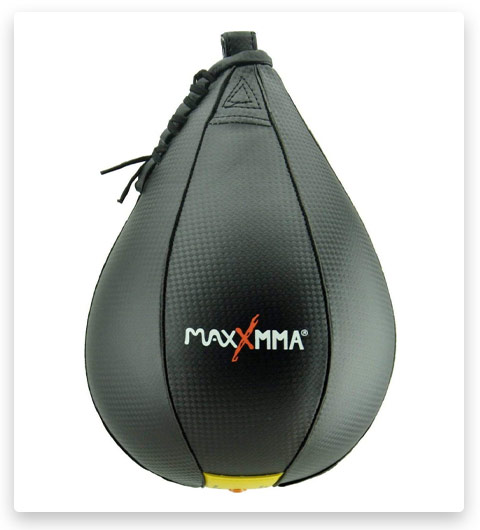 MaxxMMA is oriented on mixed martial arts training accessories. This bag has a good size, balanced for quick strikes, and good rebounds.
It's large, though, so it is not the best choice for professional boxers, who want to truly improve their reflexes and eye-to-hand coordination. The shell is made from premium synthetic leather and the bladder is made from rubber.
It also comes with a hand pump with a needle to help you with inflating the bag. The downsides are quite standard for inexpensive speed bags. It leaks air quite badly. The product also looks quite cheap. The stitching leaves a lot to be desired as well – the bag can open up after a few months of use.
It is an OK bag for its price, considering all the pros and cons, but it's your choice if you want to find a genuinely high-quality speed bag or just settle for the mediocre.
Features:
Synthetic leather shell and a rubber bladder.
Large-sized bag (10'' x 7'').
10# TITLE Boxing Rubber Speed Bag Bladder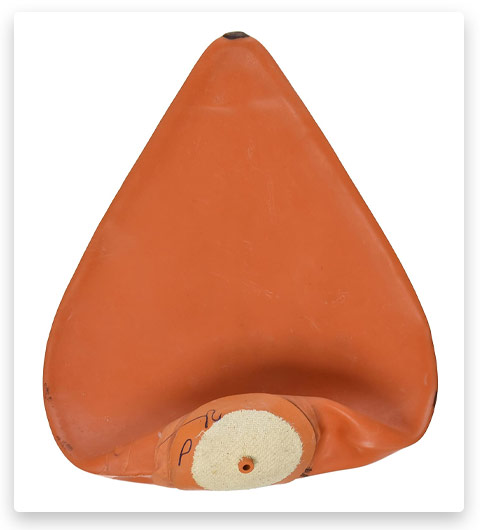 We will end this list with another replacement bladder because when you deal with punching bags it is reasonable to break a few once in a while.
This product comes from the "Title" company, and it is best suited for their accessories. However, it can fit most speed bags without serious problems. It is available in 4 sizes and it is very cheap.
You can find it priced under 4 dollars. The installation of the bladder can be easy, but with some bags, it might be a little hassle to replace the previous one. You may even have to glue it into your bag in place. It will also hold air pretty well, but you still have to pump it regularly.
Features:
Suited for Title speed bags but fits almost every other bag.
It comes in 4 sizes: X-Small, 4×7-inch, 6×9-inch, and 8×11-inch.
Frequently Asked Questions
Conclusion

I hope you have a better understanding of the speed bags and what separates them from other types of punching bags. The main differences are that they are suited not to increase the strength of your punches and stickers. Speed bags and double-end bags should be used as a tool to improve your hand-to-eye coordination, speed, and accuracy.
Out of all products we have looked through, the best choice for your money would be Cleto Reyes Speed Bag. It has many advantages, the least amount of air leaking problems. It is also long-lasting and very durable.
As a low-budget alternative, I recommend buying a Pro Impact Speedbag because of its higher-than-average quality, good bounce, and rebound, as well as great durability. It is by no means perfect, but it is long-lasting and has a very affordable price. It can be a great choice if you are an amateur fighter!
Don't hesitate to buy some boxing accessories and start your training today! Remember that you should begin with a large-sized or medium-sized bag. In time you will acquire more skills and develop the rhythm of striking. Then you can start using smaller bags and improve your speed and accuracy even further.
Tags: #best speed bag / #best speed bag platform / #best speed bag swivel / #best speed bag reviews / #best speed bag gloves