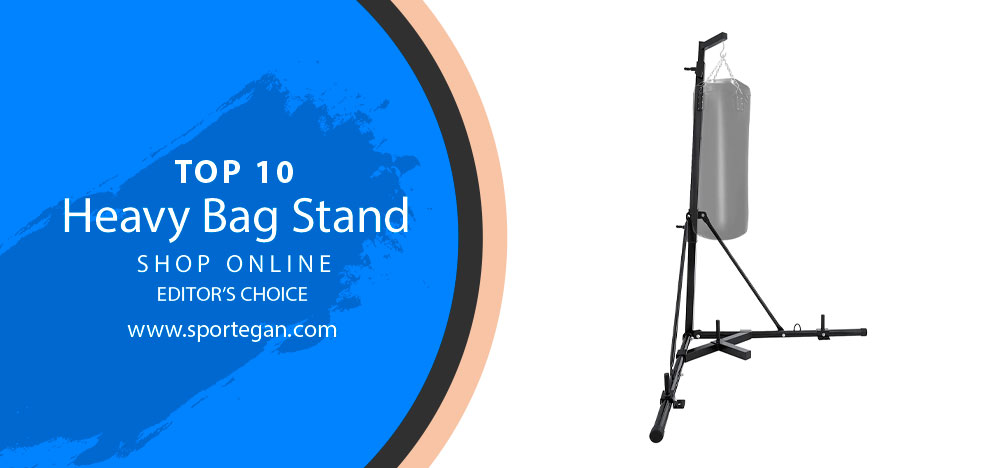 Best 10 Heavy Bag Stand for Home Use
Boxing at home has countless benefits to it. It grants you the ability to train at your convenience, usually after a hard day at work. It will make you exercise daily, which will make your training much more fruitful. You will become a better fighter and build muscles much quicker if you train routinely.
In addition to that, repeated exercises will make you more stress-tolerant, since you have the way to let off steam whenever you want to (without resorting to violence.)
Let's say you are eyeing a specific heavy bag. Maybe you even bought one already. Now you need to put it somewhere in your house. You need to choose: are you going to mount it to a ceiling, or are you going to get a heavy bag stand to spare your ceiling and walls?
Before getting a punching bag stand, you need to consider how much available space you have at your home. This article will go through reasonably compact stands, but some of the more professional ones are massive. Usually, the bigger stands are more sturdy.
Almost all heavy stand bags have long legs at the bottom. They are usually longer to ensure better stability when you practice punches on weighty bags. These legs will limit your footwork because you won't have 360-degree access while working out.
The benefit of punching stands is that you don't need to drill additional holes in your ceiling or walls (most of the time). However, putting them together can be a hard and demanding task, usually requiring the help of another person.
To help you spend your money on a worthwhile product, I have compiled a list of 10 punching bag stands that are suited for home use. We will look at their parameters, their pros, and cons, and see which ones are the best.
1# Everlast 2-Station Heavy Bag Stand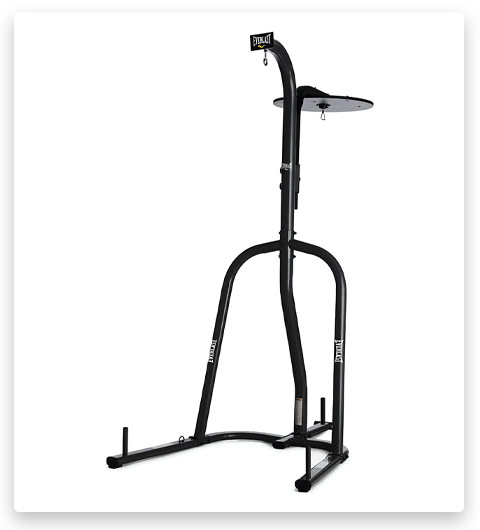 From the top-grade boxing accessories manufacturer, Everlast's Station Heavy Bag is strong enough to support both speed bags and heavy bags.
The powder-coated steel and three weight pegs will ensure the maximum durability of the construction. All of the surfaces of the stand are enforced to ensure better scratch resistance, because who wouldn't want their stand to look new after months of use?
Everlast ensures that it can support up to 100 pounds. The speedbag platform also has an adjustable heigh. In theory, you can hang all sizes of bags on this thing comfortably.
As for accessories, this stand comes with a swivel. It is pretty cheap, so I recommend getting yourself a good one if you plan to put a heavy bag on it. This stand can swing too much when you practice on heavy bags. I recommend using some weights to hold the stand in place. A couple of 25-lbs plates will do the trick.
It is a sturdy stand that can work if you buy some additional accessories, but it has some downsides. Also, the holes in some parts of the products are not appropriately aligned, which makes the assembly process even harder.
Highlighted features:
Can be used for heavy bags and speed bags
Supports up to 100 pounds
The parameters are 66.5 x 47.6 x 82.6 inches
2# Everlast Heavy Bag Stand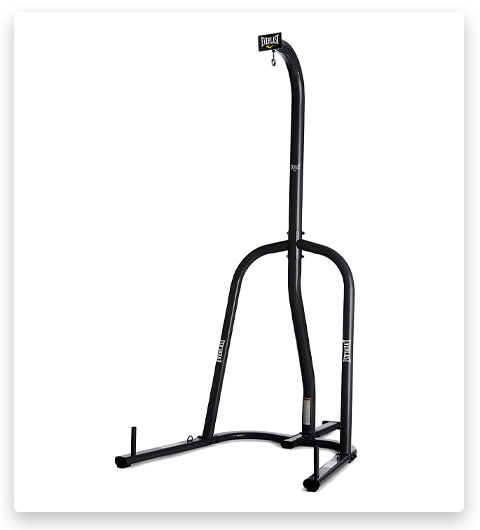 Heavy Bag Stand from Everlast is suited for heavy bags only. However, less doesn't always mean "worse." There are advantages to more specialized products. For example, since it has only one platform, this stand is even easier to assemble.
It is also made from steel and protected against scratching. It can support bags up to 100 lbs in weight. Unlike the previous product, this one comes with three additional weight plate pegs to ensure better stability. Everlast will also send you a bolt wrench, but you will do better with any other bolt wrench. This one can make the assembly process a nightmare.
You will need a lot of patience to put this thing together. A lot of frustration comes from the assembling process, and you might want to get help from a friend or two.
This stand will limit your foot movement during training. You won't go 360 degrees because of the length of the legs that support the construction. If you have a good reciprocating saw you can somewhat shorten the front legs and give yourself more flexibility. Also, it doesn't work well with bags that weigh over 85 lbs.
If you want to do boxing on a huge professional punching bag this stand will disappoint you. Unless you put additional weight on the stand's legs and mount them to the floor, the stand will be bouncing back and forth.
Highlighted features:
Supports up to 100 pounds
The parameters are 66.5 x 47.6 x 82.6 inches
3# Century Heavy Bag Stand Gray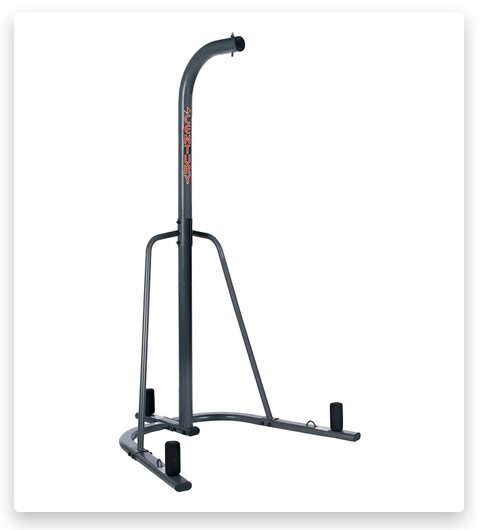 This is a 100-lbs capacity stand for boxers and martial artists. It is made from steel tubing. It is a tall stand – about 84,25 inches in height. Be sure to measure the height of your ceiling to see if it'll fit. Century's stand itself weighs around 57 lbs. It also lacks a platform for the speedbags.
You will have to add additional weight to the stand if you want it to be more stable while supporting heavier bags. Fortunately, there are three pegs for weight plates at the bottom of the stand.
Still, if you use a bag heavier than 85 lbs, the stand will always move after powerful hits. The long legs also limit the footwork during training. It is easy to assemble even by yourself. The stand is well-built and will serve you for a long time.
Highlighted features:
Supports up to 100 pounds
Weighs about 57 lbs
The parameters: 84,25 inches tall, 48 inches wide
4# Outslayer Muay Thai Heavy Bag Stand with 4 Sand Bags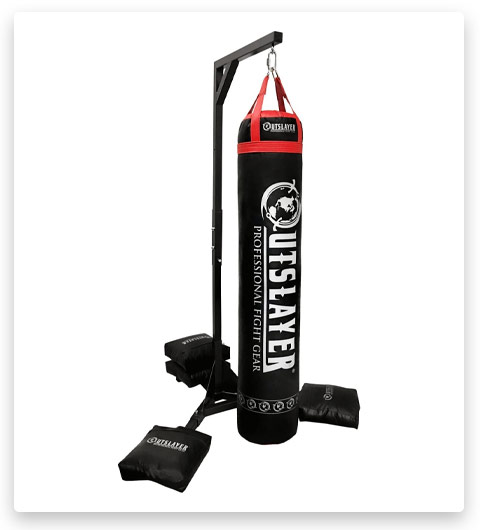 This beast is a professional heavy bag stand for boxing, Muay Thai, and kickboxing. It is heavy-duty, sturdy, and incredibly well-built to last decades. The manufacturer even provides you with a 15-years warranty. It supports weight bags up to 350 lbs. The height of the stand is about 7.8 feet.
This product also comes with four sandbags, each approximately 60 lbs when filled. You can use them to add more weight to the stand for even better stability. It also comes with other accessories that are required to put it together, including the bolts and the hook. The triangular form of the base makes this stand easy to place at home.
If the price is affordable to you and you are into professional boxing, the Outslayer's stand can be just the thing for you. It fits nicely in tight places and will provide stable workouts with heavy bags of any size.
Highlighted features:
Supports up to 350 pounds.
About 7.8 inches tall.
5# Century Fitness Training Station One Size Fits Most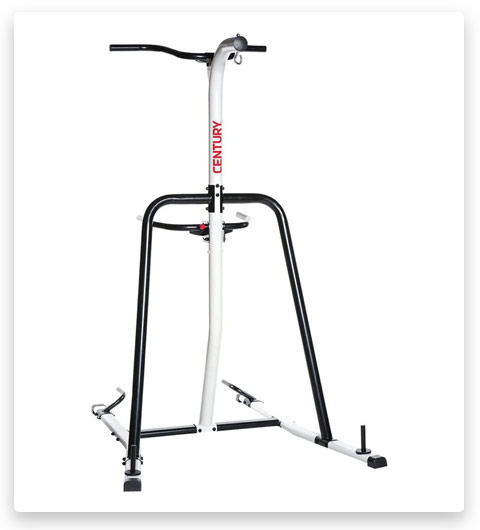 This training station is made from enforced steel. It is relatively easy to assemble. The stand takes a moderate amount of space but mostly because it's wide. It handles bags up to 100 lbs well.
It has a total height of around 88,5 inches in an assembled state. The process of putting it together is pretty straightforward. It comes with all the hardware necessary. You easily can assemble it yourself.
You might wonder why this product is called a "training station," and not a usual stand. It is because it has a bolt for the heavy bag, as well as dip handles, push-up handles, and pull-up bars.
Therefore, it's not only good for boxing but also for building your muscles on the upper body. It is a sturdy unit for various types of workouts. The price is not too high, considering all the ways you can exercise with it. The stand is durable enough to withstand for many years.
Highlighted features:
Support up to 100 lbs.
Weights about 93 pounds.
The parameters are: 88.5 x 22,50 x 7,30 inches.
6# Happybuy Foldable Boxing Heavy Bag Stand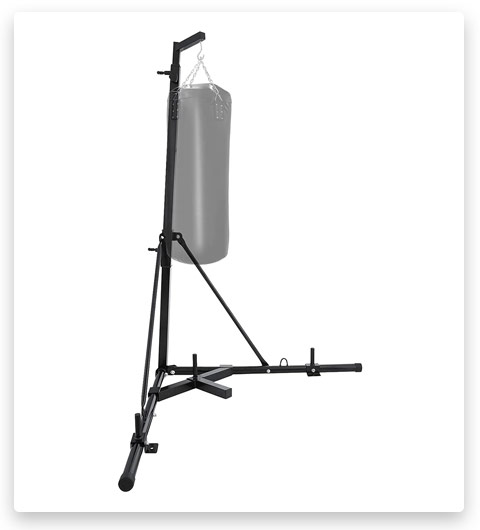 Made from steel and iron frame with powder coating, this stand bag allows training with heavy bags and speedbags. Aside from boxing, the top handlebar can be used for push-ups; however, you need to purchase it separately.
The product features a variety of accessories, like a hook, adjusting bracket, and all other tools to assemble it. Some of the accessories are lacking. For example, the hook is low-quality, and you better buy yourself another one at a local hardware store. The stand itself is not hard to put up because the instructions manual is lacking.
It has a triangular-shaped bottom and a foldable design, which makes Happybuy's stand fit in most corners of your house while also increasing the stability. The height of the bag has four adjustable levels (from 66 to 82 inches). The stand is too light and will move around when you are training. You'll have to buy additional weights to keep it in place.
Highlighted features:
Supports up to 100 lbs.
The parameters are: 63 x 11.8 x 10.6 inches.
7# Titan Dual Station Boxing Stand for Speed & Heavy Bag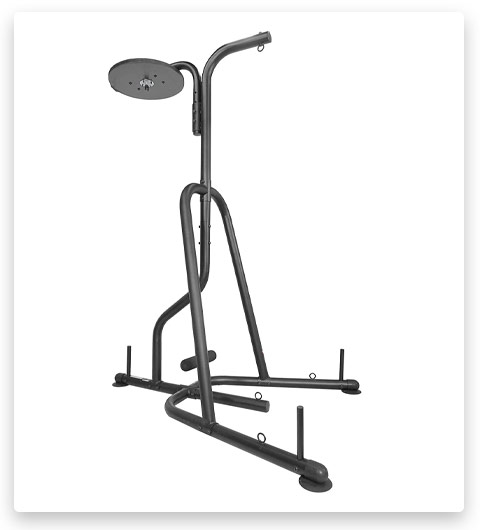 The stand is made from powder-coated steel tubing. It is durable and sturdy. It supports heavy bags up to 100 pounds. However, after 80 lbs weight mark the stand will move after hits.
With a bag heavy enough it can even get knocked over. However, it has three weight pegs so you can add additional pounds and improve the stability of the stand. Titan Dual Station Boxing Stand has four adjustable height levels for the speed bag hanger.  The hook for the speed bag that comes with the product is pretty bad, and I recommend buying another one.
Putting in up can be harsh. The horrible instruction manual doesn't help either. This stand is sturdy and works well enough if you put serious weight on its legs, but only if you train with heavy bags that are under 80 lbs.
Highlighted features:
Can be used for speedbags and heavy bags
Supports up to 100 lbs
The construction weight around 63 pounds
The parameters: 83,5 inches tall and 62 inches wide
8# Balazs Universal Boxing Stand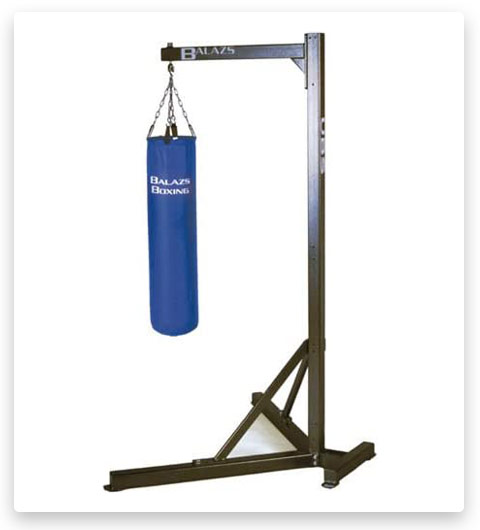 Did you think that previous products were expensive? Then please, take a moment and sit down. Then take a deep breath. Balazs is an acclaimed manufacturer that doesn't like to make any compromises. That's represented not only in its quality but in its price as well.
For almost $1300 (not including shipping fees) you get a monstrous heavy stand that can support up to 300 lbs and 6 feet long punch-bags. The product can also be upgraded – you can add more platforms for speed bags or other heavy bags.
It has a triangular-shaped bottom so you can easily fit it in any corner of your room. The stand weighs about 250 pounds. It's so heavy you won't need to add any extra weights. By the way, it's pretty tall (over 95 inches), but you can make it even taller (or shorter) if you contact the manufacturer.
This is a fantastic choice if you are a professional boxer. It won't move after heavy punches; it won't squeak and cause troubles during assembly either. This stand can serve you for the rest of your boxing career. The manufacturer also gives you a lifetime warranty.
Highlighted features:
Upgradable
Weighs about 245 pounds
Supports weight over 300 pounds
The parameters are 68 x 44 inches. It's 95 inches tall (customizable upon request)
9# Everlast Three-Station Heavy Duty Punching Bag Stand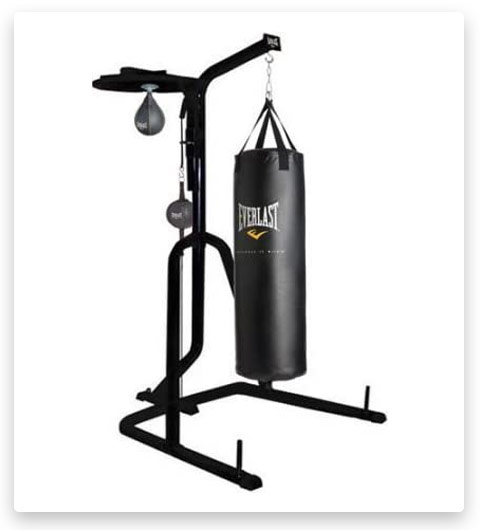 My experience with this Everlast product (and with the Everlast brand in particular) is very uneven. Sometimes their products are good, but most of the time they are just… meh.
They are so run-of-the-mill I can't even recommend them for amateur boxers. The Three-Station Heavy Duty is among those mediocre products. It will move and wobble a little if you hang a bag that weighs over 90 lbs. You'll want some additional weight on the stand's legs, but you'll have to buy it separately. The legs of the stand will limit your movement during training.
By the way, the station is enormous. It will take as much size as a little car would. It probably won't fit your room and definitely won't look there organically. It does come with some accessories necessary to put it up, like the hook, bolts, and screws. It's also difficult to assemble.
Highlighted features:
Features 3 platforms, one of which is suited for heavy bags
Weighs about 90 lbs
About 7 feet tall
The parameters are: 54 x 54 x 84 inches
10# Title Boxing Double Trouble Heavy Bag Stand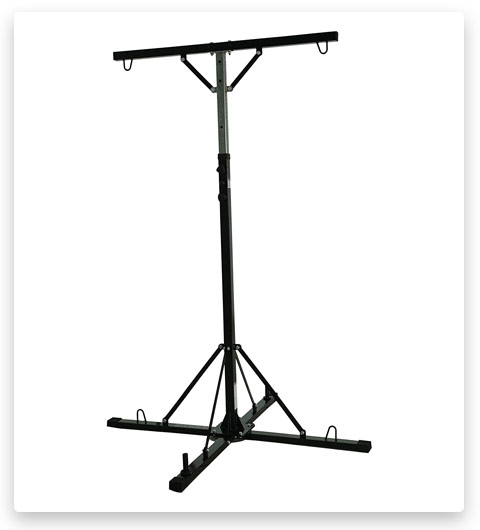 Title Boxing's stand is well-constructed from powder-coated tubular steel. It has two platforms and even comes with a heavy and double-end punch bag.
Aside from that, the product is packed with different accessories, like the chain for the heavy bag, anchors, and D-ring bag attachments for weight stabilization. The height of the construction is easily adjustable.
The footwork is limited for both bags; you only have about a 90-degree workout radius. The stand is sturdy enough. It won't work properly if you don't add weight to the bottom. The deciding factor of this product is its affordable price. The price tag is especially tempting if you consider that you get two bags, in addition to the stand.
Highlighted features:
Weights over 80 pounds
The parameters: 60 inches long, 60 inches wide and 90 inches tall
Frequently Asked Questions
Conclusion
The best product for your money is without a doubt the Balazs Universal Boxing Stand. It has an astonishing price that rightly represents the impeccable quality of the stand. I recommend it for professional boxers who want to buy a lifetime stand for their punching routine.
Titan Dual Station Boxing Stand for Speed & Heavy Bag is a sturdy and well-made product. It also supports two bags. It has an affordable price and will be a good budget pick (if you get past the horrible assembly manual.)
How about a boxing stand and exercise equipment in one product? Fitness Training Station by Century is an excellent choice for that goal. It features not only a bag platform but also handles for push-ups and pull-ups.
This concludes it. As you can see, most often than not, buying a heavy bag stand is much easier than mounting a bag directly to your ceiling. It is also less dramatic and irreversible, meaning it won't permanently damage your roof.
I hope I was able to help you to choose the best heavy bag stands for indoor training. Just remember to measure your room to verify that the product of your choice will your bag as much as it will fit inside your home. And be sure to train regularly!
Tags: #best heavy bag stand / #best heavy bag stand for kickboxing / #best heavy bag with stand / #what is the best heavy bag stand / #best place to put a heavy bag stand / #heavy bag stand for home use