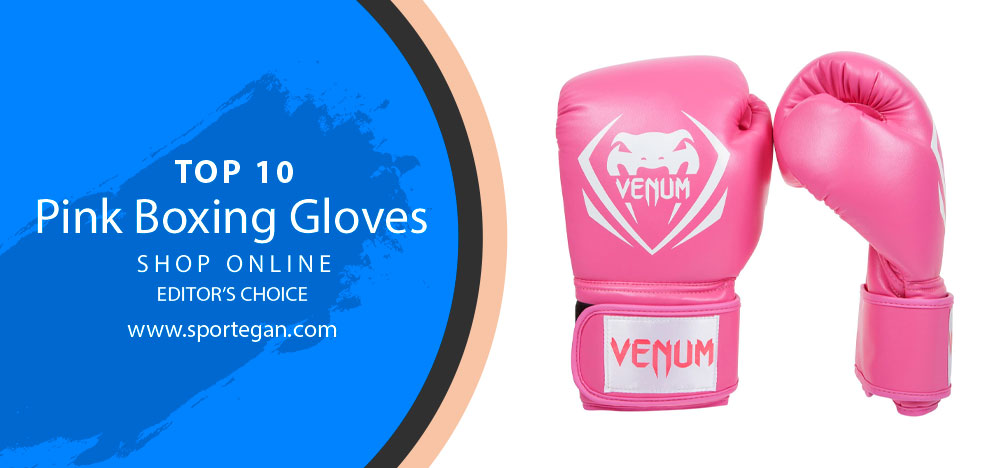 Top 10 Pink Boxing Gloves for Women
As I've said countless times before, close combat training is a great form of exercise everyone should tune into. Regular and thorough boxing workouts will help you remain fit and increase your physical capabilities. It is not necessary to do sparring with another partner.
You can get the right amount of physical activity from punching a dummy bag. The catch is that your boxing accessories must be top-quality for your hard work to deliver better results. Some of the benefits fighting exercises can give you are increased stamina, better coordination, and reflexes, muscle toning, as well as improved resistance to stress.
By the way, don't you get a desire to punch someone in the face sometimes? Is your day work tiring you and making you nervous? Then you need to have a boxing bag at hand. Having the ability to let off some steam consistently will work wonders for your nervous system!

Boxing is just as important for women as it is for men, mainly due to the ability to strengthen both body and mind. Regular exercises will motivate you and help with stress management – a vital skill in the 21st century.
Let say you already have read through my previous articles and got yourself a good boxing bag. Now you need to grab protective gear. Boxing gloves are an essential component of your training. But before you order something slightly resembling a pair of gloves in pink color, let's talk about the specificities of women's boxing gloves.
Women's hands are smaller and have slimmer fingers. This means that a pair of men's gloves will not fit a girl's hand very well, which can lead to worse protection and subsequent injuries. Your fingers and knuckles should have the best protection from the striking impact. Boxing gloves for women will have a greater angle at the knuckles most of the time and they are mostly made from softer materials.
This will help you make a proper fist. Striking a bag with a fist correctly can save you from traumas, as well as give more strength to your punches. The wrist size on the girl's gloves is also smaller. Remember, even if the pink color of your gloves matters to you, it should not be a deciding factor. The comfort and protection of your hand are what matters the most.
Now, let's look at the Top 10 pink boxing gloves with a more critical eye and decide which set is the best for you!
1# Everlast Pro Style Training Gloves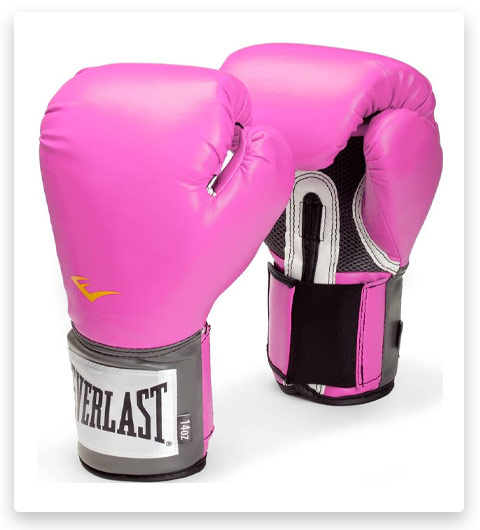 Everlast is one of the biggest manufacturers of accessories for combat sports. This company has myriads of products on the market. Some of them are lacking in quality, as I have pointed out in previous articles. However, when they create something good – it can be a real treat. Everlast Pro Style Training Gloves are made to protect the wrist from hyperflexion and to maximize your grip for better punching power.
These gloves are available in 4 sizes that can fit most men and women. This product is not necessarily made for girls, but it won't be useless in the girl's hands (pardon the pan). I must note that the gloves are a little heavy. Pro-Style Training Gloves are good even for the beginner, but it is useful to have some muscles to strike correctly with them and not to tire out too fast. The practice has shown that these gloves will fit almost every girl, but I've seen many small women complain that they are too big for them.
Highlighted features:
Suited for women, men, and children.
It comes in 3 other color schemes.
Available in 4 sizes: 8 oz., 12 oz., 14 oz. and 16 oz.
2# Trideer Pro Grade Boxing Gel Sparring Training Gloves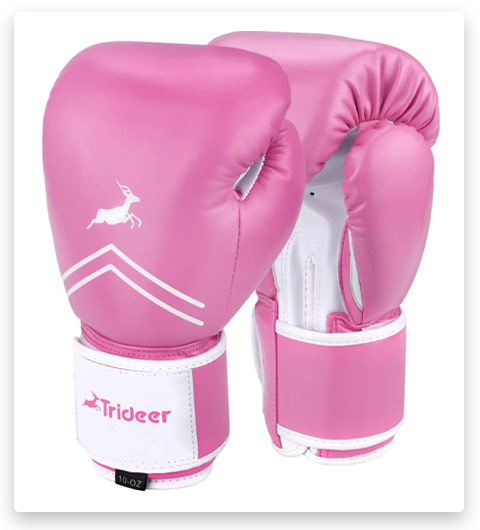 Pro Grade Boxing Gloves by Trideer is made from quality faux leather. They are easy to clean and maintain. They have improved stability, while multi-density foam increases shock resistance. Locked thumps help to prevent injuries as well as ensures good hand protection. These punch-gloves have a very good fit. Obviously, I can't judge how well they fit a woman's hand myself.
I also can't speak for every woman. However, most customers say that this product fits them perfectly. Even though they don't come with hand wraps, you might not even need them because of how comfortable they are.
These gloves are well-suited for kicking and sparring. They are not heavy. Even the biggest size (16 oz) is pretty light. The padding on them can be stiff, but it will become softer after you start using them more often. The shape of the gloves can create discomfort for some because it is not very easy to strike with the proper fist.
Based on the size, these gloves can fit men, women, and even children. I can recommend these gloves as a great product for beginners.
Highlighted features:
Suited for women, men, and children.
Comes in 5 sizes: 8, 10, 12, 14 and 16 oz.
Available in 8 other color pallets.
The product doesn't come with hand wraps.
3# Venum Challenger 2.0 Boxing Gloves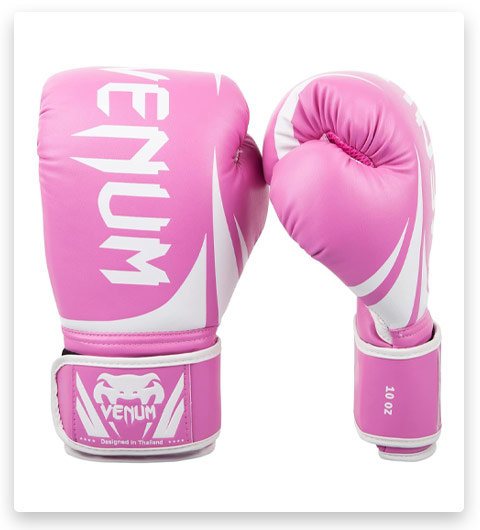 Venum's run-of-the-mill gloves lack any advantages over other boxing gloves. They are not cheap, either.
They come in a variety of sizes and colors if you want any other color than pink (and why would you want that, though?). They are suited for boxing. However, you can do Muay Thai training and practice mixed martial arts with them.
The wrist support is great on these punch gloves and they can withstand high levels of "abuse." The merch is made from comfortable synthetic leather. Your hands will become sweaty very soon, though, so wrap the strap to your wrist as hard as you can.
The padding is not as good as I expected from the "Venum" products usually. If you train excessively and on a daily basis, these gloves can start ripping faster than you'd want. If you are a beginner and don't train every day these gloves can survive longer. I can't say that they are durable enough to warrant a purchase, considering the price.
Highlighted features:
Suited for boxing
Available in 15 other color pallets
The product doesn't come with hand wraps
4# Luniquz Kids Boxing Gloves for Punch Bag Training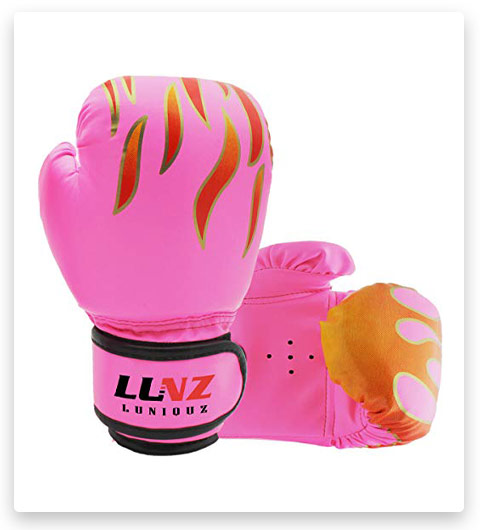 Luniquz provides a product that is safe and comfortable to use for kids from 3 to 8 years.  I think it's the slick design that will catch your eye first. The quality of the product will make you want to keep them. Thick foam padding helps to increase shock resistance and pressure distribution. The gloves will protect the fist and wrists of your kid.
The velcro tape on the sleeve is wide and adjustable to prevent wrist injuries. It will also make training sessions more comfortable. The padding is just enough for kids, especially for beginners in boxing. The lining has good ventilation to reduce sweating.
Luniquz gloves are made from synthetic leather, which makes them lighter. PU leather is also cheaper than the real one. However, the price does not represent the quality because this is a very good accessory for beginners. If they fit your kid, of course. The size of the gloves can be too small for your kid.
Highlighted features:
Suited for kids from 3 to 8 years.
Available in 5 more colors.
It comes in only 2 sizes: 4 and 6 oz.
5# Cheerwing Kids Boxing Gloves 4oz Training Gloves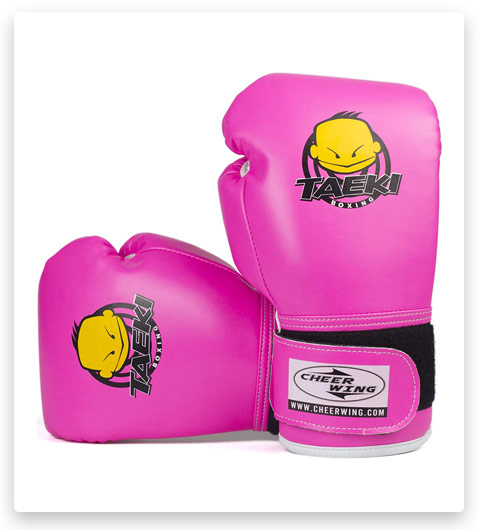 These gloves are not just pink but also cartoony-looking. Cheerwing's product suits for grappling, striking, and boxing training.
The material is synthetic leather. EVA foaming makes it easy to clean while also ensures long-lasting use. The wrist strap is adjustable to ensure maximum comfort while exercising. The padding on the gloves makes them safe, so you don't have to worry about hands protection.
Gloves may be too large for children under 4 years, while also too small for anyone over 8 years. Most kids will find them too big and bulky. Considering the astoundingly low price and nice quality, I can recommend this product for newcomers in boxing.
Highlighted features:
Suitable for children from 4 to 8 years.
It comes in 3 other colors.
Only 1 size: 4 oz (9 x 6.3 inch).
6# Liberlupus Kids Boxing Gloves for Kids Age 3-15
This boxing merch is designed for kids of different ages, weights, and genders. Of course, the pink version is a better fit for girls stylistically. The punch-gloves have three-layered protection. The fillers provide a good guard for the knuckles and wrists. The thumb is thickened to help form the fist, which helps prevents injuries from striking.
Breathable mesh impedes sweating and makes training sessions more comfortable. Liberlupus boxing gloves will fit kids from 3 to 15 years because it has three different sizes available. The 4oz size is for kids from 3 to 5 years, the 6oz is for the 6 to 9 years old age group, while the 8oz glove will fit kids from 10 to 15 years.
Highlighted features:
Suited for kids and teenagers (from 3 to 15 years), depending on the size
Comes in 3 other colors
Available in 4, 6, and 8 oz sizes
7# Venum Contender Boxing Gloves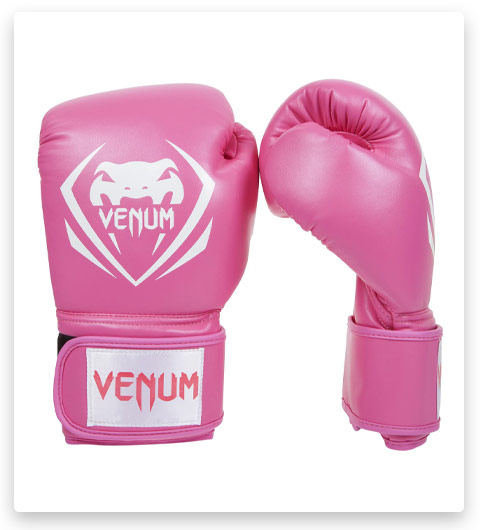 That's it for kid's accessories for today! Venum's gloves feature high-quality synthetic leather that extends the product's lifespan.
Padding and multi-density foam ensure shock absorption and protection of hands. Velcro enclosure helps to secure your wrists to prevent injuries and increase comfort during training. This can be used for boxing, kickboxing, MMA, and sparring because of the full attached thumb. The price of the gloves is not too high, which is a surprise to me due to the quality of the product.
You can rock it in these gloves, and they won't bend at the wrist line during extensive training. The Velcro is one of the strongest I tried on gloves of this price range. The durability of the gloves is good, but only if you are a beginner. If you tend to work daily your gloves can start tearing after a few months of extensive workouts. They fall apart on the inside, though, and maybe it even won't affect your training. Another downside is bad ventilation. Your hands may sweat a lot in them.
Highlighted features:
Available in 11 other color palettes.
Suite for boxing, sparring, and MMA.
It comes in 5 sizes: from 8 oz to 16 oz.
8# Donpandas Punching Heavy Bag Gloves Essential Gel Boxing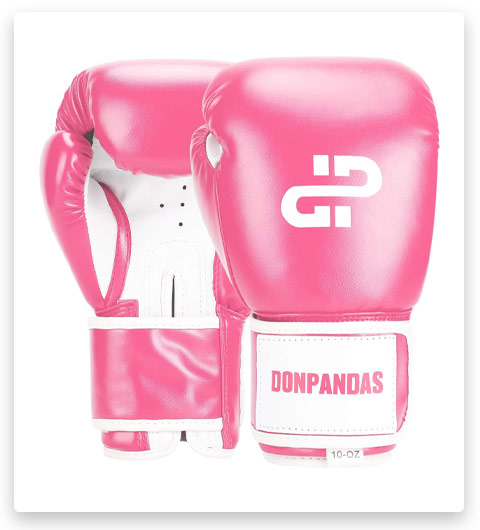 Donpandas gloves feature a hydrolysis resistance synthetic leather shell that has increased durability. Triple density foam with gel aims to ensure proper protection during boxing, kickboxing, sparring, and MMA. Adjustable Velcro straps will give you excellent wrist support and protection against injuries.
The design ensures proper breathability to prevent your hands from excessive sweating while you are practicing. These fighting gloves will provide a great jump-start into boxing for newcomers. However, they can be too big for women. You better try them on before buying. Remember, pink color doesn't automatically mean that they are suited for girls.
Highlighted features:
Suited for boxing, sparring, MMA, and Muay Thai.
Available in pink, black, and red colors.
It comes in 5 sizes: from 8 oz to 16 oz.
9# ZTTY Boxing Gloves Pro Grade Sparring Training Fight Gloves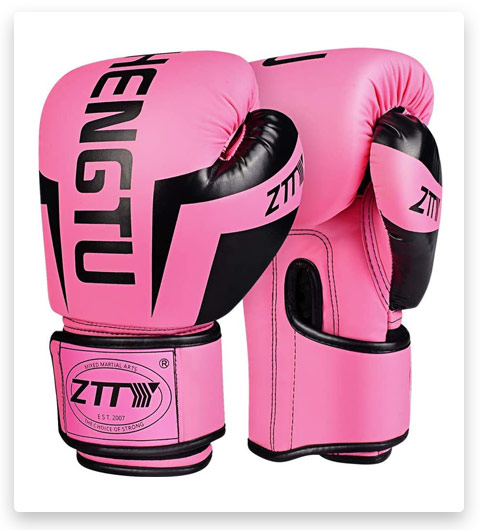 Another great entry in budget training gloves for beginners. The wrist straps on these ones have increased thickness. The straps are also extra long to ensure proper stability and protection of the wrists. They are made from synthetic leather, as well as latex and polyurethane. The constriction makes these gloves that are durable and long-lasting.
ZTTY Gloves provide maximum comfort for your hand due to the Velcro wraps. They will fit both female and male hands. The material has good ventilation, so your hands won't sweat excessively even under heavy workouts. What you will also notice is how durable they are.
The low price tag does not represent its quality at all. On the downside, the padding inside the gloves is pretty stiff until you start using them regularly to "soft" them up. Even though these punch-gloves are for amateur boxers, you will get the most out of your boxing (and also sparring, grappling, and MMA) with them.
Highlighted features:
For boxing, kickboxing, Muay Thai, and MMA.
Available in 6 colors, including pink.
Five sizes: from 8oz to 16oz.
10# Starpro Boxing Gloves Training Sparring Kickboxing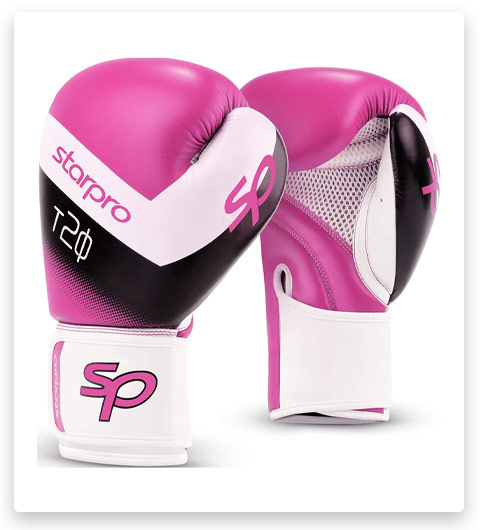 Starpro's gloves are the cheapest product have we looked at on this list. However, behind the low price tag, you'll find a decent pair of beginner's gloves. They are made from good PU leather that will last longer and look good if you take proper care of them. Pre-curved injection foam padding ensures better fist closure while protecting your knuckles and thumbs from damage.
The construction makes training safe without compromising your comfort. The palm is lined with foam for softness and extends the "life" of the gloves. Also, the ventilation is very good for this product. Your hands will be kept fresh during punching sessions. By the way, Starpro gives a three-month warranty for these gloves.
These gloves can be a great accessory for both amateurs and semi-professionals. They are great not only for bag punching but also for sparring. They are not too light because extra padding makes them a little heavier while also increasing hand protection. However, some women complain that these punching gloves are too tight even for their hands.
Also, the wrist support is lacking. Even though your fingers and knuckles are safe, your wrist is not supported properly. I advise buying Velcro wraps additionally and fixing these gloves on your hands properly before you start training. Other than that these are really good gloves for beginners.
Highlighted features:
It comes in 4 colors, including pink & white pallet.
Available in 5 sizes: from 8oz to 16 oz.
Frequently Asked Questions
Conclusion
In conclusion, I have to say that you shouldn't look at the color and the price tags firstly. If gloves are pink it doesn't mean that they are fit for a women's hand, while "more expensive" doesn't necessarily mean "better." When deciding on your next set of punching gloves, prioritize the comfort, as well as protection of your wrists and hands.
Tags: #pink boxing gloves / #everlast pink boxing gloves / #boxing gloves pink / #pink boxing gloves clipart / #where to buy pink gloves boxing / #best pink boxing gloves