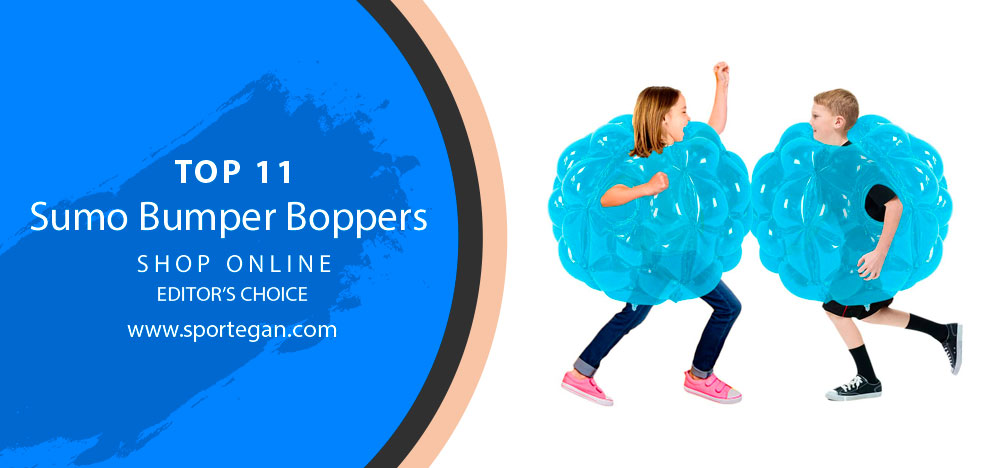 Top 11 Best Inflatable Sumo Bumper Bopper
 There are some types of games that never stop being fascinating. Clashing, bumping, and brawling with your friends are some of them. And they never stop being fun at any age!
But do you want your kids to have fun brawling with each other in a more civilized, bruise-free, and fun way? Then, bumper boppers, costumes, and inflatable balls might be just what you are looking for!
In other articles, I talked about unique accessories that are connected to combat sports in one way or another. Bumper Boppers is another callback from the 1990s, that has the flavor and aesthetic of that era. Younger kids will like the idea to push each other off, while adults can enjoy some of the roughhouse fun without the physical pain and injuries.

What are the Sumo Bumper Boppers?
They are wearable toys that you or your children can use to bump or sumo fight the living hell out of one another. They come in a variety of forms, some of them are like inflatable bubbles, and some are flat-out costumes that you put on and bump with air. You can use them indoors, outdoors, as well as in the swimming pools.
Can adults really use them?
Of course, they can! There are many assets that can fit people of all ages and sizes.
Are they really safe?
Most of them are built in a way that makes them really hard to get injured unless you really try. Some types of boppers, however, can lead to accidental head butting and slight bruises. 
Where can I get them?
They are much more popular than obscure things like Socker Boppers. You can find them in many stores with inflatable goods, as well as in online stores, like on Amazon.
Do you think you are ready to try out these? Maybe you are now considering buying a few for your kids to have fun with their friends?
If you are interested, here are the Top 11 Sumo Bumper Boppers I have picked for this article to talk about their pros and cons.
1# BANZAI Bump N Bounce Body Bumpers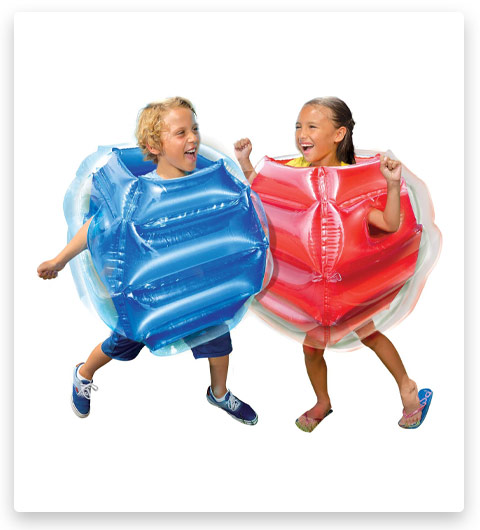 Banzai's inflatable body bumpers are great if you want to give your kids a fun toy that they can go wild with for a few weeks. It's very cheap and made of Polyvinyl chloride (PVC). I wouldn't count on its durability. They can pop after a few weeks of constant playing. However, this fact may not stop you because this product costs less than $10.
It's only for kids, though, because children older than twelve can easily break these bumpers in a matter of days, while adults won't fit in there at all. It is a fun toy that kids can use for friendly beat `em ups and sumo fights. Be careful and make sure that your kids wear some head protection because they will probably butt their heads together frequently.
Highlighted features:
Suited for indoor and outdoor use.
The dimensions: 25 inches long, 25 inches wide, and 23 inches tall.
Includes two body bumpers.
Polyvinyl chloride (PVC) construction.
Recommended for kids from ages 4 to 12.
2# Big Time Toys Sumo Bumper Boppers Belly Bumper Toy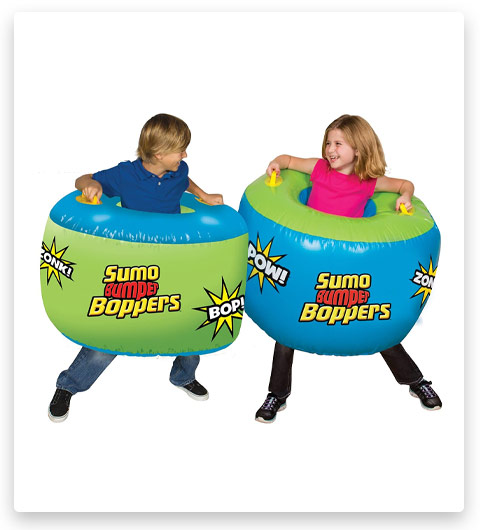 Occupying kids in-home or outdoors has never been easier with Sumo Bumper Boppers. Well, maybe there are more natural ways, but this product gives you a fun and unique alternative.
This bumping toy can lighten up holidays, barbeque parties, and birthdays while providing your kids with enough physical exercise to burn calories after a heavy dinner. It's straightforward to use – you just have to inflate the bumper boppers to get them ready. The bouncy nature of this toy protects kids from injuries.
I can't say that this product is long-lasting. Depending on the way your kids play with it, it can survive for months or days. It's also very hard to blow it without proper accessories, like bike pumps.
It doesn't hold air very much as well, but it'll last long enough for a few rounds. What I don't like about this package is that it comes with only one bumper toy, and it's just isn't fun without at least two. Since you have to buy it at least twice, I also can't say that it's too cheap.
Highlighted features:
Suited for indoor/outdoor games.
Inflatable base with hard plastic handles.
The inner diameter is approximately 11 inches.
Recommended for kids from age 4 and up.
3# SUNSHINEMALL Inflatable Sumo Bumper Bopper Toys
Lightweight, inflatable, and compact. Sunshinemall's bumper balls have a unique shape that makes them easy to pack and inflate at parties or on the beach.
It comes in different sizes, the smaller one being 24 inches in diameter, while the largest one is 47 inches. This toy encourages kids of all ages and even adults to participate in healthy activities while developing coordination and balance. Even though they are inflatable, they keep air pretty good. They are also pretty sturdy and long-lasting.
Just be sure to don't over-pump it with air. The package itself comes with only one bumper ball. Of course, you won't be having much fun with only one of those, so you will have to buy at least two. However, the price tag on it can be stingy. Buying two of them can be very costly if you are looking for a toy for a few parties.
Highlighted features:
Made from PVC.
Suitable for kids and adults from 6 years and older.
It comes in 9 color variations (predominantly blue, red, or white).
Available in 24-, 36- and 47-inch sizes.
4# ArtCreativity's Inflatable Sumo Body Bumper Set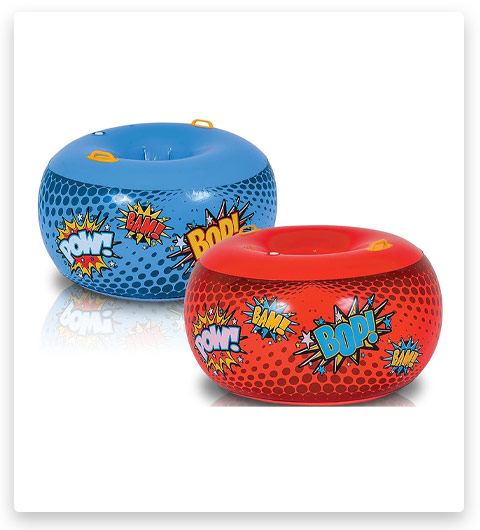 This product is quite similar to the Sumo Bumper Boppers. It is a fun inflatable toy that your kids can put on and bump into one another while holding plastic handles. This product comes in a pack of two, unlike some packages that have only one of the toys inside. The design is eye-catching, bright, and colorful.
You or your kids can play with them in your home, outdoors, or even in the pool. These bumpers also don't leave your kids unprotected. For example, kids won't headbutt each other while clashing into one another. It is hard to inflate them without additional accessories, but they will hold air just fine, so you won't have to pump them too often.
Highlighted features:
You can play with them in-home, outside, or in the pool.
Inflatable base with hard plastic handles.
About 12 inches in diameter.
Recommended for kids from age 3 and older.
5# Theefun Sumo Bumper Balls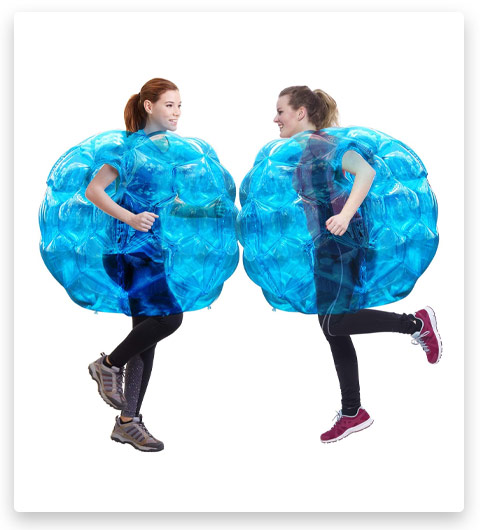 Another great addition to your birthday parties or pool games. This product is good for friendly gatherings in your home or in nature. It fits not just kids but adults as well if they don't shy away from it. I like that there are two bumping balls in the package, and it comes with repair patches as well.
This is why this product has good value for the money. However, there are some unpleasant downsides. These balls take a while to inflate if you do it without proper equipment. They are also prone to tearing, which is frustrating even if the package includes repair patches. The worst part about these balls is the edges.
They are way too sharp, and your kids can hurt themselves when crashing into each other.
Highlighted features:
Made from non-toxic PVC vinyl.
For indoor and outdoor use, as well as pool games.
About 36 inches in diameter at maximum.
Suited for kids from 3 and up, as well as adults.
6# MD Sports Sumo Match Jumbo Size Sumo Bumper Boppers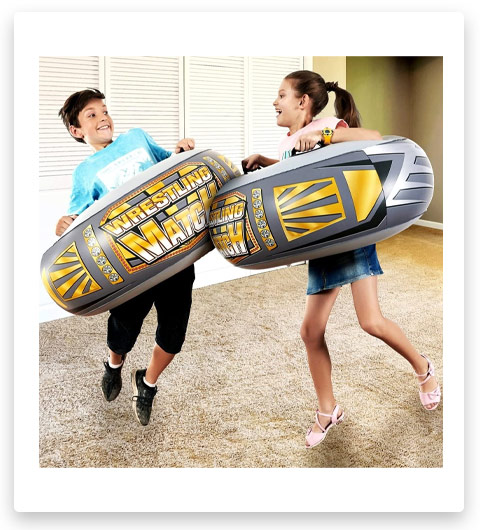 Add some wrestling fun to the list of your indoor activities! With Sumo Match Bumper Boppers, kids and adults alike can brighten up family gatherings with fun body bumping. The waist of these toys is highly adjustable, and it also has plastic handles for better body control. They make sure that anyone can fit in there and use them comfortably.
The package includes two of them, so you won't be left feeling disappointed and lonely when you receive a box with only one bumper Bopper inside. However, the durability and air holding can disappoint you nonetheless. It is also too difficult to blow this thing with air by mouth, let alone two of them. You'll need some additional equipment, like bike pumps. And you'll have to inflate them quite often.
Highlighted features:
Suited for playing at home.
Built-in plastic handles.
For adults and kids from 3 years and up.
7# Happybuy Bumper Bubble Soccer Ball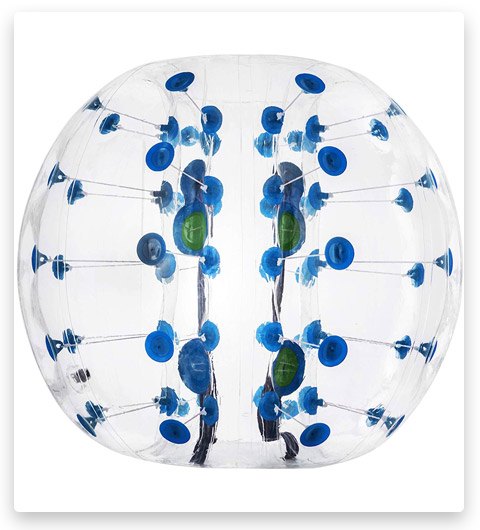 With these Sumo Bumpers, you can be sure your kids are well-protected and entertained while they fight each other in relentless sumo competitions. The toys come in a package of two, including repair patches in case bumpers tear in some places. These playing assets are for the youngest.
I think kids over 7 years won't even fit in there. However, those who do fit will like how comfortable it feels. If you want your children to have some bruiseless sumo fights, you will not make a mistake with this toy!
Highlighted features:
For indoor and outdoor clashes.
Made from vinyl with nylon straps.
It comes in orange and blue colors.
For kids from 3 to 7.
8# SUNSHINEMALL Inflatable Body Bubble Ball Sumo Bumper Bopper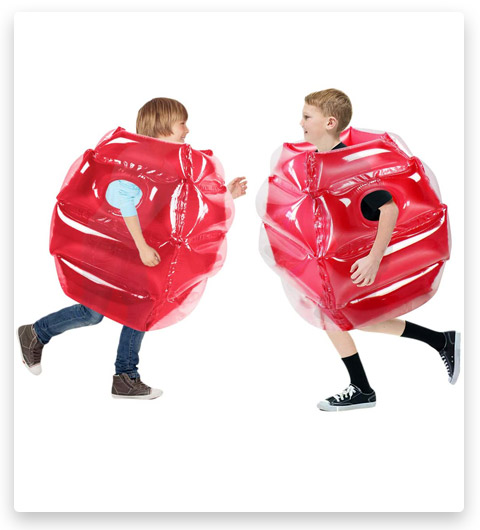 Want a have a good friendly brawl at one of your barbecue parties, birthdays, pool parties, or picnics? Assiduousic's toy is a fun, albeit kind of overpriced addition to the outdoor gatherings. It's easy to inflate without additional accessories, making it very compact. It has a unique bubble-ball design that looks cool and protects your body from accidental injuries. However, your head is left vulnerable since bump-ins will sometimes lead to you, and your opponent's heads butting.
Highlighted features:
Made from PVC material.
For outdoor activities.
Suited for kids and adults.
It comes in green, red, and purple colors.
9# TOLOCO Inflatable Sumo Rider Costume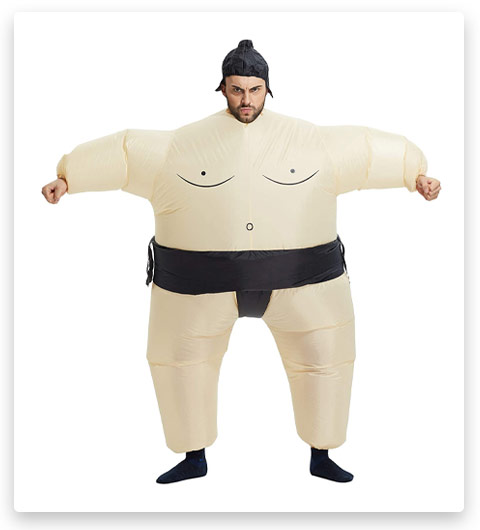 Why should you limit yourself with wearing toys that help you sumo wrestle with each other when you can wear a full-sized sumo fighter costume?
This is a very fun and entertaining toy with a unique design. It even comes with a wig if your kid wants to get into the character entirely. It suits only kids, though you can order the adult version separately. The costume comes with a fan that runs on four AA batteries. It takes not more than a minute to blow it up to the max.
The fan itself is very quiet and does not overheat. Actually, this costume is great not just as a wrestling bumping accessory, but as a great costume as well. Your kid can wear it on costume parties like Halloween without fighting anyone!
Highlighted features:
Made from polyester.
Suited for indoor sumo wrestle.
Require four AA batteries to inflate the costume.
Fit kids from 5 up to 12 years.
10# Sportspower Kids Thunder Bubble Inflatable Soccer Suits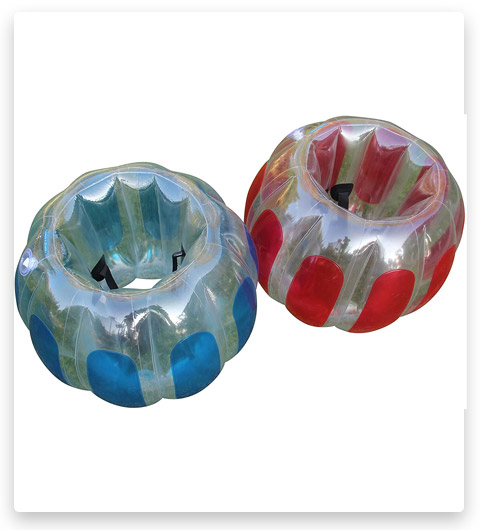 Another body Bopper suited for the smallest ones! Fun Expresses' toy will help your kids to burn some excess energy in the comfiness of your home. The package includes two boppers. Kids will be super-protected by the oversized form of these toys, while plastic handles will make them feel comfortable when crashing into one another.
The price isn't as low as with other similar products. They are also a little hard to inflate without at least a bike pump. However, I advise you not to over-inflate it. These boppers can pop when they are fully pumped if your kids brawl with them too forcefully.
Highlighted features:
For indoor games.
About 13 inches in diameter when fully inflated.
Heavy-duty vinyl and two plastic handles.
For kids from one year and up.
11# PACKGOUT Sumo Bumper Balls Inflatable Body Bubble Ball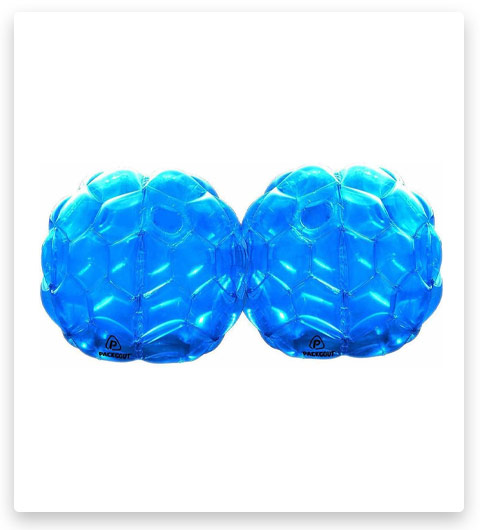 Packgout's bumper balls are suitable for kids of all ages if they want to have some fun in friendly gatherings outdoors. The package also contains two toys, so you won't have to buy them twice. It is better to inflate it with an additional accessory, like a bike pump. These bumper balls are safe to brawl in, and your kids are well guarded against injuries even if they fall.
Playing with them can lighten up every party for you or your kids. However, these toys have a few downsides. The quality of the build is a little poor, which is surprising considering the price tag. And they can pop after a few weeks of use if you are being too hard on them.
Highlighted features:
Made from PVC vinyl and plastic.
Better suited for outdoor games.
Recommended for kids from 5 years and adults.
Conclusion
Out of all products we have looked through, I think the best ones are SUNSHINEMALL's Bumper Balls and TOLOCO's Inflatable Sumo Rider Costume. The last one being my favorite, even though I can only fit into its adult version. If you want to make a fantastic present, your kids will be grateful for these entertaining toys!
Tags: #sumo bumper bopper / #big time toys sumo bumper bopper / #sumo bopper bumper / #how to inflate a sumo bumper bopper / #md sports sumo match jumbo size bumper bopper