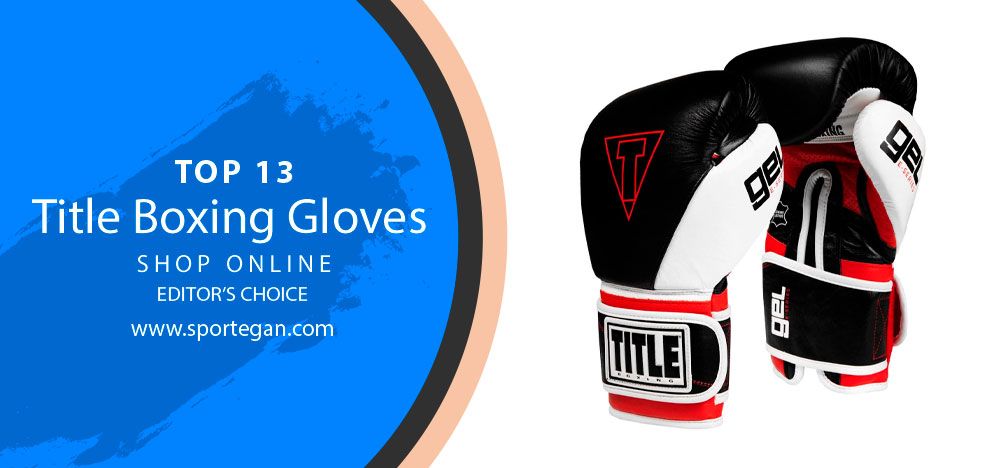 Boxing doesn't forgive mistakes. And this statement concerns not only the rules of sparring but also the choice of sports equipment. The strength of the impact, the protection of the hand from injuries, and your comfort during training depend on the quality of boxing gloves. Therefore, buying a new pair should be taken seriously.
Title is a well-known manufacturer around the world who produces boxing gloves for everyone. They are famous for their unique design, durability, and excellent protection for you and your opponent. In this article, you will read more about the benefits of Title boxing gloves and choose them for yourself.

The 13 Best Title Boxing Gloves – Great Option For All Fighters
1# Title Boxing Pro Style Leather Training Gloves 3.0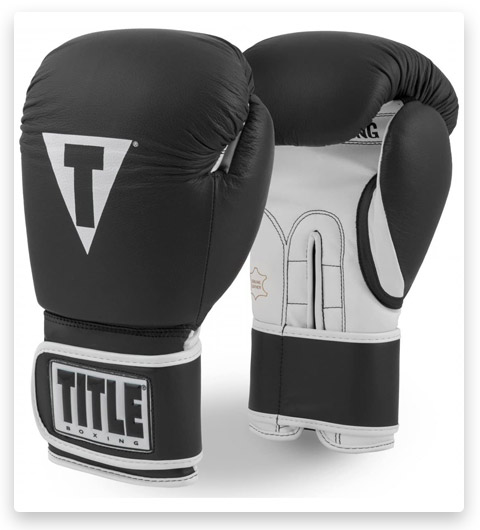 If you don't know which boxing gloves to choose from a variety, then choose this model and you will not be mistaken. They are tough enough to withstand heavy blows and heavy fighting. Your training will be as productive and comfortable as possible for you. They are suitable for both men and women.
They come in 4 colors such as black, pink, red, and blue. They hold their shape and remain in excellent condition for long periods of use thanks to synthetic leather. They sit tight thanks to Velcro. Gloves will not have an unpleasant smell thanks to a nylon lining.
2# TITLE Gel World Bag Gloves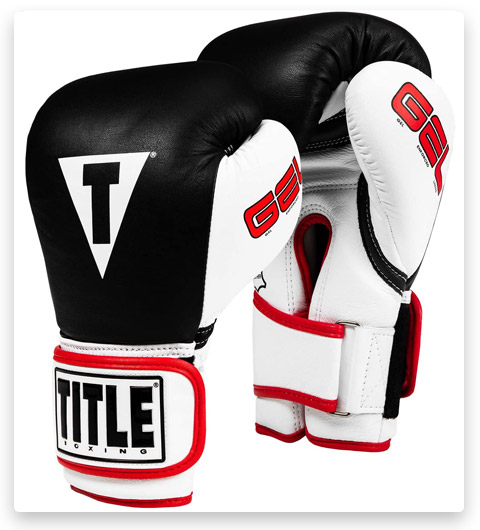 These boxing training gloves were created specifically for strenuous workouts! The target lining, together with a multi-component foam filler, makes these gloves one of the most protected among training gloves. The anatomically correct position of the gloved hand contributes to the correctness and safety of strikes.
Fist clenching is effortless, which saves power. The thumb is protected on both sides by an impressive layer of foam. The glove isn't massive. The wrist is fixed with a wide Velcro on the rubber strap, which determines excellent stability for even greater security. Gloves are made of soft but strong genuine leather of the highest quality. These boxing gloves will open new horizons for you in the training process!
3# Title Classic Boxing Gloves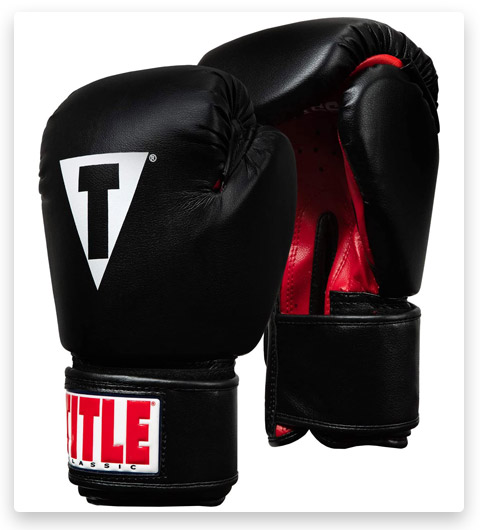 These are classic gloves in black with red bets. This is an ideal boxing glove at an affordable price. The filler of gloves made of two-layer foam with a thickness of 5 cm makes it possible to apply effective blows and protects hands from injuries. Multi-layer foam significantly reduces impact energy.
Strong and wear-resistant artificial leather covers the filler from the outside. This coating isn't inferior in its consumer qualities to genuine leather. The ventilation system inside the gloves will provide a plentiful flow of air. Nylon fabric lining provides moisture repellent and keeps skin dry.
4# Title Boxing Kinetic Aerovent Boxing Gloves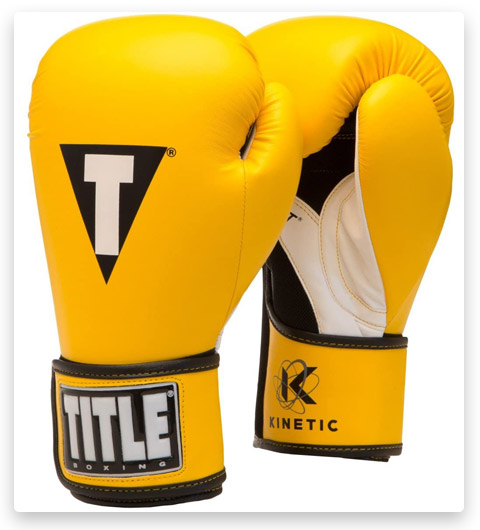 Kinetic energy is the energy of motion. Experience maximum kinetic energy with these molded foam gloves with more than 2-inch, yet resilient, shock-absorbing foam. It's the choice of many athletes, from youth to adults to beginner champions. Kinetic Aerovent gloves are made of synthetic shell, extremely durable and luxurious.
Gloves provide a steady stream of air during training for a colder action. Full wrist protection with a hook and loop keeps the gloves tight and durable. Moisture-absorbing glove pad helps keep your hands dry during the action.
5# Title Boxing American Heart Association Bag Gloves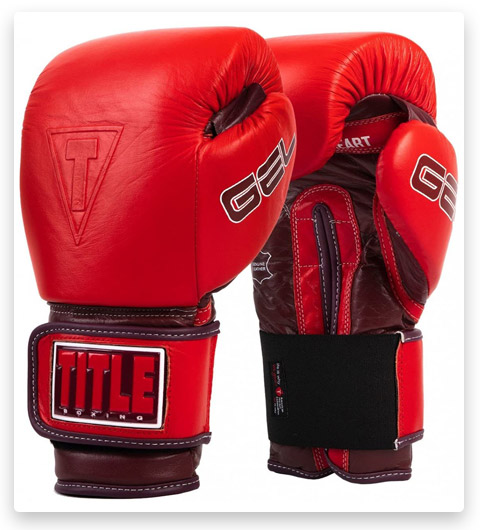 These gloves are made of high-quality genuine leather. Your arms will feel great throughout your workout. The gel layer provides the perfect shape for your fist, excellent shock absorption for your joints. The fixing strap is also made of genuine leather with Velcro with a large odor for tight fixing on the hand. Your hands will not sweat due to the water-repellent lining.
6# Title Boxing Tie-Dye Bag Gloves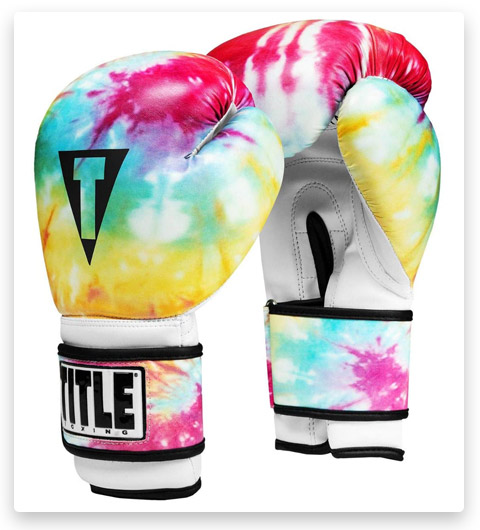 It's hard to pass by such a striking design. It attracts attention and inspires new victories. They fit perfectly on the hand thanks to a stable strap. They are fastened with a hook and loop. Forget about discomfort and sweating while wearing gloves. These gloves have a moisture-absorbing layer. Sizes are available from small to X-large.
7# Title Boxing Black Training Gloves 2.0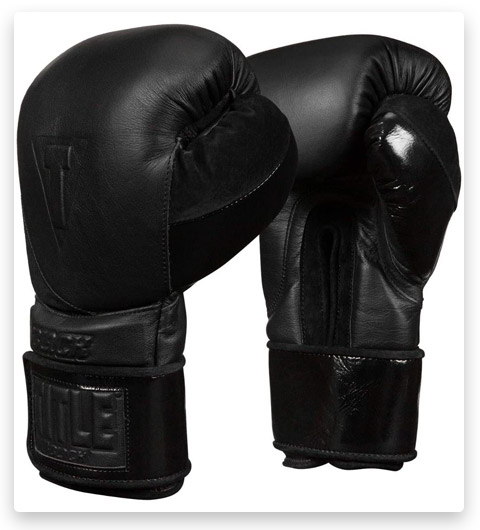 Boxing gloves made entirely in black will look cool and stern on your hands. Your adversary will immediately understand that he will have a hard time. Title Black Training Gloves 2.0 boxing gloves are made of matte, glossy leather, and suede.
As a filler, 2 layers of foam with different densities. Glove shape, perfectly matched to a clenched fist. Reliable fixation of the hand, protects against injuries, even when working on the heaviest shells. The special lining keeps your hands dry with long sparring and training.
8# Title Boxing Tribute Bag Gloves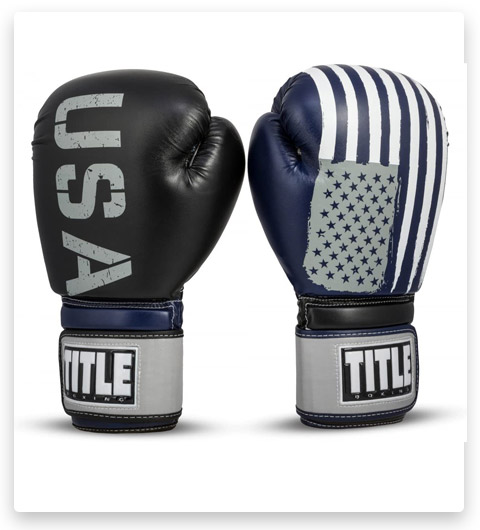 This model of boxing gloves sits firmly on the hands, doesn't slip. Thanks to the hook and loop, the gloves sit steadily on the hands. Durability and reliability are ensured by synthetic leather. Wearing these gloves, you will feel comfortable and confident.
9# Title Boxing Gel E-Series Boxing Gloves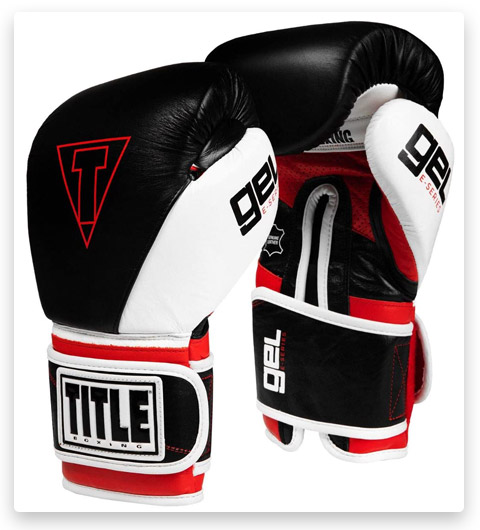 The material of the gloves is high-quality leather. The inside of the gloves is made of nylon fabric with a mesh insert. The stuffing material of the gloves is a mixture of a three-layer foam and a gel layer. The mounting method is Velcro.
The manufacturer took care of maximum protection and comfort. Wearing gloves for the first time you will feel pleasant coolness and softness. Due to the gel inserts on the cuff, the glove confidently holds the wrist, preventing the joint from bending.
10# Title Platinum Proclaim Training Gloves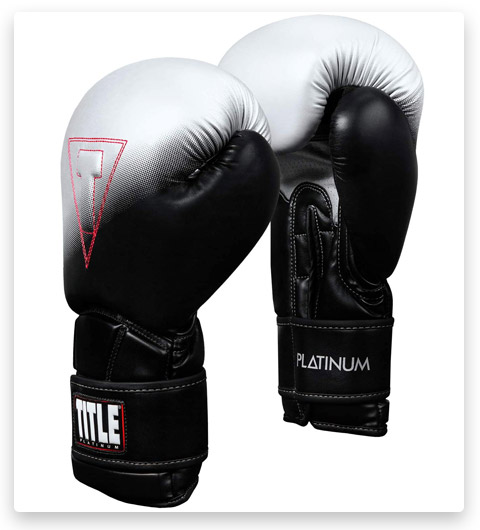 A modern model of training gloves made for professional training and sparring. Sophisticated design with anatomically correct fit and natural position of the athlete's hands. A brilliant combination of high-strength and elastic protective foam with high-quality leatherette provides excellent protective performance gloves.
This material is particularly durable and smooth, which is why it is used in the manufacture of sports equipment. Convenient Velcro tightly holds gloves on their hands. A built-in special pad on the upper part of the palm provides air circulation, prevents the hands from overheating, and keeps them dry during training.
11# Title Boxing Patriot Bag Gloves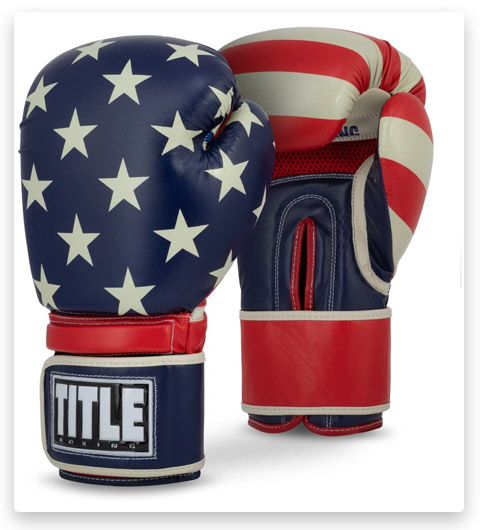 This model of boxing gloves is popular among prominent athletes. Their design resembles the American flag and looks patriotic. In addition to their cool design, these gloves are of high quality. They are made of synthetic leather which is capable of taking strong shocks.
12# Title Gold Series Surpass Bag Gloves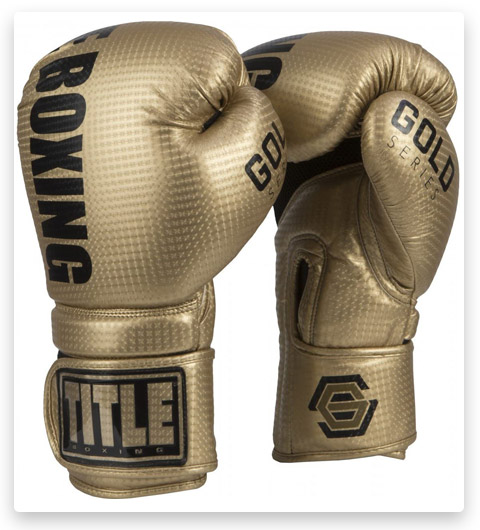 This is a TITLE limited edition boxing glove line. A masterful combination of durable artificial leather, thermo-foam, and nylon mesh for high-quality construction. A wide working surface of the gloves provides the convenience of any type of training. Built-in mesh for excellent ventilation of the hands and greater comfort.
13# Title Boxing Ali Infused Foam Training Gloves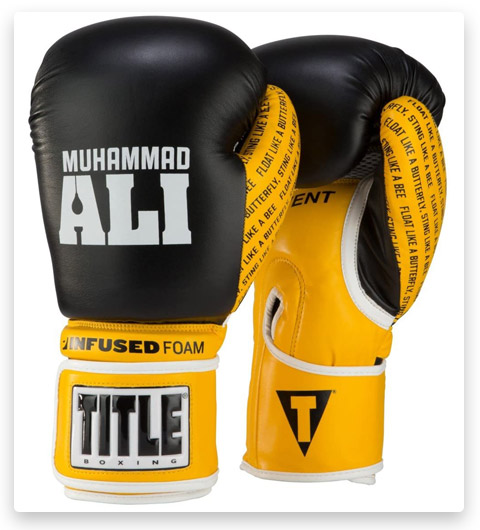 Title Ali Infused Foam boxing gloves are made in an exclusive design, with a softer, more impact-resistant filler for all performance requirements, protecting the athlete in his training and training on boxing bags. Molded foam filler to protect hands with any kind of training. Gloves are covered with eco-leather of high quality, which increases strength and durability. Wide lock-cuffs in one revolution.
Advantage of Title Boxing Gloves
Title is a favorite brand for many professional athletes and amateurs. And it's not just that. They provide an excellent blow and at the same time protect your opponent from injuries during the blows. The Title collection has models for both men and women, as well as for children. Everyone will be able to find a suitable size because they have all sizes. You will feel confident, comfortable with such boxing gloves. They are made of excellent materials that will last you for many years even with intense training.
Protection
In the manufacture of gloves, only high-quality leather is used, which is durable as iron. The combination of a gel pad of a filler, high-quality leather, and an ergonomically optimized foam filler allows you to deliver heavy blows to punching bags and opponents without the risk of damage to the wrist. Such boxing gloves are distinguished by quality, reliability, manufacturability, and comfort. The correct position of the hand in the glove, in which there is no need to exert effort to compress the fist. The purchase of Title boxing gloves can be considered as a kind of investment, which will gradually work out its value by 100%.
Design and Color
Boxing gloves are distinguished by their conspicuous design and the presence of various colors. Everyone will find something to their taste and preferences. You can choose a more restrained design and color, or vice versa something bright and attracting attention. There are colors for men and women, girls and boys.

The brand logo is placed on gloves as a design and it looks very stylish and appropriate. The brand logo hints to your opponent that it's better not to joke with you. Their design implies the presence of satin nylon as a lining. This suggests that you really will be comfortable training in these gloves. Your hands will not sweat and the material will not cause skin irritation. The leather is treated in such a way that the gloves look great even after many years of use.
Comfort and Use
You will find Title boxing gloves very comfortable. When you put them on, you feel how pleasantly your fingers and wrist are located inside, how good and comfortable they feel there. Having picked the right size, you won't almost feel them on your hand. Gloves don't make your hands heavy. Everyone will be able to find their size thanks to the wide dimension line. Therefore, Title boxing gloves are popular not only among men but also among women and children.
Gloves sit perfectly on the hands and don't fall off during training. The manufacturer took care of a quality fastener. Thus, the gloves sit securely. They support your hands so that you don't get injured during bumps. You can choose boxing gloves with different padding. They can be filled with gel or with multi-layer packing. If you are looking for gloves for working out complex and heavy blows, then it is better to choose multilayer packing. The gel is designed to soften the shock.
Material
Title boxing gloves are made of leather which provides durability. They don't wear out and look great even after intensive use. It is pleasant to the skin, doesn't cause irritation, and is soft. Gloves don't lose their shape even if you don't train for a certain amount of time.
Conclusion
Title is a paradise for boxers who are looking for not just a means of protecting their hands but also want to get really high-quality boxing gloves that meet the highest requirements. The gloves of this brand have repeatedly brought victory to their owners and prevented injuries during wrestling or practicing blows. If you are looking for durable and comfortable boxing gloves, then choose models from Title.
Tags: #title boxing gloves / #title boxing gloves classic / #title boxing gloves gel / #title boxing pro style leather training gloves / #where to buy title boxing gloves / #how much do title boxing gloves cost