Sportegan's Editors independently research, test, and rate the best products. We may earn a commission through products purchased using links on this page.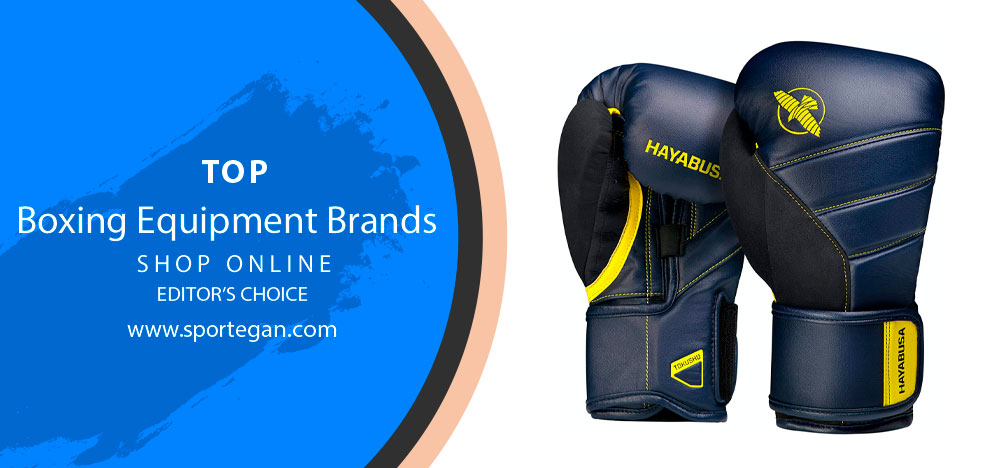 Boxing is one of the most beautiful, spectacular, but one of the most traumatic kinds of sports. If you want to start in this sport or are already doing it, then choosing the right boxing equipment is a key factor that you need to pay attention to.

Indeed, not only your health but also the effectiveness of your training in the gym depends on choosing the right equipment. In this article, we'll consider the best brands of boxing equipment, tell you how to choose the right equipment and what it is for. What types of boxing equipment are there? What do you need for boxing?
For serious boxing training you will need:
Boxing gloves;
Boxing helmet;
Boxing clothes;
Boxing hand wraps;
Boxing mouthguard;
Boxing shoes;
Shell boxing gloves;
Female chest protector;
Jump rope;
Boxing reflex ball set;
Boxing mitts;
Boxing body protector;
Boxing protector head;
Deodorizers for boxing.
First of all, you need to take care of protecting your head, hands, and teeth. If you can't purchase all the equipment at once, then first buy gloves, wraps, a head guard, a mouthguard, and, if possible, clothing. Other items can be purchased later.
1. Boxing Gloves
All boxers train with gloves on. Gloves are the first level of protection for your hands. This is the thing that softens the punches, not allowing your bones to break, and the joints to dislocate. Also, gloves soften punches on your partner, which allows you to stay in sparing longer.

Gloves can be selected in size and weight. By size, choose a glove so that the hand feels comfortable inside. The glove shouldn't be too big or too small. By weight, gloves are measured in ounces, from 10 to 20 ounces. Amateur boxers mostly fight in 12 oz. gloves, this is a good weight for beginners. But it's better to train with 14-ounces gloves because firstly, a large area of ​​ punches is formed and it's easier for the opponent to take your punches. Secondly, it hurts your bones less.
Gloves come with a closed palm or ventilation net. For training in the gym, it's more convenient to use gloves with a ventilation net, but this doesn't really help, because, as a rule, your hands are wrapped. Therefore, it's better to always take gloves with a closed hand. If you're engaged professionally, then always check that the gloves are seamless and stitched everywhere. Otherwise, when working at high speeds, these seams leave scratches and cuts on the opponent's face skin. Also, when choosing gloves, you need to be guided by your weight and the class in which you box.
Top 5 Best Boxing Gloves Brands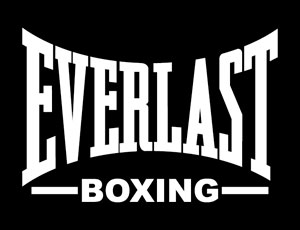 #1 Everlast Gloves (USA) – Even the best boxing glove companies consider Everlast the most recognizable brand, which propelled them to the very top of this rating. From the positive qualities, I can list all: ease of use in fights and training, strength and reliability with durability, reliable hold on hands, high-quality materials, etc.
Each pair of Everlast has a special lining that repels moisture, and a layer with partial or full (depending on price) ventilation for maximum comfort during long-term punch training. The gloves are equipped with a Protex 3 retainer, which prevents microtrauma of fingers and joints, which makes the Everlast a premium. And the price range can satisfy any boxer.
The most popular gloves of the company: Amateur Competition, Powerlock Hook, Pro-Style Elite.
---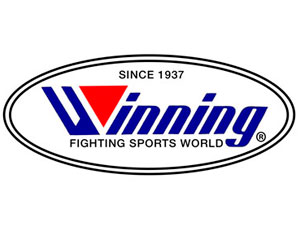 #2 Winning Gloves (Japan) – This company is a "long-liver" in the market. It began its production in 1937. Since then, they've been producing handmade boxing gloves based on classic technologies that have been tested for decades. Professional boxers note that the models of this company can "live" up to 5 or more years. Moreover, then you can easily use it for about the same period, but only for training.
Stronghold of the hand, manual molding, and incredible ease of use make them indispensable for long-term work in any ring. They are not produced to "high standards", their cost is quite high, but they help to quickly recoup investments. Winning gloves have only one lineup – Pro Boxing, which is distinguished by its appearance only.
---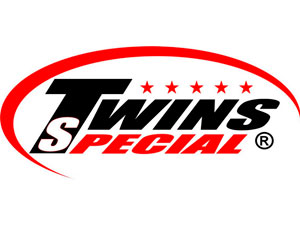 #3 Twins Gloves (Thailand) – Based on reviews from martial artists, Twins offers the best sparring kits. The company is slightly inferior to its main competitors in terms of comfort but comes out on top in terms of the strength of fixation on the hand. This is important for long sets.
The outer layer of these gloves is genuine leather, because of which the price is higher than the average market price. But this gives a guarantee of longevity, even with tough, intense training, which eliminates the need to often buy new boxing pairs. Models from Twins aren't very technologically advanced (when compared with "tricked out" brands like Adidas), but the classic technologies underlying them play a decisive role. They are very popular in many types of martial arts. The most purchased model is the Twins Special. On the market, it can be found in a wide variety of variations on coloring.
---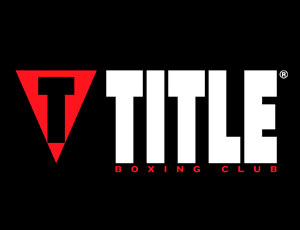 #4 Title Boxing Gloves (USA) – A bright participant in the rating with gloves designed for reliable protection of the hand, due to the presence of a multilayer protective filler. They perfectly absorb punch, reducing the momentum of return – nullify its effect on the hand. Models are used for sparring and practicing punches.
For their high-quality gloves, a layer of absorbent nylon is realized, which absorbs sweat. Such equipment will last for many years, as it's designed for long, exhausting workouts. Price quality. In this regard, Title Boxing is one of the best on the market, and compare them with the "giants" of the Winning and Everlast plan.
Boxers of all ranks most often acquire models: Gel suspension, Gel rush, Black blitz.
---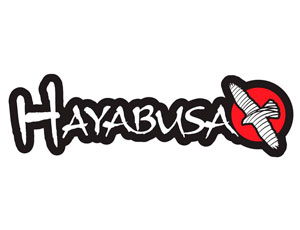 #5 Hayabusa Gloves (Japan) – Hayabusa gloves are the most comfortable since the company pays maximum attention to the durability of the coating material, and the ease of use of equipment in a fight. And who, if not the Japanese, can compete with any company in these respects. Even in a niche that is a little non-specific for them. All models of the company have a nylon lining, and a liner compartment, which helps to perfectly vary the amount of internal moisture.
That is, each boxer can "tune" the product to his own hands, which won't give them sweat much during hours of training. Another difference is the support of the wrist with a closed triple cuff, which is in each pair of the entire assortment. Moreover, low-cost models are made of high-quality material (leather or substitute), which is tested for strength before the sale and retains it for many years.
Most popular pairs: Sports Line, Winged, T3.
---
TOP 3 Best Boxing Gloves
1# Ringside Apex Boxing Gloves Gel Sparring Punching Bag Mitts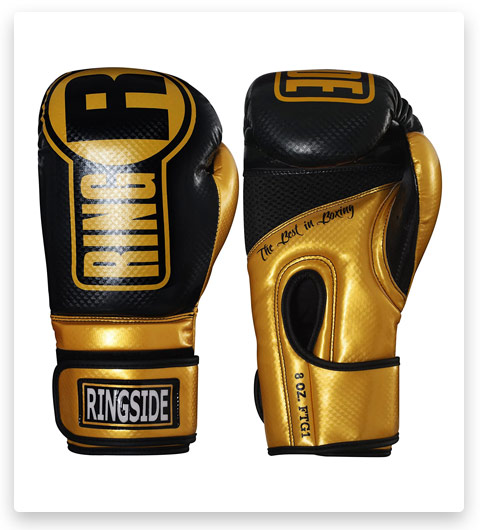 Boxing gloves from Ringside on 10/12 ounces are perfect for training for both beginners and professional boxers. The model is presented in 2 sizes: S/M and L/XL, and 13 colors. Gloves have a ventilating grid for more convenient ventilation. The fastening method is a sticky clasp, which is rather well stitched and provides quick putting on and removing the glove. Also, gloves have a Stay-Dry lining that protects the inside of the glove from moisture and sweat, allowing them to dry quickly. The material of the outer surface is a high-quality leatherette that is durable and easy to replace.
2# Everlast Pro Style Boxing Gloves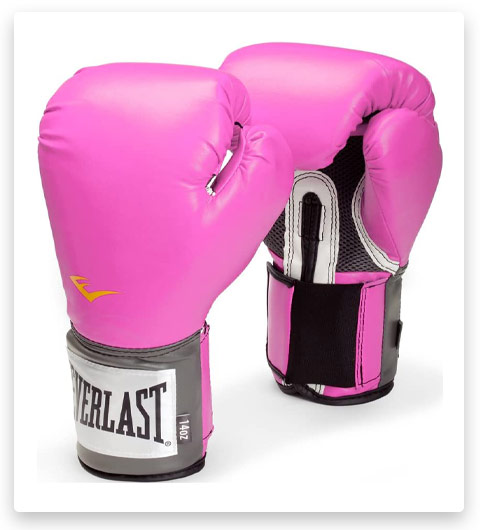 Everlast gloves are also made with velcro, but already on a much denser and wider one. This allows you to fix your wrist much better and minimize the risk of injury. This model is available in all sizes – from 8 to 16 ounces. Almost the entire inner surface of the palm is equipped with a ventilation grid, which prevents sweat from accumulating inside and increases the service life of the gloves and the drying speed. Also, gloves are protected by a special antimicrobial layer inside, which removes all unpleasant odors. Another plus is that the gloves have few seams and they are all well stitched and hidden. The packing inside the foam consists of two layers for the best punch absorption. Made of durable synthetic leather.
3# Venum Contender Boxing Gloves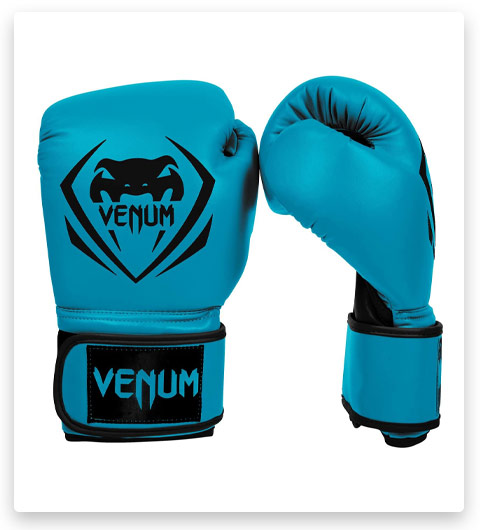 This model is made with a fully closed palm. In these gloves professional boxers train. Ventilation is provided by 4 small holes in the palm of your hand. Otherwise, the glove is completely tight. The material of the gloves is a leather substitute. I also like that the gloves are big enough and the hand is perfectly amortized during a punch. Gloves are fastened with a fastener that fixes the carpal joint well. The model is available in 13 colors and all weights – from 8 to 16 ounces.
2. Boxing Helmet
The second thing you need to protect is your head.  This is the part of the body that most often gets punches. And if the punch to the body can be endured, then one good punch to the chin can greatly injure you.

Helmets are divided into leather and vinyl. Visually, there's no difference between them. The only difference is the tactile sensation of the material. Also, some people may be allergic to vinyl. Therefore, I always recommend leather equipment. Such helmets are more durable and odorless.
Helmets are also divided into open and closed. Open helmets are used mainly in tournaments. Therefore, for training and better protection, use a closed helmet. The peculiarity of closed helmets is that they cover most of the face, as well as the nose and cheeks. Thus, if you get a punch under the eye you'll at least have no hematoma and your eyes will be protected.

A very important point in the helmet is the auricle. If the fist gets into the ear, the ear cartilage may break. Consequently, redness and pain will be caused, and the eardrum may even burst. Make sure that the ear protection is also in the shell. Helmets vary in size in literal meaning (e.g. S, M, L). To determine the size, it is enough to measure the head circumference on the forehead and the back of the head, and then compare it with the size chart from the manufacturer.
Top 5 Best Boxing Helmets Brands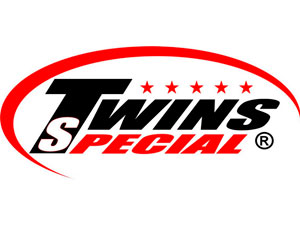 #1 Twins – The favorite of our rating – providing the highest possible protection, a boxing helmet with a bumper and chin protection! Legendary quality, natural materials and the convenience of fitting in size, and therefore wearing comfort – we put it in the first place. Their only minus is a rather high price, which, nevertheless, is compensated by the above advantages.
---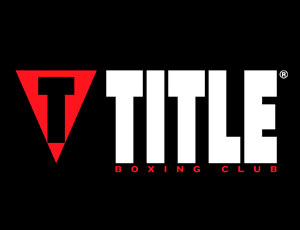 #2 Title – The world's most popular boxing helmets from the well-known manufacturer of boxing goods Title. Available in several versions – with and without chin protection (full face). The massive solid silicone filler is one of the thickest I've seen.
It softens punches very well and is practically not felt on the head. The eyes and the area below them are equally well protected. Due to the filler, it looks a little "chubby", but this doesn't affect its lightness. This is the highest level of professional protection and quality from the world leader in boxing products.
---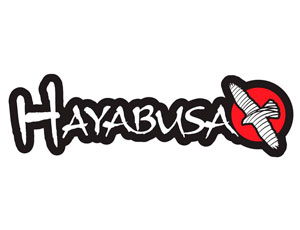 #3 Hayabusa – Closes our top three, Hayabusa. Inside, they are decorated with antimicrobial tissue with ventilation, the bumper doesn't interfere with the vision. The price is quite high, but for an athlete who literally values his face, nothing could be better.
---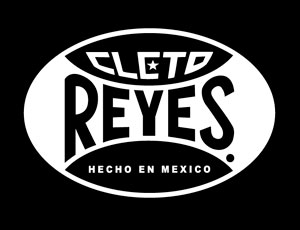 #4 Cleto Reyes – These helmets provide one of the best levels of protection that bumper-less helmets can provide. Fully leather, with reinforced cheekbones and forehead, they provide excellent visibility. Made by hand in Mexico, made from delicate but durable goatskin. Traditional, quality and cool looking.
---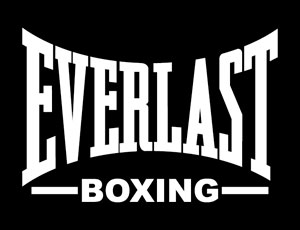 #5 Everlast – Everlast helmets have extraordinary lightness and comfort. These are open-chin boxing helmets made specifically for classic boxing sparring. The mesh base allows the skin to breathe while providing a high level of protection. These helmets are available in two versions: the frontal part is made of genuine leather. Very affordable.
---
Top 3 Best Boxing Helmets For Training
1# MaxxMMA Boxing Helmet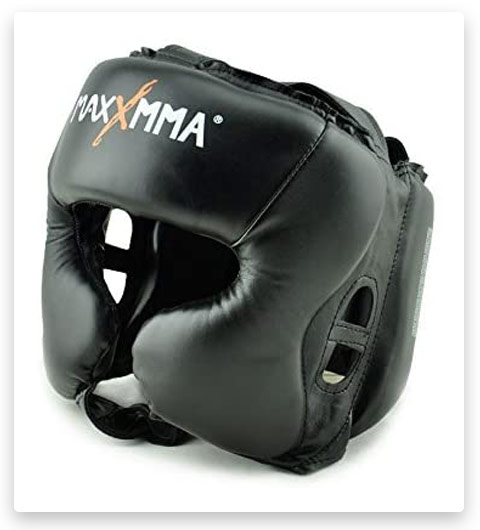 Classic helmet for boxing with a full head coverage of 360 degrees. The helmet is fastened with Velcro, filled with thick, punch-absorbing foam. Very thick frontal and lateral jaw protection. There is no chin protection, only a small rubber pad underneath. The helmet also has additional protection for the cheeks and eyes, which prevents you from getting injured during training. The helmet has rubber bands on the ears, keeping your ears safe.
2# Everlast Everfresh Boxing Helmet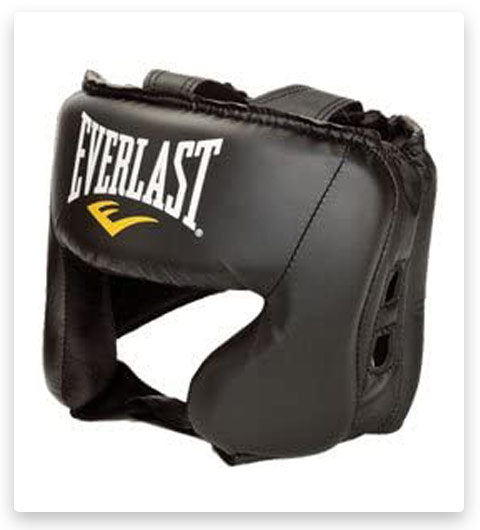 Everlast helmet with an adjustable chin strap. But in general, the lower jaw is almost not protected by a soft pad. What's it for? In order for you to train to remove your chin during sparring, and the opponent could not easily shock you with a punch to the jaw. The helmet is made in diamond black and has powerful protection for the cheeks and forehead. Ear protection is also provided to protect your cartilage and eardrum.
3# Cleto Reyes Traditional Boxing Helmet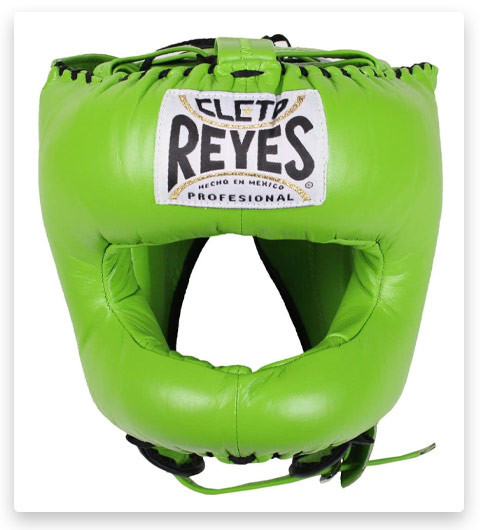 It's the safest and most protected helmet for training. It has a bumper that protects your eyes, chin, nose, and cheeks. The helmet has a wide Velcro on the back, fits very tightly to the head, but doesn't press, and sits comfortably. Also, the helmet provides maximum protection for your upper temples and ears, because it has large auricles with filler. The helmet is hypoallergenic and made of genuine leather, both inside and out. The viewing angle, despite the bumper, is maximum. When I put it on, I didn't find a single-blind spot for me. But it all depends on the size of your head. In general, this is a very good helmet for both beginners and professionals. Available in 11 color combinations. Recommended for purchase.
3. Boxing Clothes
In boxing, you can train in any sportswear in which you feel comfortable. But to enter a professional ring or to participate in competitions there is a special boxing uniform. In this form, lightweight, breathable materials and a loose fit that does not interfere with the movement of boxers are usually used.

The boxing kit according to international amateur boxing rules consists of a T-shirt and underpants, blue or red, depending on the angle of the ring with mandatory certification. Professional boxers perform only in boxing shorts (underpants). In the choice of models and colors, they are almost unlimited. Girls can use tight-fitting tops instead of a T-shirt, and a short skirt instead of underpants. The size of the form for boxing is measured in literal value (for example, XS, S, M, L, XL) and corresponds to the growth of athletes.
TOP 5 Best Boxing Clothes Brands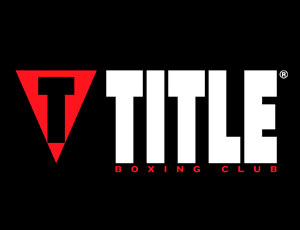 #1 Title – Title boxing uniform, like other types of equipment, is made of high-quality and lightweight material. Mostly, the uniform form sets consist of shirts and shorts. The title perfectly combines the moisture-repellent microfiber, polyester, and its unique AeroVent air exchange technology in its clothes. Besides, Title offers you a 2-in-1 form so you don't have to choose between red and blue.
---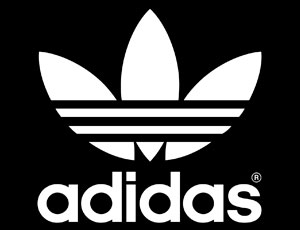 #2 Adidas – Adidas has more expensive, but very high-quality sets of boxing clothes. Traditionally, Adidas offers you a double set of clothing from shirts and shorts. Adidas clothes use ClimaLite technology, which provides the process of moisture release, and the skin allows you to breathe freely and easily. Light, breathing tissues in direct contact with the skin surface remove sweat from it, providing a feeling of dryness and coolness in hot weather. Adidas uniform provides maximum comfort for the fighter.
---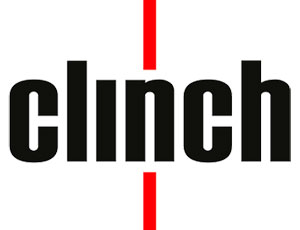 #3 Clinch – Clinch boxing clothing is one of the most affordable. Clinch sits perfectly on the body, not restricting movements due to its structure and material. Light and strong fabric structure contribute to the rapid release and evaporation of moisture, and clothing is made to all standards. Clinch clothing material is mainly 100% polyester.
---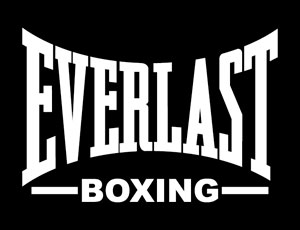 #4 Everlast – The Everlast boxing uniform uses a classic cover with a modern design. The special tailoring of the shirt provides you with complete comfort in the ring and prevents slipping and twisting. The ventilation systems and breathable structures that makeup Everlast EverCool performance technology are the ultimate sources of temperature control.
---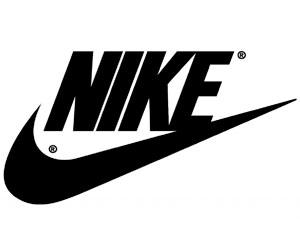 #5 Nike – Nike clothing is designed for maximum comfort during training. Undershirts are made of special Nike Dry Fit material (lightweight, breathable, quick-absorbing material). The shape of the T-shirt has a T-silhouette so as not to constrain the shoulders during movement. Shorts are made of 100% polyester and also absorb moisture very quickly for maximum comfort boxer.
---
Top 4 Best Boxing Clothes
1# Title Boxing Aerovent Elite Amateur Boxing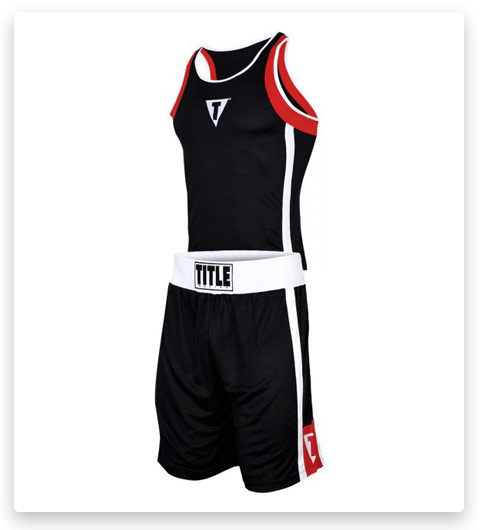 Clothing Title Boxing Elite Set 4 is designed for training in the gym and is made in an elegant black design. Either black and red or black and blue are available for purchase. The title uses an absorbent microfiber lining to combat moisture. For better ventilation, the well-known Title Aerovent technology is used here. Extra-long boxing shorts have a wide elastic 4-inch belt for 7 strands.
2# Ringside Elite Boxing Clothes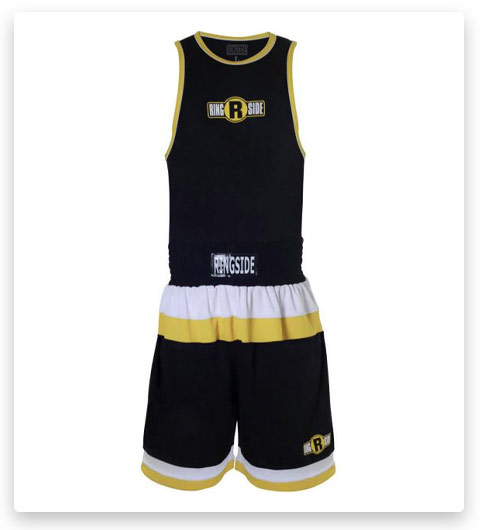 The Ringside clothes are available in two forms: with a narrow shirt and short shorts or with a wider shirt and long boxing shorts. The first type is made in black and gold colors, the second in red and blue. I recommend the second because it's closer to the clothes that are used in tournaments. The clothes are made of lightweight fabric made of 100% polyester with Sweat Tech technology for additional ventilation of the body. The shirt has a special T-shape so that it can't slip during the fight. Shorts have a tight 4-inch belt and an inner drawstring for greater security.
3# Anthem Athletic Classic Boxing Shorts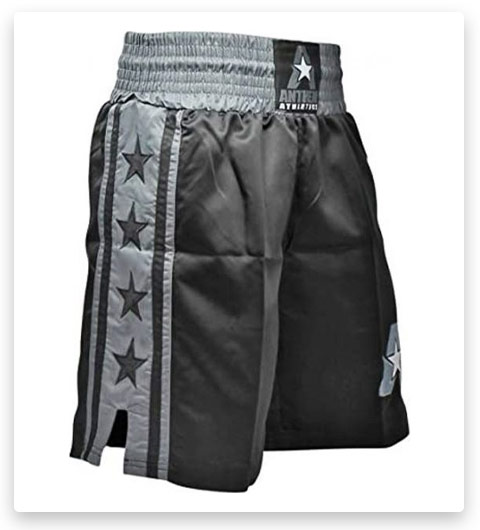 If you only need boxing shorts, then Anthem clothing is the best thing for you. Shorts are available in 11 colors – from classic red and blue to brutal black. Shorts are made of ultralight, highly productive fiber that can withstand any wash. The traditional 4-inch belt has ties near the knee for a perfect fit. The logo is embroidered, not glued, so it doesn't break and doesn't crack after a couple of washings.
4# Ringside Pro-Style Boxing Shorts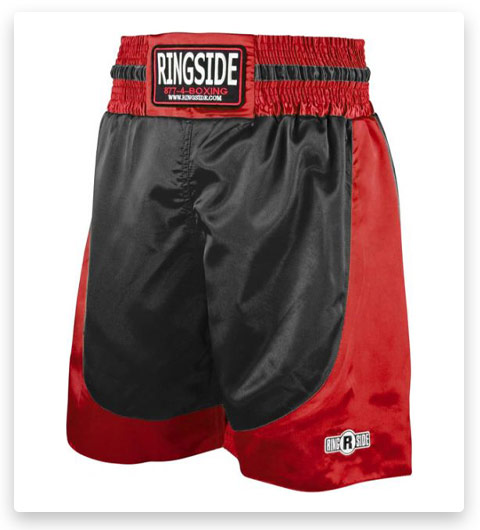 If you need longer and thicker shorts, for example, for kickboxing, then you should look at the shorts from Ringside. They are available in 9 different colors, have an embroidered logo that does not crack and does not break after washing. The shorts are made of lightweight, ventilated polyester, which allows the legs to breathe freely during training. Also, the shorts are equipped with an internal backstage for greater protection and a perfect fit.
4. Boxing Hand Wraps – Boxing Hand Bandage
Bandages are another very important layer of protection for your hands. They fix your joints and fingers, preventing fractures and dislocations, and the skin on the fist erases much less during training. Besides, the bandages absorb sweat, thereby preserving boxing gloves and increasing their service life.
The bandages are made of 100% cotton or cotton combined with polyester, which gives the elasticity of the bandages. All commercially available bandages are equipped with a finger loop on one side and Velcro for fixing on the other. Boxing bandages vary in length, the most common are 120 and 180 inches. There are also standard in 160 and 175 inches. Choose a bandage depending on the size of your hand.
If you choose a bandage for a child or you're a girl with a small hand, then a 120-inch bandage will be enough for you. If you're a man or teenager with a large, mature arm, then take 180 inches. Each company produces elastic, medium elastic and inelastic bandages. So you can choose the appropriate bandages from any manufacturer.
Personally, I use medium elastic bandages, because they're the most comfortable for me. Cotton bandages are very difficult to wind up and guess the tension. These are the old-school bandages that our fathers used in boxing. Elastic bandages, on the contrary, don't squeeze the hand enough and already in 2-3 rounds, the hand begins to go numb. Read on how to properly wrap bandages on your hand at the end of the article.
TOP 5 Best Boxing Bandage Brands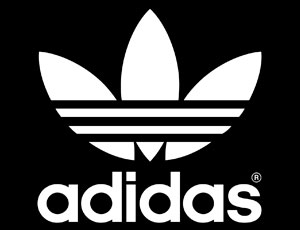 #1 Adidas – In the production of bandages, in my opinion, Adidas is the leader. They produce classic Velcro bandages at an affordable price. True, they move slightly away from the accepted length and make 155, 115, and 80-inch bandages. Adidas bandages are made of cotton or elastane, depending on the type of boxing bandage. Primary colors – black, blue, red. The quality of these bandages is very high, they are made in Germany and can last you up to 3 years with constant use and washing.
---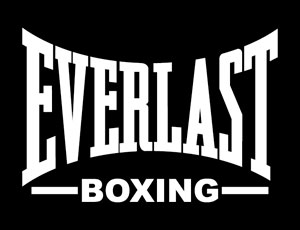 #2 Everlast – The quality of the material from Everlast bandages guarantees reliable fixation of the hand and staple. Convenient finger ring and Velcro fasten the bandage securely on your hand. Everlast bandages start at 80 inches. The lineup has both classic sizes and custom solutions. Bandages are practically unpretentious in leaving, they can be washed, ironed, and dried in the sun. The average wear time for such bandages is from 6 months to 2-3 years, depending on the model and use.
---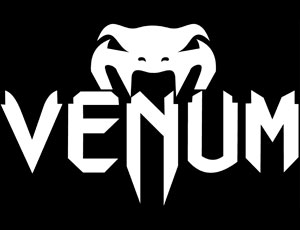 #3 Venum – The Venum brand wrist and hand protection attribute is made of natural fabric with the addition of nylon threads, which doesn't interfere with the access of air to the skin of the hands. It absorbs sweat well. The fastening strength is provided by Velcro. On the outside of the glove, the Venum logo is displayed. Venum is different in that it has a lot of colors and coloring of bandages in the line, as well as a very large number of sizes.
---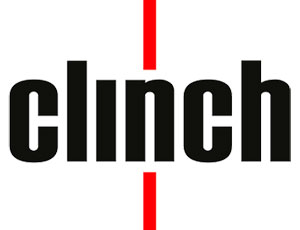 #4 Clinch – Popular models of bandages from one of the best manufacturers are reliable and inexpensive protection of the skin of the hands and all joints of the hand and wrist. It helps reduce the risk of injury. They provide rigid fixation of the wrist. They have a loop on one edge of the tape and a hook or Velcro on the other edge. The Clinch brand is one of the best in terms of price and quality.
---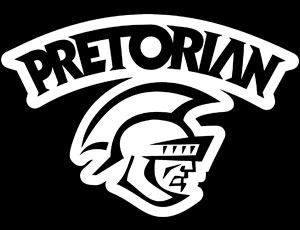 #5 Pretorian – Pretorian boxing bandages from a young Brazilian brand that invests in their product not for advertising, but for the development of sports in their country. They are one of the most affordable and cheapest brands, but they are not of the worst quality. All classic sizes and all kinds of bandage elasticity are available.
---
Top 3 Best Boxing Bandages
1# Sanabul Elastic Professional Hand Wraps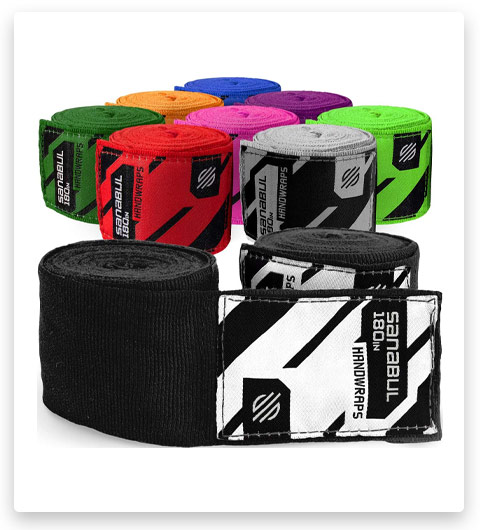 Elastic boxing bandages from Sanabul are available in 6 colors and have a size of 180 inches. Made from an elastic polyester material that absorbs moisture well and dries quickly. After washing, these bandages do not need to be ironed, because they retain their shape well. The elasticity of the bandages is very good; they provide a tight hold on the hand, unlike many other elastic bandages.
2# Meister Adult Hand Wraps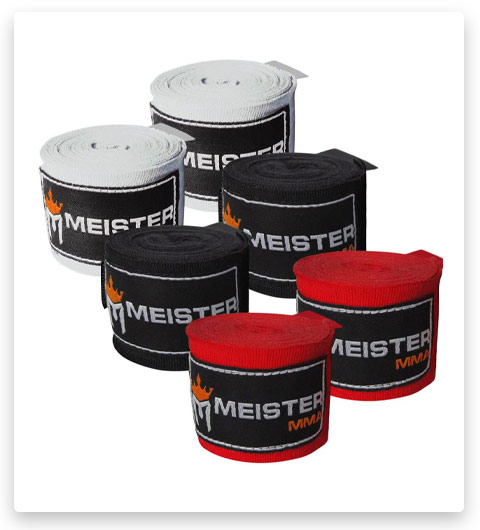 This is a medium elastic bandage from Meister. Made from a blend of cotton and spandex, they provide maximum comfort and hold to your hand. These bandages have an enlarged Velcro strap and a sturdy thumb loop so that the fixation is strong and you feel comfortable bandaging. Three pairs of bandages come in three colors – white, black, and red.
3# Everlast Professional Hand Wraps
The best boxing bandages on this list are the Everlast bandages. Available in 12 different colors, these bandages have two standard sizes – 120 and 180 inches. These bandages have mid-level elasticity and are made from a mixture of nylon and polyester. They have Everlast Fresh coating popular with Everlast, which protects against germs and perfectly absorbs moisture and sweat. Also, this coating perfectly absorbs odors, leaving your equipment always fresh.
5. Boxing Mouthguard
Do not ignore such an affordable security feature as a mouthguard. It allows you to protect your tongue, teeth, gums, lips, and cheeks. If you practice without a mouthguard, then when a fist punches the jaw, your lips or cheeks beat on the inside with fangs and cuts form. There are times when a lip or cheek is bitten through. This is very uncomfortable, then the lips swell and it hurts to eat.
Besides, without using a mouthguard, your teeth can form a chip and damage the enamel. In the worst case, you may lose your tooth. Then it's much more expensive to treat your teeth than just buy a mouthguard. The most common is the single mouthguard – protects the upper row of teeth, but there are also double mouthguards that protect both the upper and lower row of teeth. But through double mouthguards is very difficult to breathe. In tournaments, these are usually not used.

Maxillary mouthguards are hot-melt and non-hot-melt. Non-fusible mouthguards are best not to wear at all because they won't take the desired shape of your jaw. These are the wrong mouthguards, most often Chinese fakes. Only one good type of non-hot-melt mouthguard exists for bracket systems. They're made of silicone and are usually more expensive than usual. But they are very comfortable to wear with brackets. A good hot-melt mouthguard should have a fairly high front wall because the front wall reduces the load on the front teeth upon punch.
The mouthguard should fit snugly on the teeth, not fall off and not impede breathing. No matter how perfectly the mouthguard fits on your teeth, you still need time to get used to it in training. Initially, many mouthguards can cause a gag reflex. In this case, mouthguards with special taste qualities (for example, mouthguards with mint flavor) are saved, which are preserved throughout the entire service life.
Also, you can order an individual mouthguard from a mold of your teeth. This is the best option. Such a mouthguard will ideally sit in your mouth, you'll practically not feel it. After buying, you need to "boil" the cap. Read how to do it right at the end of the article.
TOP 3 Best Mouthguard Brands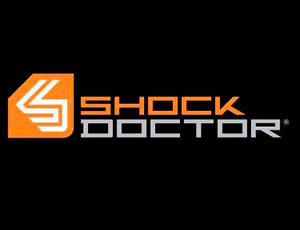 #1 Shock Doctor – In the first place, I put the Shock Doctor tested by my experience. Shock Doctor uses a lot of gel and little rubber, which is why their mouthguards are very soft and pleasant to the touch. Also in the line of Shock Doctor, there are flavored mouthguards for people with gag reflex to mouthguards.
---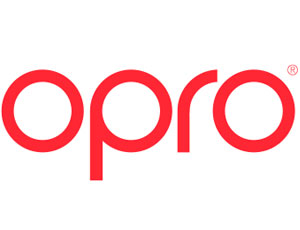 #2 Opro – Basically, Opro mouthguards are made of two layers. Outer – harder, inner layer softer. But unlike other mouthguards, there's a unique stiffness system of 13 ribs. Also, Opro mouthguards are distinguished by shock-absorbing holes for chewing teeth and holders for mouthguards.
---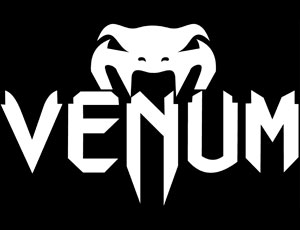 #3 Venum – In third place I put one of the most popular mouthguard manufacturers – this is Venum. The former UFC champions are borrowed by the development of the mouthguard. Venum mouthguard skeletons are made of hard rubber and gel. So that there's hard protection on the outside, but it feels soft on your teeth.
---
TOP 2 Best Mouthguards
1# Venum Challenger Mouthguard Predator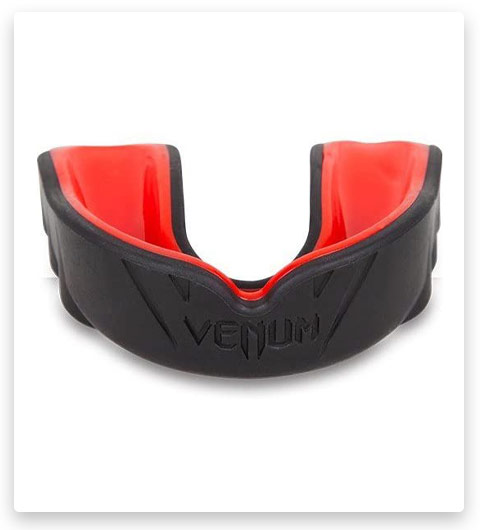 Venum Predator is one of the most popular mouthguards in the world. And not without reason. This mouthguard was developed by former mixed martial arts champions – Lyoto Machida and Jose Aldo. This is a three-layer mouthguard, the skeleton of the mouthguard is made of hard rubber. The second layer is a rubber frame, and the third layer is the Next Fit Gel Frame. It's softer because it comes in contact with teeth and gums. Below there are special protrusions for chewing teeth for a better fit. The mouthguard is available in 13 colors, from black to acid orange.
2# Shock Doctor Mouthguard Gel Max for Boxing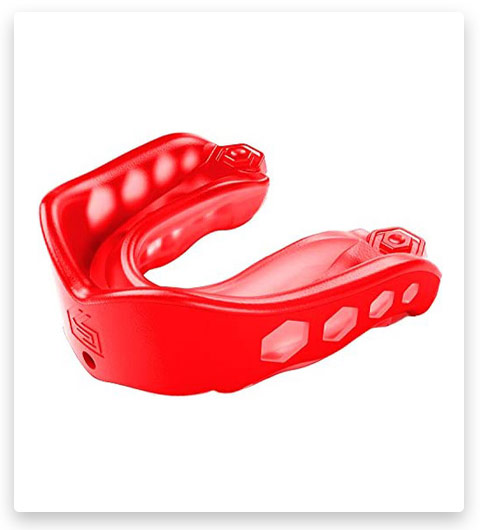 Mouthguards by Shock Doctor tested by me personally and this is one of the best mouthguards that a boxer can afford. This mouthguard is one of my favorites, it's simple and inexpensive. The rubber base and a large layer of gel just show themselves perfectly at work. You can choose aromatized or simple mouthguard if you have problems with the gag reflex. I've had this mouthguard for a long time – more than two years and I have no complaints about it. This mouthguard has the largest variety of colors – as many as 16 different colors.
6. Boxing Shoes
Boxing shoes are an essential attribute of a boxing uniform. In addition to a direct effect on the speed of movement of the boxer, the shoes also protect the ankle joint from dislocations and sprains.

Therefore, boxing shoes should be lightweight, comfortable, breathable, with punch-absorbing properties and non-slip soles. Boxing shoes are of medium height and high for maximum fixation of the ankle. It also differs in color and design.
TOP 5 Best Boxing Shoes Brands
#1 Mizuno – The first place is occupied by the Mizuno brand – the standard to which all manufacturers strive. This is a Japanese company whose products for sports have always been distinguished by high technology and excellent quality. The price of the goods is appropriate, this is the most expensive brand on the list. Many world-class professionals prefer this particular brand because it's the best that can be found on the market.
Technological footwear at the highest level. Company The production uses the highest quality materials. The sole is made of indelible rubber, which doesn't slip on any surface. Synthetic Fiber Mesh fabric of our own design and strong artificial leather is used as the material for the upper boots. All elements of the boots are carefully adjusted to each other manually. Therefore, boxers will definitely not fall apart during sparring or competitions.
---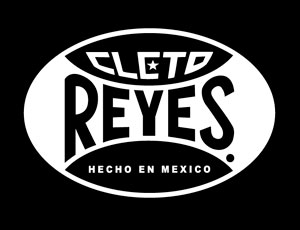 #2 Cleto Reyes – Cleto Reyes is a brand that produces professional models of boxing shoes in various formats. The assortment has low, medium and high options. The latter can reach a height of more than 25 centimeters, which allows better fixation of the lower leg.
Low shoes are designed primarily for training, which does not reduce its high quality. All models of the company are provided with excellent ventilation, an anatomical insole and a thoughtful internal part, which at the same time firmly supports, but gently envelops the leg without rubbing and providing a pleasant to wear.
---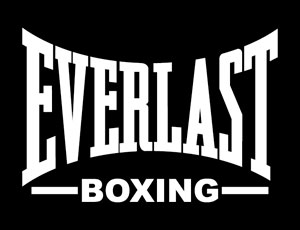 #3 Everlast – This is one of the oldest brands of products for athletes and primarily boxers. Thanks to the vast experience of more than a century, the company has learned to create such equipment that will provide maximum functionality, but it will not cost a fortune.
Everlast is a brand of professional boxing shoes. Therefore, the quality corresponds to what is necessary for experienced athletes both during training and in the ring. Textured flat sole ensures maximum traction with the ring. At the same time, the boxer will not tuck his foot if he steps unsuccessfully: high berets of boots reliably protect the ankle from injuries.
---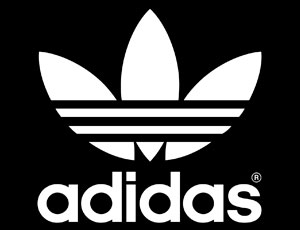 #4 Adidas – Adidas is a brand that needs no introduction. The company produces all types of sportswear, shoes, and equipment. Shoes are no exception. Professionals and amateurs actively use the products of the manufacturer, since the variety of models allows you to choose the option for any person.
The brand Adidas is known for the quality of shoes. The boxing shoes bought here will last a long time and provide good traction with the ring, protection of the ankle joint and stability during sparring or competitions.
---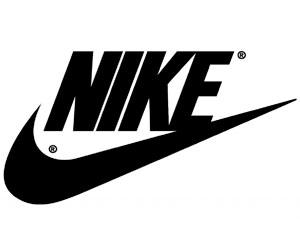 #5 Nike – Another well-known brand, which, along with Adidas, occupies the top of the sports goods market. The manufacturer has a wide range of boxing shoes: there are different options for both boxing itself and for similar sports.
Nike creates high-quality boxing shoes in which ventilation of the foot is no less important than other qualities. Therefore, even in medium and high Nike boxers, the legs do not sweat. And this was done not to the detriment of its intended purpose: the shoes still create perfect grip, reliably support the lower leg and protect the foot. The density of the boots is well suited to people who previously had ankle injuries.
---
TOP 3 Boxing Shoes
1# Adidas Box Hog Special Shoes Men's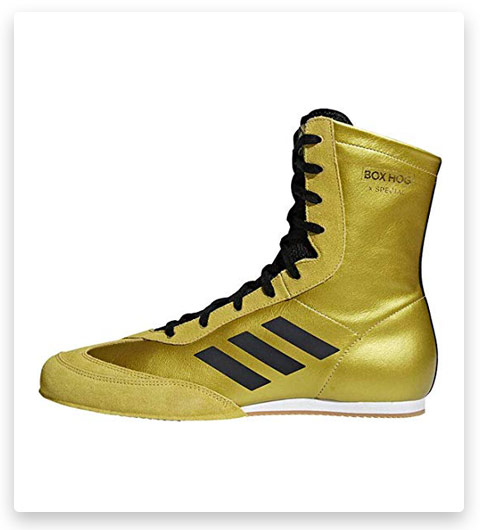 Boxing shoes Adidas Box Hog 3 is incredibly lightweight and flexible. This effect is achieved due to the breathable top made of durable nylon mesh. This shoe has a hard toe made of artificial suede, which protects the toes and prolongs the life of boxing shoes. The weight of such boxers is 41 sizes 316 grams. High tibia and internal reinforced areas provide additional stability and help to avoid possible injuries. Thin EVA soles have good cushioning and resilience. Natural rubber lining allows you to feel mat well in the ring. Reinforced EVA backs and insoles provide usability.
2# Everlast Elite High Top Boxing Shoes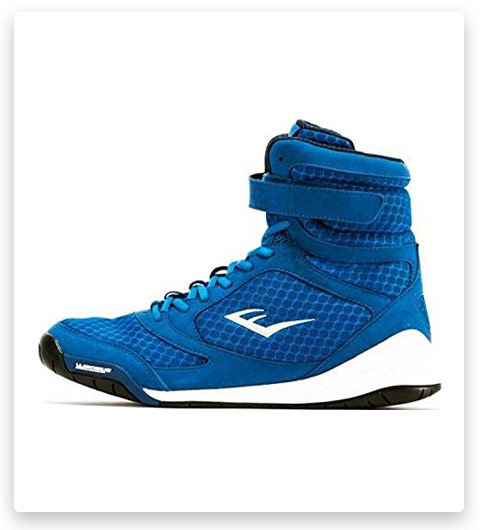 These is great boots from Everlast with Michelin rubber sole. Very lightweight and very comfortable. You can use these shoes both in the boxing ring and in the gym thanks to the hybrid boot design. These shoes are made with a technical outsole for maximum traction, flexibility, and support, and the tread design prevents slipping on the surface. The shoe upper part is made with an open mesh upper. On the same part is an additional strap to support the legs.
3# Adidas HVC Boxing Shoes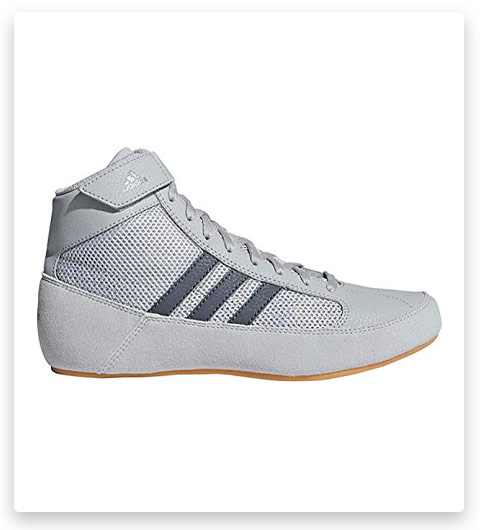 Adidas shoes are the lightest and the most ventilated on this list. It is made of synthetic leather and suede and has a mesh coating on the sides that allows your legs to breathe. Rubber non-slip sole allows you to feel more confident and stable in the ring. Extra Velcro at the top provides additional fixation of the lower leg. Boxing shoes are available in 6 colors and more than 20 sizes, including for children.
7. Shell Boxing Gloves
Shell gloves are used when training on shells: a boxing bag, punching bag, legs, and others. They must be comfortable and durable. The stuffing in them is less than in boxing gloves, but it's more practical. Good shell gloves have extra padding in the knuckle area.

Some models of shell gloves are equipped with weights for more effective workouts. Natural or artificial leather is used as a material. Boxing equipment can be bought at almost any sports store. But in order for the product to turn out to be of high quality and with all the necessary certifications, choose trusted brands from official suppliers. The best manufacturers of shell gloves are the same brands that produce ordinary boxing gloves. These are Everlast, Winning, Twins, Title, and Hayabusa. Also, good manufacturers of shell gloves are Venum and Ringside.
#1 Hayabusa T3 Shell Gloves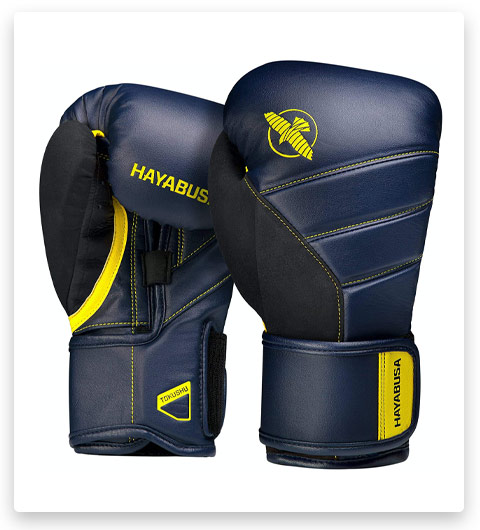 Hayabusa T3 isn't officially shell gloves, but I put them in this group because the size of 10 ounces is great for working on shells. The gloves are available in 16 different colors and 4 different sizes, you can use them like regular boxing gloves if you take the size of 12 ounces or higher. These gloves feature four-layer foam that allows you to work efficiently with bags and sparring. Instead of the usual Velcro, the Dual-X closure system is used here, which perfectly fixes the wrist, protecting it from dislocations and injuries. Gloves are hypoallergenic, as the outer layer is made of high-quality leather.
#2 Venum Challenger Shell Gloves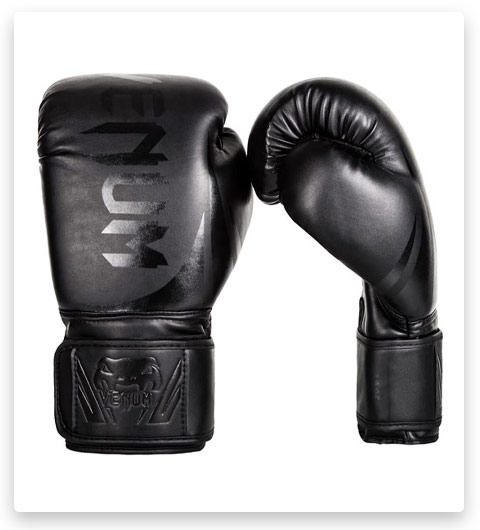 The Venum Challenger has not so many foams inside, which increases the efficiency when working on shells. Such gloves are unlikely to be suitable for sparring with an opponent. Only if you don't do MMA. Gloves are available in 14 color variations and 4 sizes, have an air mesh on the inside of the palm. In addition, the gloves have a large Velcro with elastic for fixing the wrist and attached thumb.
#3 Ringside Arrow Shell Gloves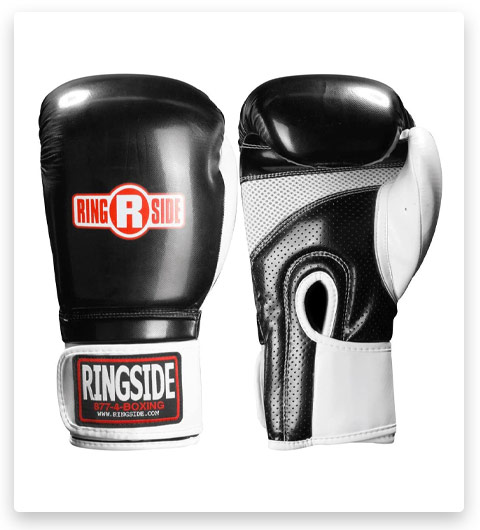 Ringside is considered one of the best shell gloves due to its weight. The gloves have open palms made of high-quality vinyl (if you're allergic to vinyl, it's better to choose a different model). The gloves also have a ventilation net, but its area is quite small, so after using the gloves you still have to dry. There's a wide and tight Velcro on the wrist for tight fixation of the brush. The gloves have one color and are available in two sizes – 14 and 16 ounces.
8. Female Chest Protector
Punches to the chest for women are quite painful and can lead to serious medical consequences, so protecting the breast for women in boxing is also important.

The chest protector is a plastic pad that attaches to the bodice of the sport's top. You can choose separate pads on each breast or molded protection for two at once. In general, there are not many companies in the world that manufacture boxing equipment for women. And fewer brands that really make a quality product. Among these, I can name only three. These are Farabi, Balaur, and Ring to Cage.
TOP 3 Best Female Chest Protectors
1# Farabi Ladies Chest Protector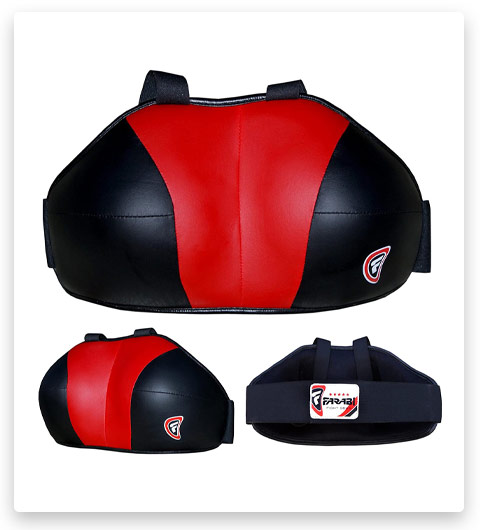 Farabi's chest protector is made from high-quality synthetic leather. The protection mechanism can withstand the most severe punches and loads. The protector doesn't constrain movement due to the aerodynamic structure and is effective in containing punches thanks to the Z-Smart technology. Inside, a multilayer gasket is built in, which inhibits the pointed direction of the punches, and a three-layer material inside the bib scatters it over the entire surface area. Besides, the fibers used to create this chest protector easily absorb moisture and are ventilated.
2# Ring To Cage Women Chest Protector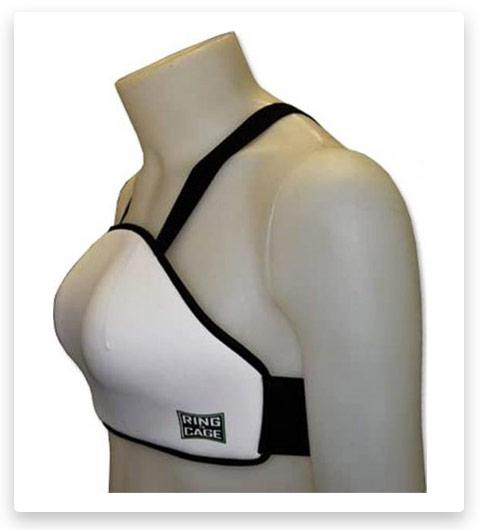 This chest protector is made of another, but no less effective material – polyurethane. This material is similar to punch absorbing foam, but it's much lighter. The flexible design of the chest protector gives you a feeling of comfort, and the elastic straps on the shoulders and back hold it well. The chest protector has a white color and is available in two colors – S/M and L/XL.
3# Balaur Women Chest Protector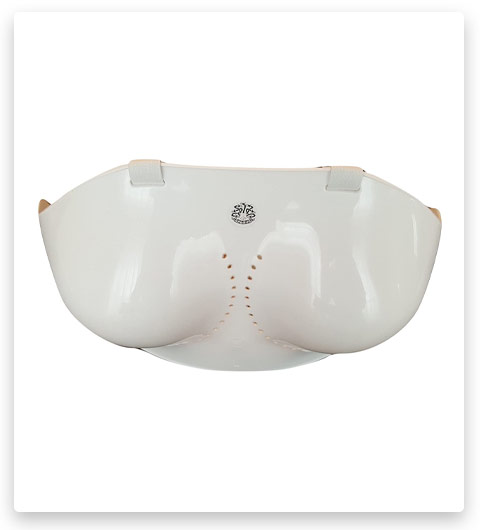 If you need stronger and tougher breast protection, then it's better to look at the plastic breast protector. It's much more effective in restraining chest punches. But be careful, because plastic chest protectors can break with a strong punch. This protector is made of high-quality white plastic. It has vents around the breasts. On the shoulders are two adjustable rubber straps and one large 3-inch strap on the back. The chest protector has only one color, but many sizes. – from XS to XL.
9. Jump Rope
The term jump rope can conjure up images of young children playing on the sidewalk. But for a growing number of adults, jump rope is a key component in general fitness practice. Like any good cardio workout, jumping rope improves cardiovascular health and stamina when burning calories. There are many rope options on the market.

Here, as a rule, there are no leading brands in the manufacture of jump ropes. Almost any skipping rope taken at the nearest hardware store will do. Don't bother with the choice of a good rope, even a piece of wire is suitable for this. In the FAQ below, I wrote how to choose the right length of the rope.
TOP 2 Best Jump Ropes
#1 Survival And Cross Jump Rope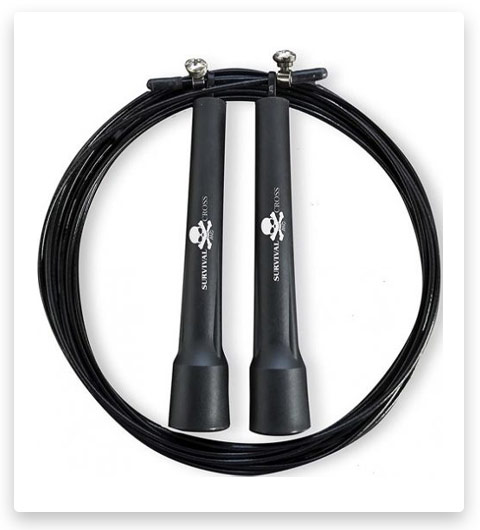 Pretty high-quality jump rope with brutal black and skeletal coloring on the handles. Most of all I like the fact that the length of this rope is fully adjustable and you can jump comfortably with it, regardless of your height and arm length. The rope is almost not tangled due to the steel cable inside and outside. But you can tie it and easily carry it with you – it practically doesn't occupy a place in the backpack. Inside the handles are high-quality ball bearings, so that your wrists won't get stuck when jumping. Moreover, with their help, you can achieve much greater speeds. Even if you have any problems with this product, the seller provides you with a guarantee.
#2 WOD Nation Jump Rope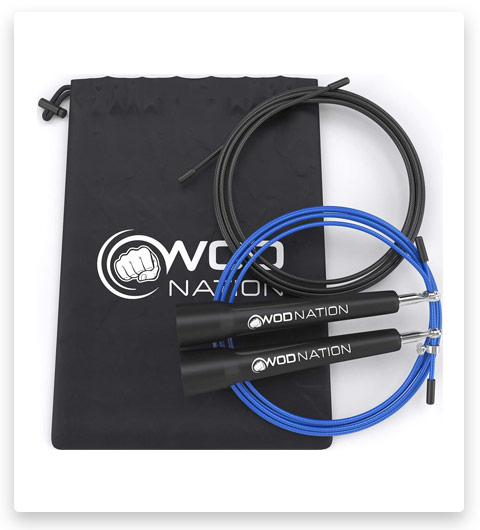 Another high-quality jump rope, but from WOD Nation. Here you can also adjust any needed length and do it with maximum comfort. The cord is based on a 2.5 mm metal cable with a smooth rubber coating. The cable length is 10 feet. Also, complete with the main manufacturer supplies a spare cable and a bag for a jump rope. Inside the handles, there are 4 high-quality ball bearings that increase your speed and prevent your wrists from getting tired when turning the handle.
10. Boxing Reflex Ball Set
In a discipline such as boxing, critical power and punch speed are crucial. These skills are practiced by various methods and using different means. One of these is a small ball with an elastic band. The selection and intensity of exercises with it are carried out on an individual basis.

Such a device is a specific simulator for boxing. It received the official name fight ball. This is an elastic item with an elastic band, which is attached to a bandage worn on the head. The bandage absorbs sweat excellently. It can be washed repeatedly. It's compact and mobile. You can take it with you wherever you go. But the load he can give excellent and exhaust in the process of training.

When attaching a headband to the head, the ball is in front. A fighter attacks him and, in accordance with the tasks to be solved, quickly responds to this moving subject. There may also be various variations in the strength of the punches and inclines from the ball.
#1 American Fist Boxing Reflex Ball Set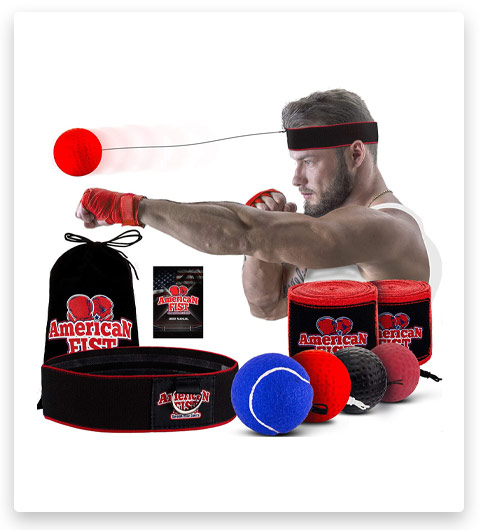 This set consists of 4 balls of various sizes and various difficulty levels. The smaller the ball, the correspondingly higher the level of difficulty. The kit includes a special wide headboard that can be fully adjusted and sized to fit your head. It also has a non-slip coating. Besides, four locks with lobsters are included for easier assembly and switching between balls. Also, the manufacturer gives boxing bandages and a sports bag for transporting equipment as a gift. For such a price this is a very attractive option.
#2 Tekxyz Boxing Reflex Ball Set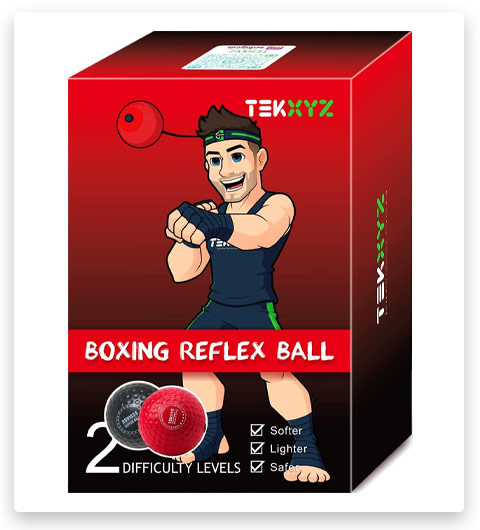 This set consists of fewer balls but costs much less. In the box are only two balls of different sizes. The black ball is designed more for beginners, so if you already have an accurate and delivered shot, you can immediately go to the red one. The headband is thin and light, made of high-quality plastic with a rubber gasket. The balls have a soft perforated coating, which is safe for your eyes, nose, and face when punching the ball.
11. Punching Mitts / Boxing Mitts
Boxing mitts are special training equipment, which is used to practice attacking and defensive techniques in the process of training an athlete. Despite the presence of the word "boxing" in the name, mitts are used in many martial arts, including kickboxing and Thai boxing. Mitts are used by beginners and professionals, this is universal equipment with which the boxer works throughout his career. Training on the mitts teaches the athlete to correctly distribute muscle effort and respond in a timely manner to changes in the situation in the ring. Mitts assume full contact, the opponent is the boxer's trainer or his sparring partner.
#1 Sanabul Boxing Punching Mitts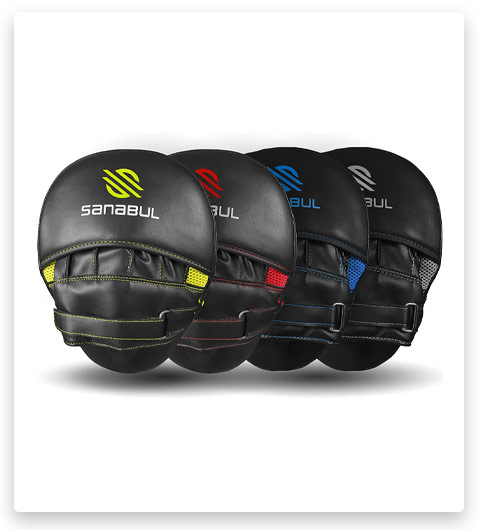 Boxing mitts from Sanabul are excellent training equipment. These mitts are handmade to match the shape of your hands. The outer material is perforated leather, which can withstand several thousand strokes before the first cracks appear on it. The internal filler is Santec Ultra-Light Foam, which perfectly absorbs incoming kicks and distributes them over the area of ​​the mitts. It uses a half grip of the palm so that it'd be most convenient for you to hold the mitts in your hands. The product comes in 4 colors.
#2 Hawk Sports Punching Mitts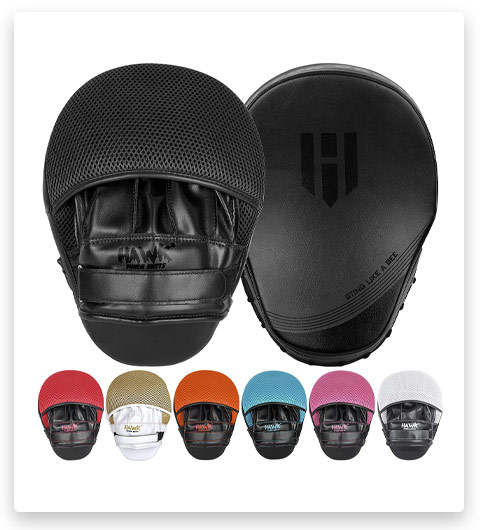 Hawk Sports mitts have many more color variations. Here you can choose one of the 7 colors. The gloves have excellent internal ventilation thanks to the installed mesh. They also have the function of absorbing sweat. Curved mitts are made of high-quality perforated leather with EVA foam, Velcro hook, and jab pillows. You can be sure of the quality of this product because the manufacturer gives you a five-year warranty.
12. Boxing Body Protector
Like boxing mitts, a body protector is needed to practice punches to a partner so that it's free of injuries and pain. The defender looks like a bulletproof vest and generally performs the same functions. It's necessary for the boxer to practice punches to the body and beat in the most painful and vulnerable places (liver, spleen, kidneys, solar plexus) and you do not receive pain or damage.
#1 Contender Heavy Hitter Boxing Protector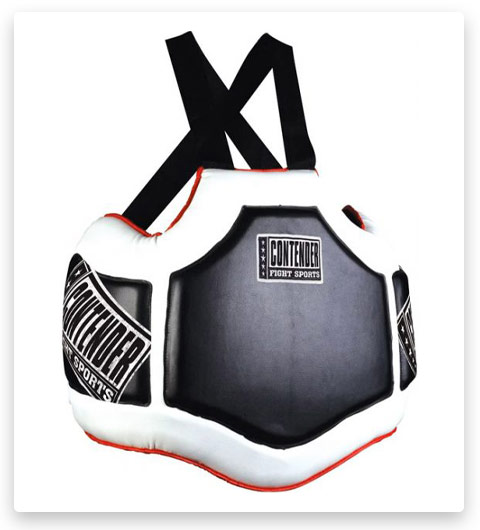 Body protector The contender is made of synthetic leather that is easy to clean and heavy nylon straps that are very easy to put on and take off. The body protector has dense foam protection inside, which perfectly protects against all incoming punches and kicks. It is made in black and white and has the logo Conder on the sides and in the middle.
#2 Ringside Gel Shock Boxing Body Protector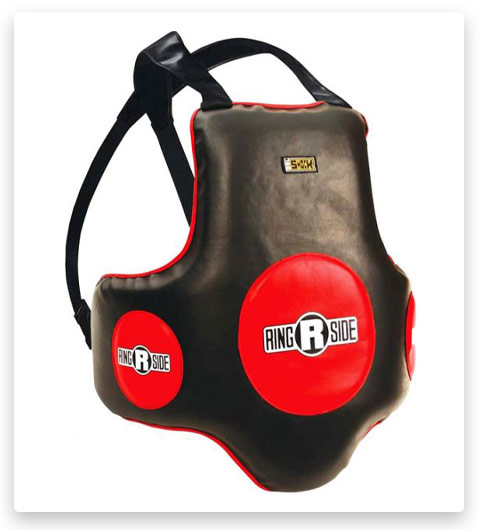 As you understood from the name, this body protector has not a foam, but a gel filler. Personally, in my experience, I'll say that the gel is more effective and much better disperses the punches of the opponent. Externally, the body protector is sheathed with durable synthetic leather that doesn't tear and doesn't crack. Fastening straps are also made of leather. The body protector completely covers your torso, protecting the torso completely.
13. Boxing Protector Head
The head protector has the same structure and the same functions as the boxing helmet. But its difference is that the head protectors have a much denser filler and a wider area of ​​protection. Their eyes, nose, cheeks, auricles, chin, and nape are always protected thanks to various inserts on the construction. Boxers themselves in these, as a rule, are not involved, but trainers for practicing punches may well use this. The risk of injury to the head protector is minimal, it is needed in order to correctly put the punches at key points of the head.
#1 ARD Boxing Protector Head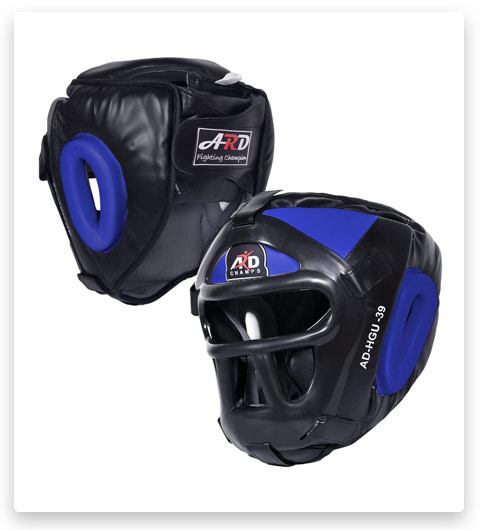 The ARD head protector is available in 5 different colors and 4 sizes and has hard tubular removable inserts on the front to protect the eyes, nose, and cheeks. The helmet is made of hard leather with a three-layer filler inside to disperse the punch. At the back, there are two thick and wide Velcro straps for fixing the protector on your head. On top, there's also a gasket to protect the upper part of the head, which is another plus. In addition, the manufacturer gives a 100% guarantee on this product.
#2 RDX Boxing Protector Head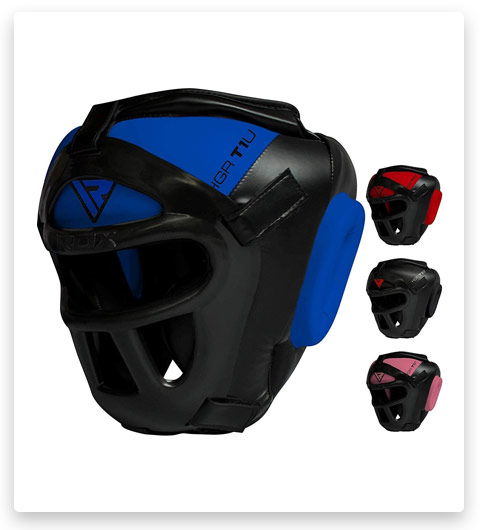 The head protector from RDX is developed from the Maya Hide Leather brand, which doesn't wear out, doesn't tear, and doesn't crack. Head protection consists of a three-layer gel filler that provides punch protection and dispersion. Additional protection is provided with Tri-slab padding. A fast and convenient clasp reliably fixes the helmet on the head, preventing the helmet from slipping and falling off. It also stabilizes the protector and allows you to freely move your head. The PVC grille on the face gives you protection against punches in the nose, eyes, and chin, and can be removed if necessary. The protection of the upper part of the head is made of EVA material, which provides final punch resistance.
14. Deodorizers For Boxing
Helmets, shoes, gloves should be dried for a sufficient time, but even after drying completely, unpleasant odors can remain inside. Of course, you can wash gloves or a helmet to eliminate them, but that'll be the last time because the boxing equipment (except for bandages) isn't suitable for washing. Especially for this, deodorizers have been invented that eliminate unpleasant odors inside your equipment. There are many deodorizers with different odors, sizes, and durability. Here, the user selects what he likes.
#1 Meister Glove Deodorizers for Boxing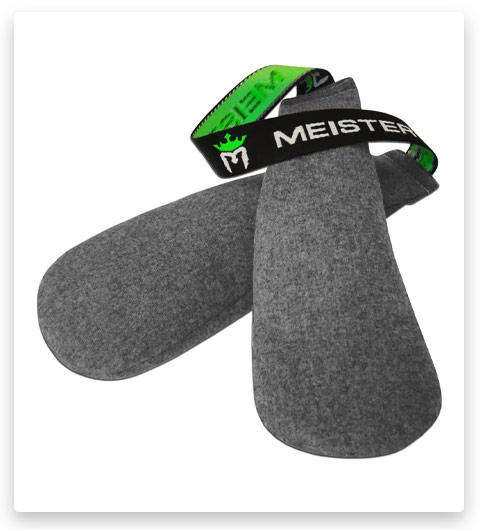 This deodorizer absorbs residual moisture and odor, leaving gloves (can be used for other equipment) fresh. One of 4 smells is available to you – lavender, cedar, cologne, or fresh linen. I personally like lavender the most. The deodorizers themselves are made of high-quality flannel and absorbent fillers.
#2 Everlast P00000747 Everfresh Glove Deodorizers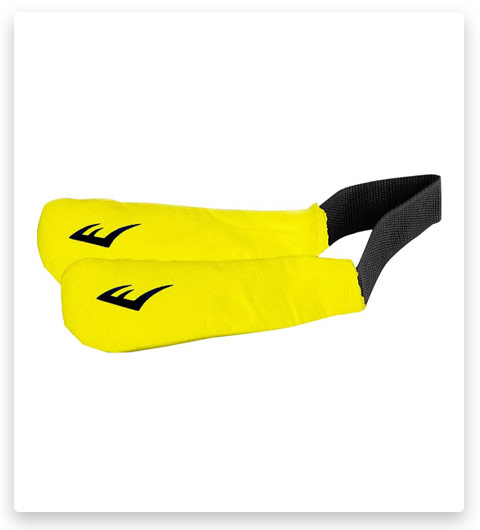 Everlast deodorizers are very durable and can be used several times. Deodorizers can absorb a lot of moisture by filling your gloves or shoes with the smell of freshly washed laundry. These deodorizers are quite large in size and well ventilate even wide gloves, made in yellow.
#3 Ringside Boxing Glove Dogs Dryer and Deodorizer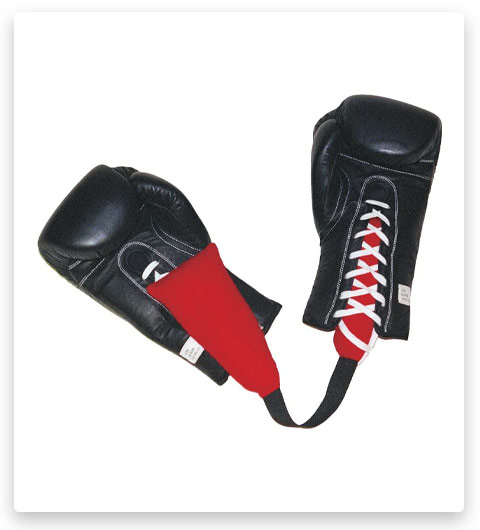 But Ringside deodorizers for shoes or a helmet are unlikely to work. They have a fairly wide shape and are intended mainly for gloves. The deodorizers are saturated with the smell of cedar, the outer surface is made of red cotton. The internal deodorizer filler is of very high quality, it can dry your gloves even if you haven't dried them before recommended for purchase.
---
15. Boxing Ring
This type of equipment is most important for boxing. A ring is needed for a sense of space and distance. When working in the ring, you get used to moving sideways, not going straight, but going sideways.

If you leave in a straight line, then very quickly you will be pressed to the ropes. The same thing if you move forward on the opponent, you learn to cut corners, pinch the opponent at the ropes and attack when he is at a disadvantage.
16. Boxing Bag
A boxing bag is a shell for practicing punches. Work on the bag is a necessity for all boxers. Combinations are worked out on the bag; punch stiffness is worked out on heavy bags. But it's worth noting that not a single bag can replace your partner's sparring, as the bag will never answer you with a punch and won't be able to defend against your punch. Therefore, work on the bag is one of the simplest technical exercises in boxing.

There are a great many boxing bags. These are heavy bags, light bags, water bags, short, long bags, cone bags, figured bags, leatherette and genuine leather bags stuffed with sand, crumb rubber, rags or other fillers. Each of the species serves its specific purpose. Also, the bags differ in the method of fixing and the trajectory of their movement depends on this.
Top 5 Best Brands of Boxing Bags & Gym Equipment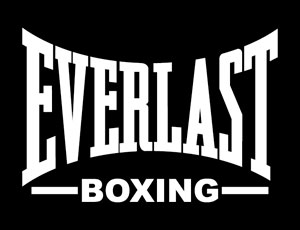 #1 Everlast (USA) – Features of the well-known sports equipment include strength, impeccable workmanship, convenient design, developed taking into account the wishes and recommendations of professional boxers. In the assortment of the company, you can find boxing bags of different sizes and weights, gloves, and much more.
They are made of genuine and synthetic leather, PVC. High-quality materials extend the life of the product, even under the condition of regular intensive loads. This manufacturer offers only the best products for truly effective workouts.
---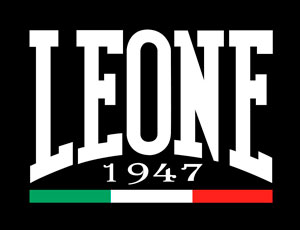 #2 Leone (Italy) – The world-famous brand registered in 1947. At first, the boxing products of this company were widely distributed only in Italy, but now they are appreciated all over the world. Probably, there's no such boxer who at least once wouldn't train with LEONE 1947 gloves.
But boxing bags and pears, because of the high cost, can only be allowed by fully-fledged boxers. Many champions are happy to use brand products and confirm their high quality. The company offers quality boxing bags, pears, gloves, and other equipment. All of it's characterized by high-quality workmanship, excellent materials of increased strength, and wear resistance.
Bags have the necessary elasticity, optimal for training. The features of the brand's products include a catchy design that sets them apart from other market offers. Those who want to train comfortably and effectively, do not have any particular financial difficulties, it's definitely worth considering high-quality boxing bags LEONE 1947.
---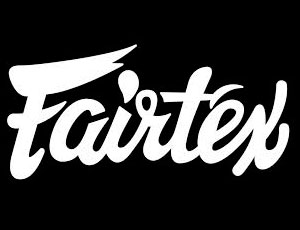 #3 Fairtex (Thailand) – This company is known not only for boxing products but also for equipment for other martial arts. The sports equipment of the company is ideal for both professional athletes and beginners.
And the popularity of brand products is very easy to explain – excellent quality materials and workmanship, practicality, beautiful design, a wide selection. The main materials for bags and pears are durable synthetic and genuine leather. Prices are quite high, but they pay off with the durability and wear resistance of the goods.
---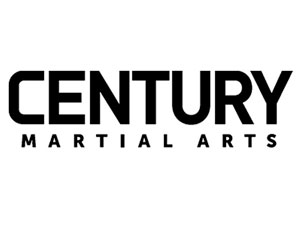 #4 Century (USA) – The American company offers high-quality products, which have been tested not only in the factories of the manufacturer but also for many years tested by professional athletes, martial arts specialists. The company is trying to produce sports goods of different price categories, so among the assortment, you can see fairly high-quality boxing bags at affordable prices.
The assortment is very wide – totals more than 12000 items of goods. A distinctive feature – goods are produced not only for adults but also for children who are just beginning to master the skill of boxing. As the main material, durable, wear-resistant synthetic leather is used, less commonly, genuine leather. Fillers are also different – sand, foamed polymer, PVC crumb, rubber crumb.
---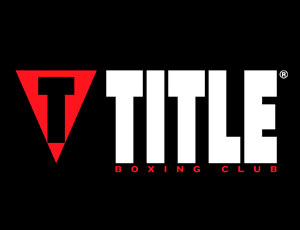 #5 Title (USA) – The company has been known in the market for about 20 years. At the moment, it can offer a large size range of boxing bags made of wear-resistant materials using high-quality fittings and a suspension system. Environmentally friendly materials are used as packing for bags. Pears and training dummies are also offered, allowing you to practice punches as close as possible to real conditions. They come in different sizes, are adjustable in height, for stability the base is filled with water or sand.
---
TOP 5 Best Boxing Bags
1# Title Boxing Leather Boxing Bag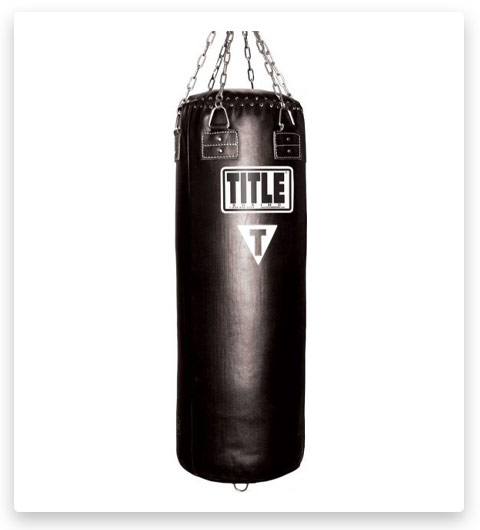 A professional punching bag in a retro style designed for daily training. The cylindrical shell is placed vertically. The outer part is made of genuine leather coated with a composite material. Textile materials such as rubber and fabric are used as fillers. The bag includes a 4-chain pivoting swing system. The product is recommended for specialized sports schools and boxing clubs. Bag dimensions are 14″ x 42″.
2# Everlast Nevatear Boxing Bag 100 lbs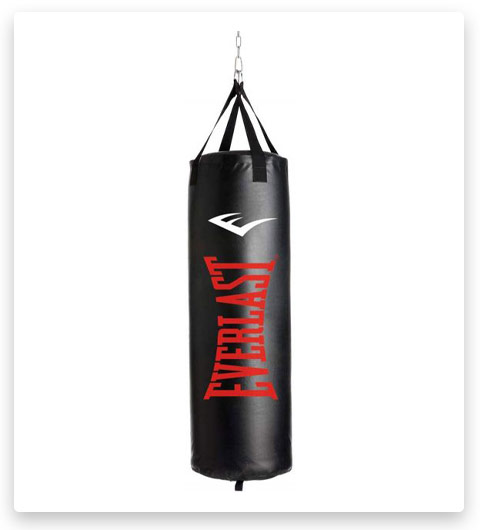 An American-made boxing shell that successfully competes in the global market. An artificial leather bag weighing 100 lbs. is remarkable for its versatility, since it's suitable for practicing all types of punches accepted in boxing. High-quality materials make the bag resistant to all external influences, including high humidity and temperature extremes. The internal filler absorbs punches, which minimizes the risk of damage to the hands when striking. Ceiling mount with bracket, chain, and 4 straps. This helps to reduce fluctuations in use.
3# Ringside Leather Boxing Bag 65 lbs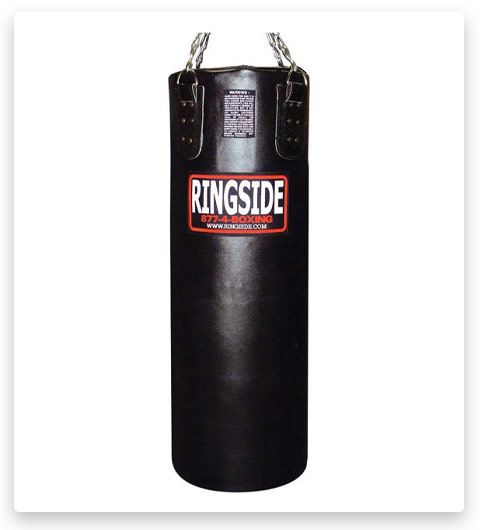 High-strength product with elastic packing and external shell, resistant to external influences. Internal canal filling does not go astray over time. The product retains its shape even after prolonged use. The bag measures 14 x 42 inches. For home training, this is almost ideal. Weight 65 pounds allows you to train both children and experienced athletes. Equipment is fixed on 4 clips and metal chains.
4# Century Original Wavemaster Boxing Bag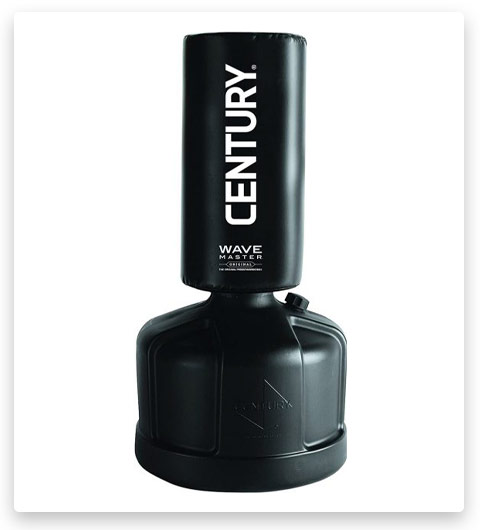 Water filling floor model used for practicing hand and foot kicks. High-strength material helps the shell withstand significant loads. Dense foam is used to absorb kicks. Of all the floor models, Wavemaster has the largest impact surface. Assembled bag height up to 68 inches, filled bag weigh 250 pounds. The ergonomic structure of the base allows you to get as close to the bag as possible during training. An innovative, carefully thought-out fastening mechanism allows you to inflict heavy punches on the bag without damaging it.
5# Everlast Omniflex Freestanding Boxing Bag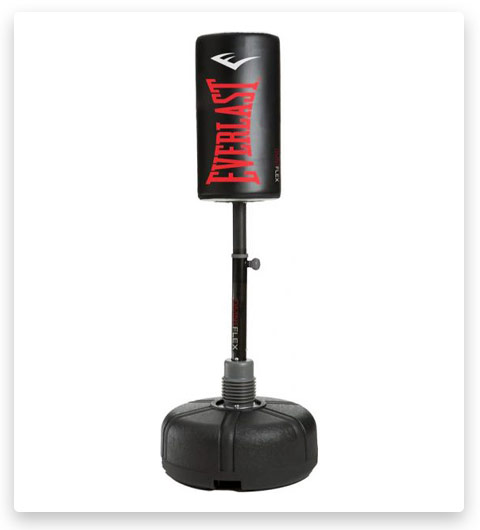 The punching bag on the stand was created using modern technologies and innovations for full-fledged sports training, allowing you to punch with your hands, legs, and knees. The rounded design allows you to easily move around the target, increasing cardio loads, improving coordination. The Omniflex power transmission ring absorbs punch and reduces base movement and slip. The base made of high-strength PVC can be filled with water or sand so that the shell won't move on the floor or slide at the time of training. The position of the punching bag can be adjusted in height.
17. Speed Punching Bag
Work on a speed punching bag looks very impressive and this exercise is no less effective. If you work on a professional high-speed punching bag, then your hands get tired very quickly. You need this exercise for working out power endurance, working out speed.

This type of bag also teaches the boxer to always keep his hands at his head. With this exercise, you programmed muscle memory and in a fight, you'll keep your hands in the right place at the head.
TOP 3 Best Speed Punching Bags
1# Cleto Reyes Speed Punching Bag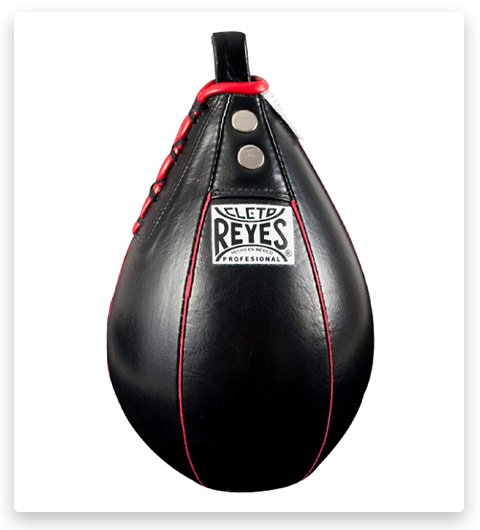 This is a leather Italian bag, at the junctions an additional reinforcement is applied, as a result of which the service life of the inventory is increased. Speed bag size: 10 x 6 x 1 inch. The bag is used mainly for working out the speed, good balance guarantees a perfect rebound.
2# Everlast 4241 Speed Bag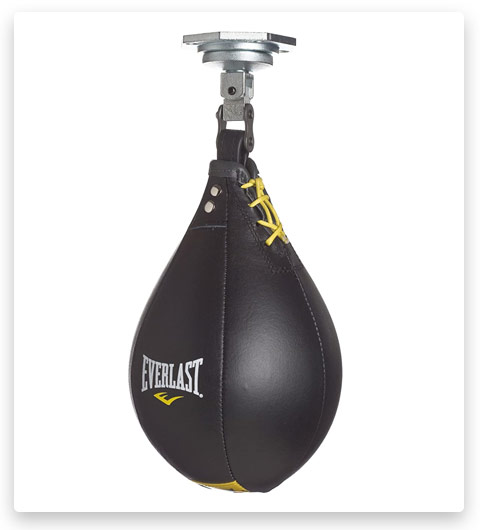 The Everlast speed bag is professional equipment from the Everlast company. The unique design and optimal balancing of the pear provide a high degree of functionality, which allows you to conduct training with maximum efficiency. At the same time, the use of high-quality leather during manufacture makes it the lightest and, at the same time, the most durable high-speed bag to date.
3# Meister SpeedKills Leather Speed Boxing Bag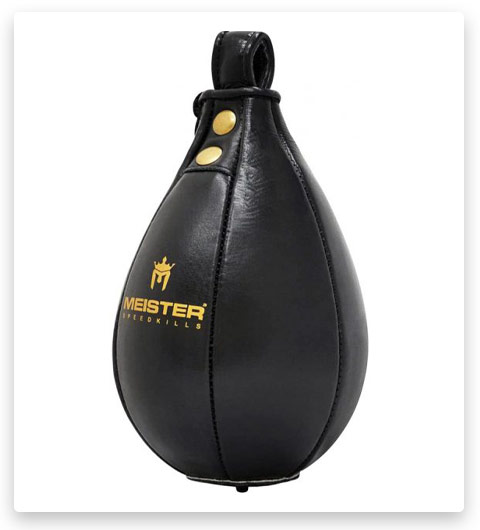 A high-speed bag made of genuine leather with a latex bladder that provides maximum elasticity and performance. The bag has an almost perfect balancing and centering for consistent and clear bounces. The bag is available in two sizes – small (7.5″ x 5″) and medium (10.5 x 7).
18. Boxing Double End Bag
A very useful and important element of the boxing gym. Work on this shell improves reaction, timing, works with quick light strokes, teaches you to calculate your opponent and analyzes the trajectory of your punches and the opponent's movement.

Top 3 Best Double End Bags
1# Ringside Leather Double End Boxing Bag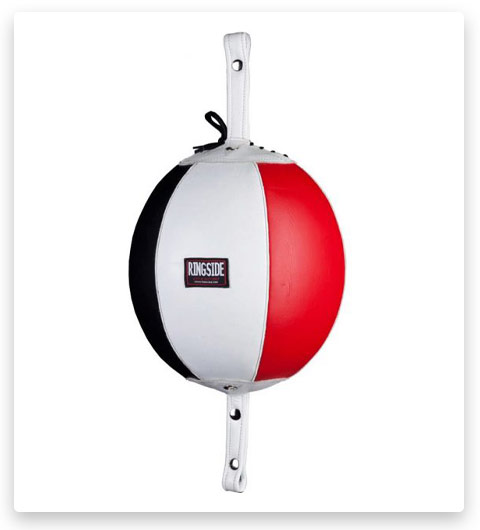 High-quality stretch bag with a superior quality leather construction. The bag has long triple-reinforced loops located at the top and bottom. It comes with a set of double-sided cables that help to firmly secure the punching bag. The boxing bag measures 12 x 6 x 3 inches.
2# Title Gyro Balanced Double End Boxing Bag
An excellent punching bag for practicing speed and quality of punches. The bag has excellent balancing, which allows you to make perfect bounces. The design of the bag is made of genuine leather with reinforced double seams, enhancing the durability of the shell. Upper and lower mounting straps are included, you can choose one of three sizes – 6, 7, or 8 inches.
3# Pro Impact Genuine Double Boxing Bag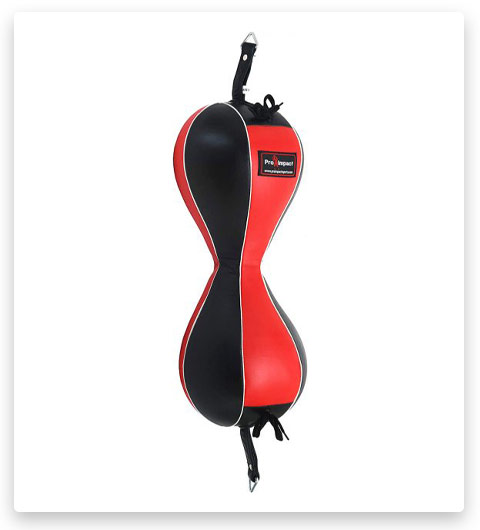 This boxing bag is available in two variations – a classic punching bag with stretch marks or a combined double version. The material of the shell is genuine leather, providing strength and durability. The bag has a strong rubber chamber, reinforced loops, and double seams. The product is available in 7 or 9-inch sizes. In addition to the sports equipment itself, laces and S-hooks are supplied.
19. Wall Punching Bag
The bag fixed motionless on a wall serves to you approximately as well as the suspended boxing bag. But unlike an ordinary bag, the wall one is completely motionless.

This makes it even easier for us to work on this shell. As a rule, on a wall bag, each individual movement is brought to perfection and automatism. The sense of distance for punching and the stiffness of punches are also worked out.
TOP 3 Best Wall Punching Bags
1# Wing Chun Canvas Wall Punching Bag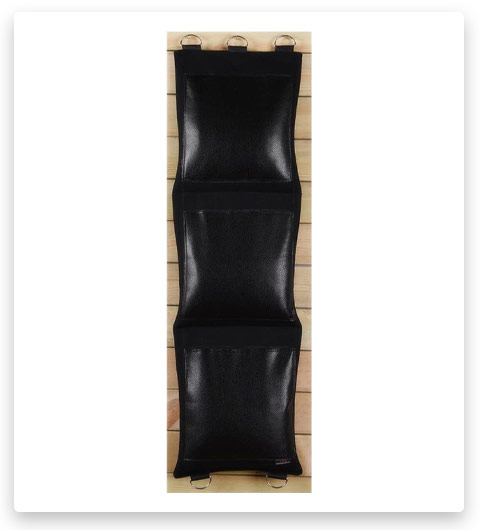 An excellent tool for practicing punches made of high-quality synthetic leather. The wall bag has reinforced D-rings, which won't allow the mount to break away from the wall at the most inopportune moment. The bag comes empty, you yourself can fill it with sand, grain, crumbs, or cloth. The zipper has a safety valve to protect it from damage. Strong cotton is durable and does not wear out, and strong metal rings will allow this equipment to serve for many years.
2# Title Boxing Wall Mount Menace Training Bag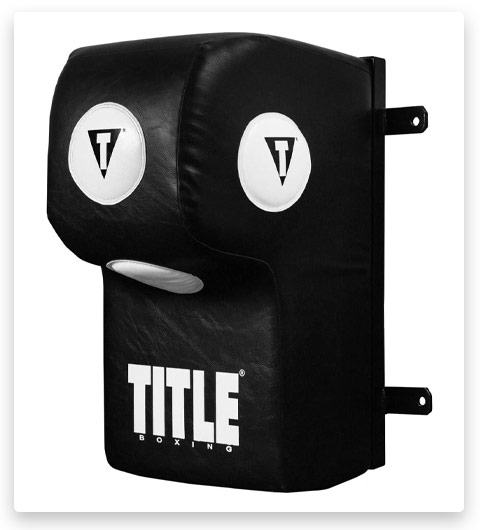 Wall-mounted uppercut universal boxing bag, which is used to practice both single and serial punches. The product is used in gyms for regular or Thai boxing. The inner frame is made of flexible plywood, which is well absorbed by strong punches. As a filler, foam material with rubber is used. The outer frame is metal, the outer coating is made of engineered leather. The equipment is mounted on 4 anchor bolts that come with the product. Impact zones are marked with white targets. Dimensions: 24 x 16 x 16 inches.
3# Windy Wall Mount Boxing MMA Training Uppercut Punching Bag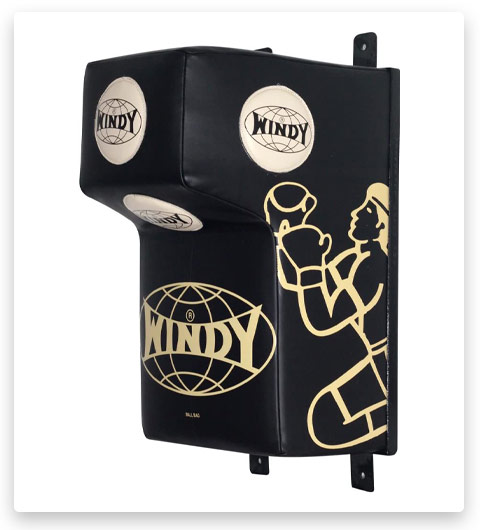 This model for wall mounting is great for boxing. It, being wall-mounted, allows in very small rooms to practice various boxing techniques (straight, side, and uppercuts) on it. Made of genuine leather, to which a nylon pad is added, this boxing bag is extremely durable. The filling of this shell is quite interesting – rubber crumb and foam. The standard L-shaped is not just chosen. The wider upper part imitates the face and neck, and the lower part – the body. And as a rule, the most suitable places for honing boxing techniques are marked with special white circles.
This is the most important piece of boxing equipment. Next, we list the equipment that should also be in each boxing gym. Very important shells in the boxing hall are medicine balls, bags for uppercuts, light dumbbells, rubber for practicing punches, expanders, fit balls, steps, ropes, "ladder", crossbeams, parallel bars. weights, rod pancakes, benches for bench and squats, a roller for a press, etc.
We have provided a complete list of equipment for boxing. In our article, you can find equipment for the athletes themselves and for the boxing gym in general. If this article was useful to you, share it on social networks.
FAQ
Editor-in-Chief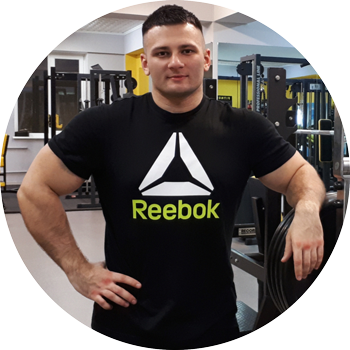 Nikolai Sergeyev
Expert in athletics, boxing, powerlifting
Nikolai Sergeyev is a weightlifter, powerlifter. Master of Sports International Class, world champion and record holder in powerlifting among juniors and youth in the weight category of up to 90 kg and up to 100 kg.
European and world record holder in different versions: UPO (EPA, IPA), WPC, GPF, UDFPF (WDFPF), WPA and others.
World and European Powerlifting and Bench Press Absolute Champion
More than 50 world records
Master of Sports of International Class
Affiliate Disclosure: Sportegan.com sometimes gets paid for listings, through sponsors or affiliate programs like Amazon, Ebay, Everlast, Cleto Reyes, RingSide, Winning, Title, Twins Special, Hayabusa, Fairtex, Top King, Venum, RevGear, RDX, Century, Tapout, Crossrope, and others. Clicking a link helps keep Sportegan.com free, at no extra cost to you!
About the author: Each article on our website is checked and edited by a professional and expert in the field of sports (boxing, athletics and weightlifting). Nikolai Sergeev is a multiple world champion and record holder: during his sports career Nikolai set more than 50 world records among youth, juniors, adults, in different weight categories and in different versions (NPA, IPA, WPC, GPF, WUAP, WPA, IPO, RPS, etc.). The author has more than 30 victories and more than 30 gold medals received at competitions of the international level, the European and World championships. Read more at «About» page. Official website / Wikipedia.
Note: The views and opinions expressed in this article are those of the authors and do not necessarily reflect the official policy or position of any agency.