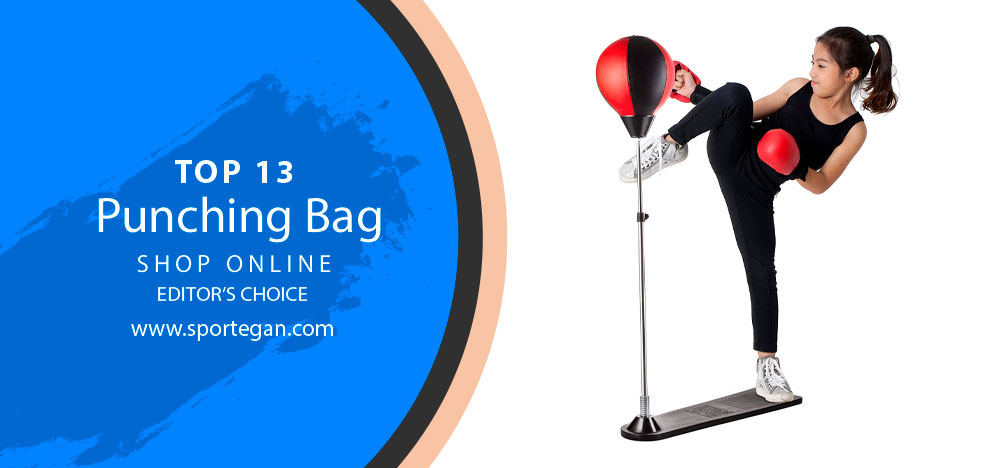 Top 13 Punching Bags For Your Home
Let's say you want to improve your stamina, reflexes, and fighting skills, but you don't have enough time or resources to visit the gym regularly. Or you already have some skills, but your old worn punching bag has long been craving for replacement.
Maybe you want another bag for your kids so that they can practice making punches themselves. Punching bags are not only good for exercising, building muscles, and improving coordination but also good for stress relief after a hard day at work (or educational institution).

If you want to buy a good punching bag for home use, then you are in the right place! In this article, we will look at some good options for your home punching bag.
Be sure to consider your choice carefully. We recommend to look at the durability of the bag and quality of its construction first, and only lastly at its price.
It won't help you budget if you have to buy a replacement after a few weeks of use. Without further delay, here are our top 12 boxing bags for personal use!
1# Everlast Power Core Bag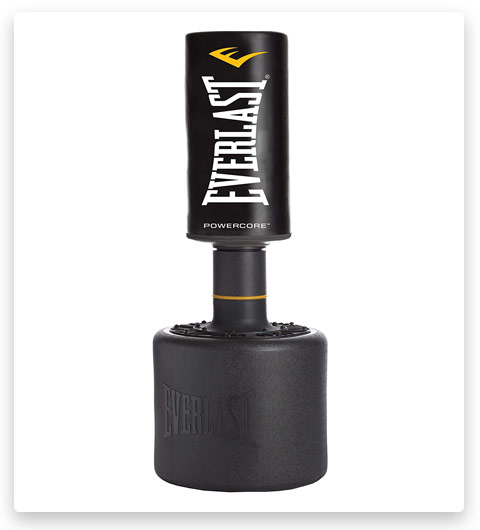 Run of the mill training accessory, made from good quality materials, like vinyl and synthetic leather. It is also not very expensive for a freestanding bag. The plastic base of the product can be filled with sand or water, preferably the former if you want it to weight more and withstand powerful punches.
The product is very portable and easy to set up. You can place it indoors or outdoors, but using it outside is not recommended. The assembling process is not rocket science and you will easily do it yourself with a manual. Now filling it with sand can get a little messy.
The bag weighs around 250-370 lbs, considering what you will fill the base with. It has an adjustable height, which means that it can be used by kids just as well as adults. Overall, this can be a fine startup accessory for teenagers and adults.
Features:
Designed for indoor use.
Weights from 250 to 370 lbs.
It can be used by kids and adults.
Made from quality synthetic materials.
2# Century BOB Body Opponent Training Bag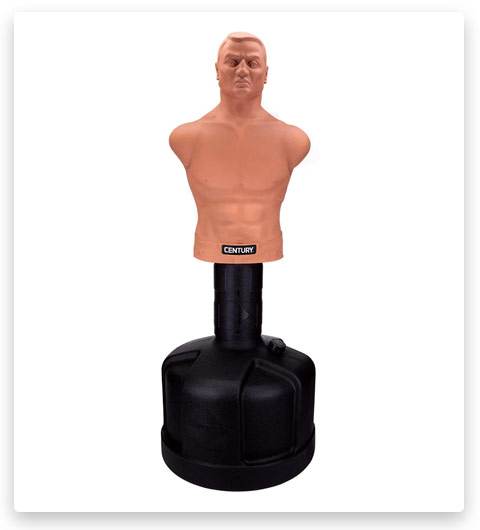 This training dummy is a freestanding bag with a lifelike human torso and head. It is manufactured in Oklahoma in the USA, mostly from plastic. Exercising with this dummy can allow you to practice more precise punches and kicks. The bag itself isn't light and stands fairly on a spot when hit. It can rotate a bit under heavy hits though.
The base is fillable with sand or water, and the height can adjust to your liking. The maximum height of the bag is 78 inches. The Bob (the human-like figure) itself is attached to the base by six screws, which can become loose after an intense workout. You better have a screwdriver nearby, since you'll likely have to tighten screws up from time to time to keep the Bob in one place.
This bag is the right choice for fitness, MMA, and boxing workouts, but the price can be too high for an amateur fighter. Also, you should consider the durability of this bag. Since it is mostly made from foam and plastisol, Bob can seriously deform and break after long use.
Features:
Weights about 270 pounds (with full base).
Good for indoor and outdoor fighting practice.
3# Everlast Platinum Heavy Bag Kit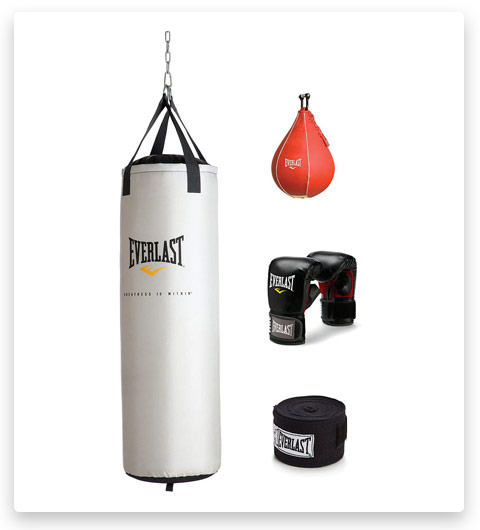 Everlast is a worldwide known company and a premium-level manufacturer of boxing accessories. They do not only create punching bags, but they also produce boxing gloves, training mitts, punching stands, and many other products.
It is roughly 46 inches in height, which allows both kids and adults to use it for their training sessions. The chain that comes with a bag is solid and adjustable, so you can hang this bag as high or low as you want.
Light in weight and made from good material. It feels and looks professional, and synthetic fibers help with the shock absorption during punching.
It comes with boxing gloves and hand wraps, so you can strike it as much as you want the way you want to. It is important to note that you can use this product not only for punching but also for other martial arts.
Features:
Weights about 70 pounds.
A hanging bag designed for indoor use.
It can be used for boxing, kickboxing, and MMA training.
Made out of quality materials.
5# Tech Tools Boxing Ball Set with Punching Bag & Boxing Gloves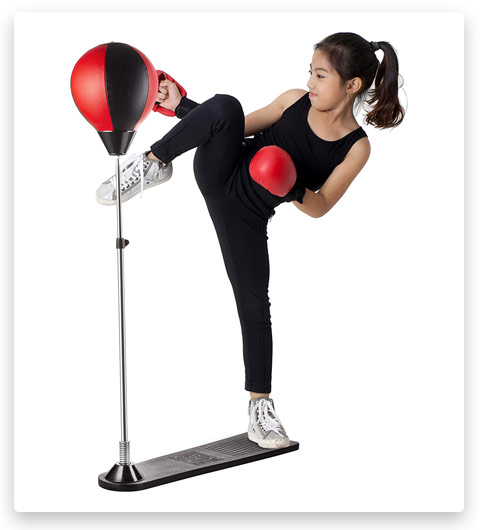 The boxing ball is transportable and easy to assemble, unlike hanging balls that we look at above. This product comes with a pack that also includes boxing gloves, hand pump. The ball itself is placed on the stand, the height of which can be adjusted (from 35 to 50 inches).
The punching ball is light and soft and can break and tear after a long period of use. Also, striking and punching are not very comfortable since you have to stand on a base. It also limits your movement.
We definitely not recommend this product for adults and teenagers, because they will demolish it in a few training sessions. This product is best suited for kids who are under ten years old.
It might be a good starter pack for a young boxer, considering a budget, but don't count that it will live for too long.
Features:
Comes with gloves, pump, and stand.
For kids from 3 to 10 years old.
Suitable for indoor and outdoor use.
6# Pure Boxing MMA Target Bag Punching Bag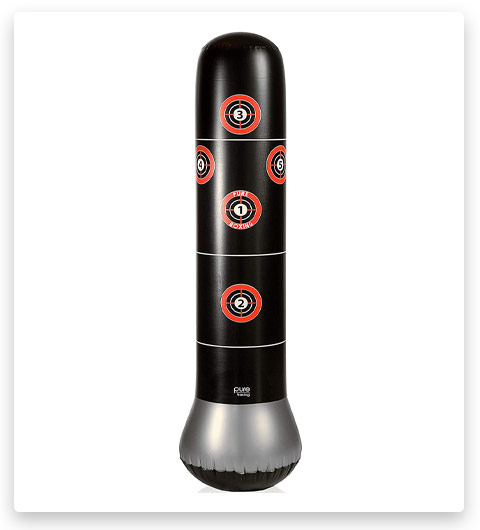 This standing punching bag for indoor and outdoor use is made for kids and teenagers. It is 64 inches long, with a base that can be filled with sand or water. This product is not a true heavy punching bag and won't suit you if you have serious experience in boxing.
No matter how much sand you pour into the base it won't be heavy enough to withstand forceful strikes and not get knocked down. It is made out of rugged vinyl, which makes it bouncy.
It comes with a foot pump so you could inflate it on the go, but be ready that it will deflate constantly. It costs pretty cheap, so if you want a low-budget accessory for your kid we could recommend it.
Features:
Made from rugged vinyl.
Recommended for a kid from ages 6 to 14.
Suitable for indoor use.
It is about 64 inches in height.
7# RDX Punch Bag for Boxing Training & Filled Heavy Bag Set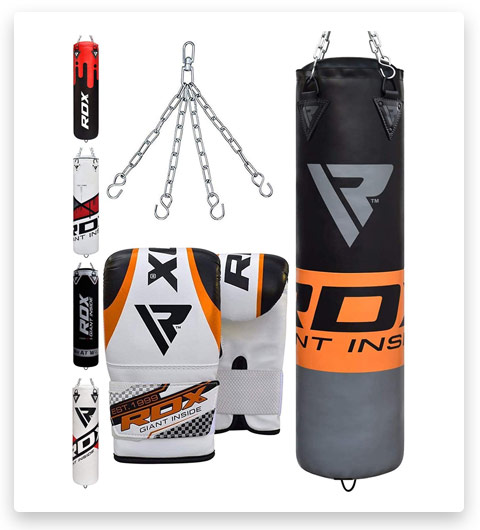 The next two products by RDX­ are two hanging bags that come with an impressive package. This punching bag is highly durable and punch-resistance. It is made from Maya hide leather, which provides excellent durability and water resistance.
The polyester layer helps to prevent tearing of the bag. The whole kit includes the bag, punching gloves, wall bracket, and chain. The brackets and ceiling hook can hold up to 100 kg of weight.
The 4ft version of the bag weighs approximately 19 kg, while the 5ft version weight about 23 kg. RDX Punch Bag is suited for boxing, grappling, kickboxing, and other forms of martial arts.
It is a product of very high quality, that can be used for professional strikers and heavy puncher. The price for the whole package is also amazing, considering how many accessories it comes with.
Features:
Suited from professionals and amateurs.
Made from quality Maya hide leather.
Hanging bag suited for indoor use.
It comes in 5 different color pallets.
The weight of the 4 ft version is about 19 kg. The weight of the 5 ft version is about 23 kg.
8# RDX Punching Bag Filled Set Kick Boxing MMA Heavy Muay Thai Training Gloves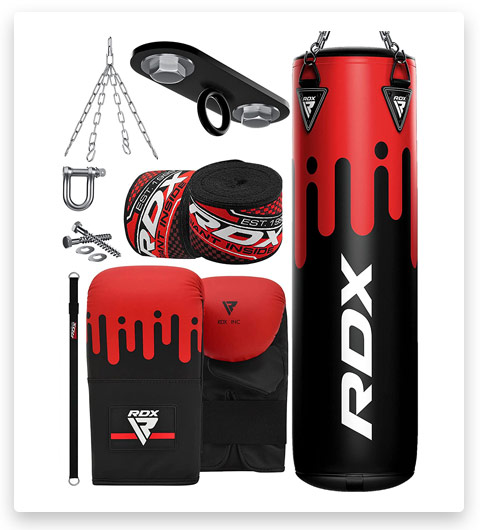 This package is made out of high-quality accessories and a top-notch hanging bag. Just like the previous RDX product, this one comes in a package that includes training gloves, punching mitts, ceiling hook, and a chain.
The bag is also made from Maya hide leather and enhanced with a polyester inner layer. The whole kit also comes at a great price. This one can be a great starter bag and just a good bag for in-home training even if you are a professional boxer.
Features:
Suited from professional boxers and amateur fighters.
Weights from 18 to 20 kg (30-40 pounds).
Hanging bag suited for indoor use.
Available in 5 color pallets.
Made from high-quality Maya hide leather.
Comes in 4ft and 5ft version.
9# Dripex Freestanding Punching Bag Heavy Boxing Bag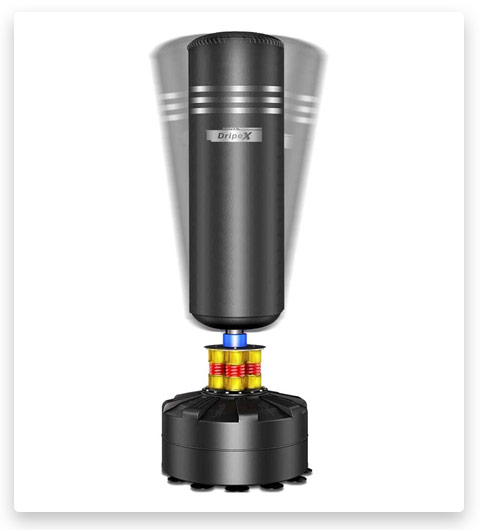 This heavy bag comes in 2 variations. One is 47 inches tall and more suited for teens, while the adult version is 69 inches tall. The construction of the product is top-notch.
The bag is made from synthetic leather, high-density EPE foam. Steel stand and base provide excellent shock resistance and make this bag suited for forceful strikes and kicks. It is durable and resistant to tearing. Twelve suction cups under the base reduce the movement of the bag when it is being hit.
It is recommended to fill the base with sand instead of water to give more stability to the construction. Even if you consider the high price, it is still a very lovely bargain, because this product is worth its money.
Features:
Made from stainless steel tubes, thickened PU leather, and high-density EPE foam.
Suitable for adults or teens, who are either professional boxers or amateur fighters.
Available in 5 color pallets.
Includes 12 suction cups under the base.
The base can be filled with sand or water.
It comes in 2 versions: 47 inches and 69 inches.
10# Everlast Speed Bag 9X6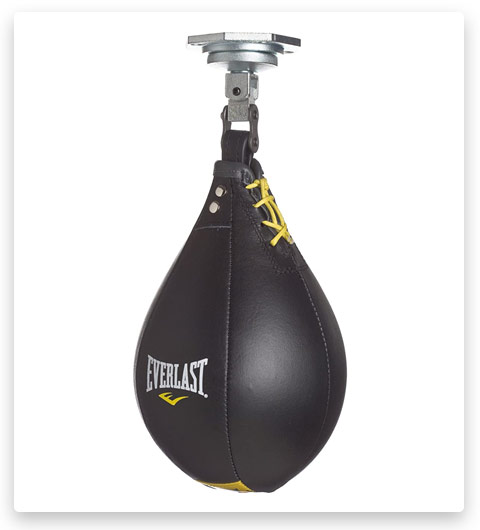 A straightforward speedbag. Sadly, it does not come with any other equipment that would help to connect it to the ceiling other than a hook. It comes in 2 versions, one of which can be used even by kids who are over 5 years old.
It's easy to place and even easier to use. Just hang it and start the punching. This product is rather cheap and it shows because the quality leaves a lot to be desired. We can not call this bag durable or long-lasting even if we wanted to.
It also starts to deflate after a few training sessions, and you will have to inflate it constantly. We would not recommend this for adult boxers, that's for sure. Maybe you can give it as a present for your kids as a starter bag and pray that it won't tear after a few weeks of use.
Features:
A medium-sized speedbag is suited for kids and the large one – for adults.
Made from synthetic leather.
Weights about 11 ounces.
It comes in two versions: 9 x 6 inches and 10 x 7 inches.
11# Everlast Traditional Heavy Bag Kit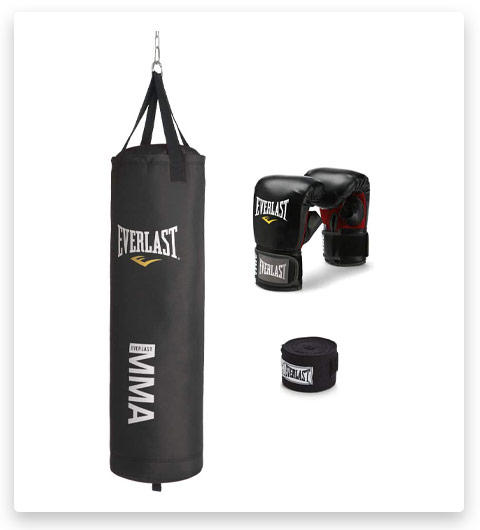 This Everlast brand is usually a sign of the high quality of boxing equipment. This hanging bag is no exception, apart from a few minor issues. It is a good semi-professional bag that comes in a 70- and 108-pounds versions. Both versions are very tall, approximately 52 inches in height. The chain also helps to adjust the needed height.
The bag comes already filled and heavy when you order it. The big weight of the bag is suited for intense training and powerful punches. The product additionally includes hand gloves and wraps for hands protection against injuries and grazes.
As with all hanging bags, you will need a strong anchor bolt to support the bag, which you screw into a stud and hook the bag too. Unfortunately, the product does not come with additional equipment to hang it from the ceiling properly.
Features:
Made from vinyl leather.
Suited for teens and adults.
Filled with synthetic fibers and sifted sand.
About 5 feet (52 inches) tall.
Two versions are available: 70 pounds and 100 pounds.
12# Ringside Leather Boxing Double End Bag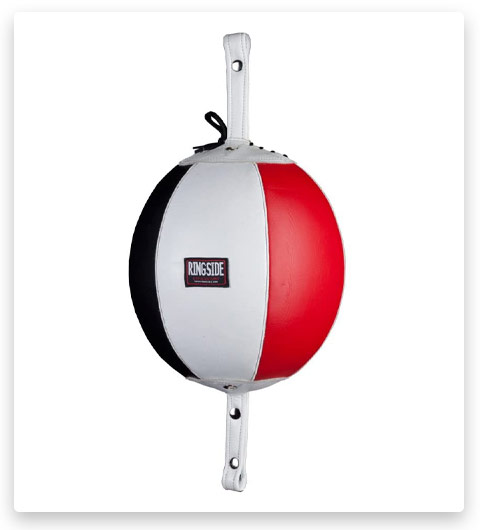 Small leather hanging bag for fast punches. It is used to develop your timing, speed, and accuracy, so you do not need to pack heavy strikes into it. The product comes with top and bottom loops and double end cables so you can set the whole construction up.
The bag comes in 5, 7, and 9 inches versions. The bigger the bag is, the easier is it to hit. The smaller it is, the more skill and accuracy you'll have to pack in each movement.
On the downside, this bag is inflatable and not particularly high quality. It can deflate within a few weeks of intense use. Be ready for constant air filling.
Features:
Made from synthetic leather.
A small bag for fast, accurate, and coordinating punches.
Available in 3 sizes: 5, 7, and 9 inches.
13# Luniquz Kids Punching Bag Oxford Boxing Bag Metallic Boxing Gloves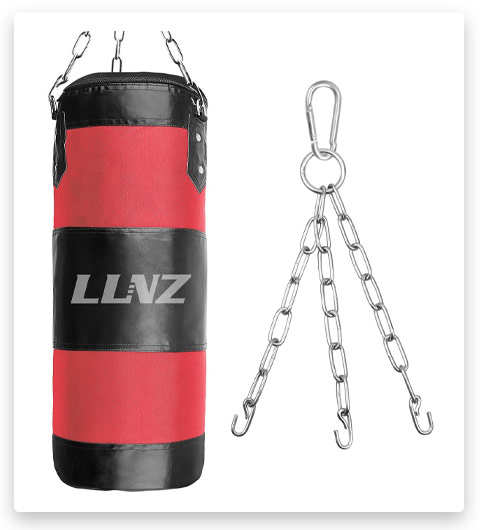 The last product we will look at is a hanging bag made for kids. It is compact with no more than 23 inches in height and about 1.50 pounds in weight. The bag itself comes "empty", so you can fill it with materials better suited for your kid's workout. It can be filled with foam, pillow, beans, or sand – you name it.
Unfortunately, you'll have to buy the material to fill it with yourself. This bag comes with a chain to adjust the height of the bag. The metal hook is also included, so you can hang the bag from the ceiling or stand.
It is a good starter bag for a young martial artist. Due to the high quality of production, this bag will be long-lasting and durable, and will easily take punches from children under 12 years of age.
Features:
About 23 inches in height and 1.50 in weight.
Made from Oxford cloth and a mixture of canvas with cotton.
Suitable for children from age 5 to 12.
Conclusion
So, here are our top 12 products best suited for home use. Some of them are too expensive. Some of them are cheap, but not very durable or punch-resistant. Be sure to take everything into consideration before buying.
The best middle-budget product would be RDX Punch Bag for Boxing Training. It combines an affordable price with good quality and exceptional durability.
We recommend Luniquz Kids Punching Bag for your kid if he wants to have training sessions at home (or your in-home gym). It also has great prices and quality.
Ringside Leather Boxing Double End Bag takes the prize over Everlast Speed Bag as the best speedbag for more accurate and fast punches.
Dripex Adult & Kids Freestanding Punching Bag Heavy Boxing Bag with Suction Cup Base wins the best boxing bag award in today's article! You'll have to see past its price, but if you want an excellent fighting accessory that will serve for years – it may be your best pick.
This concludes it. If you already have boxing accessories, but not the main component, or if you began improving your health, reflexes, and fighting skills recently, then you don't need to wait any longer. We hope this article helps you to choose the best accessory for your training!