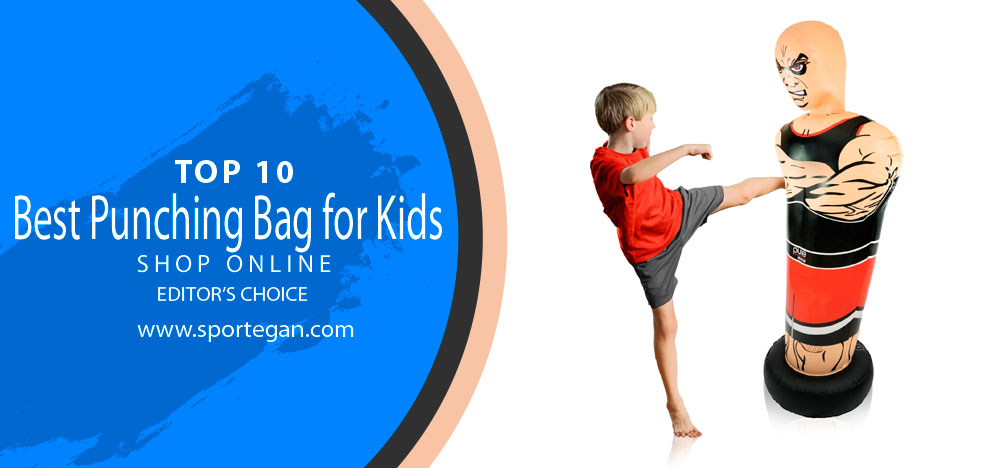 How to Choose the Best Punching Bag for Your Kid
Any parent would want only the best for their children. This means not only the most exceptional education, comfiest home, and friendliest neighborhood but also the best toys. As a parent you would also want to look out for your child, but wouldn't it be nice to know what your kid can look out for himself?
And just maybe you started to notice that your kid spends too much time playing video games on his smartphone or watching TV on the couch in his spare time?

We may have a solution that combines the best of all worlds – a toy that can keep your kid actively playing on his feet while building his physique. A good punching bag and a set of gloves may be just what your kid needs like exercise, stress relief (believe me, kids have enough reasons to be angry) and an entertaining change of scenery.
Of course, you wouldn't want to buy your child an expensive professional boxing bag at first. And it turns out there is an entire market of punching bags made for kids! Now you just need to choose the right one…
If you want to buy an excellent gift for your child that will jump-start his martial arts career – keep on reading! We are going to talk about different types of boxing bags made for kids and tell you what you need to pay attention to when choosing a bag like this.
Different Types of Punching Bags for Children
The best choice for younger children (under the age of 3) and toddlers are unarguably inflatable punching bags. They are comfy, soft, easy to place and they don't take much place. Your kid can play with them anywhere inside or outside the house. On the downside, inflatable bags have a very high risk of breaking or tearing, so be prepared for constant air, sand and water leakages.

Kids over 3 years old will prefer freestanding punch balls. They usually come with their stands. They are also very transportable, but they need slightly more space because of the bouncing and swaying of the ball. You also would be glad that the bag that you bought for your kid didn't deflate two days after the purchase.
There are also heavy punching bags that need to be mounted on the ceiling. They are not for outdoor use, and they also require a lot of space. They are also quite expensive and usually require gloves. These types of bags are great for kids who are serious about combat sports, but we don't recommend buying them as your child's first training bag.
1# Big Time Toys Socker Bopper Power Bag Standing Inflatable Punching Bag for Kids – by Big Time Toys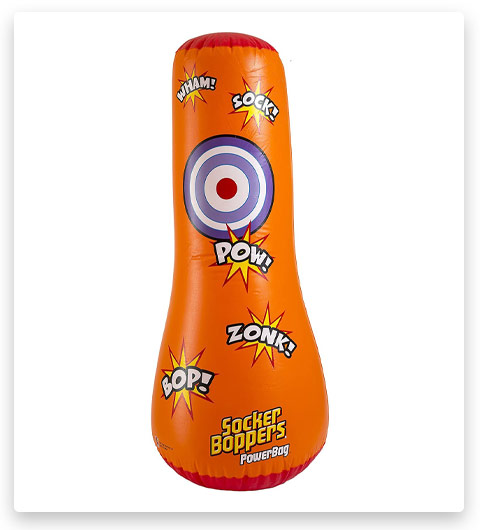 This punching bag gives kids ways to release their energy inside the house or outdoors. It can be placed anywhere you want and kicked with any strength. The structure of the bag makes sure that kids won't injure themselves. It also doesn't require boxing gloves or any additional accessories.
Highlights:
It can be filled with rice or water for different effects. Fill it with rice to get the "bounce back" effect!
For kids from age 7 and older.
2# The Original 46″ Bozo 3-D Bop Bag – by BOZO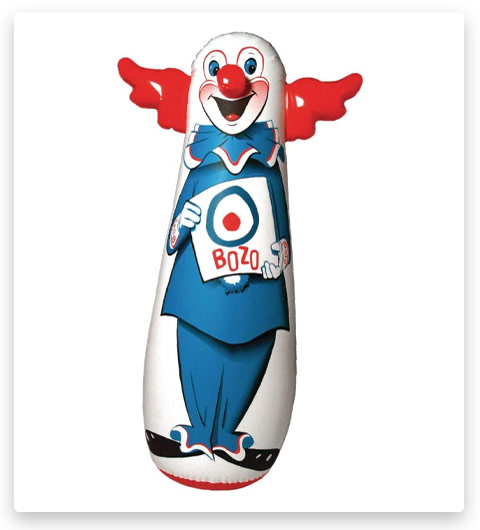 This is a reproduction of the classic Bozo Bop Bag from the 1960s. It is a tall inflatable toy made out of durable vinyl. The base is filled with sand at the bottom, which gives it a feeling of weightiness. The bag should be very durable and can withstand punches even from adults. Also, if your kid punches it in the nose, it will make a cartoonish squeak noise, which is also a nice touch!
Highlights:
It doesn't need gloves to be hit.
For kids from age 3 and to 7.
3# Tech Tools Boxing Ball Set with Punching Bag Boxing Gloves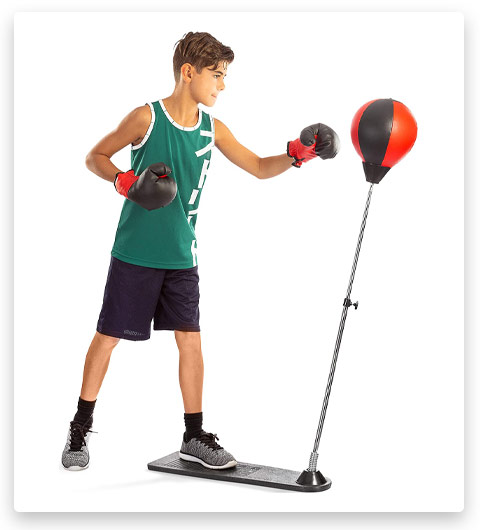 This boxing ball is very comfortable to move and very safe to use for kids. The ball itself is long-lasting. It will probably not break until your child grows out of the toy punching bag age. You can also easily adjust its height, so the youngster would not "outgrow" its usefulness too quickly. On the downside, this toy can be a little light and soft, but because the product comes with boxing gloves, hand pump and height stand for such a reasonable price – it's definitely a good budget pick.
Highlights:
Comes with gloves, a pump, and a stand.
Suitable to use indoor and outdoor.
4# Everlast Power Core Bag (EA) – by Everlast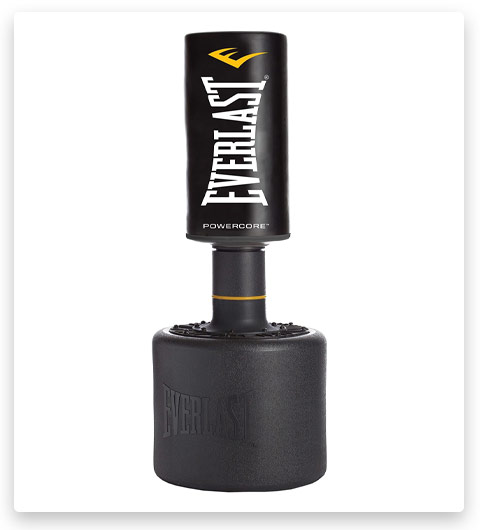 This is one of the more professional training bags. This product has a rounded design, realistic feel, and can withstand heavy strikes and extensive workouts. The base can be filled with water or sand to keep stationary from tight punches and kicks. Due to its height that cannot be adjusted, this box can't be used by younger kids. This bag is convenient and easy to move. It also has good impact absorption. Amateur fighters can punch it with full force and don't be afraid of an injury.
Highlights:
Good startup bag for amateurs and semi-professional boxers.
It can be filled with water, sand, or air.
5# Myfreed Fitness Punching Bag Free Standing Water Base Pump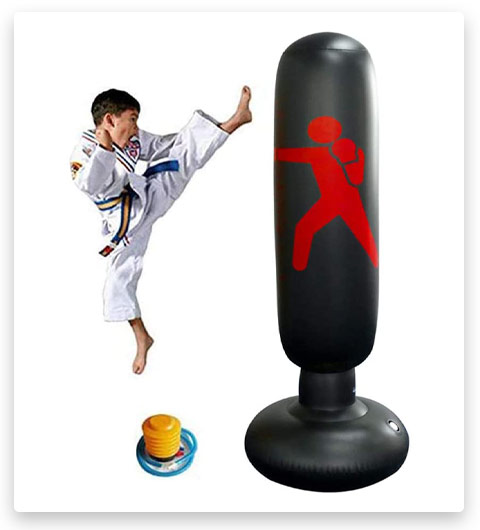 This bag works similarly to the Everlast Power Core one: it is also durable, portable, has a stable structure. The base of the product can be filled with sand or water to give it more weight. Myfreed punching bag has a structure and height ideal for a little martial artist.
Highlights:
Made from PVC materials.
For kids from age 3 and older.
6# J&A's Inflatable Dudes Ninja Kids Punching Bag Inflatable Toy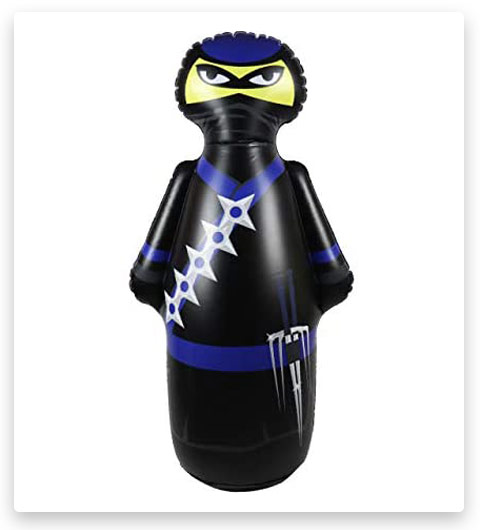 This inflatable bag's only redeeming quality is its copyrighted logo. And very sorry quality at that – Teenage Mutant Ninja Turtles are just not that popular in 2019. On the bright side, it's a simple inflated bag and it has all the pros you can expect from it. It's safe for children and can take some serious hits. For a while, that is. The bag is bouncy and not very long, so little kids can have fun playing it.
This is where positive things end, and reality kicks in. Your kid probably won't be hitting it for too long, because it's prone to tearing and leaking. Also, many customers complain that this bag won't even get up after a few hits. Other people experienced constant leakages from the base of the bag. So, we don't think you can become a ninja lord with this one.
Highlights:
The bag is made of vinyl.
It must be filled with water.
For kids from age 3 and to 5.
7# Taylor Toy Inflatable Punching Bag for Kids – Free Standing Bounce Back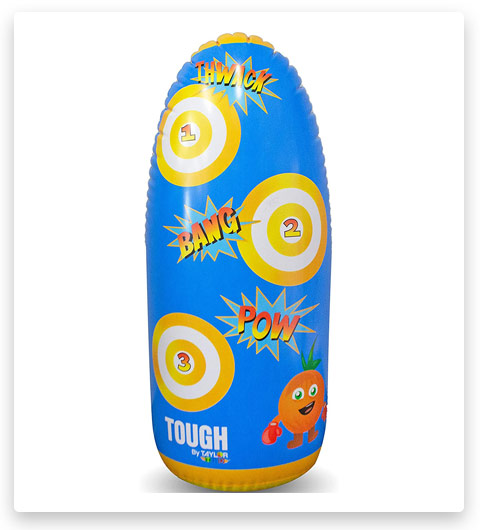 Durable and colorful training bag for kids. It can be filled with water and air in any proportions you want. Add more water or sand to make it more bouncy and heavier. The stand itself is not very tall (about 44''), which makes it perfect for 3-year-old kids and older children. It's better to fill the bottom of the bag with sand, or it may not pop back up after a few hits.
Highlights:
For indoor exercise.
For 3 to 7-year-old kids.
8# Kid O Wobbles Fox – by Kid O Toys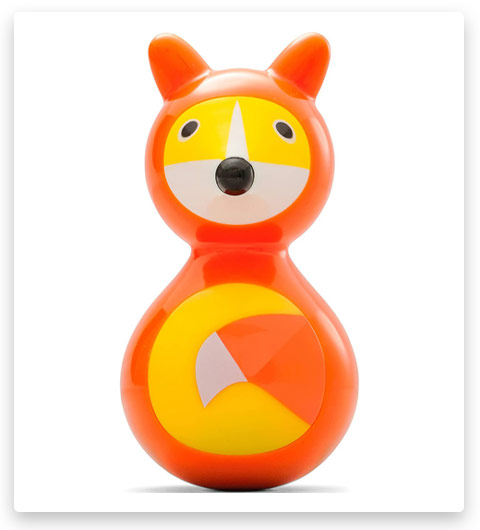 The company that made this product is dedicated to children's toys and educational products. This product is not a punching bag, but more of a toy. It's affordable, cute, soft, and safe for kids over 12 months of age. Yet, it's still pretty heavy and definitely won't float if you put it in a tub. Your kids probably won't hit this little thing in full force, but they sure can have fun spinning it around and throwing it all over the place.
Highlights:
Made from good materials.
About 3.5 inches tall.
For 1 to 2-year-old kids.
9# Hedstrom Ultimate Spiderman Bop Bag, 36 Inch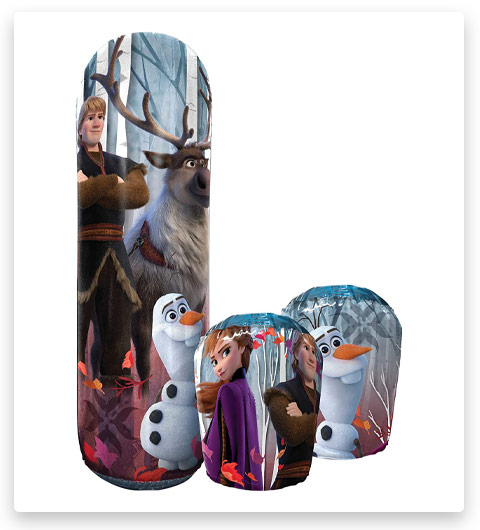 Here we go again in the copywriting territory. As you might have guessed, one of the only good things this punching man has to offer is Spider-man printed on it. Just as TMNT bag, this one is not a complete disaster, but pretty close to it. You can add water or sand to the base to make it more stable, but they are not even included in the package. It's prone to tearing and can't be considered durable for anyone. We recommend skipping this one.
Highlights:
36'' tall.
Made from soft vinyl materials.
For kids from age 3 and to 5.
10# UP IN & OVER Bop Bag Elephant – by Bestway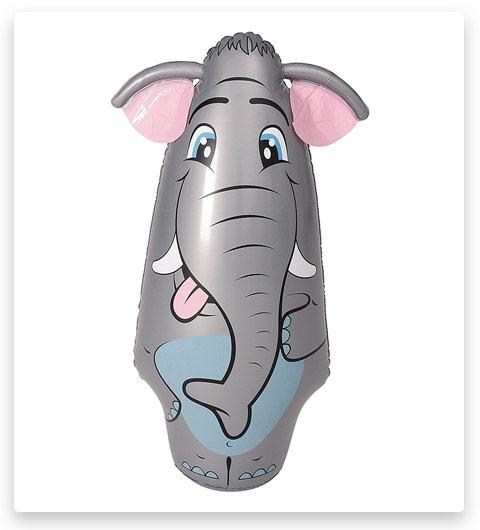 Your kid can train and test his punching skills on this little inflatable elephant. This product is cheap, but it comes with some nice additions. For example, it already has sand in it, so you don't have to make any additional expenses and fill it yourself. And as you may know now, the heavier the base of the bag, the better it feels and bounces when your kids make a punch.
Highlights:
3 feet tall.
Fun and cute design.
For kids from age 3 and to 5.
Our Recommendations
Out of all bags covered in this article, we recommend Myfreed's Fitness Punching Bag Free Standing Water Base Pump for amateur martial artists. It combines longevity, durability, and has a reasonable price. For kids over 7 years old who are more serious about boxing, we would suggest picking Everlast Power Core Bag by Everlast. Though a bit pricey, it will serve as a good punching bag for years to come.
Conclusion
Punching bags are a great alternative for your kid's use of spare time. They don't only make children move more and break a little sweat, but improves their cardiovascular health, increases their coordination, and helps them build faster flexes.
Tags: #punching bag for kids / #best punching bag for kids / #punching bag stand for kids / #inflatable punching bag for kids / #best rated punching bag for autistic kids / #best freestanding punching bag for kids / #stand up punching bag for kids