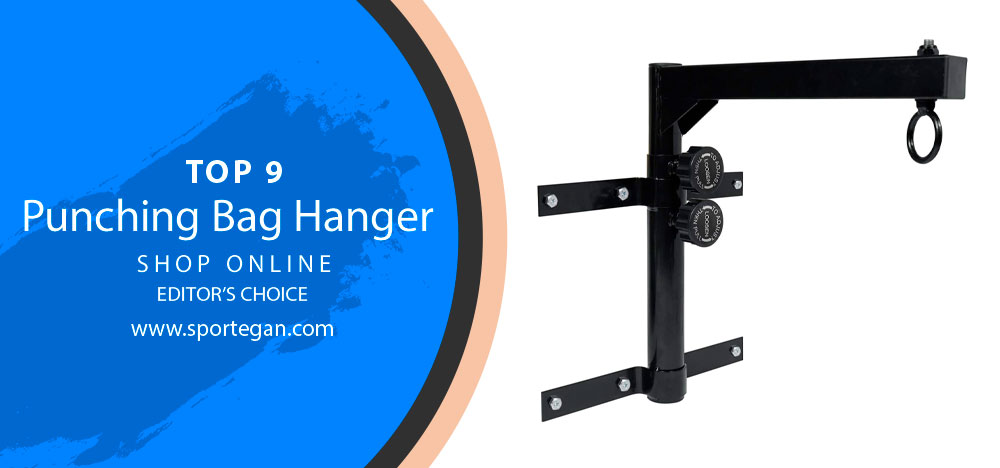 How to Choose the Best Punching Bag Hanger / Heavy Bag Hanger
I can say without a doubt that having a good punching bag at home is a great, even essential, tool for professional and aspiring fighters.
I talked a lot about boxing accessories and touched on a few types of boxing bags previously. We've looked through heavy bags and their classification before, and not without reason.
Heavy bags are one of the best options for intense training sessions, that lead to muscle toning and strength training. There is no better way to improve your reaction, timing, and power than regular workouts (and punch-outs).

Though freestanding punching bags are easy to place, move and assemble, hanging heavy bags will provide you better stability, durability, and punch-resistance.
The downside is that they are hard to mount and place. Usually, it requires some drilling and physical work just to install one in your home. Even heard the expression "penny-wise, pound foolish"? When talking about hangers for punching bags, this phrase really tells it all.
You don't want to buy a cheap product and spent a lot of time and energy mounting it to your ceiling. You wouldn't just waste your money; you would also make additional holes in your house and break a sweat all for nothing.

Therefore, you should pay attention to the hanger that your weighty bag will have to be hanging from.
To help you choose the right bag hanger, I have compiled a list of eleven products to show you the pros and cons of each one. After we look at some of the hangers, I will summarize what you should look at when choosing the right one. 
1# Yes4All Wood Beam Punching Bag Hanger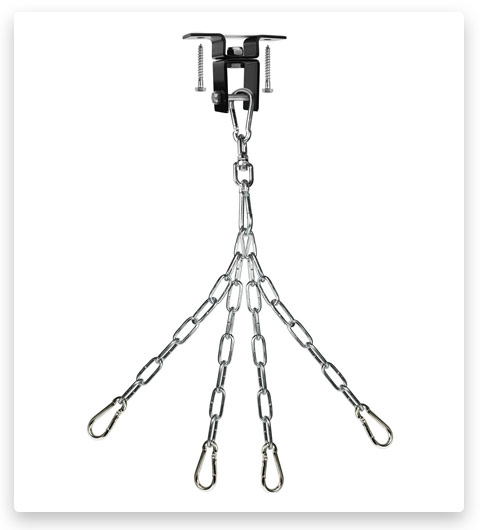 This hanger is constructed from U-steel plates, coated with enamel powder coating. The manufacturer guarantees great durability and corrosion resistance. In addition, high-quality material prevents rusting. The smart construction helps the chains to rotate 360 degrees without getting tangled up.
In practice, this mount can take the weight up to 100 pounds. Four snap hooks will secure the bag to ensure you smooth training and stability of your bag. The product comes in a few options. You can buy the hanger with the training bag holder, swivel, and boxing chains, as well as all the other mounting hardware.
The screws that are included with the hanger are prone to snapping. For your safety, I would recommend buying good quality steel screws from your local hardware store before you mount this thing to your ceiling.
In practice, this bag will work with bags that weigh no more than 80 pounds. A little heavier and you will encounter stability issues. The chains can also be a bit short. Overall, the risks and inconveniences far outweigh the low price.
Features:
Solid U-steel plates that prevent rust and corrosion.
Can mount single or double heavy bags up to 100 pounds at maximum.
It can be installed indoors and outdoor.
It can be bought with a boxing chain and or swivel (optional).
2# Yes4All Heavy Duty Steel Beam Heavy Bag Hanger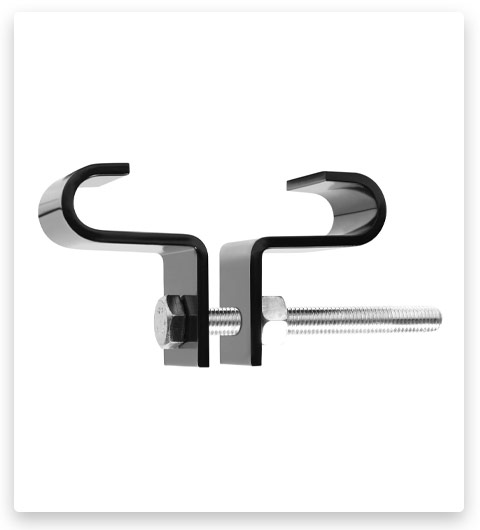 Another product from Yes4All is constructed from solid steel. It attaches to most I-Beams (also known as H-beam or double-T beam, with an "I" or "H" shaped cross-section).
It is easy to install and adjust. The product comes with mounting hardware to ease up the mounting process. The Yes4All gives you a 2-year warranty on this product, by the way.
Unfortunately, this product won't suit everyone, since people usually don't have I-shaped beams in their home.
But if you or your gym does, this hanger will be easy to install. It can carry weight up to 90 lbs, but in practice, it will support up to 100 pounds without a problem. There are some minor downsides.
For example, this hanger is not fixated on the beam, so if you hit the bag powerfully from some angles, the hanger can slide across the beam with the bag.
Features:
Constructed from solid steel.
Easily attached to I or H-shaped beams.
The product comes with the necessary mounting hardware.
It can carry weight up to 90 pounds.
The width is adjustable from 3.5 to 7 inches.
3# Meister Heavy Bag Hanger Strap Mount for Boxing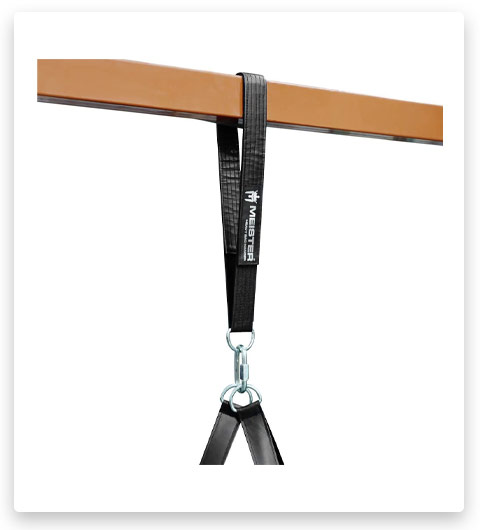 What should we talk about after a hanger that attaches only to specially shaped beams?
How about this – a vinyl strap that connects your punching bag with rafters, ceiling joists, metal racks, and, of course, I-beams. This hanger is near-universal and fits most of the hanging bags on the market.
This thing is effortless to install and use. The height of your bag will also be flexible since this strap can be adjusted from 10 to 36 inches.
It is not particularly expensive, especially if you consider that you don't need any additional equipment to hang your bag.
It has a simple design: oversized hook and loop sections that are ideal for quick and easy installation.
Meister hanger also has a surprising stronghold. It won't support up to 500 pounds like the manufacturer says (at least not for long), but it will easily take up to 150 lbs bags.
Features:
Vinyl strap with hook and loop sections. It doesn't require any additional accessories to use.
Supports bags that weigh up to 150 lbs.
The length is 36 inches at maximum.
4# Besthouse Permanent Antirust Stainless Steel 304 Heavy Duty Swing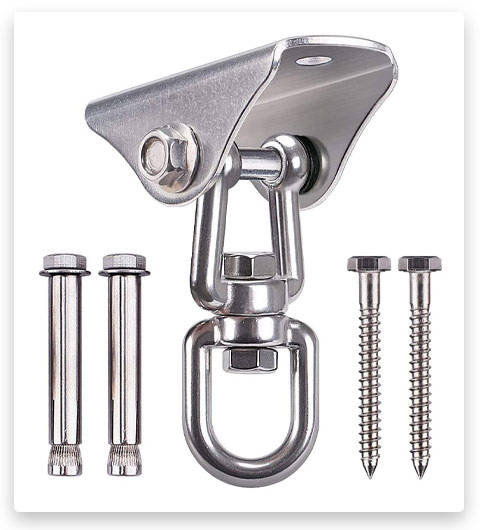 The hanger is great to mount indoors and outdoors if you wind the right surface. You can set it up on most surfaces, though it will require drilling. Even though it's not too easy to mount, this product comes packed with all the necessary accessories, including 2 concrete anchors and 2 hex lag bolts.
The hanger also comes with 2 pre-drilled holes in it for your convenience. It is made from stainless steel that prevents it from rusting and corroding, as well as enhances its durability. It comes in 5 variations, which differ by the rotation angle (it also has a 360° silent rotation variant).
This product is cheap but very durable and sturdy. It can hold punching bags that weigh up to 1000 lbs. Yes, it can take half a ton! On the downside, this hanger doesn't have a so-called "thrust bearing," which means it won't rotate too smoothly. You may have to apply the grease on the swivel, this way it'll rotate more effortlessly.
Features:
Made from stainless steel.
Suited for indoor and outdoor mounting.
Mounts to wooden beams, cedarwood, rafters, and even concreteю
It can hold up to 1000 lb.
Comes in 5 variations (180° swing; 360° rotation; 360° rotation with a hinged bolt; 360° silent rotation; and hanger, that swings back and forth).
5# Yes4All Wall Mount Heavy Bag Hanger with Heavy Bag Chain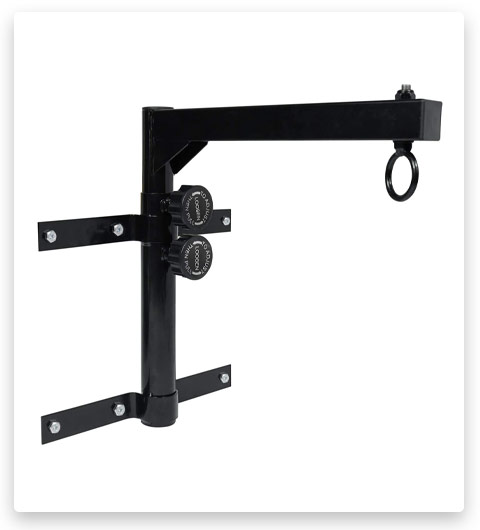 If you want more stability and durability, wall mounts may suit you better, than standard hangers. Yes4All Wall Mount is made from heavy-gauge steel with special oxide anti-rust formulation, which prevents corrosion. I would not say that it is easy to mount, on the contrary, it will require some time and energy.
Stay calm, though, because this wall mount comes with manual instruction and the necessary hardware for the installation. It can be mounted to any wooden stud wall or even concrete without problems.
Eight bolt points will provide more stability to the hanging bag even under heavy strikes and kicks. Since it stands against a wall the degree access to the heavy bag is a little limited. You won't hit it from all sides, but you'll have about 140-180 degrees at your disposal. This mount also suffers from some poor construction choices and can break if you hang a bag that is heavier than 100 pounds.
Features:
It can hold up bags to 150 pounds, but the optimal weight is under 100 pounds.
The mount has 8 bolt points for a stronger and secure grip against the wall.
It comes with and without the chain.
6# Comingfit Concrete Ceiling Wood Beam Heavy Bag Hanger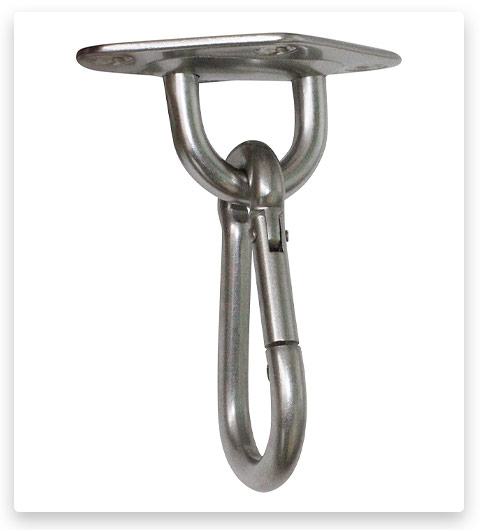 Comingfit hanger is a simple and cheap accessory that mounts to a wooden beam or a concrete ceiling. It includes 4 shield anchors that support up weight up to 300 lbs if you install it on the concrete ceiling. For wooden beams, the maximal supported weight is about 150 lbs.
This product comes in a package with a ceiling hook, duty hanger, 4 shield anchors, and 4 stainless screws. It's cheap and not very durable. You can rely on it if your bag isn't too heavy, though. Even if this hanger officially supports up to 300 lbs punching bags, I wouldn't recommend going past 120-150 lbs or you will encounter stability problems.
Features:
For indoor use.
It can be mounted to the concrete ceiling and wooden beams.
Supports up to 300 lbs if mounted to concrete and up to 150 lbs for wooden beams.
7# SELEWARE 1000 lb Capacity Wall Ceiling Mount Bracket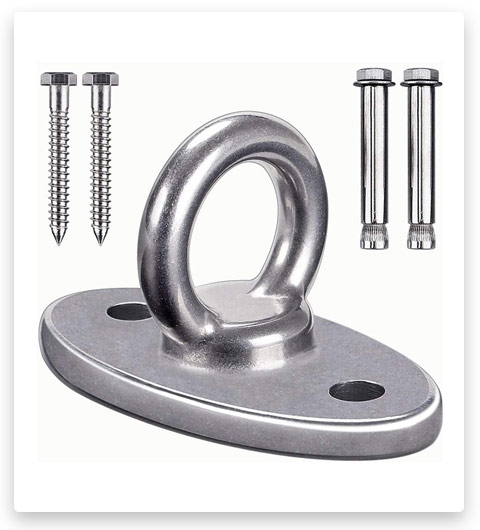 Seleware hanger is made out of quality steel that prevents rust, corrosion, and other unpleasantries. The hanger has 2 pre-drilled holes in it, which makes for an easier and faster mounting.
It can be placed into concrete, wooden beams, rafters – you name it. Just be ready to make some drilling. Each hanger comes with 2 screws and 2 lag bolts. Since this product is so cheap and simple, it has some downsides. For example, it can't swivel 360 degrees. However, it can support punching bags that weigh up to 1000 lbs.
I wouldn't recommend you trying out its maximum capacity, because some people have complained that the hanger came loose. But aside from that Seleware hanger proves that simple and affordable products can be reliable and high-quality.
Features:
Suited for indoor and outdoor use.
Can support up to 1000 lbs (at max, though I would not recommend it).
Comes in 3 variations: 1 fixed hook; 1 openable hook; and 2 fixed hooks.
8# Everlast Wood Beam Holder (EA)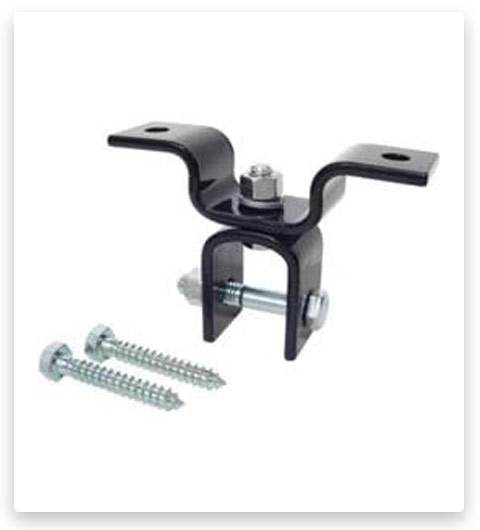 Easy to mount and cheap holder from the Everlast. It can be installed on wooden floors or ceilings. The product comes with a hanger alone or with all accessories for faster mounting.
I'd say the maximum weight that this hanger will take is about 100 pounds. A little weightier and the nuts and bolts that keep the hanger mounted will slowly unscrew.
The accessories that come with the product are a real bummer. The bolts are low-quality and can break upon installation. You better buy a pair of 3/8 and 1/2 bolts from the local store.
Features:
Suited for indoor and outdoor use.
It can support weight up to 100 pounds.
Comes in 2 variations: with and without nuts & bolts for mounting.
9# Qualward Heavy Bag Hanger Punch Bag Wall Ceiling Mount Hook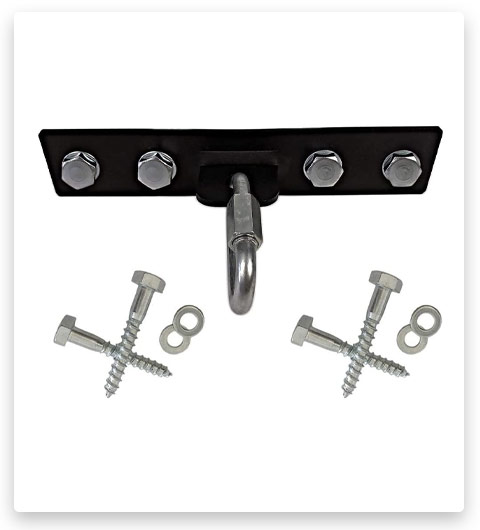 The heavy hanger that supports up to 500 lbs punching bags. It is made from an anti-rust steel plate, which prevents corrosion and rot. It is durable and sturdy, and it also takes quite a small room on the ceiling wall.
The product comes with equipment for installation. The mounting process is simple if you are comfortable with drilling. To ensure the stability and safety of your bag and surroundings, I advise you to center stud on the hanger.
Features:
It can support weight up to 500 lbs.
Made from steel plates, which prevent rust and corrosion
It comes in 3 variations, that support weight ranging from 350 to 500 lbs.
10# Everlast Professional Speedbag Swivel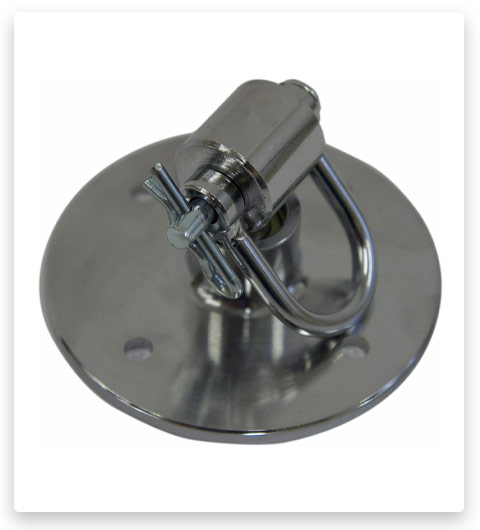 This swivel is made for speedbags, not heavy punching bags. So please, don't hang anything over 50 lbs on it, because it's not suited for it, nor will it support the weight successfully.
If you want to train your reaction and timing with a speedbag this can be a hanger just for you. The product comes with 4 screws, washers, and hex nuts – basically everything you'll need to install it. The construction has 4 pre-drilled evenly spaced holes in it for your convenience.
It is also full-rotation, so you are free to move as much as you want during your training. On the downside, the swivel gets a little noisy and squeaks after a few weeks of intense bag punching. I recommend keeping oil at hand to apply it from time to time. The swivel also hangs down a little low, so be prepared for that.
Features:
Suited for speedbags.
Made from solid steel to ensure longevity and durability
It comes in 3 variations.
11# Firstlaw Fitness I-Beam Rolling Punching Bag Mount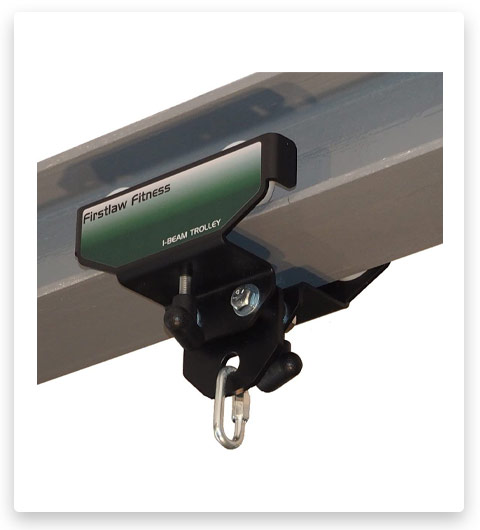 And here's another hanger that can be mounted to an I-beam. It is also a rolling mount, which adjusts to the beam and allows it to move through the beam. It is designed to be installed effortlessly in a matter of minutes.
This is an expensive product, but it really makes up for it by the quality of the design and reliability. It is durable and can support up to 350-pound punching bags effortlessly. Honestly, if you have the budget and want an AAA-grade experience, I can't recommend this product enough!
Features:
Supports up to 350-pound punching bags.
Made from quality materials.
It comes in 15 different sizes, varying from 3.5 to 7 inches.
Frequently Asked Questions

Conclusion

We have looked through some of the hangers available on the market. As with all products, not necessarily just boxing accessories, you should always take the quality of the hanger into consideration first.
Consider what type of bag you want to practice with (speedbag or a hefty bag). Also, look at the rotation angle of the hanger – you'll want a 360-degree swivel if you don't want to limit your movement during training.
I hope that this article will help you to decide on the best accessory for your fighting exercises!
Tags: #best punching bag hanger / #punching bag hanger / #everlast punching bag hanger / #best heavy bag hanger / #heavy bag hanger / #wall mount heavy bag hanger