Sportegan's Editors independently research, test, and rate the best products. We may earn a commission through products purchased using links on this page.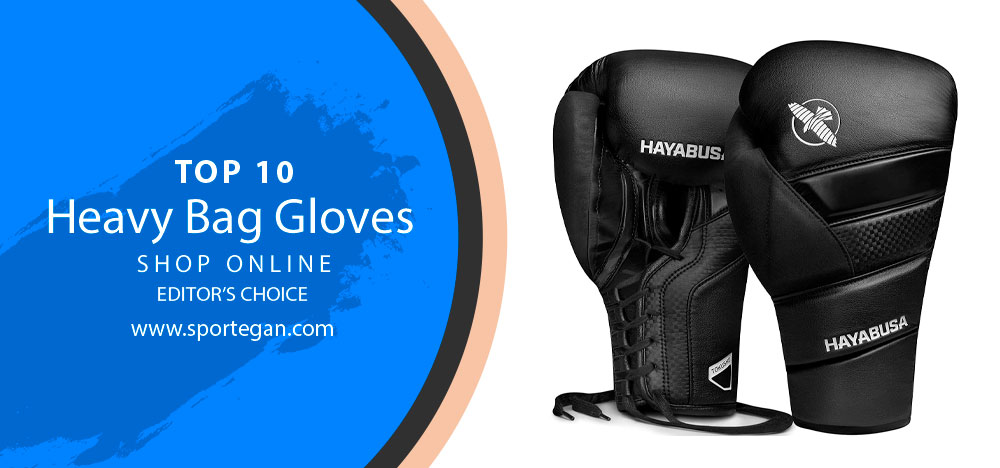 There is a significant difference between boxing gloves for sparring and heavy bag gloves. Of course, you can train on a bag and in sparring gloves, but in this way, you will very quickly kill them. Heavy bag boxing gloves are designed to withstand multiple kicks and more intensive use than other types of gloves.

They use thicker padding, and rubber is stitched much stronger and more thoroughly. That is why they serve boxers for many years without any damage. In our selection, we have reviewed for you the top 10 best heavy boxing gloves that are available on the market. Let's get acquainted with them!
Our Top 10 Picks Best Heavy Bag Gloves – Editor's Choice
| Image | Product | Brand | Link |
| --- | --- | --- | --- |
| | Title Gel World Bag Gloves, Red, Large | Title Boxing | |
| | Ringside Apex Flash Boxing Training Sparring Gloves WH/BK, 16 oz | Ringside | |
| | Everlast Pro Style Training Gloves (Red, 14 Oz.) | Everlast | |
| | Venum Elite Boxing Gloves - Matte/Black - 16oz | Venum | |
| | Extra Padding Gloves (Red - Extra Padding, 16 OZ) | CLETO REYES | |
| | Hayabusa T3 Boxing Gloves for Men and Women Wrist and Knuckle Protection, Dual-X Hook and Loop Closure, Splinted Wrist Support, 5 Layer Foam Knuckle Padding - Black, 12 oz | Hayabusa | |
| | RDX Boxing Gloves EGO, Sparring Muay Thai Kickboxing MMA Heavy Training Mitts, Maya Hide Leather, Ventilated, Long Support, Punching Bag Workout Pads, Men Women Adult 8 10 12 14 16 oz | RDX | |
| | Twins Special Boxing Gloves Velcro (Black) (12 Ounce) | Twins Special | |
| | Essential Boxing Gloves Orange 10-oz | Sanabul | |
| | Fairtex Microfibre Boxing Gloves Muay Thai Boxing - BGV14, BGV1 Limited Edition, BGV12, BGV11, BGV18, BGV20 | Fairtex | |
| | WINNING Training Boxing Gloves 16oz (Blue) MS600B | Winning | |
| | Hayabusa S4 Boxing Gloves for Men and Women - Charcoal, 14 oz | Hayabusa | |
| | Jayefo Glorious Boxing Gloves Muay Thai Kick Boxing Leather Sparring Heavy Bag Workout MMA Pro Leather Gloves Mitts Work for Men & Women (6 OZ, Black) | Jayefo | |
| | FitsT4 Pro Grade Boxing Gloves PU Leather Kickboxing Muay Thai Punching Bag MMA Sparring Training Fight Glove | FitsT4 Sports | |
| | | | |
| | Ringside Apex Boxing Training Bag Gloves, Black/Red, S/M | Ringside | |
| | Everlast Mixed Martial Arts Heavy Bag Gloves (L/XL) | Everlast | |
| | Venum Challenger 2.0 Boxing Gloves - Black/Gold - 16-Ounce | Venum | |
| | Hawk Pink Boxing Gloves Ladies Women's Flowers Girls Leather Training Gloves Bag Gloves Mitts Muay Thai Kick Boxing Gloves (Black, 16oz) | Hawk Boxing | |
1# Title Gel World Heavy Bag Boxing Gloves – Best Gloves Overall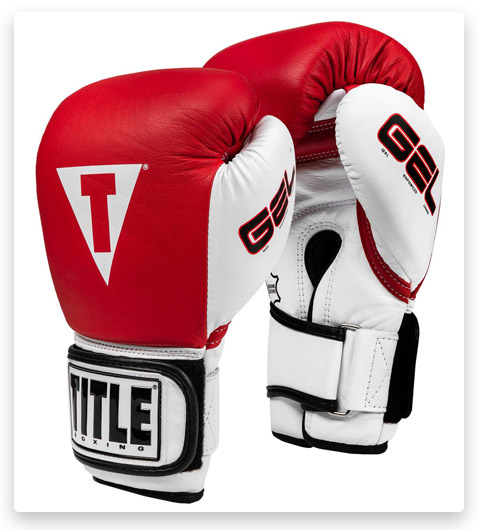 In these gloves, protection is provided by a multi-layer foam filler with an additional high-tech gel layer Gel Enforced Lining, providing an ideal personal fit of the hand and bone protection. A special selection of "sandwich" from foam compositions of different structure and density, provides the maximum level of load distribution, for unsurpassed hand protection.
Convenience is another distinguishing feature of TITLE gloves. A gloved hand fit is perfect. The position of the hand and thumb corresponds to the correct anatomical position of the clenched fist.
Excellent soft genuine leather, of very high-quality workmanship, combines reliability, wear resistance, and excellent appearance. The skin of these gloves can easily withstand frequent hours of professional training over the years! All seams are duplicated using high-strength nylon threads. You will feel the quality as soon as you take these boxing gloves in your hands.
2# Ringside Apex Flash Heavy Bag Boxing Gloves – Runner-Up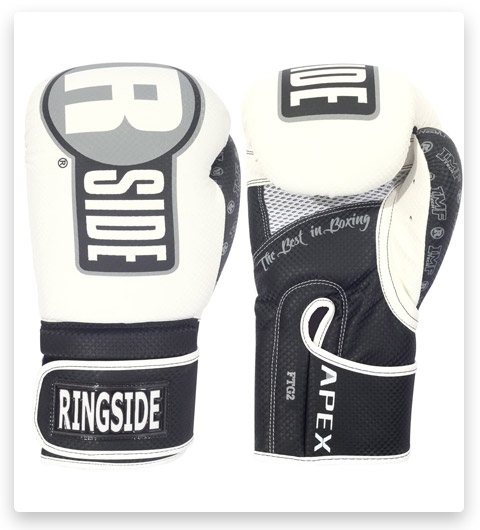 Premium boxing gloves from the famous boxing brand Ringside. Made of genuine leather. High quality, comfort, and convenience are provided to you! Ringside Apex Predator Sparring Gloves boxing gloves are great for sparring, pillow, and bag work. A feature of this model is the padding. Gloves are filled with foam using exclusive IMF Tech technology.
The elongated cuff acts as a second bandage, it holds the wrist firmly and provides maximum protection. At the same time, bending from the top of the cuff makes it possible to bend the brush exactly as much as necessary.
An internal moisture-absorbing lining keeps your hands dry. The thumb is attached to the glove. A robust mesh insert on the palm and special holes on the thumb provides excellent breathability and ventilation.
3# Ringside Pro Style Bag Gloves – Best Budget Gloves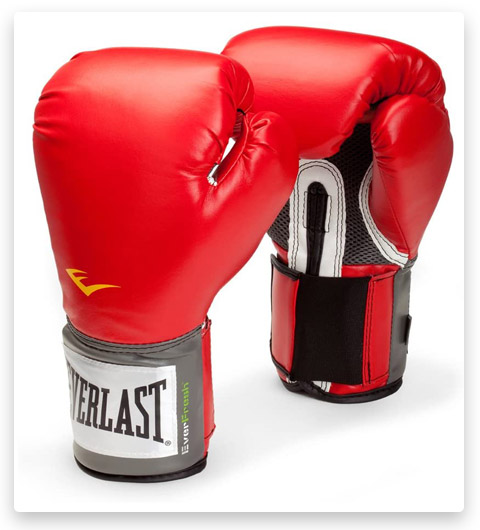 These Everlast Pro Style boxing gloves are simply incredibly cheap, in our opinion, you will not find gloves from a well-known brand at a comparable price. They are fully suitable for boxing training, meeting all accepted standards.
Everlast Pro Style boxing gloves use several Everlast technologies such as Thumb-lock and Ever-Fresh. The first helps to avoid thumb injuries, while Ever Fresh prevents bad breath from the gloves. Made very high quality, delivered in a branded handbag.
These Everlast boxing gloves use a molded foam gasket that takes the shape of a fist, and foam is also used in the wrist area to maintain its correct impact position.
The main disadvantage of these gloves is that they are designed for beginner boxers and are not optimally tailored for professionals. Using these boxing gloves to practice on heavy bags without wrapping boxing bandages can result in serious wrist injuries.
4# Venum Elite Bag Boxing Gloves – Best Gloves For Beginners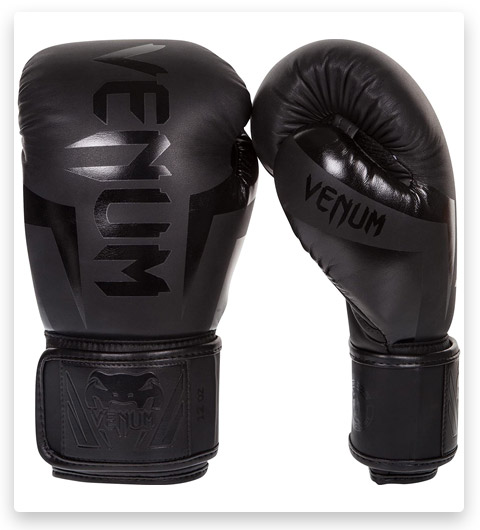 For boxing gloves designed for entry-level boxers, these are surprisingly comfortable, they boast many design features that increase comfort and reduce the strain on both hands and wrists. A reinforced palm and an attached finger help reduce the likelihood of injuries and also make gloves lighter.
Venum Elite boxing gloves are durable as professionals. Skintex leather is not just fiction and will last long enough. A reinforced and improved padding formula reduces the power of hard knocks that rests on the arm and joints.
A high-density mesh integrated into the wrist area controls heat transfer and keeps the inside of the gloves dry. For this price, Venum Elite boxing gloves give you strength that the more expensive models often don't provide.
With all the positive qualities of these boxing gloves, this is just a pair of boxing gloves for beginner athletes. Even despite the impressive list of their advantages, they cannot compete in professional comfort, durability, and level of protection with gloves of a professional level.
5# Cleto Reyes Hook & Loop Heavy Bag Boxing Gloves – Best High-Quality Gloves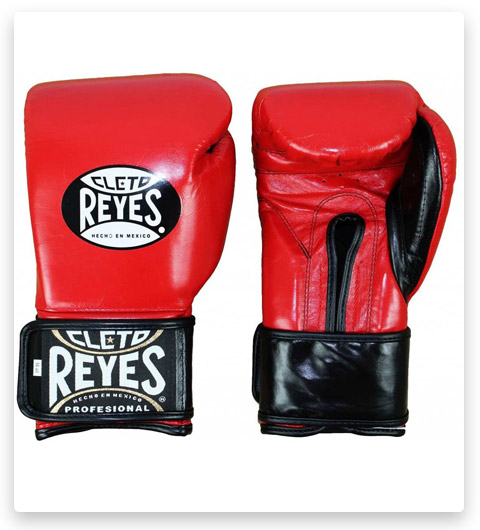 Cleto Reyes gloves are hand-made by Mexican goatskin craftsmen. The skin is very durable and will last you a long time. But there is one drawback in it – it is an unpleasant smell. The gloved hand position is very comfortable. The fist is fully twisted, the thumb is well sewn, so it is simply impossible to damage it with a strong blow.
The filler in these gloves is medium-hard foam. I was also pleased with the rubber layer, which protects the forearm well. As for ventilation, there are small openings in the palm and thumb. And this is already good.
The Velcro is not wide, and most importantly, the Velcro base is hidden in the seam, which gives it more operation time. No wonder all the professional boxers of the world choose Cleto Reyes products. The quality here is so excellent that if you buy it, even your grandchildren will box with gloves on.
6# Hayabusa T3 Heavy Bag Boxing Gloves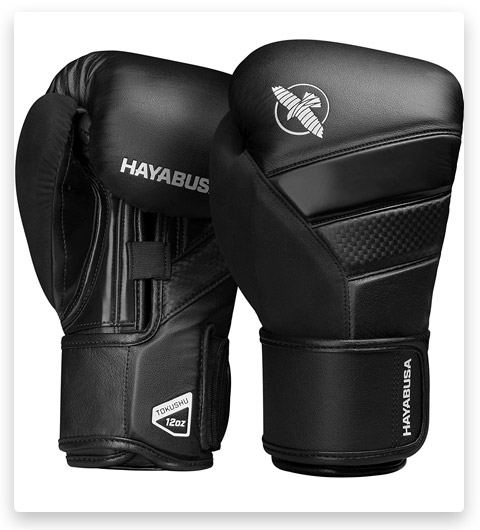 First of all, the appearance of the gloves attracts attention. Unlike many boxing gloves made from one large piece of leather, the T3 model is made of five panels. Two sections made of high-quality artificial leather, a third colored, a fourth, made in carbon style, and a microfiber panel that covers the thumb and additionally, thanks to the patented SweatX Technology, makes it easier to wipe and absorb sweat.
Gloves contain high-quality fillers made using Deltra-EG Inner Core technology, which means that the special compression zone provides maximum protection for the hands during impact. Also, this fastener system and Fusion-Splitting stiffener, which stabilize the brush very well. All this allows you to feel a high level of comfort and safety from the very first blow when using gloves, especially if cheaper models were used before.
These gloves are of very good workmanship and performance. Both inside and outside look great, and after many workouts, they remain in very good condition. Although Hayabusa recommends this model to experienced athletes, there is nothing that could interfere with the use of medium and even beginner boxers.
7# RDX Heavy Bag Boxing Gloves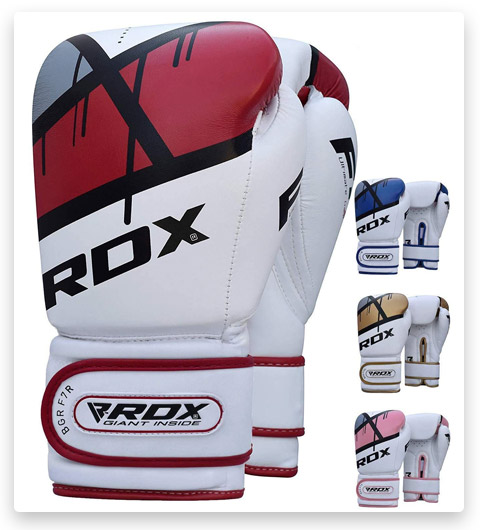 Designed for a fight and equipped with the latest technology, these boxing and training gloves are inviolable in the ring. Reinforced coating and durable lining make them ideal sparring or kickboxing gloves.
They are made of Maya Hide leather, which will withstand the most powerful blows of your opponent. These gloves are equipped with strategically placed openings and provide maximum ventilation, absorbing sweat and keeping your hands as cold as your mind.
A smart clasp with a Velcro strap for adjusting fixation and unrivaled wrist support helps you hone your beat technique.
8# Twins Special Heavy Bag Boxing Gloves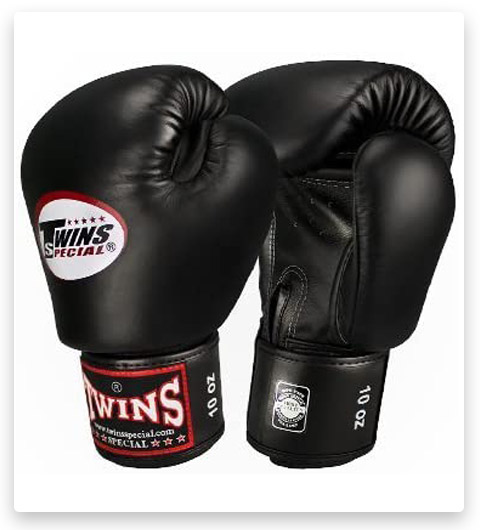 Boxing gloves of the Twins brand are known for very careful protection of the impact surface of the fist. Wearing these gloves, you don't have to worry about broken knuckles or bruises on your fist. Gloves are well packed on all surfaces, especially on the impact part.
Although the gloves look quite similar to classic boxing gloves, they usually have more serious support for the wrist and extra filler along the front of the palm and hand.
What makes these gloves so comfortable? This is a filler, which is made in three layers, with a soft top, hard middle layer, and a pillow-like layer for knuckles. This allows you to use gloves for both working out in pairs and sparring, and for training on heavy bags.
Unlike most gloves of this price range, Twins boxing gloves are handmade. In this case, only genuine high-quality leather is used. The front of the gloves is strong enough to hit as hard as you want. These gloves will last for many years.
9# Sanabul Essential Gel Heavy Bag Boxing Gloves – #1 Best Seller in Boxing Fight Gloves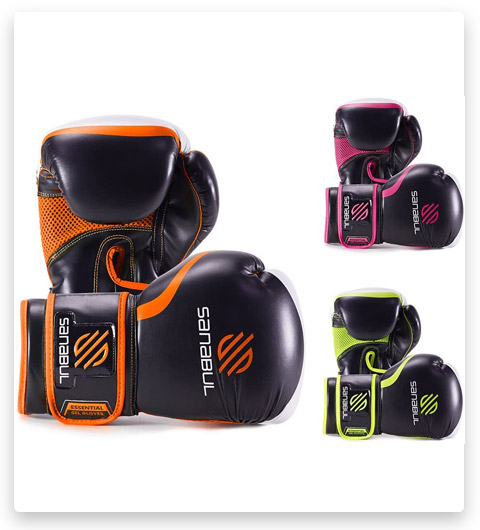 Boxing gloves SANABUL Essential GEL Training Gloves will be an excellent choice for an athlete due to the excellent value for money. They are great for boxing and bagging or sparring.
A specially designed design made of high-quality leather provides excellent functionality and durability of gloves. Correct distribution of impact force due to filling with a special substance a combination of foam and gel for maximum protection during the most intense workouts.
The correct anatomical design fits perfectly on the hands of the athlete, the movement is felt naturally and comfortably. Gloves fit tightly on the hands and are fixed with a special Velcro.
A special inner coating with mesh material contains the athlete's hands in dryness and comfort. The stylish design and functionality of the gloves will delight any athlete – both a beginner and a pro.
10# Fairtex BGV Heavy Bag Training Gloves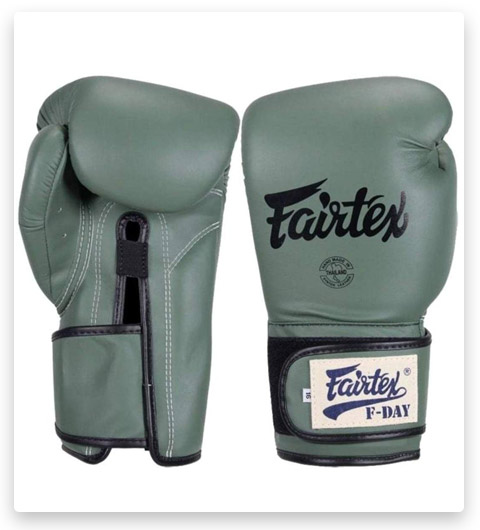 Fairtex's BGV Boxing Gloves are made from microfiber, an innovative, breathable, high-strength material. Some elements of gloves are made in the process of manual work, which gives them uniqueness and guarantees the absence of spoilage because each pair of accessories passes through human hands.
The first structural advantage of these gloves is an elongated cuff, which provides better fixation on the wrist, reducing the risk of injury. Inside the gloves are pleasant to the touch, the palm is equipped with additional protection. They are put on bandages, which provide a rigid fixation and minimizes the play of the hand while preserving the impact energy as much as possible.
Gloves of the BGV series vary in weight, in accordance with the international classification, the weight of accessories is measured in ounces – from 6 to 16. This is the optimal size range that allows you to choose gloves for both children and adults of any physique. The design of the gloves gravitates to a plain color with a contrasting edging and 3D print on the main part of the glove (sometimes an additional pattern is performed on the cuff).
FQA: Heavy Bag Gloves – Frequently Questioned Answers
Already familiarized with the goods, but you still have some questions about boxing gloves for bags? Go down below – there we answered everything that interests you!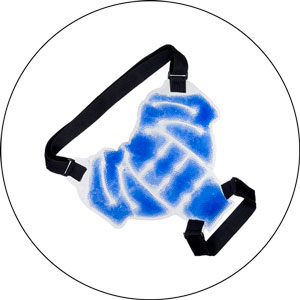 By AuthorYana
/ October 11, 2021
Our Selection 12 Best Reusable Hot Cold Therapy Wrap Sports training, sparring is an everyday activity for every athlete. However,...
Read More
In Conclusion
Now you've figured out why boxing gloves for bags are needed and how they differ from sparring gloves. Our list contains the top 10 boxing gloves for training on the bag. Among them, you can choose both professional and expensive gloves, and what is suitable for a beginner without breaking a bank.
Buy only the right equipment, and our reviews will help you with this. Have a good training trip!
Editor-in-Chief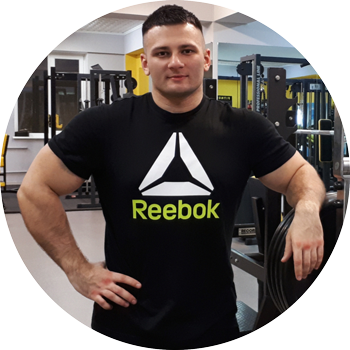 Nikolai Sergeyev
Expert in athletics, boxing, powerlifting
Nikolai Sergeyev is a weightlifter, powerlifter. Master of Sports International Class, world champion and record holder in powerlifting among juniors and youth in the weight category of up to 90 kg and up to 100 kg.
European and world record holder in different versions: UPO (EPA, IPA), WPC, GPF, UDFPF (WDFPF), WPA and others.
World and European Powerlifting and Bench Press Absolute Champion
More than 50 world records
Master of Sports of International Class
Affiliate Disclosure: Sportegan.com sometimes gets paid for listings, through sponsors or affiliate programs like Amazon, Ebay, Everlast, Cleto Reyes, RingSide, Winning, Title, Twins Special, Hayabusa, Fairtex, Top King, Venum, RevGear, RDX, Century, Tapout, Crossrope, and others. Clicking a link helps keep Sportegan.com free, at no extra cost to you!
About the author: Each article on our website is checked and edited by a professional and expert in the field of sports (boxing, athletics and weightlifting). Nikolai Sergeev is a multiple world champion and record holder: during his sports career Nikolai set more than 50 world records among youth, juniors, adults, in different weight categories and in different versions (NPA, IPA, WPC, GPF, WUAP, WPA, IPO, RPS, etc.). The author has more than 30 victories and more than 30 gold medals received at competitions of the international level, the European and World championships. Read more at «About» page. Official website / Wikipedia.
Note: The views and opinions expressed in this article are those of the authors and do not necessarily reflect the official policy or position of any agency.