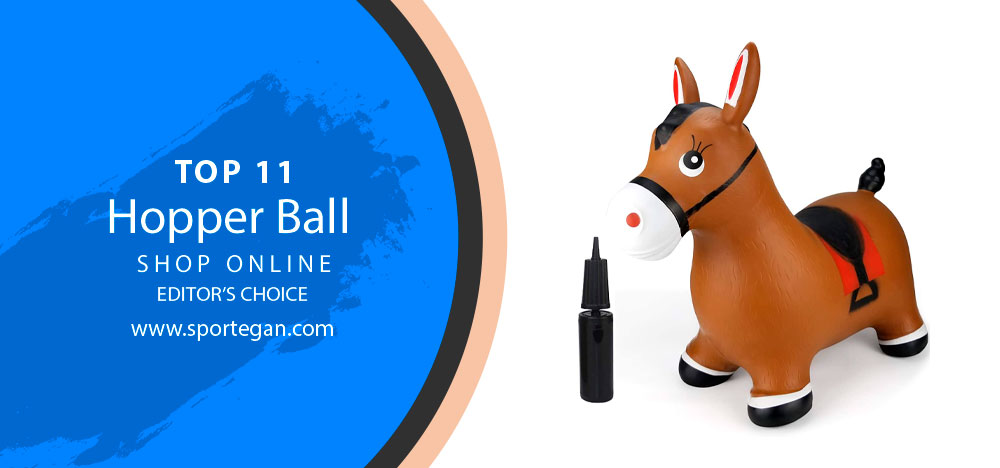 Hopper balls have long been popular with mothers and children. These are ideal exercise toys for children. This is one of those modern things that strikes with its simplicity, ergonomics, and the enormous benefits that it brings. Any games and exercises with a hopper have a beneficial effect on physical development but don't overload the child's muscles. Let's find out more about these hopper balls for kids and you can choose one for your child.

Top 11 Best Toys Hopper Ball For Kids – Editor's Choice
I have chosen for you the most interesting and high-quality bounce ball with a handle for children. For your choice, the top 11 best hopper balls are presented.
1# WALIKI Hopper Ball For Kids – Amazon's Choice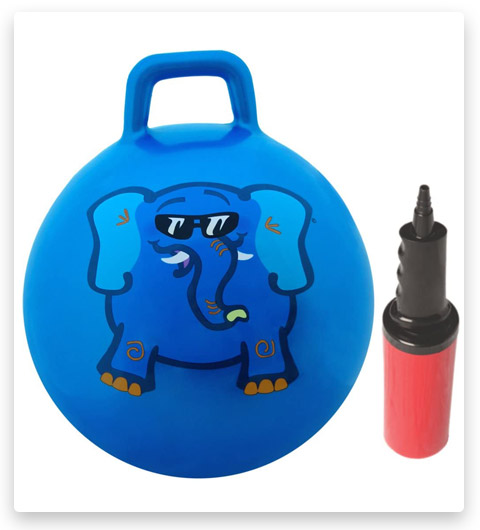 Give your child an unforgettable experience! Hopper ball with one handle. An elastic and durable toy is equipped not with horns, but with a real one-piece handle that provides reliable fixation of the children for their safety. The child will be able to hold really tight. At the same time, he or she will arrange the grip of the palm in the way that suits him or her.
The handle is made in the form of a rigid loop, which can be grabbed both from above and from the side. This toy is perfect for children from 3 to 6 years old. The ball has a bright blue color that is suitable for both boys and girls. The cheerful elephant depicted on the ball will cheer up your child while jumping on it. Parents don't need to spend a lot of time inflating this toy. It takes no more than 5 minutes.
2# AppleRound Red Horse Hopper – Amazon's Choice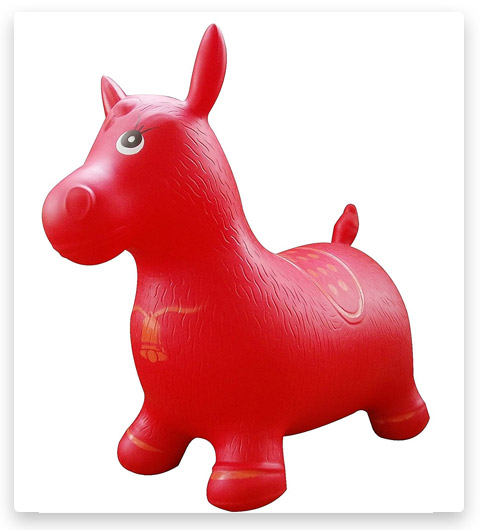 This is a bright red hopper that is made in the shape of a horse. Children love toys in the form of animals and happily play with them. Your child will be delighted with such a toy. Moreover, you can jump on them. Such a toy will not only give a sea of ​​emotions but also help to improve posture and coordination.
Both boys and girls love red. Ideal for children from 3 years. If your child is younger, then you should closely monitor him while he or she is playing. Hopper ball has a low landing and handles in the form of horns. The child will hold on and will not fall. Safe and fun to use!
3# Hedstrom Disney Frozen 2 Hopper Ball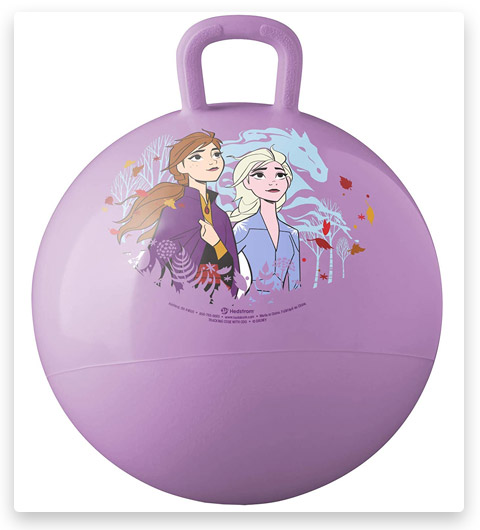 Disney Frozen 2 is a favorite cartoon of many children. They will be happy to have a hopper ball with the design of their favorite cartoon. They come in different colors so you can choose your child's favorite color. The ball comes with a single handle with a secure grip for greater safety for your children. It provides not only a fun game but also strengthens the muscles of the legs, arms, and children's abs. Buy for children from 4 years. This toy will last for many years thanks to its high-quality material.
4# NDN LINE Bouncy Horse – Amazon's Choice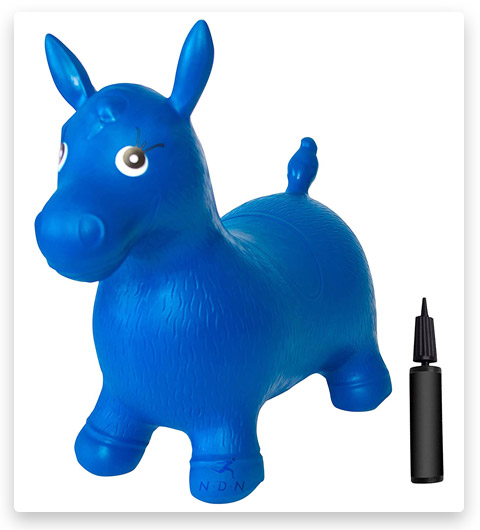 Please your child with a toy that has an attractive design. It has the form of a horse. The hopper ball will not only diversify your child's leisure but will also improve coordination, posture, and strengthen body muscles. You will quickly cope with pumping up the hopper. This is easy to do with the two-way hand pump that you get with the toy. It has a blue color that will appeal to the girl and boy. The toy holds up to 150 pounds.
5# Babe Fairy Dinosaur Bouncy Horse Hopper – Amazon's Choice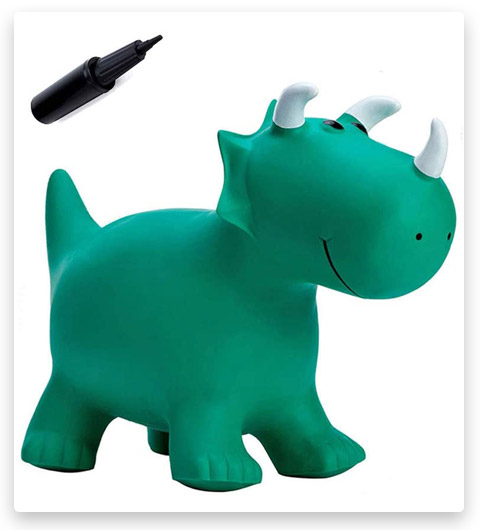 If you want to give your child an unusual hopper, then this is what you need. It is made in the form of a rhino with a long tail, nose, and horns. The toy looks friendly and cute. The pleasant green color calms the baby and doesn't irritate. Such a toy helps to develop coordination, endurance and is suitable for children of both sexes. This is a safe toy and is a great holiday gift for children!
6# Inpany Bouncy Horse Hopper – Amazon's Choice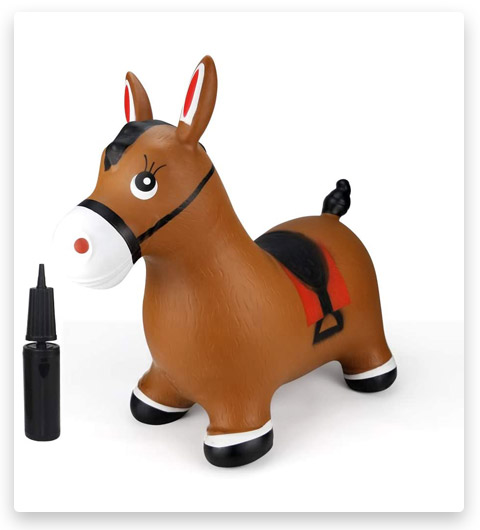 If your child wants to ride a big horse, then he or she can start with a small one. This toy resembles a real animal. It is made of soft non-slip material which is pleasant to the touch. The toy 56 cm long is suitable for children weighing up to 45 kg. The ball is completely safe for the health of the child. The toy doesn't contain heavy metals, phthalates, and doesn't have an unpleasant smell. This is entertainment and physical activity at the same time for your children!
7# Big Country Toys Lil Bucker & PBR Chute Combo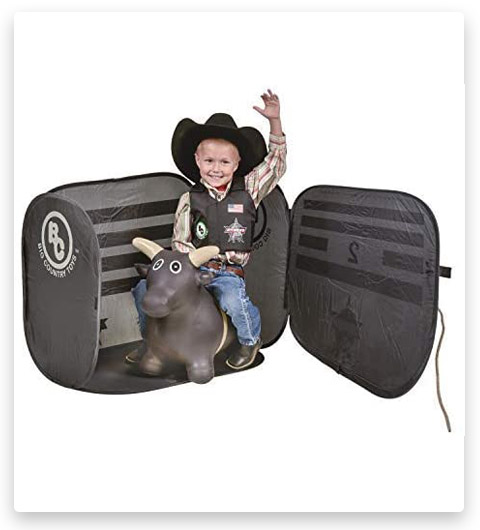 Let your child feel like a real cowboy or cowgirl. To do this, give your child a bullhead hopper. In addition to the hopper, you will get a chute that resembles an arena. It is made of nylon and has a metal frame. The hopper has 4 legs that are stable so your children will be safe during the game. They can play at home or outside. Your kids will improve coordination, agility, endurance, and balance!
8# AppleRound Blue Horse Hopper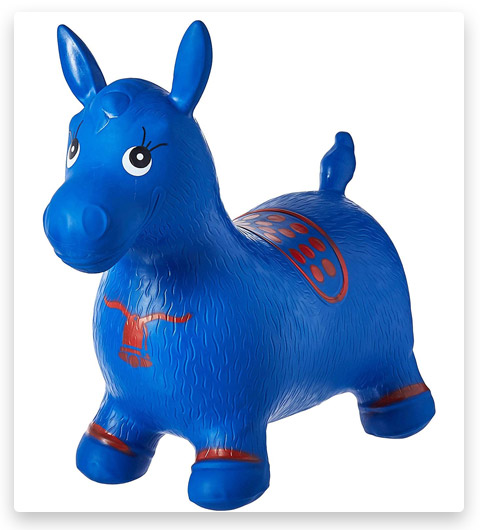 Bright and beautiful design is immediately evident at the sight of this hopper. It is made in blue with red patterns. The kid will appreciate the brightness of the color and will want to play with such a toy. He or she can jump or just sit. During the game, the child develops and strengthens the muscles of the whole body, as well as endurance and balance. Only safe material. Parents can easily cope with pumping a toy thanks to a double-sided hand pump.
9# Hedstrom Ball Bounce and Sport TOYS Hopper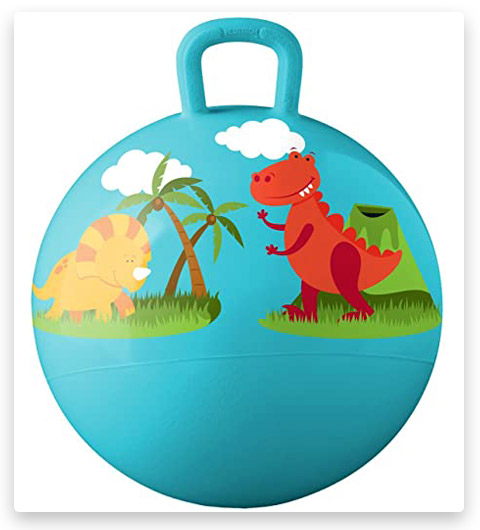 This ball is made in the form of a ball with a strong handle! Thanks to the fact that the handle is closed, the reliability of fixation is increased. Indeed, a child's palm will not slip from such a holder, even if it perspires. A strong, light ball has excellent jumping qualities, it will be a joy for the child to play with it. And this greatly increases the effectiveness of any simulator.
10# WALIKI Hopper Ball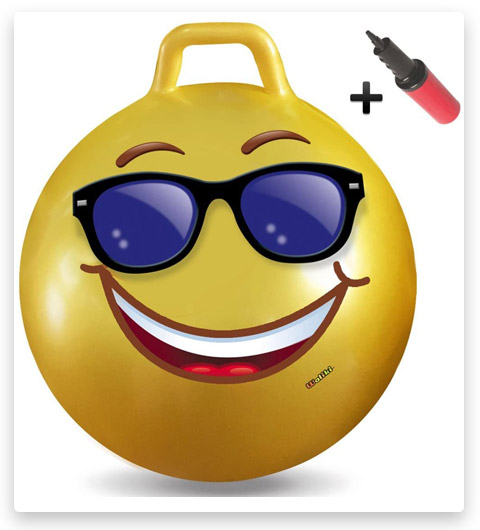 If while watching other hoppers, you wanted to purchase not only for the children but also for yourself, then you can order this option. This ball is suitable for teenagers and adults. You can't be afraid that it will burst at the wrong time. This is a durable and reliable option for adults! Play along with your children.
11# Xino Sports Hopping Ball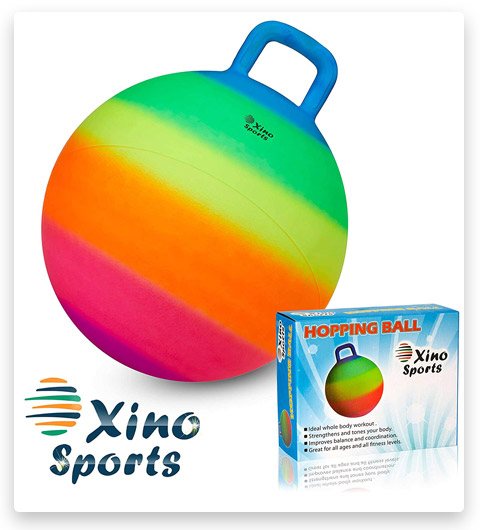 If you want to increase the child's activity in a simple way, then give him a hopper ball. This thing allows children to get good exercise, improve balance and posture. Suitable for children from 3 years, but can withstand no more than 130 pounds.
How to Choose the Best Space Hopper?
Choosing a hopper ball for a child isn't an easy task. This buying guide will help you make the right choice!

Diameter and Rigidity
For the effectiveness of games and exercises, the hop ball must be suitable for the child, first of all, in diameter and rigidity. The correct size is easy to determine. When landing on it, the child's hips should be on the same level as the knees. The correct stiffness and elasticity of the ball are also important. So, when pressed, the hand shouldn't meet hard resistance, but should not fall inward either. If the palm easily bounces and springs, then the hopper has the correct stiffness.
Material
Particular attention should also be paid to the material, your tactile sensations from it. Modern hopper balls are made of polyvinyl chloride. To the touch this material is warm, dry, and smooth, no seams are felt on it. If the ball is cold, sticky, and slippery to the touch, this is a fake, which can be dangerous for the child.
A good simulator has a flat surface on which imperceptible seams or irregularities, the nipple is soldered evenly and precisely, forming one plane with the surface of the jumper. All this makes the simulator effective and safe. High-quality hoppers have an anti-static effect and prevent small debris and dust from sticking to them. They are easy to care for, don't contain impurities harmful to health, and are environmentally friendly.
Hoppers With Handles

A funny and bright durable ball with two horns looks like some kind of amazing, funny creature. A child will definitely like it, and playing with it is so easy and fun! The horns you can hold make racing great. This is the most exciting game with this hopper ball. At the same time, the simulator doesn't lose its beneficial properties of posture formation and the development of coordination of babies.
A strong, lightweight ball equipped with horns is made of high-quality, durable material and is easy to inflate. This toy simulator can be taken with you anywhere. It's a practical ball that is easily washed from dirt. The shape of the hopper allows your children to perform most exercises with it while giving additional fixation points to small hands. Most often now you will meet hopper balls with one big strong handle.
Animal Hopper Ball With Handles
A hopper ball of this is at the peak of popularity. This is not surprising. They are stable thanks to strong short legs and don't crank under the child. Children can hold on to special handles. These are exercise safety toys. And kids really like them. Still would! Is it possible to resist funny and cute inflatable animals? At the same time, the basic principle of training with hopper is an imitation of riding.

But hopper balls of this form are very limited in the number of special exercises that can be carried out with them. However, the biggest plus of this form is its safety for babies. Animal balls are best suited for independent kid games. They will protect it from falls, help strengthen the spine and back muscles, develop coordination, and bring a huge amount of joy.
Hopper Health Benefits
The following positive effects of exercises on such a ball for children are proved:
It improves coordination of movements, sense of balance, and vestibular apparatus.
Strengthening the muscles of the back, pelvis, abs, and legs, the formation of proper posture.
Conclusion
Hopper ball is a fun pastime for your child. While children are having fun, they also develop physically. You can purchase hoppers for children and adults and have a good and active time together! In this review, you have seen reliable and attractive hopper balls that you can purchase!
Tags: #best hopper ball / #best ball hopper / #bouncy ball with handle / #toys hopper ball for kids / #animal hopper ball with handle / #best hopper balls buying guide / #hopper inflatable jumping animal