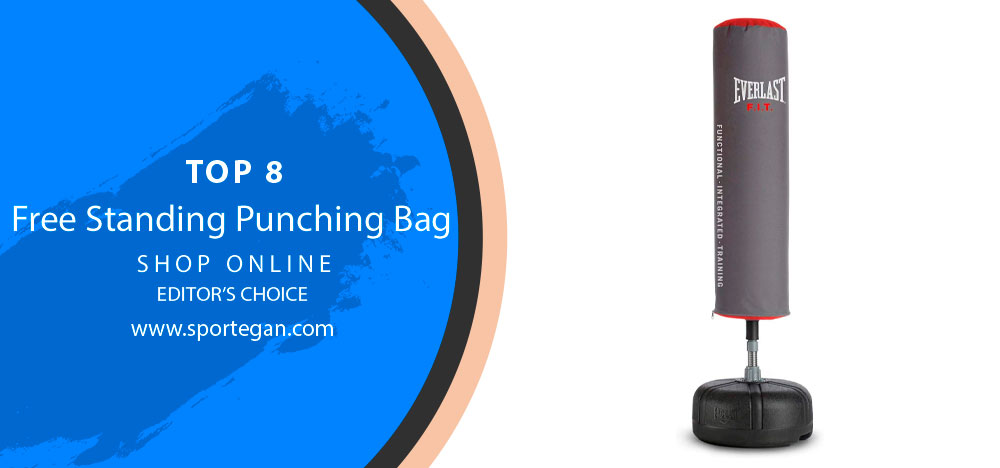 Top 8 Best Freestanding Punching Bags
These days, we spent most of our time sitting. Most of us spend the majority of our adult life doing some desk work, which reflects poorly on our health and stamina. Sure, we can visit gyms and do some exercise at home. But how about going a step further by training your martial arts skill in the coziness of your home?
Well, maybe I am not the first one to tell you, but boxing, kickboxing, and martial arts are great ways to build your strength, reflexes, and stamina. Maybe you have been thinking about that for a long time but never got to act on it. What is stopping you then?
Perhaps you don't know what type of punching bag to choose? The market sure is overflow with boxing accessories.

In this article, we will talk about freestanding punching bags. These types of bags are easy to assemble, and they are transportable. You don't need to make any additional costs to mount it, unlike a hanging bag.
Below you will find some freestanding bags I choose to cover, which can be a good starter accessory for your training. Keep reading, because this article will explain the pros and cons of each one and talk about these types of bags in general. 

1# Everlast Power Core Bag (EA)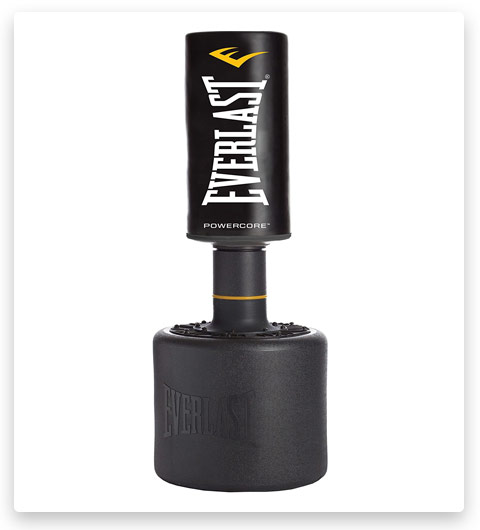 Everlast is one of the most known companies that sell boxing equipment. Their products are usually a sign of good quality, but due to a plethora of products Everlast produces, not all of them turn out to be top-notch.
This punching bag, for example, has some strong points but also some downsides, which prevents it from being great. It is a freestanding punching bag made from thick synthetic vinyl. The construction is easy to assemble and it takes little space. You can easily move it around your room, even if the base is filled.
The height is adjustable. It is 65 inches tall at maximum. You can fill the base of the bag with water or sand to give it more weight and to keep it stationary. Although, no matter how much you fill the base with sand, this bag can't take heavy punches from professional heavyweight strikers.
I can guarantee that it will easily fall after a few sets of heavy strikes, which will be an annoyance. The bad construction of the base also leaves a sour taste – the water and sand will leak from it after extensive training.
Highlights:
Startup bag for amateurs and semi-professional boxers.
Suited for indoor use.
It can be filled with water or sand.
2# Century Wavemaster XXL Training Bag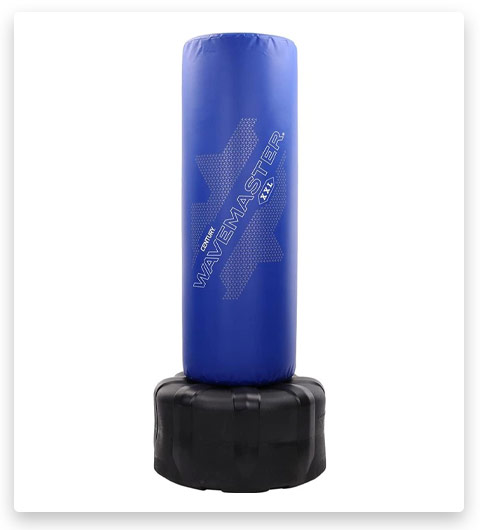 What can I say about this bag? It sure does stand very firm on its base. You will have to deliver a powerful kick to make it fall over. It can be filled with water and sand.
At max, it weighs about 270 pounds. It would slide a little if you pack a heavy punch, but it is stable for extensive and powerful workouts. The height is non-adjustable, but it is pretty tall for teenagers and adults.
The price tag is rather high, so but the quality of the product will make it worthwhile. It is made from high-density foam with vinyl covering. The bag is very durable, but after a long period of use (we are talking years) it may become a little soft in the center. The best thing to say about this product is that it is worth the money. Aside from loud noise, it makes from punches and a little movement from heavy strikes, there isn't really much to criticize it for.
Features:
Base fills with water or sand.
Weighs roughly 270 pounds at maximum.
Height is about 69 inches. About 18 inches in diameter.
Suited for indoor and outdoor training (preferably to place it inside).
It comes in 3 color variations (black, red, blue).
3# Century Original Wavemaster Freestanding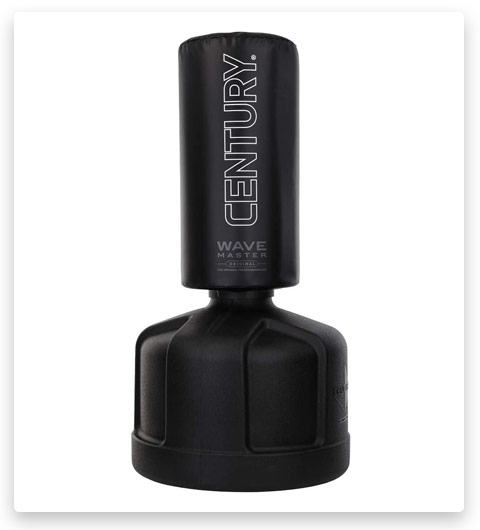 Century makes very nice freestanding punching bags. Century Original Wavemaster Freestanding Heavy Punching Bag is like a younger brother of Wavemaster XXL Training Bag.
It is a little shorter and less suited for professionals, but it id much more accessible. It is also almost twice as cheaper! The bag is made of vinyl and plastic. The construction is similar to the previous Century product we looked at in the article. The bag is punch resistant and durable, but it can move a little when punched.
I must advise you that you should wear gloves during exercise. The padding is a little thin though; sometimes you can feel the plastic pole. The gloves will protect your wrists and knuckles and prevent injuries. You can also use it for kickboxing and MMA.
Features:
Fills with sand or water.
For indoor and outdoor training (and again – preferably under the roof).
Weights about 250 pounds when filled at max.
Height adjusts from 47 to 68 inches. About 13 inches in diameter.
It comes in 3 colors (blue, black, and red).
4# Freestanding Punching Bag Everlast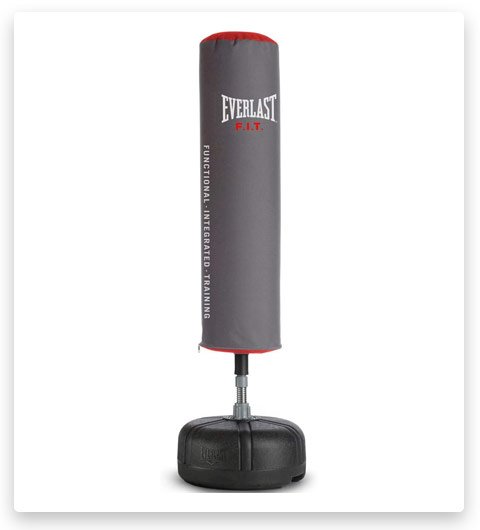 I respect Everlast for its high-quality products, and I love the brand itself. When you are buying an Everlast boxing accessory, you usually are guaranteed that your product will be serviceable and long-lasting. Turns out Everlast is not always a guarantee of good quality.
Freestanding Punching Bag is easy to move and assemble. The bag is made of foam and plastic. Due to its big height of 64 inches, it is suited for teenagers and adults. It can be filled with water and weighs about 32 pounds at maximum.
Where do we even begin with the cons? It can cause pain in your knuckles because you can feel the pole in the middle of construction during striking. I highly advise exercising only in protective gloves! It is so bouncy it can hurt your face after a heavy punch. It is light and will move after strikes constantly. Did I mention it is also inflatable?
Be prepared that it will deflate from time to time. Many customers also reported that their bag broke after a few weeks (and even days) of use. Ultimately, I can't recommend this bag to professional boxers or even amateurs. It doesn't cost too high if compared to other freestanding bags, but a price tag of almost a hundred bucks still feels too expensive for it.
Features:
Non-adjustable height. 64 inches tall.
The base can be filled with water.
Inflatable bag.
Weights 32 pounds at maximum.
Suited only for indoor use.
It comes in black color.
5# Century BOB Body Opponent Training Bag
The dummies with humanlike appearances are quite popular in the realm of punching bags. This USA manufactured product is particularly useful for exercises. It allows you to practice precision by understanding which part of the torso and head you will hit. The bag is quite heavy, so it would not rotate and fall off after heavy hits.
You can fill the base with sand or water. Of course, I would recommend sand if you want your bag to rotate less through a series of heavy strikes. The height of the bag is adjustable; it is about 78 inches tall at maximum height.
The bag is called "Bob," if you weren't introduced already. He is attached to the base by six screws. You might want to have a screwdriver at hand since it is known to get a little loose after intense workouts. It is not a big deal, but the screws can be tightened up from time to time.
Considering the humanlike appearance, this bag is good for standard boxing, kickboxing, and MMA workouts. The product is made out of foam and plastisol so that it can deform after long use. Overall, the durability of the bag is good if you are not too hard on it too often. The price reflects the quality of the bag very well. It is a product for semi-professional and professional fighters so that the price tag can be a little high for an amateur.
Features:
About 78 inches tall.
Weight is about 250-280 pounds (considering how and what you fill the base with).
Suited for indoor and outdoor use.
6# Wavemaster Powerline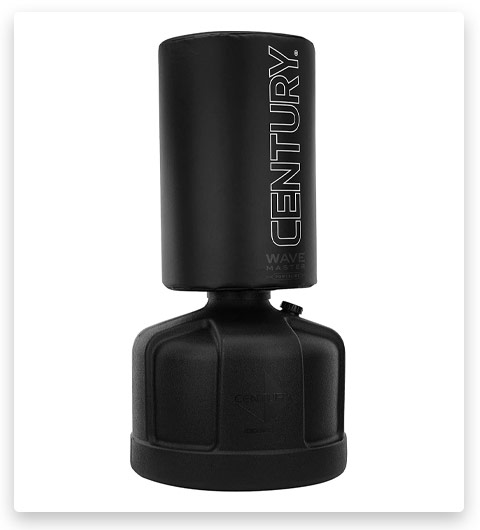 Wavemaster's Powerline bag is an upgrade of the original Wavemaster. It has more padding, a thicker vinyl covering, and high-density foam inside. The height is adjustable; it can be as short as 47 inches and as tall as 68 inches. You can fill the base with water or sand. The base itself is very large and in full capacity, the whole product weighs about 270 pounds.
It is a very sturdy bag. It sure can withstand powerful punches. It will move around a bit, but you have to try really hard to make it fall over. The bag is comfortable to punch, kick, and strike with knees and elbows.
The product is very easy to assemble and to move, and it doesn't take much space even if you are using it to practice your kicks. The bag is also very safe to use due to padding and foam inside. There really is not much to criticize this bag for. It is really good as an exercise. The bag is very durable and of high quality. It can be a little noisy if you pack serious punches. Considering the down-to-earth price and its quality, I can recommend this bag to anyone.
Features:
Suited for indoor use.
Weights about 270 pounds at maximum.
8 height adjustments (from 47 to 68 inches).
It comes in black, blue, and red colors.
7# Ringside Free-Standing Boxing Heavy Bag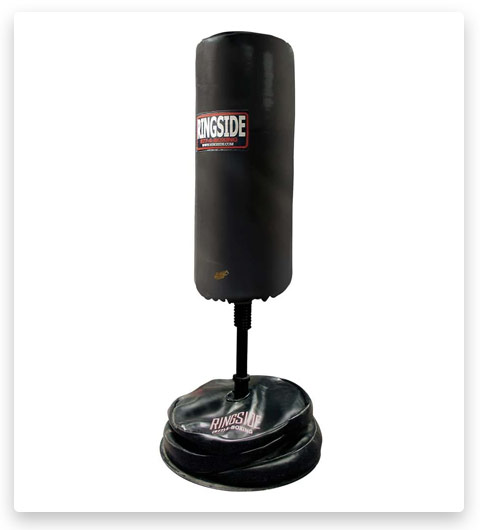 A versatile freestanding punching bag from Ringside. It is a sturdy, compact and durable product that can take a good beating.
The height is adjustable (from 6' to 6'9 inches) and the base is fillable with sand only. The base can only be filled with sand because it is made from leather material. You should not fret about it, because I would recommend filling the base with the heaviest material for stability anyway.
The construction weighs approximately 200 pounds at maximum capacity. The bag is compact, you will only need about 5 x 5 ft. It is easy to place and move around. It is safe to use, because of the durable vinyl shell and has a base pad for protection. The foam is also shock absorbing. This product will last long and protect your wrists and knuckles even if you are training without gloves.
Features:
Suitable for indoor use.
Height can be adjusted from 6' to 6'9 inches.
The maximum weight is about 200 pounds.
8# Wavemaster Kid Kick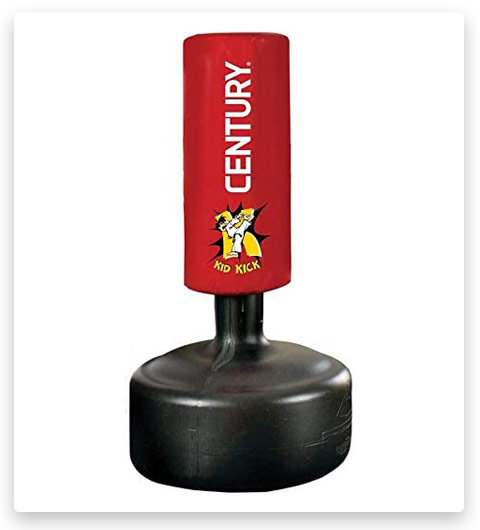 For our last product, we will look at the bag designed for young martial artists. This bag is a great starter accessory for your kid. It has four levels of height, that can be adjusted from 37 to 58''.
You can choose sand or water to fill the base, but I would recommend sand as always. It is made from durable materials, so you can count that it will be long-lasting. The height of the bag can be adjusted. The bag is well made; it is long-lasting and shock-resistant. Your kid wouldn't injure his hands or his other limbs.
This bag will be comfortable for kids from 3 to 8 years old. If your kid is a little bulky or well trained already, this bag may be too soft and light for him. As a downside, I must say that it makes quite a racket from hitting.
Features:
Suited for kids from 3 to 8 years old.
For indoor use.
High impact foam and durable nylon.
The height is from 37'' to 52''.
Weights about 170 pounds at maximum.
Frequently Asked Questions

Conclusion

To sum it all up, here are my favorites. The best freestanding punching bag for your money is Century Wavemaster XXL Training Bag. It is the best bag we covered in this article. It is a high-quality, long-lasting, and heavy punching bag that will be useful for years after purchase.
I would not recommend you spending money on Freestanding Punching Bag Everlast or Ringside Free-Standing Boxing Heavy Bag. Although they are not very expensive, you will not get your money's worth from them.
Century BOB Body Opponent Training Bag is also a very interesting choice. It is a good punching dummy that will allow you not only to increase the strength of your punches but also to train precision due to its human-like appearance.
When selecting the bag best suited for your in-home training, you should not be greedy. Always prioritize the functionality, protection, and durability of the product. Even for your first punching bag, I would recommend buying an expensive heavy bag that can take heavy punches.
You should be sure that your bag will last for years because you won't become a professional fighter during the course of a few weeks. It requires long and constant training to become a good boxer, so be sure that your boxing accessories will live through all those punches and kicks you are going to give them!
Tags: #best free standing punching bag / #what is the best free standing punching bag / #best free standing punching bag for home / #best free standing punching bag under 100 / #what is the best free standing punching bag for youths