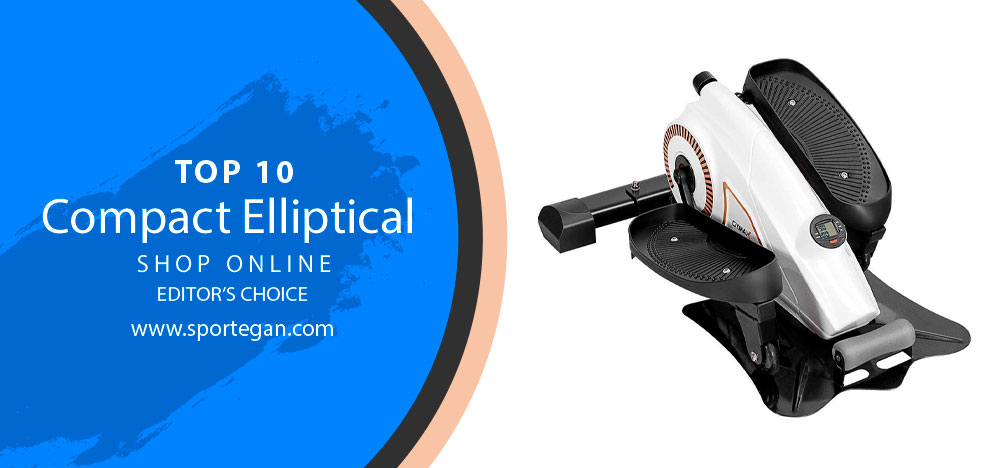 Top 10 Best Compact Elliptical Strider For Home and Office
Would you like to improve your physical fitness due to the presence of a compact and useful device in your home? Are you just starting to train your body and would like to bring maximum benefit to your leg muscles, as well as the cardiovascular system?

In this case, pay attention to the portable elliptical trainers. Such a simulator is available for home workouts due to its compact size and usually costs less than most other simulators for home use. In this article, I will help you find out what elliptical exercisers are, how to use them effectively, and tell you more about the most popular models that you can get!

Top 10 Best Portable Elliptical – Editor's Choice
This is a review of the best 10 ellipticals that have been tested by many people for efficiency and quality! Different models are presented here so everyone can find the right one for him!
1# Cubii Jr. – Seated Under-Desk Elliptical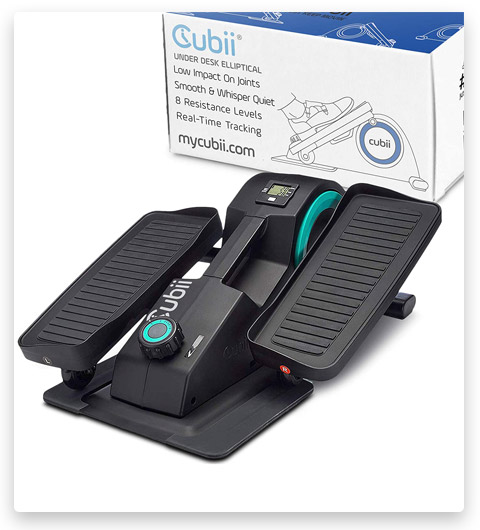 An elliptical trainer that allows you to train right on the couch! Its compact size doesn't take up much space and allows you to take it with you. You can train while working in the office. The handle makes it easy to carry the simulator. Your activity will increase many times over. You will burn calories without much effort.
The elliptical simulates climbing stairs. You can choose the intensity of your workout yourself. The simulator has 8 resistance levels. During a workout, you can watch time, calories burned, your steps, distance, and speed. It doesn't make noise so you can do it while your family is sleeping and you will not disturb them. With the proper use of the simulator, you will work not only on the muscles of the legs, hips, buttocks but also the abs.
2# Sunny Health & Fitness Mini Stepper
A nice pink color will motivate you to burn calories and improve your fitness! Adjust your height according to your stamina! Gradually, you can increase the load and burn more calories. You will feel comfortable walking on the simulator due to the non-slip surface of the pedals.
You will see the time, calories, steps on the display. This is an excellent load on the muscles of your legs, hips, and buttocks, abs. If you want to increase the load and train your arm muscles at the same time, take dumbbells in your hands.
3# Stamina InMotion E1000 Compact Strider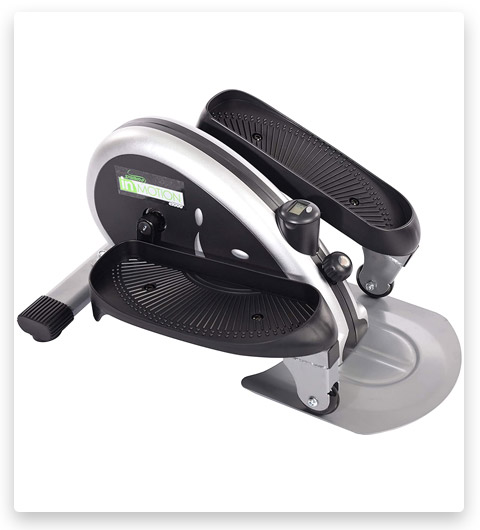 This is a great home fitness machine that you can use while standing or sitting. Exercise while watching TV or working at the table. This is a good option for mothers with young children. Take your time while the baby is sleeping. The compact elliptical doesn't make noise.
It is small and lightweight so it will not be difficult for you to move it from room to room or take it with you for example to work. You can change the load level simply by turning the adjustable dial. You are provided with effective cardio training with this simulator!
4# JFIT Under Desk & Stand Up Mini Elliptical Stepper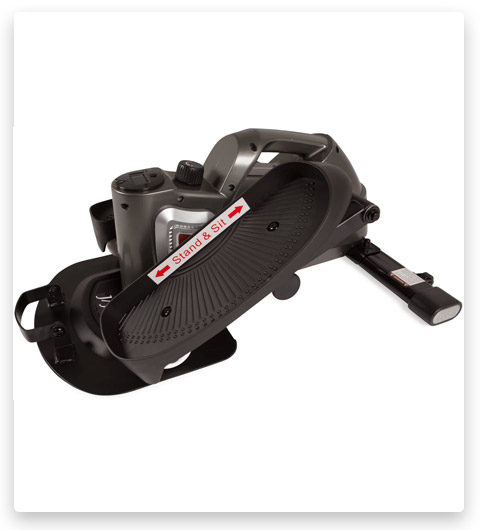 The design of this elliptical trainer allows you to adjust the pedals and engage in standing or sitting. The pedals are large enough so you will be comfortable doing them. Place it anywhere in your apartment or take it with you due to its compact size and the presence of a handle. This is a durable thing that works silently. The simulator has a screen that is located in a visible place and shows you the calories burned, distance walked, time, and also the speed with which you are walking! Simulator!
5# TrendSmall Mini Elliptical Machine with Resistance Bands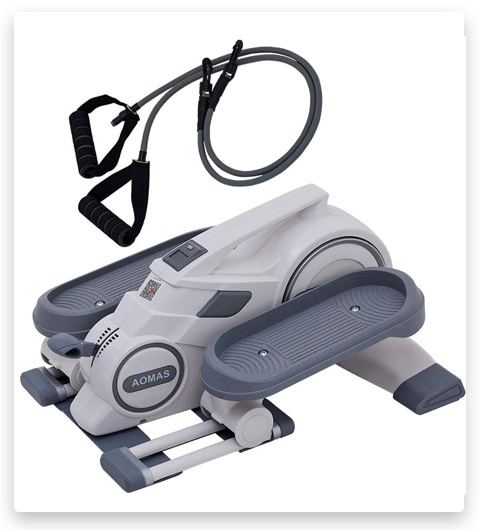 If you want to make the most of your workouts, then you need this particular simulator. During training, all your muscles will work. Your legs, hips, calves and buttocks, abs, and arm muscles will be involved during training. It has expanders which give a load on your hands.
You can also disconnect them and just walk. You can do the training while standing or sitting. You will be stable on the pedals due to their non-slip coating. The simulator is quickly and easily assembled without losing your time!
6# Cubii Pro Seated Under Desk Elliptical Machine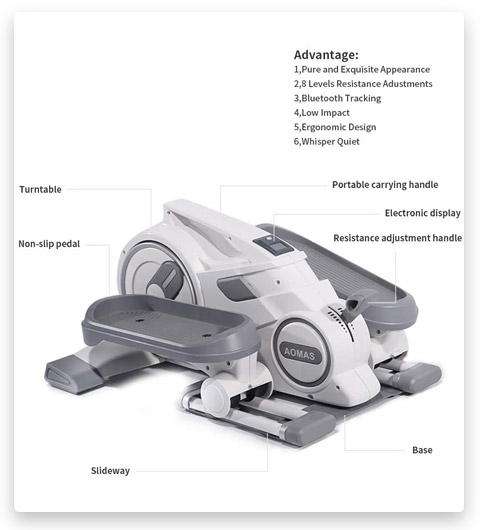 A safe exercise machine for your knees and joints. Do exercise during other activities. You can do office work at the table and train sitting or watching a movie. If you want to get a full-fledged workout, then just attach the resistance bands and add stress to the muscles of the hands. Its portability allows you to train anywhere. You can choose 1 of 8 resistance levels and gradually increase your load.
7# Goplus Under Desk Elliptical Stepper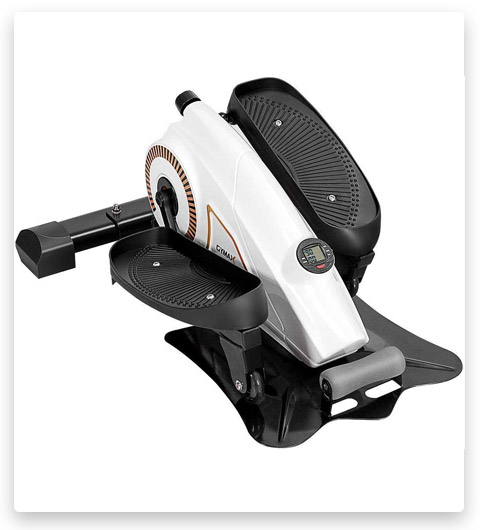 The design of this simulator doesn't allow you to hurt your knees and joints. It provides safety and comfort. It creates an imitation of climbing stairs so you get a good load and burn a lot of calories. You will not interfere with your family or neighbors thanks to the noiselessness of this equipment. It is small so you can put it under the bed or in another storage place.
8# IDEER LIFE Under Desk Elliptical Trainers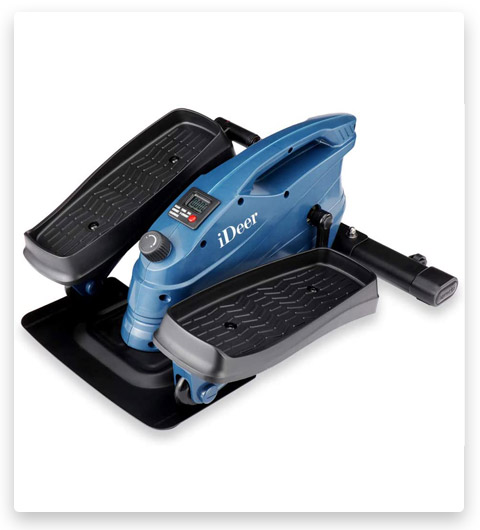 Add physical activity to your life! This simulator helps burn calories and therefore lose weight. You don't need to invent exercises, just stand on the simulator and begin to walk. You can also engage in sitting. The load is regulated based on your wishes and level of physical fitness.
9# Stamina Space Saving Stepper with Upper Body Cords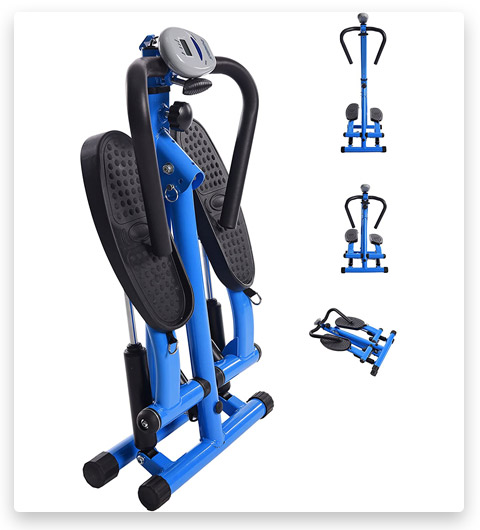 This simulator will provide a load on your entire body due to its design. It has two handles that you can hold on to during training. You can also use expanders to train your hands. The simulator can be folded and hidden for storage. The monitor allows you to know the steps taken, calories, time, and there is also a scan.
10# Sunny Health & Fitness Twist Stepper – No. 045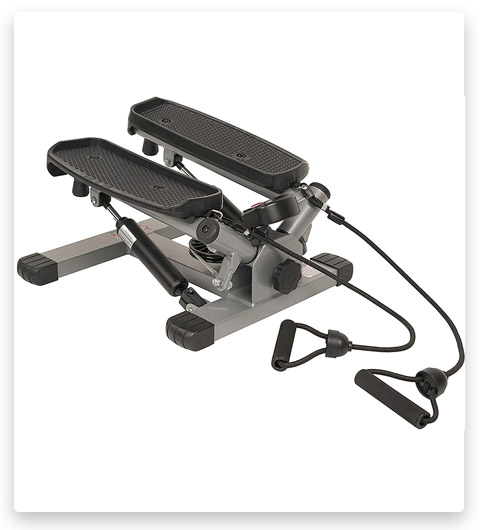 Diversify your workouts with resistance bands that add extra strain to your hands. This simulator will serve you for many years due to its robust design. To adjust the load you need, simply choose the height using the special lever. See calories burned, time, and steps on the LCD.
What Is an Elliptical Trainer?
Stepper is a simulator that simulates climbing stairs. It belongs to the category of cardio simulators that train not only muscles but also the cardiovascular system. The exercises on the stepper are aimed, first of all, at strengthening the muscles of the legs, thighs, and buttocks. There are also types of elliptical that simultaneously involve the muscles of the legs and also arms.
How to Use Compact Elliptical Machines?
Firstly, such a simulator is compact, it doesn't take up much space and can be used anywhere. You can even spend calories while working in the office at the table. The ease of use of the stepper is amazing. You put your feet on the steps and set the apparatus in motion, alternately walking along the makeshift stairs.

Base plates provide resistance thanks to hydraulics, which in many models can be adjusted depending on the level of physical fitness of the user. The secret to getting the most out of the elliptical is simple: no need to bounce off the pedals. It is necessary to use the strength of the legs to press the footrests with resistance, and not just move the body weight from one step to another.
Varieties of Elliptical Trainers
They are divided into several types:
Classic steppers. This equipment most often, in addition to the platform with pedals, has handrails. Such simulators are usually used in gyms. But if you have enough place then this is an excellent option for home workouts. Such a simulator is equipped with handrails to help maintain balance, or levers that provide an additional load on the muscles of the arms and back.
Mini steppers. This is a lite version of home fitness equipment. Such devices are the best companions of those women and men who can't attend the gym. Such simulators can be used even while sitting or while you are doing other things.
Rotary steppers. Equipped with a rotating handle, designed to turn the body along with steps. Training on such steppers is also effective for the back, abs, and waist.
Steppers with expanders. Exercises on these simulators provide an opportunity to further work out the muscles of the upper body. They allow you to load your arms and back while walking. This is the most effective exercise machine for cardio workouts at home.
The Main Benefits Of Steppers
Improving the functioning of blood vessels, heart, and lungs. Training on the compact strider improves blood circulation to the muscles of the heart and is good for overall health, according to doctors.
Cellulite reduction. Regular work yourself on the stepper provides enhanced blood circulation in problem areas. This will help to get rid of cellulite in a short time.
Increased stamina and strength. A special benefit of the elliptical simulator is that it allows you to build strength and endurance. This is especially important for those who lead a sedentary lifestyle. Systematic training on this simulator also helps to avoid problems with joints and bones.
Strengthening immunity. The stepper simulator provides the necessary motor activity, which ensures normal physiological load and promotes metabolic processes. This helps to strengthen the immune system and serves as an excellent prevention of constipation.
During training on such a simulator, you not only spend calories and lose weight but also strengthen your health. The load will depend on what type of simulator you choose. If you choose a stepper with expanders or a handle, then the load goes also on your arms and back. But let's see what muscles use any kind of elliptical:
Gluteal muscles. The maximum impact on this area is carried out with the so-called "heavy" step, with an increased load and a half-second leg delay at the end of the exercise.
Quadriceps, and also straight and lateral, plus the medial wide. All this can be "detected" on the front surface of the thigh. Feel them: put your foot on the stepper, don't rush to "push" the pedal. The tension at this moment goes precisely to the front surface of the thigh.
The biceps femoris muscle also doesn't remain indifferent. Semi-tendon, semi-membranous muscles are connected to it. Take the time to find these critical muscles in the human anatomical atlas. After all, it is so important to feel all sections during classes!
The calf muscle is fully engaged. And it pleases since beautiful sports legs have always been singled out on the beach by both women and men.
Contraindications for Use
Training on the stepper will not bring much harm. Some users are afraid to engage in the stepper because they will have a sprain of the knee ligaments. But this only happens if the knee isn't in the correct position when walking. This can be avoided if you get advice from a trainer before training on the stepper. If we compare the benefits and harms of the stepper, we can conclude that the advantages outweigh its small flaws. In general, this is a convenient and compact simulator for the home, which is able to bring considerable benefits to your health and beauty.
Conclusion
Exercising at home is easy and affordable thanks to the compact elliptical. Such exercise machines don't take up much space, provide effective cardio loading, and help burn calories and lose weight. If you don't want to think long, then I advise you to take Cubii Jr. – Seated Under-Desk Elliptical. This is a simulator that is made of quality materials, doesn't make noise, and has different levels of load. Train safely!
Tags: #best compact elliptical / #best compact elliptical under $500 / #best compact elliptical machine / #best compact elliptical for home use / #what is the best compact elliptical / #what is the best low price compact elliptical