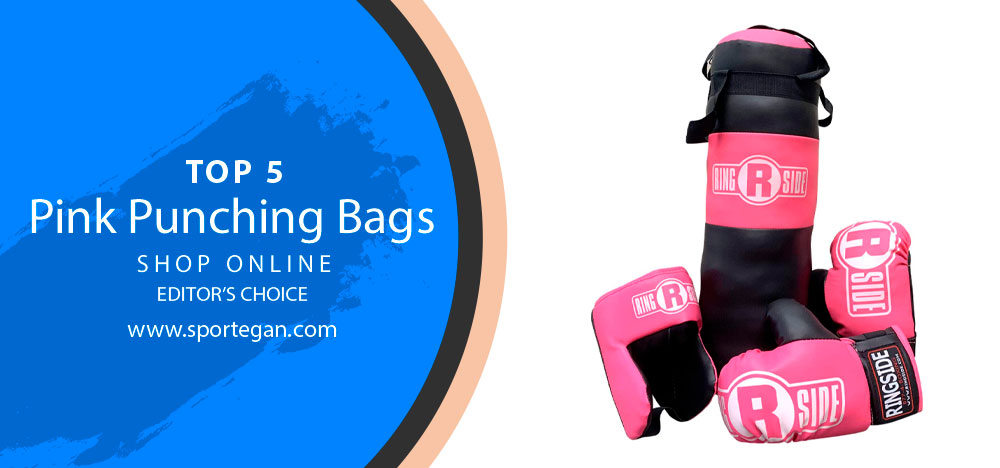 Top 5 Pink Punching Bag With Stand
It is not easy to start building future boxing champions. As far as I'm concerned, the road to greatness starts from the baby buggy and never actually stops. Well, maybe great boxers didn't begin their sports practice as toddlers, but still – the sooner you start training, the faster you will excel.
Perfection is almost unobtainable, but everyone must try their hard and never stop pushing themselves to the limit. The time flies by fast. In our era of rapid technological advancement, you need to control how your child develops from the earliest age. The physical growth and healthy form of your kid are the top priority.
Nowadays, the abundance of smartphone applications, television shows, movies, and video games can lead to low physical activity.
Look at how many adults prefer passive forms of leisure, like sitting on a couch and watching TV, to more active forms of entertainment! You better introduce your child to sports as fast as you can to instill discipline and desire for physical growth in them!
The truth is you cannot and should not completely cut your child from various types of digital entertainment. However, you can try giving them a taste of good old-fashioned sports from the get-go. Boxing is a great way to increase reflexes, build muscles, and power. This sport also teaches self-control, eye-to-hand coordination, strengthens endurance and overall physical condition. What kind of age is better suited to introduce your child to boxing?

In my opinion, kids can start practicing little by little from 2 years old. Frequent training sessions, even if they are short, can help your kid to become tougher, quicker, and more powerful. Imagine what kind of beast (in a positive sense) your boy or girl can become if he or she is introduced to sports this early!
Physical exercises are immensely important for any growing kid – no matter if it is a boy or a girl. In other articles, I have talked about different boxing accessories for adults and kids. Today, I want to focus on punching bags that are better suited for young female punchers.
If you have a little girl who wants to try boxing or you want her to develop physically, it is best to buy a punchbag for your home so that she can train regularly. Punching bags for girls are getting a lot of traction these days, mainly because there are more women working stressful jobs nowadays.
Having an accessory to let out steam is very convenient. Letting go of the daily tension by hitting a punchbag regularly will lead not only to a better physique but also to a healthier mental state.
Talking about the body shape, using a bag for both striking and punching on a regular basis helps to tone the upper and lower body. Kids have enough reasons to stress out even from younger ages, and they will profit much greater if they start building muscles early.
If you have enough room in your home and can afford to spend about 50 dollars, there should be no reason not to buy your daughter (or your friend's kid) a punching bag that is designed for little girls. No matter what type of bag it is – hanging sandbag, freestanding one, or a speedball – they all fit comfortably in any home.
To give you a clearer picture of what kind of punchbag you can buy for a little girl, we will look through some of the available products. Most of them have a "girly" pink color to fit the style of a young boxer. Since all products in my Top are from different companies, I think it is worth talking about each of them briefly. I am also going to tell you about some other benefits of bag-punching. Without further ado, let's look at the best five pink punching bags for kids.
1# Ringside Kids Boxing Gift Set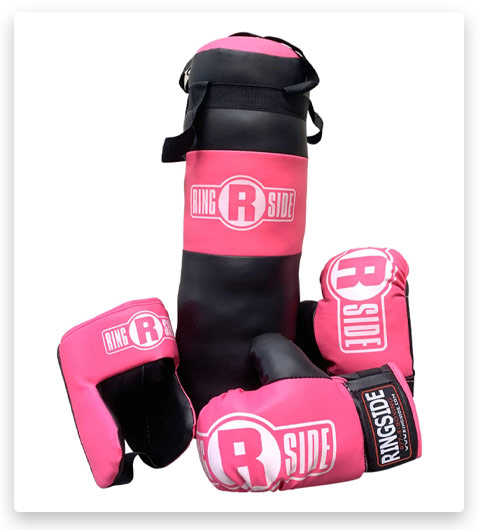 Ringside is a giant in the world of boxing accessories. This company is one of the leaders on the market for over thirty years and counting. They manufacture and sell all kinds of fighting equipment, including bags, boxing rings, gloves, and shoes. Ringside has an excellent reputation and their product are usually made from top-tier materials.
Kids Boxing Gift Set can be a great way to introduce a young girl to the sport. It features almost everything required to get started. This bundle is equally as proficient for boys, although they probably would not prefer the color scheme.
The set includes a pair of boxing gloves and a slip-on headgear. The main product is a 2-pound mini-heavy bag that is 17 inches long and 5 inches in diameter. The value of this bundle is incredible because you get basically a boxing starter pack for under 25 dollars!
Unfortunately, it does not come with a rope or a screw hanger, but it would be too good to be true for this price. You will have to buy mounting accessories elsewhere. I wouldn't recommend this for kids older than 6 years because it is not heavy enough. Girls who are older than 2 and younger than 4 years old would be very comfortable with this, though. The size and weight of this bag are just right for children. The bag comes filled with sand when you order it, so you don't have to worry about finding additional materials (aside from the mounting accessories).
The bag itself is light and small. I can say it is even too small, kind of resembling a large wrapped-up towel. You probably will experience difficulties with hanging it due to how short it is. Yet, it takes an extremely small amount of space and can be put anywhere in a matter of seconds. The product is assembled nicely, but it's not a top-tier quality you can expect from more expensive Ringside products. The straps of the bag are particularly disappointing and can rip after extensive use.
The headgear is a little thin and won't protect your child's head adequately, though, but it's good to wear it during light training sessions. The gloves also won't fit every kid. I can recommend buying this bag as a gift for the smallest children. It will provide good sports, but don't expect this product to last too long.
Highlighted features:
Suited for kids from 2 to 4 years.
The bag is 17 inches long, 5 inches in diameter.
Comes with additional accessories: headgear and boxing gloves.
Also available in black and royal blue colors.
2# Big Time Toys Socker Bopper Power Bag Standing Inflatable Punching Bag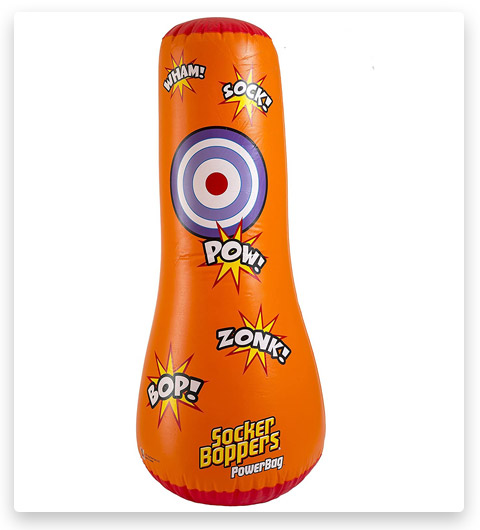 Bestway is a company that specializes mostly in import and export from China. It is a big player in the market that offers services since 1994. Bestway offers a great number of sports products, all kinds of accessories, and a variety of inflatable bags. Their catalog comprises more than 1 thousand products that can be found in over 100 countries worldwide.
Inflatable 3D Bop Punching Bag is a product for the youngest kids that will suit girls who are under 7 years old. Its height is quite tall for a child – about 3 feet total, so you won't have to throw it away after your girl grows up and starts going to school.
The bag is suited for indoor use and takes very little space in the room. It is inflatable but has a sand compartment at the bottom to give this bag more weight. Of course, you can fill it with water or air, but I recommend using sand because this bag is already very light. By the way, it also comes prefilled with sand for your comfort. The quality of construction is not perfect, but the punchbag has proven to be quite durable.
Funnily enough, some kids take a liking to this bag and prefer to play with it instead of practicing punches on it. If they do get to punch it, it proves to be quite good at bouncing back. Don't get your hopes up too much, because this product can have a tiny leak somewhere in construction.
It will constantly lose air and you will have to pump it so your kid can use it. This is a known downside of all inflatable products, though, but it is still important to point that out. After all, it is you who will have to inflate it every day.
Highlighted features:
About three and a half feet in height.
Suited for kids 8 years old kids and under.
Also available in black and blue color pallets.
3# Generic 3D Bop Bag Pink Tiger Inflatable Blow Up Punching Bag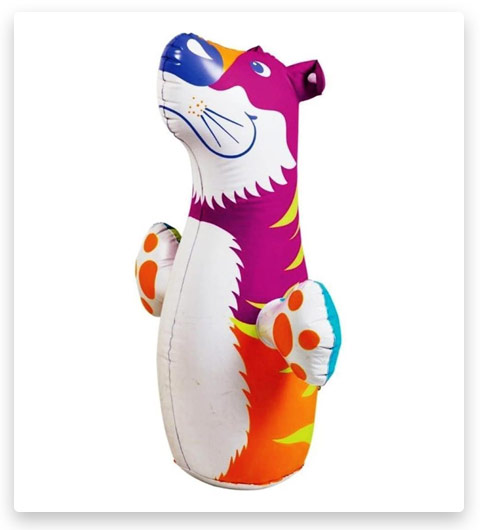 Made by a company with the most common name possible, 3D Bop Bag Pink Tiger is an inflatable punching bag for the youngest. It is made from non-toxic materials to ensure a safe environment for training. It is incredibly cheap, even if bought new and unused.
This punching tiger obviously has the youngest children as its target audience. It is about 38 x 17 inches so that it will be just tall enough for kids under 7 years.
You can fill the bottom of the product with water or air to give more weight to it. Most customers say that their Tiger holds air pretty well. Usually, this bag outlives the first few months of usage. Some even say that they don't even pump it with air that regularly.
However, I think you should understand that inflatable bags priced under $10 wouldn't last forever. If I were you, I wouldn't bet that your kid will let it live too long, especially when she will start to become better at boxing.
This is why I would be prepared to face standard issues all cheap inflatable bags have – bad durability and constant air leaking. The bounce of this toy is very bad; most of the time it won't stand back up after a hit. The bottom is not large enough to hold enough water or sand to become appropriately balanced. If you were to buy this for your girl, I think she will lose interest in a few weeks.
Highlighted features:
Size: 38.5 x 17.5 inches.
Suited for kids from 3 to 7 years.
4# Tech Tools Stress Buster Desktop Punching Ball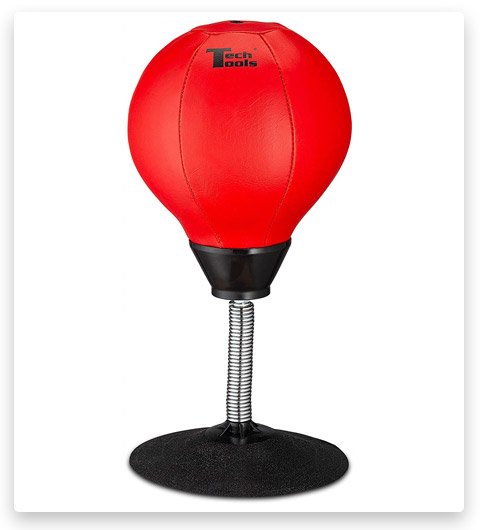 Tech Tools is a company that specializes in innovative gadgets. This desktop punching ball is made in mind for adults who can punch it at their workplace for stress relief.
However, nothing stops you from going beyond the original idea to use it as a speedball for your kid. This punchball attaches almost to any surface. You can put it in a position best suited for your kid or yourself. It is easily detachable and compact. You can even take turns with your child and punch it in rotations. The durable spring bounces the ball back, so you or your kid can punch it as fast as you can.
The ball is inflated, and the product comes with a mini air pump for your convenience. It is very hard even for an adult to knock this thing off if you already attached it to the surface. You can be sure that your kid won't accidentally knock it down. It is light and about 13.5 inches tall.
It won't help an adult to build muscles, but it can have positive effects on young kids. Be aware that the suction cup can sometimes break and there is no way to buy a new one. If it breaks, you'll have to buy a new product or contact a retailer for the replacement.
Highlighted features:
5 inches tall. The diameter of the base is 7.8 inches, while the ball's diameter is roughly 7 inches.
It comes with an air pump.
Suitable for kids over 6 years, teenagers and adults.
It can be placed almost on any surface.
5# Combat Sports Kid's MMA Bag & Gloves Set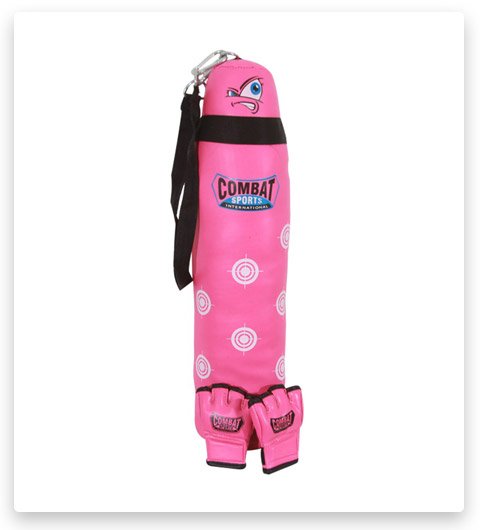 Founded in 1980, Combat Sports is a reliable manufacturer of sporting and athletic goods with a diverse set of accessories for fighting sports. Combat Sports Kid's MMA Bag & Gloves Set is suited not only for mixed martial arts and kickboxing.
It's just as good for any type of fighting training, including boxing, especially so if you buy a pair of proper gloves. The bag comes not only with gloves but with a 25-inch strap to help you with hanging. This is a starter bundle that has everything a 2 to 6 years old fight champion will need to begin the road to success. The set is priced at around $55, not including the price of delivery.
I must warn you that this is a very small punch bag. It is about 17 x 6 inches – no longer than an average adult's arm. The long reach of the hanging strap will help you to adjust the height for your kid. Your kid will require supervision for the first training sessions. There are two main reasons for this.
Firstly, the gloves are made for MMA and not for standard boxing. They are less protected and can lead to injury if your child isn't careful and doesn't hold fists properly.
Secondly, the bag is light and swings very fast after punches. To ensure better protection I advise buying another set of gloves and hold the bag while your kid trains with it.
Highlighted features:
Suited from kids from 2 to 6 years old.
About 22 inches in height.
It comes with a set of gloves and a hanging strap.
Frequently Asked Questions
Conclusion
The best product from this Top overall is Combat Sports Kid's MMA Bag & Gloves Pink Set. It is not just a bag, but a bundle that contains all the equipment necessary to start training. It comes with a set of gloves for martial-art style fighting, as well as a hanging strap. The price of the bundle is a little high, but the cost is pretty much justified.
I recommend this pink bag for girls as a great starter pack for boxing. So, to sum it all up, having a boxing bag at home is useful not only for men but also for women. Bag punching can help everyone get relief from stress, practice endurance, increase strength and physical form.
Girls have to look out for themselves, and aside from getting fighting skills, regular portions of boxing practice can help them build character and stay fit. I hope this article helped you find the best pink punching bag for your kid!
Tags: #pink punching bags / #pink everlast punching bag / #pink punching bag with stand / #pink punching bag and gloves / #pink everlast punching bag with stand / #girl with pink shorts at a gym with punching bags