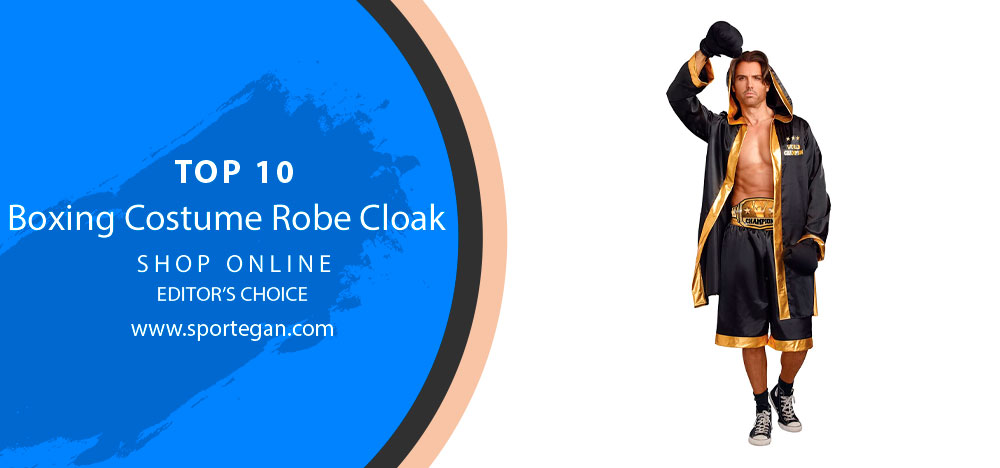 The boxing robe is the traditional garment worn by professional athletes in the ring. The outfit transforms the appearance of a fighter, makes him presentable and effective. The boxing robe is the business card of the athlete, by which fans will recognize him even before the boxer entered the ring.
Top 10 Best Boxing Costumes – Best Boxing Robe Costume Review
Therefore, if you are a professional boxer, MMA, or Muay Thai fighter, then you will most likely need a boxing robe soon. I have compiled for you 10 of the best boxing robes that you might like and are very comfortable. Let's check them out!
1# Title Boxing Pro Boxing Robe Costume – Editor's Choice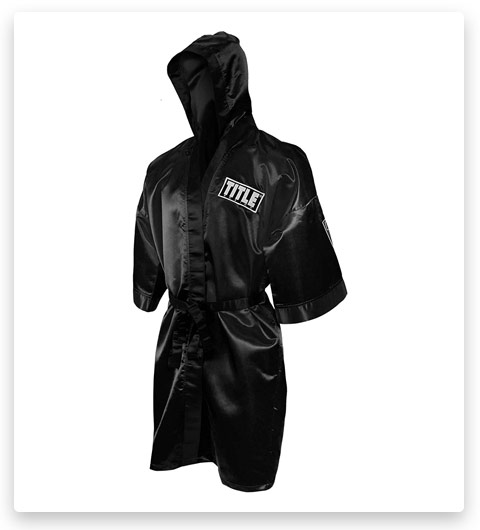 The Title Boxing Robe is one of the highest quality and finest boxing robes I have personally used for several years. It is made of lightweight satin that is neither hot nor cold,. Plus I really liked the elegant black color. The boxing robe has a very high-quality seam and tailoring, the threads in which are rarely unraveled. Plus, it has a fairly wide and comfortable hood that doesn't cover your eyes too much at the same time.
The satin inside this robe does not itch or sweat, the model is exactly as described and is available in many colors and sizes. The boxing belt here is classic, it does not frown over time, although I tightened it rather strongly.
2# Cleto Reyes Satin Boxing Costume – Best Design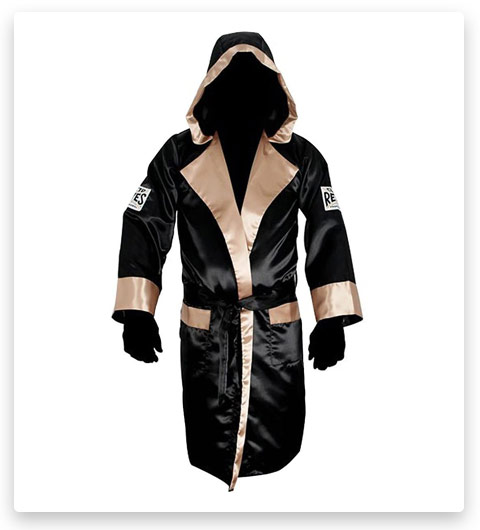 In my opinion, this robe has one of the best color combinations and is made from very good material. Yes, the satin here is a little worse than in the Title robe, but it does not cause discomfort when worn. By the way, there are wide pockets here. Not many boxers use them, but if the presence of pockets on the robe is important to you, then you will like this model.
From the disadvantages of this model, I will attribute a slightly more yellow color than in the picture. When I received it, it was just yellow with a shine of gold, and in the picture it is white. But it still looks very stylish and sporty.
3# Satin American Flag Kids Boxing Robe – Best For Kids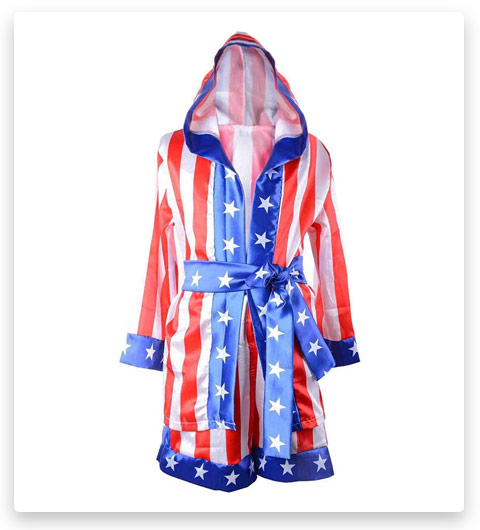 If your child is into boxing or MMA, then he will love this robe for true patriots. It is completely made in the color of the American flag. It is a great combination with a satin fabric that is very comfortable and fits well. The set also includes boxing shorts, but I don't really appreciate them, because the elastic on the shorts is quite tight and presses on the loin. But the material is great.
4# Jiecikou Boxing Robe Costume – Best Budget Pick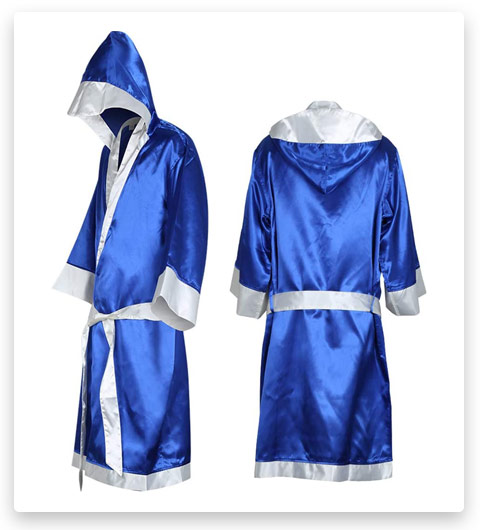 This is one of the cheapest good quality costumes. The only thing I can complain about is the poor belt. Over time, puffs form on it and it looks bad.
But the material in the boxing robe itself is very good. The costume fits well, does not prick or itch. The robe is available in two colors – red and blue, and several sizes. If you don't want to go over budget, then this is a good choice for a low price.
5# Ring To Cage Classic Boxing Robe – Best Value For Money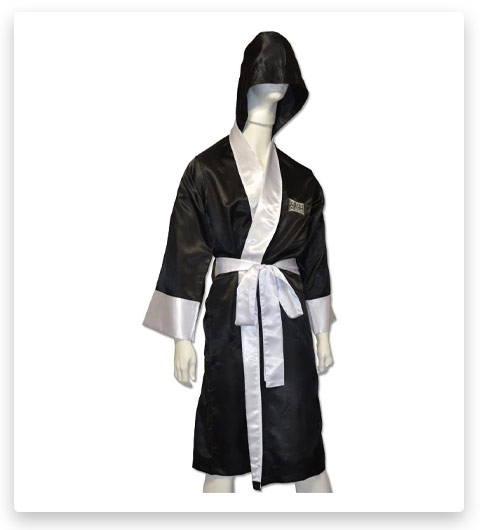 An excellent model from Ring To Cage at an average price. The robe has a fairly wide and high-quality belt and satin costume. A great choice if you are looking for a replacement for your old and worn robe.
6# PSS Long Sleeve Men's Boxing Costume – Best For Thai Boxing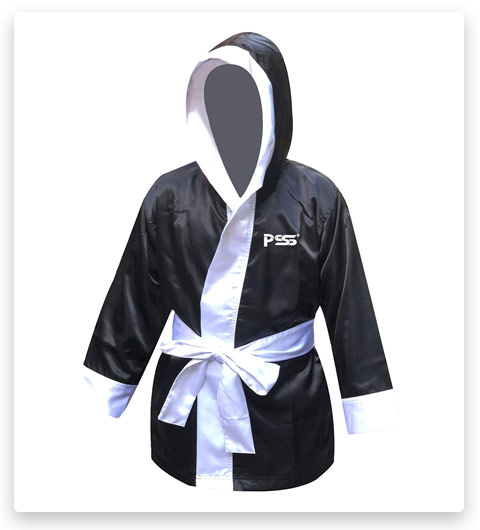 Great costume for Muay Thai boxers. It has a rather short bottom that accentuates the boxer's legs and gives you a confident look. The costume is made in a classic black and white style from a pleasant and soft satin. There is very high quality and wide belt.
7# Champ Adul Men Boxing Robe & Shorts – Best Boxing Set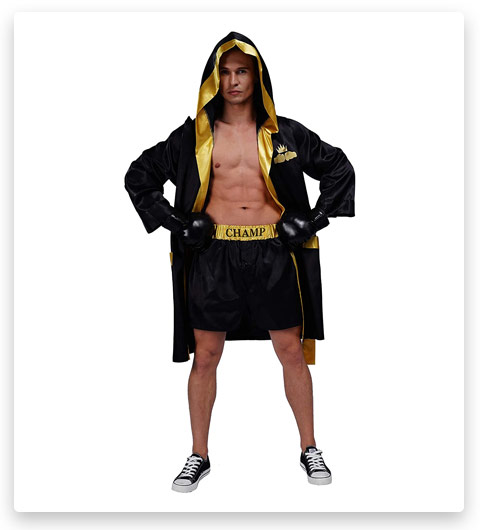 If you are looking for not only a boxing robe but also comfortable boxing shorts, then I have found a very attractive option for you. The set is pretty cheap for a complete robe with pockets, a belt, and shorts. The set, like most boxing robes, is made of pleasant satin. The costume fits very well, has good seams even on the pockets, and the elastic on the shorts is not tight and is very comfortable.
8# Dreamgirl Men's Boxing Costume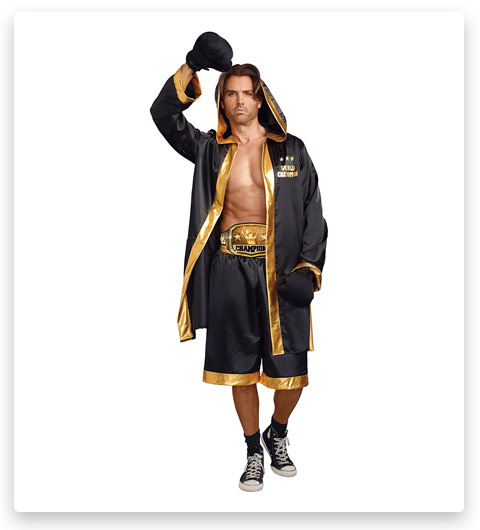 Another great costume option includes a robe, shorts, and even a belt. A belt is rarely useful to you, except for a photo shoot, but the robe and shorts in this model are of very good quality. Nice-fitting satin, comfortable shorts, and quality tailoring – everything we love.
9# Cosmaker Rocky Adult Boxing Robe Costume
Italians make very good boxing equipment. It is worth remembering at least the gloves and helmets from Leone. But this is a different brand, but no less of a quality. This set includes a great boxing robe and shorts with the legendary Rocky Balboa signature. The costume is very high quality and will serve you for several years. Besides, it's very cheap so it's worth buying.
10# Amnpolen Adult Men Boxing Robe Costume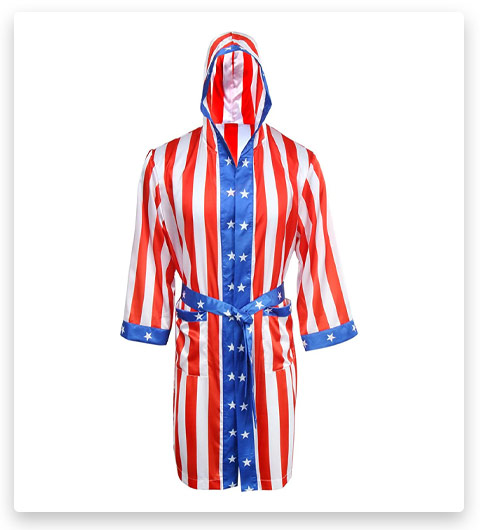 I've already reviewed the American flag style costume for kids, now it's time to talk about the adult model. This is a very high-quality satin robe in a patriotic color. It is quite long, so it is more suitable for classic boxing, has wide pockets and a star belt.
What Is Boxing Robe Costume?
Products such as the boxing robe are specially designed for a dynamic and lightweight shape that will suit not only training but also competition. Boxing robes are shaped like regular capes, but made of a thinner and lighter material (mostly satin) to cover your body while you rest between rounds or wait for a warm-up. As I said, boxing robes are a fighter's business card that gives him a confident appearance and adds seriousness to him.
Why Should I Buy A Boxing Robe?
Self-confidence. It's a bit of a psychological trick, but it really works. Every time I enter the ring, I get nervous before sparring, and a boxing robe helps me not to get nervous. This is true because the robe hides all your weak points and the opponent cannot give an analysis of how you will move in the ring and behave.
Shelter from the eyes. Before entering the ring, a lot of people usually look at you and your opponent. This puts pressure on you and you start to worry. Hoods in a boxing robe are needed precisely so that you do not see how many people are looking at you and do not feel pressured.
Hiding weak points. As I said, the robe covers you almost completely and does not show your strengths and weaknesses until you start sparring. If you go out without a robe, then the enemy can judge your movements simply by your physique. You can do the same if the enemy is without a robe. Over the years of training, it becomes clear at first glance which muscle groups in a person are trained the most, and which are weak.
Comfort. Boxing robes are specially made from light and cool materials so that you can relax as much as possible and enter the ring fully prepared.
Some of the tips may seem silly at first. To be honest, I thought so myself before starting boxing professionally. But a boxing robe is a very useful item that helps you relax and calm down before a fight. Otherwise, they simply would not be produced.
For these reasons, I believe that there should be at least 1 boxing robe in the wardrobe of a professional fighter. But buying a quality robe that fits well is a really big problem that I have encountered many times. Therefore, I have collected for you 10 of the best models that are available on the market.
How to Choose the Best Boxing Robe – Buyer's Guide
In this part, I have put together a guide to help you choose a quality boxing robe, even if this is your first time doing it. I advise you to pay attention to the tips below because they will help you choose a high-quality and comfortable model.
Material. Materials play an important role in the quality and comfort of a boxing robe. The higher the quality of the materials, the longer it will serve you and the more comfortable it will be.
Therefore, I recommend that you first look at the material from which the robe is made. Besides, bad materials can make you allergic and simply not be able to wear it.
Design. The design defines all the points that relate to the confidence of the fighter. If people and the enemy will look at you as a strange person dressed in an incomprehensible robe with Hello Kitty, you will lose your confidence. I advise you to choose a robe in solid dark colors or the color of the flag. These robes make a good impression in the ring.
Fit. This is also a very important point that affects how you will feel in a boxing robe. In general, most manufacturers have a size chart that will help you choose the right size robe, but I will still give you a few recommendations.
First, choose a hood in a robe that will hide everything on the sides, slightly cover your forehead, but at the same time leave your eyes free so that you can see everything in front of you. Otherwise, it will be inconvenient to adjust the hood each time to ensure visibility.
Secondly, the sleeves should not restrict your movement, so make sure that the sleeve is not higher than the elbow.
Finally, the length of the robe should be just under the knee or to the knee so that it is comfortable for you to move around and maintain the look.
FAQ
In this section, I will answer your frequently asked questions regarding the best boxing robes.
Final Thoughts
A boxing robe is a very comfortable element of clothing that you can afford during a competition or training session. They are very comfortable, give you confidence and comfort. You can choose any robe from my list of the 10 best boxing robes for men. Because they are all tested by many professional boxers and have high ratings among users.
Choose a boxing robe that suits you personally. To do this, you can follow the advice that I have collected for you in the buyer's guide. Have a good training!
Tags: #boxing costume robe cloak / #pink boxing robe costume / #best mens boxing costume / #boxing robe costume / #best boxing costumes