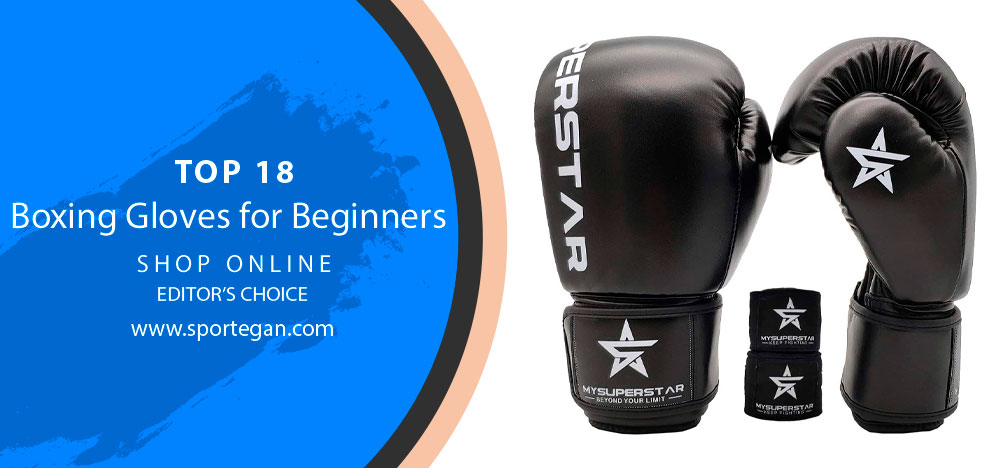 Of course, every part of boxing equipment is important, be it gloves, helmet, mouth guard, or bandages. But the most important and obligatory attribute that a boxer needs is gloves. You must have seen many times how boxers train without a helmet or bandages. But not a single boxer trains and even less goes into the ring without gloves.
If you're a beginner boxer, then this article will be as useful as possible for you because now we'll tell you why it's important to choose high-quality gloves, we'll tell you how to do it correctly and analyze the most common mistakes when choosing gloves. Let's go!
Why is it so Important to Choose Good Gloves?
The most obvious reason is to protect your hands. As muscular as your fingers and stutter are, they aren't designed to be punched several hundred times per training. The bones of the fingers and wrist are very fragile, but it's difficult to break an arm or finger during training. But it doesn't take much strength to injure or stretch a joint or wrist.
You may not notice this during your training, but when you're done, you'll feel an aching pain in the phalanges or the wrist. This is a very frustrating moment because you can hardly exercise at full strength when your fingers hurt. Plus, doing normal things like writing or holding on to a handrail will also be uncomfortable. Therefore, the first and foremost reason gloves are important is to protect you and your hands.
The second reason is your sparring partner. When gloves are poorly filled with soft material, loosely stitched, or have loose Velcro, your partner won't be very happy to get hit. The softer and better the glove, the longer you can stay in sparring, and the less injury you inflict on your opponent. There are very frequent cases when, due to the wrong gloves, my students bit their cheeks or when the loose Velcro scratched the skin on the face and left unpleasant marks.
Our Full Compilation of 18 Best Boxing Gloves for Beginners – Editor's Choice
Now you understand the importance of choosing the right boxing gloves and we can move on to the products themselves.
1# Everlast Pro Style Neylon Boxing Gloves – Our Best Pick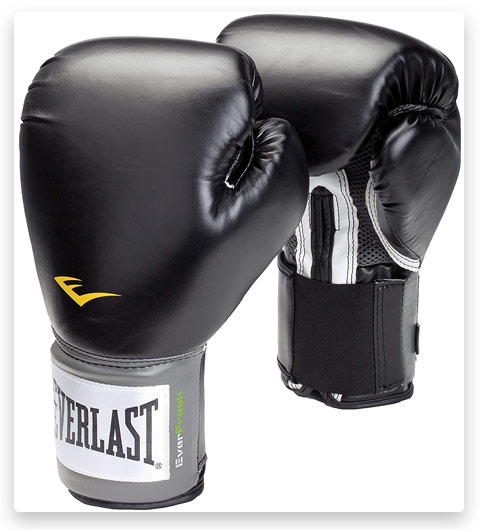 Everlast is a golden classic. These are gloves that I use and recommend to all my students. They're quite cheap and simple, but they have several features that made them the best for me.
First, they have a ventilation grid. It seems to be nothing surprising, but the peculiarity is that the grid area occupies almost the entire surface of the palm. Because of this, it's comfortable for the hands to breathe during training. Plus, gloves dry out very quickly from sweat. If you put them in the evening after training, they'll be almost completely dry the very next day.
Secondly, these gloves are odorless. Thanks to the anti-microbial coating, the gloves don't allow sweat to build up inside and give off unpleasant odors. Even if you don't dry them regularly, they'll smell of rubber every time, but not sweat.
Thirdly, the high-quality Velcro on the bottom. This means that you won't injure your partner with the hard material. Doesn't matter how you hit, the Velcro won't scratch your opponent's skin if you're boxing at high speeds.
Another nice feature of the gloves is their design. Gloves come in several colors, so you can choose something for yourself. Inside there's very dense and soft padding, so all blows are cushioned as well as possible. The disadvantages of this model are durability. The mesh on the palm may fray after a few months, and if you wash these gloves, they will lose their shape and the filling inside will shrink.
2# Venum Elite 3 Layers Boxing Gloves – Runner-Up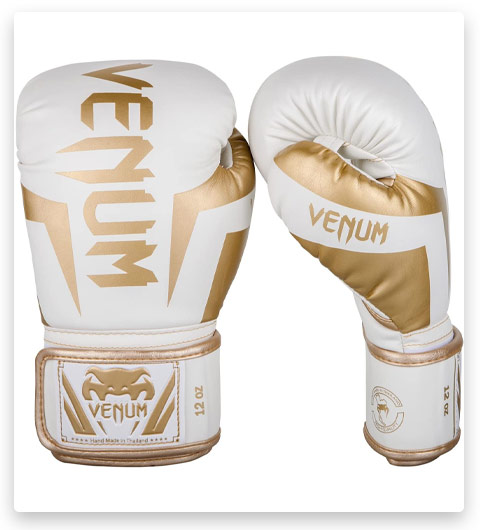 I like Venum gloves less because they don't have such big mesh and cost more. However, it's still a great choice. There's a very high-quality filler here, the gloves are quite voluminous and even if you hit with full force, you don't risk getting injured. Inside there are 3 layers of foam, which perfectly absorb hits.
Ventilation in these gloves is also provided, but there are only a few holes in the palm for the hands to breathe, which is almost always not enough. The thumb fits very comfortably in these gloves. The design is geared to keep your fist in the correct position. The velcro tape also wraps your wrist very tightly. Venum made a lot of colors for this model, and the design of these gloves is nice. My only recommendation is not to use white, because it gets dirty very quickly.
3# RDX Leather Boxing Gloves – Best Sensitive Pick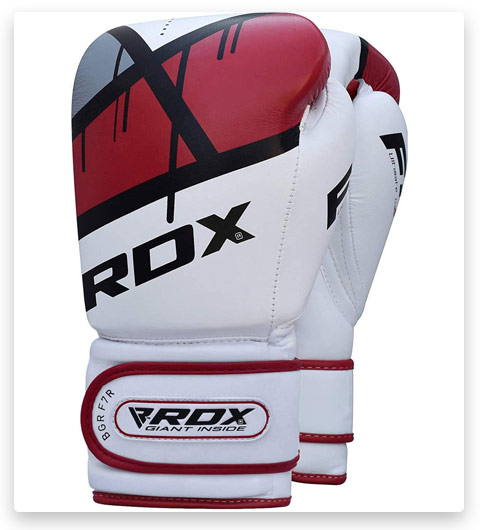 These gloves are quite small and therefore have excellent sensitivity. They're very convenient for practicing accurate strikes or some kind of combinations aimed at the correct technique. Also, this model has a good price.
The gloves are made of genuine leather, which means they are durable and after a few months you'll have the same gloves you originally bought. No cracks or abscesses. But genuine leather tends to absorb odors very strongly, and there's no antimicrobial coating. So be prepared for constant drying, otherwise, you'll have to endure the unpleasant smell of sweat.
Another plus is palm ventilation. It doesn't have such a large mesh as Everlast, but a few holes are enough to keep your hands breathing during training. The Velcro straps your hand very tightly, but it's rather short, so if you have a narrow wrist, the Velcro will stick out behind the glove. And this can cause discomfort to your sparring partner. But the sensitivity of these gloves is great. You can practice accurate punches with full force without the risk of injuring your fists.
4# Sanabul Essential Gel Boxing Gloves – Best Versatile Pick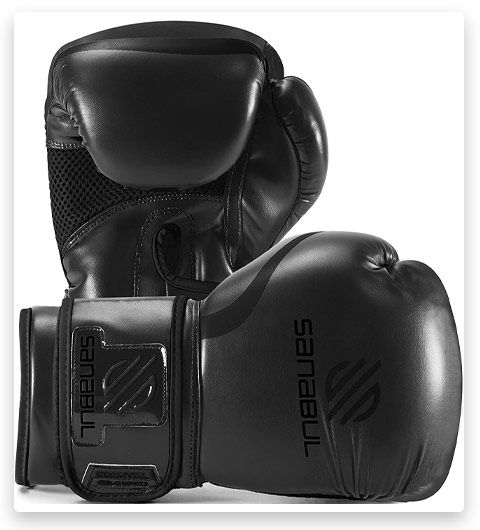 Very affordable, but high-quality gloves from Sanabul. This is certainly not an American production, but for a low price, you get pretty good quality. The construction is made of PU leather and contains a gel filler. This is a good solution because it gives you the perfect balance of softness and strength.
The gloves are soft and can withstand even very powerful impacts. There's a ventilation mesh in the palm of your hand, which keeps your hands well ventilated. These gloves take about 1,5-2 days to dry completely.
Artificial leather, unlike natural leather, doesn't absorb odors so much and with regular drying, the smell of sweat won't remain inside. The hand inside feels pretty comfortable, the Velcro wraps around the wrist tightly. These gloves work great both on the bag and with a partner.
The disadvantages of this model include a very simple design and short service life. After about six months, threads will begin to stick out of the seams, and the logo on the fastener will begin to peel off. But for the price, it's the great model.
5# Jayefo Beginners Pro Model Leather Boxing Gloves – Best Budget Gloves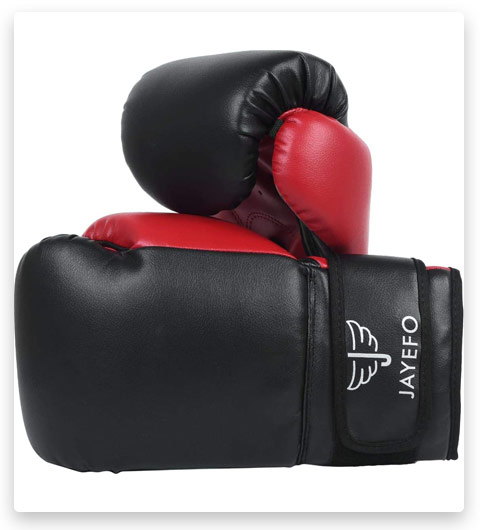 If you're looking to start boxing but are on a tight budget, Jayefo gloves are a great solution. They have a fairly simple design but will last you a long time with proper care. The material of the gloves is imitation leather, which shows itself well in terms of durability and strength.
Although it can crack over time, the filling on the inside will never come out, even if you use these gloves every day. The Velcro strap wraps around your wrist on both sides to keep your wrist tight and prevent unnecessary injury. Inside there is a 3-layer gel filler that perfectly softens blows.
These gloves work well on heavy bags. But this model has ventilation problems. Hands sweat a lot inside, and the holes aren't enough to ventilate them well. So get ready to be faced with hand drying.
6# Hayabusa S4 Foam Boxing Gloves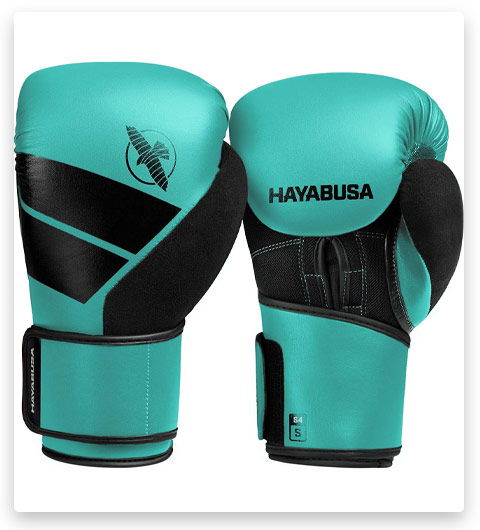 Hayabusa is a time-honored Japanese brand. So their gloves are very high quality. Including this model. These gloves don't perform as well on a bag as on a live partner. Thanks to the foam inside, the gloves perfectly flex your hand and absorb impacts.
The clasp wraps around the wrist on both sides, so the risk of injury is minimized. The gloves are available in several colors, and their color remains vibrant over time. The gloves are stitched quite well, after a couple of months you will not have threads sticking out or Velcro peeling off. The only drawback may be cracks on the sides.
7# Title Gel Boxing Gloves High-Quality Leather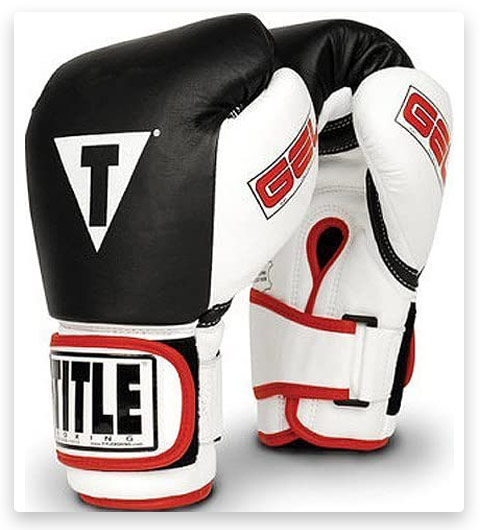 There's probably not a single boxer who has not heard of Title gloves. These gloves are of the highest quality, with a perfect filling, tight grip, and excellent performance. But they're very expensive, so if your goal when choosing gloves is to save a budget, then it may be worth looking at something else.
Gloves are made of composite material, the upper part is made entirely of leather. This is done so that the impact surface of the gloves remains intact for as long as possible and you can box in them. There's a gel filler under the skin, one of the best on the market right now. It perfectly absorbs blows both on the bag and on the opponent's body.
Inside there is a special hand pad that repels germs and leaves your gloves dry and odorless. So despite the lack of a ventilation mesh, these gloves will almost always be dry. The velcro is very wide and tight, so your hands will always remain intact, without the risk of injury.
8# Pro-Force Leatherette Boxing Gloves White Palm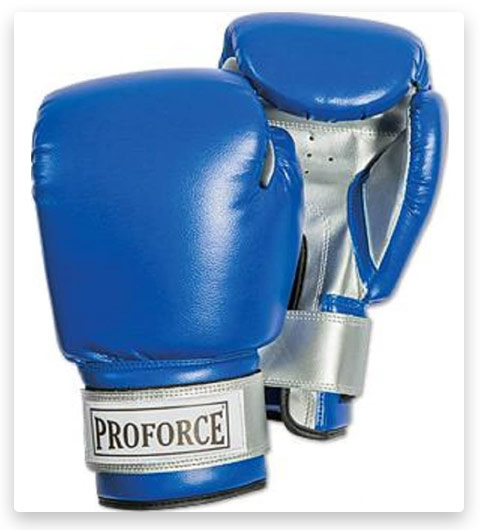 Pro-Force isn't such a well-known brand, but it offers excellent solutions in the middle price range. So I decided to include these gloves on the list too. The gloves are quite cheap but have very good padding and outer layer. There's made of PU leather, but even over time it does not tear or crack. You can no doubt buy these gloves for the next year or a half. The manufacturer provides a lot of colors with white and black palms.
The palm of the glove has ventilation holes. There aren't very many of them, but enough to keep your hands dry, and the gloves have time to dry in about a day and a half after you finish your workout. The disadvantages of this model include narrow Velcro. You have to ask someone to tighten your gloves because the Velcro here is narrow and uncomfortable to grip.
The second disadvantage is the thumb, which is very wide, which is why when working with the bag it isn't attached to your hand and you risk injuring your fingers. But if you're accurate in technique and don't hit with all your might, then these gloves will be a great solution for you.
9# Liberlupus Boxing Heavy Bag Sparring Gloves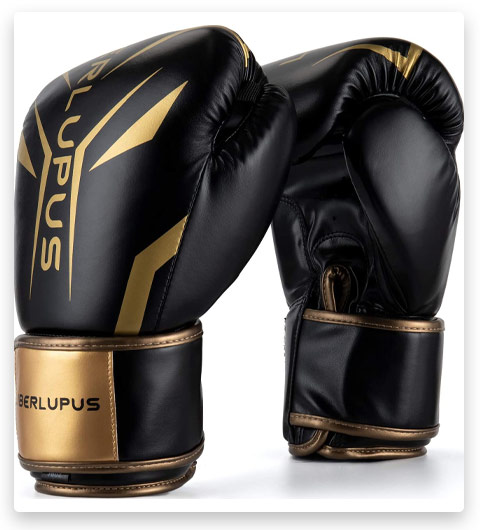 Great gloves that perform well on the bag. They're good at sparring too, but mostly in 14-16 oz sizes. Liberluplus tried very hard to stuff these gloves with soft material. So here we have 3 layers of foam that give you flexibility and more ability to hit hard without injury.
The Velcro is very wide and takes up almost a quarter of the entire glove. It provides a secure and tight fit, which is why it is one of the best strength gloves you can train with at full strength. Their only problem is the paint, which begins to peel off over time. But if that doesn't matter to you, then these gloves are a great solution.
10# Tussinger Training Boxing Sparring Gloves 2 Colors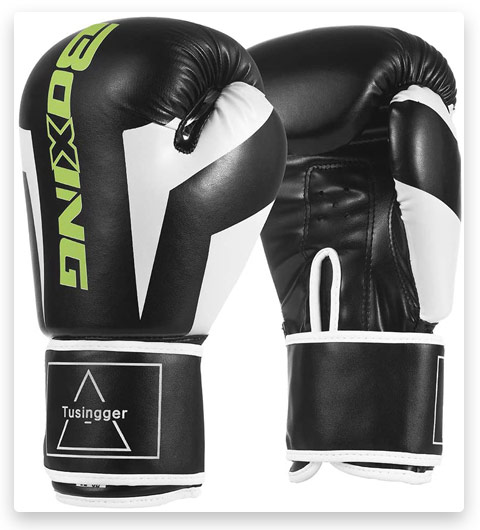 The design of the Tussingers was developed in such a way as to fit the boxer's hand as tightly as possible, give it the correct shape, and protect it from injury. And they did it. These gloves are really tight. This is achieved due to the dense and wide Velcro, which is easy to tighten even when you have already put on one glove. And also due to the dense filler and attached thumb.
The padding is made of polyurethane foam in several layers. Working on the bag with these gloves is very soft and does not cause discomfort. The palm has ventilation holes that reduce moisture content inside but don't eliminate it. Therefore, you still have to dry the gloves for several hours after training.
11# MySuperStarBoxing Pro Boxing Fighting Gloves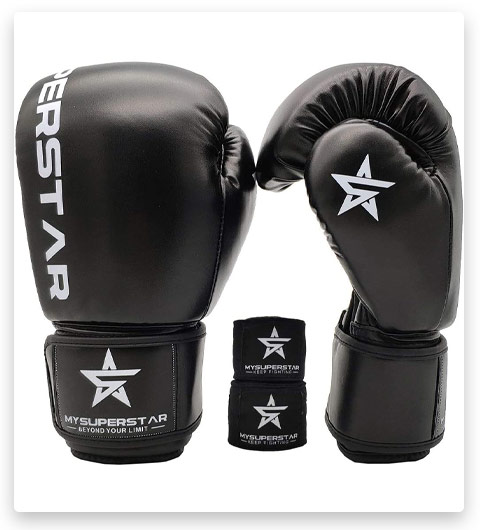 These gloves have an interesting design solution. Plus, you get bandages in the kit that you can use to protect your hands. Not that this speaks of poor protection of the gloves themselves, on the contrary, the manufacturer takes care of your hands.
The gloves are quite spacious inside, so hands hardly sweat in them. Additionally, there are holes in the palm and thumb that drain sweat. The ventilation of these gloves is great.
Gloves have a regular and comfortable curved shape, which makes your hands feel comfortable. The padding is quite tight, especially around the thumb and forefinger. But it seemed to me that in the area of ​​the little finger and ring finger, the padding is rather thin.
Otherwise, this is a great model for its price.
12# Ztty Sparring Boxing Gloves MMA Pro Grade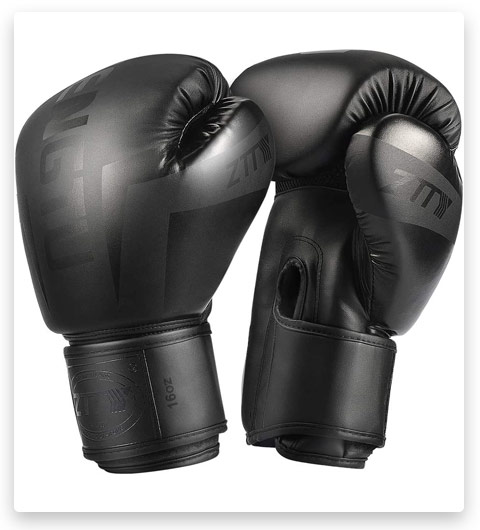 These gloves are very large and soft. Therefore, they are great if you are working at high speeds or full strength with your partner. Gloves are made of high-quality artificial leather. This, in turn, reduces their price, but in terms of durability, they remain just as reliable. The material is well protected from cracks and destruction.
The 3-layer padding inside perfectly softens and disperses all your shocks. With these gloves on, your opponent will not be injured even with a strong blow, just like your hands. The filler here is very high quality.
Plus, these gloves are equipped with a ventilation mesh that keeps your hands dry. Yes, it is not very large in area, but the gloves dry out in just a day or a half. The velcro closes tightly and completely fits the glove. It's also very well stitched and the threads and seams are almost invisible, which means you won't injure your opponent by scratching them with Velcro.
13# Tridder Pro Grade Boxing Gloves For Training
This model is very similar to the previous one, and they differ only in ventilation. If in the previous version a ventilation mesh was provided, then holes are simply punctured here.
Gloves are made of artificial leather, which lasts a long time and the gloves remain intact even after 5-6 months of use. The 3-layer padding on the inside absorbs shock and protects your bones. The strap is very thick and wide, it fixes the hand well. Plus, there are almost no seams here, which saves your partner from unwanted scratches.
14# Elire Sports Professional Boxing Gloves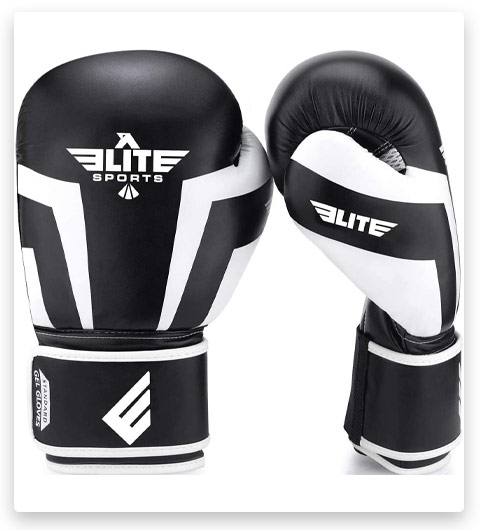 These gloves are equipped with chic ventilation. You not only have a large mesh here but also an antimicrobial coating on the inside, which saves the gloves from unpleasant odors.
But the most important thing here is the filler. In addition to three layers of foam, the manufacturer has installed an impact gel in the gloves, which dissipates all the load near your bones. These gloves provide excellent protection for strength training.
The gloves are made of artificial leather. In general, it lasts quite a long time, for the entire time of use, the ventilation mesh on the side has only slightly worn out. The velcro in this model has almost no threads, everything is very smooth and soft. The wrist is tight and secure.
15# Ringside Training Sparring Gel Gloves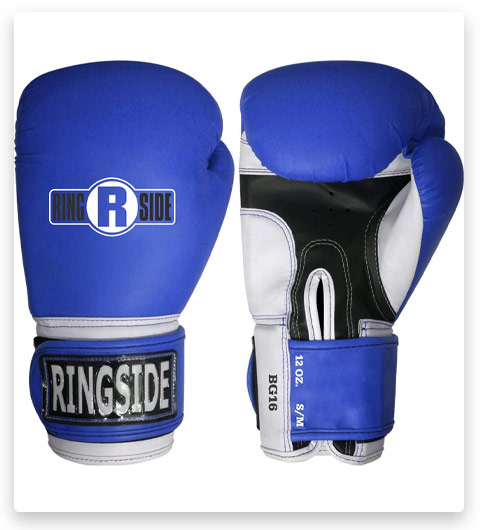 These gloves are great for beginner boxers. They come in several colors, and their characteristics will impress you. This model has a tapered non-slip closure that fits very snugly around the glove and locks your wrists in place. And the convenient hook lets you take your gloves off and on in seconds. The only downside to the clasp is the ringside logo, which can sometimes scratch your skin or your opponent's skin unpleasantly.
These gloves can be used for different types of martial arts. They are great for sack work. The vents provide good ventilation and sweat protection but absorb odors. This is a very inexpensive but high-quality glove with which you can start your boxing journey.
16# MaxMMA Pro Style Boxing Training Gloves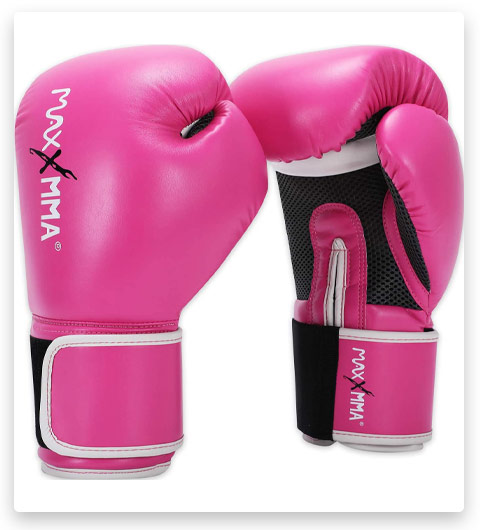 MaxMMA gloves are designed so that your hands feel maximum reliability and comfort during training. The model is made of polyurethane. It is a very durable and resistant material that lasts much longer than artificial leather.
Thanks to the wide mesh that covers most of the palm, hands feel very cool and the gloves dry in just a couple of hours. There is a mesh even on the thumb, so these gloves are good in terms of ventilation.
The wide Velcro strap allows you to wrap around your wrist and keep it tight. The hand sits very tightly and securely inside.
17# Dtower Mini Boxing Gloves For Training & Sparring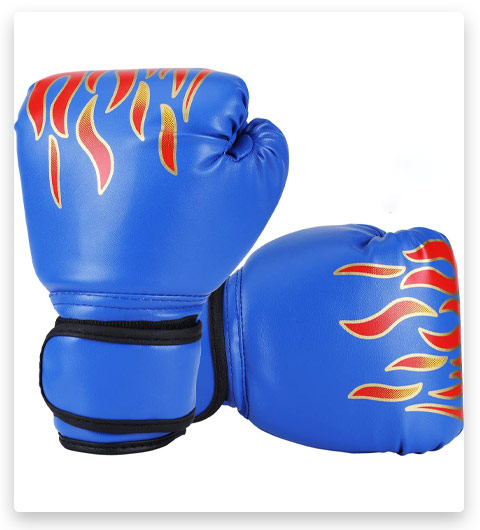 If you're looking to buy gloves for your child, then this option is perfect for you. The gloves are made specifically for the child's hand, have the correct shape, and an increased amount of filler for greater protection.
The wide and comfortable Velcro strap allows you to securely fix your wrist and give your hand the right shape for the correct strike. PU leather and cotton give you durability even with your daily workout. The gloves are very easy to use and comfortable to wear, so it's worth considering buying one.
18# StarPro Boxing Sparring Gloves For Training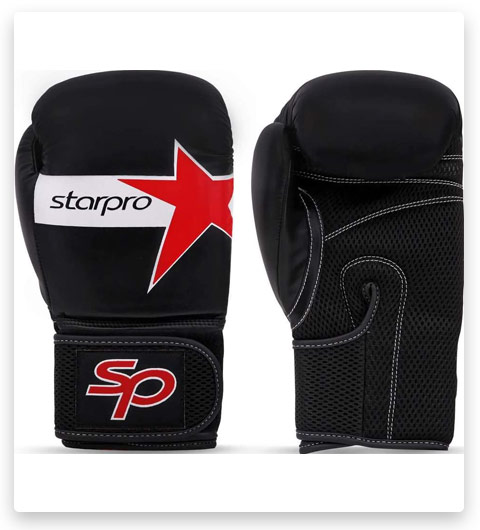 If you don't like to wear wet and smelly gloves every time before training, because they don't have time to dry, then this model will solve your problem. In addition to the fact that the gloves have an antimicrobial coating on the inside, which always leaves them fresh, they are also almost completely covered with a mesh on the palm.
The outer surface is made of high-quality synthetic leather, the inside is padded with foam. In principle, this is the cheapest stuffing option, but thanks to several layers of foam, the hands do not get injured and blows dissipate well. The Velcro is very wide and tight, but I don't quite understand the decision to make the Velcro from the ventilation mesh. Because of this, it wears out and breaks very quickly. But otherwise, these are great gloves for the price.
How to Choose The Best Gloves For Beginner
As a rule, most beginners don't know what qualities good gloves should have, which will last for a long time and each workout will bring pleasure from wearing, and not pain from a wrong blow. We want to protect you from the mistakes that beginner boxers make when choosing gloves. Therefore, we have compiled a detailed guide for you, in which we have selected all the important qualities that quality gloves should have.
Size
Gloves vary in size, ranging from 6 ounces to 18, in rare cases 20 ounces. For training, athletes always wear 12 or 14-ounce gloves. This is ideal for both bags and sparring. Some boxers take 16-ounce gloves for heavy bag training. 6 and 8-ounce gloves are mainly used in MMA and other martial arts by professional athletes. In boxing, such gloves are not used even at the European and world level. Competition rules generally set limits for 10 or 12 ounces.
Therefore, it's best for a beginner to take 12 or 14-ounce gloves, depending on the shape of the fist and hand. If you have a large hand and wrist, it is better to take 14 oz. gloves, and if you are an ectomorph like me, then 12 oz. will fit perfectly on your hands. With fragile bones and joints, it is also better to take a 14 oz. glove, as they are larger and the padding is thicker in them, even if they are a little oversized.
Material
Basically, only three materials are used in the manufacture of gloves: genuine leather, artificial leather, and vinyl.
Genuine leather is the most durable and quality material of all. These are the gloves that professional boxers use. But that is why this material is the most expensive. Besides, natural leather dries very quickly and allows you to start a new workout faster. But genuine leather has an unpleasant property of absorbing odors, and antimicrobial coating, if any, wears off very quickly. Therefore, be prepared to dry and wash your gloves constantly. But fortunately, this is their only drawback, except the price.
Synthetic leather is similar to natural leather but costs much less. But in terms of quality, it is still inferior to natural. I have managed to use both good synthetic gloves and bad ones. But they are all not as durable as genuine leather gloves. This is to be expected when you are paying almost half the price. If leather gloves can last for several years, then artificial leather lasts for six months to one and a half years, depending on the quality and frequency of use. If you train 2-3 times a week, then there is no point in overpaying for natural leather. Synthetic gloves are perfect for you.
Vinyl and polyurethane are more rare materials that are used in the manufacture of gloves. They cost about the same as synthetic ones, but they have several differences. Vinyl gloves absorb unpleasant odors much less and dry very quickly. But they have one peculiarity. Typically, this material is very short-lived and will crack or tear quickly. Therefore, for intense training, it is unlikely to be suitable. But for classes 1-2 times a week, you can buy vinyl gloves too.
Filler
The quantity and quality of the filler are among the most important parameters when choosing a glove. If the material more affects the durability and comfort of wearing gloves, then the filler directly protects your hand from injury in the event of an incorrect or very strong impact. And you will have the wrong and strong hits because it takes long hours of training to form and deliver the right hit. It's best to buy gloves with a combined filler, such as gel + foam. These fillers maximize shock absorption and provide your fist with comfort. However, all-gel or all-foam fillings are also quite good quality and are cheaper. The cheapest filler is foam rubber, but it doesn't disperse impact very much and therefore is not of high quality.
Ventilation
Ventilation affects how much your hands will sweat, which means how much sweat your gloves will smell like and how long they will take to dry completely. There are two ventilation methods in gloves: mesh and holes. The ventilation mesh, which is located in the palm of your hand, copes with this function best. But gloves with mesh are usually more expensive, but they wick away perspiration and allow the gloves to dry quickly. Some gloves have regular holes in the palm that allow the hand to breathe, but they don't ventilate as well as mesh. Also, gloves with holes dry several hours longer than mesh. But it is a much cheaper option.
Velcro
In addition to Velcro, you can also find lace-up gloves. But this is a very old type of boxing gloves that our grandfathers used to use. Now everyone, even professional boxers (not counting the adherents of the old school) uses Velcro gloves. This is mainly due to the ease of use, even exercising alone you can easily fasten the Velcro with a glove. It is much more difficult to lace up the second glove when you have already put on the first one.
The Velcro should be wide and firmly attached to the wrist, with almost the same strength as the bandage. Because the wrist is responsible for 80% of the impact load, and its protection is extremely important. The velcro should be well stitched, not have protruding threads, and be very tightly closed. Otherwise, you run the risk of injuring your opponent when working at high speeds by scratching him with the hard side of the Velcro. Or scratch yourself while blocking the blow. And nobody likes abrasions and scratches on the face.
Frequently Answered Questions – Boxing Gloves for Beginners
In this section, we have tried to answer the most frequently asked questions that are sent to us about boxing gloves for beginners. If you do not find a question that interests you – ask it in the comments, we will be happy to answer it!
Do gloves come in different sizes?
Yes, but gloves are not the size most people are used to. There is no letter S, M, L, or anything like that. Gloves are sized in ounces and proportional to their weight. The lightest gloves used by MMA fighters for the competition are 6 or 8 ounces. Boxers use 12 or 14 oz gloves; for tournaments, they can use 10 oz.
Which material is more durable?
The most durable and durable material is natural leather. But this is the most expensive material too. Nevertheless, if you are ready to invest, then genuine leather gloves will last you 2 years or more, even with daily training. Of course, if you take care and dry them properly.
Why is this glove so expensive?
The price of a glove depends on several factors: material, padding, quality of sewing, and the brand itself. The better these parameters, the correspondingly more expensive gloves will cost.
Best Boxing Gloves – Our Verdict
So it's time to summarize. The glove model that seemed to us the best both in terms of price and quality is Everlast Pro Style.
These are great gloves from a trusted American manufacturer. They have a very soft padding, good ventilation, antimicrobial coating, and high-quality Velcro. Plus, they don't cost as much as the same gloves from Venum or Cleto Reyes. Therefore, we highly recommend this model for purchase. Use only quality equipment. Thanks for reading us.