All fans and professionals of mixed martial arts (from which the abbreviation MMA comes from) know that to conduct serious training, they need to have quality mma gloves. Poor quality can quickly lead to serious ligament and joint problems. It might seem like choosing the right pair of MMA gloves is easy, but in reality, it is not at all.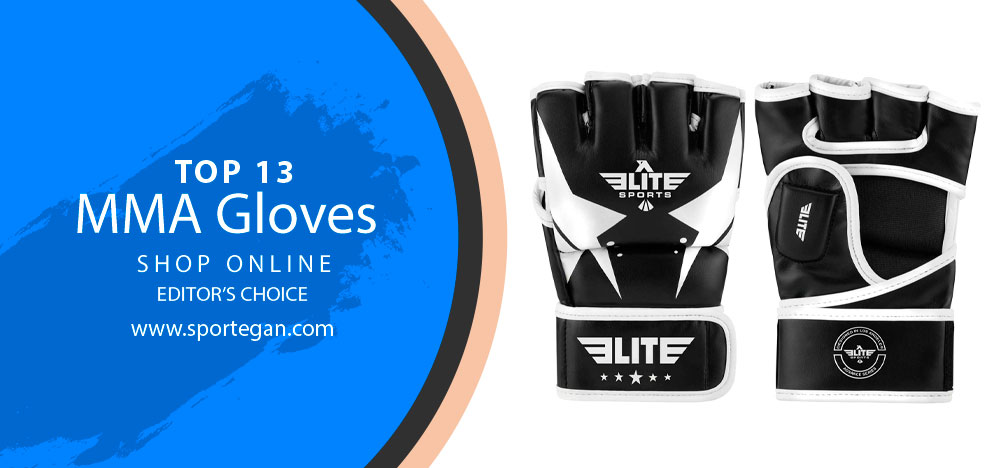 Many models allow your hands to sweat, they move easily and cause discomfort. This situation can really play against you in the middle of a training session or fight. If this has already happened to you, I am giving you good news. Here you will find the best MMA gloves that do not have the above bad characteristics.
Our Selection 13 Best MMA Bag & Sparring Gloves
If you have already looked at the marketplace, you will see that the search can be quite extensive and you may have difficulties. However, you have nothing to worry about if you are reading this article. I have devoted a lot of time to finding and testing many of the models that are on sale today. And finally, besides getting my perfect match, I've made a comparison for you. Here you will find an overview of the 13 best MMA gloves. Will you miss this? I do not think so.
1# Everlast Pro Style MMA Grappling Gloves – Best Quality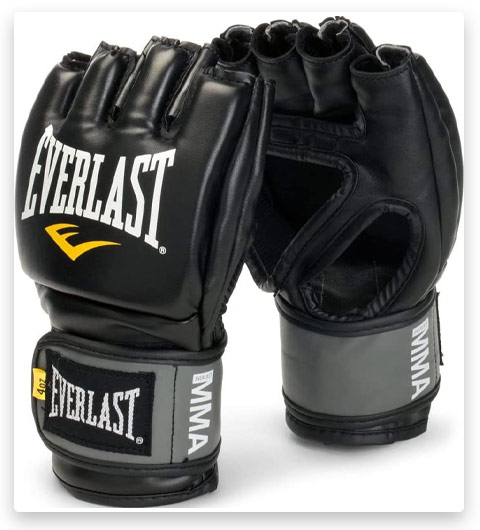 Everlast Pro Style gloves are great for beginners in MMA. You can soften the blow with these inexpensive gloves without worrying about losing their appearance quickly. These comfortable gloves have a large foam pad that covers most of the hands and fingers but lacks thumb protection. The palm is open but has a crossbar to help keep the gloves in the correct position. The wide cuff is securely fixed with Velcro. Ergonomic design contributes to a comfortable fit. The surface of the gloves is made of high-quality artificial leather, which is highly durable. Foam core cushions shock loading. EVERDRI technology removes excess moisture. The anatomical shape of the gloves guarantees protection for the knuckles. These are practical, beautiful, stylish gloves!
2# Liberlupus MMA Gloves – #1 Best Seller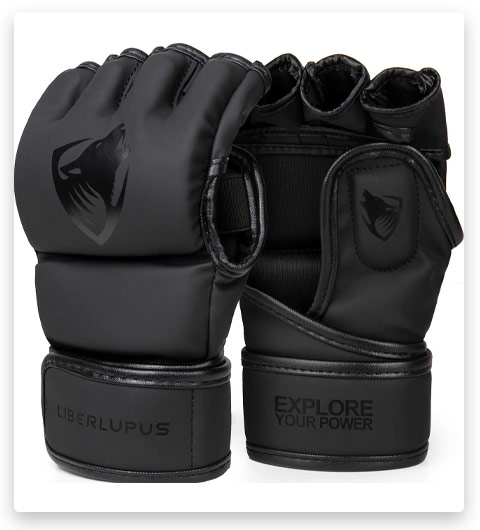 Incredibly stylish and high-quality gloves for your MMA training. They are made of durable PU leather that is abrasion-resistant. This material is also easy to wash, so your gloves will not have an unpleasant odor. Thicken 10mm EVA fist padding provides excellent protection even during intense and heavy impacts. Gloves not only improve your grip, but they also improve wrist flexibility. Your palms will not sweat thanks to the excellent airflow. You will find everything an MMA fighter needs in these gloves.
3# RDX MMA Gloves for Grappling Martial Arts Training – Best Training Gloves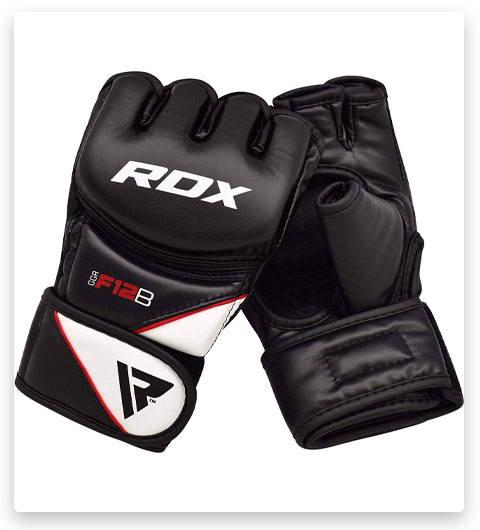 Continuing this list of affordable MMA gloves, I want to show you a model that has been reinforced with 100% Maya Hide leather for a resilient MMA training glove that will last for years. They offer very good grip results, they are crack and wear-resistant. The padding is a Polymax Contoured Tri-Slab PC3 well-engineered to provide quality protection and also ideal for impact protection. Three-layer padding provides maximum impact protection during training and competition. It is designed to distribute force and flawless distribution of impacts over the surface of the gloves. Quick-EZ Velcro closure for wrist support for a comfortable fit and snug fit. D.Cut palm with the ventilated thumb will provide you with an improved grip. Their unique contoured design helps you align your arms correctly to help prevent injury. They have excellent protection for the hands and joints.
4# Sanabul Essential MMA Gloves – Best Sparring Gloves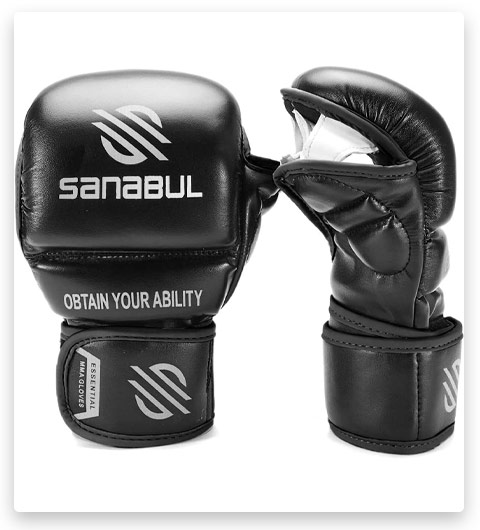 These gloves will be a great choice for the athlete due to their excellent value for money. They are perfect for MMA training due to their design. The specially designed construction of high-quality leather ensures excellent functionality and durability of the gloves. The correct distribution of the force of impact is due to the filling of a special substance with a combination of foam and gel for maximum protection during the most intense workouts. The correct anatomical design fits perfectly into the arms of the athlete, the movement feels natural and comfortable. The gloves fit tightly on the hands and are fixed with a special Velcro. The special mesh lining keeps the athlete's hands dry and comfortable. Stylish design and a wide range of colors will delight any athlete.
5# Venum Challenger MMA Gloves – Best Quality and Price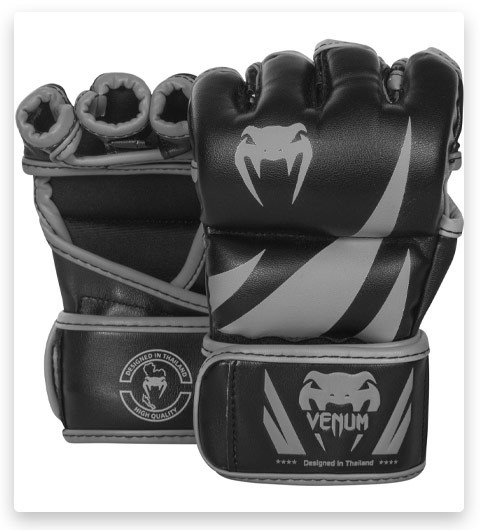 If you like fighting in the ring as well as training, these MMA type gloves are perfect for you. These gloves are designed so that you can compete in the ring without injuring your bones thanks to the quality of their materials. Plus, they come at a very affordable price to fit all pockets. The gloves are reinforced with multiple layers of foam to improve shock absorption and reduce impact. The Challenger glove is composed of layers of high-density foam padding. If you like padded thumbs, consider these gloves. The wrist strap is long enough. Without a doubt, an excellent option for the vast majority in terms of price/quality ratio of materials.
6# Elite Sports MMA UFC Gloves for Men, Women, and Kids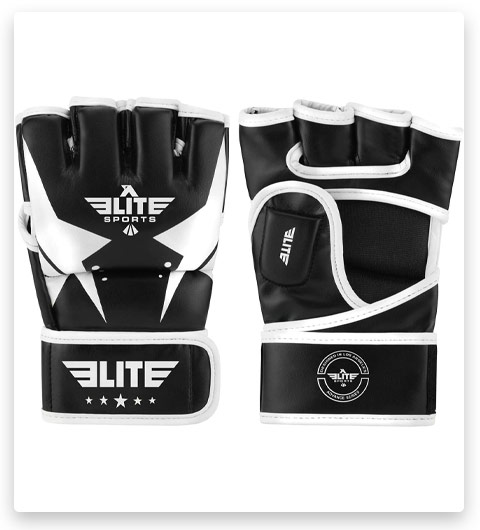 These gloves come with superior PU leather material and are available in 4 different sizes. These gloves are ideal for anyone approaching the world of MMA and looking for a durable, high-quality product at a reasonable price. Anyone who has used this product knows that these gloves are ideal for frequent training use. What makes these MMA gloves so durable is the quality of the seams and the durable material. They are also very light in weight. They have a curved anatomic shape. This allows you to close your fist properly. This is a comfortable model with an adjustable strap.
7# ZooBoo MMA Gloves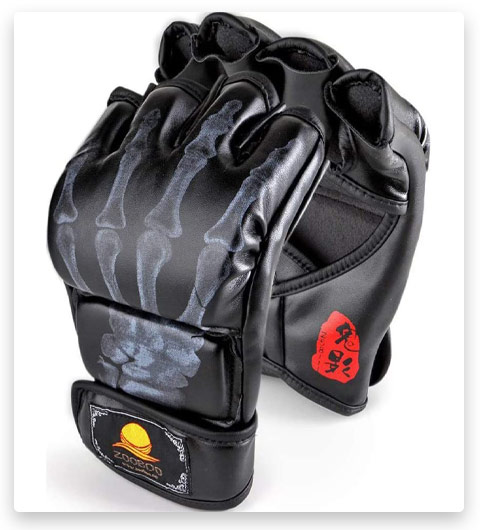 If you prefer to stand out from the crowd, then these MMA gloves are for you. They have an unusual design that everyone will pay attention to. Take a look at it yourself! Besides their attractive design, they have excellent training characteristics. With perforations on the palms, your hands won't sweat. This promotes a pleasant workout experience without irritability. The wristbands allow you to tighten or loosen your gloves. It depends on your preference. They also provide excellent wrist support.
8# UFC MMA Gloves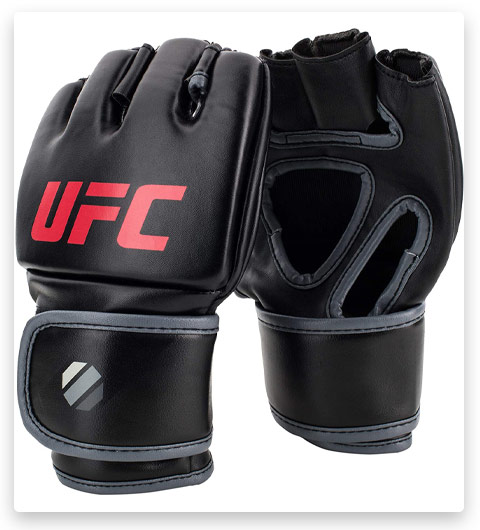 These MMA-style gloves are made for training and sparring. The quality and design make these gloves an unrivaled product, letting your hands breathe thanks to the open palm design. This ensures maximum comfort. Breathable mesh in the palm of your hand to avoid unpleasant odors and bacteria build-up. They are made of durable PU leather. These gloves are available in four colors: black, white, red and blue.
9# Brace Master MMA Gloves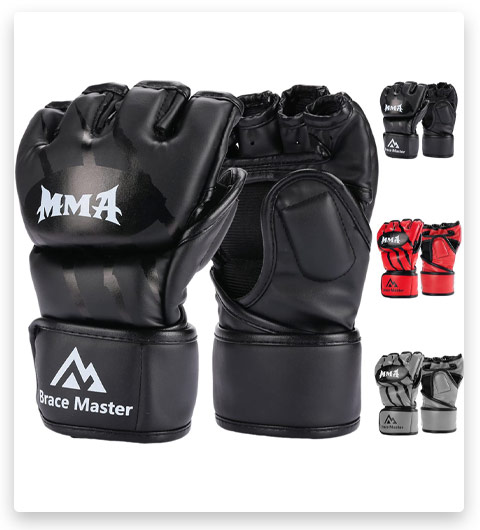 Brace Master also offers you some interesting cheap MMA gloves that you will surely be interested to know about. There are no less than 7 different colors to choose from. They are also available in a wide variety of sizes. The material of the gloves is the highest quality synthetic leather, which is ideal for long service life. Inside, it is presented with a lining that can absorb as much moisture as possible, so you will keep your hands dry at all times. The product comes with a small perforation system in the palm of your hand to ensure proper cooling as well as a perfect grip. The thumb is properly protected with foam padding to reduce shock and avoid restrictions in terms of mobility.
10# FitsT4 Half Mitts UFC MMA Training Gloves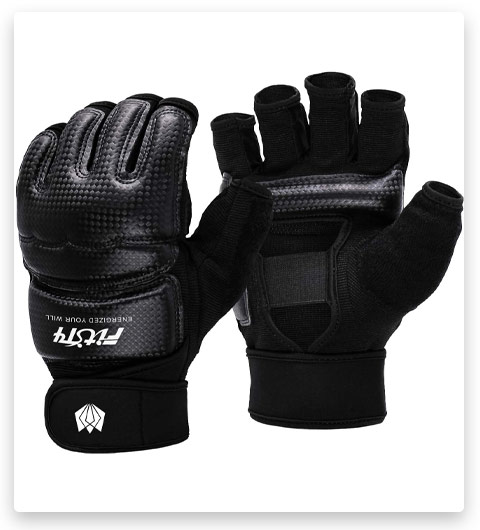 MMA gloves from the FitsT4 brand are reliable, quality, and convenient. They are suitable for both workouts and sparring sessions. Synthetic imitation leather is distinguished by its durability and resistance to aggressive shocks. The anatomical shape guarantees protection for the knuckles. The gloves are equipped with an open palm design that allows air to pass through perfectly and keeps your hands cool.
11# Everlast Women's Everstrike Training Gloves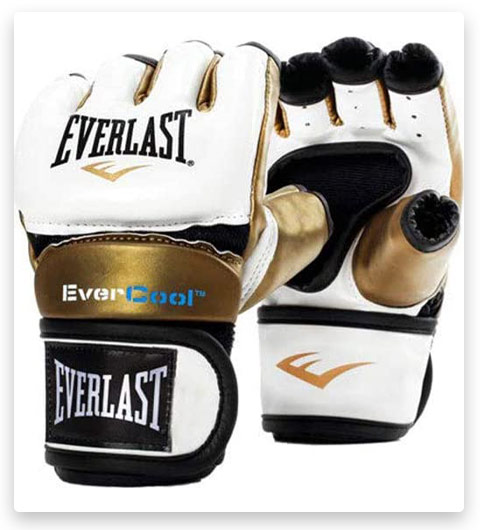 If you are a girl who does MMA, then you cannot pass by. This is a model from a well-known brand that is worthy of your attention. They are created with Everstrike technology, which allows the gloves to withstand impacts of any force from feet, hands, knees. The Velcro strap secures the wrist securely and provides a comfortable fit.
12# KAIWENDE Half Finger MMA Gloves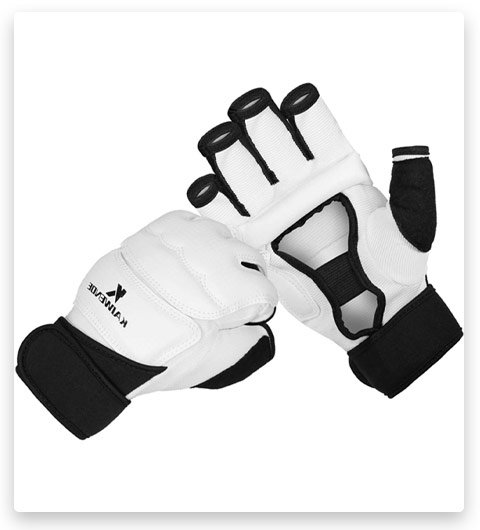 These are comfortable MMA gloves. It closes completely with Velcro for optimal support for the wrist area. Its shape resembles a sophisticated glove, which provides better flexibility in the finger and hand area with good protection. The upper part of the gloves is made of smooth faux leather and the lining is made of breathable cotton. High-density EVA sponge filler provides excellent elasticity and protection.
13# Seektop Mixed Martial Arts Grappling Gloves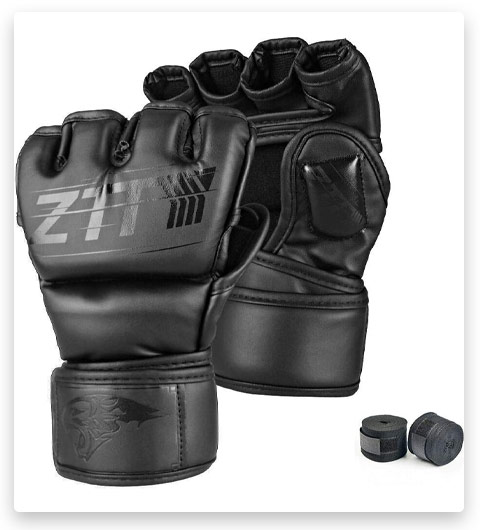 This glove is made from Skin Combat Leather. It is not only visible but also felt. Both men and women love them for their comfort and durability. Their design makes them ideal for mixed martial arts. Their protective PC-3 padding removes sweat from your hands and also protects your wrists and disperses shocks. They have excellent breathability thanks to their open palm design.
The Difference between MMA Gloves and Boxing Gloves
The first thing you should know is that the gloves I have compared in this top are not and do not serve the same as boxing gloves. And you must be clear about this from the very beginning, as it depends on your goals. If your idea is to play sports, then you must make sure that our gloves are fully covered. Otherwise, if you buy gloves with open phalanges, you will get bone injuries.
Therefore, MMA gloves are not used for boxing, except for sandbags and some other activities in the gym. The latter is designed for both gym workouts and wrestling or even competition, as well as most martial arts, but never boxing. The big difference between these gloves is that they provide a better grip compared to boxing gloves, which provide greater impact reduction. MMA gloves are also different from boxing gloves in that they allow the fingers to move fully and are usually lighter on the wrists. This is because in MMA the athlete must be able to engage the opponent in clinching, grappling.
Types of MMA Gloves
Hand protection is extremely important, which is why there are different types of MMA gloves, depending on their characteristics and purpose, so it is important to know which type of MMA gloves to choose in order to get the most out of them and avoid injury. There are several types, brands, and specifications to consider depending on the purpose and use of the MMA gloves. Therefore, it is very important that you know in detail each type of MMA gloves and takes advantage of the benefits that they offer us.
MMA Training Gloves. The MMA training gloves are specially designed for punching. In these gloves, the palms can be closed or open, and the fingers are separated, but with additional protection. A distinctive feature of these MMA gloves is their wide mobility, but at the same time, they reliably protect thanks to the foam layer. The weight of the MMA training gloves is 7 to 10 ounces.
MMA Sparring Gloves. When it comes to partner practice, MMA gloves are used, which are usually 7 ounces heavier than competition gloves. MMA sparring gloves should have extra padding in the impact area, even if they don't give your fingers and hands that much flexibility. The idea behind these MMA gloves is to prevent damage during sparring, whether it's your sparring partner or yourself.
MMA Competition Gloves. Competition MMA gloves typically weigh between 4 and 6 ounces, depending on whether they are for the professional or amateur level, and have less padding than training gloves. In terms of performance, these gloves leave the palms partially open and the fingers spread and open for easy grip. It is important that these MMA gloves have high-density stitching and high-quality materials.
In professional MMA competitions, organizations usually provide fighters with MMA gloves to avoid resentment or any kind of flaw or fraud, however, each fighter must have their own UFC gloves for proper training or competition. Because during training you will be able to adapt to their shape. And thus, on the day of the battle, you will not notice the difference.
How to Choose the Size of MMA Gloves?
This is one of the main doubts. In boxing gloves, the choice is easier, as we only need to choose the required number of ounces (10, 12, 14…). But in MMA gloves, one must also look at the type of gloves, whether for sparring or professional type gloves. You should choose sizes S (small), M (medium), L (large), XL (extra large) depending on the size of your hand. To find out your size, you need to measure the circumference of your hand in the middle of your palm. Also keep in mind that the size of the gloves may vary depending on the manufacturer, the Venum S size does not have to be exactly the same as the Everlast S size.
Conclusion
Choosing the right equipment for MMA can be a daunting challenge for any newcomer to this great sport for the first time. Just like running shoes for runners, choosing the right gloves for MMA sportsmen is important for both proper training and the proper conduct of official competitions. Wishing to summarize everything that has been said, I remind you that MMA gloves should be chosen, first of all, based on your level of training.
If you are a beginner, there are many models that suit you, but which are completely different from the professional ones. Remember that weight and size are very important, as an uncomfortable glove, too large or too tight, will prevent you from exercising the way you would like. If even after watching this review, you cannot make a choice, then choose 1# Everlast Pro Style MMA Grappling Gloves – Best Quality, as well as 2# Liberlupus MMA Gloves – #1 Best Seller.