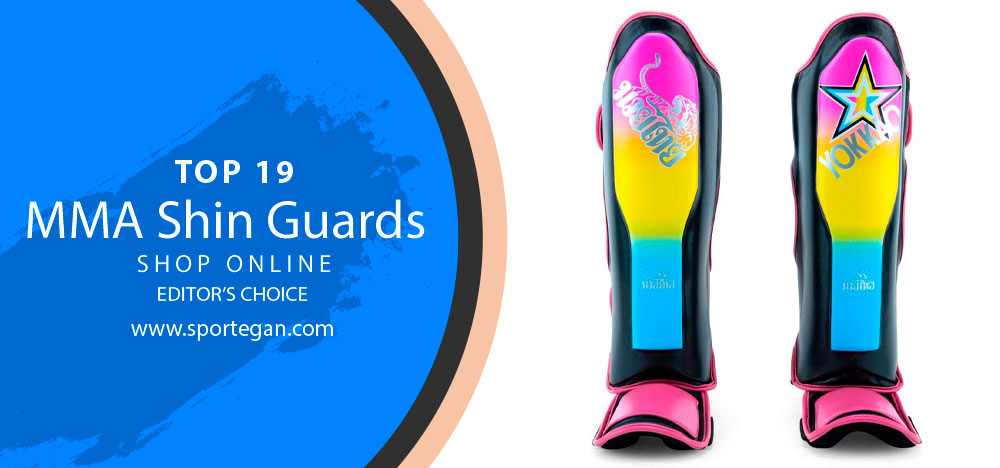 Do you remember the painful redness or bruising from previous MMA workouts? The cause of the leg pain was probably lack of or insufficient protection. Best shin guards for MMA, where kicks are used, have one clear goal: to protect the feet from injury from kicks. In particular, shin guards protect the bones of your legs (tibia and fibula), and some also protect the small bones of the foot that can easily break.
However, this is not all. This protective gear also reduces the damage you can inflict on your opponent or sparring partner with your kicks, as they partially absorb the blow. In any serious MMA gym, shin guards are a must-have accessory when sparring.
Our Selection 19 Best Shin Guards for MMA – Editor's Choice
To better protect your feet in future training, you will need strong shin guards MMA. In this guide, I will show you how to choose the best shin guards for your workout and what you need to consider to make the right decision. This is the kind of equipment you should invest wisely in, especially when you know that a leg injury can seriously affect your life.
1# RDX Shin Guards for MMA
It is one of the most reliable MMA shin guards. The inner padding of the RDX foot pads is foam with nylon inserts for impact protection. They are designed for beginners as well as experienced athletes. This model is less bulky and 50% lighter than standard shin guards. Lightweight, but very durable, the guards provide the athlete with increased comfort and safety. The raised shin provides additional protection for the knee joint. The double neoprene velcro is made for a perfect fit on the shin. They are made from excellent Maya Hide leather for durability and strength.
2# Venum Challenger Standup Shinguards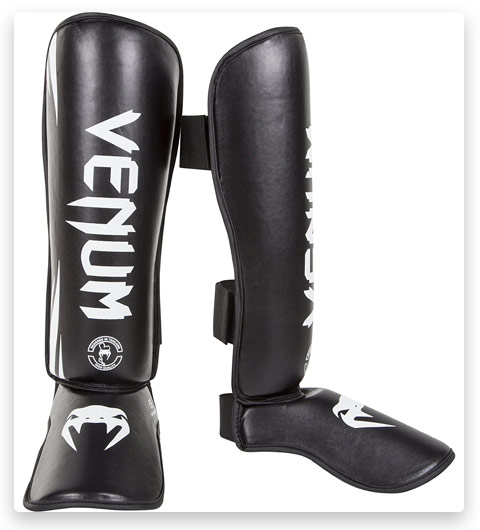 The original Venum shin guard is perfect for MMA and other martial arts. The Venum shin protector features high-quality Skintex leather combined with an affordable price. Shin guards feature high-density foam with extra padding and lightness for better kick speed. They provide a superior fit thanks to the large Velcro straps. They are non-slip and provide high comfort.
3# Sanabul Essential Hybrid MMA Shin Guards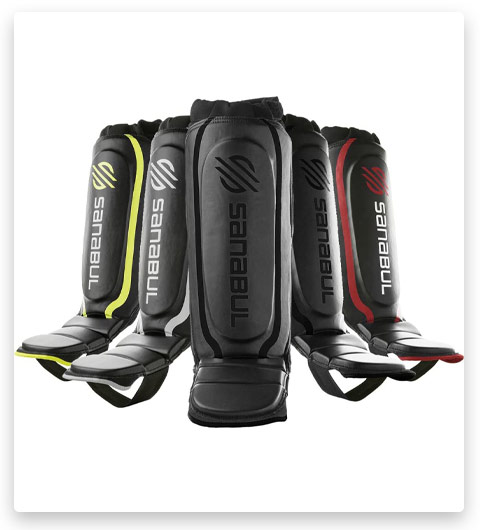 This is high-quality equipment to protect your shins during MMA training. They have excellent performance and are available at a great price. In addition, they are available in six colors, so everyone can find the right design for themselves. The foam used absorbs impacts of any force and thus gives you the opportunity not to limit yourself during training.
4# Hayabusa Kanpeki Elite 2.0 Grappling Shin Guards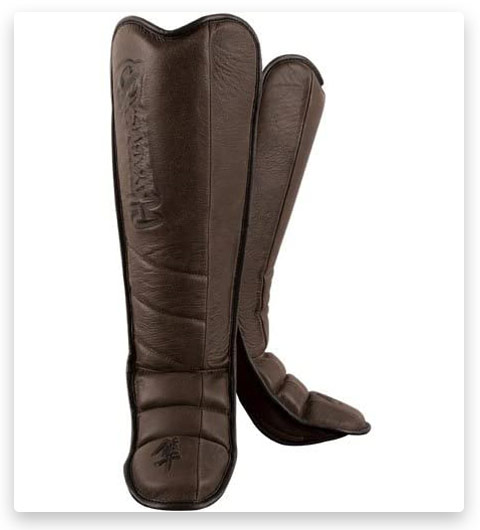 Hayabusa Kanpeki Elite 2.0 is the second generation of Hayabusa's shin guards. They are handcrafted from premium 100% full grain genuine leather. Ideal for the advanced fighter. They are equipped with an integrated Velcro closure system. Elite level padding will never allow you to feel pain after a blow of any force. What's more, they feature protruding shin and ankle panels to prevent any injury.
5# Twins Special Shin Guards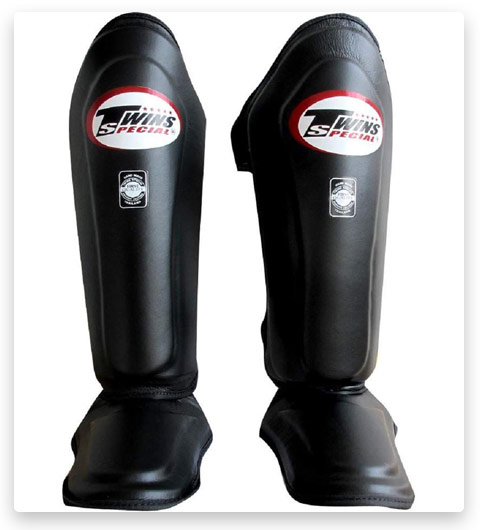 The shin guards are hand made and have reliable foot protection. Two wide elastic bands in the heel and two wide Velcro straps on the back of the shin guard ensure optimal hold. They are made of high-quality genuine leather that ensures reliability and durability of use. They allow you to maintain stability during training and sparring.
6# Everlast New Mixed Martial Arts Shin Guards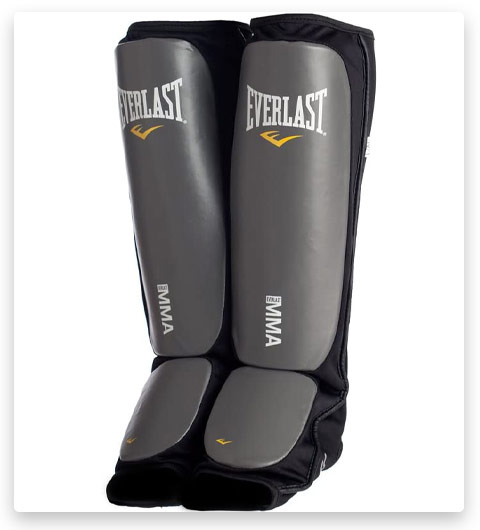 Everlast is renowned for its high-quality martial arts products. These shin guards for MMA are no exception. They are made of synthetic leather that is highly resistant to wear and tear. They are equipped with high-density foam on both panels. This provides high protection for your shins.
7# Fairtex Competition Shin Guards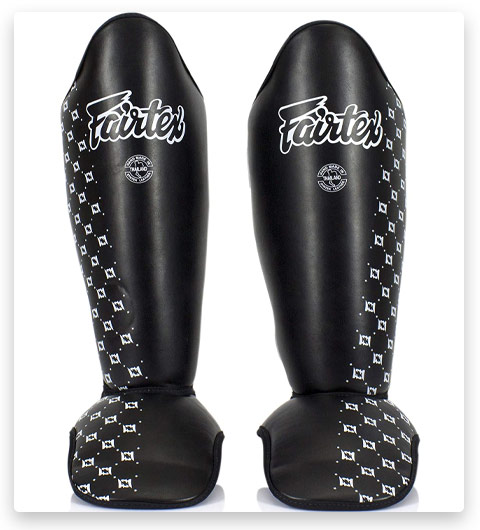 This anatomically correct model fits perfectly on the lower leg. During training, you will not experience discomfort or convenience. Secure fittings secure the Fairtex shin guards correctly to your feet. The close-fitting silhouette of the foot is very pleasing, where there are two protrusions that protect your knuckles. Foam filler consists of two layers of different densities. More dense foam on the outside, softer foam on the inside of the guards for improved shock absorption. Shin guards have 4 fixing places: 2 on the foot itself, and 2 on the shin guard. The synthetic leather from which the shin guards are made is very durable. This Syntex Leather is designed and patented by Fairtex.
8# PFG Classic Shin Instep Guard MMA
If you are new to MMA and are looking for your first tire guard, then this is the model for you. Firstly, they are available at a minimal price, and secondly, they have all the necessary characteristics for protection. They are made of superior quality PU leather. This material is resistant to cracking and tearing. Double foam padding for excellent shock absorption. They are equipped with a Sectioned cross-over strapping system. This allows the air to circulate perfectly and also does not restrict the movement of your legs.
9# YOKKAO Matrix MMA Shin Guards with Knee Guards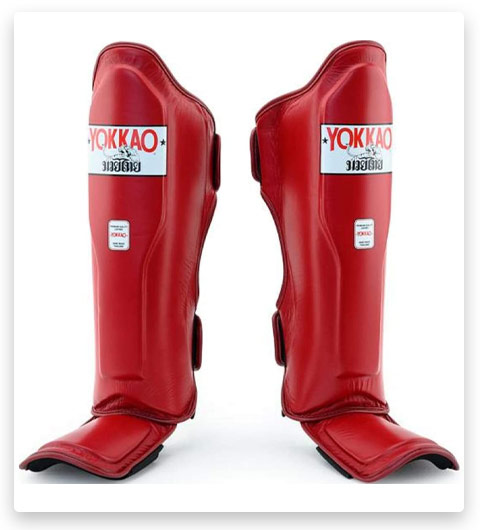 These MMA shin guards provide excellent shin protection. These shin guards are professional, they are excellent for training in such martial arts as MMA, Muay Thai, and Kickboxing. This equipment is used by both beginners and world-class professional fighters. Shin guards from Yokkao fit perfectly on the shins, do not slip or spin. Genuine leather will allow the equipment to withstand the most severe workouts. Adjustment loops with hooks allow you to adjust the height to your desired height and lock the flaps in the places you want.
10# Hayabusa T3 Striking Shinguards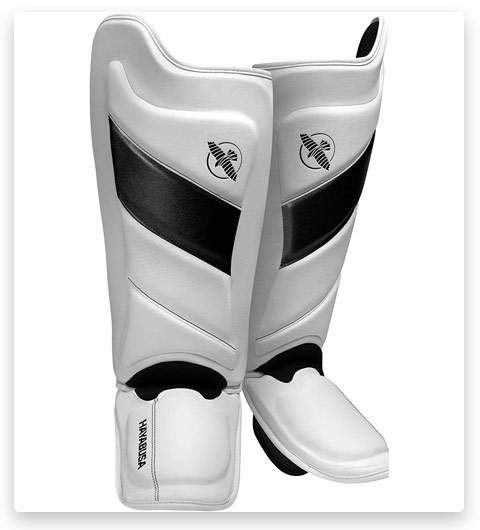 Only an amateur can think that comfort and MMA should have nothing in common. Safety and concentration are the most important components of the training process. It is with these goals that Hayabusa approaches the production of equipment. Designed the Hayabusa T3 shin guard for the advanced fighter to hone their technique. Shin guards reliably protect both the shin and the foot. Thanks to the new tire fixing system, the T3 guards do not roll even during the most intense workouts, and also perfectly fit under the fighter's foot. The foam allows you to take the strongest blows on the shin, as well as to carry out aggressive attacks yourself. The outer upholstery is made of the latest generation of VYLAR artificial leather.
11# YOKKAO Havana MMA Shin Guards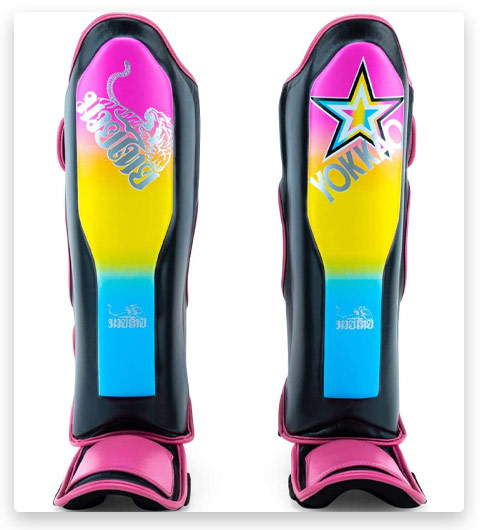 If you are not used to being aloof and love to stand out, then these tire guards are made for you. Thanks to their striking design, they have sunk into the souls of many athletes. Besides their cool design, most people like them for their superior performance. They are made from premium cowhide leather and have three layers of impact-resistant foam. They are resistant thanks to the Non-slip interior.
12# RIMSports MMA Shin Guards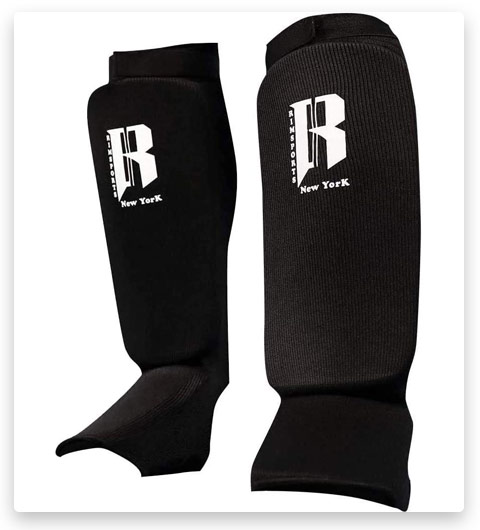 These shin guards for MMA provide high protection for your shins, even during very intense training. They are made from durable and breathable cotton and have reinforced stitching. This allows them to withstand kicks and punches of any strength. Also, cotton provides excellent breathability and excellent moisture-wicking properties.
13# MAXIT Professional MMA Shin Guards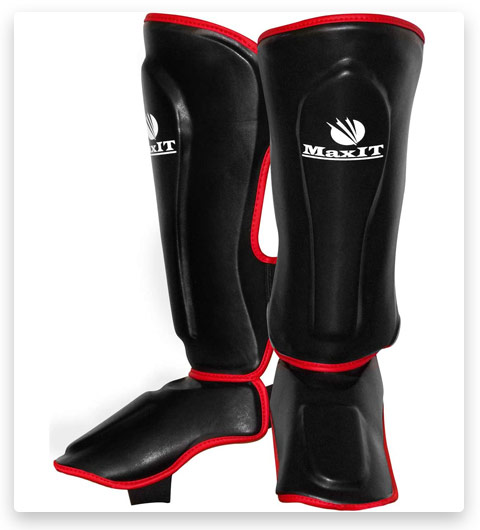 These shin guards for MMA are for professional use. They are capable of providing maximum protection even during the most aggressive combat. Foam padding fully protects shins and feet. They are comfortable to wear and thus do not hinder your performance even during long workouts. You will find sizes for both men and women and children.
14# BeSmart Kids, Adults, Youth, Men & Women MMA Shin Guards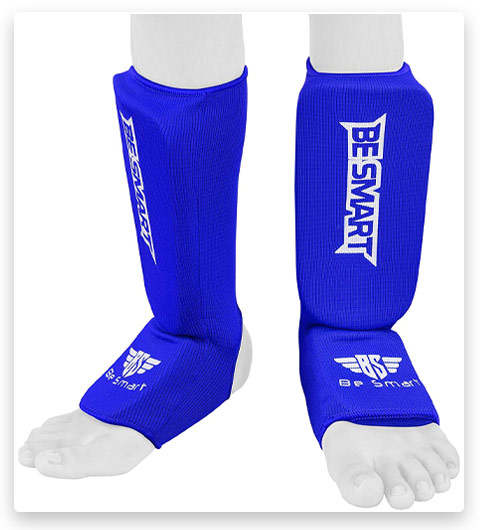 These are the best shin guards MMA that combine functionality and stylish looks. Synthetic fabric wicks away sweat for maximum comfort. High-density EVA foam padding protects you from serious damage. You will have no difficulty putting on this accessory thanks to the flexible material.
15# Meister MMA Elastic Cloth Shin & Instep Padded Guards – #1 Best Seller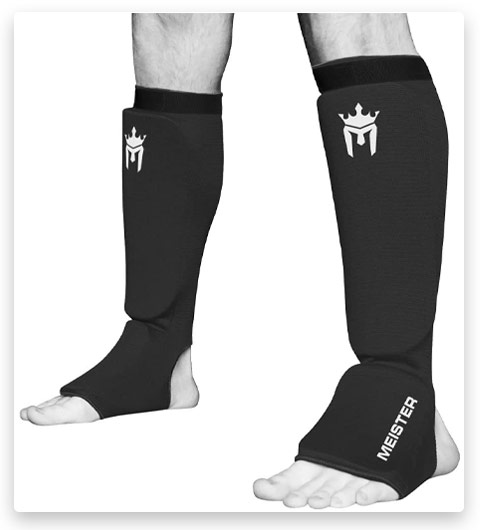 It is fully elastic protective equipment for your shins. Use them every time you train in MMA. They are equipped with a high-quality Velcro strap. It perfectly fixes the top of the MMA shin guards. They also have excellent padding to keep your feet in shape.
16# Venum "Kontact" Shin and Instep Guards – Amazon's Choice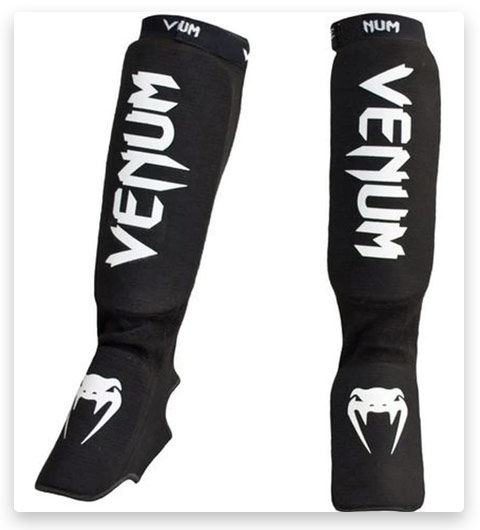 They have been designed to effectively protect a fighter's shin. At the same time, anatomical features were taken into account. They now fit perfectly on any athlete. This new product provides quality protection and comfort even during the most difficult training sessions and fights. Elastic clips are perfectly adjustable and do not allow shin guards for MMA to fly off or rollover at the most unexpected moment of training. The exposed shin guard parts have been specially designed to efficiently and quickly wick moisture and sweat away from your feet, as well as to provide thoughtful thermoregulation.
17# Verus Shin Instep Guards MMA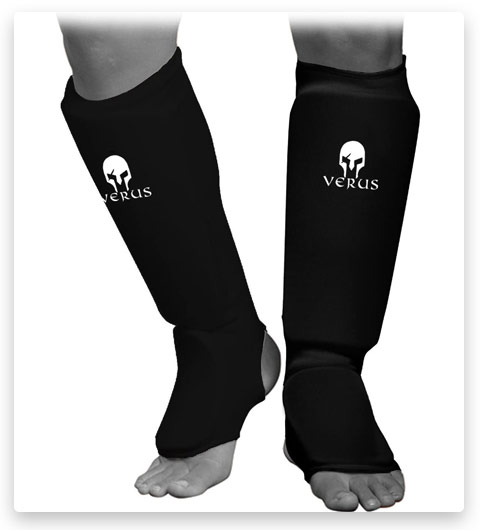 If you don't want to spend a lot of money on protecting your shins, but want to get a decent product, then you should pay attention to this model. They keep you flexible and thus do not restrict your movement during training. They have carbon fiber padding for durability. The product has cool max liners which are designed to wick moisture away and keep you dry.
18# Combat Sports MMA Shin Guards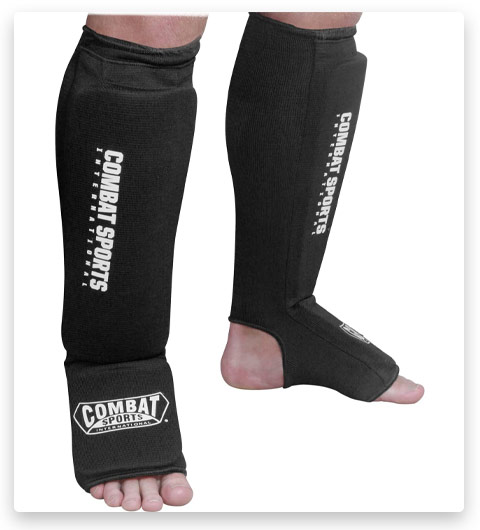 They are lightweight and do not take up much space, this is the main advantage of this leg protection. They are great for both beginner training and sparring. They are made of a compression material that provides high mobility to your feet. This material also provides a snug fit to the legs and feet.
19# Elite Sports MMA Shin Guards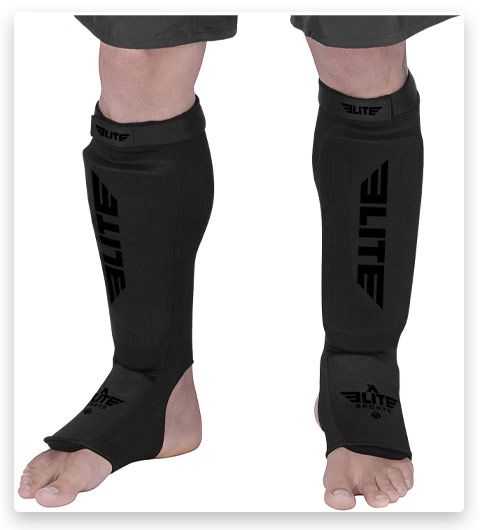 This product is pre-curved for the shin. They are padded with high-density foam for improved cushioning. They are suitable not only for men but also for women. You can completely wash them, thereby killing the unpleasant odor. Thanks to their lightweight construction, they improve your mobility while sparring.
What is MMA Shin Guards and Why Is It Needed?
Shin guards are a soft pad on the shin and ankle that protects the fighter's leg from:
True, in training conditions, it is difficult to get a fracture of the shin, since even in sparring they do not beat at full strength.
It is the main task of the shin guards since many kicks can be delivered during training.
Sprained or dislocated ankle ligaments.
In addition to legs, the shin guards protect your sparring partner by softening blows to the head, body, and legs. With this protection, you can work at full strength in training without holding back or slowing down.
How to Choose the Best Shin Guards MMA?
The main selection criterion is the size (height). Shin guard should not protrude onto the kneecap but only cover the shin. Ideally, you need to measure your shin height and then refer to the dimensional grid.
In addition to size, you should pay attention to:
The number of Velcro. Better to take 3 to fix the shin shield more tightly.
Velcro width. The wider the better.
The presence of overlays not only in the front but also on the side.
Lining and Seams
Like other types of protection, the highest quality and usually the most expensive are made of leather and hand-sewn. Leather is a very durable material that provides additional protection, and hand-stitching often prevents dangerous imperfections. But there are poor qualities of leather, and many exploited workers may not be able to spend too much time sewing. Therefore, if you are told that something is handmade or made of leather, this does not mean that it is of high quality.
There are variants of very high-quality synthetic leather and industrial machines that sew very well and make sure everything is in order. In addition, some of these fabrics allow you to incorporate anti-odour, moisture, fungal, perspiration-reducing agents, or even can be machine washable. You shouldn't buy shin guards for MMA made of pure vinyl or PVC anyway. Not only are they not very durable, but they are also dangerous to exercise and can cause abrasions and cuts. If you buy shin guards with this lining, don't be surprised that some gyms won't let you train with them.
Can Shin Guards Be Washed?
Shin guards worn in martial arts can usually be washed. For hygiene reasons, it is highly recommended to wash them regularly, otherwise, sweat will collect very quickly. This leads not only to an unattractive look but also to an unpleasant odor. In general, the shin guards in the washing machine can be washed at temperatures between 30 and 40 degrees. However, due to the material used, there may be differences. For this reason, you should carefully read the washing instructions before starting your wash. They are usually found in the box in which the shin guards were purchased. If, however, the situation is such that the washing instructions are written in a language that you, unfortunately, cannot speak and/or read yourself, then you can still ask the trainer about it. He has to know how to wash the shin guards without damaging them. After washing, they can be easily dried on a hanger.
Conclusion
Good shin guards are worth investing in. That being said, I don't mean that you need to buy the best products, but at least they should be worthy. It's not just about adequate shock protection. Poor shin guards will hinder your movement, directly affect your workout, and may pose a greater risk to your health. For the same reason, the quality of the fasteners is extremely important in the shin guards. It is better to purchase a high-quality product once. If you are still undecided about the choice, I advise you to pay attention to such models as 1# RDX Shin Guards for MMA, 2# Venum Challenger Standup Shinguards, and 3# Sanabul Essential Hybrid MMA Shin Guards.
Tags: #best mma shin guards / #best mma shin guards review / #best shin guards for mma / #best shin guards mma