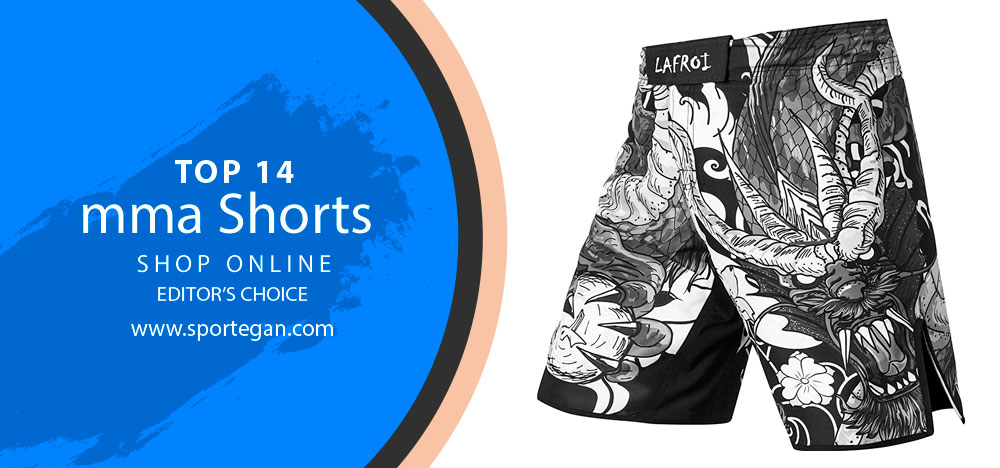 Since sportsmen actively use their legs in mixed martial arts, it is very important to choose such shorts for MMA that would completely liberate the athlete's movements, allowing him to perform the most difficult strikes. The professional MMA shorts are so comfortable and aesthetically pleasing that they are increasingly seen outside gyms as casual wear. However, not all regular shorts are suitable for mixed martial arts.
There are generally accepted guidelines for choosing shorts for MMA and grappling. Such equipment must be extremely durable, without pockets. And then, accordingly, neither you nor your opponent will suffer. Also, buttons and zippers should be excluded, so as not to injure anyone. They usually do not restrict movement, and also dry quickly.
Our Selection 14 Best MMA Training & Fight Shorts
Let's try to analyze what characteristics MMA shorts should have to help you find the right model for you. With these considerations in mind, I've created a buying guide and ranking of the 14 best mma shorts to help you make an informed choice.
1# Hawk MMA BJJ Unisex Athletic Shorts – Best Price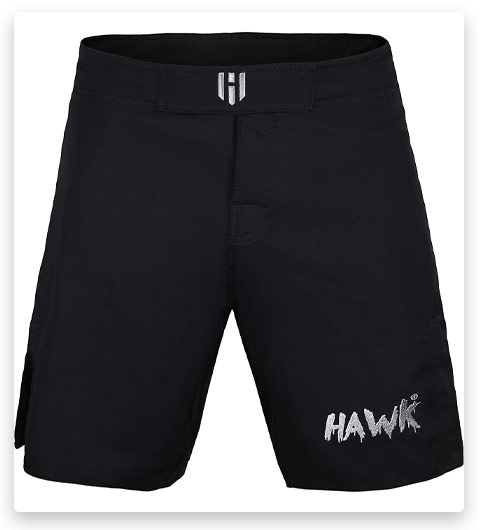 These shorts from Hawk are designed for adults and have breathable fabric, which means that this is already a broadly positive aspect that makes them the ideal model for MMA. They are made from stretch micro fabric. In addition, it has side slits, which makes them even more original and comfortable. They provide a great fit thanks to the Hook & Loop Velcro closure. I love this product for its stability and the fact that it stays always in place and does not fall off the thighs. I also liked the excellent quality and aesthetic beauty of the model.
2# Elite Sports Men's MMA Fight Shorts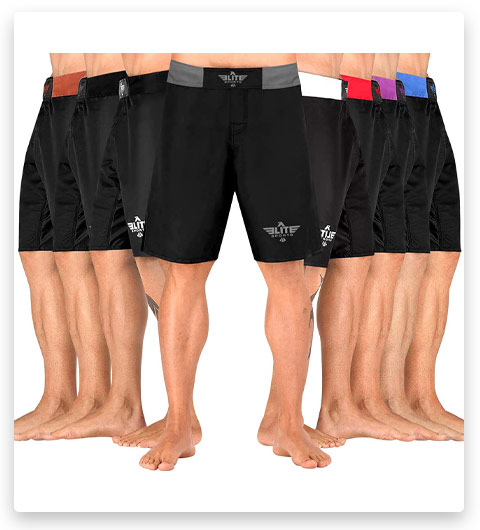 Your range of motion will be increased with these athletic shorts. They are intended for use during MMA training and competition. They are distinguished by their lightness. They are made from high-quality microfiber fabric. This material provides comfort and performance. This material is also highly durable, so the shorts will withstand any test in the boxing ring. They have side slits for great footwork.
3# Sanabul Essential MMA Training Workout Shorts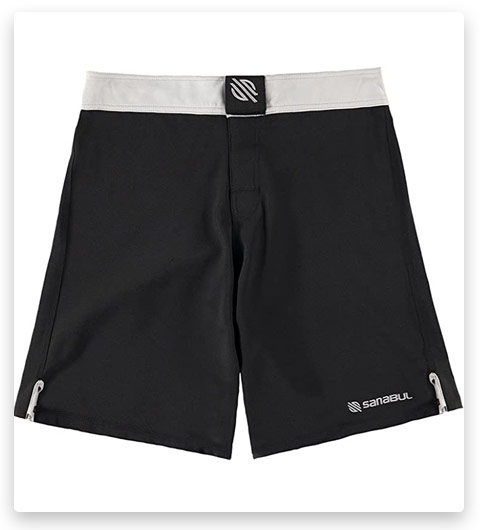 To achieve maximum results in sports, you need not only strength, perseverance and endurance, but also high-quality comfortable clothing. The Sanabul MMA workout shorts will provide comfort during long and intense favourite activities. The lightweight and elastic fabric were used in the production of this model. The style is thought out to the smallest detail: strong seams ensure reliability. The shorts are fixed at the waist using the hook and loop closure system.
4# Venum Gladiator 3.0 Fightshorts Shorts – Best Quality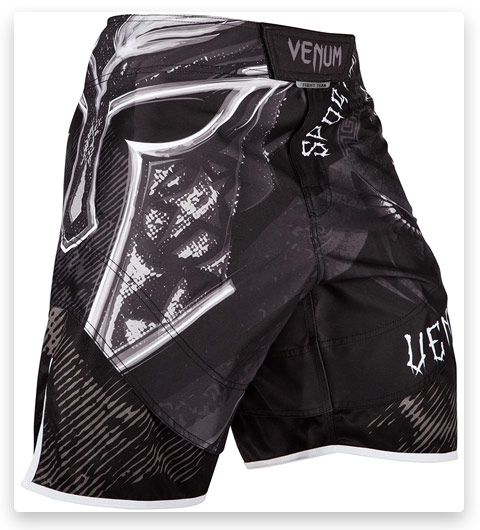 The designers, creating these shorts, drew inspiration from stories about ancient warriors: gladiators. The Venum Gladiator 3.0 MMA shorts are made of high-strength fabric with reinforced seams that will withstand any kind of combat stresses. They ensure that every movement you make is not constrained. They have a wide cut and side slits. Mesh panels provide optimal thermal regulation. Triple Velcro with drawstring at the waist gives the shorts a full hold. The design is completely sublimated into the fabric and will never rub off.
5# Hayabusa Hexagon MMA Fight Shorts – Best Comfortable Model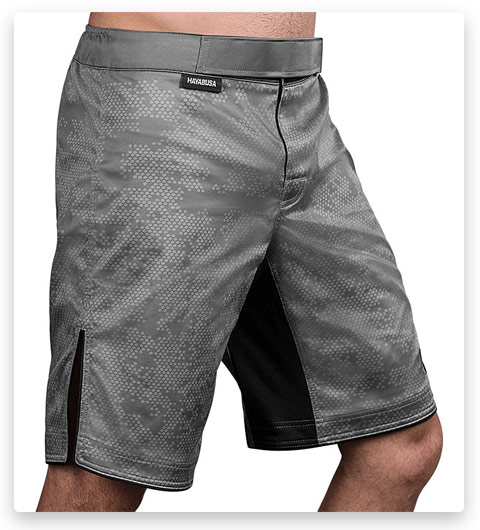 The new Hayabusa Hexagon Shorts let you complete any movement. Durable material and reinforced seams provide maximum durability. Stretch panels and side slits provide maximum freedom of movement. Silicone waistband and adjustable cord for a perfect fit. Also, note that Hayabusa shorts dry quickly after washing. This factor will allow you to use them as often as possible. All designs are sublimated into the fabric. The shorts are as comfortable as possible, allowing the fighter to move with full amplitude without limiting his movements.
6# RDX MMA Shorts for Training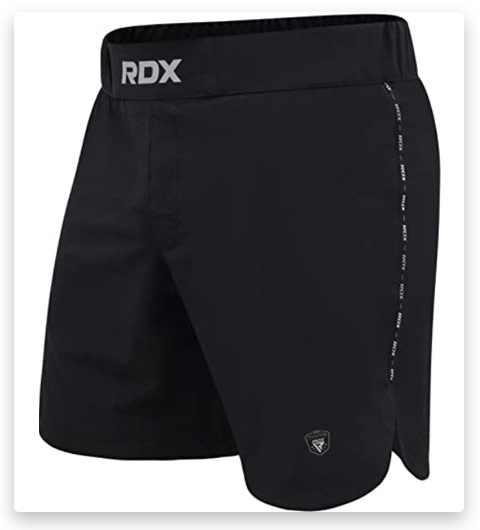 The RDX MMA Shorts are made of super-durable material. They are made from 98% polyester and 2% spandex fabric. Anatomical incisions increase the range of motion, and the elasticity of the material allows for high impacts, maintains the speed of manoeuvres. Durable fabric and reinforced T3 stitching extend durability. Tight fit prevents kinking.
7# Raven Fightwear Men's Anubis MMA Fight Shorts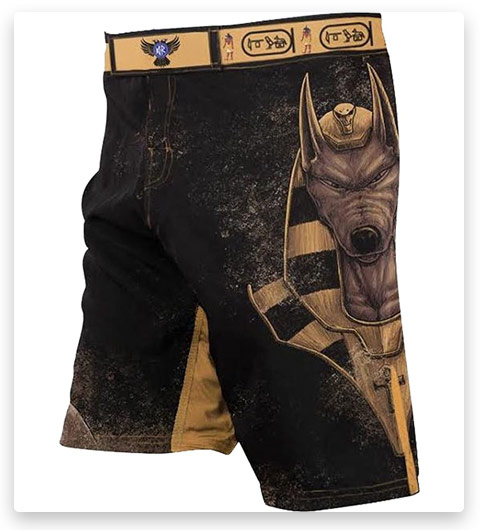 The shorts are made of soft, dense fabric. The drawing was applied using sublimation. The drawing does not lose color and quality when washed. The shorts have elastic inserts that allow you to feel comfortable during workouts without hindering movement. The waistband is adjustable with Velcro and elastic. They also have an Internal mouth guard pocket.
8# Verus MMA UFC Training Fight BJJ Grappling Shorts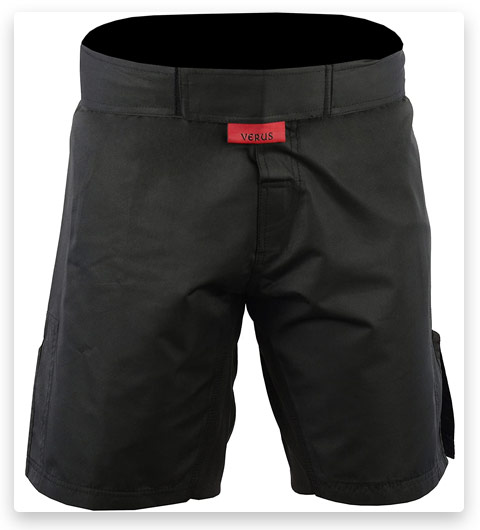 The Verus men's shorts are designed for MMA training. They are made from lightweight, soft, elastic fabric. Drawstring closure provides convenience and comfort. Unique sewing technology wicks sweat out. Good air exchange and ventilation. The skin stays dry throughout the workout. The shorts are equipped with special W3 stitching for excellent manoeuvrability and durability.
9# ROAR MMA Fight Shorts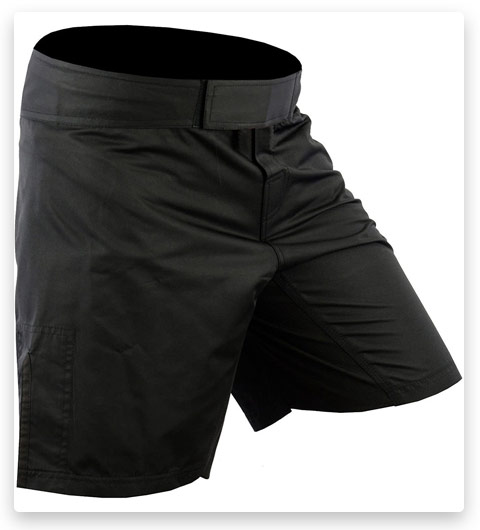 This model of shorts is made of high-strength fabric with reinforced seams that will withstand any stress in combat martial arts. They are made from 100% polyester. The cut is wide and there are side slits. They allow your feet to feel free and do not restrict movement. Mesh panels provide optimal thermal regulation. The design is completely sublimated into fabric and will never rub off.
10# LAFROI Mens MMA Shorts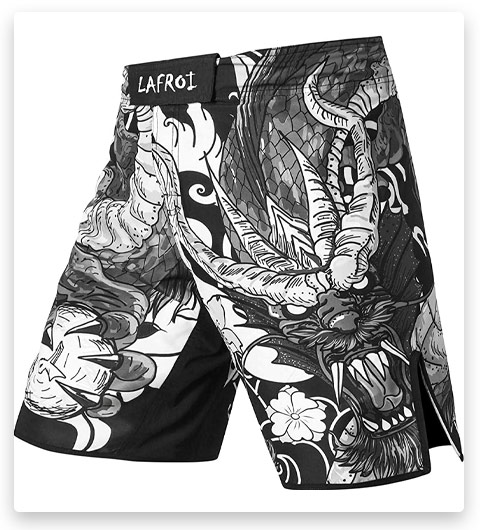 Excellent microfiber MMA shorts with an adjustable waist with Velcro plus Drawstring and quirky print. The shorts do not restrict movement and do not restrict your range of motion. Microfiber provides durability and strength to your shorts. This material is tear-resistant.
11# SOTF Mens MMA Stretch Shorts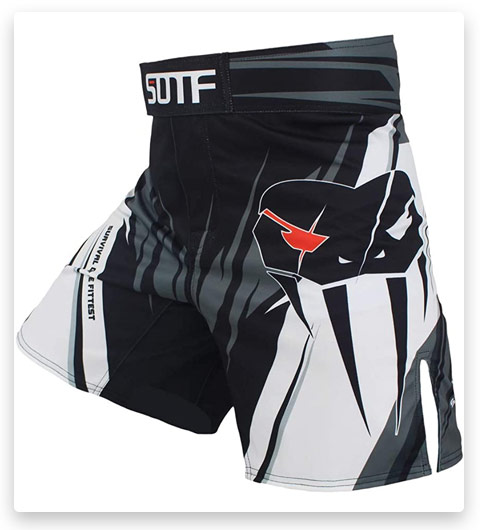 Comfortable model of shorts for MMA and other types of martial arts. Hook and Loop closure provides a snug fit at the waist. Special elasticated insert between the legs. The design is sublimated into the fabric, which guarantees its safety after washing. They have a bold color scheme that will impress your opponent in the ring.
12# RDX MMA Shorts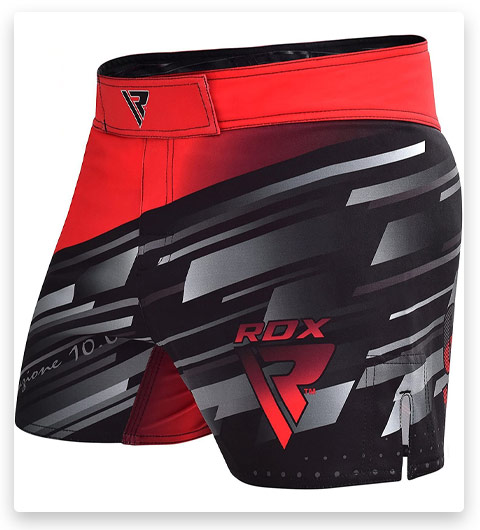 The combination of high technology and traditional materials provides comfort and increased durability to these shorts, with attention to detail and even the smallest detail. Split seams provide superior flexibility and elasticity. T3 seams designed to withstand the most extreme loads. They have Quick-EZ hook and loop closure for a great fit. This brand uses all the latest technologies in the production of shorts, all products are of only high quality, so professional athletes and beginners prefer RDX shorts.
13# SOTF MMA Elastic Training Shorts for Men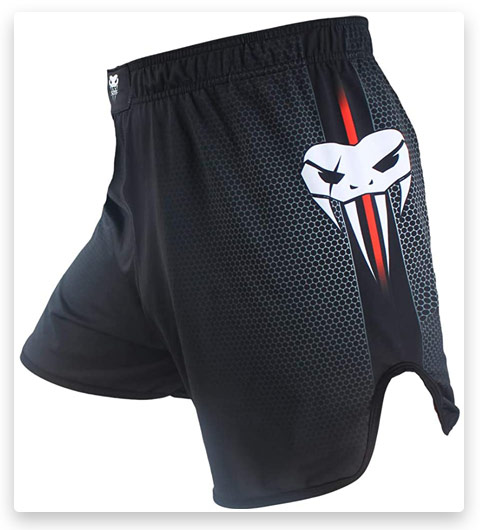 With these lightweight, breathable shorts, MMA training is a joy. The style of the shorts allows you to create a trendy sporty look. The cut of the product does not hinder movement. In addition, the model has side slits so you can lift your legs without any problems. Stretch fabric effectively wicks moisture away.
14# Anthem Athletics Resilience MMA Shorts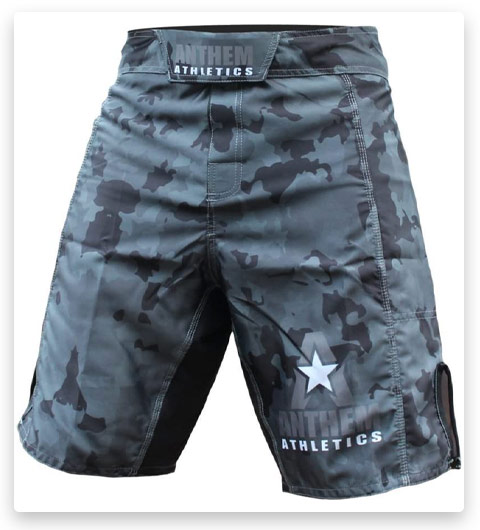 These shorts are available in a wide variety of colors so everyone can choose the one that suits them best. They are made of quick-drying fabric that is tear-resistant. They provide the optimal movement with side slits and 4-way stretch crotch.
How to Choose MMA Shorts?
Choosing shorts for MMA is not difficult. However, there are points that you should know about in advance. Swim shorts are not suitable for this sport, they are made of thin fabric that breaks quickly. Plus, there is a mesh inside these models, it is she who will rub your legs, and you will be very annoyed by this fact. Such detail will interfere with putting on protection, the shorts themselves almost always have pockets.
It is clear that classic shorts are usually equipped with everything that is not recommended for sports, their fabric will quickly tear, it will also lose its shape, the whole fabric will be soaked in sweat. As for grappling shorts, they are usually divided into long and wide, made of polyester, as well as cropped and skinny models made of lycra directly. The long version is really durable, usually, manufacturers use a rubber spray that is applied to the inner side of the thigh. Sometimes the manufacturer uses individual Lycra inserts, precisely in the groin area, and also on the inside of the thigh.
How to make the right choice?
Of course, sometimes we focus on athletes, for example, most professionals prefer wide options. It is more convenient in them since the enemy is not able to grab onto the material. Many brands now maintain the level of quality, but this, again, is a matter of taste. Check out brands like Venum and Hayabusa. For example, shorts from Venum are the most popular in their own segment. They have a durable thick fabric that has many patterns and shades, wide cut, slits on the vernal side of the thigh. The pictures are applied with the help of the press, the fastener is velcro, which is in the middle, but inside you can tighten the garment with strings.
There are bright models in which the fastener is on the side, it is in it that the tie is threaded. Some of the models with internal spraying were not approved before, so they were no longer produced.
Hayabusa shorts are thinner and have great stretch. Any model with spraying inside is called Pro Performance stretch panel, sublimated type pictures. The branded fastener is located in the middle, these are high-quality hygienic shorts, which are treated with a special composition against germs.
Surely you were thinking about whether the pictures on the equipment mean anything. In reality, they do not carry any semantic content. Usually, the picture contains the brand's slogan, something related to confrontation, the same skulls and bones, and also the names of famous fighters. Obviously, shorts that are not tightened should fit snugly on the hips, it is important not to pull them too tight, and also feel completely comfortable, especially in the groin.
What Else to Look for Before Buying?
Quality and Materials
The first thing you need to look for when purchasing a pair of MMA shorts is the materials used. Superior quality shorts from brands like Hayabusa use high-quality materials that stretch and provide more movement. These shorts are often made from a multi-directional fabric designed to stretch and create space. This is necessary when you are strong at takedowns.
Another sign that a pair of MMA shorts is of high quality is the reinforced stitching on the sides of the shorts. This ensures that the shorts do not rip under heavy load. The seams are important because they have to withstand the constant pressure that occurs during the contraction. The seams of the quality shorts are designed to fit the waist. They are always closed to prevent the laces from opening. This is a standard feature on most MMA shorts.
When choosing quality shorts for MMA, you should pay attention to some features. A common feature of most shorts is an elastic stretch in the crotch or groin area. This stretch fabric gives you more room to move around in your shorts.
Brand
I'm not one of those people who only buy branded products, but in this case, there is a big difference between branded and non-branded MMA shorts. Popular brands such as Hayabusa and Venum have a reputation for producing good quality shorts. If you buy shorts from one of these companies, you will surely love them. On the other hand, if you buy a pair of MMA shorts from an unknown brand, the quality will usually be lower. When a brand tries to sell "cheap" shorts, they do so at the expense of cut quality. The more money you pay, the better quality shorts you get. This suggests that the brand can afford to use better materials.
Varieties of MMA Shorts
Of the whole variety of shorts for mixed martial arts, two main types can be distinguished: free and compression, which can be both male and female.
Compression products. These are sportswear made from spandex and polyester with the option of adding other fabrics. This shape fits the body tightly and repeats its relief, does not create inconvenience for any maneuvers.
The free-cut garments have side slits, which makes them comfortable for those with powerful legs and lovers of high kicks to the head. Velcro, lacing, and other types of fasteners are used to fix loose shorts on the belt. Lacing is considered the most rational, it holds better, is resistant to wear, and can be adjusted. Loose-cut shorts are recommended to be worn over tight-fitting shorts. This provides complete protection, including compression, improved muscle coordination, improved blood flow, stable temperature, and groin protection.
Whichever type of equipment you choose, comfort remains the main criterion. High-quality sportswear during training and competition should not be felt on the body.
FQA
Conclusion
From all that has been said so far, it can be concluded how important it is to rely on basic elements before choosing the right type of shorts for MMA. By choosing the most appropriate clothing, you will be able to carry out your workouts with great efficiency. If you still have doubts about the choice, then I advise you to pay attention to the following models 4# Venum Gladiator 3.0 Fightshorts Shorts – Best Quality and 5# Hayabusa Hexagon MMA Fight Shorts – Best Comfortable Model.