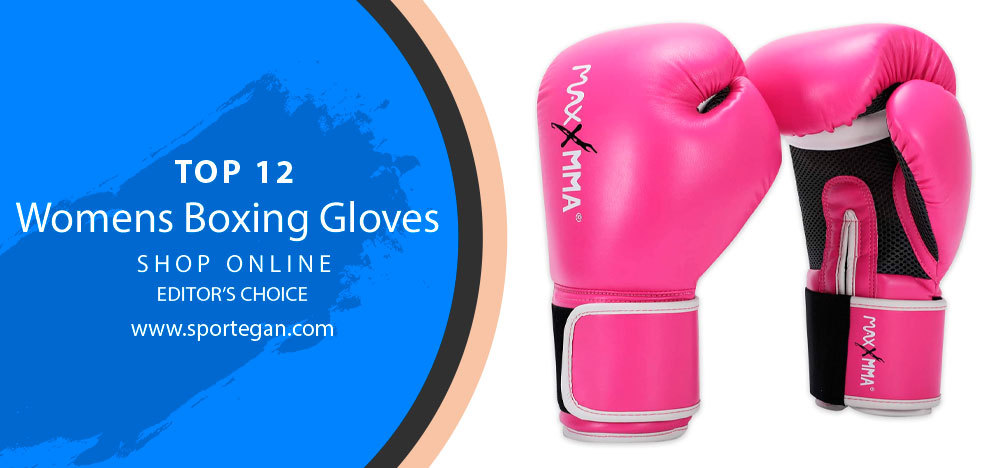 Women's boxing gloves are the main component of a boxer's outfit. They protect hands from injury during training and fights. That is why professional and novice fighters pay a lot of attention to choosing the right pair of gloves. Below I will try to explain in detail how to choose the right boxing gloves for women.
Here Our Top List 12 Best Women's Boxing Gloves  – Editor's Choice
Here are 12 models of women's boxing gloves that are of high quality and provide excellent protection for you and your opponent.
1# Everlast Training Gloves Women's Pro Style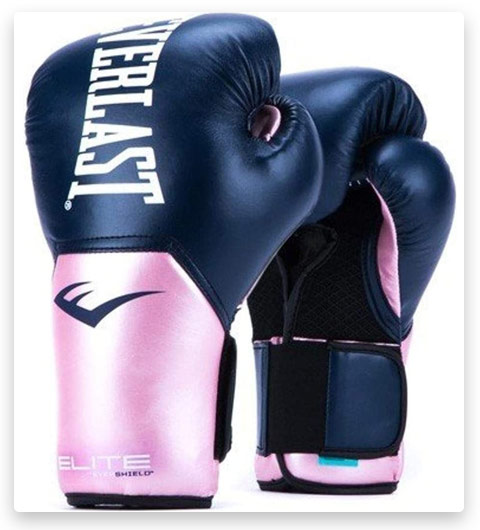 These Everlast boxing gloves have been specially designed for the hand of a female athlete. Designed from the ground up with a modern, anatomical foam construction to provide women with optimal fit, comfort, and balance. Compact design provides superior fist closure for added protection. Made of high-quality synthetic leather, which is ideal for punching bags and paws.
2# Hayabusa T3 Boxing Gloves for Women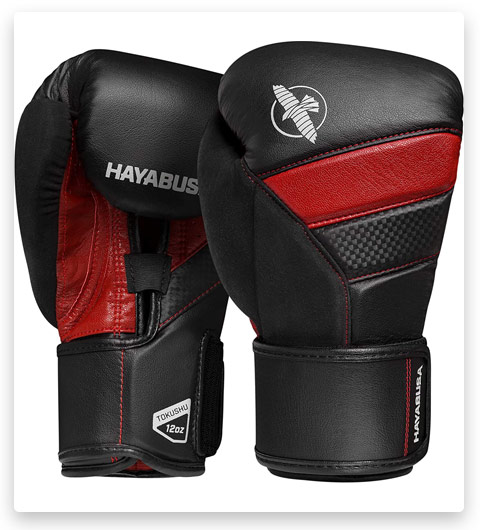 The Hayabusa T3 is the latest model from Hayabusa and is sure to impress you with some of the most stylish gloves available today. It incorporates a 5-layer foam structure that is designed to provide the best possible bagging and sparring performance. The DUAL-X closure system provides a perfect fit. Best-in-class wrist support with 4 locking splints on the back of the hand. Made from high-quality PU leather providing superior crack, abrasion, and tear resistance.
3# RDX Women Boxing Gloves for Training Muay Thai Flora Skin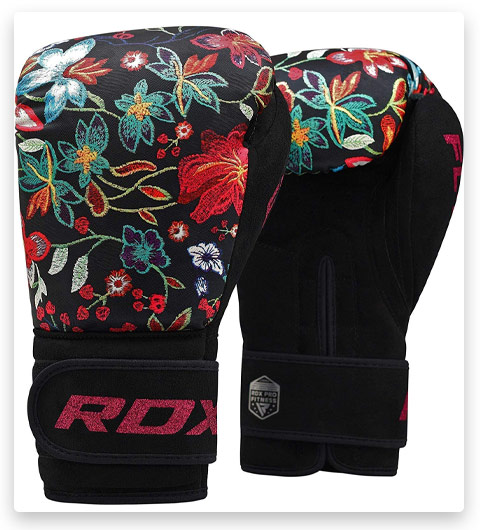 RDX Boxing Gloves are made from high-quality natural Flora Skin material. You will be able to use these boxing gloves for a long time thanks to the quality seams. Great ventilation keeps your palms dry. The soft suede on the palms is pleasant to the touch. These are the perfect ladies' boxing gloves to protect your hands and wrists!
4# Ringside Women's Boxing Gloves Training Sparring IMF Tech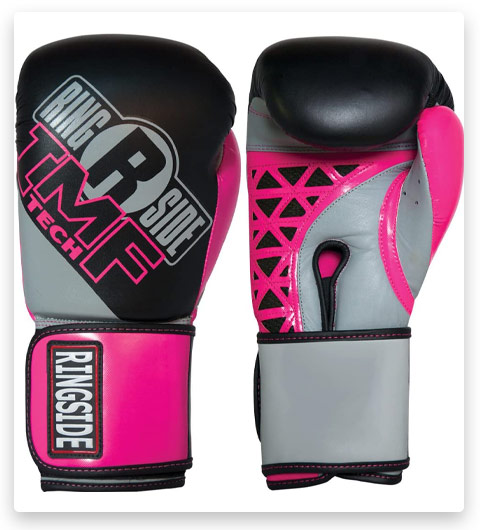 Make your way to the top with boxing gloves from Ringside. New IMF (Injected Molded Foam) technology is a big improvement in boxing. These gloves are very comfortable and supportive, perfect for training. With several colors and sizes to choose from, you should have no problem finding the perfect match. These gloves are recommended for beginners who are just starting out with boxing or Muay Thai.
5# Liberlupus Boxing Gloves for Men & Women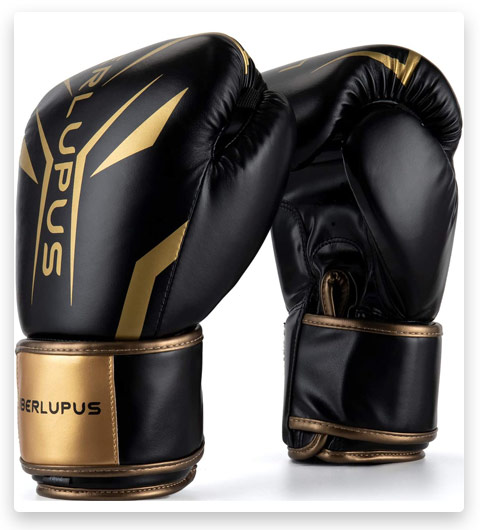 These are comfortable and effective boxing gloves that are perfect for women's hands. They are very stylish and have more than 2 color combinations to choose from. These boxing gloves have been designed specifically for heavy and baggy workouts due to the extra padding. They not only look amazing on the hands but also provide superior comfort.
6# Trideer Pro Grade Boxing Gloves for Women & Kids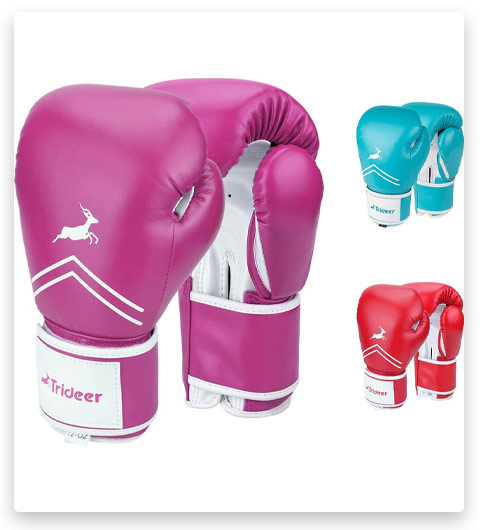 The Trideer Women's Boxing Gloves are specially designed for fighting, paw training, and heavy bag training. These are some of the serious boxing gloves that can be used by both beginners and seasoned boxers for heavier workouts. Boxing gloves are made of artificial leather that provides reliability and durability. A specially reinforced cuff with increased rigidity will protect and eliminate the risk of injury to the hand.
7# Adidas Women's Boxing and Kickboxing Gloves Hybrid 100 Dynamic Fit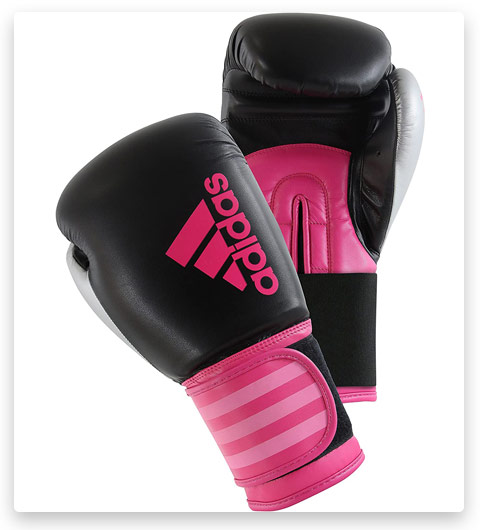 These boxing gloves are designed exclusively for the female hand. Adidas gloves combine the concepts of quality, style, and comfort. Reinforced thumb guard. Gloves have a hole in the palm that allows air and moisture to circulate inside the glove and it dries quickly and stays fresh and thus has a longer service life. They are made from PU leather for the durability of use. These boxing gloves are suitable for beginners and professionals alike.
8# Trideer Pro Grade Boxing Gloves for Men & Women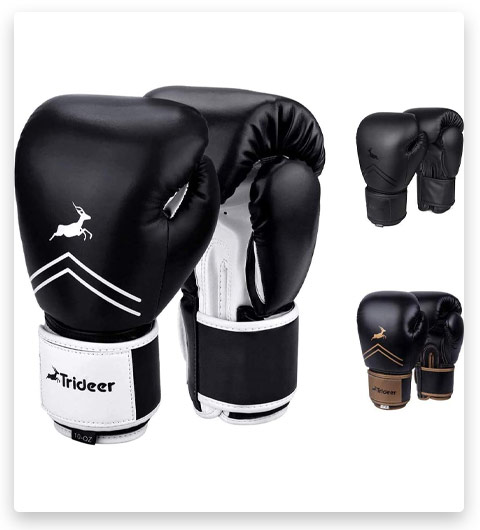 The water-repellent nylon coating ensures these gloves never crack from damage caused by water and sweat. These gloves have a 2 " pad around the impact area, absolutely amazing protection in sparring! These boxing gloves are made of artificial leather which is a durable material.
9# MaxxMMA Pro-Style Boxing Gloves for Men & Women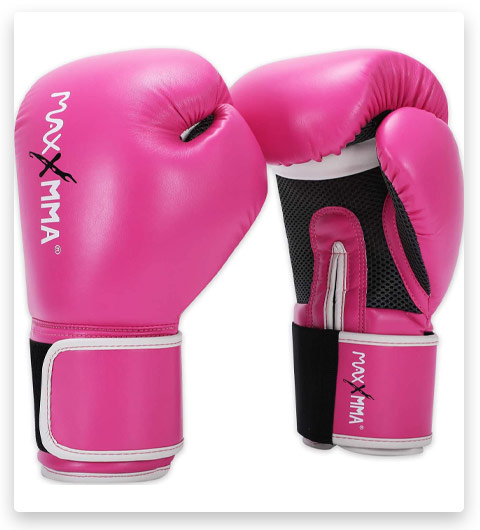 These gloves are used by professionals in all types of martial arts around the world. The reason I personally love these gloves is that they are hybrid, durable enough for training with a heavy bag, and soft enough for combat. MaxxMMA never disappoints in design quality and durability. Boxing gloves are made of the highest quality polyurethane. The Velcro closure makes these gloves not only wrist-friendly but also easy to put on and take off for quick workouts in the gym.
10# Elite Sports Boxing Gloves for Women, Men, and Kids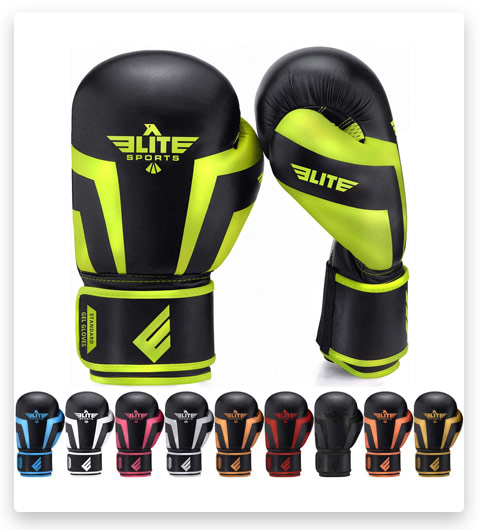 These boxing gloves are great for beginners who don't need as much padding and don't hit as hard. They won't hit your wallet and provide good protection for your hands and wrists. They have a curved anatomical shape of the arm, so you will feel as comfortable as possible in them. They are light enough so they are practically not felt on the hands.
11# Tusingger Training Boxing Gloves Men & Women & Kids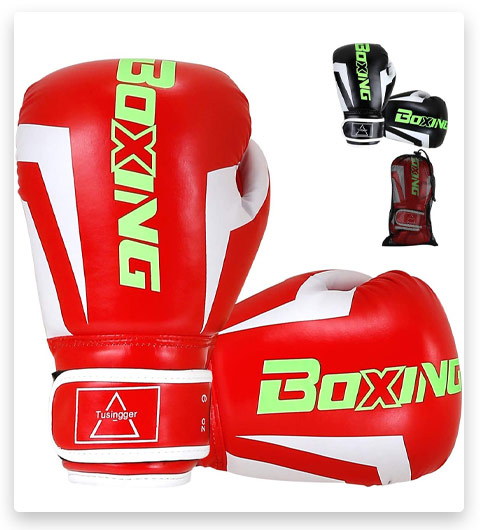 The Tusingger Boxing Gloves are a great pair of gloves for women who are just starting boxing. Mesh inserts keep your hands cool. Antimicrobial treatment prevents unpleasant odors while keeping your gloves fresh. Overall, this is a quality brand and the first pair of quality boxing gloves for those looking to train.
12# ZTTY Boxing Gloves Kickboxing Muay Thai Punching Bag MMA Pro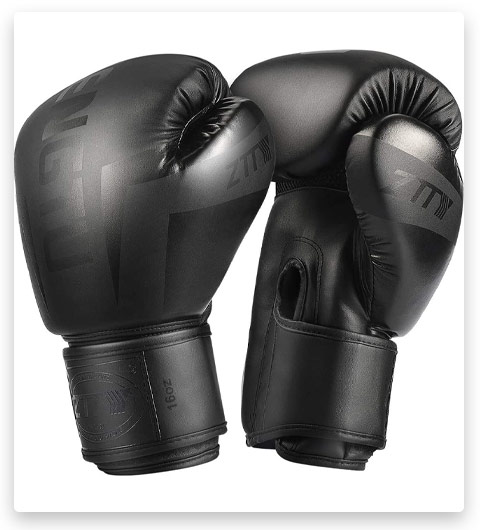 These are durable boxing gloves thanks to their material. They are made of PU leather and latex. This material prevents the gloves from wearing out and wearing out. Your hands will stay dry thanks to excellent breathability.
How to Determine the Size of Your Boxing Gloves?
Most often, manufacturers make boxing gloves according to such criteria as "weight". Ounces (oz) are used to determine the weight of the gloves. The smallest gloves (4 ounces) are made for children, the largest (20 ounces) are used by heavyweight boxers.
There is one peculiarity in boxing gloves: the more weight, the softer they are. That is why, during sparring, gloves of a higher weight are often used to inflict less injury on the sparring partner.
By training with heavy boxing gloves, you develop your stamina and shoulder girdle. In competitions, this will give you extra speed and punching power. Typically 8 and 10 ounces are suitable for women. The 8 oz gloves are also suitable for children and are used in competitions. The 10 oz size is suitable for women, teens, and men with lightweight. This is the most common weight in competition.
Some manufacturers make gloves using the usual sizes: XS, S, M. To choose such boxing gloves, you will need to measure the circumference of your hand around your knuckles.
Take a centimeter or inch tape, wrap this tape around the brush in the knuckle area. Exclude the thumb from the measurement, otherwise, the calculations will be incorrect. Compare the result with the values below. Boxing gloves size values for men and women.
Hand girth (cm) – Glove size:
18 – XS
20 – S
23 – M
25 – L
28 – XL
31 – XXL
These values allow you to choose the most optimal size of gloves for a professional fighter and a beginner. However, not all manufacturers use such a measurement system, so it is necessary to know the sizes of boxing gloves in ounces for each athlete.
Selection Criteria for Women's Boxing Gloves
There are a few things to consider when buying boxing gloves. I've spent 50 hours researching the most important things to consider when shopping for boxing gloves.
Matching budget and price. Make a list of what you need in boxing gloves and state the price you are willing to pay for it. So try to find a product in this price range and choose the one that you like best. One tip I'd like to give you: Don't settle for a cheaper product if it doesn't even have the feature you want.
Does it have all the necessary features? Most importantly, the boxing gloves you buy should have all the features you need. If they are made of poor materials and do not protect your hands and arms well, then don't buy!
Brand! Buying boxing gloves from a reputed brand really makes sense. Not only will it be better than others in terms of "build quality", but it will also have some additional features, better customer support. Well-known brands have several service centers across the country, so if you run into problems, you can simply take your boxing gloves to one of their service centers.
Warranty matters! When you buy a boxing glove from a famous brand, you get a guarantee. Low-cost products are also warranted, but the claims process may be more stringent. This is why I always recommend that you buy a product from a well-known brand and one that is covered by the warranty. This saves you future repair costs. On average, about 21% of people pay 40% of the product price for a service! You can save on service costs if the product is under warranty!
Women's Boxing – Myths and Prejudices
If you are a woman and think boxing is not a woman's sport, I will give you several reasons to change your mind. In fact, we are living in an era where there is no longer a clear division between sports for "men" and sports for "women". On the other hand, there are sports for everyone that meet the specific needs of the individual, regardless of gender.
When it comes to women's boxing, there are a few prejudices here that we need to dispel. In fact, it is generally believed that this is a bad act that makes the woman unbeautiful because it strengthens the muscles too much and is also particularly hard.
Let's debunk these myths one by one and instead look at the benefits of this sport. First, we'll take a look at three of the most common myths about women's boxing. Finally, we will tell you 3 good reasons why, as a woman, you should do this sport.
It is not a violent sport, on the contrary, it is less dangerous than others. Contrary to popular belief, boxing is less dangerous than other sports. In fact, there is no need to practice this in hand-to-hand combat with an opponent, because there are different forms of boxing in which there is no physical contact.
Makes a woman uncomfortable because it strengthens the muscles. Boxing improves their appearance because it is a form of aerobic activity, in which, however, the hands are also involved. It follows that, unlike other types of aerobic exercise, which primarily tone the legs and buttocks, often making the lower body disproportionate to the upper one, with boxing you will also strengthen your arms, chest, and stomach. With what effect from a physical point of view, it is easy to imagine.
It's a tough sport. Indeed it is true. Boxing in all its varieties is a rather difficult sport. But this is one of the few sports in which you can still adapt your time and your training desires. Do you want to kick just ten minutes? You can do it. Are you especially nervous and need to blow off some steam? You can kick and beat for two hours.
In short, it is a sport that allows you to choose the amount and intensity of your workouts without any penalties in terms of overall performance, because – if you don't want to do it at a competitive level – the main satisfaction is not related to an external goal, but an internal (confidence in itself and also psychophysical balance).
Women's boxing not only lacks the flaws we talked about. On the other hand, it has the advantages that we are going to list.
Increase self-esteem and self-confidence. Boxing will increase your self-confidence. As a tool of self-defense, it serves to eliminate the unconscious situation of inferiority that women often experience in relation to men. You don't have to be afraid to become more aggressive and lose your femininity because of this. On the contrary, since you unload your unconscious aggression with the help of this sport, paradoxically, you will acquire a calmer character.
The achieved results will not be lost, even if you exercise little or stop exercising permanently. Usually, in any other sport, giving up training is tantamount to losing the benefits of that sport. For example, if you stop jogging and return to a sedentary lifestyle, you will lose all the benefits you gained.
The rest after three months of martial arts, bodybuilding, or any other sport is tantamount to wasting three months of your time because no advantage will last for years.
On the other hand, boxing is not just a sport in which you master technique; it is a different experience of life and movement around the world. This new experience will forever remain in your unconscious. You can use it when necessary if one day someone with bad intentions approaches you. And it will always remain within you, leaving you with additional security that was not there before.
Conclusion
If you still have not decided on the choice of boxing gloves, then choose Hayabusa T3 Boxing Gloves for Women. They provide a superior fit and excellent wrist rest. Strong and reliable material like artificial leather ensures the durability of use!