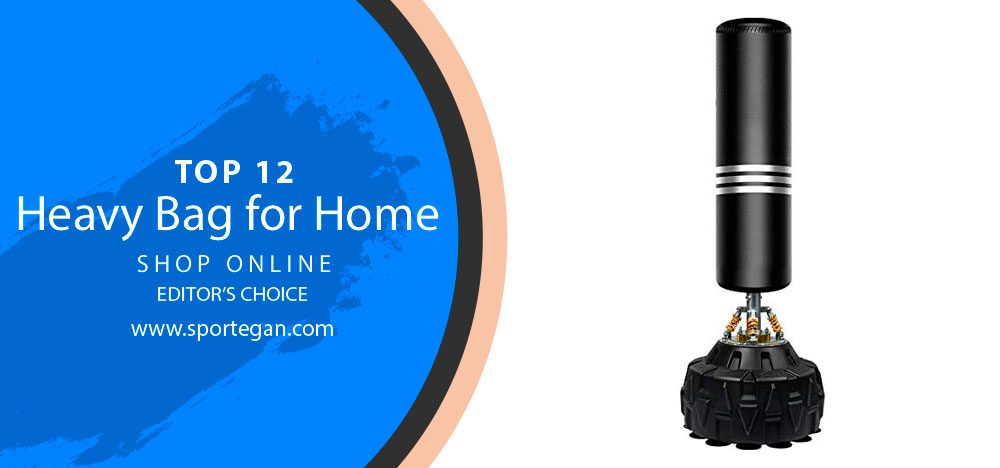 In this guide, I explain how to choose the best heavy bag for home. Among home sports, boxing is one of the best physical exercises, and also probably the most interesting. Buying a punching bag means the opportunity to play sports that are good for our body, as it can improve the cardiovascular system, strengthen muscle structure, improve posture, and you can also get rid of the stress accumulated during the day. The bag is also very easy to set up, making it suitable for both experienced boxers and beginners who just want something to keep them active.
Here Our Compilation of 12 Best Heavy Bags & Punching Bags for Home – Editor's Choice
The market offers different types of bags, so everyone can choose the one that suits them. Here I reviewed 12 of the best models, examined their pros and cons.
1# Dripex Freestanding Punching Bag – #1 Best Seller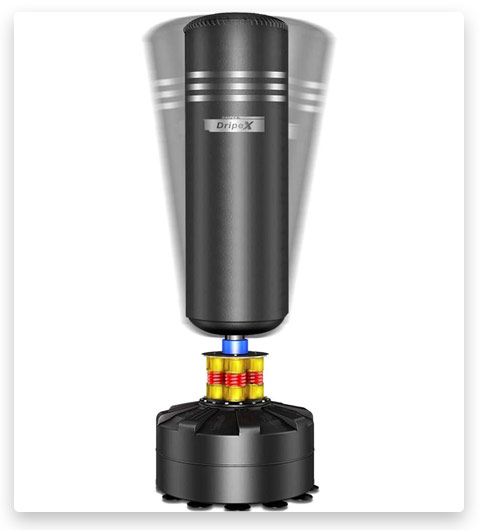 It is an excellent sports equipment for doing sports at home. This is a free-standing punching bag that does not need to be suspended from the ceiling. You just need to install it on the floor in any room of your home or even in the office. It is suitable for training adults and teenagers. The height of the bag is 175 cm. You will not disturb your family during your workout thanks to the improved depreciation system. Equipped with dual TPU shock absorbers + x4 springs. They perfectly absorb any shocks and thus do not emit noise. The surface of the bag is made of thick PU leather and high-density EPE foam. In addition, you will find a buffer made from eco-friendly fabric, which is incredibly durable.
2# Dprodo Punching Bag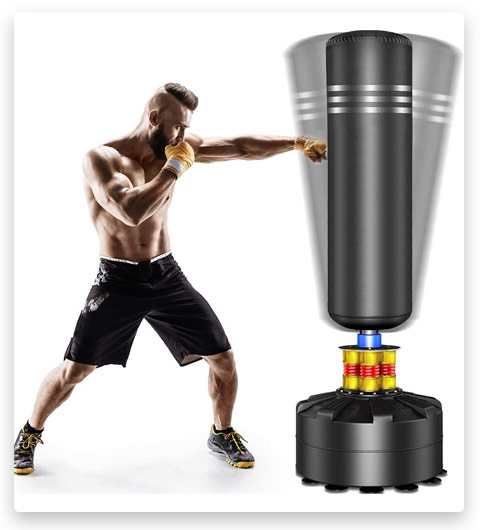 This is a high-quality heavy bag for a home that is suitable for both beginners and professional athletes. It has a stable base thanks to 12 suction cups. I advise you to fill the base with sand for even greater stability. You can install it on any floor. This will work great for people 4-6 feet tall. The surface material is tear-resistant and can withstand the impacts of any force.
3# Kitopa Freestanding Punching Bag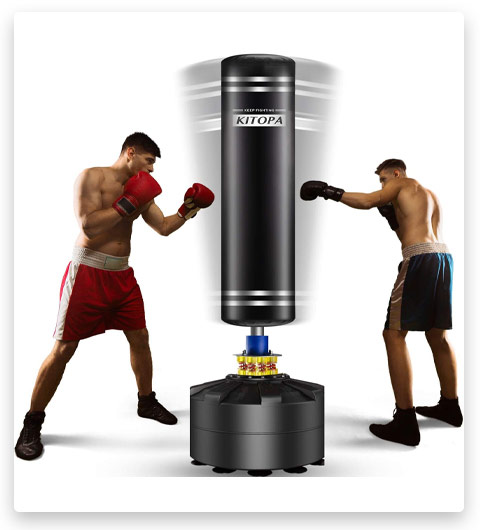 Give yourself and your family a freestanding punching bag. This equipment has a leather case that can withstand any stress. Besides this, it is fitted with high-density foam. It is a silent trainer with dual TPU shock absorbers and 4 springs. Practice anytime without fear to wake up your family! The machine is 69 inches high.
4# Everlast Powercore Free Standing Punching Bag Indoor Home Rounded Heavy Duty Fitness Training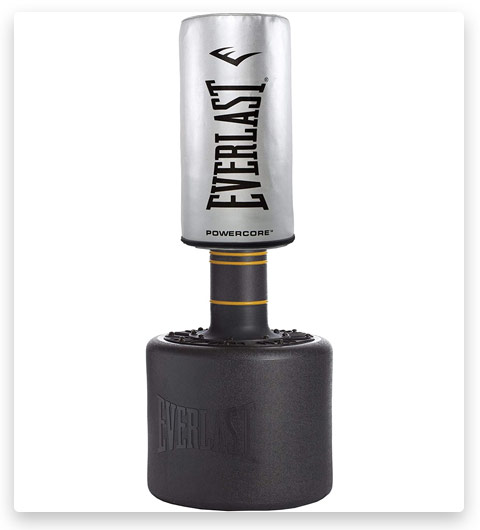 Relieve stress with an intense workout with the Everlast punching bag. This is a high-density bag that allows you to practice punches and kicks. The base is practically non-slip thanks to the power transfer ring. The base can be filled with both water and sand. You will feel like you are training with a real partner thanks to the Air-foam chamber.
5# Dripex Freestanding Punching Bag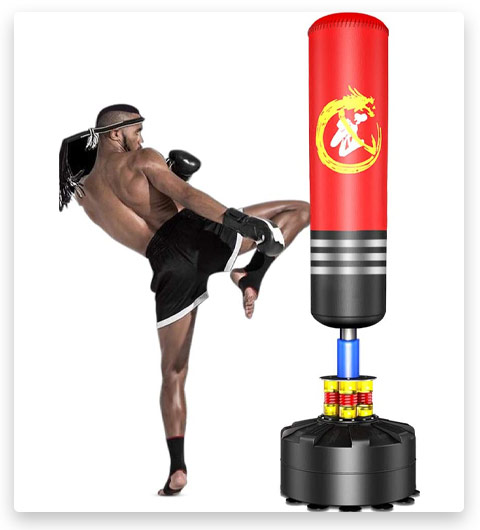 This simulator is designed as a water-filled target. The extended target is designed to practice strikes from all sides. The target is made of 2 mm thick PU leather. The base is made of durable plastic. Filled with water or covered with sand. The punching bag is intended for home training by non-professional athletes. Use boxing gloves during training.
6# PEXMOR Freestanding Punching Bag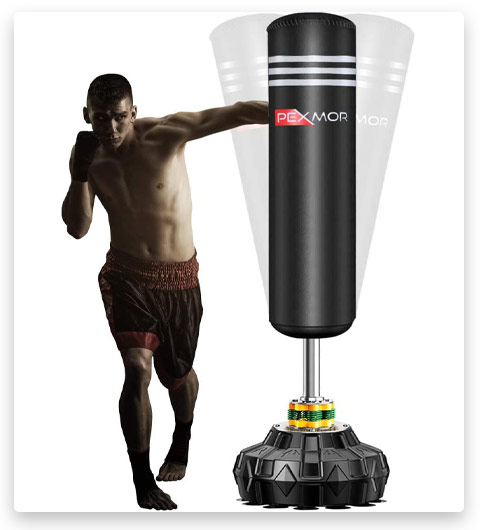 This heavy bag will help you keep fit at home. You can quickly and easily install this in any room. The equipment occupies only 10 sq ft. The 2 mm thick polyurethane surface withstands any impact from feet and hands. Stable base thanks to 12 suction cups. The bag absorbs impact noise 360 degrees.
7# The Power Freestanding Punching Bag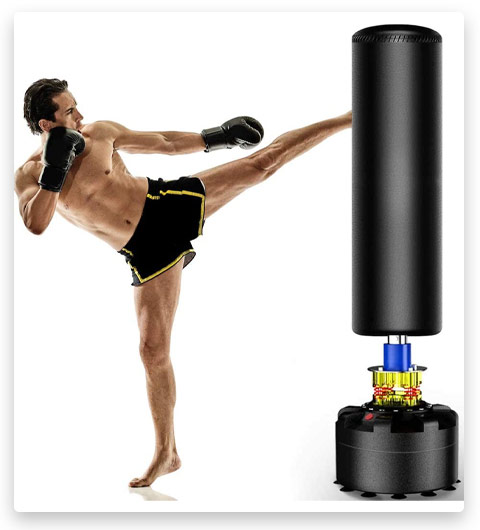 If you are looking for a replacement for the classic hanging punching bag, this is the perfect choice for you. You can place it in any room and move it easily when needed. Suitable for boxing, karate, taekwondo, and any other martial arts for practicing technique and power of punches. The absolute advantage of this Freestanding Punching Bag over the usual is the more realistic swing and swing back to combat hits thanks to the shock-absorbing springs.
8# Yueetc Freestanding Punching Bag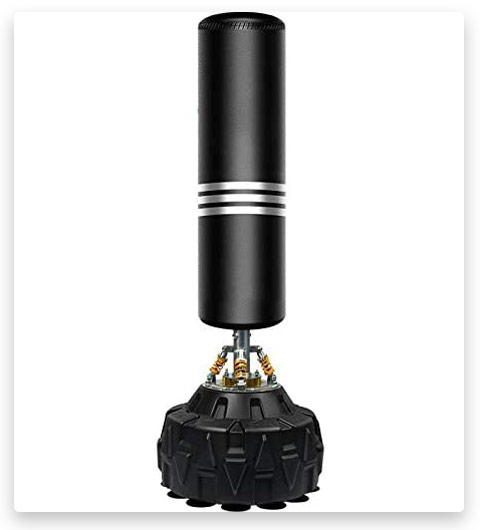 This punching bag with a height of 180 cm is suitable for training teenagers and adults. The design includes spring-loaded mortars for better shock and noise absorption. 12 suction cups on the bottom provide more secure stability during intense exercise. This sports equipment takes up little space and you can install it anywhere.
9# Ringside Elite Freestanding Boxing Punching Heavy Bag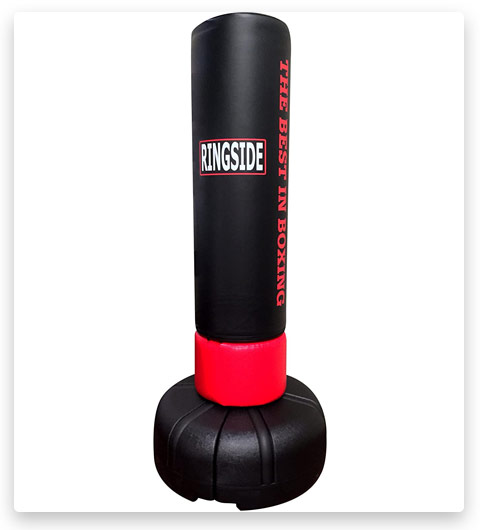 This punching bag is perfect for home or the gym. The plastic base is filled with up to 270 pounds of sand or water to provide reliable stability in even the most severe impacts. You can use it for boxing and kickboxing training, hone punches, elbows, or kicks. This sports equipment is made of synthetic leather and filled with shock-absorbing foam.
10# Century Wavemaster XXL Training Bag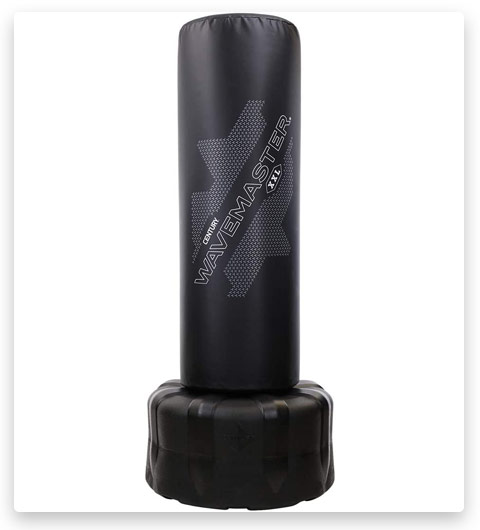 This punching bag is designed to practice punches and kicks. Thanks to its durable material, it is designed to withstand strong and intense impacts. The inside of the bag is high-density foam to absorb shocks. This pear has one of the largest impact surfaces of all. The base can be filled with water or sand.
11# Century Versys Fight Simulator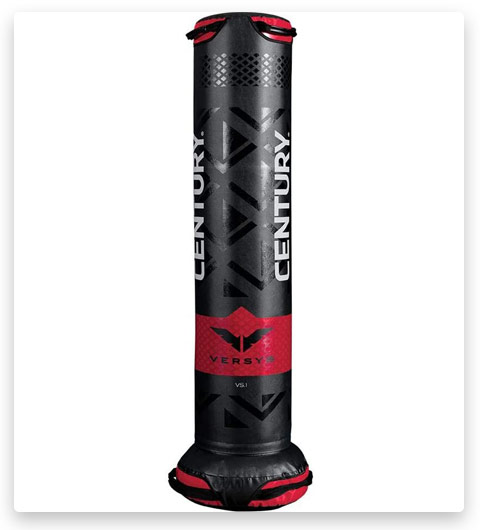 The design of this punching bag allows you to work with it both as a regular bag and as an almost full-fledged sparring partner. It is made of high-quality vinyl, which is not afraid of even long-term intense loads. More than one and a half meters high and ample diameter provide a large impact surface – significantly larger than conventional hanging and floor bags. This pear has handles at the top: by grasping them, you can practice knee strikes.
12# Figolo Freestanding Punching Bag with Stand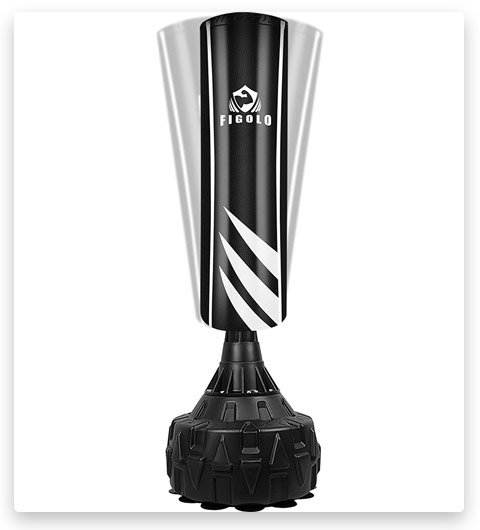 You can install this punching bag in any convenient place. You only need 10 square feet of space to install it. This 69-inch punching bag is perfect for karate, boxing, kickboxing. The pear is made of thickened polyurethane leather and stuffed with high-quality dense foam. With 12 suction cups at the bottom, you don't have to worry about stability. The base can be filled with water or sand, but use sand for stability.
What is a Punching Bag?
A punching bag is sports equipment, whether suspended from the ceiling or on a floor stand, is used to train the punching technique typical of a wide variety of contact sports. In fact, this is not only boxing, as it can also be used for all types of martial arts.
What are They for and How do They Work?
Training punching bags serve four purposes: they help improve punching power. Likewise, the lightest options are used to train punch speed, reflexes, and cardiovascular endurance.
How to Choose?
When choosing a punching bag, one of the most important aspects is filling. The resistance of the bag depends on them, which can break in case of too strong blows or be too hard for less experienced boxers. From this point of view, you can find bags of various plastic containers filled with water, useful for beginners but overly fragile for professionals.
In their case, in fact, the best choice is a punching bag with sand, a very good solution even for those who have never used this equipment, given that some models are softer and more affordable due to the additional inner lining in leather or rags to soften the blows. Finally, it should also be pointed out that there are inexpensive non-filled but inflatable punching bags, these are tools especially suitable for young people playing sports.
The weight, and therefore the vibrations of the bag, obviously depends on the filling materials. Also from this point of view, punching bags with a filling that includes both sand and leather or rags are the best, because they weigh less and guarantee a good level of vibration. For professionals accustomed to this sport, sandbags are a must.
In terms of weight, it is always recommended to buy a punching bag, which ranges from 15 to 30 kilograms, over 30 kilograms are especially recommended for professional boxers. In fact, there is also a mathematical formula for determining the most suitable weight for your bag: just take your body weight and divide it by removing a few extra pounds, thus getting the ideal weight for your instrument.
Thus, it should be emphasized that 10 to 20 kg punching bags are also ideal for athletes who want to train hand speed, as a larger swing allows you to create one or two other combinations, such as a straight hook. Heavy bags, that is, those over 30 kg, are recommended for strengthening muscles, wrists, and impact force and are often recommended, especially for athletes weighing 80 kg or more. On the other hand, for beginners or intermediate boxers, punching bags, which weigh 20 or 25 kg, are the ideal solution for training strength and punching speed.
In fact, the sand guarantees resistance and sensations completely different from a bag filled with containers of water or leather and rags. The sandbag is generally not recommended for beginners because you need to have strong wrists that are only found in those who have been in the sport for many years. Hence, in this case, leather and sand-filled bags are also the most effective compromise for newbies who still don't want to give up on professional quality. It should also be clarified that today there are punching bags on the market filled exclusively with a rag and shredded fabrics, in this case, we are talking about goods that are ideal for beginners.
The punch impact is also influenced by the outer coverings, for this reason, it is very important to buy a quality punching bag precisely because of the leather materials that make up the lining, which should be soft yet durable.
There are two types of punching bags on the market: those with steel support that resemble a real crossbar and those for hanging from the ceiling. In this case, it should be clarified that there are no significant differences between them, except for practicality, a punching bag with steel support can actually be installed on one wall, and the other can be suspended from the ceiling. It all depends on your needs and the space you have, in any case, always make sure that the vertical or wall support is of high quality, and the wall or ceiling on which you decide to install the bag is a load-bearing wall or very resistant to avoid problems.
Tips to Become a Professional Boxer
To be a professional boxer, it is not enough to install a punching bag at home. You need discipline, willpower, and you also need to follow these tips: quitting smoking and drinking alcohol, scrupulously following the diet set by the trainer, following the established daily workouts, and increasing demands on yourself – these are the basic principles that anyone who wants to become a professional boxer should follow.
How Many Calories can I Lose While Training at Home?
This will depend on the intensity of the exercise and the physical condition of the boxer. Typically, continuous exposure to the bag for 45-60 minutes will burn 500 to 700 calories. But to this should be added warm-up and related exercises (running, jumping rope, etc.). In just one boxing session, you can remove about 1000 calories from our body.
Conclusion
The success of a wrestler directly depends on the strength and accuracy of his strike. You can hone your skills at home using a heavy bag. But you need to choose this equipment wisely. In this article, I gave you advice on choosing and showed about the 12 best heavy bags for home. But my favorite is the Dripex Freestanding Punching Bag.