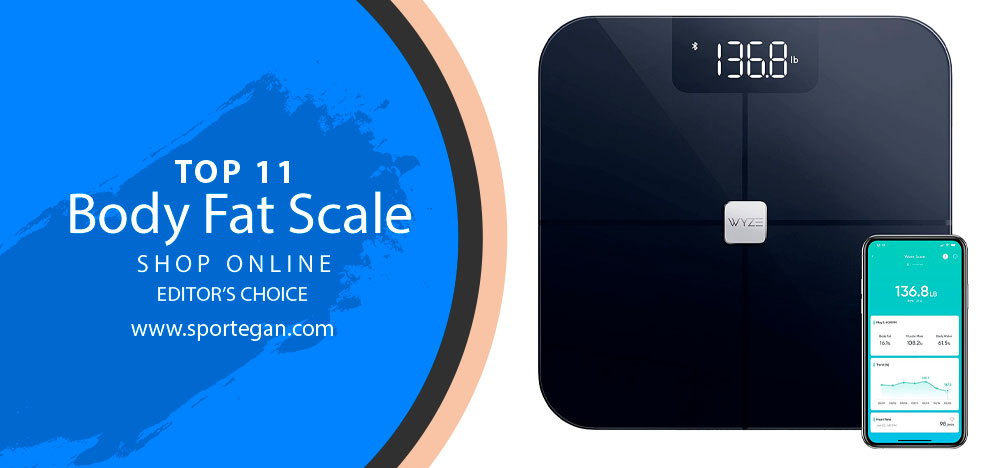 To keep yourself in shape, training alone is not enough. It is also important to control your weight and several other parameters (for example, the percentage of fat and water, muscle mass in the body). The body fat scale does this job.
Here Our Top List 11 Best Body Composition Analyzer for Losing Weight – Editor's Choice
Smart scales can be a great alternative to classic electronic scales. There are a lot of models on the market and that my eyes run wide, given the fact that, at first glance, they are close in characteristics. Therefore, I bring you the 11 best Body Fat Scale models.
1# RENPHO Body Fat Scale Smart BMI Scale Digital – Amazon's Choice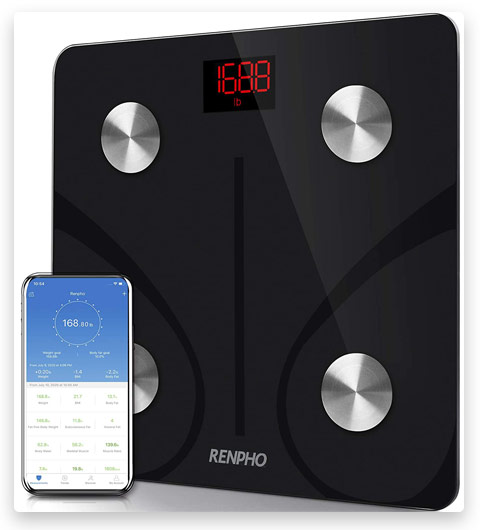 This smart scale uses bioelectrical impedance analysis to calculate 13 essential indicators of your body. They connect to the Renpho app via Bluetooth and this app can work with your fitness app data as well. Thanks to its smart body fat scale, the app gives you a complete view of your body and monitors your progress by day, week, and month. The scale shows only body weight, and the rest of the data is available in the app. You can quickly weigh yourself without a phone and then view the report in the application.
2# FITINDEX Bluetooth Body Fat Scale – Amazon's Choice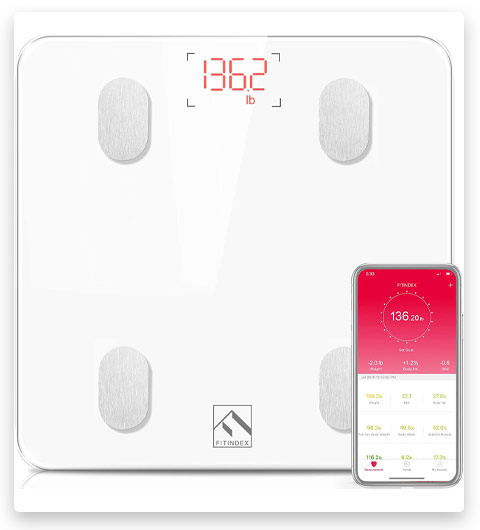 This smart scale is made of high-quality tempered glass with 4 sensitive electrodes and an automatic calibration function. They sync with the Bluetooth app, where you can track your body fat, muscle mass, water, bone mass, and more. To use, place the scale on a firm, level surface and stand on it with bare, dry feet.
3# ABYON Bluetooth Smart Bathroom Scales for Body Weight – Amazon's Choice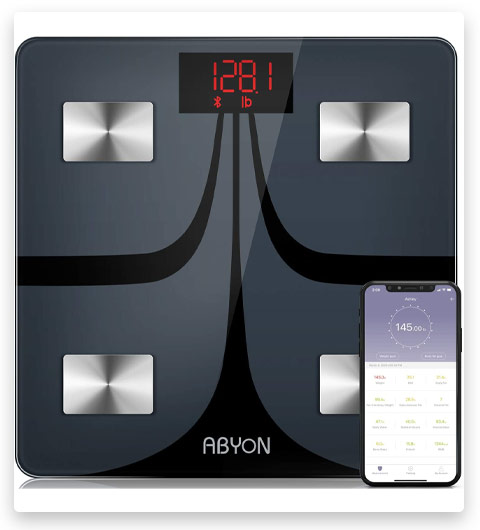 If you are looking for a smart scale to fully analyze your health and fitness in order to properly build your workouts and diets, then this is a great option for you. Thanks to 4 highly sensitive electrodes on the surface, they are automatically calibrated for each person individually. You can weigh yourself at any time and track your data via apps after syncing with the scales via Bluetooth.
4# Etekcity Digital Body Weight Scale – Amazon's Choice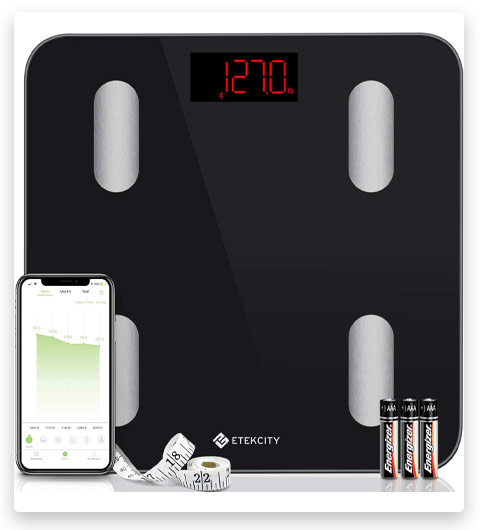 These scales quite accurately determine the proportion of fat and muscle tissue, as well as the proportion of water in the body. Advanced sensors measure weight accurately up to 180 kg. The surface is made of 6mm tempered glass and is larger than other options on the market, making weighing more convenient and safer. Install the free VeSyncFit app for iOS or Android and connect to the scale via Bluetooth to start tracking your body data daily.
5# Omron Body Composition Monitor with Scale – Amazon's Choice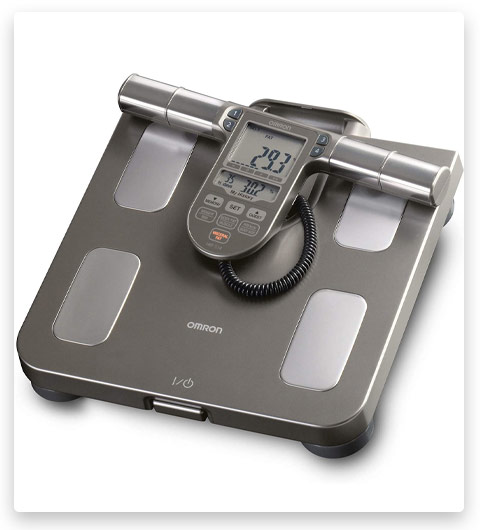 The system of this scale takes measurements from both hands and feet, preventing inaccuracies due to the movement of water throughout the body. They measure 7 different indicators. You can accurately measure the body fat content thanks to the bioelectrical impedance method. The retractable cord is suitable for users up to 6 feet. Thanks to these weights, we can more accurately know the condition of your body and track your training progress.
6# Posture Body Fat Scale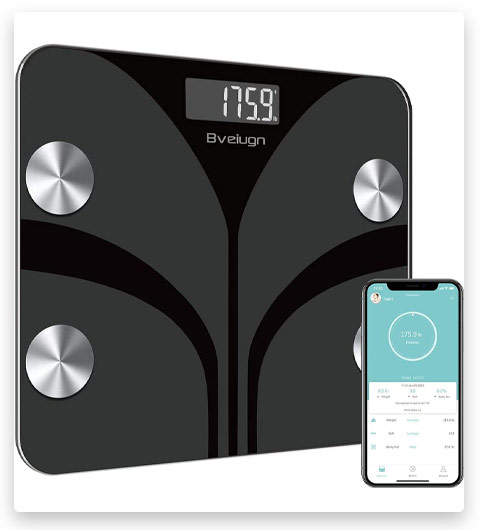 This smart scale is made with a high precision pressure sensor and measures 11 indicators of your body. They are able to work not only with native but with third-party applications, for example, Apple Health. This scale can store information about 24 users and instantly recognize it when stepped on.
7# Arboleaf Weight Scale – #1 Best Seller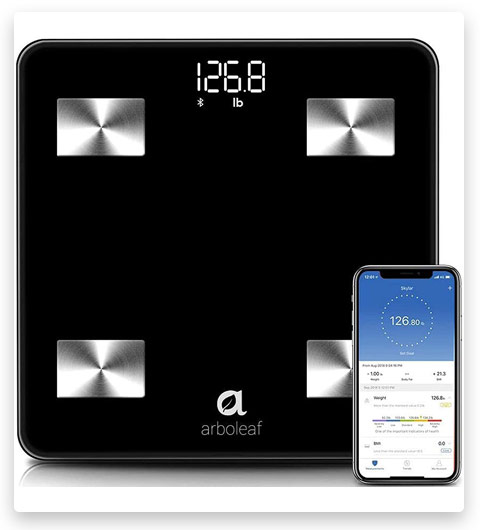 With this smart scale, you can track your training progress, all data is presented in the Arboleaf app in the form of convenient graphs. You can weigh yourself anytime, even without your phone, the data will be automatically displayed the next time you connect. 4 precise and sensitive sensors provide a complete analysis of your body.
8# Runcobo Switch Smart Scale Digital Weight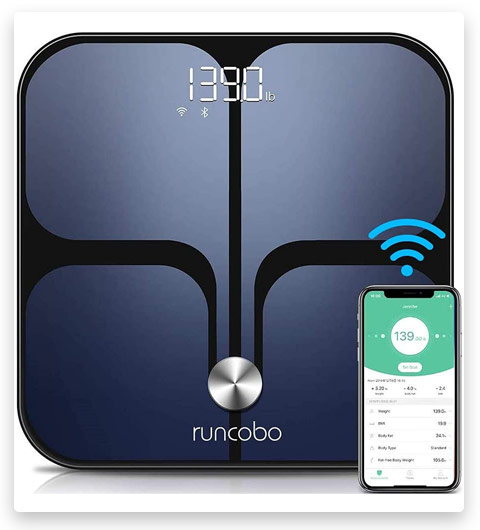 If you care about your figure and go to the gym, then you know that measuring weight alone is not enough. This smart scale measures 14 key data from your body and syncs with the app. They support Wi-Fi connectivity, which provides a wider range than Bluetooth. This scale can memorize up to 8 users and recognize them instantly.
9# Wyze Scale, Bluetooth Body Fat Scale – Amazon's Choice
This smart scale has a touchscreen glass, so it measures no matter where you put your feet. They are equipped with a heart rate sensor, which is convenient for weighing after exercise. Synchronize them with the app and find out 12 main indicators of your body: fat percentage, muscle mass, water percentage, bone mass, and others.
10# Arboleaf Digital Scale
This smart scale will help you achieve and maintain your ideal shape more easily. They measure weight, fat and bone mass, body fluid, and muscle tissue through integrated electrodes. Special algorithms calculate the most optimal weight taking into account height, age, body mass index, and other indicators. Knowing your ideal weight, you do not have to exhaust yourself with diets, it will be enough to engage in a healthy lifestyle.
11# 1byone Scales Digital Weight and Body Fat Scale Smart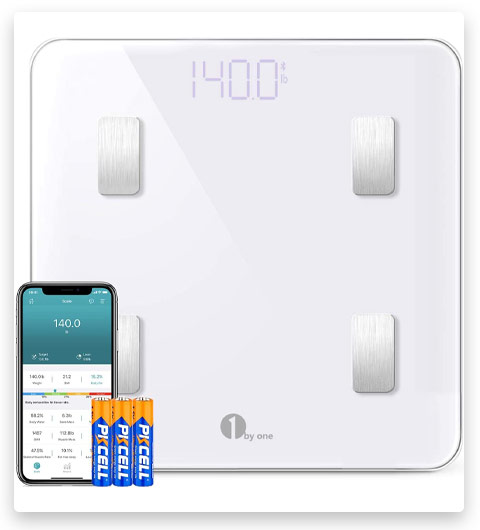 This body fat scale has 14 basic dimensions. This equipment syncs with your mobile phone. Weigh yourself at any time and the data will be transferred to the 1byone Health mobile app. They can carry up to 180 kg and are equipped with 4 high precision G-sensors.
What is Body Fat Scale and How Does it Work?
Smart scales outwardly differ little from electronic ones, they also measure the weight of the one who stands on them.
But if you connect such scales to your phone via Bluetooth, they will show much more data:
Bodyweight
Body mass index
Muscle mass
Body fat (percentage)
Visceral fat
Body water content (percentage)
Bone mass
Basal metabolic rate (BMR)
Biological age
Body type
The data is stored on a separate server (cloud storage) and is available in a special application for a smartphone or tablet. Changes to each parameter are displayed as separate graphs. The technology is based on bioelectrical impedance analysis (BIA), known since the 60s, based on the measurement of electrical resistance of tissues. Such an analysis is considered accurate and helps to identify a number of diseases and to assess the composition of the human body for compliance with accepted norms.
How it works: there are electrodes on the surface of the balance, on which you need to become barefoot during measurements. The weak electrical impulse that the scales send, after passing through the human body, is amenable to analysis. Every biological component in our body – bone, fat, muscle, or water – has a certain resistance. For each component, the dependence of the magnitude on the resistance is unique and this allows you to isolate and measure each component.
What Can the Body Fat Scale Measure?
Bodyweight. All smart scales are equipped with this function. Here's just the trick of smart devices is that by opening the assistant application on a smartphone, you can trace the graph of weight changes, and, accordingly, draw conclusions on the correctness of the selected training regime or diet.
BMI (Body Mass Index). A dry mathematical formula to help nutritionists keep you hungry. BMI = weight / height² (kg / m²). The optimal BMI values for different ages will differ. For children whose growth has not yet been recorded, this indicator needs to be monitored more often than for adults.
Muscle mass is the mass of all muscles in the body. The indicator will be of interest to people who cannot imagine life without a gym and want to measure progress.
Total body fat percentage. One of the key parameters for athletes and people with an active lifestyle. The essence of measuring the percentage of body fat with a smart scale comes down to calculating the resistance of adipose tissue. For this parameter, fat has the highest resistance.
Visceral fat. A critical indicator of health. It is internal (not subcutaneous) fat that protects our internal organs from damage and also serves as a reserve energy source. A healthy norm lies in the range of 10-15% of total body fat, and a significant excess of this figure can cause the development of diseases of the cardiovascular system, an increase in blood pressure, and the development of type 2 diabetes.
The percentage of body water. The least stable parameter, fluctuating throughout the day many times in each direction. Since it affects the conductivity and resistance of the body, the indicators obtained for the rest of the values are partly dependent on the current percentage of water.
Bone mass. The total dry mass of all bones in the body, which will allow you to find out if you have such a "wide bone" as you thought earlier.
Basal metabolic rate (BMR) is the number of kilocalories (kcal) that the body needs to maintain a normal life, including heart rate and breathing. How many calories you can honestly spend without doing anything for a day. The indicator is actively used when choosing a personal diet or diet/exercise regimen to calculate the required calorie deficit/surplus.
Metabolic (biological) age. The age that your current metabolism is. The indicator is closely related to the previous one. The scale of values is in the range of 12-90 years.
Body type. Based on your total body fat and muscle percentage, you are assigned a value from 1 to 9, each corresponding to a specific combination of fat and muscle. So, for example, a value of 1 is high fat and low muscle mass, 5 is average for fat and muscle, and 9 is low fat and high muscle.
Who Shouldn't Use Body Fat Scale and Why?
Since the BIA analysis involves the transmission of an electrical pulse through the human body, it is not recommended to do it for pregnant women and those who use a pacemaker.
When to Weigh Yourself and How Regularly?
Regular weighing is as important as what you do or eat to achieve the desired result. Weigh yourself not only every day but also at the same time. Better right after waking up or after breakfast. There is no need to carry out BIA analysis more often 1-2 times a month. Due to the direct effect of water balance on the conductivity and resistance of the body, such an analysis is best done not in the morning, when our body is dehydrated, but in the evening. Otherwise, you will get values that are far from real.
Measurement Range and Error
The models popular on the market have a working range from 3 to 180 kg with a measurement step of 0.1 kg. The declared error is 0.1% or 0.1 kg, which is sufficient for most users.
Where to Install the Body Fat Scale?
On an even and hard surface. Any part of the room will do, but it is better to choose a place where the scales can be permanently located and do not have to be hidden or moved away. The stationary device will provide you with correct results from measurement to measurement.
Conclusion
In order to be healthy, you must not only eat right and exercise regularly, but also monitor the indicators of your body. Modern technologies have shown us such a device as the body fat scale. When choosing this equipment, pay attention to the RENPHO Body Fat Scale Smart BMI Scale Digital Model. They let you know the 13 main indicators of your body. All data can be found in the mobile application. It is very simple and convenient.