Kickboxing gloves are the first accessory you need to have when you decide to play this sport. They will help you avoid injury during fights. For kick boxing gloves can protect, they must have precise specifications. Let's take a look at the distinctive features of this product together and take a look at the best models of this year.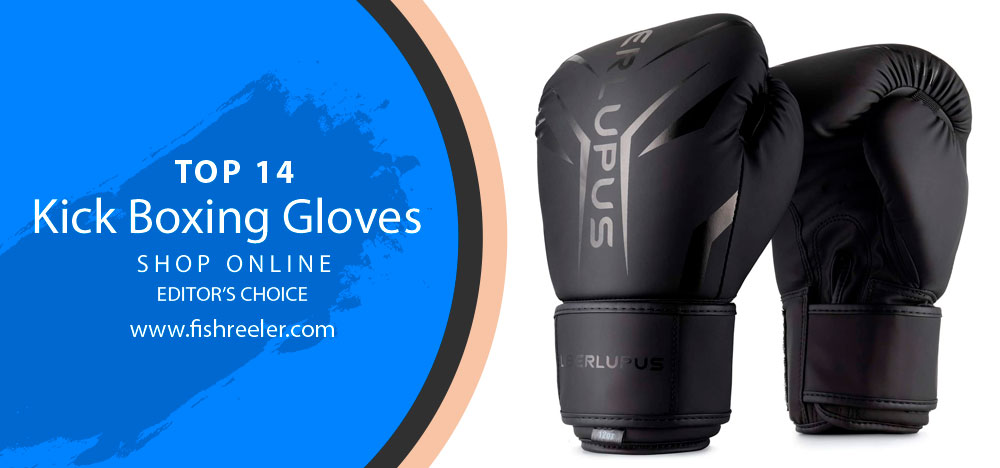 Best gloves for kickboxing allow the athlete to perform movements with complete freedom while protecting the hands from any injury caused by blows to the opponent's body. Best kickboxing gloves should be padded with all fingers covered and thumb attached to the rest.
The 14 Best Kickboxing Gloves for Beginners & Professionals
The choice of kickboxing gloves should not be left to chance. They are required for this sport for your safety. The kickboxing gloves available on the market today are not all the same and vary in weight, brand, style, materials, and sizes. In this regard, I reviewed the best models on the market today. Here you will find valuable tips and useful information to help you make the right choice. First, I suggest taking a look at the 14 best kickboxing gloves.
1# Sanabul Essential Gel Kickboxing Punching Bag Gloves – #1 Best Seller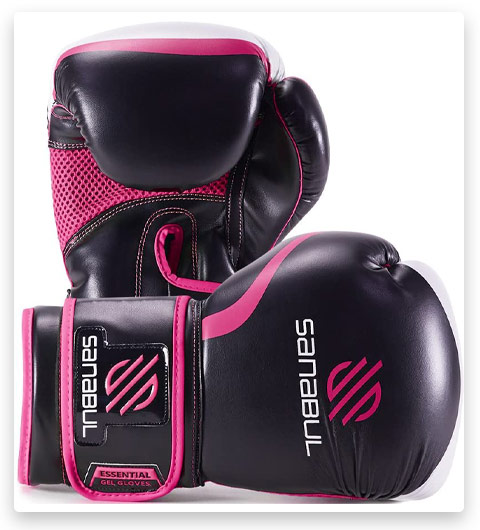 Boxing gloves SANABUL Essential GEL Training Gloves will be an excellent choice for the athlete due to the excellent value for money. Perfect for kickboxing because of its design. The specially designed construction of high-quality leather ensures excellent functionality and durability of the gloves. Correct distribution of impact force thanks to the special filling of the combination of foam and gel for maximum protection during the most intense workouts. The correct anatomical design fits perfectly into the arms of the athlete, the movement feels natural and comfortable. The gloves fit tightly on the hands and are fixed with a special Velcro. They are available in a variety of colors and are suitable for both men and women.
2# MeGaLuv Kickboxing Gloves – Best Sparring&Training Gloves for Adult and Kids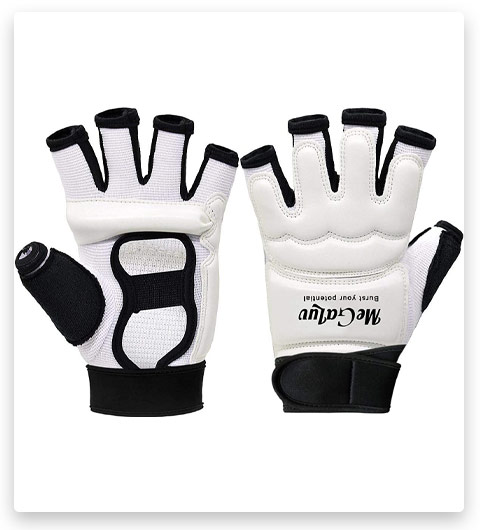 This brand attracts many kickboxing athletes. They are of superior construction and are made of high-quality materials. PU leather and Lycra fabric provide durability, comfort throughout your workout. Your fingers will be fully protected thanks to the 8mm EVA lining pads. Breathable design keeps your hands dry throughout your workout. The gloves are fixed with a wrist velcro. It is comfortable and allows you to put on your gloves in a matter of seconds.
3# Trideer Pro Grade Kickboxing Gloves – Best for Men & Women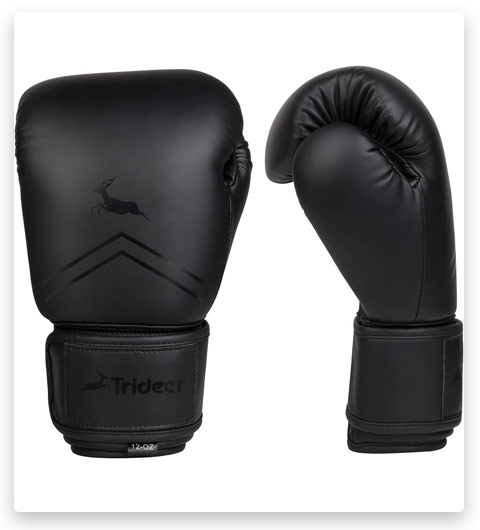 I want to tell you about the stylish and incredibly comfortable gloves for kickboxing from the Trideer brand. They are suitable not only for men but for women. They are available in various sizes and colors. You will find both classic black and bright red. They are attractively priced and made from durable faux leather. This material is easy to care for and is distinguished by its high durability. High cushioning is achieved thanks to the Multi-density foam. You will feel comfortable with the breathable mesh. It also avoids unpleasant odors.
4# FitsT4 Half Mitts Kickboxing Gloves – Best Durable Gloves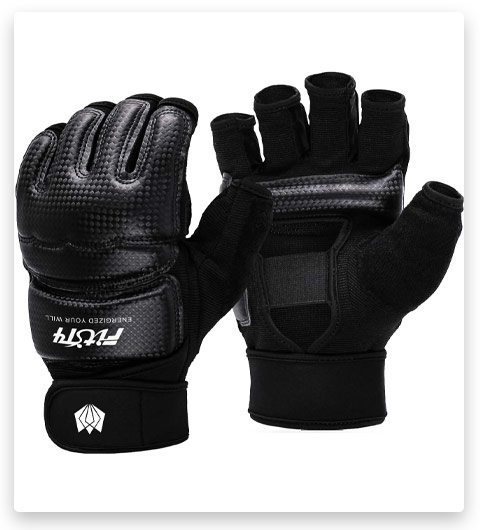 These are high-quality gloves specially designed for kickboxing. They are made from artificial leather. This material is not only resistant to abrasion but also easy to clean. Thanks to EVA lining pads, you will avoid injuries to your hands and fingers. It has an open palm design. Apart from this, the accessory has a mesh fabric. This all gives your hands the freedom to perspire even during super intense sparring sessions.
5# Everlast MMA Kick Boxing Gloves – Best Value Training Gloves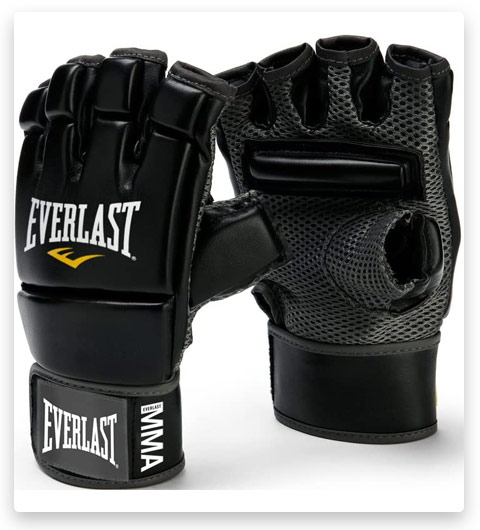 One of the finest kickboxing gloves from Everlast, made in partnership with Combat Sports. Extremely comfortable glove with correct segmentation and accentuated foam padding. Thanks to the multi-layer foam filler, they can be used in full-fledged training sparrings. Fist clenching without effort. Stronger fixation of the wrist with a leather strap. They have fully open palm and thumb. They protect joints and wrists from injury. The wide cuff is securely fixed with Velcro. Ergonomic design contributes to a comfortable fit. The surface of the gloves is made of high-quality artificial leather, which is highly durable.
6# Elite Sports Kickboxing Gloves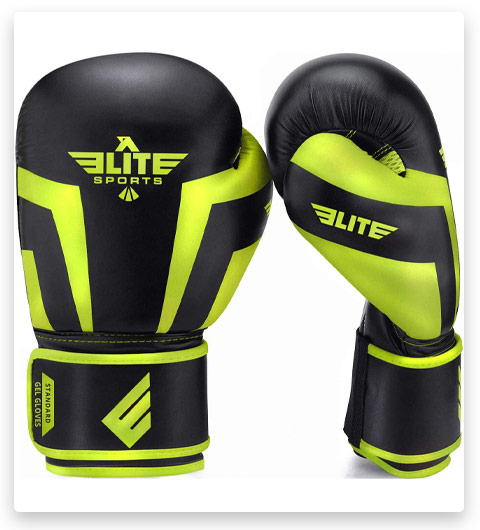 This model is distinguished by its lightweight and high-quality material. Top-quality artificial leather can be used reliably for many years. These gloves are comfortable to wear thanks to their Pre-curved anatomic hand design. This suggests that you will be able to fully concentrate during the sparring and not think about the correct position of the fist. High protection for your hands is achieved thanks to the triple-density gel and impact foam. They are secured with a secure Velcro wrist closure with a stretchable leather wrist strap.
7# KAIWENDE Half Finger Kickboxing Gloves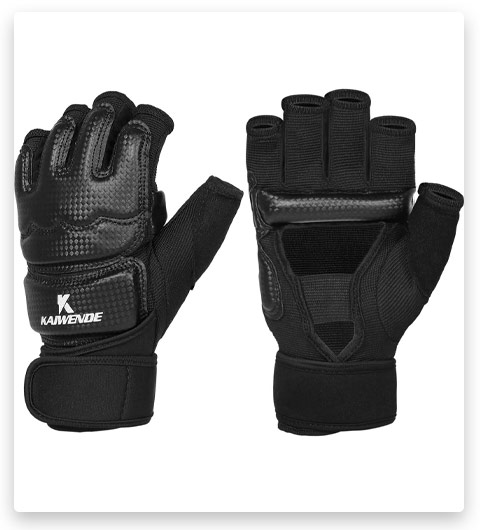 As you may have noticed this model has a Half Finger design. The outer side of the gloves is made of artificial leather. It is a soft and resistant material. The lining is made of breathable cotton. This material wicks away sweat and provides excellent air circulation. The accessory is equipped with an EVA sponge filler. It provides reliable protection for your hands.
8# Liberlupus Kickboxing Gloves for Men & Women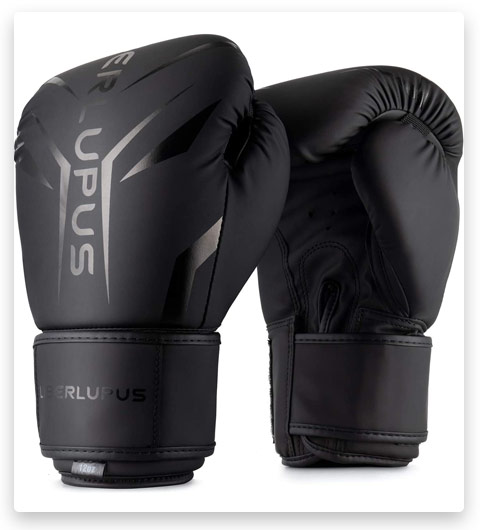 This is a professional model glove for kickboxing. However, they are not expensive and every athlete can afford them. Curve and grip bar design allows you to have a comfortable grip on your fist. You will be able to deliver fast powerful blows thanks to the three foam layers. It also provides additional protection. The leatherette is easy to clean with a towel.
9# ZTTY Kickboxing Gloves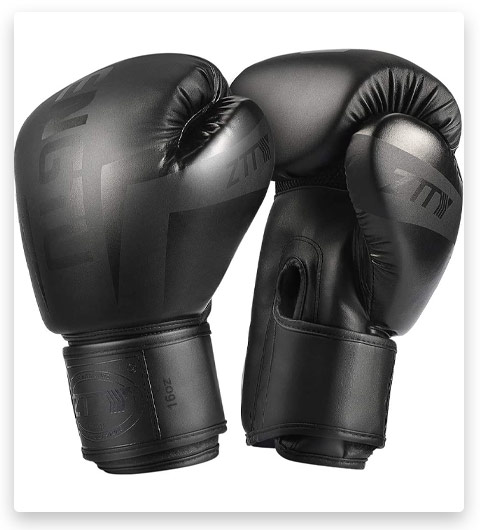 These gloves are designed to provide maximum comfort and protection during sparring and punching bag practice. Artificial leather extends the life of this accessory. Even with intense training, they will not suffer. You can be sure your hands will always be dry thanks to a pinhole design. Extra-thick and long wrist strap for high wrist protection.
10# Victory Martial Arts Women's Cardio Kickboxing Boxing Gloves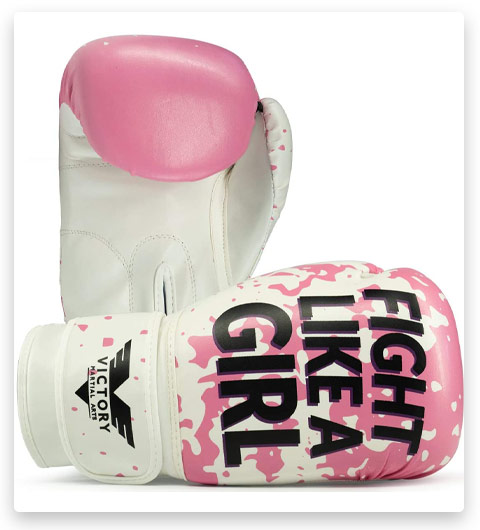 If you are looking for stylish and reliable gloves for women or girls, then this is what you need! The combination of pink and white will appeal to any girl. It looks fashionable and mesmerizing. The synthetic leather is tear-resistant and ensures reliable use. High-density foam will allow you to use the product for a long time, even during intense training. They are available in 8.10 and 12 oz sizes.
11# RDX Kickboxing Gloves for Training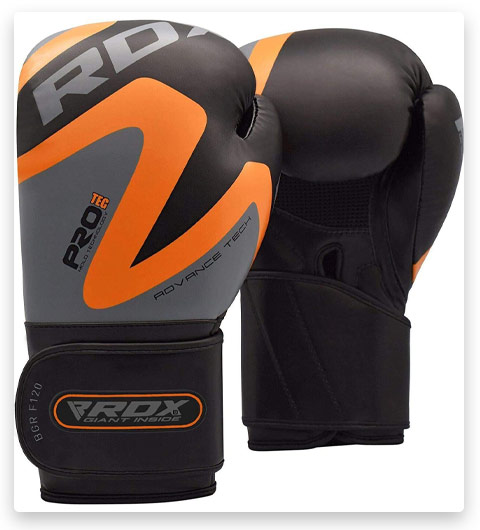 The RDX kickboxing gloves are made with the newly introduced Supremo-Shock Equilibrium ™ technology. This is improved protection and shock absorption. These are gloves with superior aerodynamics and multiple layers of protection for quality training. They are made from durable Maya eco-leather using the patented Pending Maya Hide technology. Supremo-Shock Equilibrium™ and Eva-Lution Foam™ fillings provide superior hand protection for the fighter during intense kickboxing training. Glove ventilation is provided by a special mesh membrane. The wide cuff of the VELCRO system creates a good fixation. The thumb is sewn to the base of the glove.
12# Brace Master Gloves for Kickboxing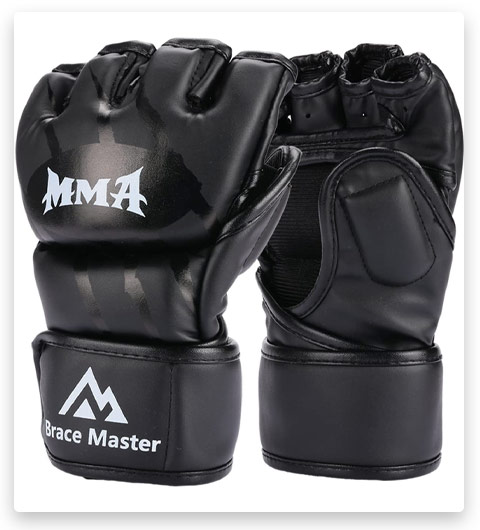 These are durable gloves that will help you become the best kickboxer. They are made from high-quality leather that will withstand any test. Your palms won't sweat during intense workouts thanks to the open palm design. The gloves will not emit unpleasant odors. They are also easy to clean with a cloth and spray. They are available in various sizes so they are suitable for both men and women.
13# Hawk Sports Kickboxing Gloves for Men & Women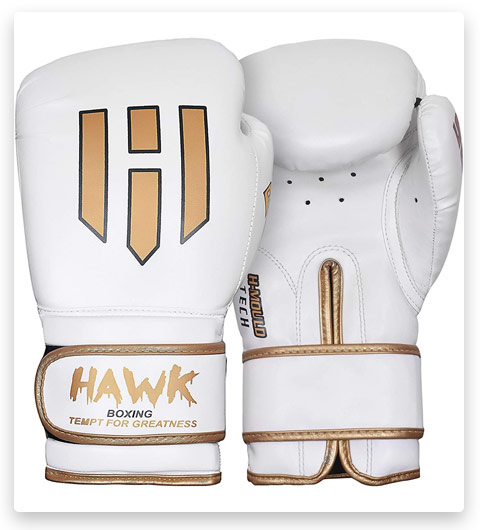 This model offers high wrist protection. It is equipped with an Extra-thick Supremo-shock foam. This accessory is easy to use thanks to its strong and simple closure. Hook & Loop Velcro strap for comfortable glove wear. You will feel comfortable with breathable mesh fabric on the palm. They are available in two classic colors. Also, they come in various sizes and are therefore suitable for children and adults.
14# Jayefo Glorious Kickboxing Gloves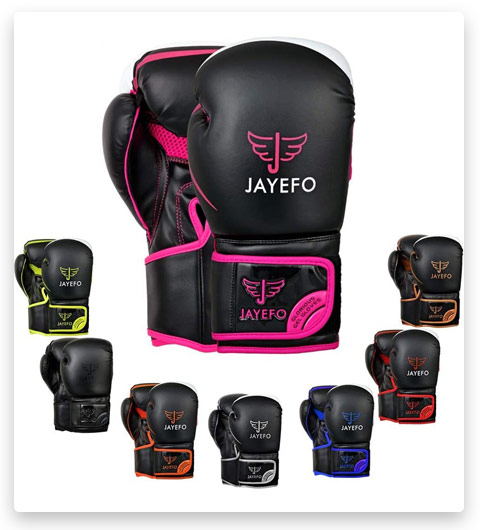 Jayefo offers kickboxing gloves in multiple layers of high impact gel and is available in multiple sizes. Cool mesh palm allows you to train with maximum comfort even for long periods. The gloves are hand-sewn so they have strong seams and high quality.
What Are the Best Kickboxing Gloves?
Kickboxing gloves are an accessory used by athletes involved in this type of martial arts. This practice began in the 1960s in Japan and then spread to the United States and the rest of the world. It combines kicking techniques typical of martial arts with typical boxing kicks. The use of kickboxing gloves is essential to protect the hands during the fight and reduce injuries to the opponent. It also helps to soften the kick. With the increasing spread of the discipline, they evolved. In particular, the quality of the materials from which they are made has changed. Their form is identical to the boxing gloves, as kickboxing unites two disciplines.
How to Use Kickboxing Gloves?
There is no better sport for relieving stress than martial arts. If you decide to go to the kickboxing hall, then you certainly cannot do without gloves. For beginners, there is not much difference between the various gloves available, but it is important that they are well padded and that the thumb is attached to the rest of the glove to protect it from any injury.
Don't feel like you can wear gloves without bandages. It protects the hand from the inevitable blows of the punching bag. They keep bones and muscles safe. You can wear gloves without bandages, but no self-respecting trainer will recommend doing this. So spend a few more dollars and buy any bandages along with the gloves. Ask your trainer what method of effective hand wrapping he prefers.
I recommend you to secure the best kickboxing gloves for beginners tightly in place with Velcro or laces. After donning one glove, you may have difficulty with the other. In this case, ask another boxer for help. With a little practice, you will see that in a few days you will be able to put them on without any help.
Why Buy Kickboxing Gloves?
Without gloves, you cannot fully participate in training, only a completely insane trainer will allow his students to hit a punching bag or partner with their bare hands. Kickboxing, as the name suggests, involves the use of some boxing techniques that combine them with kicks. Some exercises need to be done without gloves though. However, most of the training usually takes place with a punching bag or paired with a partner. For this reason, kickboxing gloves are essential for this sport.
Features to consider when buying Kickboxing Gloves
You have figured out the best way to wear kickboxing gloves, now you have to make sure you know the details to consider when choosing. Of course, it is important to evaluate the material from which they are made, but not only. You also need to consider closure, weight, but above all, the level of training and professionalism you want to achieve. This guide will help you choose a high quality and reliable product. This is especially true for beginners. Read this section before making your choice!
Glove Design
There are different types of gloves on the market that vary in shape and size. Don't confuse those who do kickboxing or boxing with those who practice MMA. The latter only covers the palm, and hand joints, leaving the fingers open to allow for the various grips typical of mixed martial arts. These gloves are not suitable for kickboxing. You want and should buy the most classic closed boxing gloves in which the thumb is attached to the rest of the glove and all fingers are covered. So you don't have to worry about finger injuries. Remember to keep your fist inside the gloves to avoid sprains on your wrist.
Glove Material
For the manufacture of kickboxing gloves, natural or synthetic leather is used. Obviously, the difference between these two materials concerns both the price and the quality of the gloves.
Natural leather gloves are more comfortable, softer, and more stable. Plus, they easily adapt to any hand shape. They are ideal for those who play the sport at a competitive level or train frequently.
Polyurethane gloves have a lower cost and are intended for beginners who train occasionally at an easy pace.
Enclosure System
The fastener can be made with laces or with Velcro. Obviously, Velcro is the fastest and easiest to use even on your own. Laces, however, are more difficult to lace up and you will have to ask someone for help. This enclosure system is safer. No wonder they are a must during competition.
Glove Weight
Kickboxing gloves do not differ in classic sizes, but in weight, expressed in ounces. They range from 6 to 18 ounces. To select the correct size, you need to take into account the weight of the user and the type of use that will need to be performed.
Glove Padding
Good quality gloves are undoubtedly made of triple density foam. It is the padding that does not stay rigid but helps to soften the impacts you receive and better protect your hand. That's all you need to know about kickboxing gloves.
Conclusion
The sport requires the use of equipment, items of clothing needed to perform this particular practice. In kickboxing, undoubtedly, we are talking about gloves, indispensable in the practice of this contact sport. These gloves are different from those used in boxing. In this article, I told you in detail about the features of the best gloves for kickboxing and reviewed the best models. But if you do not have time to read and choose for a long time, then I advise you to pay attention to the Sanabul Essential Gel Kickboxing Gloves model. They are suitable for both sparring and punching bag practice.