How to choose the best kickboxing bag? This question is asked by all novice athletes who decide to take up kickboxing. It should be noted right away that there is universal sports equipment that is applicable in almost all martial arts. However, based on the specifics of one or another type of martial arts, special punching bags are developed for them, which make it possible to implement specific techniques.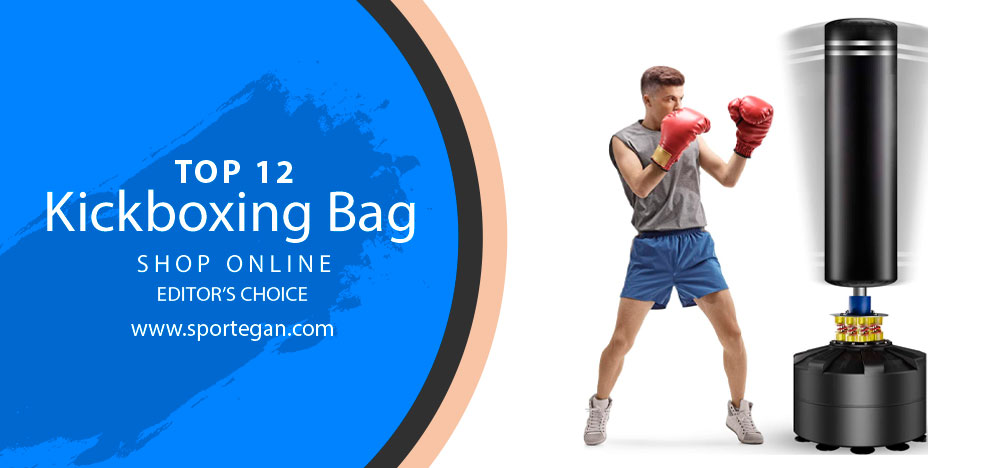 For example, the traditional punching bag is focused on hand training, while the versatile kickboxing bag is designed to hit all levels, including active leg engagement. That is why the question of how to choose a kickboxing bag is largely determined by technical nuances.
Our Selection 12 Best Punching, Heavy Bag Stand & Free Standing Kickboxing Bag
It is important to better evaluate the characteristics before buying, as there is an infinite number of punching bags on the market that can be adapted to a wide variety of sports such as kickboxing, boxing, fitness boxing, martial arts, and muay thai. Below are the best kickboxing models. You can set up a kickboxing bag at home and train at any time.
1# Dripex Freestanding Kickboxing Bags – Best for Beginners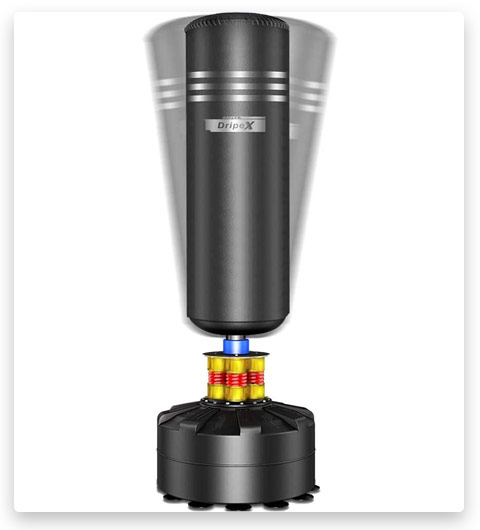 Ideal for increasing mobility and coordination. An ideal gift for kickboxing adults and teenagers. This accessory can be used on any flat floor covering. This freestanding punching bag is 175cm high. Dual TPU shock absorbers and 4 * springs provide 360 ​​° shock and noise absorption. Rounded ABS base tank with 12 durable suction cups at the bottom prevent base movement. Filled with sand can improve stability. The stainless steel tube stand has a multi-layer structure. It's resistant to tear and withstands prolonged intense attacks from kicks and punches. It is waterproof and can be used outdoors.
2# Century Original Wavemaster Freestanding Heavy Punching Bag – Best for People of All Skill Levels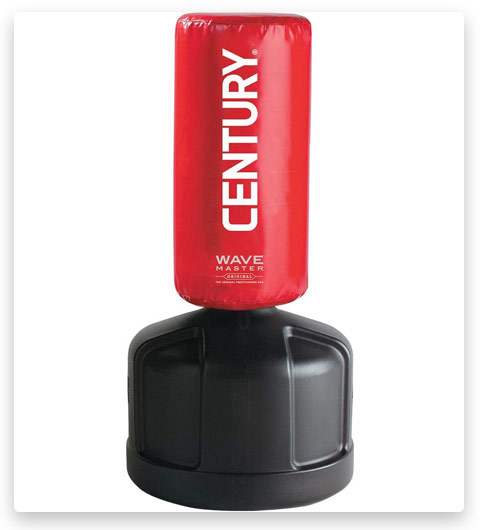 The Century WaveMaster water-filled bags are ideal for punching and kicking, so they are ideal for kickboxing. The bag is designed for indoor installation. It's able to withstand heavy loads without changing its initial shape. Conveniently adjustable in height for different occasions and each user. It has 7 levels of height adjustment. It is suitable for both professionals and beginners. It will help you hone your technique and increase the strength and speed of your blows.
These innovative models, with excellent shock absorption and stability, make it possible to practice wide-radius impacts. The punching bag can be filled with sand or water, depending on what the user wants. Also, there is the possibility of self-regulation of the density (it depends on the degree of filling of the accessory). I believe that the main advantage of the model is the ability to move to any place where it will be convenient to train, as well as the round shape.
3# Everlast PowerCore Free Standing Indoor Heavy Duty Punching Bag – Best Kickboxing Bag for Home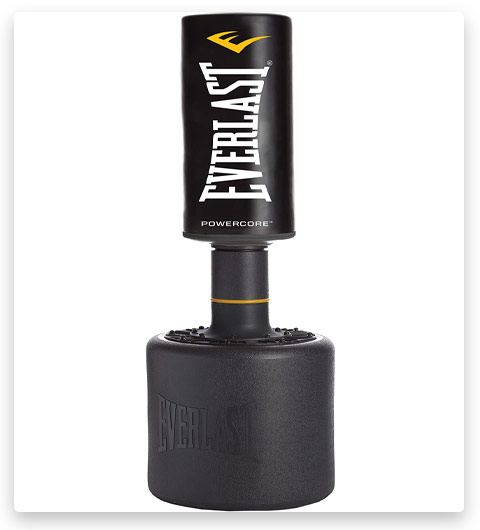 This model has an air-foam chamber. This is a good thing as the accessory is very easy to use. The height can be adjusted from 54 to 65 inches. This makes the kickboxing punching bag suitable for beginner adults, women and children. Also, its low height makes it ideal for use in kickboxing, which involves the use of both kicks and punches. In this case, the base must be covered with sand. In particular, about 20 kg of sand is needed to ensure the maximum stability of the bag. However, you can also fill the base with water.
4# RDX Freestanding Punching Bag with Gloves – Best Free Standing Kickboxing Bag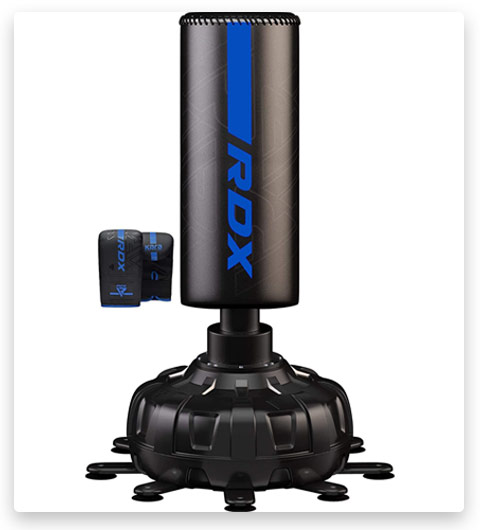 It is the perfect solution for the kickboxing beginner, as well as for the girl. And in general, given the excellent value for money, it's a worthy option. Despite its small size, the punching bag is very stable and durable. This is thanks to the high-quality elastic leather Maya Hide. The model has a high-density foam padding. The height of the accessory is 185 cm. This is one of the tallest models on the market. This gives you a large surface for punching and kicking. This best heavy bag stand for kickboxing comes with Maya Hide leather boxing gloves. You will get everything you need to start your workouts!
5# Xsport Pro Freestanding Punching Bag – Best Price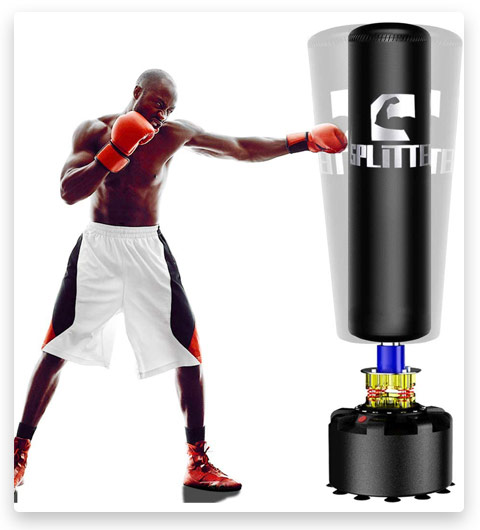 This is another free-standing kickboxing bag for home workouts. Thanks to the high-quality base, you can use this accessory on any flooring. You can quickly and easily assemble an accessory and just as easily move it around the house. It takes no more than 10 sq. ft. It is not only suitable for adults but also for teenagers. Dual TPU dispersers + springs x4 allow you to have silent workouts. It also provides excellent 360° loading.
6# UKing Adult & Kids Freestanding Punching Bag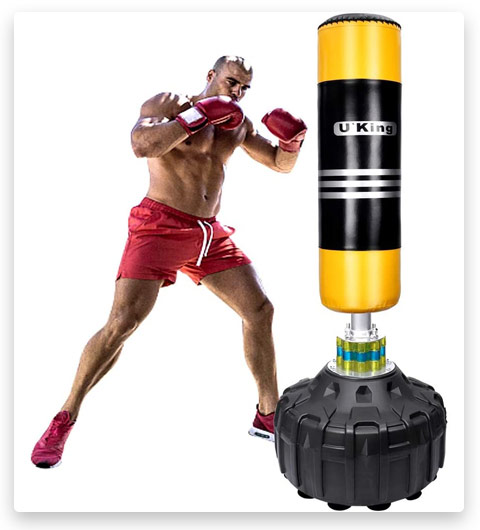 The bright colors will inspire you for intense workouts. You can put this free-standing pear on any floor in your home. Besides adults, teenagers can use this accessory. The height of the kickboxing bag for home is 185 cm. People who are 47-73 inches tall can box comfortably on this equipment. This model absorbs shocks and thus does not emit noise. 2 strong suction cups prevent base movement so you can train without irritation.
7# GIKPAL Freestanding Punching Bag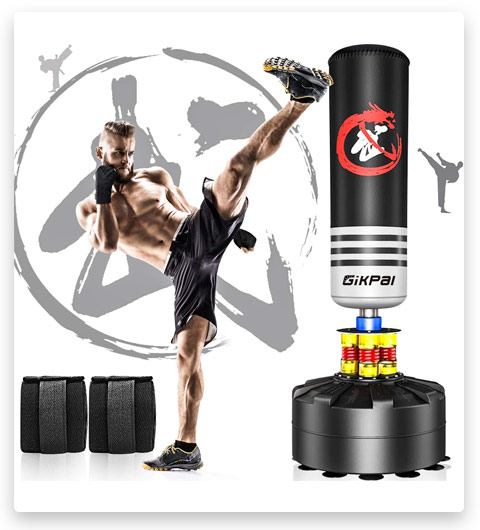 GIKPAL is a brand that provides excellent quality and satisfies many users who prefer its products. It offers a boxing bag that can be placed on any flooring. You can set up a small gym at home or in your garage. A model of great value, designed for long service life and therefore at a low cost.
8# Twomaples Freestanding Punching Bag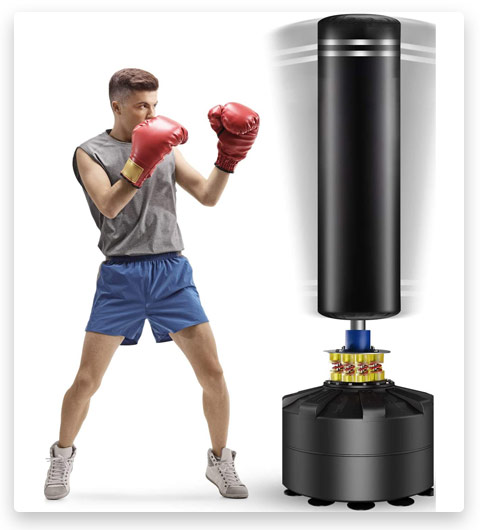 Two-maples is a flexible, free-standing kickboxing bag suitable for both boxing and kickboxing (for practicing straight and sidekicks, as well as kicks from below aimed at the opponent's torso). It does not require an additional wall or ceiling mounting. The model is easy to move thanks to the round base. The sturdy ABS base is filled with water or sand for high stability.
9# Figolo Punching Bag Filled Set for Adult/Kids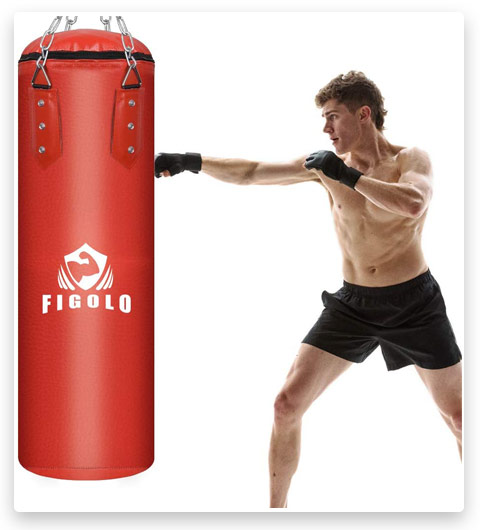 If you are looking for a Hanging punching bag, then this is a great option for you. The material covering the product is very hard and durable, with a seal that resists impact. The accessory is 105 cm long and the chain is 35 cm long. The inner filling consists of three materials: finest PU cloth polished, polyester and EPE. This ensures high safety and performance during training.
10# Jayefo Trexter Heavy Punching Bag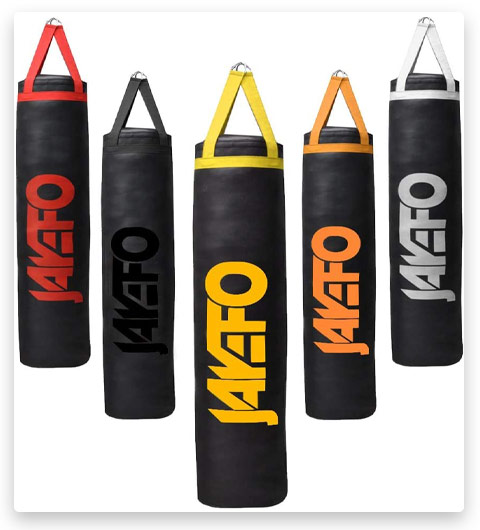 It is a classic heavy kickboxing bag. The model is perfect for professional use in gyms and training at home. Due to its characteristics, the bag is well suited for practicing kicks and improving various techniques by an athlete. Working with such a projectile perfectly develops the accuracy of strikes, their rigidity, and speed. The accessory is made of artificial leather. You will be able to fill this product up to 300 pounds.
11# Outslayer Filled Punching Bag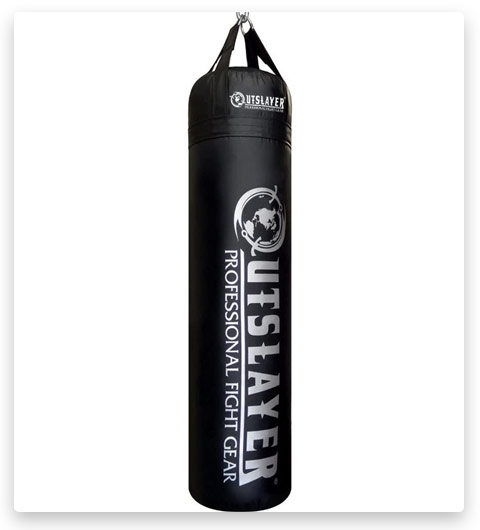 This accessory can withstand the most intense loads and is used to practice striking techniques with hands and feet, allowing you to improve the speed and power of striking. The model weighs 100 pounds. This punching bag for kickboxing features high strength and durability. It is not filled with sand. It's filled with the cloth.
12# Boxing bag Kick Bag Torso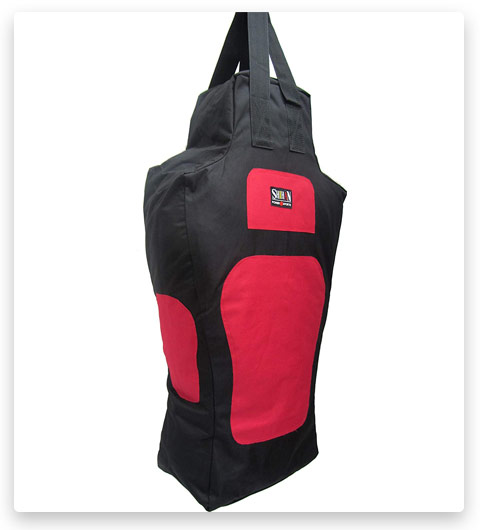 This is the most affordable option on this list. It comes with hanging straps. You can install sports equipment in your room or garage and exercise at any time. The model comes unfilled. I advise you to fill it with sawdust. This simulates a human torso for a highly effective workout.
What Should Be a Punching Bag for Kickboxing?
A hanging or free-standing medium punching bag is recommended for kickboxing. For optimal kick training, the punching bag must be at least 150 cm in length.
Types of a Punching Bag for Kickboxing
Hanging punching bag. This is a classic model. It attaches easily to a beam or ceiling. Very suitable for daily workouts. However, you must ensure that the punching bag is securely secured. The model must not fall and must withstand intense training.
Free standing kickboxing bag. This punching bag offers convenient storage and portability as you can simply set it aside after training. It is also especially useful in rented apartments or if the existing ceiling does not seem stable enough to hang a punching bag.
Your choice should depend on your personal preference and the space you have in your home or apartment.
Guide on Buying the Best Kickboxing Punching Bags
A kickboxing punching bag is an indispensable tool for any self-respecting athlete. If you do not have the ability to work out in a gym that is equipped with it, you might consider purchasing one for use at home.  Choosing the best kickboxing bag for your needs requires a minimum of product knowledge. This short overview will help you make your choice.
Weight
Of course, a lot depends on the weight of the bag. Models weighing between 10 and 20 kg are very susceptible to shock and tend to sway more. It is a very versatile product that is easier to install and is preferred by beginners looking for speed and accuracy. On the other hand, bags weighing more than 30 kg have less vibration, which makes it possible to increase their strength.
Size
Size actually goes hand in hand with weight. The smaller the kickboxing bag, the less it will weigh, and vice versa, if we buy a larger one, it will weigh more. If we are talking about a child's kickboxing bag, the normal weight would be 10 to 15 kg, resulting in a bag no more than 1.50 m.
Filling
The type of material a bag is filled with makes a huge difference when it comes to hitting. Some materials are recommended for professionals with an iron fist, others allow boxing without gloves, while others are suitable for children and beginners.
Sand
Great material for those looking to get the most weight. Unlike other materials, it adheres well and does not lose its shape. The only problem is that in the long run, if the bag is left hanging, the sand will become more and more compacted towards the bottom. Therefore, you will have a stiffer bag at the bottom and a softer at the top.
Water
One of the best materials. Excellent feedback on impact. The only problem is that if the bag is subjected to heavy stress, it can start to lose water.
Textile
These materials are used to provide gentle feedback on kicks and punches, which is important in kickboxing. This material better simulates a real impact. The soft material also reduces the risk of wrist and shoulder injuries.
Position
As we found out earlier, two types of punching bags are suitable for kickboxing. You can purchase a hanging or free-standing model. It is important to know that the free-standing model is more suitable for kicking, while the suspended ones are great for both kicking and punching.
Form
The form is one of those things that only matter if you are a professional athlete. On the market, you can find human-shaped, T-shaped, and so on and so forth. Truth be told, only T-shaped and regular ones are worth buying, as they allow for more accurate blows without sliding or twisting the wrist thanks to the uneven surfaces.
Materials
The material from which punching bags are made must be durable but comfortable. The outer part is usually made of natural or synthetic leather, sometimes even plastic. Genuine leather also mimics real-life experience, these bags are much more expensive and thanks to real leather, you can train without your own gloves. On the other hand, eco-leather is a material that is used by almost all manufacturing companies because it's cheap and easy to manufacture. However, gloves should be used, even if they mimic the texture of the leather.
Conclusion
If you are a kickboxer and decide to improve your skills by increasing the number of home workouts. Or if you want to try the sport for the first time without purchasing a gym membership, buying the best heavy bag stand for kickboxing is a great choice. There are many of them on the market and with different characteristics. This article presents the best models. Remember to check the height and weight of the bag based on your measurements and how you will have to use it. Also, don't underestimate high-quality materials for added durability. This way you will surely find the perfect product for you. If you are at a loss with the choice, then I advise you to pay attention to the Dripex Freestanding Punching Bag model.