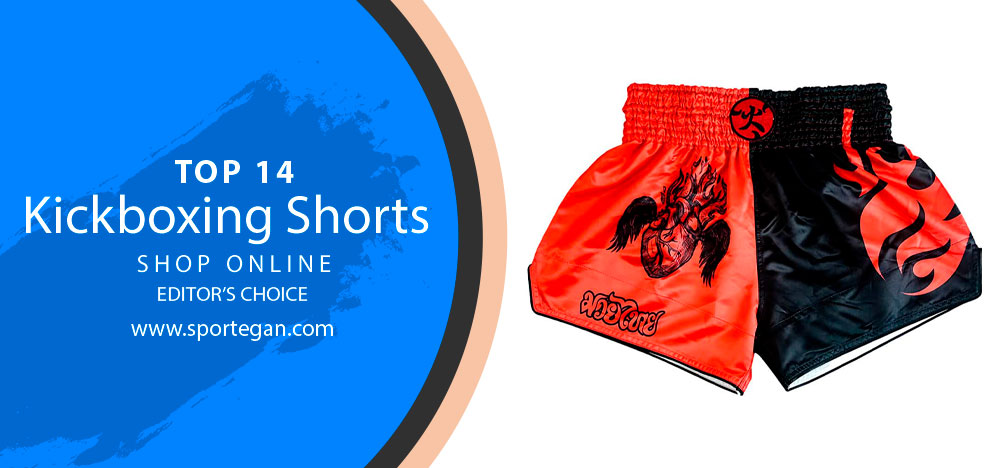 Kickboxing is a fairly popular sport around the world. For anyone practicing this discipline, it is important to consider not only the importance of technique but also the kickboxing clothing that must be worn to be able to move flexibly and easily and without restrictions, especially in relation to the lower limbs, which are especially vulnerable. Today we will talk about kickboxing shorts.
Our Selection 14 Best Kickboxing Shorts – Editor's Choice
If you are looking to buy kickboxing shorts and have not yet decided on a specific manufacturer, take a look at the following suggestions. From my own experience and the experience of my friends, I can say that these are the best models on the market today.
1# Tuff Boxing Sport Shorts – Best Comfortable Shorts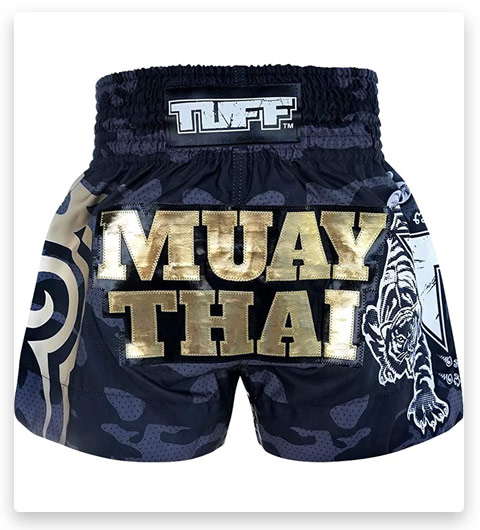 TUFF is a Thai brand that manufactures equipment for Muay Thai, kickboxing, MMA. The company's goals are to make unique and original fighter products combining traditional Muay Thai arts with modern graphic design. TUFF products are made of high-quality materials on professional equipment, in our own factory in Bangkok. Handmade in Thailand. These shorts are ideal for kickboxing athletes. Their design does not restrict leg movement. They are made from Microfiber Fabric. This fabric dries quickly. The shorts are lightweight and have an elastic waistband. They are available in a variety of colors and designs. A large dimensional grid allows you to purchase these shorts not only for men but also for women and children.
2# Hayabusa Falcon Shorts – Best Design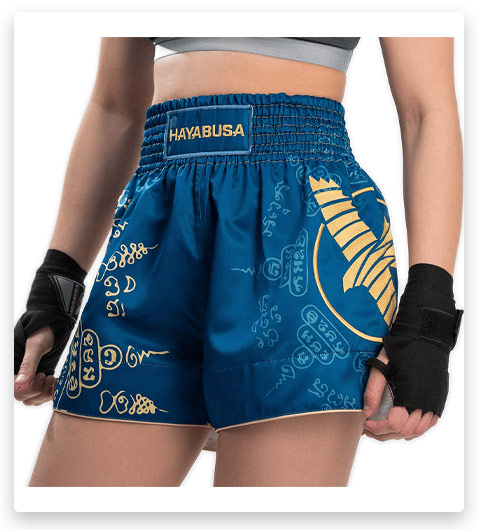 Hayabusa Falcon Shorts are the epitome of beauty and quality. With a focus on design, the designers did not overlook the comfort that is a major factor in shorts during combat. They have an unrivaled design that will make you stand out among the fighters. The wide elastic waistband guarantees maximum and secure fit on the waist during combat or training. The belt keeps the shorts tightly in position. All designs on the shorts are made by sublimation, complemented by a large number of embroidered elements. They are made from 100% polyester. These shorts bear the trademark Hayabusa logo as a mark of quality and authenticity for one of the best brands in the world of martial arts.
3# Top King Boxing Shorts – Best Kickboxing Shorts For Men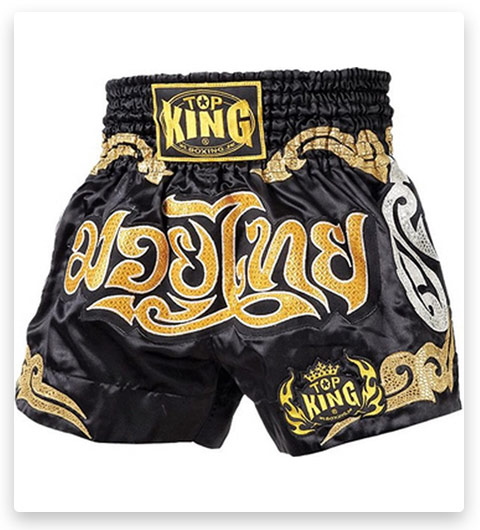 These kickboxing shorts men are very soft and largely mimic the movement of the athlete, also due to the fact that they are very wide on the legs and in no way hinder movement, both in the knees and in the hips. It is the perfect garment for those involved in combat sports. They have an elastic belt at the waist, which fits snugly to the figure, without creating obstacles for movement. The wide elastic waistband ensures comfort and a secure fit on the waistband. Top King shorts are available in a wide range of vibrant colors and have always been synonymous with quality, so they can be recommended to anyone looking to wear professional clothing. They are made from 100% Polyester and are available in various sizes.
4# Venum Bangkok Inferno Shorts – Best Breathable Shorts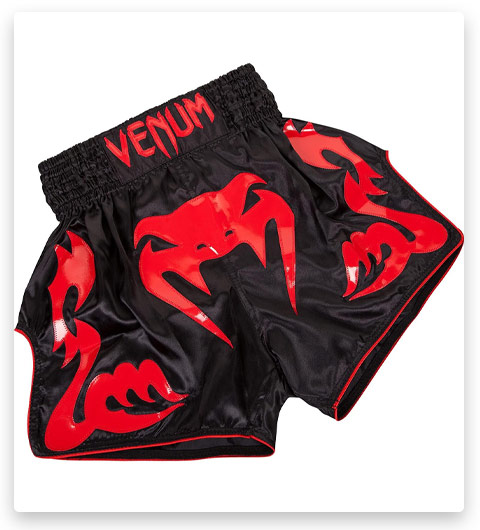 These handmade shorts bring the fighting spirit and Thai tradition! The wide elastic waistband guarantees maximum comfort and a secure fit on the waist during a fight or training. Made from 100% satin. It is a very lightweight yet durable material and has a great combination of style and comfort. The shorts are made from 100% polyester and the side slits allow for a wide range of motion. In addition, they are decorated with beautiful, handcrafted colorful embroidery. Mesh side panels are specially designed for increased mobility.
5# Anthem Athletics Resolute Kickboxing Shorts – Best Price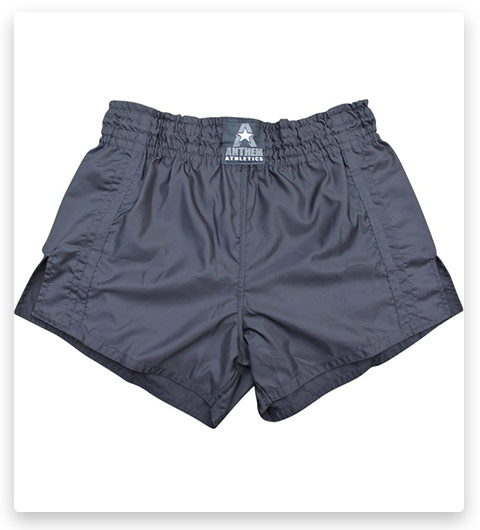 Anthem Athletics Shorts are the perfect outfit for your Muay Thai and kickboxing activities. They are made from durable micro-fibre. This material is very lightweight and tear-resistant. The shorts are very comfortable to wear, have a soft elastic waist that adapts to the figure, and side slits to ensure versatility of movement. Classic colors will appeal to any athlete. They come at a great price and are therefore affordable for everyone. Anthem Athletics Shorts are always a quality guarantee, recommended for those who want the best.
6# FARABI Muay Thai Kick Boxing Shorts – Best Women's Kickboxing Shorts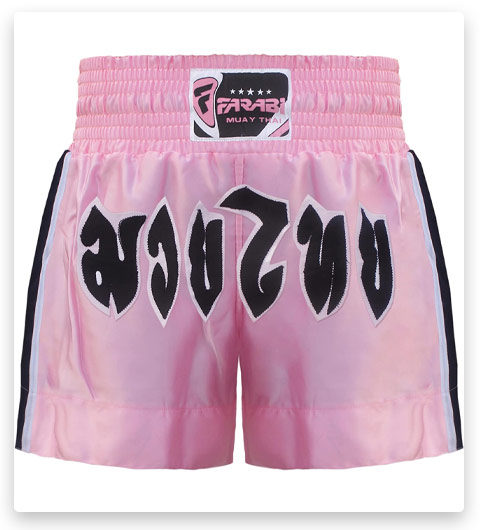 These are the perfect kickboxing shorts for women. They are created with love for strong ladies. If you are looking for not only high quality and convenience but also style, then this model is for you. The delicate pink color looks great in the boxing ring. They are made from Satin-P. This material is distinguished by its high quality, as well as lightness and softness. They provide high mobility and maneuverability during movement thanks to The Z-Smart aesthetic design. Nano-pores technology provides excellent ventilation as well as wicks away moisture.
7# Twins Special Boxing Shorts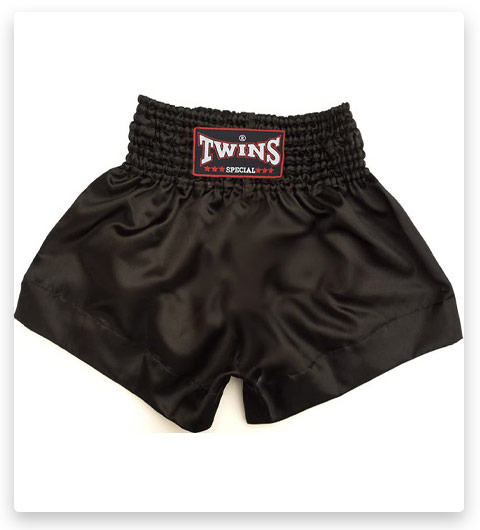 Crafted from satin, these Twins Special shorts are designed with a comfortable wide elastic band to secure the waist for a comfortable workout. The Twins Special factory produces traditional Muay Thai and kickboxing training shorts in bright designs and colors to suit all tastes. These shorts are distinguished by their high-quality tailoring and materials. The Twins Special factory has been constantly improving the shorts, making them more and more comfortable for athletes. Train with the best equipment.
8# NAMAZU Kickboxing Shorts for Men and Women
NAMAZU shorts are ideal clothing for both kickboxing and muay thai, as well as for beginners and experienced and professional athletes. They are very comfortable to wear thanks to their lightweight fabric. They are made of satin fabric which adds an interesting shine to the shorts. Thanks to the side slits, they do not restrict the movement of your legs. These are breathable shorts with excellent moisture-wicking properties. They are available in various colors and the totem is hand-embroidered. Recommended for all lovers of martial arts.
9# HUOLEI Kickboxing Shorts for Men and Women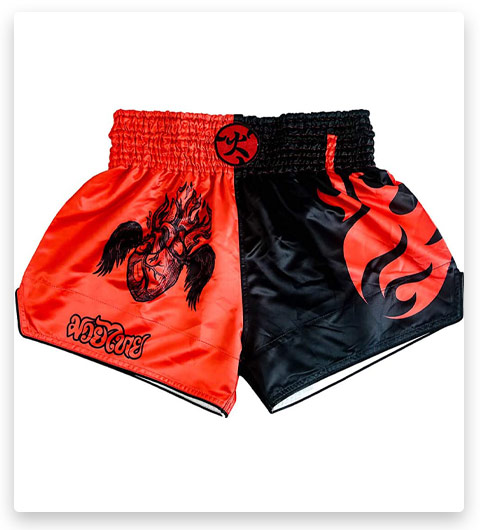 This model of shorts is made of high-quality satin polyester. The elastic 8-Stripe waistband provides a snug fit without restricting movement. They come in 6 sizes and are available in several color options. Thus, you can choose the model according to your play style and personality. The shorts are carefully sewn so they have high-quality durable seams.
10# O2TEE New! Kickboxing Shorts Combat Fight Boxing Trunks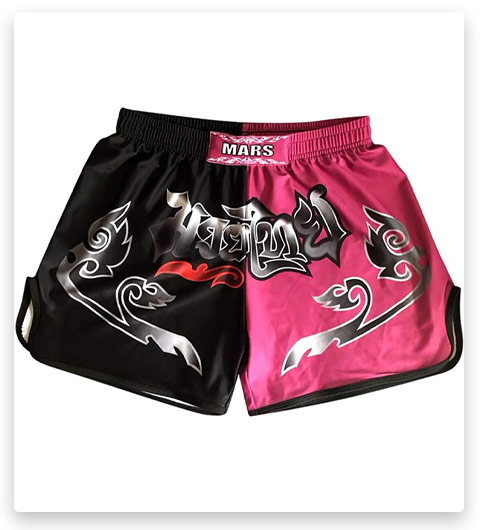 These kickboxing shorts are the best for training and competition! They have an aggressive and interesting design and are distinguished by their bright colors. Lightweight, soft, stretch fabric, and embroidery. They are made from 100% polyester. The material does not cause allergic reactions. Unique technology wicks sweat out. They have good air exchange and ventilation. High-quality and durable construction allows the shorts to last a long time. The skin stays dry throughout the entire training process. The wide belt keeps the shorts securely at the waist.
11# FLUORY Kickboxing Shorts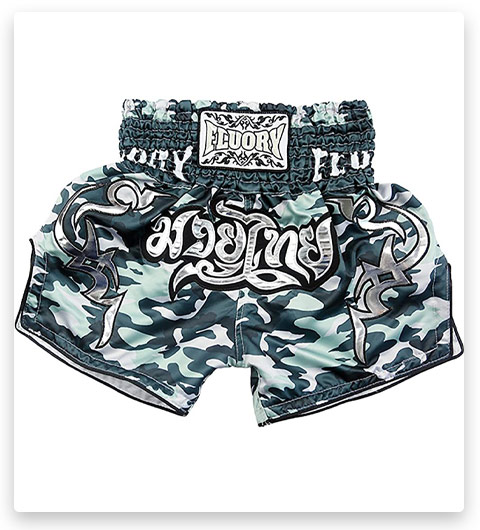 These shorts are made using the most advanced materials that ensure durability and durability of the equipment. Side slits provide maximum comfort. This increases the flexibility of movement. And the high waistband provides a secure fit. The shorts provide complete freedom of movement and the ability to kick intensively during training or a fight. The model is made in contrasting shades and features a luxurious design in Asian style.
12# Hawk Unisex Kickboxing Shorts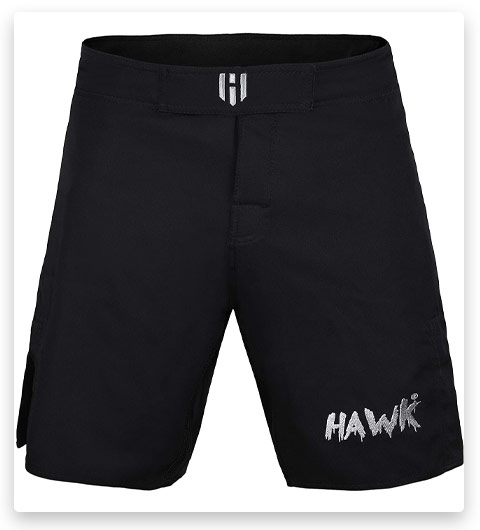 If you are looking for a great model, then these kickboxing shorts are really for you. In particular, we are talking about a satin product, made flawlessly from all points of view. The inner drawstring is pulled tight in the right place and goes along with the hook & loop velcro closure, and Hawk's aesthetic taste is recognizable in the nuances and logo placement. They provide 360-degree freedom of movement. They are available for a minimal price and provide high quality.
13# King Forever Men's Conor McGregor Kickboxing Shorts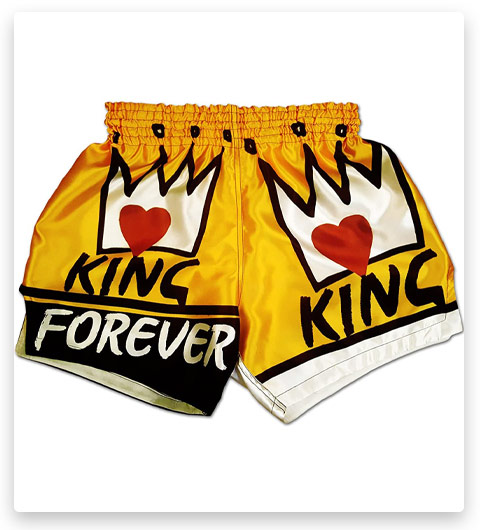 The King Forever shorts are full of fighting spirit and are suitable for all kickboxers! The wide elastic waistband guarantees maximum comfort and a secure fit on the waist during a fight or training. They have bright colors and unusual designs that will surprise everyone in your gym. The color will not fade over time. They are handcrafted from premium soft satin. Strong seams are tear-resistant.
14# SOTF Muay Thai Fight Shorts for Kids Men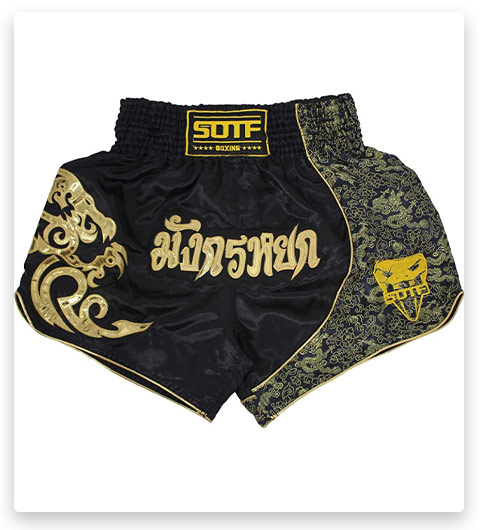 Finally, I suggest taking a look at these kickboxing shorts, which are made entirely of polyester and are synonymous with comfort and durability. In fact, at a reasonable price, this is a really high-quality model with solid construction and perfect comfort. Exquisite design and a wide range of colors. After washing, the shorts do not fade and retain their shine.
Train Your Body and Mind with Kickboxing
Kickboxing is a relatively young sport and yet there are already a large number of people around the world who are enthusiastic about this challenging martial art. Those who choose kickboxing not only improve their physical fitness but also improve their response. Many other valuable qualities are also practiced, such as discipline, perseverance, and fairness. That is why this sport is highly recommended for children.
This appeal of kickboxing is probably also due to its versatility. Kickboxing is somewhat similar to classic boxing and various Asian martial arts. Athletes use their arms and legs during combat so that the entire body is stressed during training and competition. But some kickboxers are driven by more than sporting ambitions. Kickboxing is also ideal for self-defense. Whatever your goal, you should have kickboxing shorts for great agility and comfort during training.
Properties of Good Kickboxing Shorts
Good kickboxing shorts should be made of a durable, extremely hardwearing material. It can be a synthetic fibre material (such as polyester), but cotton will work as well. Both materials have their own advantages. Cotton is a skin-friendly material. Natural fibres absorb sweat well and thus have a thermoregulatory effect. Polyester is not only extremely durable but also very easy to clean. Easy to wash and dry after training. It goes without saying that the seams and the belt must be very strong. But the most important feature of good kickboxing shorts is the crotch cut.
The special insert provides maximum freedom of movement. Most kickboxing shorts are made of polyester satin, which fits well, and wicks sweat. In addition, the cut of the shorts is usually wide, as dynamic kicks make up the majority of the techniques used in kickboxing. For this reason, the kickboxing shorts are made of durable polyester and have a wide fit. When it comes to shorts design, your imagination has no limits. My review presents a wide selection of different patterns and colors.
A feature of kickboxing shorts is the elastic waist. In fact, in this discipline, the shorts do not have Velcro or laces, but rather have a soft elastic waist that adapts comfortably to the body while providing stability and comfort at the same time.
Freedom of the legs is the core of this discipline and the shorts, in addition to being short and wide, also have side vents. In addition, many athletes roll up the waistband and edges of their shorts to make them even shorter. Freedom of legs is an important thing in this sport. All of these features are fundamental to choosing the best kickboxing shorts. However, the design also wants to contribute: different brands offer shorts with appliqués, embroidery, fringes, plain or patterned designs. The shine of the fabric makes them all look much prettier.
What Kind of Shorts Do I Need for Kickboxing?
Kickboxing shorts should give you a lot of mobility. In kickboxing, you mainly work with your feet, so you need shorts that are suitable for kicking. Therefore, kickboxing shorts should be slightly wider at the crotch and thus give you more freedom of movement. Kickboxing pants are usually sized according to body size. For example, if your height is 1.80 m, you should buy 180 cm pants.
Why Can't I Wear Regular Sports Shorts?
The discipline of kickboxing involves a lot of kicks and knees, so it is very important to keep your legs free. Not all sports shorts are wide or short enough, and not all have side vents. In addition, other shorts may have pockets, which will be a hindrance in this discipline. Satin fabric is also not a common material for sports shorts.
How Do I Pick the Best Kickboxing Shorts?
So how do you choose the best kickboxing shorts? The choice falls on two main functions: size and style. As for the model, they are alike. Size is important for your comfort and agility during training and especially in combat. Style is also important because every detail in martial arts can make a difference. Your favorite color or embroidery will give you motivation and energy.
Pay attention also to the materials. One piece of advice that I want to give you is not to rush to find out the price. The price of a product clearly attracts us as consumers, but often forces us to make the wrong choice. Take a look at the specifications of the shorts you are about to buy and compare them to other models.
The style will certainly be the feature that will play an important role, but even so, it's best to prioritize quality and comfort and then determine the style that suits you best. Therefore, compare prices only after a good assessment of the technical characteristics, sometimes a small difference in price indicates a large discrepancy in quality.
Conclusion
When choosing kickboxing shorts, it is important to keep in mind fabric, elastic waist, and width. Design, no matter how important it is, should recede into the background. Pay attention to the correct size so that you don't end up with too tight or too loose shorts. What's more, good kickboxing shorts don't have to be expensive, but they do have to be comfortable and provide more freedom of movement. I advise you to check out the 1# Tuff Boxing Sport Shorts – Best Comfortable Shorts and the 2# Hayabusa Falcon Shorts – Best Design.