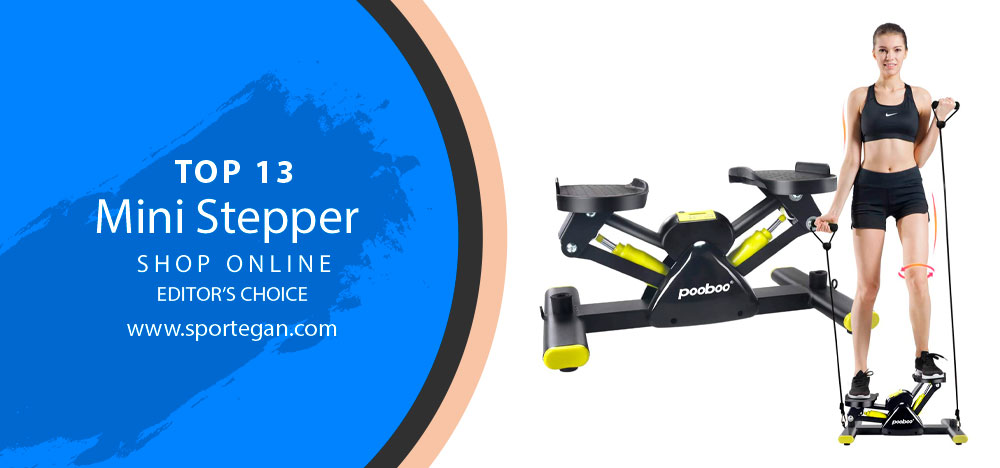 Physical activity is important for staying fit and healthy, and for coping well with everyday life. You don't have to go to the gym to do this, there are also opportunities for daily workouts in your apartment. The best mini stepper is the ideal fitness equipment for anyone looking to exercise with little effort, on a budget, and for those with limited space at home. The devices are ideal for beginner athletes and train, depending on the model type, the muscles of the calves and thighs up to the buttocks. Portable steppers are available for relatively little money and take up almost no space either during or after a workout.
The 13 Best Mini Stepper – Editor's Choice
The best mini stair stepper simulates stair climbing. The training effect is concentrated on the calves, thighs, and buttocks. This review presents 13 of the best portable steppers you can buy for your home workouts. All these devices have many positive reviews and are distinguished by high efficiency, durability, and high quality.
1# Sunny Health & Fitness Mini Stepper with Resistance Bands – Amazon's Choice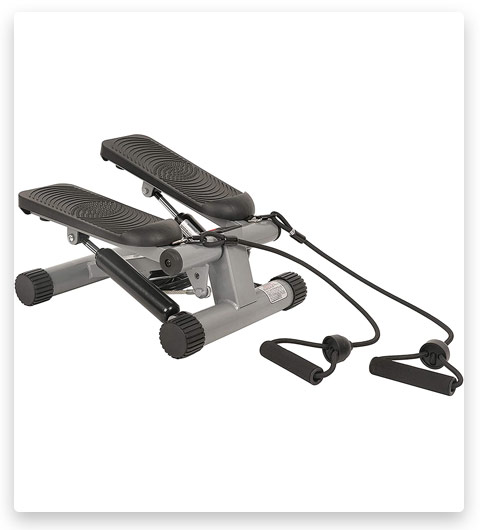 If you want to train your upper body, as well as your legs and gluteal muscles, the model from the Sunny Health & Fitness brand is for you. The included resistance bands provide an effective full-body workout. Whether you want to get in better shape or just want to stay in shape, with this machine you can easily and comfortably improve your fitness at home or in the office with proven exercises.
Even for absolute beginners in fitness, the stepper offers good opportunities for effective training. This is possible due to the different levels of difficulty. You simply adjust the training resistance according to your current fitness level. You can keep track of your workouts on the clear LCD display, which is essential for effective workouts. Whether it's up and down movements or small twists to the right and left, this device promises variety during your workout.
2# HoMedics StayFit Mini-Stepper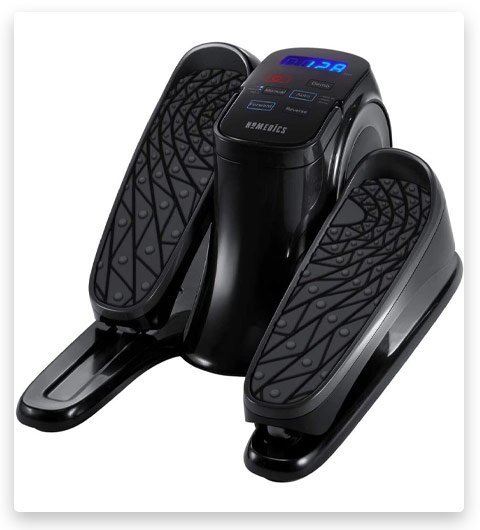 This mini stepper is designed for a maximum load capacity of 120 kg. It works with a hydraulic damping system and is equipped with an LCD on which you can follow the progress of the work. The display shows, among other things, the calorie consumption and the number of steps per minute. According to the manufacturer, the mini stepper is well suited for cardio and strength training, as well as for improving physical fitness. It should support muscle growth, increase endurance, and efficiently burn fat. According to the manufacturer, this simple yet demanding workout should shape the thighs, legs, and buttocks. This simulator has three programs such as warm-up, stretch, or recovery.
3# EFITMENT Fitness Stepper Step Machine for Fitness & Exercise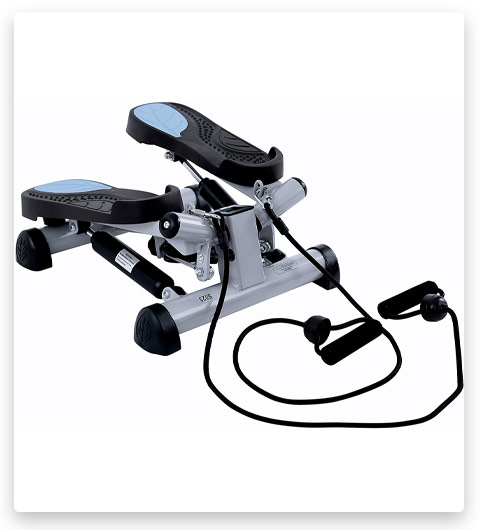 This simulator will allow you to get your body in shape in a short amount of time. The LCD shows the number of steps per minute, the total number of steps, time, and calorie consumption. Thanks to its compact design, it can be stowed away to save space. There are two elastic bands attached to the stepper, with which you can train your upper body and arms at the same time. When training with strings, make sure they are securely fastened. Failure to do so could result in injury if the strap comes loose from the attachment under heavy load.
4# Wagan EL2273 Mini Stepper Master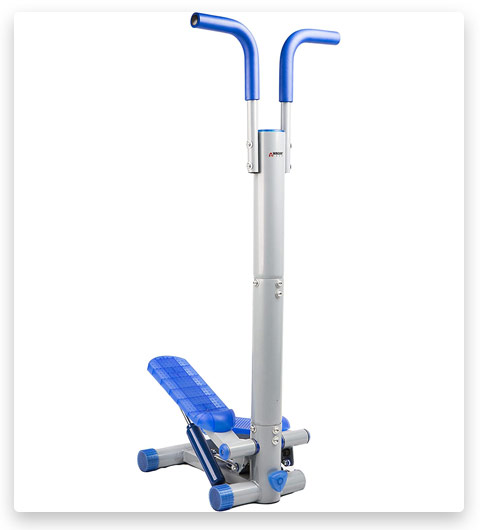 Wagan describes the training stepper as simple in a positive way. Because simplicity is not about performance here, but about ease of use. This should make it easier for the user to understand workout values ​​such as time, calories burned, and steps. Without pressing anything, the computer displays the values ​​one by one on the LCD. During your workout on this simulator, you will use the muscles of your legs, calves, hips, abs, and arms.
5# MaxKare Stepper Mini Stepper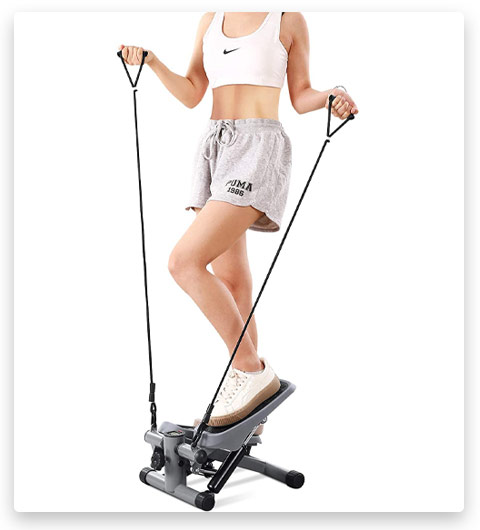 In addition to the classic step function, the device has a swing function that improves the quality of your workout. You can also train your arms, shoulders, biceps, and neck using the special training bands included in the package. At the same time, you train the muscles of the legs, buttocks, and thighs with the help of a stepper. Thus, the stepper replaces two separate fitness devices and provides a comprehensive workout in the smallest space. Whether beginner or advanced, MaxKare is well suited to any fitness level because you can easily set the resistance level. The device is also easy to put away. Thanks to its compact size, you can even take it with you on your trip so you don't miss your workout. The stepper is very quiet.
6# L NOW Adjustable Mini Stair Stepper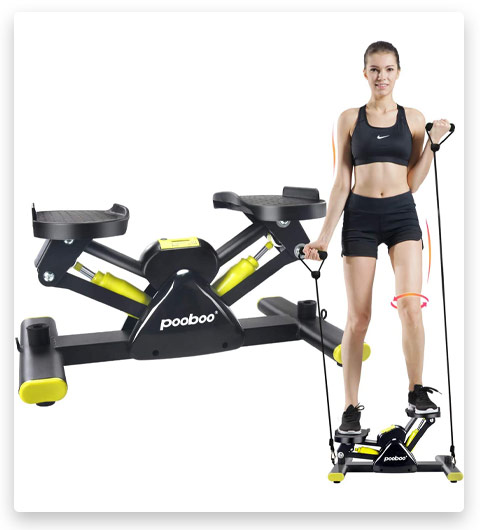 While exercising with the L NOW stepper, you can keep track of your most important data, such as steps or elapsed time, on the multifunction display. These forms of movement are similar to Nordic walking, you also train your hips and glutes. This stepper also comes with detachable training straps. Hydraulic cylinders ensure smooth and quiet operation. This model has a maximum load capacity of 200 lbs.
7# ZINRAY Mini Stepper with Resistance Bands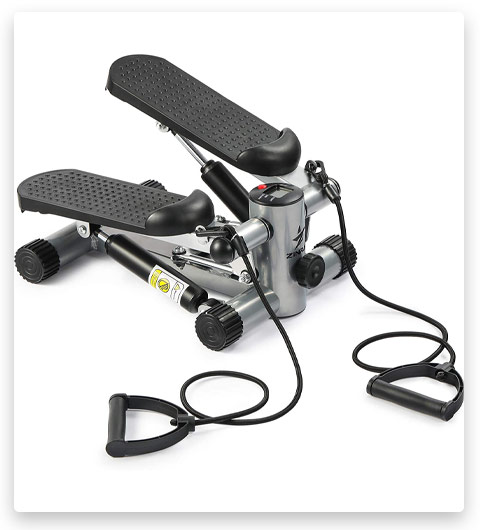 Take advantage of the high-quality technology of this device: thanks to the built-in hydraulic shock absorbers, you can pedal more evenly during your workout and thus promote optimal muscle development in the lower body. You can also train your arms and upper body with the elastic bands included with the stepper. With this device, you can comfortably do a full-body workout at home. The built-in training computer with an LCD allows you to constantly monitor your progress and plan your workout individually. The computer displays the relevant training data: elapsed time, the number of steps, calorie consumption.
8# L NOW Mini Stair Stepper for Exercise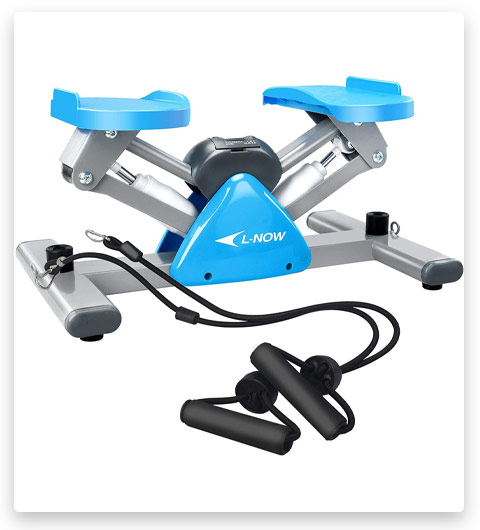 The L NOW Home Trainer is a smart device. Here, up and down movements are also possible, as well as light twists to the right and left, which makes the workout more varied. This form of movement is similar to Nordic walking and trains the muscles of the thighs and buttocks. The adjustable resistance, which allows for personalized training for both beginners and experienced users, is a great advantage. With the included resistance bands, you can also train your upper body, arms, and back. Thus, this mini stepper is very suitable if you want to train several muscle groups at once. You adjust resistance according to your current fitness level and thus you can improve the efficiency of your workout. You can see the progress on a clear LCD.
9# MBAT Mini Stepper Exercise Machine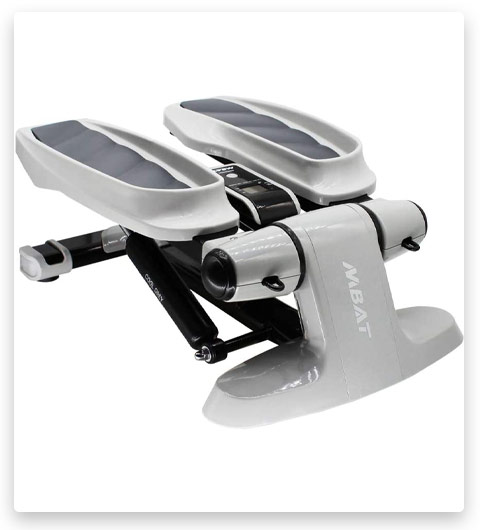 The MBAT Mini Stepper is suitable for both women and men to strengthen the muscles of the legs, thighs, and buttocks. In addition to the strength benefits you get from training with this stepper, you also get a positive effect on your cardiovascular system. Regular training with a stepper will help you get a toned figure and increase your endurance. During training, you can independently determine the pace and adapt it to your capabilities. To make your workout planning effective, use the on-board training computer, which provides you with relevant workout data as you move your legs up and down. In addition to the time spent, you always know how many steps you have taken or how many calories you burned per workout.
10# Afully Mini Stair Stepper for Exercise Fitness Stair Stepper with Resistance Bands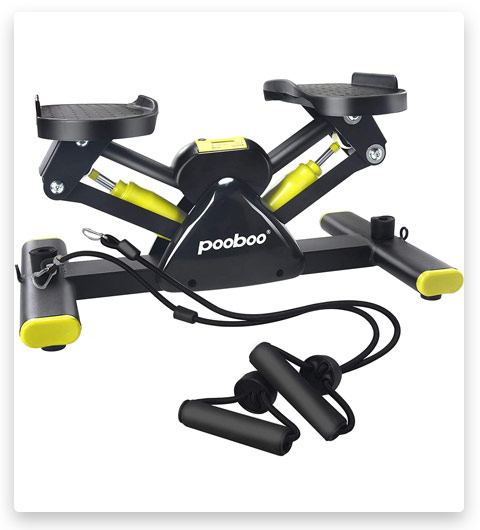 This is a high-quality multifunctional device with which you can train not only the muscles of the legs and hips but also the upper body. The model is equipped with a hydraulic resistance system, which makes your workout especially effective. For a good overview, the stepper has an LCD computer where you can view your most important workout data. In addition to the time spent, you control the number of steps and calorie consumption during your workout. Its compact design allows you to take the stepper with you wherever you go. This allows you to work out at home as well as a workout during your lunch break at the office or while traveling. This will save you a lot of time and will also improve your fitness.
11# JINGOU Mini Stair Stepper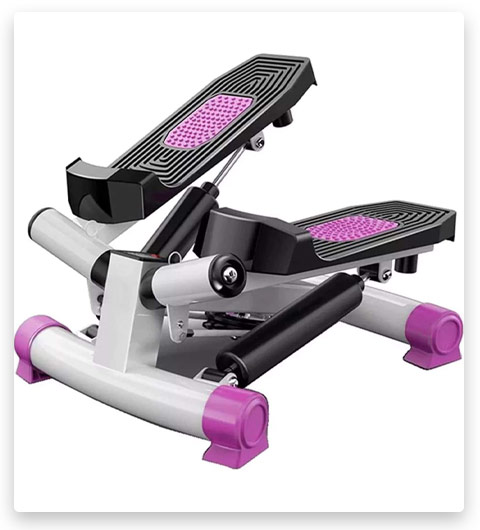 Get fit at home with proven exercise and high-quality technology: The JINGOU Mini Up-Down Stepper features an LCD that allows you to plan and track your progress. In addition to the workout time, the number of steps per minute and the calorie consumption is displayed. The device is robust and can handle a maximum training load of up to 250 pounds. While it is not possible to train your arms with this stepper, it will improve your sense of coordination and balance, as well as train your legs.
12# HAPICHIL Steppers for Exercise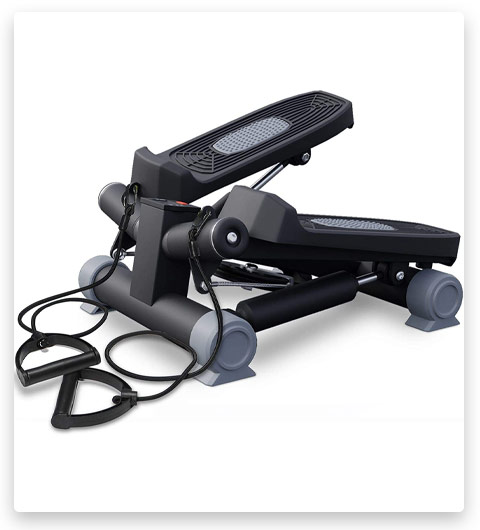 This stepper stands out for its modern design. For arm training, you can attach the supplied elastic bands to the main unit. The equipment also includes an LCD that provides you with useful information during your workout. Large, comfortable, and non-slip pedals provide a secure and secure fit. The sturdy frame also contributes to safety. This stepper strengthens the hamstrings and strengthens the gluteal muscles with a stepper. Ideal device for training the calf muscles. A simple way to improve the functioning of the cardiovascular system.
13# Low-Impact Workout Stamina Mini Stepper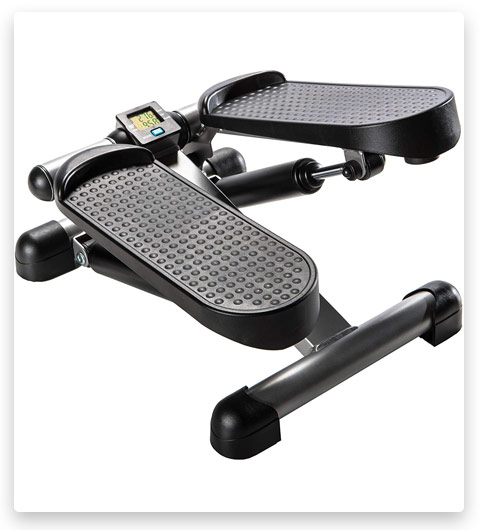 If you have little time to visit a fitness studio, this stepper is what you need. It is a good choice for anyone looking to strengthen the cardiovascular system and exercise muscles in a small space. It offers you the opportunity to train muscles by gently affecting the joints, moving up and down with simultaneous lateral movement and a bi-directional sequence of movements. This model has LCDs so you can always monitor your workout.
What Is A Stepper?
A stepper is a sports item that is used, in particular, to train leg muscles. By training with a stepper, you will also improve your endurance and coordination. Some steppers also include various straps or supports with which you can train your arms and upper body muscles. This versatility in training avoids unilateral muscle tension during training.
The classic stepper consists of two staggered footrests. The sequence of movements is very similar to climbing stairs. You stand with your feet on the steps and alternately move them up and down. This movement has the same training effect on the muscles as climbing stairs. Most steppers are compact and space-saving. In addition to the smaller devices, larger steppers are also offered, such as cross trainers, in which the arms are included in the workout.
What Functions Should A Stepper Have?
In a stepper, you train mainly the leg muscles. Before buying portable stair steppers, first, make sure it is made of quality materials and looks resilient. Then check the maximum bodyweight in kilograms the stepper is designed for. Remember that you should not train for more than 30 minutes per unit, otherwise parts of the stepper will be overwhelmed. This can lead to overheating and faster breakdown. In general, steppers are durable exercise machines. However, do not confuse a stepper with aerobics, which requires a step board.
Steppers with training computers are very popular because the display shows the different values ​​of your workout. This includes, for example, a distance display where you can see how far you have walked in meters. Write these values ​​down to gradually increase your workout! A pedometer, which is a good form of performance monitoring, works similarly. If you are using the stepper for health reasons, you should buy a model with a heart rate display. It shows you what frequency range you are in and what is still healthy and what is not.
Calorie counters or heart rate monitors are also often built into the mini stepper machine but are highly imprecise as they look more like estimates. In particular, you should use your device with a chest strap with a heart rate monitor. It makes sense to have a speed display to track your performance and a workout time display to remind you when it's time to end your workout. Other important points to consider when buying a stepper motor are of course the price, but also the stability and design of the stepper motor.
Conclusion
In cold or rainy weather, not everyone wants to exercise outdoors. Fortunately, there are many ways to exercise at home. One of them is a mini stepper with which you can use all muscle groups. It is a compact design with two stages. With the right model, an effective whole-body workout is possible from the comfort of your home. I told you about 13 models with all the details about functions and characteristics.
If even after reading my review it is difficult for you to make a final decision, then I advise you to narrow the range of your choice to three of these models: 1# Sunny Health & Fitness Mini Stepper with Resistance Bands – Amazon's Choice, 2# HoMedics StayFit Mini-Stepper and 3# EFITMENT Fitness Stepper Step Machine for Fitness & Exercise.
Tags: #mini stepper / #portable steppers / #best mini stepper / #best mini stair stepper / #best mini stepper machine / #best portable steppers / #nordic trak mini stepper