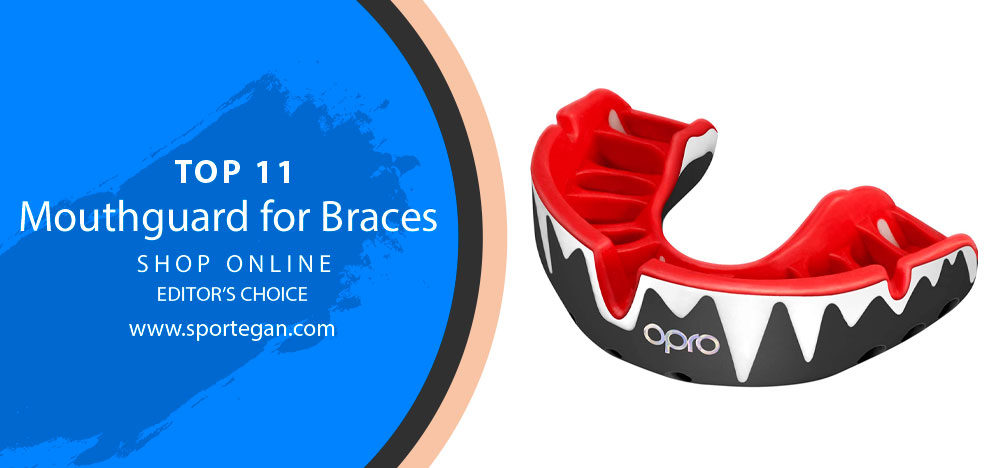 Often novice athletes do not quite understand what a boxing mouthguard is for. For this reason, due to an oversight of the coach, sparring is often held without a mouth guard and without a helmet. Even working at full strength, you can easily injure your jaw or miss a tangible blow to the head. You will have to pay for the treatment yourself, especially if there is no insurance.
Our Top List 11 Best Boxing Mouthguard for Braces – Editor's Choice
Let's break it down in this article about the direct protector of teeth and jaw for boxing. Yes, yes, an article about those things that regularly fly out of boxers' mouths during powerful punches – about boxing mouth guards. I've also prepared a review for you about the 11 best mouthguards for braces on the market.
1# Venum Challenger Mouthguard – Amazon's Choice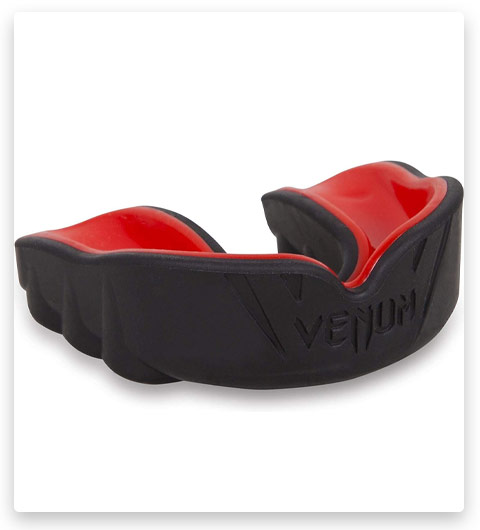 This mouthguard boxing is specially designed to prevent possible injury to the mouth, teeth, lips, palate, gums, and entire jaw during an impact. The alignment of all mouthguard elements has been designed to provide a custom fit for your anatomical features and maximize protection.
A new type of gel was used in the development, which is even more comfortable compared to many analogs on the market, but still does not make breathing difficult, which is most important for intense sparring or a fight in the ring. The lowered rubber frame of the mouth guard is used to brake the shock wave and is designed to disperse the force of the impact. You will not have any difficulties installing the mouthguard on your teeth and it is easy to clean after use. The mouthguard is supplied in a special hygienic cover.
2# Everlast Evershield Double Mouthguard – Amazon's Choice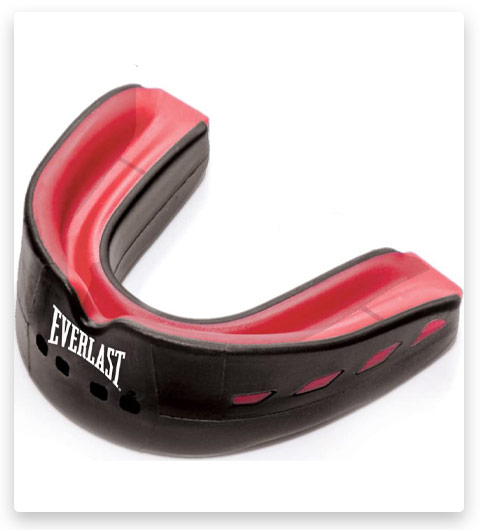 Everlast boxing mouthguard for braces has a Double layered frame for maximum protection. In addition to a hard outer layer and a shock-absorbing foam cushion, this mouthguard is reinforced on the inside with a layer of Evergel gel, which is used in professional gloves for effective protection against injuries. The mouthguard is thermoplastic and after boiling takes on an individual, anatomically adjusted shape. A sterile storage case is included with the purchase.
3# Venum Predator Mouthguard One Size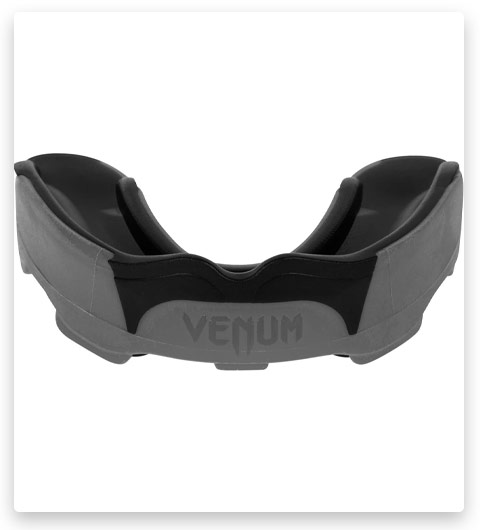 The Venum "Predator" Mouthguard offers a perfect fit, flexibility, and high protection. After boiling, the mouth guard takes the shape and size of any jaw starting from the age of 11. The refined shape ensures the most accurate fit on the teeth, while the low-profile design makes it easier to breathe and allows you to speak with a sparring partner or coach. The dual-core design provides intelligent protection against impact: absorbs the most powerful part of the impact first, then dissipates the shock wave towards the strongest parts of your jaw.
4# FIGHTR Premium Mouth Guard max. Oxygen and Safety Easy Fit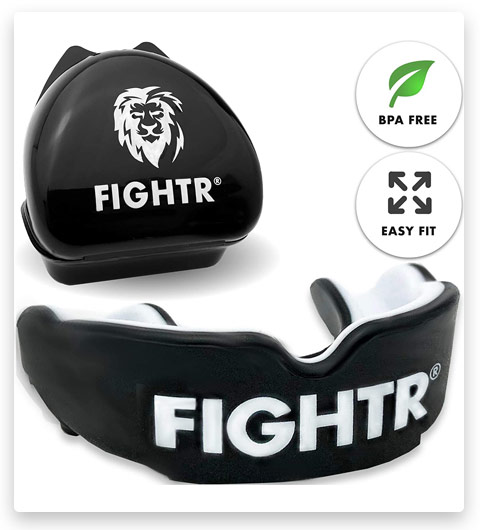 The mouthguard will qualitatively protect your teeth, preventing them from decaying and cracking, and will also reduce the load from impacts on your head due to its light shock-absorbing property. You will feel comfortable while training and sparring. Thanks to the design of the mouth guard, you can breathe freely and this will help you better control the process. The mouthguard comes with a hygiene box in which you can store the mouth guard.
5# Loudmouth Sports Mouth Guard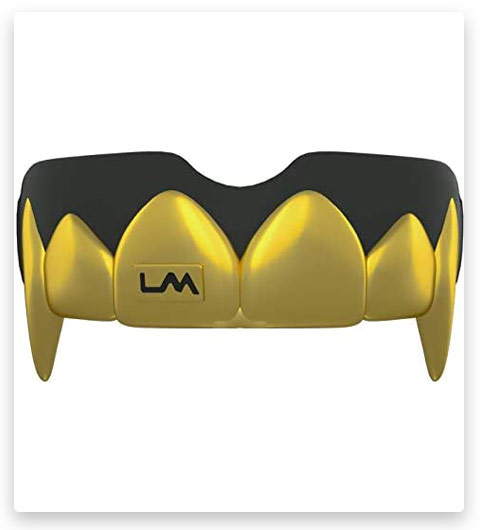 You shouldn't neglect your defense while sparring. You must take care of yourself and get a quality mouthguard. This mouthguard features a unique 3D design that not only provides maximum protection but also sets you apart from all athletes. You can easily adjust the mouthguard for you. Even if you didn't succeed the first time, you can boil it as many times as you like until you get the desired result. You will be able to breathe deeply, so your results will not be worse from wearing this mouth guard.
6# OPRO Platinum Level Mouthguard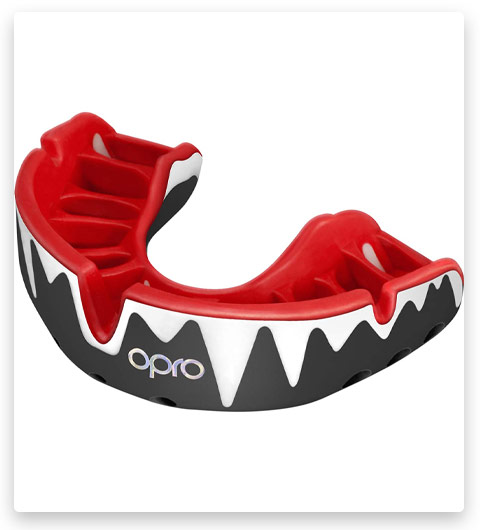 The Opro mouthguard is officially approved by the UFC for use by its fighters during this fight promotion. Consists of a triple polymer layer. Designed specifically to prevent possible oral injuries during sparring. You can easily install the mouthguard on your teeth and it adheres perfectly to your mouth, does not fall off. Your breathing will not be difficult because of the mouthguard. To prevent the growth of bacteria, the mouth guard is stored in a hygienic cover.
7# SISU Mouth Guards Fit Sports Mouthguard for Youth/Adults – Amazon's Choice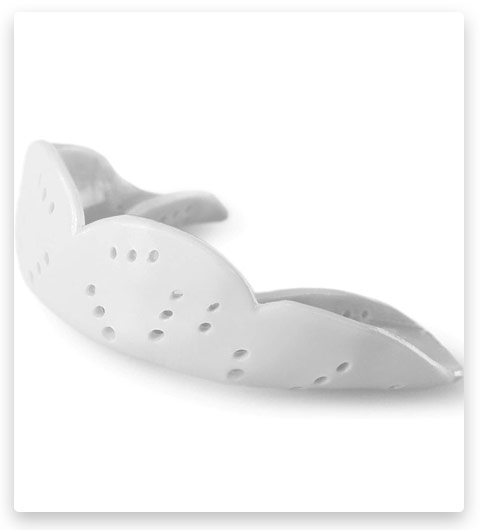 This boxing mouthguard is available in a variety of neutral and vibrant colors. This mouthguard is attractively priced and is suitable for athletes from 5 to 6 feet tall. This boxing mouthguard for braces provides strong protection for your jaw and is only 1.6mm thick. Thanks to its lightweight design, it is virtually invisible in the mouth. Suitable not only for boxing but also for other contact sports. You can easily adjust the mouth guard and do it again.
8# Champs Breathable Mouthguard for Boxing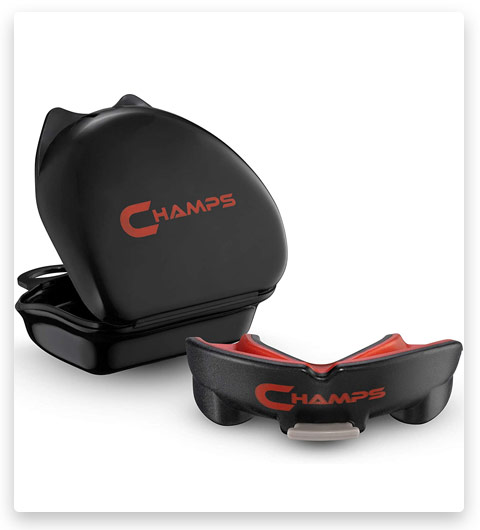 This is what you need to protect you if you practice martial arts. This mouthguard has a durable and tough outer layer, so you don't have to worry about hard blows. The soft gel inner layer will make you feel comfortable. Air gets freely thanks to the ventilation holes.
9# Shock Doctor Gel Max Mouth Guard – #1 Best Seller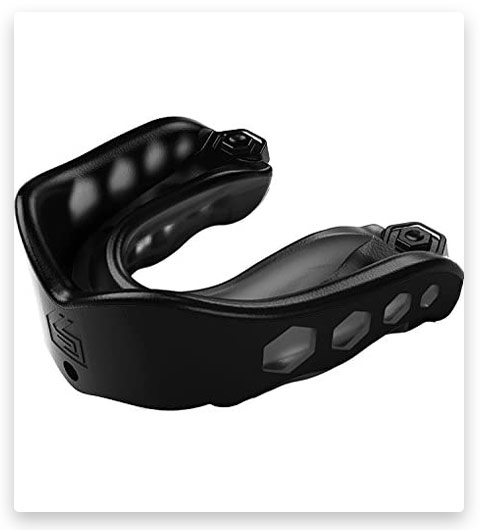 The boxing mouthguard protects the teeth from direct blows, and the lips and cheeks from tears when in contact with them. According to modern rules, an athlete without a boxing mouth guard is not allowed to compete. The mouthguard contains the addition of a gel to soften the blow and to comfortably hold it in the mouth. This mouth guard does not catch your breath. GEL-FIT LINER is a material that conforms to the exact shape of the teeth, ensuring a snug and comfortable fit in the mouth.
10# Shock Doctor Pro Mouth Guard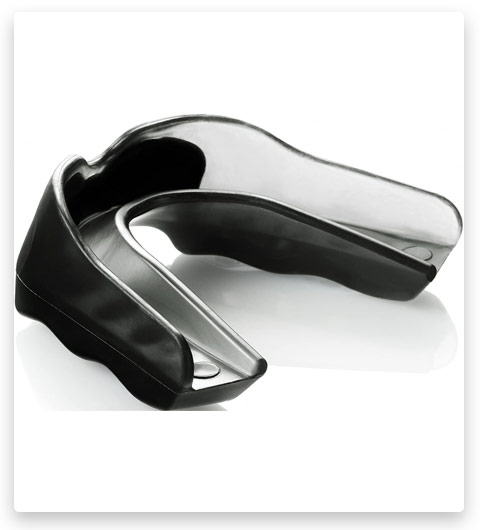 The mouthguard adjusts exclusively to your jaw by boiling. You will be able to change the position many times depending on your needs. Your jaw will be completely safe thanks to the Shock-absorbing front bumper. If you are wearing braces, this is not a problem. This boxing mouth guard is compatible with braces.
11# Oral Mart Adult Sports Mouth Guard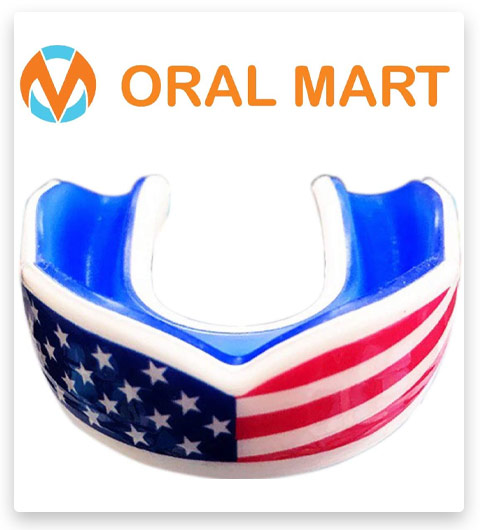 It is a two-layer mouthguard that fits easily with any jaw. It is suitable for children from 11 years old and adults. The outer layer of the mouthguard provides reliable protection against even the most severe impacts, and the mouthguard also has an inner layer of gel. You have the opportunity to choose the color you like best.
What is the Best Mouthguard for Braces?
A mouth guard is a plastic device that is worn over your teeth to protect you from a broken jaw, biting your tongue, and even concussion. Why do you need a mouthguard in boxing? Simply put – it is needed in order to take a punch, to minimize head concussion. It is impossible to participate in sparrings and tournaments without a mouth guard, because the sport is important, and no one wants to live in dental offices. By the way, mouth-guards have found their application in boxing and in contact with martial arts, as well as in hockey, American football, and others.
The mouthguard is one-sided and two-sided. The first is most often used. There are different sizes of mouthguards. Also, the very first donning requires special conditions. It must be dipped in boiling water for about half a minute, put on, and clench your jaws. Then put it in cold water to harden. In any case, a description of the preparation of the mouthguard is always on the package.
Where is Boxing Mouthguard for Braces Used?
The mouthguard is often actively used not only in MMA, boxing, combat sambo, and grappling. This device is used by American football players, hockey players, rugby players.
There is the following classification:
Thermoplastic: I mentioned them above. Allows you to make a mouth guard separately at home
Individual, made specially to order according to the impression of teeth
Standard
The mouthguard was first made in 1902 by a doctor from England. Presumptive material of manufacture – rubber. The first boxer to use a mouthguard was Ted Lewis and Jack Britton. Since 1975, in the United States, wearing a mouthguard as a prerequisite for admission to competition has been put before hockey players.
Today, there are many varieties of it for any, so to speak, taste, and color. Any sports store is bound to have several options in different shapes, colors, sizes, and brands. But so you don't have to spend hours in sports stores, you can opt for boxing mouthguards for braces in my article!
It is also imperative to keep the mouthguard clean and wash it regularly. As a rule, the boxing mouth guard comes in a mandatory case. It is worth checking in advance its tightness and integrity. In the presence of wounds in the oral cavity and problem teeth, the risk of catching an infection from an unwashed and dirty mouthguard increases significantly.
What is the Risk of Refusing a Mouthguard?
What can happen if you neglect to wear it? Serious injury that takes time to recover. A knocked-out tooth is rather an aesthetic component of an injury, after which you will not need to skip workouts (however, it all depends on what the dentist says). A fracture of the jaw will result in a splint for 2-3 weeks. A concussion can affect the mental functions of the brain, which is also very bad. So it is in the interests of the athlete himself to buy a suitable mouth-guard and work out the technique of defense and counterattack. Take care of yourself!
Choosing a Mouth Guard for Boxing
The question "how to choose a mouthguard" is asked by every novice boxer. Mouthguards protect the upper and lower teeth from damage, reduce the force of blows to the teeth, and also reduce blows and incisions inside the mouth. How to choose a mouth guard for boxing in this state of affairs – let's figure it out further.
Important points in choosing a mouthguard are:
The size
Materials
Design
The size of the mouthguard, regardless of manufacturer, is standard – suitable for the vast majority of athletes. However, it should be understood that mouthguards are formed and require some preparation before use, after which they are easily put on all the individual characteristics of the athlete's jaw.
For children, the situation is simpler – manufacturers produce special reduced children's mouth guards. Or in cases where the standard size of the mouthguard is too large for the child's jaw and causes gagging, it is trimmed slightly before the mouthguard preparation process.
The materials for the manufacture of boxing mouth-guards are silicones or thermoplastics of similar composition, which, under the influence of high temperatures, are easily formed and acquire suitable jaw constitutions. These properties are necessary to adjust the mouthguard before putting it on. During preparation, the mouthguard becomes pliable and shapeless, and therefore the formation of an individual bite is quick and easy.
Several manufacturers specialize in the manufacture of multi-layer mouth guards. These models increase protection and comfort – a soft liner improves absorption of any powerful jaw impact.
By design, boxing mouthguards are distinguished – one-sided and two-sided.
Many people do not understand what is the difference between a one-sided mouthguard and a two-sided one. The second is thicker and better protects against impacts, but it has its drawback – it is difficult to breathe in it. This is especially important during competition and during intense training. Lack of oxygen reduces the performance of the athlete and puts additional stress on the heart. It is extremely important to change the mouthguard for adolescents (because their teeth are still growing) and for adults after the wear of the old one or the intervention of a maxillofacial surgeon. As mentioned, it is important to take care of the mouthguard to avoid infection. It is enough to rinse it with a solution of cold water from baby soap after each use or buy a special disinfectant spray.
Preparing the Mouthguard Before Use
It is difficult for uninitiated people to understand that a boxing mouthguard needs to be boiled before dressing. How to cook a mouth guard correctly?
The new mouthguard looks attractive. But alas, this mouthguard is not yet intended for use. In this form, it cannot be correctly fixed on the jaw. The easy-fit boxing mouthguard does not fall off the jaw even when you open your mouth.
To prepare the mouth guard boxing you need:
Mouthguard
Boiled water
Tool for removing boxing mouthguard from boiling water
Athlete's jaw
First, you need to bring the water to a boil, pour it into a container and cool to 90 ° C. Manufacturers often indicate in the instructions for the mouthguard that it is better to immerse it in water with a temperature not exceeding 90° C. Dip the mouth guard into a container of water for about 10 seconds. If the mouth-guard is multi-layered, then its residence time in the water should not exceed 90 seconds. The exact time the mouthguard is in hot water is indicated in the instructions for the mouthguard and can vary significantly from manufacturer to manufacturer. The mouth guard is removed from the hot water and cooled down within 2-3 seconds. Then place the mouthguard on the upper jaw.
How to Fit a Mouth Guard to Fit Your Teeth?
It is better to carry out this procedure in front of a mirror and visually center the correct position of the mouthguard. Start pressing the mouthguard against the side and front teeth (only in this order). After that, you can lightly bite the mouthguard with the lower jaw while pressing the mouthguard through the cheeks to the upper teeth. Maintain the mouth-guard in the mouth for 3 to 5 minutes to customize the bite. Remove the mouthguard from the mouth and immerse it in cold water to attach the result.
That's it, now the mouthguard is ready. In cases of inconvenience, it is better to repeat the processes from the beginning and personally answer the question "how to fit the mouth guard correctly." In addition, it is best to store a boxing mouthguard in an antibacterial case for disinfection and protection from damage. In case of damage to the mouthguard, you need to immediately purchase a new one.
Conclusion
As you've seen, a boxing mouthguard is a must-have for every martial artist. This boxing equipment will keep you healthy and save money on medical treatment. All 11 boxing mouth guards on my list are worthy of your attention. But my favorite is the Venum Challenger Mouthguard. This mouthguard is a reliable protection for your jaw from injury, allows you to breathe freely, and is made of high-quality materials.