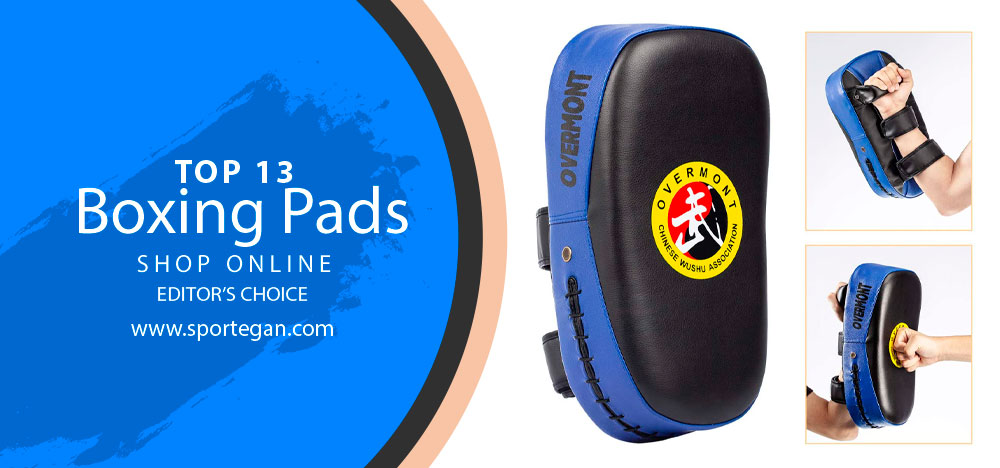 In modern boxing, there are many types of equipment for developing skills and honing technique. Boxing pads are one of the important attributes of sports equipment in training. Punching Mitts are special training equipment used to practice attacking and protective techniques in the process of training an athlete. The pads are used in many martial arts, including kickboxing and muay Thai.
Here Our Top List 13 Best Boxing Pads & Punching Mitts – Editor's Choice
The paws are used by beginners and professionals alike, they are versatile equipment that a boxer has worked with throughout his career. I suggest you take a look at 13 of the Best Punching Mitts on the Market!
1# Sanabul Punching Mitts Essential Curved Boxing MMA – Amazon's Choice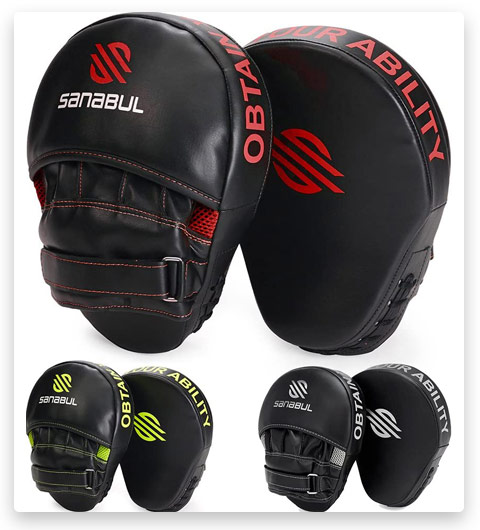 The company develops quality accessories for boxing, MMA, Muay Thai, and other martial arts. These Boxing Pads intended for training in Muay Thai and mixed martial arts MMA. These boxing pads are made of genuine leather. Reliable firmware ensures long-term use in conditions of frequent combat between opponents. They perfectly absorb the impacts of various strengths. The model has a handy Velcro strap. The shape is curved.
2# RDX Boxing Pads Focus Mitts – Amazon's Choice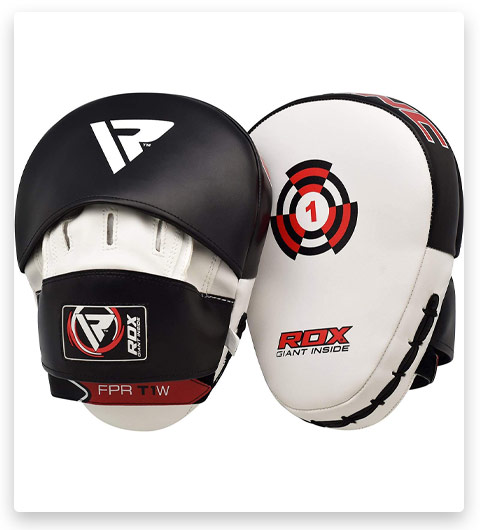 The RDX boxing paws are lightweight yet durable! The impact surface is somewhat concave.  Thanks to its lightweight, the trainer can make quick maneuvers. But in spite of their small weight, boxing paws are strong and well absorb the force of the blow without transferring it to the trainer's hand. On these training paws, two new types of hand protection are used – the outer part of the palm is covered with additional padding, and an additional cushion is made to protect the wrist from injury.
3# Everlast Thai Pad – Amazon's Choice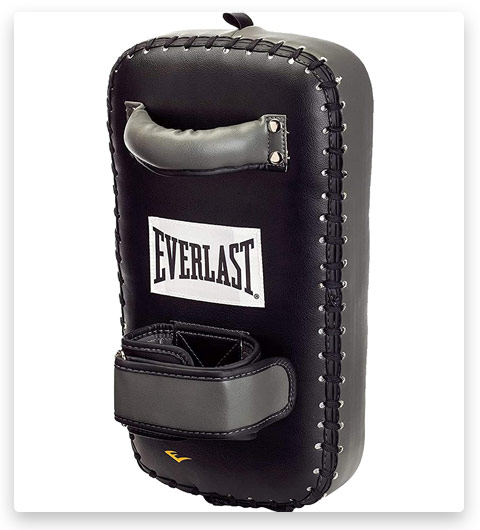 These are professional pads that have a Thai design. They are made of synthetic leather which is a durable and reliable material. In addition to the high-quality material, these boxing pads have shock-absorbing and multi-layer padding. They will not harm your partner and protect him from various blows.
4# Farabi Boxing Pads Muay Thai MMA Taekwondo Kickboxing Punching Training –  Amazon's Choice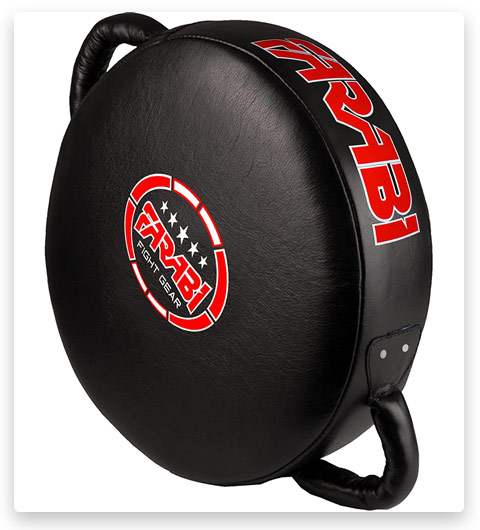 This is the perfect choice for boxing pads. It is suitable for various martial arts and is made with only high-quality materials. This is made from 100% genuine cow grain Nappa leather which allows for the strongest hits. This material withstands any test. There is only a minimal chance of injury. It has EC-Gel C-Shock technology that distributes force evenly and prevents injury.
5# Valleycomfy Boxing Curved Focus Punching Mitts – Amazon's Choice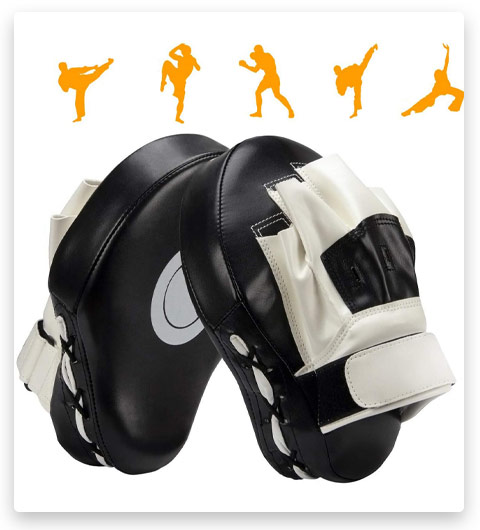 These lightweight focus mitts are perfect for speed workouts. Thanks to its teardrop shape and curvature, your wrist will not be damaged by impacts. Breathable mesh back keeps sweat free from your hands.
6# Overmont Boxing Pads Taekwondo Kick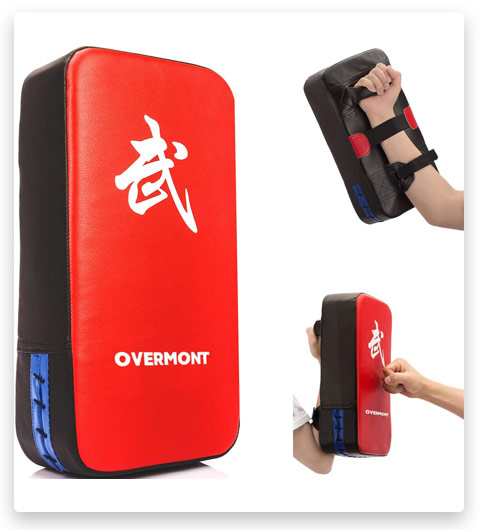 This is a boxing pad suitable for all martial arts people. It has an adjustable armband so it will suit even children. It is made of artificial leather that is resistant to heavy impacts. It weighs only 9 ounces but is very durable.
7# GoSports Blocking Pad Great for Martial Arts & Sports Training – Amazon's Choice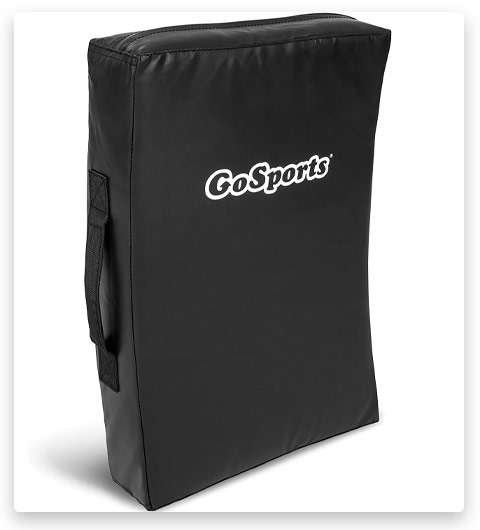 This blocking pad is designed for contact drills for all martial arts training. This is the necessary sports equipment for both amateurs and professionals. It has a foam filler so it absorbs shocks of any force. It is made of composite leather that prevents abrasion.
8# TigerBoss Training Pad One Karate Taekwondo Boxing Kick Punch Adjustable Soft Shield Durable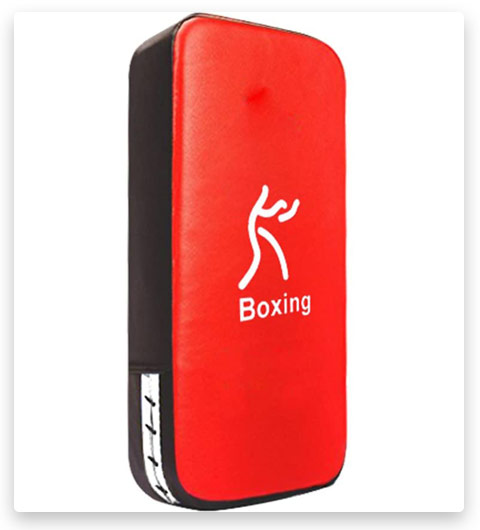 This boxing pad is made of durable PU leather. It protects your wrist and cushions shock. It is also great for boxing, kicking and punching, and other martial arts. Multi-layered soft padding will protect your body while blocking kicks.
9# Juvale Taekwondo Kick Pad – Amazon's Choice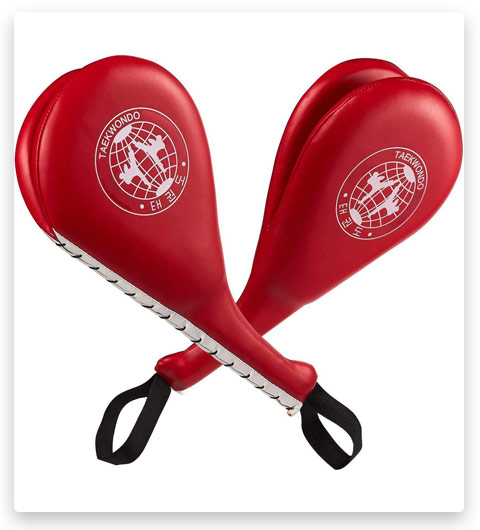 These flexible kick pads are designed for high-speed workouts and hone high and low kicks. They can withstand impacts of any force, and the straps on the bottom will help you securely hold the pads in your hands. Due to their special design, they emit a loud sound when striking, allowing you to determine the strength and accuracy of your strikes.
10# YAHEETECH 2PCS Punching Boxing Mitts – Amazon's Choice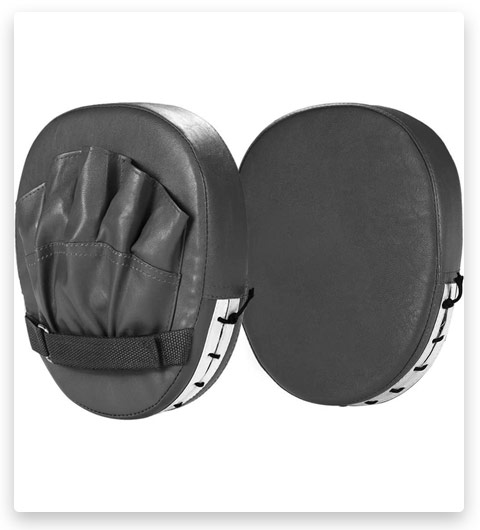 These compact punching mitts are ideal for improving your boxing skills. On the back, there is a comfortable 5-finger glove to distribute the impact evenly during training. The adjustable strap will help keep your wrist securely in place to prevent injury.
11# Overmont Taekwondo Kick Pad with Curved Punching Surface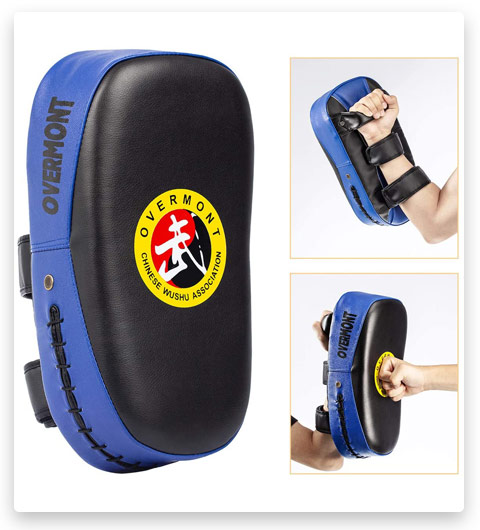 This durable Kick Pad is suitable for both boxing and other sports. It is designed for training kicks and punches, and the curved shape allows you to soften the impact. It can be used by both right-handers and left-handers, and the comfortable grips will relieve you of discomfort during training.
12# Cheerwing Punching Mitts Focus Pads Boxing MMA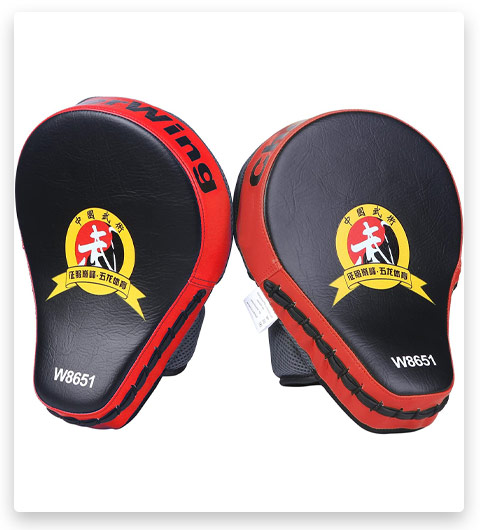 These Punching Mitts are crafted with premium PU leather and foam to keep your hands free from heavy punches from your opponent. The curved shape allows you to hold them firmly and comfortably during your workout. With such an attractive design, these punching mitts will fit perfectly into your gym
13# Hayabusa PTS 3 Focus Punching Mitts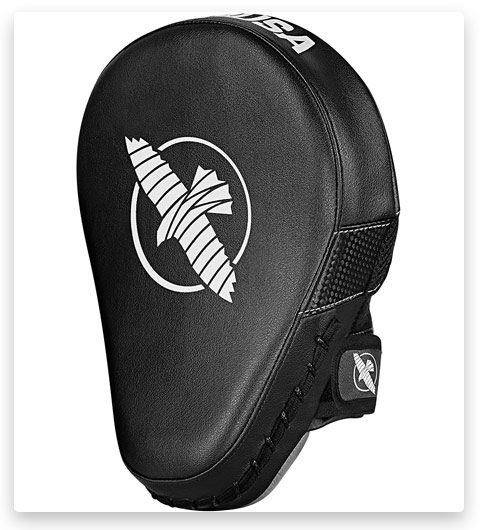 Hayabusa PTS3 boxing paws in a curved design. Made of durable teardrop-shaped material, they are lightweight and comfortable to provide the trainer with good protection and performance. The exterior is made from durable material that does not absorb moisture and is easy to clean.
The hand compartment is made of the elastic material with openings and mesh inserts for excellent hand ventilation. The inner layer of multi-layer foam perfectly absorbs the force of impact, protecting the hands of the trainer. The tines are reinforced to maintain a curved shape. The drop shape avoids scrolling in the event of potential punch misses. The fixing cuff with a Velcro strap keeps the paw on the trainer's arm.
What are Boxing Pads?
So, the boxing pads are one of the main equipment for boxing training, which is a fairly dense oval pillow that the trainer puts on the arm. It is made from artificial or natural leather. Polyethylene foam is used as packing, which makes this shell lightweight on the one hand, and strong enough on the other. A target circle is depicted in the center of the pad. It is necessary for practicing an accurate strike.
What is Training with Boxing Pads for?
"Work on boxing pads" is carried out both for beginners and those who have been engaged in boxing for more than a year and professionally, since it allows solving the most important problems:
Learn and consolidate boxing techniques
Master boxing tactics
Develop a lightning-fast reaction
Increase physical endurance
Master a sense of distance and time
Form clear, coordinated movements
Develop the ability to properly distribute muscle efforts and learn to relax when necessary
All these tasks are solved both individually and in a complex manner, depending on what goal is set by the coach at this particular training session.
The use of pads in training programs is a very effective tool not only for practicing punches but also for improving coordination of movements, learning various maneuvers, and competently moving around the ring. While working with these shells, it is possible to work out various combinations of not only an attacking plan but also dodges, blocks, and evasions from strikes. Thanks to them, you will learn how to move correctly in the ring and develop useful defense skills, as well as develop the reaction, speed, and effectiveness of your own attacks. True, all this is possible only with a competent and experienced coach. He will be able to show you all aspects of fighting, using his boxing pads in the ring.
Types of Punching Mitts
Boxing pads are straight and curved, long and short.
Straight pads are designed for practicing straight strikes. They are flat and medium in size. The pad itself has the shape of an oval; for the convenience of the athlete, a target is located in the middle. Thus, the boxer can effectively practice the power and accuracy of the blow. The classic foot is made of leather and has a polyurethane foam filling. It is hard enough that it is recommended to work with this projectile with gloves so as not to injure your hands. The disadvantage of such pads is not a very comfortable shape. It is not so easy for a coach to hold them in his hands.
Curved pads have a concave or convex shape and are intended for practicing arcuate and angular strikes, as well as various uppercuts. These pads also have a polyurethane foam layer and are small gloves that fit comfortably on the trainer's hand. The only drawback of this shell is that it is poorly suited for direct strikes. It is worth remembering that boxing pads are an inventory that is bought much less frequently than other accessories, so you can spend money on a quality item once because it will serve you for a long time.
Disadvantages of Using Boxing Pads
One of the main inconveniences when working with pads is the inability to train alone. Paws always imply a partner. Moreover, the partner must be constant. At the very beginning, you will have to spend a lot of time to learn together the necessary combinations that you will work out in the future.
If your partners change every time, then apart from the time spent, you will not achieve other results. Remember that the result and further success in sports directly depend on the quality of the equipment you work with. So you shouldn't skimp on the essentials, especially considering that this thing is bought once every several years. Train, develop, hone your skills and success in sports.
Training with Boxing Pads
To learn and consolidate the boxing technique, the pads can be used at the initial stage of training, as they help the boxer to master movement around the ring, defense, and strikes in a shorter time. Work with this is carried out at the end of the training. The coach invites his pupil to begin with the simplest movements to practice defense and strikes. The coach makes sure that all fighting movements and their combinations are performed correctly, that both belaying and protections are carried out in a timely manner, that the boxer correctly distributes his body weight, maintains the required distance, and takes the starting position in time for further work.
One of the exercises with punching mitts is "back and forth", in which the trainer moves forward or backward at different speeds. The trainee moves in the same direction, observing the given distance and striking straight light blows on the left pad. A similar exercise is "to the sides and in a circle".
Both exercises are used to study an attacking or counterattacking direct blow to the head with the left. The main thing here is that the boxer learns to keep balance, to apply various blows, and to move easily. Also on this shell, side impacts, right and left, blows from below and a series of blows are practiced.
When preparing for competitive fights, "work on the pads" is one of the most important, since the coach, if the opponent is known, can reproduce the manner of his fight or simply work out with the student different tactics of fighting. Also, using pads, you can prepare a pupil for a successful fight against a left-hander.
Mistakes to Avoid While Exercising
Inadmissibility of training without boxing gloves, because training conditions with pads should be as close as possible to combat conditions. Give trainees the impression that the punch has more power than it actually is. This effect is created if the teacher directs the paw towards the boxer's glove.
When studying blows to the head, the pads must be placed not shoulder-width apart, but closer to the face, otherwise, the athlete's movements during the fight will be sweeping, which leads to a poor hit on the target.
You cannot keep your pads at the ready all the time, you need to give unexpected tasks to the pupil so that he learns to strike exactly at the target. There is no need to devote more to this type of training than it should be, limiting training on other equipment.
Conclusion
If you want your training to be more effective and you become a true professional, then you cannot avoid purchasing punching mitts. I have presented you with a large selection of 13 Best boxing pads that are suitable for all types of martial arts. Choose RDX boxing pads and you definitely can't go wrong!