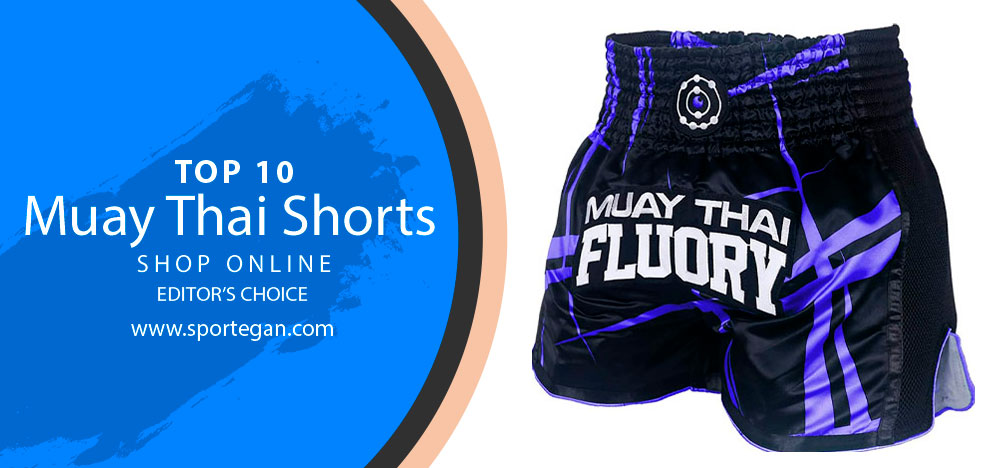 Before starting to engage in any kind of contact martial arts, you need to take care of the selection of suitable equipment. In Muay Thai, shorts are considered one of the most important pieces of equipment. They should be comfortable because the fighter has to kick regularly. How to choose the right Muay Thai shorts and how are they different from regular boxing shorts? Let's figure it out.
Compilation of 10 Best Muay Thai Shorts – Check Out Our Buyers Guide – Editor's Choice
Choosing Muay Thai shorts is a serious challenge for those who practice this type of martial arts. After all, clothes should be comfortable, but also inexpensive. Choosing the right size of shorts is the problem that each participant faces in fights in the ring and hard training in between. Buy Muay Thai shorts from world-famous manufacturers at an affordable price here!
1# Elite Sports Muay Thai, MMA, Kickboxing Shorts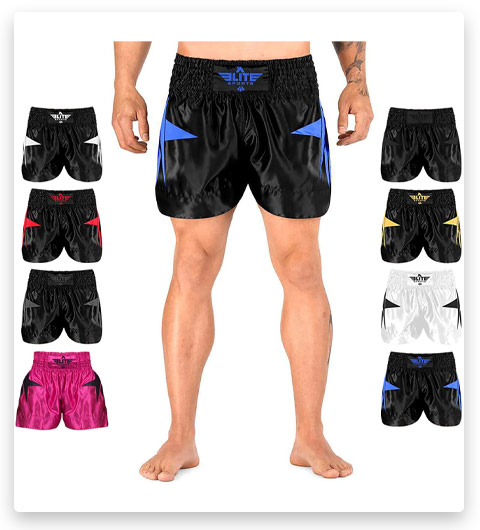 These Muay Thai shorts are suitable for both men and women. They come in a variety of colors and are ideal for Muay Thai training. They are made of microfiber polyester fabric which is tear-resistant, very soft, and breathable. The shorts can be in the washing machine washed. They have a 4-inch elastic waistband with T3 stitching for a secure fit. The shorts have side slits so that your movements are not limited by anything. They are stylish and comfortable Muay Thai Shorts.
2# Venum Muay Thai Short Classic Men's Boxing Fighting MMA BJJ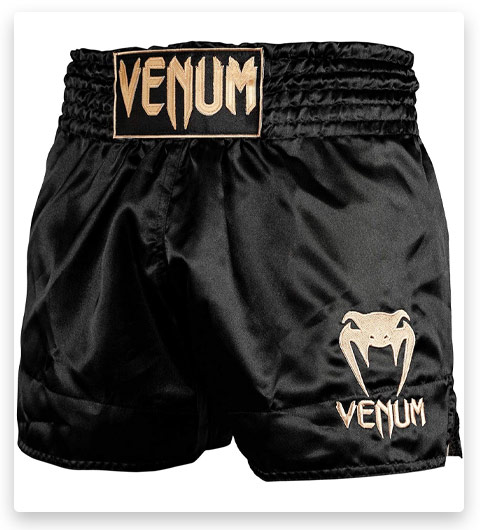 Thai shorts bring a Thai fighting spirit and Thai fighting traditions! The wide elastic waistband guarantees maximum comfort and a secure fit on the waist during a fight or training. Venum Muay Thai shorts are the best choice for all Muay Thai fans looking for shorts with excellent value for money! Made in Thailand from a lightweight, stretchy polyester for maximum freedom of movement. The longitudinal slits increase flexibility and improve leg work. The wide waistband guarantees a perfect fit at the waist during fights. Finally, the Classic Muay Thai shorts feature an elegant design and finishes.
3# Fairtex Slim Cut Muay Thai Boxing Shorts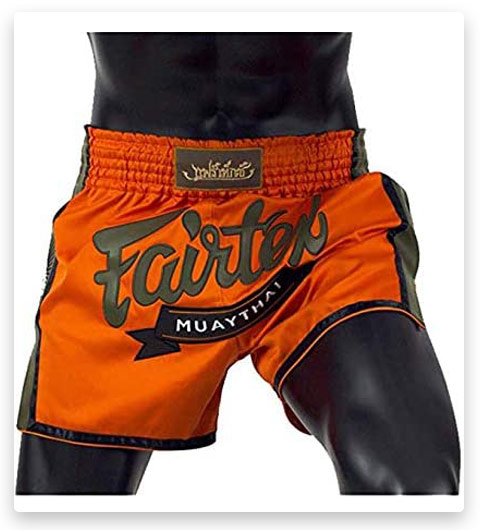 The Fairtex Muay Thai shorts are crafted using traditional Thai technology using the most advanced materials to ensure durability and durability. Side slits provide maximum comfort, and a high waistband with an internal drawcord provides a secure fit. The shorts provide complete freedom of movement and the ability to kick intensively during training or a fight. The model is made in contrasting colors and features a luxurious design in Asian style. Fairtex boxing shorts are made of satin and decorated with spectacular patterns, suitable for fights of any level and as training equipment.
4# Hawk Sports Muay Thai Unisex Athletic Shorts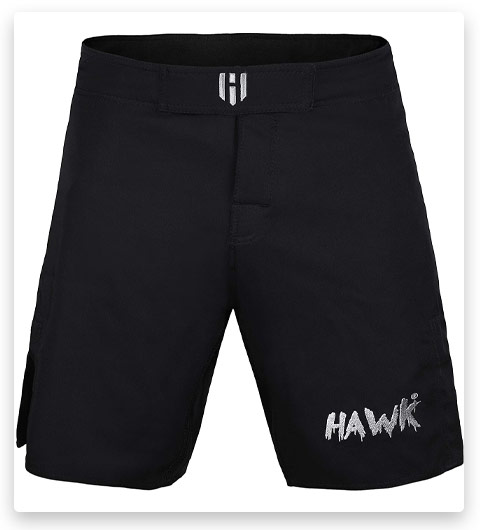 These are incredibly lightweight shorts that are designed for Muay Thai training. They are slightly longer than other shorts, so they are perfect for those with long legs. They also fit perfectly with the Hook & Loop Velcro closure with inner drawcord. They are made of elastic micro-fabric and are excellent at wicking away perspiration. The classic black color of the shorts will suit any athlete.
5# Anthem Athletics Classic Muay Thai & Kickboxing Shorts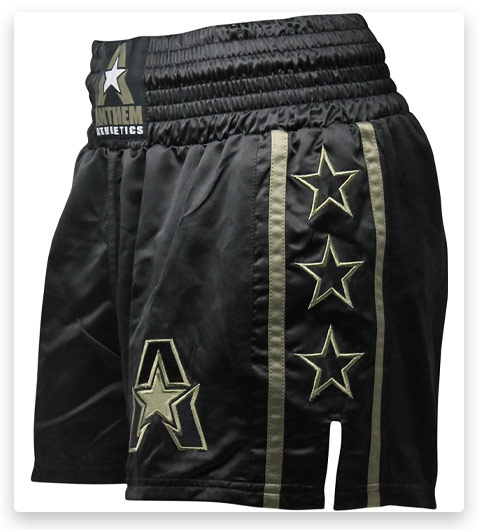 Anthem Muay Thai shorts are the best for training and competition! Aggressive and interesting design, bright colors. Indelible drawing! Lightweight, soft, elastic fabric. Unique sewing technology wicks sweat out. Good air exchange and ventilation. They are incredibly high quality and durable, they will last a long time. Your skin stays dry throughout the entire training process. The fabric does not cause allergic reactions. The wide belt keeps the shorts securely at the waist.
6# Farabi Sports Muay Thai Shorts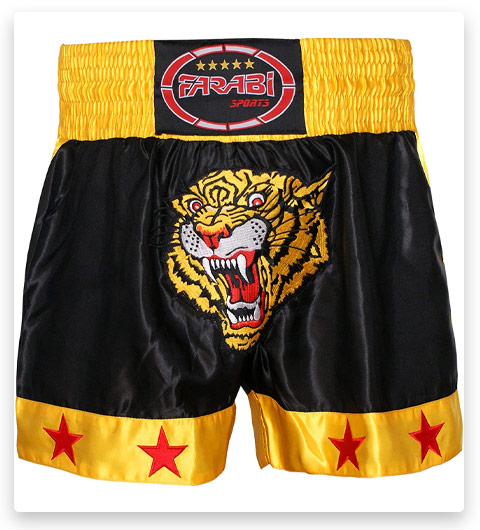 These shorts will appeal to all those who prefer not only comfort but also style. They have a striking design with an aggressive lion pattern. They are made of satin and are therefore hardly felt on your feet. They are incredibly light and soft. They provide ventilation and also wick away perspiration. Your leg movements will not be restricted thanks to the side slits.
7# Tuff Boxing Sport Muay Thai Shorts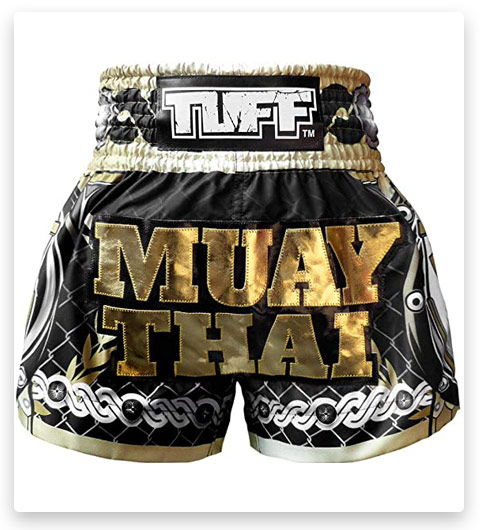 An ideal choice for both men and women. These shorts are available in various colors and prints so that everyone can choose what they like. They are handmade and have high-quality seams. They are made of microfiber fabric. The shorts are very lightweight and also absorb sweat quickly and stay dry.
8# FLUORY Muay Thai Shorts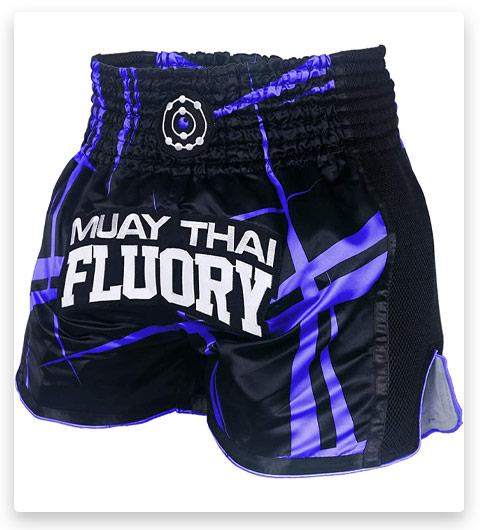 These shorts are designed for training impact sports, the main focus of which is on the impact technique of the legs. Suitable for all types of martial arts. The product has an updated shorter cut with notched legs for increased comfort when working with knees in a clinch. The waist is regulated by an elastic band sewn into the belt. This type of fixation prevents the shorts from rolling and bouncing as you work. The shorts are available in various bright colors.
9# Top King Boxing Muay Thai Shorts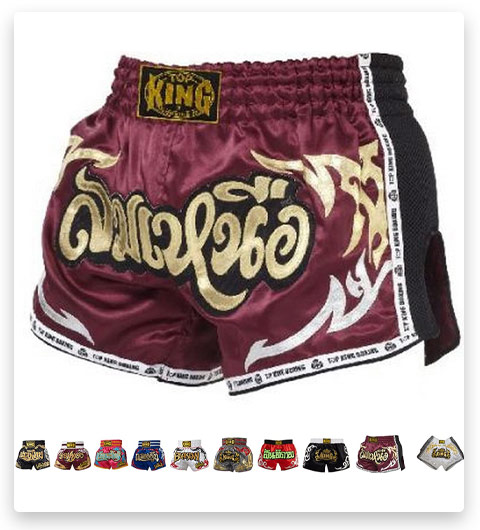 Take comfort and style to the next level with the specially designed Top King Muay Thai shorts. They are designed with very wide legs to facilitate movement during knee strikes. Elastic waistband for maximum comfort and a snug fit without restricting movement Innovative model made from durable polyester with a glossy finish that wicks sweat and dries quickly so the shorts do not stick to the skin when wet.
10# Yokkao Muay Thai Shorts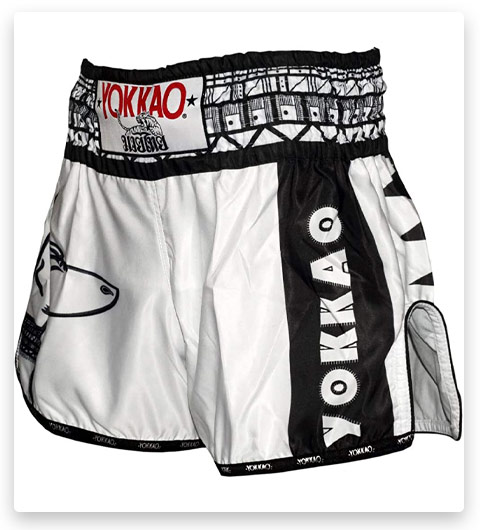 These shorts are completely designed to enhance your Muay Thai performance during fights. The model is shorter than usual, and the cut on the sides allows you to strike freely with your knees and legs without the restriction of movement. They are durable, resist wear and tear, and do not lose brightness. The shorts are equipped with a flexible elastic waistband.
What are the Best Muay Thai Shorts?
The best shorts stand out from the fighting apparel of other martial arts sports shorts like boxing, kickboxing, and mixed martial arts (MMA) because they are much shorter. The Thai climate is extremely hot, and naturally, athletes should be less dressed to sweat less.
In addition, Thai fighters have a habit of showing leg muscles when striking their feet and often rolling the shorts up to the groin, especially on the side of the leg they use most often. Please note that the original models are made to order for small Thais. Therefore, it is advisable to buy a larger size if you want to feel comfortable.
Top-brand models offer a variety of styles and designs, made entirely of polyester and satin for a soft sheen and a unique tactile feel. The combination of these two materials makes it durable and wear-resistant fabric.
Given the type of shorts made of synthetic material, it is recommended to have more pairs for each workout or fight. Typically, Muay Thai fighters have 4 to 8 pairs of shorts because they find it disrespectful to wear dirty clothes.
How to Choose the Right and Not be Wrong?
Muay Thai is a fighting discipline in Thailand that consists of a set of kicks and punches with elbows or knees, that is, with eight body parts that act as a point of contact. For anyone practicing this discipline, it is important to consider not only the importance of technique but also wearing Muay Thai clothing in order to be able to move flexibly and easily and without restrictions, especially in relation to the lower limbs, which are especially vulnerable.
Thus, Muay Thai shorts play a fundamental role and their selection should be made based on some characteristics. Firstly, they are short, cover only part of the thigh: this is due both to the need for the leg to be as free and not constrained by tissues as possible and to the fact that it is hot in the homeland of this discipline and it is necessary that the legs remain as open as possible to the air. They also have a wide opening that allows the legs to move freely.
Side Slits. The Muay Thai shorts have side slits that increase the ability to carry out any movement. Another distinctive feature of the Muay Thai shorts is the absence of laces or cords to tie them, replaced by an elastic band that adjusts to the body without creating constrictions or risking loosening during training.
Material. As for the material, they are also focused on comfort. Shorts of this type are available in satin, polyester, or nylon. You have probably heard that Satin is one of the harbors of Quanzhou, from there the material of the same name is actually exported. It is created from a weave of cotton and synthetic fibers. The material is so durable that it makes excellent competition shorts. Satin does not lose its appearance after a lot of washings, thus, it shines for a long time. It resembles silk by certain properties, so the price is identical. Satin shorts are expensive, but they have gained unprecedented popularity in the market and are also in demand among boxers.
Polyester is a common synthetic material, strong in structure, not afraid of exposure to ultraviolet radiation. Shorts of this kind are in demand just as much as satin counterparts, but they are not so expensive. As for nylon, this is also a synthetic material, but if we draw a comparative parallel with the previous two options, it is cheaper, that is, the price of shorts is also reduced.
Regardless of what material the sports shorts are made of, as well as not looking at their colors, ornaments, and inscriptions, I have offered you a large selection of Muay Thai shorts that will satisfy everyone, even the most fastidious buyers. When choosing shorts for participation in Muay Thai competitions, you need to keep in mind the quality of the material, not the cost of the shorts. By purchasing a cheap analog, you will still come to the conclusion that you have to buy high-quality shorts. Thai boxing is interesting not only for the male sex but also for the beautiful ladies, regarding the equipment – there are no differences, except for the sports jersey. As an alternative to shorts, girls can wear a short skirt.
The Size. The shorts must not hinder the movement of the boxer during the fight. Correct sizing is almost 90% of success. Here it is necessary to look not only at numbers or letters but also at the name of the manufacturer because each company has its own dimensional grid. The main parameter to rely on is the waist volume. This is the main criterion by which the correct size is calculated. Knowing the correct size of your waist, you can easily determine the right size and order Muay Thai shorts in the online store, without fear of overlays and absurdities with the size.
Belt. Muay Thai shorts have a wide waistband. It reliably fixes an element of a fighter's outfit, preventing him from falling, no matter how briskly and a lot the boxer moves.
Colors and Designs. In Muay Thai, the tradition is that the colors of the shorts are very bright and have large images of dragons, lions, or any other similar motif printed on them. Moreover, famous wrestlers, world champions have their favorite images that they always wear. You can find the same prints and patterns on the shorts that I presented here for you. The only rule that says about the color of shorts in Muay Thai is that each fighter must wear shorts of a different color during the fight than his opponent's.
Conclusion
Muay Thai shorts have special tailoring and style that allows you to freely use your feet in sparring. Choosing shorts is not easy if you want high-quality gear at an affordable price. I told you about the Top 10 Best Muay Thai Shorts which stand out for their durability and variety of designs. However, I think Venum Muay Thai Short is the best choice.