Groin protection is an essential part of protective equipment in Muay Thai training. In any fight, there is a chance of missing a blow to the groin. And for every man, this is the most unpleasant effect. Therefore, every athlete should have a muay thai groin guard and not neglect this protective equipment in training and competition.
Here Our Compilation of 13 Best Groin Guard for Muay Thai – Editor's Choice
Strikes in the groin are prohibited in all types of martial arts, but nevertheless, there are frequent cases of accidental hits. Needless to say, such hits are very painful and can cause irreparable harm to men's health. I suggest you take a look at 13 Best Muay Thai Groin Protectors & Cups to help you avoid accidents.
1# Venum Challenger Groinguard and Support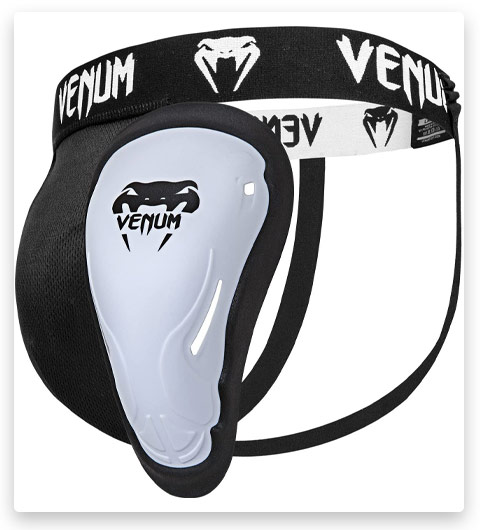 Designed for the most demanding athletes, VENUM Groin Guard combines comfort, unrivaled groin protection, and maximum freedom of movement. The hard shell perfectly protects vulnerable areas from possible blows and unpleasant consequences. Thanks to its multi-layer structure, the shell has an improved shock absorption system. The gel layer allows you to securely fix the shell on the body. Dry-Tech technology provides the necessary thermoregulation and ventilation of the groin area. Wide, comfortable waistband for improved fit and comfort. Product features improved shock absorption, an anatomical design that follows the shape of the athlete's body, and provides unlimited mobility.
2# RDX Groin Guard for Boxing, MMA Training, Muay Thai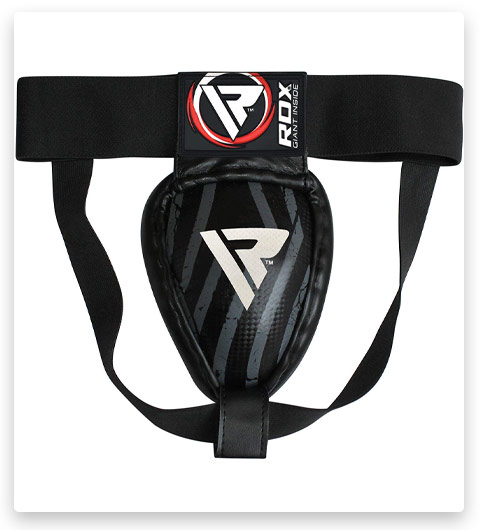 Professional protection of the abdomen and groin. The design features a steel bowl for unrivaled protection against the toughest opponents. This ergonomic adult groin protector is made of tough and durable leather, the impact-resistant metal cup is designed to better protect the most sensitive area, and the soft edges of the cup are designed for comfort during training. The removable bowl fits most bands and the high-quality Velcro system is designed for ease of adjustment and increased safety. Forget about fear when entering the ring. There are no restrictions on difficult fights!
3# Lobloo Thai Cup 2.0 Patented Athletic Groin Cup for Close Contact Sports as MMA, Krav MAGA, Thai Boxing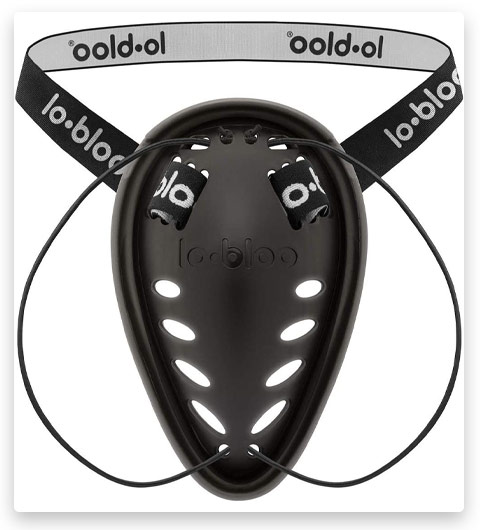 Protect your groin with high-quality equipment! Triangular steel cup for superior impact resistance. The cushioned edges of the bowl provide comfort during training, sparring, and fighting. This protection is suitable for athletes from 13 years old. You can adjust the straps of the muay thai groin guard to fit you. This equipment provides a constant flow of air and ventilation of the groin area. The hard construction perfectly protects against various physical influences: blows or grazes during the struggle. The bowl is made up of two layers, which provide excellent cushioning and minimizes impact on sensitive areas.
4# TMA Metal Pro Groin Guard Protector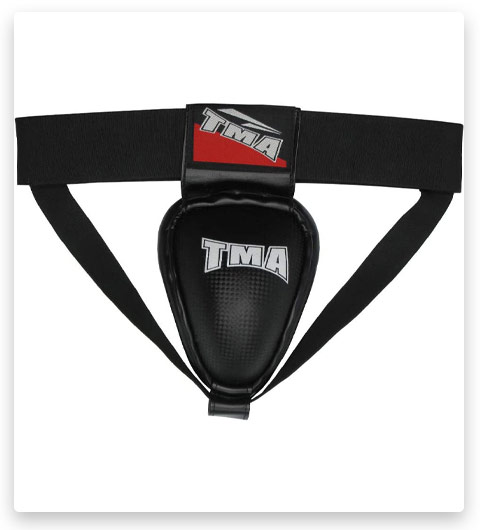 Maya Hide ™ leather allows groin protection to survive boxing, MMA, Muay Thai, and more. The Quick-EZ ™ Velcro system provides easy adjustment and a perfect fit. The anatomical design follows the shape of the athlete's body and provides unlimited freedom of movement. Gel liner minimizes impact and provides a high level of comfort. The bondage is comfortable, does not restrict movement, does not rub, and perfectly lets air through.
5# RDX Groin Guard for Boxing, MMA Training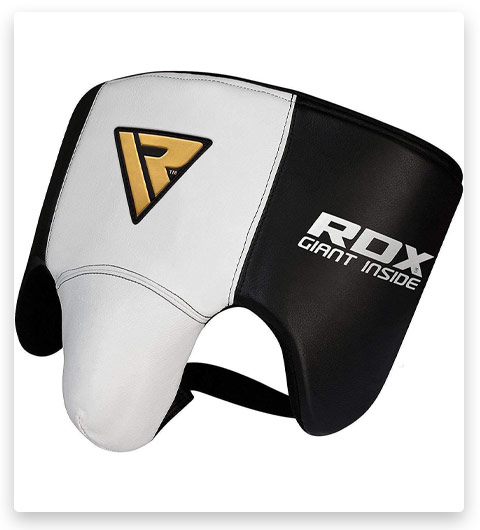 Send the pain shock to retirement and keep your distance from all brutal punches with this forward defense. Formulated with high-tech gel for superior force absorption, firm skin that does not crack under pressure. A sturdy knit lining provides extra support and comfort, while an easy-to-use Velcro system provides a perfect fit. Due to the Velcro, it is very convenient to put on / take off the structure in the gym, and the super-lightweight will allow you to stay on your feet without losing speed/agility. The best groin protection from rivals, designed for adults.
6# adidas Adistar Pro Men's Groin Guard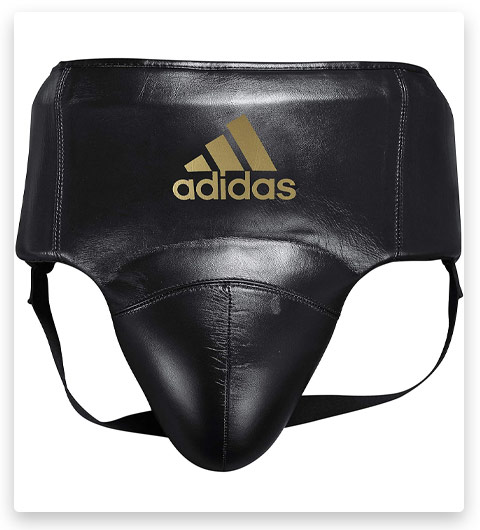 This is a professional boxing groin guard. High-density protective layer. Protects groin, stomach, and kidneys. Leather strap and Velcro closure. Solid cup with a helium pad. Hard as nails cowhide for groin protection withstands the most intense workouts. Smart ergonomic design with lightweight construction provides increased mobility. Solid polymer cup, reinforced with a double layer of closed-cell foam to resist point-blank shocks.
7# Shock Doctor muay thai groin guard  Ultra Pro Supporter Jockstrap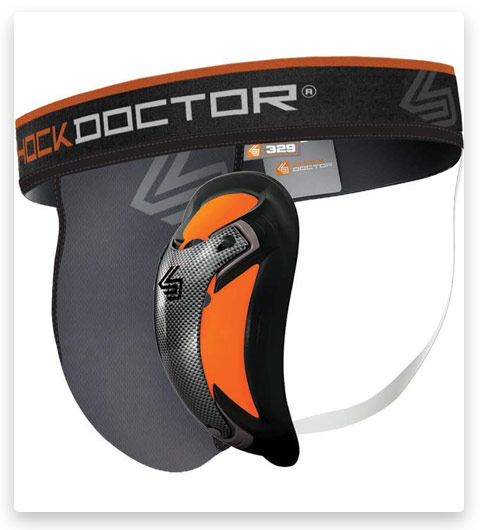 To be on the safe side, purchase the Ultra Supporter with the Ultra Carbon Flex Cup from Shock Doctor. It will reliably protect your groin from accidental injury and dirty tricks. Also, it can be used not only for martial arts, it is suitable for almost any active sport. The bandage has an elastane and polyester belt, impregnated with gel for an unprecedented hold. It won't budge a millimeter until you want it to. The X-shaped harness fastening system will allow you to conveniently position the bandage on the hips. The mesh pocket for the shell is made according to the X-STATIC system, which ventilates the skin and, thanks to antibacterial impregnation, prevents unpleasant odors.
8# SelectCyclingWear Men MMA Groin Guards Box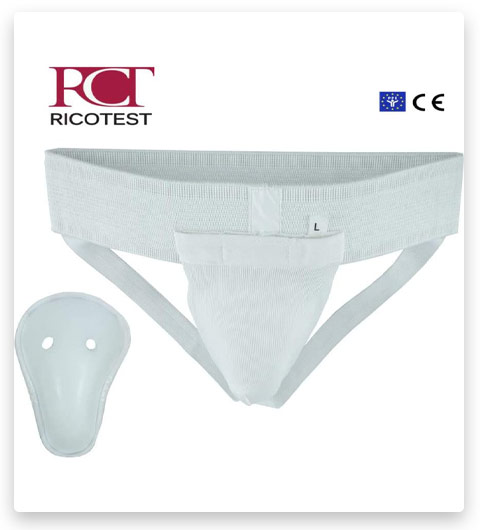 The shell is made in the form of a carbon fiber shield, framed in a plastic frame, and a gel lining to cushion impacts. It is made from soft cotton for maximum comfort. Thanks to the elastic waistband, you can adjust the groin guard to suit you. The bandage can be easily washed by first pulling the shell out of the pocket. Simply wipe the shield with a damp cloth and dry.
9# Tongina Male Boxing Groin Guard Cup Abdominal Protector Man Youth Child Muay Thai Sparring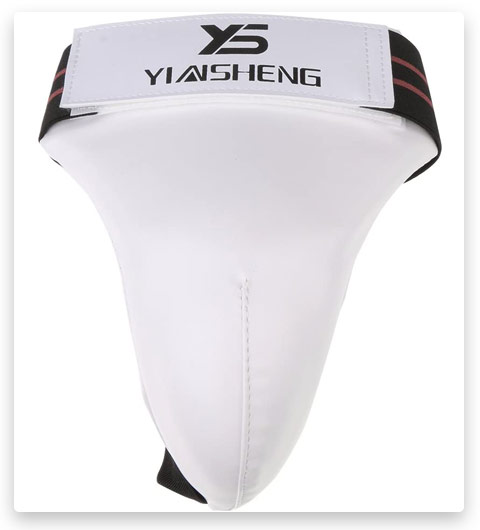 The protection is made with an advanced foam padding. It's for kidney, stomach, and groin protection, this reliable abdominal protector will never leave you open. Handcrafted with quality leather for durability, high-tech foam for serious shock dissipation, a bullet-proof hard-shell cup for a fearless approach, and an elastic adjustable strap for the best fit and comfort, and since there's enough room in the cup compartment you can double the cups to double your fighting confidence.
10# VELO Metal Groin Guard Protector MMA Cup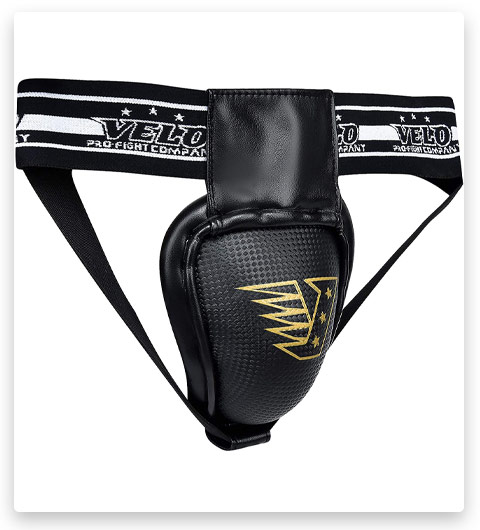 It is a bandage that is worn on the thighs. The shell is made of tough plastic that resists injury to the genitals. Oval-shaped insert (shell), lined with artificial leather, and attached with an elastic band. Suitable for use in both daily training and competition.
11# ADii Gel-Tec Groin Guard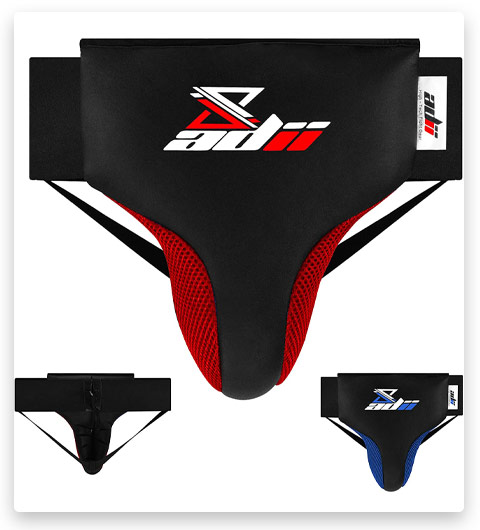 Groin protection for men. Presented from the elastic belt, plastic cups. Reliable protection for training and competition. Quality material and hand made. Protects the genital area from impact and damage. Securely fixed, does not slip during training. Convenient to use. It will protect your health, improve your well-being.
12# PFG Winning Groin Protectors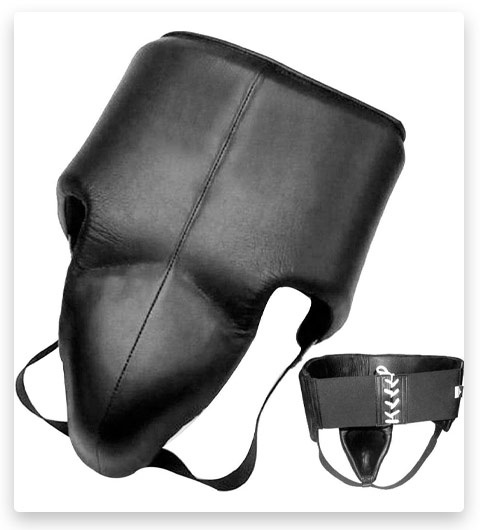 The protectors are designed to protect the groin area during percussion exercises during training and competition in martial arts. It is a bandage that is worn on the thighs. The shell is made of tough plastic that resists injury to the genitals. It is a lightweight design that is almost imperceptible to wear. It is made of artificial leather by hand. With adjustable elastic straps, the protection provides a comfortable, non-slip fit.
13# RDX Groin Guard for Boxing, MMA Training – Abdo Protection Gear for Men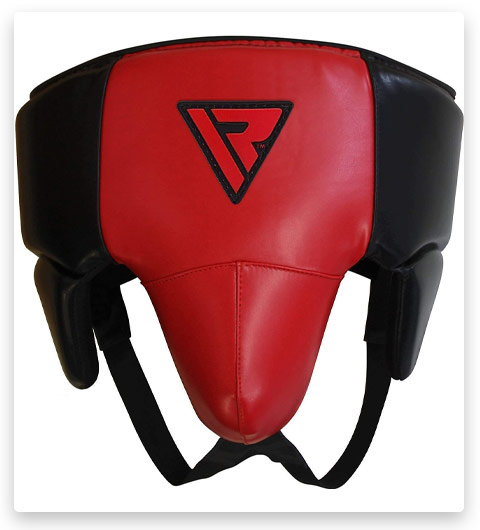 Armored protection for the most sensitive areas. It protects the groin area, kidneys, and stomach. Made of high-tech shock-absorbing foam, it features a highly resistant, pain-free polymer casing and a highly versatile bowl compartment that allows you to adjust the level of attachment, so this groin guard is extremely reliable. Handcrafted with durable Maya Hide ™ material, it is a solid boxing groin protector designed to last.
Why do You Need?
The main task of the groin guard is to protect the athlete's genitals from injury. During a fight, it often happens that opponents hit the area under the stomach with their blows. As a result, his genitals are at risk. If the opponent hits them too hard, the Boxer may be injured.
If in a collision with a hand, the genitals receive minimal damage, then there will be no negative consequences. But if the opponent strikes a strong blow, then the boxer's reproductive function may be disrupted. And an athlete cannot have children. To prevent this from happening, boxers must wear groin protectors.
Groin Protection
There are several types of groin protectors. It is worn under sportswear. Usually undershorts.
The groin protector fits snugly over the genitals. It does not fall from the athlete. Fits snugly on his hips. And reliably protects the genitals from injury.
There are three main types of groin protection:
Compression shorts
A bandage that is worn over the genitals
Special shells. They are used as linings
Let's take a look at each of these protections separately.
Compression Shorts
Shorts with compression properties reliably protect the genitals from injury. In addition, they provide safety to the athlete. The advantage of compression shorts is their versatility. They are designed not only to protect the genitals from injury. Thanks to them, you can constantly keep your muscles in good shape. And also keep them from overheating. And, conversely, hypothermia.
What materials are compression shorts made of?  Compression shorts are often made from a material called stretch. They are made from fabrics with unusual properties. The shorts fit snugly on the legs. They have compression properties. And, at the same time, they do not hinder movement.
What comes with the compression shorts? The compression shorts are recommended to be worn with the shell. This product comes with them. If you wish, you can purchase the shell yourself. From any manufacturer.
Shell
The shell is very popular with boxers. This is the standard groin protector. The shell protects the genitals well. She puts on quickly. It is easily fixed on the body and does not fall off even during intense fights. The shell can be worn for competitions by athletes of any age. There are models for children, teenagers, and adults.
A groin guard of this type is made in the form of a traditional shell. There are special fasteners in its structure. Thanks to them, the product is conveniently fixed in the pelvis.
What materials are shells made of?
Boxing shells are made from the most durable materials. Such as:
Carbon
Polycarbonate
Plastic
And other types of materials
The outer part of the shell has a special rubber coating in the structure. Thanks to him, the product reduces the force of a blow to the groin area. And the boxer takes minimal damage when hitting the opponent's hand. It is very easy to put on the shell.
Groin Bandage
The groin bandage is used by professionals. Its task is not only to protect the genitals but also to prevent damage to the athlete's lymph nodes. The bandage will also protect the boxer from kidney injury. Prevents your opponent from injuring your hips.
Groin bandages are used in professional boxing tournaments where there is a high probability of receiving an accidental blow to the genital area. In amateur competitions, bandages are practically not used. Due to uselessness. Boxing bands have a number of useful properties. They are easy to use. They do not lose their shape. They sit tightly on the body and do not rub.
What materials are bandages made of? Boxing bandages are mainly made of leather. The inner part consists of special protective foam. Due to the presence of modern materials in the structure, the leather bandages have good ventilation. The skin breathes in them. The athlete does not sweat. Also, leather bandages repel moisture. This means you will not wear a wet product.
Muay Thai bandage fixation system
Boxing bandages are fixed with special velcro. Thanks to them, you can adjust the size of the product to your height and weight.
Selection of Protective Equipment
In order for the equipment to effectively fulfill its purpose, it is necessary to select and wear it correctly.
A few simple guidelines:
Choose groin protection taking into account individual anatomical and physiological characteristics
The shell or bandage belt must be exactly in place and tightly fixed
If protective equipment interferes with the free execution of techniques and actions, then it is either incorrectly worn or does not correspond to the required size
When choosing a size, you should be guided by the following international standards:
For children from 4 to 6 years old – XS
Teenagers under 12 – S
Boys with Athletic Physique – M
Men of medium build – L
Large Men – XL
Some manufacturers indicate the size of protective equipment in cm (waist circumference or height). Groin protective equipment is also selected for a specific type of combat sports (it is a mandatory element in boxing, MMA, kickboxing, Muay Thai, karate, taekwondo, fencing).
In mixed martial arts, the shell is sewn into compression shorts (or there is a pocket for installing it), because only such a structure is able to withstand the loads and will not interfere with the fighter performing the complex technical actions that this sport abounds.
Boxers are advised to use wide harness belts with cushioning inserts on the shell. Such equipment will protect not only the groin area but also the lower abdominal cavity (blows to this area are fraught with damage to the ureter, intestines, liver). Neglect of the basic rules of injury prevention can cause irreparable damage to the health of an athlete, so you should not ignore the requirements that prescribe the mandatory use of some form of protective equipment.
Conclusion
A blow to the groin feels like one of the most painful. This is confirmed by the results of statistical studies. Injury in combat sports is an inevitable part of training and competition, which obliges athletes to take the necessary measures to minimize risks. First of all, use special protective equipment. If you're still undecided about your choice, take another look at the Venum Challenger Groinguard and Support model.