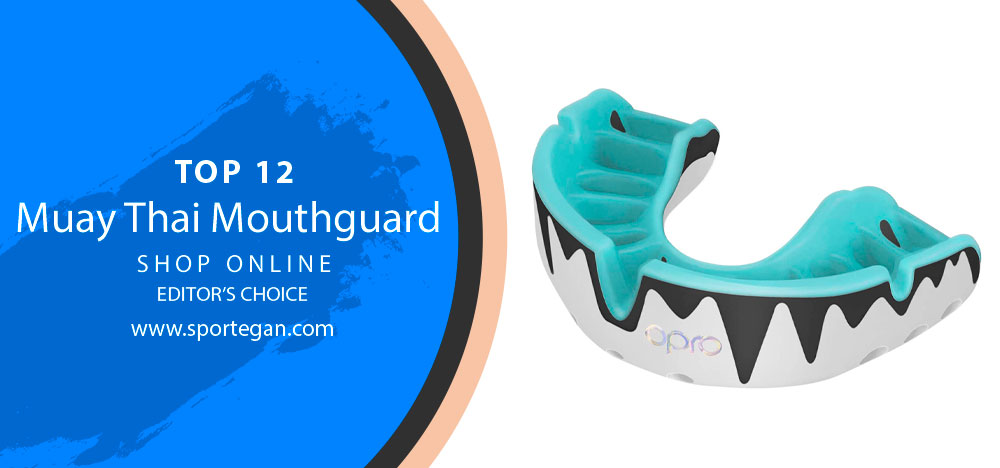 Do you practice Muay Thai? During training, do you use a mouthguard to protect your jaw and teeth? If not, then it is time to consider investing in such equipment.
At first glance, a mouth guard may seem like an insignificant part of your training arsenal. The first impression of use may be that you find it uncomfortable. It can be difficult to breathe during training. It can even induce a gag reflex in some people! However, this small element can have a very significant impact on your health.
If you practice Muay Thai, your face is constantly being pressured and hit. Accidental blows with elbows and others can even break or knock out a tooth. Mouth-Guards make any of your workouts significantly less traumatic and safer!
Mouthguards can prevent all kinds of injuries, from minor injuries to those that pose a serious threat to your athletic performance. In some situations, by using at least a mouthguard, the risk of serious injury is minimized, unlike those who neglect it.
Our Compilation of 12 Best MouthGuards for Muay Thai – Editor's Choice
If you are still not sure about the need for such equipment, I suggest you take a look at the end of the article, where you will find more detailed information about the benefits of dental protection products.  And if you already understand the value of such a sports accessory, then let's take a look at the 12 best models on the market. You can now choose the right mouthguard for you to protect yourself from injury the next time you workout!
1# Shock Doctor Gel Max Mouth Guard – #1 Best Seller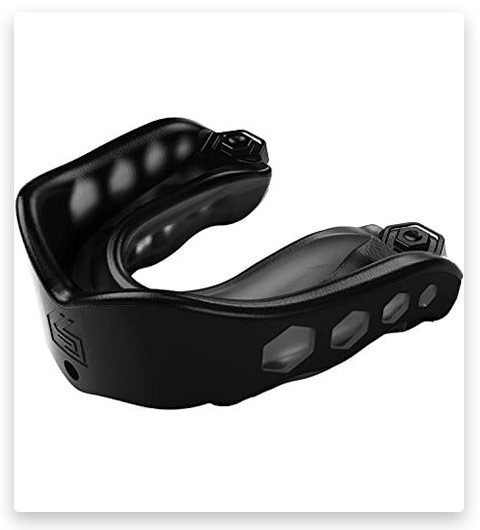 Heavy-duty rubber mouthguard with silicone inserts. The model is designed for adult boxers and protects the gums and teeth from damage and injury when hitting the jaw. The model has a durable rubber base made of EXOSKELETAL SHOCK FRAME material.
A layer of medical-grade silicone GEL-FIT is applied over the base, which provides a soft and comfortable fit and a snug fit to the teeth. This multi-layer construction with a rigid base provides a high degree of protection, capable of absorbing even the most severe impacts. Before use, it is necessary to give the mouthpiece the anatomical shape of the athlete. The mouth-guard is perfect for Muay Thai athletes. The mouthguard is an individual accessory, do not let others use your Mouth-Guard.
2# Shock Doctor Double Braces Mouth Guard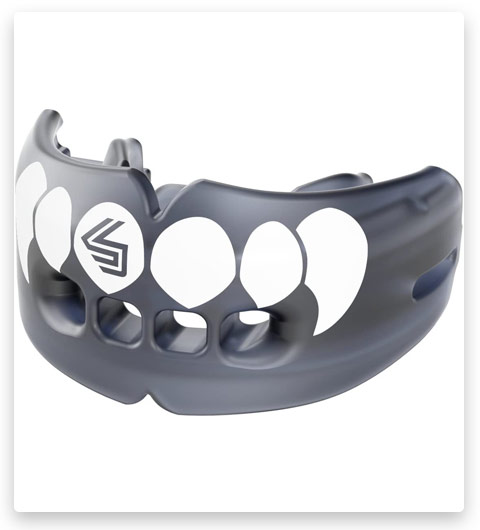 The Shock Doctor boxing mouth-guard provides the necessary protection and comfort thanks to its three-layer structure. The gel layer provides the most correct fixation on the upper jaw, the outer coating remains unchanged after cooking and serves for wear resistance and safety, the lower layer protects the jaw during uppercuts and provides the necessary air supply thanks to the air channels. This accessory is great for Muay Thai athletes. The mouthguard is a means of individual protection, intended for personal use, requires hygiene during storage, requires thermoforming before use.
3# Venum Challenger Mouthguard – Amazon's Choice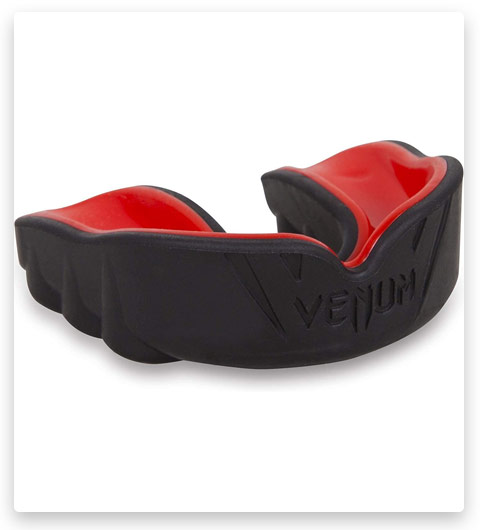 The Venum Challenger Mouthguard is designed to protect teeth, lips, jaws, and gums. Consists of two layers. The first of a high-quality gel for greater comfort with a dedicated airway that will enhance your performance during your workouts. The second layer of rubber, shock-absorbing, and dispersing. It is fitted with a Nextfit gel layer for more comfort. The outer rubber layer softens the shockwave that is scattered towards the more powerful posterior teeth.
4# Venum Predator Mouthguard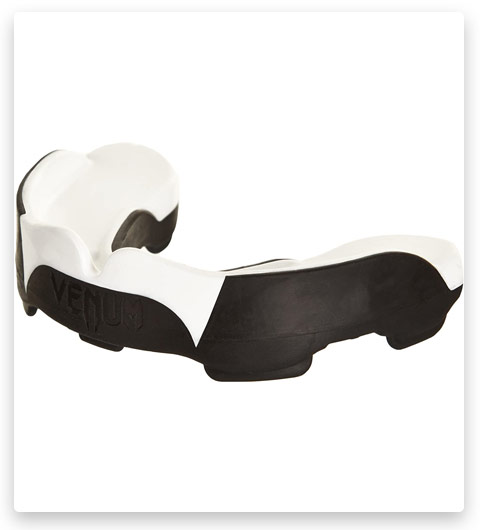 It is designed to provide the fighter with maximum protection and comfort in use. This model has been tested by the best fighters in the UFC. It protects well even in the most unexpected blows. The improved shape provides the most accurate fit on the teeth, comfortable breathing during a fight or training, and also allows you to talk with a sparring partner or coach. The dual-core design provides shock protection by absorbing the most powerful part of the jaw first and then dispersing the shock wave towards the strongest parts of your jaw.
5# Oral Mart Adult Sports Mouth Guard – Amazon's Choice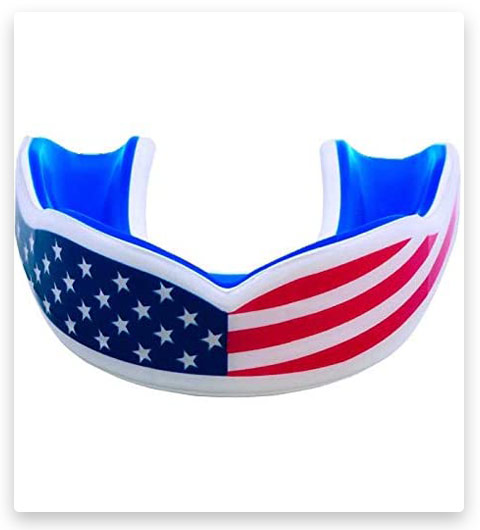 Breathing channels are integrated into this accessory to help you breathe more freely and deeply, as well as to talk easily. The model is designed with technology that fixes the lower jaw in the correct position and allows the athlete to achieve higher levels of shock resistance and, accordingly, show better results. This is a self-adjusting MouthGuards for Muay Thai. Just bite it lightly with your teeth and you will be amazed at how comfortable it is despite its minimal size.
6# YOKKAO Muay Thai Boxing Mouth Guard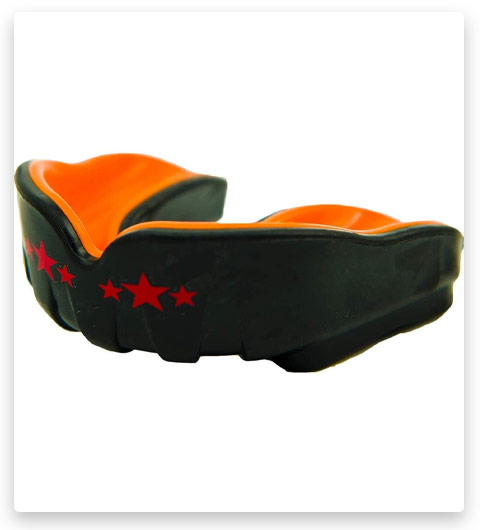 The Yokkao mouthguard's gel layer ensures an accurate impression of your teeth. During sparring or Muay Thai training, you can breathe easy thanks to the breathing channels. The protector area of ​​the mouthguard prevents movement and displacement during compression of the jaw. It is fitted with a dense outer layer for maximum protection. It is suitable for both adults and children. It comes with a special case so you can easily carry your mouthguard and prevent bacteria from growing.
7# RDX Mouthguard Boxing Gum Shield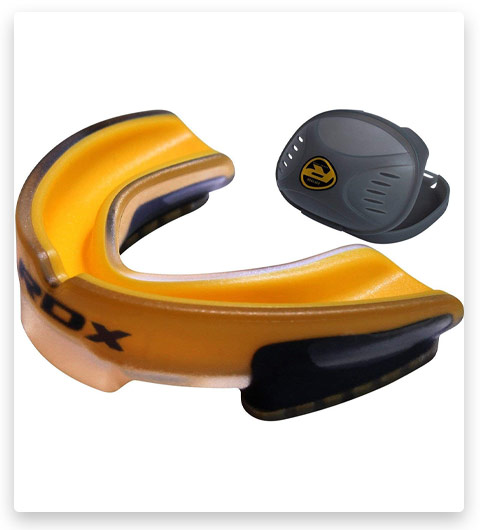 This is a great gel mouth guard for Muay Thai athletes. Suitable for both beginners and professionals. Excellent shock absorption. For convenient and hygienic storage, a storage case is included. The features of the Gel 3D Elite are a lower profile, stronger fit, and a much smaller outer. About 1/3 than a standard mouthguard. The polymer used, made by PolyGel technology, will provide the best protection during shock absorption, the acrylic layer of GelFit will provide an optimal shape for the bite, and the latex-free AcriGel will take care of the safety of the oral cavity.
8# FIGHTR Premium Mouth Guard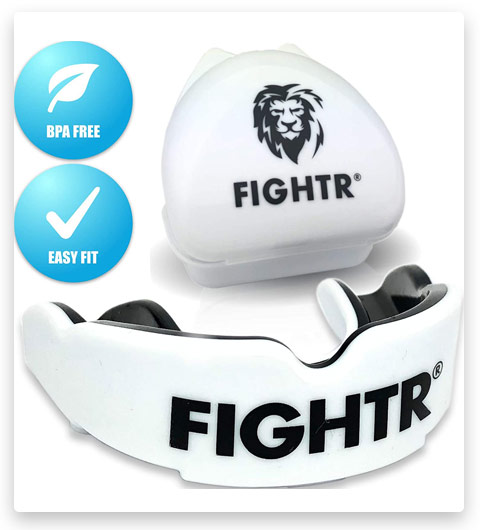 Mouthguard Fighter is a professional, high-quality model for those who practice Muay Thai. During cooking, it acquires the anatomical shape of your teeth. During the fight, it gives confidence and reliability to the athlete. You will be able to breathe deeply and speak well while wearing the mouthguard. Thanks to the protective case, you can easily take the accessory with you and store it in a safe place.
9# OPRO Platinum Level Mouthguard – Amazon's Choice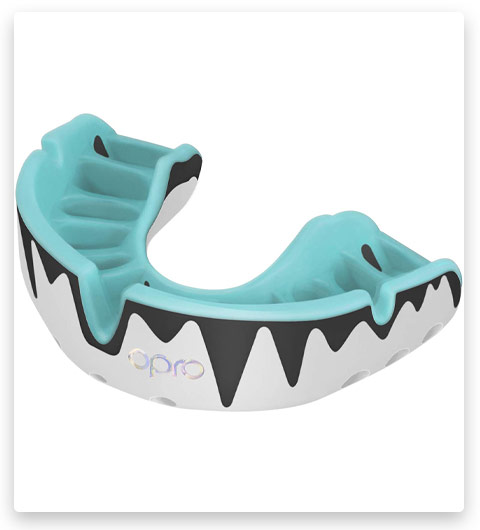 This Orpo mouthguard has been officially approved by the UFC for use by boxers. It consists of a triple polymer layer. Designed specifically to prevent possible injury to the mouth, teeth, lips, palate, gums, and entire jaw during an impact. The alignment of all mouthguard elements has been designed to provide a custom fit for your anatomical features and maximize protection.
10# Champs Breathable Mouthguard for Muay Thai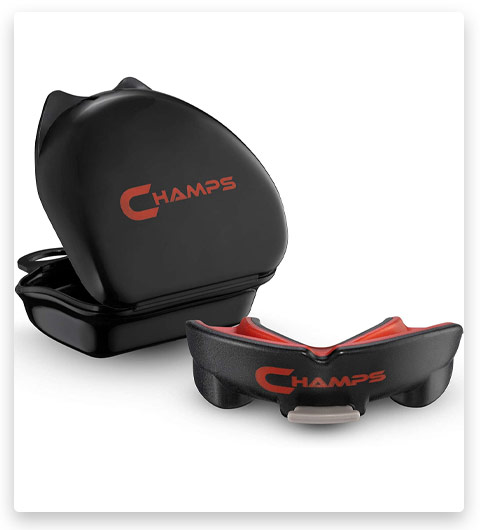 The model consists of a durable outer frame made of poly materials and a gel insert. It fits easily over the teeth and stays firmly in the mouth. Does not interfere with taking liquid. It does not make breathing difficult and allows you to talk freely enough. You will have no problem cleaning the accessory.
11# JTS Mouth Guard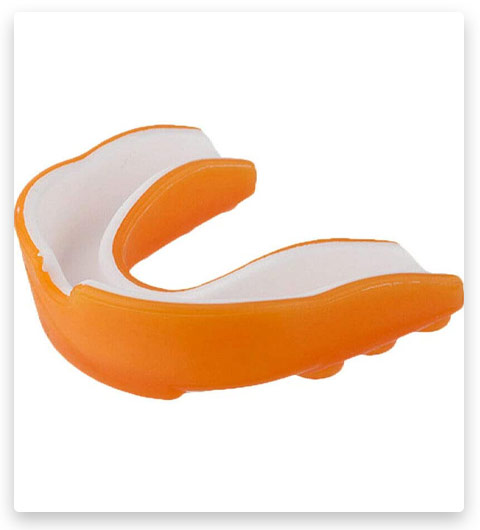 Heavy-duty, dual-layer, gel-coated rubber structure for maximum protection and comfort. Designed specifically not to obstruct breathing. The classic preparation under the bite of an athlete, by softening in hot water.
12# GeekSport Mouth Guard Sports – Amazon's Choice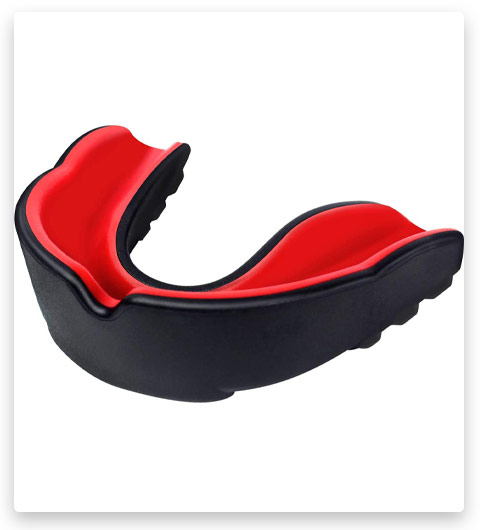 If you are looking for effective oral cavity protection, opt for this model. These teeth and gum protectors are designed to provide a perfect fit by precisely following the shape of your teeth. Leaves no space and therefore prevents impact from reaching your unprotected teeth. This perfectly absorbs impacts and also provides cushioning of the molars. Comes with a stylish carrying case for cleanliness, easy storage, and transport.
What is a Mouthguard?
The boxing mouthguard is a special protective device that closely follows the shape of the human jaw. A correctly selected and worn plate does not cause pain or discomfort to the athlete. The mouthguard is one of the mandatory elements of sports equipment, without which a fighter is not allowed to fight.
Reasons to Choose a Muay Thai Mouthguard
Here are five reasons why a mouthguard should always be used during martial arts training:
Protect teeth. When it comes to the sport of Muay Thai, the need for dental protection seems obvious. Any kicks or elbows on the unprotected face can injure the teeth. If you've been practicing martial arts for a while, you've probably already met someone who has lost or damaged a tooth from a knee or kick. The best way to keep all your teeth in place, no matter what martial arts you are doing, is to train with the mouthguard fitted correctly. I think you will agree with me that no athlete wants to spend hours in a dentist's office and even spend a considerable amount of money.
They help prevent injuries to the jaw and face. The mouth guard helps to protect not only the teeth but also the jaw. When worn correctly, it softens and distributes the force of blows to the face, reducing the risk during training and reducing the impact on the entire jaw. This will help protect you from injuries in this area of ​​the face, such as fractures and misalignment of the jaw.
They protect soft tissues. Sure, they protect the teeth from blows, but they also provide additional protection for the entire face from your own teeth! With the correct shape and profile, the protection covers the sharp surfaces of the teeth, preventing them from rubbing against the cheeks, gums, or mouth when hitting the face, which in turn also prevents injury and damage.
Using a mouth guard saves money. According to the American Dental Association (ADA), an athlete is 60 times more likely to injure an athlete during training and competition with unprotected teeth than when using the correct aligner. You can roughly guess how much a visit to a competent dentist now costs. This means that investing in this inexpensive safety gear can save you a lot of money.
Using dental protection is a long-term investment in your career. Wearing a mouth-guard does not necessarily guarantee that you will not be injured during training or competition. Using this element is still a significant investment in your safety. Aside from saving on dental examinations, protecting against injuries to your teeth, soft tissue, and the jaw itself, you are likely to feel much better and more comfortable. Plus, you don't have to stop exercising due to accidental injury. Investing in a mouthguard for consistent training and competition is a small but very wise step you can take to keep your workouts fun and without unnecessary fear of injury.
How to Wear?
Carry a mouthguard with you to every workout at your Muay Thai club. Before putting on your mouthguard, rinse it with clean water. Often the question is, what to do if you feel sick from the mouth guard during training? This happens when the edges of the mouth guard rub against the tongue. The mouth-guard can be trimmed a little from the edges, but don't overdo it. To prevent sharp edges, they can be rounded by leaning against a hot kettle. It is worse if the athlete has a pronounced gag reflex and no manipulations with the configuration of the mouthguard help.
But even here you should not despair. Wear a mouth guard for Muay Thai training and do not take it off until you feel nauseous. If nausea appears, be patient a little and only then remove. I have not seen cases when over time the athlete did not get used to the mouth-guard, as a rule, it happens very quickly.
On the spot, it is absolutely impossible to fight with a partner in a Muay Thai class without a mouthguard, in any Muay Thai club the coach will point you to this. It is a mistake to use too loose mouthguards in Muay Thai training. When cooking mouth guards, many athletes specifically make the mouth guard not very tightly attached to the teeth. This mouthguard is easier to wear. A not thick mouthguard can do you a disservice during Muay Thai competition or sparring when it will fly out of your mouth at close range or in a clinch.
Practice good hygiene and wash your mouth-guard before and after your workout. It is helpful to brush the mouth-guard with a toothbrush and paste. Do not wear a mouthguard without a box. In a Muay Thai class, the mouth guard may fall to the floor. In this case, go to the changing room and wash it.
A good mouth guard can last for several years, but like any item, it wears out. Someone chews the mouthguard earlier, someone later. As a rule, it all depends on how often you visit the Muay Thai clubs. If the mouth-guard is worn out, replace it. Don't skimp on this essential training accessory, your health depends on it.
Mouthguard Case
An important accessory is the mouth guard case. The sealed box has its plus when you rinsed it with water before training at home during training, it remains wet; the downside is that such a box can leak. It is clear that little water remains in it, but sometimes it is still unpleasant.
A box with holes for ventilation is more convenient in this regard, plus if after training you forgot to rinse and dry the accessory, it will dry out on its own, while harmful microorganisms can develop in the sealed box. It is very good if the mouth guard jar is made of durable, bendable, and not prickly material. The practice has shown that in Thai boxing training, insufficiently strong mouth guard jars often break, fall from a bench or window sill, they are stepped on, etc. It is good if the mouthguard box opens easily ( but can't open itself) and the closing mechanism is not particularly fragile.
Conclusion
The teeth and the oral cavity are primarily susceptible to injury. Without the use of special protective ammunition, the athlete at the end of the fight may miss a couple of teeth, and he will have to forget about the brilliant smile of the winner. In addition, mistakes made during a fight can forever remain on the face of an athlete if protection is not taken care of. I only told you about the best accessories, but if you are still in doubt, then choose Shock Doctor Gel Max Mouth Guard.