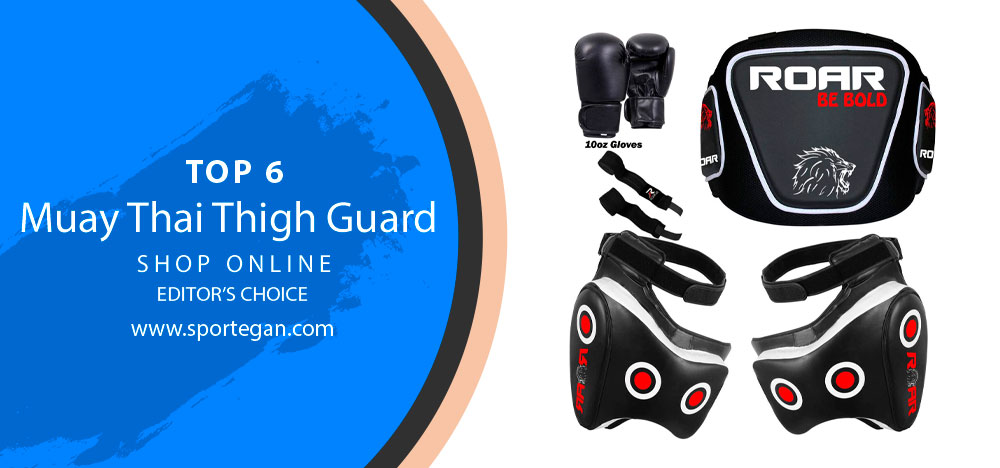 Muay Thai thigh guard indispensable for training oriental martial arts, such as Thai boxing, karate, as well as kickboxing, sambo, and other disciplines where you need to practice kicks. These shells are used to develop a sense of distance, punching power, accuracy and speed, and low kicks.
Our Compilation of 6 Best Muay Thai Thigh Guard – Editor's Choice
Muay Thai thigh guards are specially designed to practice low kicks in Muay Thai. This leg and hip protection are suitable for other martial arts to practice striking techniques. In this review, you will find the most reliable and durable protection for a Muay Thai coach.
1# Combat Sports Thigh Guards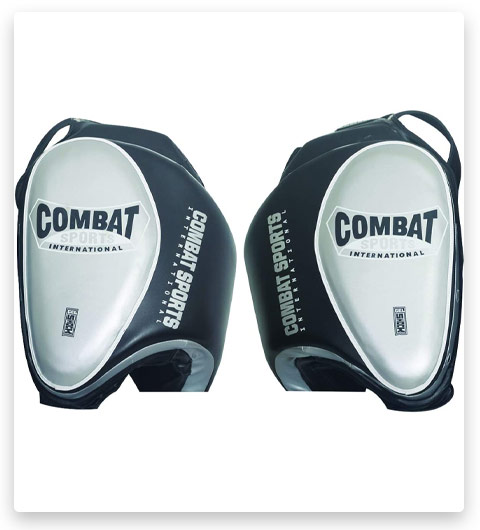 Hip protector with GEL SHOCK (Gel and Foam Combination Technology) between foam layers for improved cushioning. Designed for the comfortable practice of striking foot technique and accentuated work. Suitable for all types of martial arts. The outer material is made of strong new generation synthetic leather, elastic and durable, thanks to which it will last you a long time.
The padding is a combination of multi-layer foam and GelShock inserts that provide improved shock absorption while reducing the risk of injury. Lined with a durable synthetic material that wicks away sweat and dries quickly. Elastic lacing on the thigh. The girth is securely fixed with a velcro waist belt through a metal fastener diagonally. The thigh protector is made in a classic style. Brand logo and printed on the impact surface.
2# Ring to Cage Deluxe Muay Thai Thigh Guard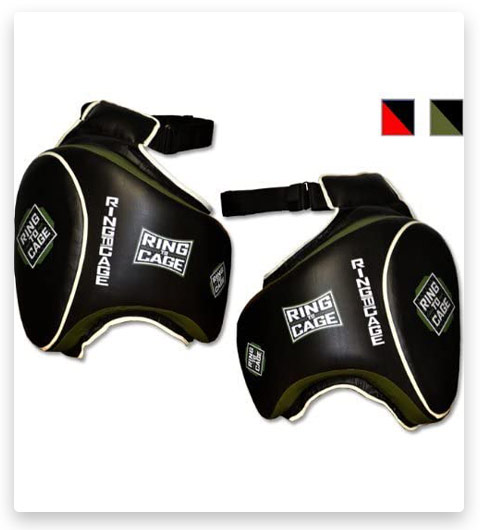 Protective pads are made specifically for practicing strikes on the hip, develop speed and accuracy, thanks to the targets applied on the pads. They are made of high quality 2 mm artificial leather, which has increased wear resistance to external influences and damage. The inner padding consists of a super thick multi-layer porous foam, approximately 7.7 cm thick, which effectively reduces shock waves and the risk of injury.
The lining is very hard on the top and soft on the inside. This softens the impact and the coach can work comfortably with the athlete. The inner lining is made from DriMax Poly-Nylon, which wicks moisture away and provides extra comfort. This material maintains a comfortable temperature and dryness of the skin and does not cause allergies. Attached to the belt with Velcro and on each leg separately with the help of comfortable adjustable elastic bands.
3# Ring to Cage Deluxe Muay Thai Thigh Guard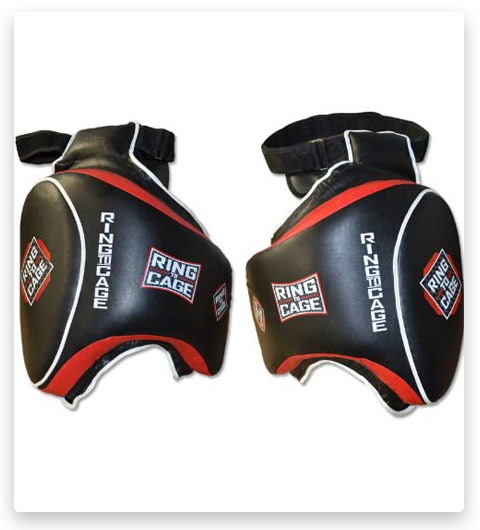 This equipment is designed for practicing low kick and hip strikes in real combat. The unique trainer thigh protection system was developed by professional engineers, taking into account all the features and techniques of striking a low-kick strike. Together with pads, they allow you to combine a series of blows. For maximum efficiency, it should be used to practice kicks at a good pace!
These are comfortable and high-quality overlays made of thick synthetic leather, which is as strong as natural. The pads are filled with shock-absorbing foam that will provide maximum impact protection for even the most experienced athletes. There is a special lining inside that provides comfort during training. It is made of 2mm faux leather. The filling is 7.7cm thick multi-layer foam and the lining is DriMax.
4# Roar Muay Thai Kickboxing Belly Pad & Thigh Guard Set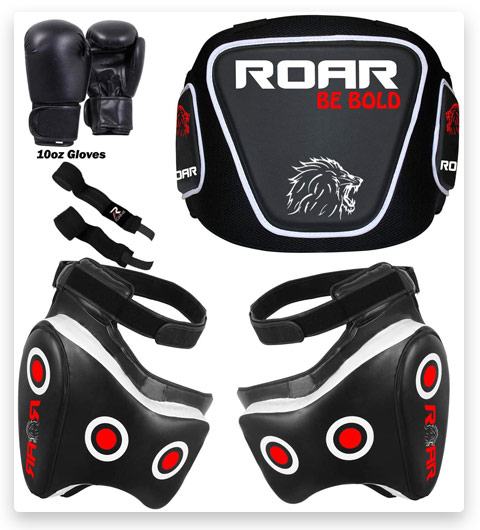 This kit is specially designed to provide maximum protection for the trainer during training. Consists of a belly pad and thigh guard. The belly protector has additional reinforced inserts on the sides and in the abdominal area. The protection is tightly fixed on the suspender straps, which, in turn, are regulated by reliable Velcro.
The thigh guards are also secured with wide Velcro straps for a comfortable fit. Protecting the abdomen and thighs will provide maximum protection while training specified areas of the body. In addition, you will receive high-quality boxing gloves in the size 10 oz.
5# Roar Boxing Belly & MMA Thigh Pad Set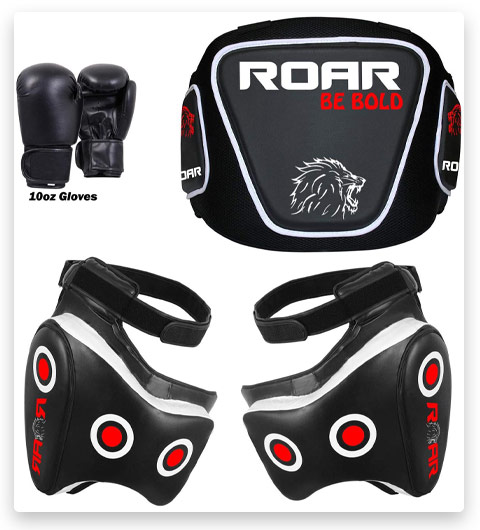 Professional body and hip protectors are used during Muay Thai training. The belly pad is made of high-quality leather, filled with polyurethane foam, high compression ratio, providing high protection, and suppression of the strongest blows of opponents. The products are characterized by high quality, durability, and safety. The kit is sold with a belly pad + thigh guards + boxing gloves (10 oz). Specially designed to help you develop speed, timing, and precision.
6# ROAR MMA Thigh Pads Muay Thai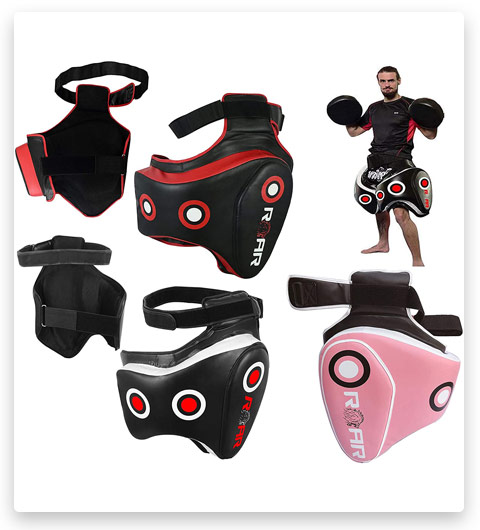 It is high-quality protection for your coach's or sparring partner's thighs. They have 4 inches of contouring foam with gel. Additional protection is provided by 10 cm foam at the back and a 1.5 " pad and 12 mm foam at the front. This model is made of synthetic leather that withstands any impact and remains intact. Thanks to the Velcro strap, you will feel comfortable.
Why is Muay Thai Thigh Guard Needed?
They are needed in order to improve the following boxer's skills:
Kicking force.
Impact rate.
Low kick accuracy. You will learn to hit right on target.
So, while working, a trainer has the opportunity to:
To indicate mistakes made during the kicks.
To suggest the subtleties of the performance of a particular technique.
To demonstrates the correctness and technique of hitting.
To help in working out a low kick, while minimizing the likelihood of injury.
Sports equipment is designed to take punches from an opponent, not deliver them.
While practicing with Muay Thai thigh guard, you can simulate a combat situation:
You can play the role of an attacker. And your coach or sparring partner will defend against punches with the thigh guard.
During training, the coach will be able to move like your opponent. A boxer will have to react quickly to the situation. Deliver precise, quick strikes. And dodge blows. In general, do everything necessary in order to withstand the opponent's attacks.
Tips for Choosing
You should understand that this accessory is quite bulky and before you start training with it, you or your partner will have to get used to it. I advise you to wear them as often as possible so that you can start training as soon as possible. Let's take a look at the criteria that will help you choose a high-quality and effective model.
Material. On the sporting goods market today, you can find models made from both natural materials and synthetic (artificial) ones. Of course, the price of the equipment depends on the type of raw materials used. Since the projectile is constantly exposed to physical stress during training, it is recommended to give preference to equipment made of genuine leather. This will eliminate the risk of allergies with prolonged contact. In addition, such a projectile will last much longer than made of leatherette, suede, or any other material.
Padding. Felt, foam, absorbent foam, or gel can be used as inner lining. The best is foam and gel. The amount of filler used depends on the weight of the product, rigidity, as well as the ability to dissipate the force of impacts.
Closures. Muay Thai thigh guard usually wraps around the hips and waist. The fasteners can be elastic closures or Velcro. The first type provides convenience as you can adjust the clasp to your liking. The second type provides a snug fit to the body.
What is a Better Thigh Guard or Punching Bag?
The thigh guard is a more useful training accessory than a regular punching bag. The bag is a static projectile. As part of training on it, the boxer moves little. Often it just stands still. And hits the pear from one position.
When working with the thigh guard, the situation is different. During training on them, the boxer strikes in dynamics. Constantly moves from side to side. And adapts to the changing environment of the battle.
What is the Low Kick in Muay Thai?
This punch is used in almost all combat disciplines where it is allowed to kick the opponent. A low kick is from the hip to the heel. In order for a technique to really have the expected effect, it must be performed correctly. Hundreds of times there were cases when a fighter was injured himself when striking an enemy.
Facts: Brazilian UFC mix fighter Anderson Silva broke his shin and was knocked out for several years after a bad low kick. Almost a similar situation occurred between Alistair Overeem and Mark Hunt. The native of New Zealand damaged his own shin bone: he performed a hold and came across low-kick protection in the form of an exposed knee.
What Should a Beginner Know About This Kick?
Do many coaches still argue where to hit the low kick: closer to the pelvic bones or the top of the knee? Do not bother about this.  A good hit will deal damage regardless of the area of ​​impact and will make your leg go numb throughout the fight. The blow should hit the middle of the thigh of the leg closest to you. You should not demonstrate professionalism and reach for the far side – it will be easy to dump you on the ground or to counterattack with your hands.
The blow is delivered by the shin bone, since hitting a low-kick with the foot is very dangerous. You risk stretching the ankle or breaking your leg altogether. The striking surface is the lower third of the bone. At long range, it is possible to inflict damage on the enemy by raising the foot, but this is risky. It is better to retreat and wait for a convenient moment.
When carrying out the technique, you cannot pull off the foot in an attempt to make the leg more beautiful and graceful. When you pull the toe on yourself, the calf muscles are tense, which will protect your bone from damage. The second reason: it doesn't hurt too much to hit, and recovery is faster.
How to Hit a Low Kick Correctly?
When you hit sparring partner, you should not focus on the area where you intend to hit, but on a point located further along the trajectory. In the case of a low-kick, you must imagine that you are not hitting the near supporting leg, but in the farthest from you. It is such a blow through and through that allows you to inflict the most serious damage and incapacitate the enemy.
Another detail that will come in handy in training. Example: you are standing in a right-side stance and are about to kick low with your left foot. Any attack begins with an impulse transmitted by body weight. Therefore, to increase momentum and impact force, you need to move or rotate your torso. Take one small step with your supporting leg: it should be directed straight and slightly to the right. As soon as the body begins to follow the lead leg, an impulse arises. At this moment, you should put it in the striking leg and kick the opponent's thigh.
There are three trajectories that are used when striking: ascending, horizontal, and descending:
The first option is the simplest, so training begins with it. Here you do not need to have a good stretch, it is enough to work out the technique to automaticity.
The classic horizontal version requires more hip mobility. The aim of the blow is to hit the enemy's thigh at exactly 90 degrees. They inflict the most powerful kicks that cause widespread bruising and prevent the enemy from fighting.
Downward beats from top to bottom: first, you need to raise the leg bent at the knee and, without losing balance, sharply shoot the lower third of the lower leg into the opponent's thigh. The main advantage of the technique is the ability to easily bypass the knee protection. To kick, you need to do low kick exercises frequently and persistently on special machines.
How to Train a Low Kick?
The ideal way is to train with your partner or coach. To do this, they must wear a thigh guard to protect their hips and not get hurt.
Conclusion
If you want to be one of the best in Muay Thai, you have to train hard. Low kicks are best practiced with your coach or partner, not a punching bag. However, to protect your helper, it is worth purchasing a thigh guard. I advise you to choose Ring to Cage Deluxe Muay Thai Thigh Guard.