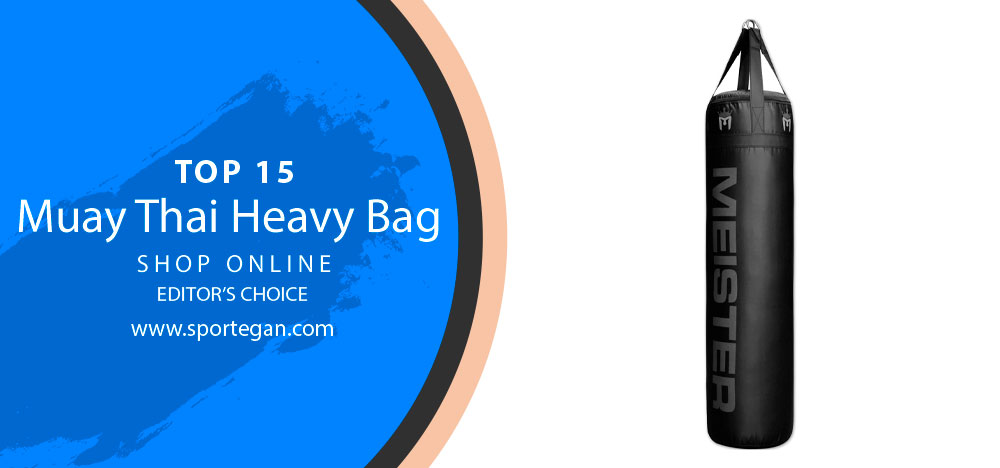 Any training in martial arts, including Muay Thai classes, includes work on heavy punching bags. This is an integral part of the training process, like sparring, shadow boxing, pad work, and more. While working on a boxing bag, a large number of all kinds of punches are practiced, the specificity of which depends on the type of boxing bag on which the percussion technique is practiced.
Regardless of where training takes place at home or in the hall of Muay Thai, the punching bag takes a significant place in the development of boxing technique and strategy of the fighter, contributes to the development of speed-strength qualities of an athlete.
Here Our Compilation of 15 Best Heavy & Punching Bags For Muay Thai – Editor's Choice
The variety of punching bags currently helps focus on different aspects of the boxer's technique development. For example, some bags are designed for the development of speed and power of the blow, some are designed only for the work of arms or legs, some help to work out a specific type of blow in Muay Thai with the least expenditure of energy. Today we will try to understand the specifics of boxing bags and their role in the development and improvement of the Muay Thai fighter.
1# AthleticMMAGear Muay Thai Heavy Bag Filled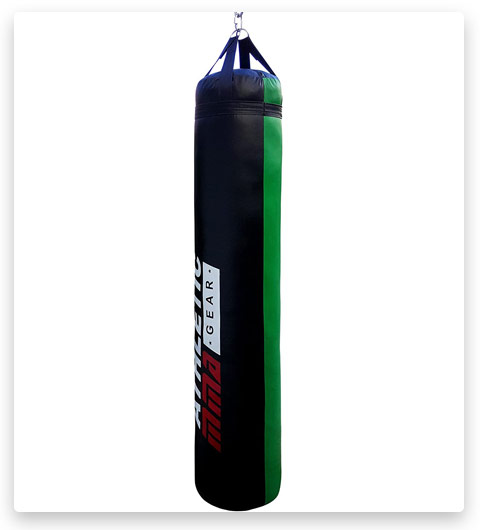 You can work out the formulation and power of the blow, improve the speed and lightning speed of the reaction, using this heavy punching bag, made with the use of advanced modern technologies. In the process of making the bag, a high-density and wear-resistant vinyl material were used.
The combined natural filler meets all safety standards, reduces unpleasant sensations upon contact with the bag, withstands crushing blows with legs and arms, without straying, ensuring the strength and durability of the projectile. The boxing bag is made in black and green and is decorated with the brand logo. Anyone who appreciates the high quality of the equipment, the comfort of training and the aesthetics of the hall design should buy this boxing bag.
2# Fairtex HB13 Heavy Muay Thai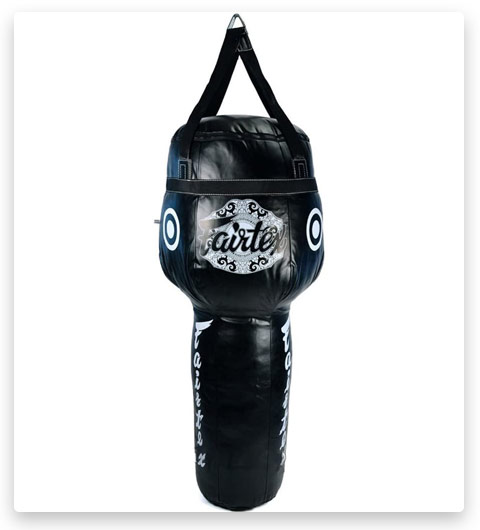 The Fairtex HB13 punching bag is designed for Muay Thai. Well suited for practicing kicks and punches, knees. This model and shape of the Fairtex HB13 bag is mainly used when practicing blows to the upper body: to the body and head of the opponent. The hanging bag allows for head kicks and uppercut kicks.
Made in Thailand with high-quality control. It is made of high strength PU leather. The inside of the bag is reinforced with a durable nylon material over the entire surface, which increases the life of the outer layer of artificial leather. The upper straps are lined with genuine leather to reduce the risk of chafing and increase durability. Height 145 cm, top diameter 55 cm, bottom diameter 35 cm. After filling, it weighs approximately 55-60 kg.
3# PROLAST Wrecking Ball Heavy Bag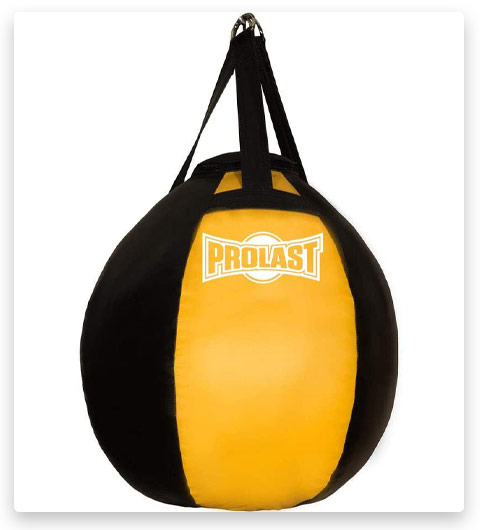 The punching bag is an excellent trainer for athletes. Improves self-defense and movement coordination skills. Develops strength, agility, reaction. Suitable for practicing punches (side, straight, uppercut) due to the shape of the ball. It is made from synthetic leather and canvas-backed. This heavy pear weighs approximately 65 pounds.
4# Fairtex Teardrop Leather Muay Thai Punching Heavy Bag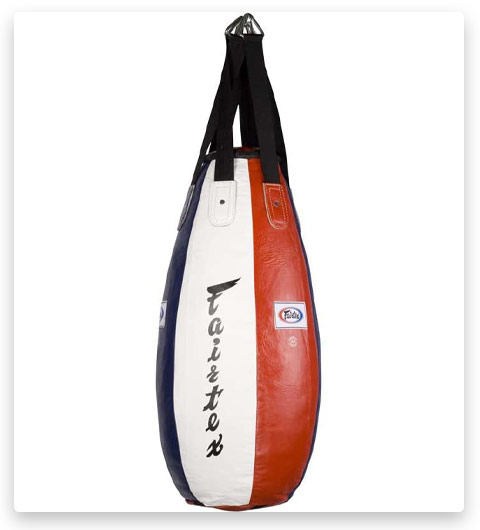 The punching bag is designed for practicing Muay thai knee striking techniques. It is also very convenient to practice low kick strikes on it. This is hand made in Thailand. The punching bag is made from premium leather with nylon lining and fabric straps.
5# FUXIN Wrecking Ball Heavy Punching Bag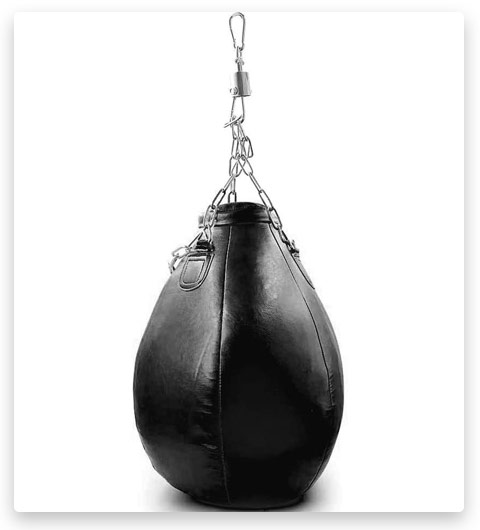 The FUXIN punching bag is perfect for beginner athletes to develop punching speed. It is made of high-quality artificial leather, all the lines are additionally reinforced, which guarantees durability and wear resistance. The punching bag is superbly balanced, resulting in a perfect rebound when hitting for increased sports performance.
6# Contender Fight Sports Thai Bag – Amazon's Choice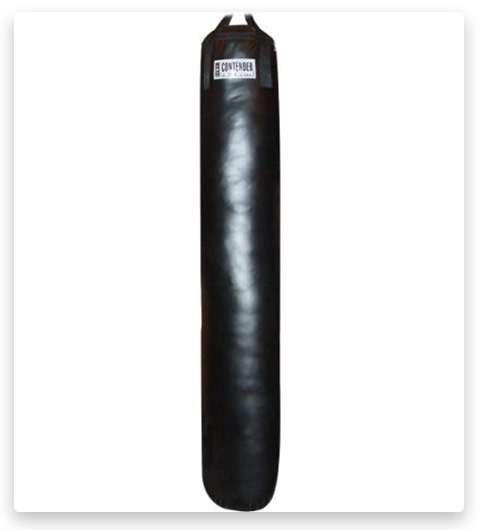 If you are looking for full-length inventory, then this is what you need. This bag comes in 13 "x 72" size and is filled up to 100 pounds. It is the ideal equipment for practicing punches and kicks. Thanks to the vinyl construction, the equipment will serve you for years.
7# Jayefo Trexter Heavy Punching Bag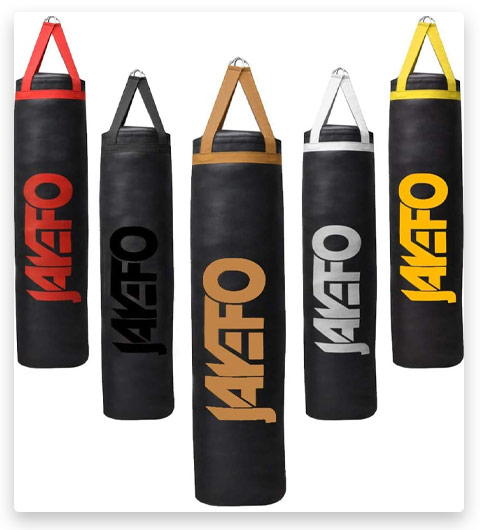 This shell is available 6 feet high and 35 cm wide. You can be sure of the quality of the accessory as it is hand-sewn. All seams are durable and can withstand any conditions of use. This bag is hung with strong straps.
8# Outslayer Muay Thai Heavy Bag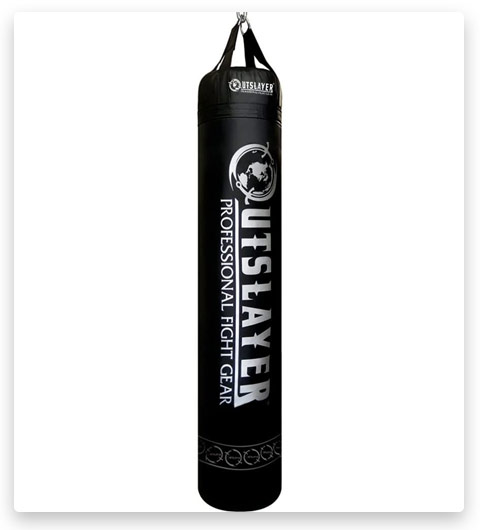 The boxing bag is made of high-quality leather. The bag is additionally reinforced at the chain attachment points for increased strength. This bag has long established itself as reliable and high-quality equipment for training, the bag can be found in many boxing gyms around the world. The kit includes chains with a swivel carabiner and a spring for extra stability.
9# Ring to Cage Muay Thai Banana Heavy Bag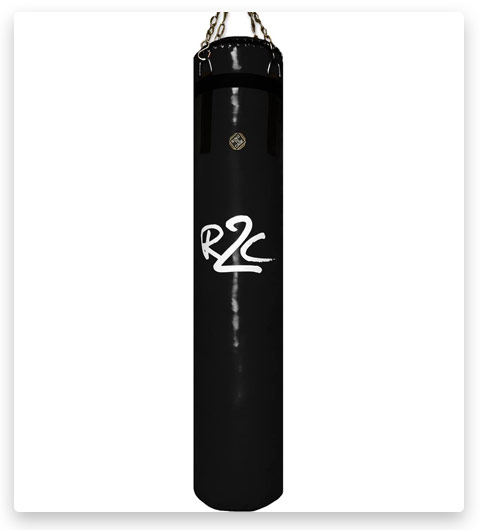 This is a high-quality product that will serve you for over 10 years. It is made of polyester coated vinyl material. The top closes not with a zipper, but with a lacing, which provides even greater reliability. This is one of the most durable boxing bags available.
10# Odoland Punching Bag Heavy Bag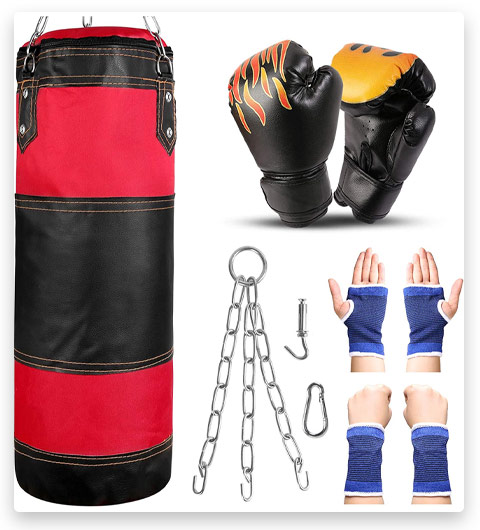 If your child likes Muay Thai, then it's time to get this set for him. This includes a punching bag, gloves, pannel steel chain, connecting carabiner, punching bag hanger, 1 pair hand protectors, and 1 pair wrist protectors. Because the punching bag is 2 feet high, it is perfect for your child. It is made of PU leather and canvas. It will not hurt the arms and legs of the child as this shell has shock-absorbing foam padding.
11# Meister Filled Heavy Bag for Muay Thai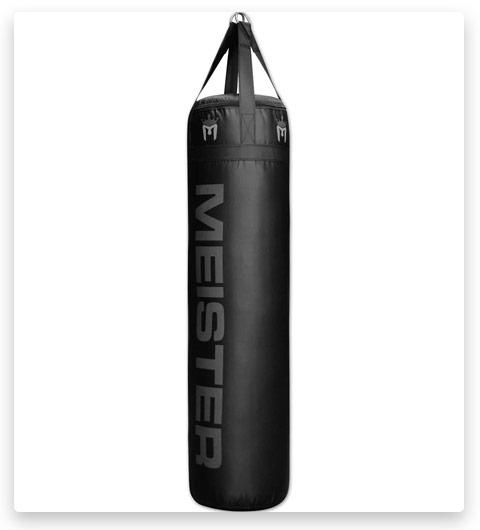 A stuffing bag will help develop technique and work out serial strikes and will allow you to develop speed. The vinyl construction of the punching bag has the highest strength characteristics, is resistant to deformation and impacts, the model is equipped with a D-ring mount + suspension straps.
12# Combat Sports Tear Drop Bag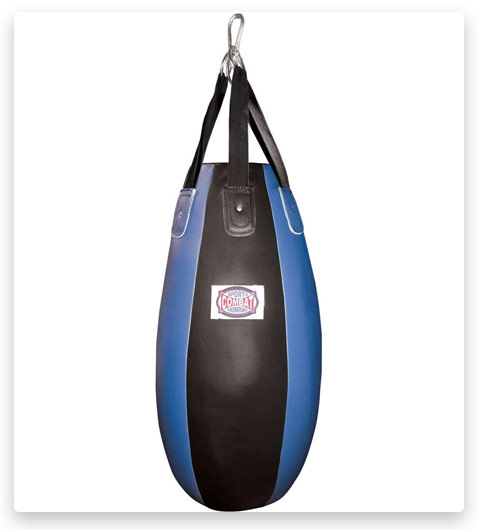 Combat Sports punching bags are designed for experienced fighters, professional athletes, as well as those who value quality and reliability. The non-slip leather of the projectile can withstand thousands of hard workouts, and the padding ensures its minimum compaction and medium rigidity. The quality of the projectile allows you to practice all types of punches and kicks. Serves to develop the strength and rigidity of the blow. In addition to direct and side impacts, it allows you to practice blows directed from below and to the head of the enemy.
13# Aoneky Muay Thai Unfilled Heavy Bag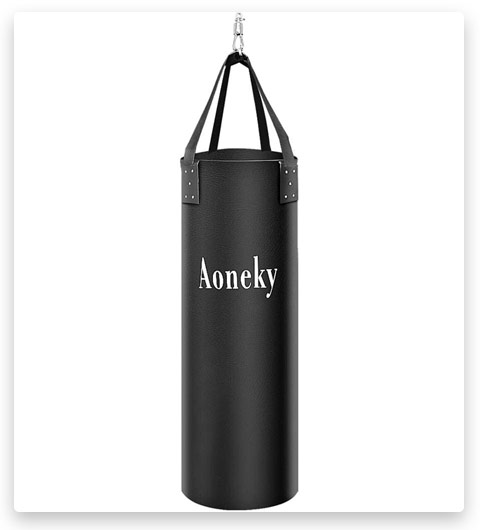 If you are looking for a durable and reliable product, then I am glad to tell you about this heavy punching bag. It is made of PU leather with three-layer construction. It is convenient to use and can also be folded for easy storage or transport. The bag comes 8 feet high with straps.
14# PROLAST Heavy Bag Muay Thai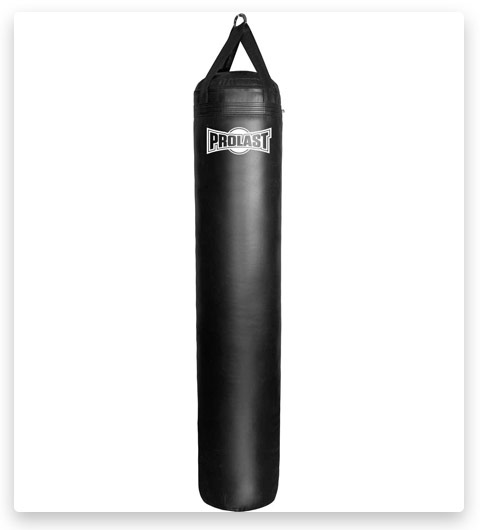 A classic Thai "banana" bag is suitable for kicking and punching at all levels. 6FT in height provides full contact and effective training for the whole body. The bag is made of thickened genuine leather. A steel hoop and a backup inner bag keep the projectile from deformation and stretching.
15# Outslayer Muay Thai Heavy Punching Bag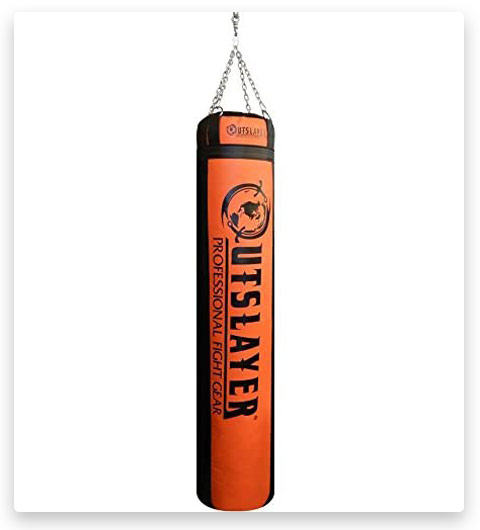 The classic bag for MMA and Muay Thai. The length and weight allow you to work with arms and legs at all levels. The bag is made of high-quality artificial leather, which allows it to keep its shape for a long time. Thanks to modern filling technology, training on this bag will be comfortable and safe for the practitioner. This punching bag is suspended from a heavy chain that is equipped with a pivot mechanism and a spring.
Traditional Heavy Muay Thai Bag
A traditional heavy Muay Thai bag is great for punching and kicking but still allows you to find the perfect flow and rhythm. This bag is perfect for both beginners and advanced Muay Thai practitioners. This is the best type of heavy bag for Muay Thai and MMA training because it allows you to attack the entire body of the bag.
Traditional Muay Thai bags are usually between 1.5 and 2 meters long and usually weigh between 30 and 70 kg. Heavier models are more useful for experienced fighters because they enhance your kicks and punches. Lighter models naturally swing more, which helps beginners move better. I think the traditional bag is the best Muay Thai heavyweight bag available for a full workout.
Pros:
Great for strength training
It lets you work on movement
Length allows you to work on low kicks
Cons:
Not suitable for uppercuts
The main tasks of working on Muay Thai heavy bag:
Development of the speed of punches and kicks
Work on reaction speed
Development of quick strikes
Work on displacements
Coordination of work with arms and legs
Cardio load
Work on the accuracy of kicks and punches
Working with distance by intervals
Building combinations, ligaments
Strengthening the bone and muscle apparatus
Factors to Consider When Choosing a Muay Thai Heavy Bag
The most important factor in choosing a Muay Thai punching bag is undoubtedly choosing the perfect type of training bag that suits your style and training needs. However, there are additional factors to consider when choosing the bag for your home or gym. You should always try to buy the best bag within your budget, however, I know some options are simpler than others and shouldn't be taken lightly.
Brand. Always look at the brand before buying anything, including boxing gloves, shin guards, training bags, etc. The brand you invest in is much more than just a label, it is a reputation for a company that has good products and excellent customer service. All of the brands that I include on our list are honored to be great companies in the industry for many years.
Material. The material your training bag is made of is important because you need to know if your expensive equipment is made of materials that are equally expensive and will last you long. Believe it or not, leather isn't always the best material, depending on the type of bag.
Filler. The type of padding used in your training bag is more important than you think. The padding material is responsible for the effect of your comfort and the reaction to the way you hit it. Depending on what the punching bag is filled with, you can completely change how the bag reacts to different impacts. The padding material also has a big impact on the weight of your training bag.
Of course, heavier bags will naturally have less movement and hesitation, while lighter bags will have much more movement. The ideal weight for most heavy bags is over 100 pounds, depending on whether you are a beginner or a seasoned striker. 45 kilograms provide excellent resistance without completely compromising movement.
While a wide variety of padding materials can be used (including water, sand, foam, and gel), it really depends on the type of heavy bag you are using.
Conclusion
The training with a punching bag is an integral part of the success in Muay Thai. The punching bag helps to hone the technical skills of a fighter: punching power, accuracy, endurance, perfectly develops imagination and improvisation. If you still can't decide on the Muay Thai heavy bag, I advise you to choose the AthleticMMAGear Muay Thai Heavy Bag.